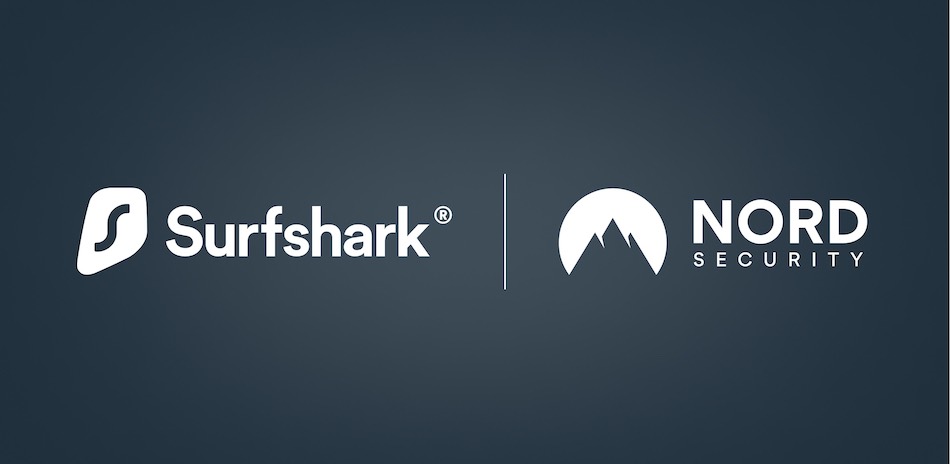 Consolidation is nothing new in the VPN world. Today, the spotlight is on Surfshark merging with Nord Security, which is the parent company of NordVPN.
NordVPN and Surfshark are both leading VPN services. For years, we have noted the similarities between these VPNs, particularly with regards to features and performance. Looking forward, it does not appear that much will change, especially since Surfshark and Nord Security will both continue to operate independently.
Back in October 2021, we saw Surfshark relocate to The Netherlands, perhaps in preparation for the upcoming merger. Under this new merger agreement with Nord Security, the resulting company will be called Cyberspace and it will operate under the jurisdiction of The Netherlands, where Surfshark is already based.
Looking ahead, it does not appear that there will be any major operational changes. Both Nord Security and Surfshark will continue to operate independently of each other. Additionally, there will be no shared infrastructure or product development plans.
In a joint press release today, the founder of each VPN provided comments on the situation of Surfshark merging with Nord Security:
The increasing complexity of cybersecurity and digital privacy is a growing challenge worldwide. We believe that this industry requires radical simplification and ease of access, both for consumers and businesses. Together, Nord Security and Surfshark create the largest internet security powerhouse in the market, ready to bring advanced solutions for customers.

-Tom Okman, co-founder of Nord Security
Consolidations in the global consumer cybersecurity market indicate the industry's maturity. They also bring new competitive challenges. Nord Security and Surfshark joining forces will set the ground to scale in different digital security dimensions, which is necessary to meet the growing requirements of our customers.

– Vytautas Kaziukonis, founder of Surfshark
The press release provided to RestorePrivacy offered additional details on what the future looks like.
The idea behind the deal is to streamline resources towards common goals while preserving the autonomy of both companies. Founders highlight that this strategic business move will serve as a springboard towards more rapid development and innovation while maintaining the uniqueness of both brands that customers learned to appreciate over many years.

The merger will solidify both companies' offerings in different market segments and diversify the geographical reach. Both companies will continue to focus on developing distinct solutions to cover various areas of cybersecurity, among which are personal data protection, device security, file security, and others.
More cybersecurity tools with NordVPN and Surfshark
When you look strictly at the VPN services themselves, there are many similarities with Surfshark and NordVPN. But taking a broader examine at each business, we see something else.
Both Nord Security and Surfshark offer a diverse array of cybersecurity tools, beyond just a VPN.
Nord Security offers:
Meanwhile, we see that Surfshark also offers a variety of products:
Surfshark Search, a private search engine
Surfshark Alert, a data breach monitoring tool
Surfshark Antivirus
Both Surfshark and NordVPN also offer the ability to bundle services together for more savings. Perhaps this merger under Nord Security will better position each product to offer additional security and privacy tools for a growing number of needs and use cases.
This is one area where both Surfshark and NordVPN stand out from other VPN services. Both companies are ambitious and innovative in offering an array of products, tools, and solutions for their users, beyond just a VPN.
Further consolidation in the VPN industry
Just a few months ago I wrote about another major buyout in the VPN industry when Kape Technologies purchased ExpressVPN. In that article I noted that many VPN brands now fall under the control of Kape Technologies:
Similar to the situation with Surfshark, we have learned that ExpressVPN will also continue to operate independently, despite the acquisition by Kape.
Note: We also published an investigation on the history of Kape Technologies (formerly Crossrider). While Kape/Crossrider has often been associated with malware, the truth is that it created a development platform that was later used by third party malware distributors (outside of Crossrider's control).
Additionally, we see that the Ziff Davis group (formerly j2 Global) also owns a large VPN and cybersecurity portfolio that includes:
Is consolidation in the VPN market a good thing?
Ultimately, there are pros and cons to everything. An obvious con, and a problem I have pointed out before, is that there are fewer independent VPNs for consumers to choose from.
However, an advantage to the situation might be long-term stability. In other words, with a large organization backing the VPN, it is less likely to shut down or cease operating. However, we do see that the Ziff Davis group has announced plans to shut down Encrypt.me and combine it with StrongVPN.
In the case of Surfshark and Nord Security, both companies have been ambitiously rolling out new privacy and security solutions over the past few years. This merger may help both companies to continue in that direction of innovation and broadening their cybersecurity offerings.