| | |
| --- | --- |
| VPN | IPVanish |
| Based in | USA |
| Logs | No logs |
| Price | $5.00/mo. |
| Support | Email and Chat |
| Refund | 30 days |
| Website | IPVanish.com |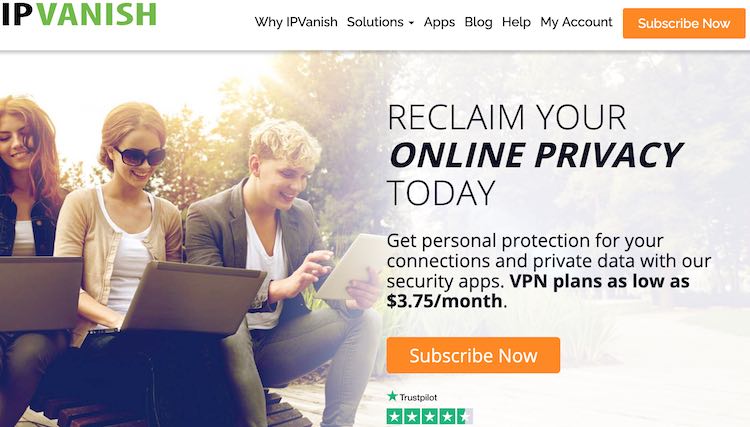 IPVanish is a popular VPN service that boasts a large server network and claims to deliver fast and reliable speeds. But before you sign up, you'll want to sit back and read this IPVanish review, because it wasn't all great in our testing. Yes, this VPN comes with some Pros and Cons you will want to consider.
To determine how IPVanish stacks up against other VPN services, we ran it through a barrage of tests to answer these questions:
Does IPVanish offer "top tier" speeds throughout the entire server network?
Do IPVanish's apps keep all data safe with a good kill switch, IP and DNS leak protection, and secure encryption?
Does IPVanish provide stable connections without interruptions (good reliability)?
Is it worth the price?
All of these questions are answered in the review below, with all test results backed up by screenshots. First we'll cover an overview explaining the review findings, then dive into the details.
IPVanish review Pros and Cons
Here are the Pros and Cons of IPVanish:
+ Pros
Large selection of apps for different devices
Good privacy features, encryption, and leak protection settings
Live chat, email, and telephone support
Unlimited connections
– Cons
Clunky desktop apps
Based in US (Five Eyes)
Now owned by J2 Global
Limited refund policy
Bad track record (cooperated with the FBI on logs)
So now let's get into the details of this IPVanish review.
IPVanish company background and new ownership
IPVanish has an interesting history. Unlike VPNs such as Surfshark and NordVPN, IPVanish has been bought and sold off twice over the past few years.
Here is a brief summary of IPVanish background based on my research for this review:
IPVanish was founded by Mudhook Marketing in 2012, a subsidiary of Highwinds Network Group in Orlando, Florida.
In 2017, StackPath acquired Highwinds Network Group, which also included IPVanish.
In 2019, IPVanish was again acquired by J2 Global under their Net Protect business.
J2 Global is the parent company for many websites that publish reviews, such as PCMag. In addition to IPVanish, J2 Global also acquired StrongVPN and Encrypt.me, as well as SugarSync, which is a secure cloud storage service.
With J2 Global owning this collection of VPN services, you now have a situation where VPN review websites recommend the same products that are owned by the parent company. This, of course, is a dubious situation.
Note: We'll examine the IPVanish logging scandal further below.
IPVanish speed test results
On its website, IPVanish claims to offer the "best VPN speeds" through their "top tier" server network with locations around the world. In terms of speeds, IPVanish has historically lagged behind other top-rated VPNs.
For this new and updated IPVanish review, I tested numerous servers throughout the network. My baseline (non-VPN) connection speed was about 500 Mbps. I ran all tests using the official IPVanish Windows app with the OpenVPN UDP protocol from my location in the United States.
IPVanish speed tests with US servers
First up was a nearby IPVanish server in Seattle: 79 Mbps.

At only 79 Mbps, this is much slower than my baseline speed,. So we're not off to a good start with these IPVanish speed tests.
Next up was an IPVanish server Los Angeles. Once again, the IPVanish speeds were not very good at only about 68 Mbps.

Next, I ran some tests with an IPVanish server in the New York. This was the slowest IPVanish server I tested at around 5 Mbps:

Based on all the tests I ran with IPVanish servers in the United States, I must conclude that this is not a fast VPN.
Just to check, I also tested an IPVanish server in the United Kingdom. The speeds in the UK were about 43 Mbps.

Again we are seeing that IPVanish does not offer good UK VPN server speeds.
Overall, we see that IPVanish does not have consistent or fast speeds.
Comparison speeds
In comparison to other top VPNs, IPVanish does not do very well in terms of speeds. Aside from the results above, we also discussed this issue in the NordVPN vs IPVanish comparison. NordVPN does very well with performance because it supports the WireGuard VPN protocol. This offers much faster speeds than other protocols, along with upgraded security and improved encryption.
Here is a speed test with NordVPN using the WireGuard protocol where we hit speeds of 445 Mbps: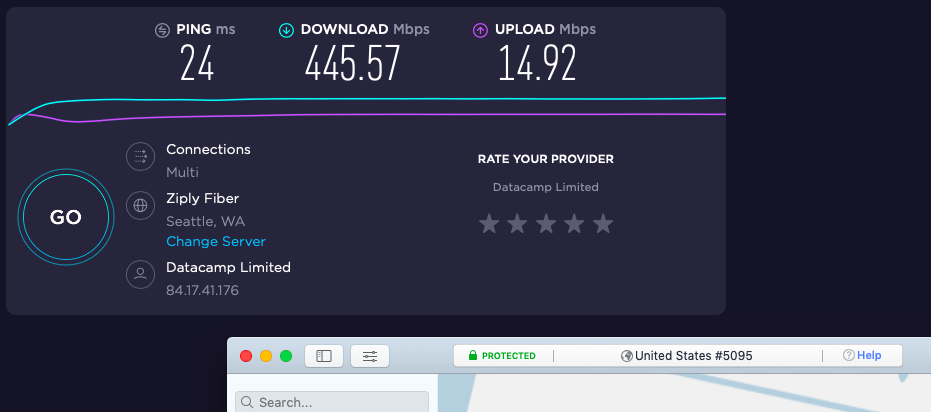 You can learn more about NordVPN with WireGuard here.
How much does IPVanish cost?
The cost of IPVanish is about average — not really the best cheap VPN, but also not an expensive VPN. Right now they are offering two different pricing options. You can choose either the VPN alone, or the VPN combined with SugarSync, a secure cloud storage option.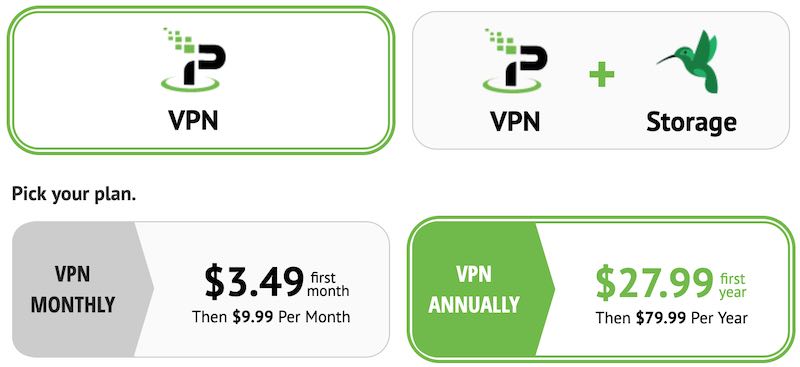 One important thing to note here is that the prices increase significantly after the initial subscription period. You can see that in the image above, with the monthly price going from $3.49 per month all the way up to $9.99 per month after the first month. Similarly, the annual prices go from $27.99 per month all the way up to $79.99 per year, or $6.67 per month. This is also a tactic we noticed in the Avast VPN review, where the renewal prices shot up significantly.
With the sharp increase with renewal prices, you would be better off to cancel your account at the end of one year (or one month) and then sign up again with a new email and username. If you are looking for a deal, see our VPN coupons page. One of the best deals there is the NordVPN coupon that includes three months free.
IPVanish refund policy
IPVanish advertises a 30 day money-back guarantee on the homepage — but you need to read the fine print. While there is a 30 day refund window for the annual plan, the monthly plans do not qualify for a refund.

On their money-back guarantee page, however, IPVanish does state that refunds for monthly subscription refunds are "subject to discretion." Therefore you may still be able to get a refund on monthly subscriptions if you ask for it.
Most VPNs now offer a full 30 day money-back guarantee, as we noted in the PIA vs NordVPN comparison report.
Payment methods – At the time of this IPVanish review, the only payment methods that are accepted are credit cards and PayPal. This means there is no support for cryptocurrency payments, gift cards, or sending cash in the mail.
IPVanish apps
IPVanish provides a wide selection of applications for many devices and platforms. IPVanish has long positioned itself as a good VPN for streaming with a wide variety of apps for all types of streaming devices. And if they don't offer a dedicated app, then IPVanish probably still supports the device or operating system. Here are the options you have for using IPVanish: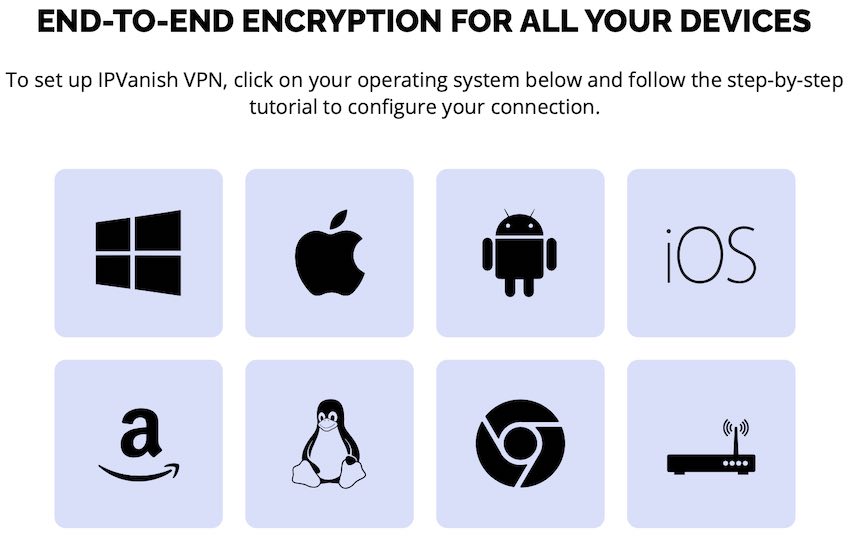 For this IPVanish review, I tested out their apps on Windows, Mac OS, and Android.
IPVanish Windows app – The IPVanish Windows app did alright in testing. It is user-friendly, stable, and never froze up or crashed. One issue I did notice, however, is that connection times could take a while. Here is the IPVanish Windows app that we tested for this review: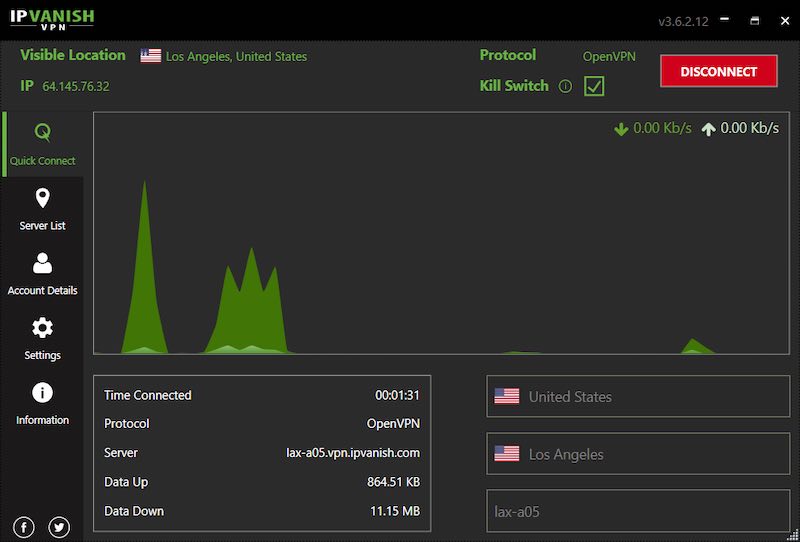 Aside from delayed connections, we also found the Windows client to be a bit buggy and was sometimes not responsive.
See our other Windows VPN recommendations.
IPVanish Mac OS – The IPVanish Mac OS app also did well in testing. This is an updated and improved version over the IPVanish Mac OS apps I've tested in the past, which also had some bugs and crashes in our testing. I did not notice any bugs or connection issues with the new Mac OS app. Other good Mac OS VPNs are here.
IPVanish Android – The IPVanish Android app performed well in testing without any issues to report. It has a good design and was stable in testing.
Overall, the IPVanish apps feel clunky and outdated. This is especially trueing comparison to some of the newer VPNs, as we noted in the IPVanish vs Surfshark comparison.
We'll take a closer look at the apps in the privacy/security tests below.
IPVanish offers unlimited device connections
Another new update with IPVanish is that it now offers an unlimited number of device connections. Most VPNs limit the number of devices to between four and seven. One other VPN that gives you an unlimited number of device connections is Surfshark VPN – and it's also a lot cheaper.
Privacy and security test results
IPVanish uses the OpenVPN protocol with AES 256-bit encryption. This is the gold standard for VPNs and it is currently considered unbreakable. There are some drawbacks with OpenVPN, however, such as slower speeds and bad mobile performance. This is why WireGuard is growing in popularity.
IPVanish performed well in all privacy and security tests for this review. I tested IPVanish for IP address leaks (both IPv4 and IPv6) and DNS leaks.
Prior to running these tests, I verified the following privacy/security settings were active:
IPv6 leak protection (IPVanish provides you with an IPv4 address, while blocking IPv6 and ensuring your real IPv6 address does not leak out of the tunnel.)
DNS leak protection (All of your DNS requests are handled by IPVanish servers, with DNS leak protection activated by default.)
Kill switch (A kill switch will block all traffic if the VPN connection drops to keep your data and identity secure.)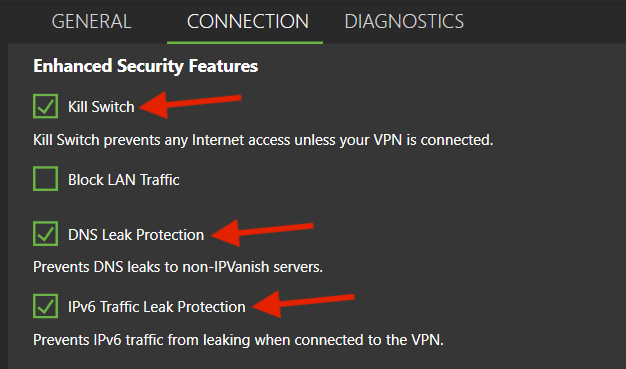 Now we will move onto the test results.
Windows app: Here is a test using the Windows app with a London, UK server. Everything passed with no issues or leaks to report.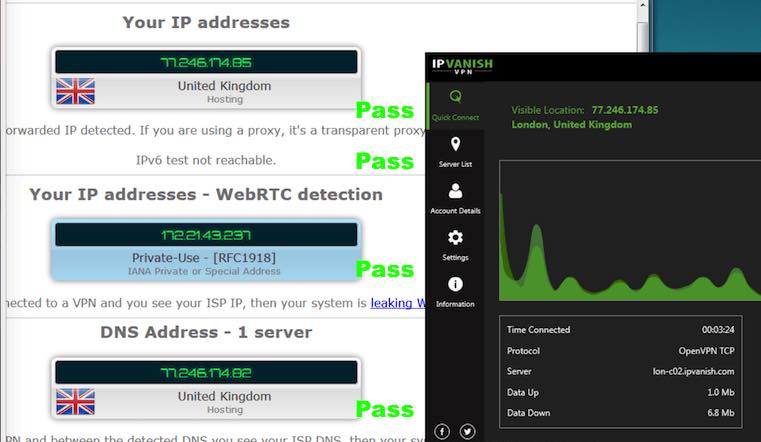 Just like the Windows VPN app tests above, the Mac OS app also passed the tests without any leaks discovered.
Everything checked out with the leak tests: no issues to report.
See our VPN tests and checks guide for more info.
IPVanish servers
One benefit you get with IPVanish is access to a large server network with locations spanning all around the world. This currently includes:
75+ worldwide locations
1,600+ servers
40,000+ IP addresses
This is a pretty large network, on par with ExpressVPN and CyberGhost.
What good is a large server network?
More servers generally means better speeds as there is more available bandwidth per user.
This also helps you to select specific servers for different needs, whether you are looking for a nearby server in your area or another geographic location for accessing media.
If you need a VPN for gaming, a large network can help you choose a close server to minimize ping times (latency).
It also gives you more options for geo-spoofing your location, which may be useful when purchasing items online.
Does IPVanish use virtual server locations?
A "virtual server location" is when a server that is advertised as being in a certain location is not actually there. For example, I found that PureVPN has many servers that are not actually in the advertised location, and they do not disclose this to their users. (This is explained more in our PureVPN review.)
You can identify virtual server locations using ping tests to triangulate the exact location (see here). With IPVanish, I tested a number of different servers and they all checked out. It does not appear that IPVanish is using any virtual server locations.
IPVanish logs (FBI case)
IPVanish is a "zero traffic logs" VPN service as they explain on their website. But before getting into their exact logging policy, we'll first examine a logging case that happened a few years ago.
In 2016, when IPVanish was owned and operated by a different company, they cooperated with the FBI for a criminal case. In this specific case, they provided connection data to authorities, after the FBI made two separate requests during an investigation. While this is concerning from a privacy standpoint, especially since IPVanish claims to have a no logs policy, it's also important to note this happened when the company was under different ownership and management.
IPVanish is now owned by a company called J2 Global, which also owns various media outlets (disclosed at the bottom of this article). This logging case happened when IPVanish was owned/operated by HighWinds Network Group in 2016. The sale to StackPath took place in February 2017, after the logging case.
I requested clarification about this from IPVanish and they provided me with the following statement:
That court case was from 2016 – long before StackPath acquired IPVanish in 2017. IPVanish does not, has not, and will not log or store logs of our users as a StackPath company. We can't speak to what happened on someone else's watch, and that management team is long gone. In addition to not logging, StackPath will defend the privacy of our users, regardless of who demands otherwise.
Additionally, I also spoke to IPVanish staff about this case and they provided further assurances that this type of cooperation has not and will not happen with StackPath.
What are IPVanish's current logging policies?
As they explain in their Privacy Policy:
IPVanish does not collect, monitor, or log your browsing activity, such as what websites you went on, when connected to the VPN Service.

We collect aggregated and anonymous performance data to improve functionality and product performance, diagnose crashes, identify bugs, and optimize server performance. This aggregated and anonymous data does not include IP address, connection time stamps, or DNS inquiries.
The only information that is collected during registration is an email address (for account purposes) and payment information for account renewal, refunds, etc.
There are also a few VPN providers that have been verified in real test cases as VPNs with no logs. Some of these include ExpressVPN, NordVPN, VyprVPN, and others. For a direct comparison, see the ExpressVPN vs IPVanish guide.
Overall, the logging case is troubling because it undermines the credibility of IPVanish and the trustworthiness of those operating the company. Is IPVanish still worthy of your trust? Only you can decide. We also covered the IPVanish logs case here.
IPVanish support
IPVanish offers the following channels for support:
24/7 live chat support
Email support
Telephone support
I tested out the live chat a few times and there were no major issues. In some cases, however, it could take 5+ minutes to connect with a chat representative. However, Gopu (below) was helpful.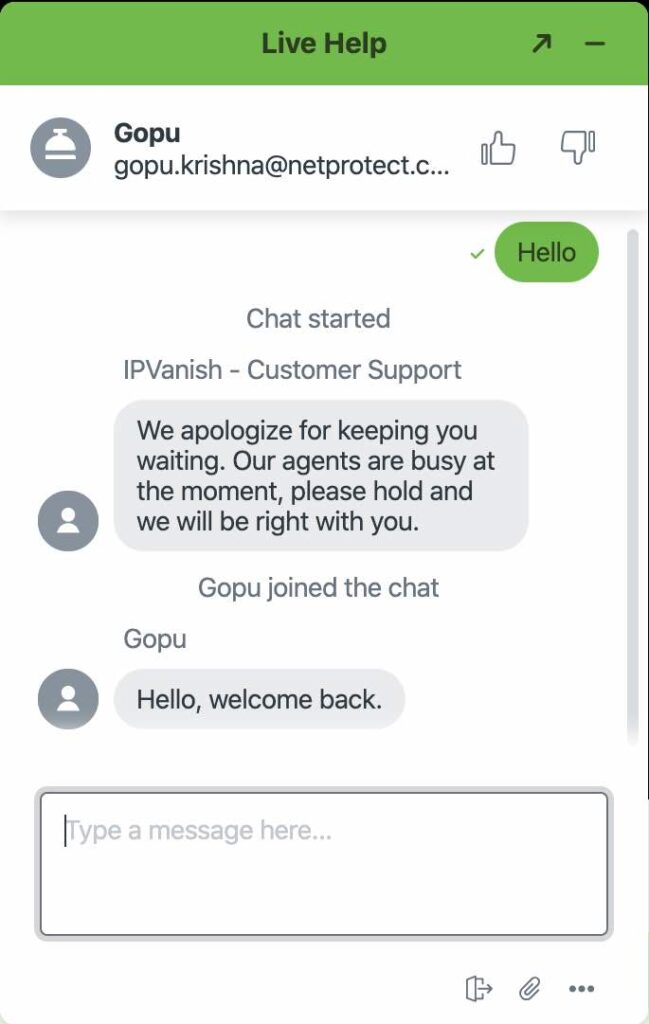 The IPVanish website also contains some great guides and informational articles on various topics. These are all accessible from the knowledge base and in the member's area.
You should be able to get everything set up just using the guides in the member's area. But if you have any problems then you can try chat support or just send them an email.
IPVanish Android
I also downloaded and tested out the IPVanish Android app for this review.
Overall it performed well without any issues to report. Here are a few screenshots I took, with the Android app on the left and leak test results in the middle (no leaks).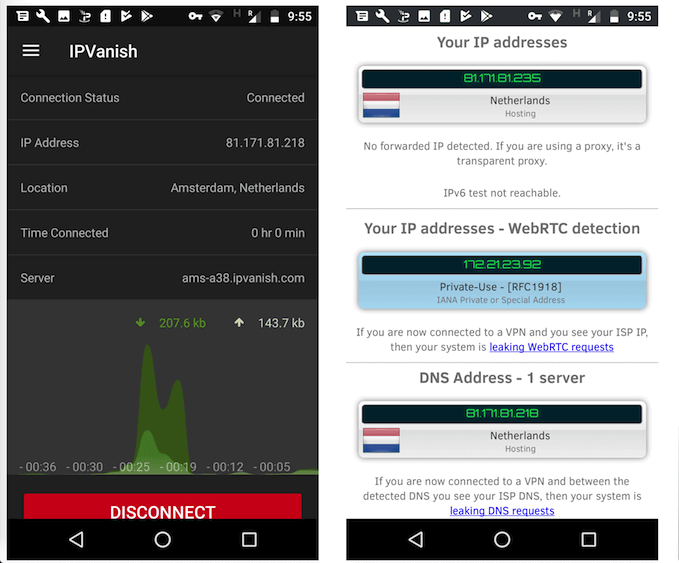 Overall the IPVanish Android app seems to work fine. Connecting and switching servers was easy and I didn't find any leaks or problems to report. We have also tested and ranked the best Android VPN services.
IPVanish router
IPVanish is also a decent choice if you want to use a VPN on a router. This will secure (encrypt) your entire home network and all devices that connect to your router. Furthermore, it will only count as only one device when you use IPVanish on your router. But because IPVanish gives you an unlimited number of simultaneous connections, this probably is not an issue.
A VPN router is a smart idea simply because most internet providers are now monitoring and recording your online activities. This is now legal in the United States, the UK, and now also Australia.
Does IPVanish work with Netflix?
In our tests for this review, IPVanish does not work well with Netflix on a consistent basis.
Unfortunately, all of the IPVanish servers I tried seem to be blocked by Netflix. This results in Netflix only showing you the "Netflix Originals" — but not being able to access country-specific Netflix libraries. For example, I tested out US Netflix with IPVanish and was blocked.
The support person I chatted with also confirmed IPVanish's difficulty in accessing Netflix. When you try, you will get the annoying Netflix proxy error message.
Fortunately, there are still some great VPNs that work with Netflix, even though many others are not a good option.
Does IPVanish work in China?
As of right now, IPVanish is not the best VPN to use in China. This is because it does not put an emphasis on obfuscation features. Obfuscation features conceal VPN traffic as regular HTTPS, thereby allowing you to easily get around VPN blocks.
VPNs that offer good obfuscation features (and work well in China) are NordVPN and VyprVPN. Obfuscation is also useful wherever VPNs may be blocked. This may include school networks or perhaps work networks, where internet activities are restricted.
IPVanish review conclusion (not recommended)
On the whole, IPVanish has lots of room for improvement, especially in the area of VPN speeds. IPVanish is also somewhat lacking with features, especially in comparison to other big names such as NordVPN vs ExpressVPN.
One of the biggest issues when choosing a VPN – or any other privacy tool – is trust. The previous case of IPVanish cooperating with the FBI to collect and share user data definitely undermines that trust, even if it did take place under a previous management structure. Also concerning is that IPVanish is based in the US and completely falls under US laws – so who knows if this could happen again.
Considering all the drawbacks, I can't recommend this VPN. There are simply too many other good services on the market.
Alternatives to IPVanish
Click the VPN name below to read our full review – or grab the discount for the best savings. All three of these VPNs have a 30 day money-back guarantee.
You can also read our guide on the best VPN services for other recommendations.
If you have used IPVanish, feel free to share your honest review (good or bad) below.
This IPVanish review was last updated on October 26, 2021.