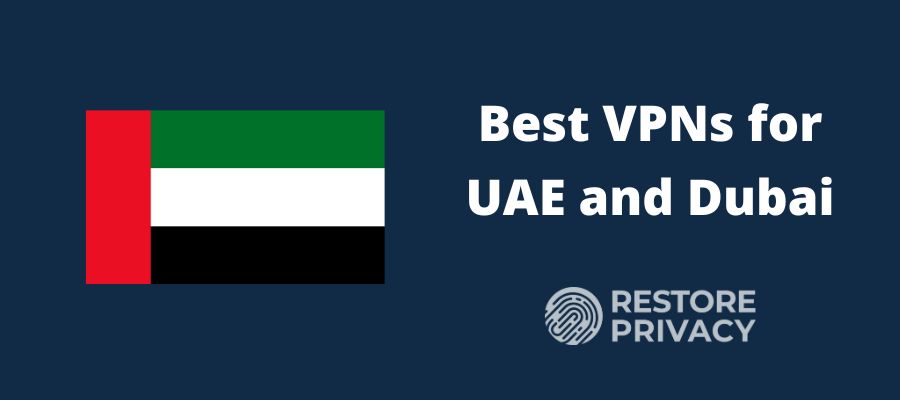 Are you tired of internet restrictions and censorship in the UAE and Dubai? Do you crave the freedom to access your favorite content and protect your online privacy? Look no further! In this blog post, we will delve into the importance of using a VPN when in the UAE to bypass censorship, access blocked content, and safeguard your online privacy.
Dubai is the largest city in the United Arab Emirates (UAE). It is a major business hub for Western Asia and a popular tourist destination. Unfortunately, people in the UAE encounter massive restrictions on the websites and streaming services they have access to. This is because the Telecommunications and Digital Government Regulatory Authority of the UAE government utilizes powerful tools to block VPN services and censor the internet. The UAE also blocks access to VoIP services like Skype.
Using a reliable and secure VPN in UAE is an absolute necessity for several reasons. A good UAE VPN can help you:
Circumvent censorship

Ensure your online privacy

Access restricted content

Regain access to VoIP services
Top VPNs for UAE and Dubai
NordVPN – Best VPN for UAE with the fastest speeds, secure apps, great streaming support, and extra privacy and security features like Threat Protection (with a 68% off coupon)
Surfshark – Affordable VPN for UAE with secure apps
ExpressVPN – User-friendly VPN for UAE
First, a VPN will encrypt your traffic and provide you with more privacy and security when you are online. Second, a good UAE VPN will unblock restricted and geo-blocked content to give you access to streaming services, websites, and even VoIP services while you are in UAE.
In this guide, you will examine how the best VPN services for the UAE and Dubai can protect your online privacy, unblock geo-restricted content, and enhance your internet experience in the region. We'll cover the top VPN options available, examining their features, benefits, and performance.
Whether you're a frequent traveler, an expat, or a privacy-conscious individual, this guide will help you make an informed decision on which VPN will serve you best in the UAE and Dubai. We'll also answer some common questions about using a VPN in restricted networks.
Important note for Etisalat users
We have learned that most VPNs are now getting blocked by Etisalat. The one exception to this is NordVPN. However, you may need special instructions for using NordVPN on the Etisalat network. These instructions are easy to get. Simply sign up for a NordVPN account here and then open up a chat with NordVPN support on the website to learn exactly what to do.
Here's how we rank the best VPNs for UAE and Dubai
When using a VPN in UAE and other restricted networks, the priorities are a little different and the stakes could be much higher. The focus must be on airtight security and privacy features first and foremost. All of the VPNs we recommend have policies and features that support this.
These are the vital characteristics of a safe VPN for the UAE and Dubai:
It is not based in the UAE, where the government's desire to spy on you could override the VPN's commitment to your security and privacy. This rules out any official UAE VPN services.
It uses secure VPN protocols, such as WireGuard or OpenVPN, with a strong cipher for secure encryption.
It includes a kill switch to prevent unencrypted data from leaking which could expose you to the local internet censors.
It includes DNS leak protection and private DNS lookups to shield your activities from Etisalat and other local ISPs.
It offers obfuscated servers to disguise your VPN traffic as regular (HTTPS) traffic so no one even knows you are using a VPN.
It keeps no logs that could be used to disclose your identity or your online activities.
Important: Not only must your VPN have these characteristics to be safe for use in the UAE and Dubai, but you must install your VPN before you arrive in the region. There are rumors that the act of visiting the website of a VPN service may itself trigger additional scrutiny from the local authorities.
Now we'll examine each of these VPN services more closely and show you exactly how to use them in restricted areas. Here are the best VPNs for UAE and Dubai:
NordVPN – Best VPN for UAE and Dubai in 2023
| | |
| --- | --- |
| VPN | NordVPN |
| Based in | Panama |
| Logs | No logs (audited) |
| Price | $3.19/mo. |
| Support | 24/7 live chat |
| Refund | 30 days |
| Website | NordVPN.com |
NordVPN stands out as the best overall VPN for Dubai and the UAE, thanks to its obfuscation capabilities, which are crucial for bypassing VPN blocks in the region. NordVPN is based in the pro-privacy jurisdiction of Panama. It provides robust encryption, swift connection speeds, and the security you need to safely access the full internet.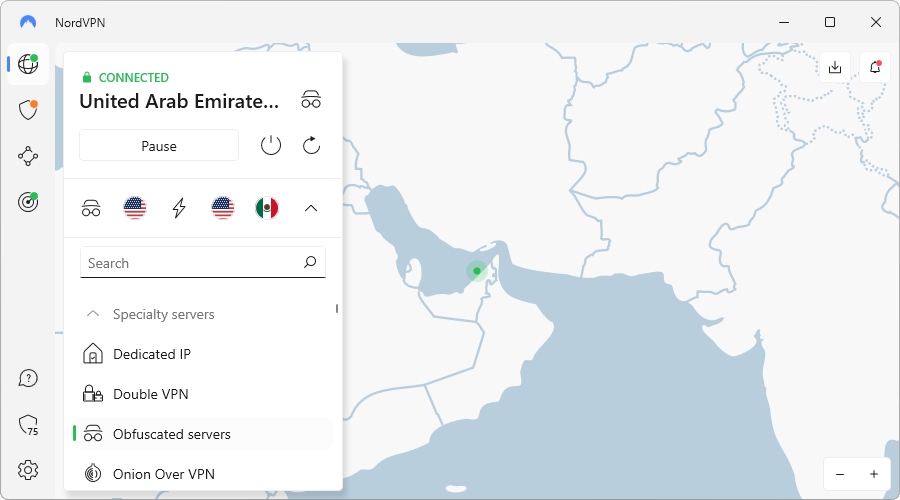 NordVPN allows you to unblock popular streaming platforms like Netflix and BBC iPlayer. As a result of our tests with various streaming services, we rate NordVPN as one of the best VPNs for streaming media. It also offers an impressive range of specialized servers and advanced features not found in most other VPNs.
NordVPN Features
NordVPN offers numerous impressive features that make it a top choice as a UAE VPN. NordVPN supports the lightning-fast WireGuard VPN protocol (it is integrated into their custom NordLynx protocol). But when using NordVPN in the UAE, you will employ the OpenVPN protocol with obfuscated servers for a secure connection that won't attract unwanted attention.
Kill switches are another essential feature when using NordVPN in this region. Kill switches prevent accidental data leaks by automatically disconnecting your internet if the VPN connection drops. This ensures your real IP address remains hidden, even if you experience a brief disconnection from the VPN server.
Important: Make sure to turn on the VPN Kill Switch before you leave for the UAE to ensure no leakage at any point in your trip!
Moreover, NordVPN provides private DNS. This encrypted service routes your DNS requests through the servers, ensuring maximum privacy. Since your DNS queries are encrypted, no one, not even Du or Etisalat (UAE Internet Service Providers) can spy on them.
Combine NordVPN's kill switch and lack of leaks with its private, encrypted DNS lookup service, and you have a system that keeps you protected at all times in the UAE and Dubai.
NordVPN also offers a SmartDNS service, which allows you to access geo-restricted content on devices that do not support VPN connections. With NordVPN, you can enjoy unlimited bandwidth and access popular streaming services like Netflix, Hulu, and BBC iPlayer without any restrictions.
When it comes to advanced features not commonly found with other VPNs, one impressive example is Threat Protection. This feature blocks ads, malware, trackers, and malicious websites. On Windows and macOS systems, Threat Protection can also scan downloaded documents for malware and protect your system even when you are not connected to the VPN server network.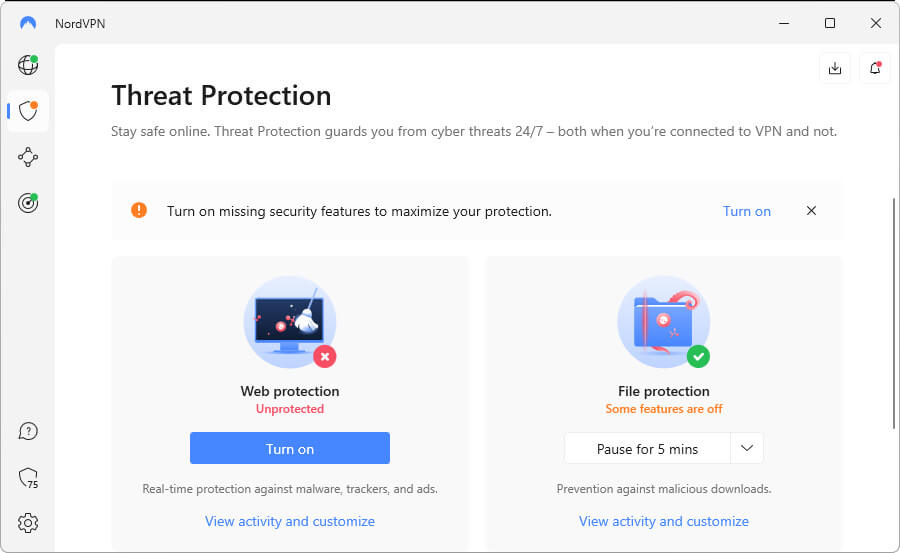 NordVPN server characteristics and capabilities
NordVPN boasts over 5,600 servers in its network, including servers in the UAE. Its obfuscated servers ensure that your VPN traffic is indistinguishable from regular internet traffic, making it difficult for network administrators to detect and block your VPN connection. In addition to the obfuscated servers, NordVPN has the following server types:
Double-VPN servers encrypt traffic by passing it through two VPN servers located in different countries.

Onion-over-VPN servers add the anonymity of the Tor network to the security and privacy of NordVPN.

P2P servers optimized for torrenting and other P2P (Peer-to-Peer) file transfers. NordVPN ranks as the best VPN for torrenting.

Dedicated IP servers are servers with a static IP address that are dedicated to your sole use (not shared with other NordVPN users).

Obfuscated servers are located in various parts of the world, including some that serve the UAE. Connecting to one of these servers will allow you to hide the fact that you even using a VPN, and also get through blocks. Getting this right is very important. Here are step-by-step instructions that were current as of August 2023.
All NordVPN servers are diskless servers, which guarantees that no user data can be found on the servers. Combined with NordVPN's location in the privacy-friendly jurisdiction of Panama, and its audited no-logs policies, this service provides exceptional privacy to its users.
Other changes to the network are underway that can only make it even more secure and reliable. Many of the servers in the network include 10 Gbps data channels to prevent blockages within the network. The company is in the process of moving to 100% colocated servers.
See all NordVPN features here >>
How to use NordVPN Obfuscated servers for the UAE and Dubai
Here are the steps to follow to get connected to the UAE and Dubai using NordVPN's Obfuscated servers:
Open the NordVPN app and find the box that shows the connection status of the VPN.

Select the down arrow in the bottom right corner to see a list of available servers.

Hover the mouse cursor over the Obfuscated servers menu option. A three-dot option will appear to the right of the menu option. Click that to see the Obfuscated servers selection box.
In the Country menu, select the down arrow, and scroll to the United Arab Emirates option.
Select the United Arab Emirates option and click the Connect button. After a moment you will be connected to one of NordVPN's Obfuscated servers serving the UAE and Dubai.
Once the connection is complete, you should see that the UAE is selected in the NordVPN map, as shown below: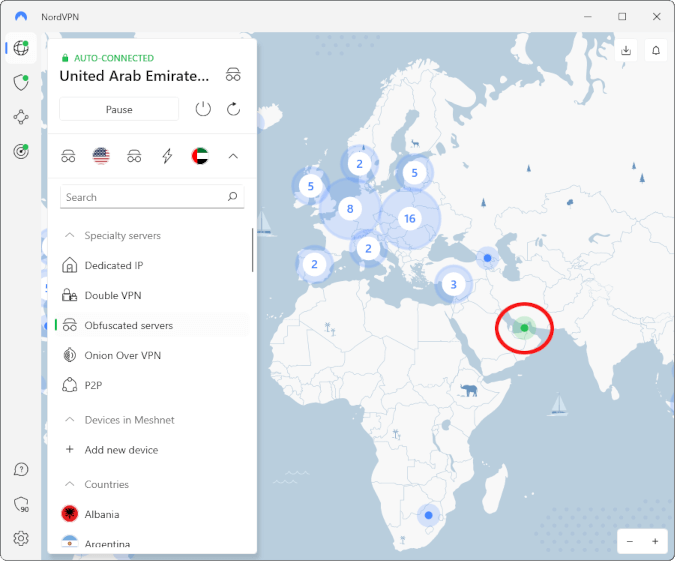 As demonstrated in the "How-to" above, the NordVPN apps are secure and user-friendly, with many similarities to the VPN apps of Surfshark and ExpressVPN.
NordVPN performance
This service is fast and can connect you to many geo-blocked Netflix libraries and other streaming video services from around the world that are not affected by the UAE's strict internet censorship policies.
And speaking of fast, there is NordLynx. This is NordVPN's custom VPN protocol that combines the high speed of the new WireGuard protocol with enhanced security and privacy measures.
Important: While NordLynx is really fast and really secure, it does not work with obfuscated servers. Therefore we recommend you stick with OpenVPN while in the UAE and experiment with NordLynx when you are in a less-restrictive environment. Nonetheless, even when using OpenVPN, NordVPN outperforms the leading competition with speeds, as seen in the NordVPN vs IPVanish test report.
NordVPN pricing and more
NordVPN offers a full 30-day money-back guarantee and 24/7 live chat support directly through their website. This company offers one of the best VPN values today, with a subscription coming out to well under $4.00 per month when you use the coupon below.
+ Pros
User-friendly and reliable apps
Double-VPN and Tor-over-VPN servers
Passed numerous 3rd-party audits
Strong encryption standards with full support for WireGuard
Works with Netflix and many streaming sites
Threat Protection feature to block ads, trackers, and malware
Professional 24/7 live chat support
Consistently fast speeds
Dedicated RAM-servers with 10 Gbps bandwidth channels
– Cons
Big discounts only available with 2-year plans
NordVPN's Cyber Deal is live:

Get 68% Off NordVPN with the coupon below plus 3 months FREE, no activation code needed:
(Coupon is applied automatically; 30 day money-back guarantee.)
To learn more about our top pick among VPNs for Dubai and the UAE, check out our complete NordVPN review.
---
Surfshark – A low-cost VPN that works in UAE
| | |
| --- | --- |
| VPN | Surfshark |
| Based in | The Netherlands |
| Logs | No logs |
| Price | $2.30/mo. |
| Support | 24/7 live chat |
| Refund | 30 days |
| Website | Surfshark.com |
Surfshark is another excellent VPN choice for the UAE/Dubai, offering fast connection speeds and budget-friendly pricing without compromising on privacy or security. With its user-friendly apps and unlimited simultaneous connections, this Netherlands-based VPN provider is perfect for users who want to access streaming services and protect their online privacy without breaking the bank.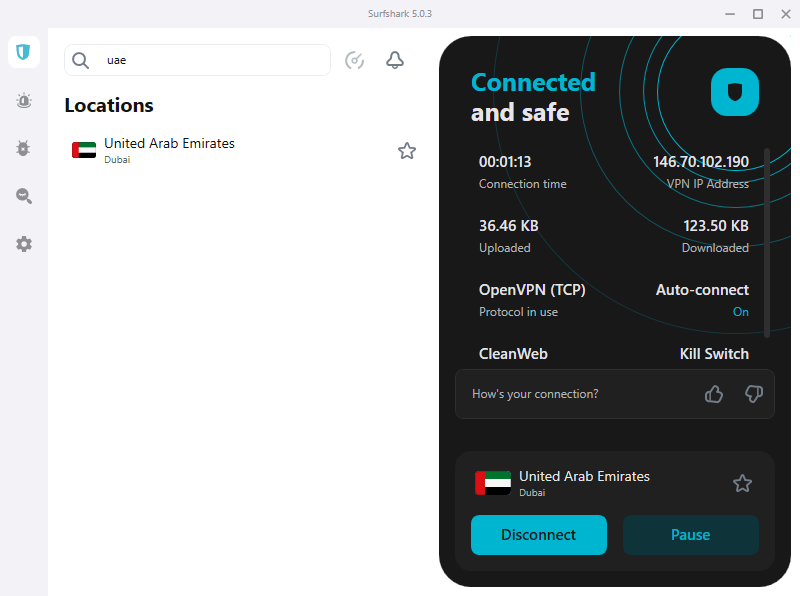 Although Surfshark supports several different protocols, including the WireGuard VPN protocol, in the UAE you will need to use Surfshark with the OpenVPN protocol to get around Emirates restrictions.
One of the standout features of Surfshark is its unlimited simultaneous connections. This means that you can use one Surfshark account to cover all your devices, providing comprehensive protection for your entire household. Additionally, Surfshark's kill switch feature ensures that your real IP address remains hidden even if your VPN connection drops, preventing data leaks.
According to our chats with Surfshark Support, the VPN automatically switches to one of the OpenVPN protocols whenever it detects that obfuscation is necessary. But for the best protection, we recommend that you manually select the OpenVPN protocol, turn on CleanWeb, confirm that the kill switch is activated, and turn on NoBorders mode. Do all these things before you even leave for the UAE.
CleanWeb is Surfshark's ad, tracker, and malware blocker. It will work to protect you against disruptive ads, trackers, and malware threats commonly found on streaming sites. This ensures a smooth and uninterrupted streaming experience while you enjoy your favorite content in UAE and Dubai.
NoBorders is a Surfshark feature that automatically connects you to one of their special servers when in a restrictive environment like the UAE. These special servers are designed to get you connected to the internet in situations where you would normally be blocked.
Note: You will find step-by-step instructions for setting up Surfshark for use in the UAE in the next section.
Surfshark includes private DNS lookups on each server with DNS leak protection to ensure that if a UAE Internet Service Provider is spying on you, they will not be able to decipher your DNS lookups.
Like NordVPN, Surfshark servers are diskless, meaning they cannot store any user data. And that means your privacy is protected even in the extreme case of someone physically seizing one of their servers. They offer multi-hop connections (like double-VPN) as well as Surfshark + TOR (like Tor-over-VPN). The Surfshark server network includes 3,200+ servers in 100 countries. Speed tests for the Surfshark vs NordVPN comparison show that Surfshark is blazing fast, with speeds up to 397 Mbps with US servers running WireGuard.
Surfshark can also unblock many Netflix libraries, Amazon Prime, and other streaming video services, allowing you to view content that the UAE censors. It is currently one of the best VPNs for Netflix with numerous Netflix regions being supported.
See all Surfshark VPN features here >>
How to Use Surfshark for UAE and Dubai
To use Surfshark in Dubai and other parts of the UAE, you'll first need to download and install the Surfshark app on your device. We recommend you do this before you travel to the region.
Once the app is installed, you should set Surfshark to use the OpenVPN protocol. When OpenVPN is selected, Surfshark automatically runs in Camouflage mode, obfuscating the fact that you are even using a VPN. Also enable CleanWeb, the Kill Switch, and NoBorders mode.
To do this, launch the Surfshark app, and select Settings. All of these options are available as you scroll down the page, as you can see here:
Surfshark offers a full 30-day money-back guarantee and 24/7 live chat support. At less than $2.50 per month with the two-year plan, it is a high-quality VPN at a cheap VPN price. With all these features and an unlimited number of connections, this VPN remains a great choice for the UAE.
+ Pros
Unlimited connections
User-friendly apps for all devices and operating systems
CleanWeb feature to block ads, trackers, and malware
Works great with Netflix and many other streaming services
24/7 live chat support
Strong encryption and security features (audited)
– Cons
Limited support for VPN routers
Above average monthly prices
Surfshark VPN Coupon:

Get 82% off Surfshark VPN (drops the price down to $2.30 per month) plus 2 months FREE:
(Coupon is applied automatically.)
You can learn more about Surfshark in our complete review of Surfshark VPN.
---
ExpressVPN – A secure and reliable VPN for UAE
| | |
| --- | --- |
| VPN | ExpressVPN |
| Based in | British Virgin Islands |
| Logs | No logs (audited) |
| Price | $6.67/mo. |
| Support | 24/7 live chat |
| Refund | 30 days |
| Website | ExpressVPN.com |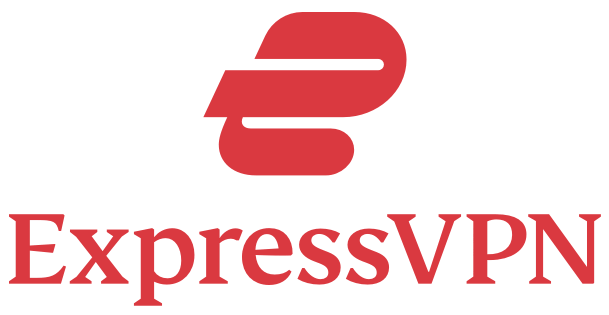 ExpressVPN consistently ranks among the top VPN services in the world. It is a simple and secure VPN solution that is ideal for streaming content in Dubai and the UAE. With its user-friendly interface and access to popular streaming platforms like Netflix, Amazon Prime Video, and BBC iPlayer, ExpressVPN makes it easy for users to enjoy their favorite content while ensuring their online privacy and security.
This service has passed a slew of third-party security, privacy, and no-logs audits, and has a well-deserved reputation for protecting user privacy. You can count on ExpressVPN to keep you safe.
ExpressVPN has all the characteristics of a safe, reliable VPN for use in the UAE. It is based in the British Virgin Islands and runs a very secure network of diskless servers. ExpressVPN uses OpenVPN with AES-256 encryption, has a great kill switch, uses its own encrypted DNS system, and passes all of our leak tests. And they famously keep no logs of any sort, which has been confirmed by outside auditors.
If you need a good streaming VPN, ExpressVPN is near the top of the list. It is a VPN that works with Hulu, Netflix, Amazon Prime, and DAZN. They have also resolved some past problems and regained their place among the best VPNs for BBC iPlayer, an impressive feat to be sure.
But what about obfuscated servers? Looking at their website, it doesn't appear that ExpressVPN promotes their obfuscation solution very prominently. However, ExpressVPN does have a lineup of stealth servers to get around VPN restrictions and blocks. These servers should be able to defeat the UAE censors as well.
How to use Express VPN in UAE and Dubai
Because ExpressVPN does not publicly advertise its obfuscated servers, you'll need to contact ExpressVPN Support before configuring the VPN for the UAE. The support team will provide the information you need to set everything up, which is why you need to plan ahead. The support team will tell you exactly which servers are obfuscated. (This information is likely not advertised so that ExpressVPN can better avoid detection and blocking.)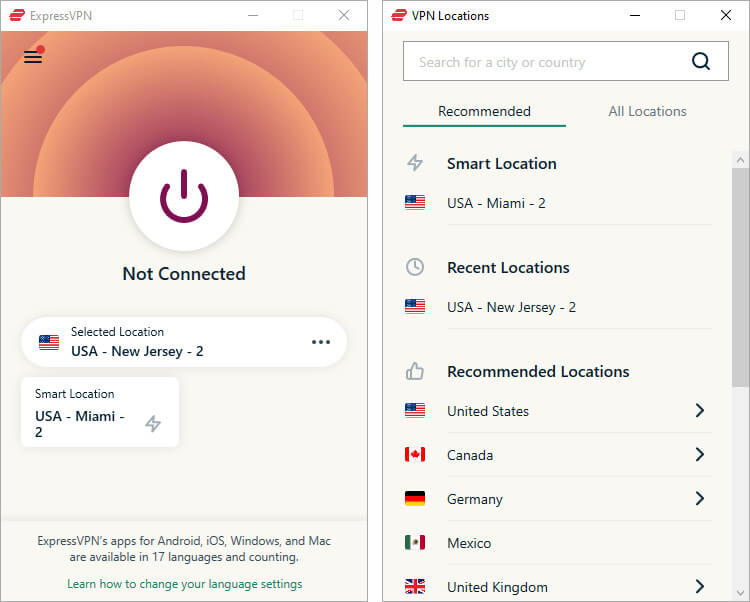 ExpressVPN notes that it may take up to 60 seconds for the app to establish a connection. Please wait at least that long before canceling or retrying the connection. If ExpressVPN fails to connect, you can contact their 24/7 live chat support staff for immediate assistance.
That said, ExpressVPN truly is one of the best VPN services in the world. Like our other top picks, ExpressVPN offers a 30-day money-back guarantee, allowing users to test its services risk-free. If you're looking for a simple, secure VPN for streaming in UAE and Dubai, ExpressVPN could be your best option. Just be sure to have the VPN installed and a game plan for what to do when you arrive in the UAE.
+ Pros
User-friendly and secure apps
Split tunneling feature (for macOS, Windows, and routers)
Works with Netflix and most streaming services
24/7 live chat support
Passed independent third-party audits for security and no-logs
Very large server network
– Cons
Above-average prices
Fewer features
Average OpenVPN speeds (use Lightway)
The ExpressVPN review has more details and recent test results.
---
VPN.ac – A good VPN for UAE with strong encryption
VPN.ac is a high-quality VPN service based in Romania. This puts them well outside the big surveillance alliances. Romania is also a jurisdiction that doesn't force them to keep any logs. Twice now, first in 2009, then again in 2014, attempts to impose the EU data retention regulations onto Romania were declared unconstitutional by the Constitutional Court of Romania (CCR).
It offers strong encryption and a comprehensive range of features, making it an excellent choice for users who want a reliable and secure VPN solution. With its customizable obfuscation features and no-log policy, VPN.ac ensures a secure and private browsing experience in UAE and Dubai.
Note: The VPN.ac no-logs policy has not yet been audited by external auditors.
VPN.ac supports OpenVPN, WireGuard, and other VPN protocols. As with the other VPN services reviewed here, you will need to use the OpenVPN protocol with their obfuscation features.
VPN.ac apps include a kill switch (make sure you activate it) and passed all our leak tests. Here is the VPN.ac app we used for testing: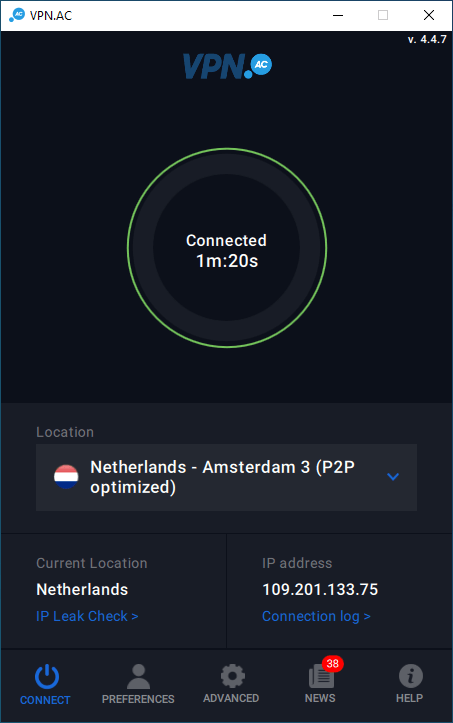 To make the leak testing as useful to you as possible, we did this testing with VPN.ac set up in the obfuscated configuration you should be using when in the UAE (details below).
We included tests for DNS leaks and found none. VPN.ac passes your DNS lookups through the VPN to its private, encrypted DNS system, where they are mixed with millions of randomly generated lookups, making it virtually impossible for anyone who somehow hacks into their DNS to figure out which lookups belong to users.
See all VPN.ac features here >>
How to Use VPN.ac for UAE and Dubai
With VPN.ac you configure your own obfuscated connection by selecting the VPN protocol and port that will be used to connect to the VPN server. Note that this configuration is only intended for countries or networks that are highly restrictive.
Here are the steps to set up VPN.ac for maximum protection in the UAE (we recommend you do so before connecting to any UAE ISP for the first time):
Launch the VPN.ac client and select the Advanced option.
Set the Protocol to OpenVPN XOR.
Set the Port to TCP-443.
Select Kill switch.
Select I am in China or another censored country. This gives you access to VPN.ac's servers configured for China or other restricted countries. They will appear in the VPN.ac client as "China Optimized" servers.
If you are using a computer that runs Microsoft Windows, enable your Windows Firewall and select Block IPv6.
With these settings configured, click the Connect button at the bottom of the VPN.ac window.
Open the China Optimized list, and select any of the servers in that list for maximum safety when using VPN.ac in Dubai or the UAE.
Here is a screenshot of the VPN app from steps 1 and 2 above: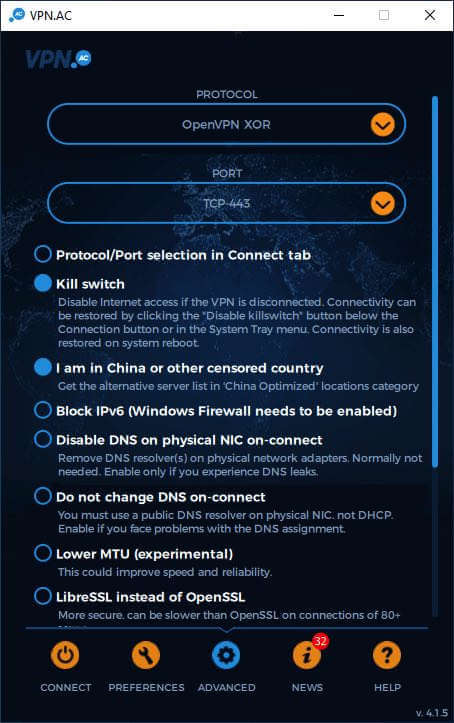 More things to know about VPN.ac
VPN.ac was founded by a group of network security professionals and offers good performance, lots of security options, and a competitive price point. They provide a good selection of specialty servers, with double-hop and P2P optimized servers in addition to the China Optimized servers we were just talking about. Not surprisingly given that they have a set of China-optimized servers, VPN.ac also made our list of the best VPNs for China.
One thing we particularly like about VPN.ac is their use of bare metal servers that they don't overload with too many users. However, there are not too many servers in operation, with only about 20 countries covered. This makes the server network smaller than both NordVPN and CyberGhost.
One drawback with VPN.ac is that it does not offer any live chat support, but instead relies entirely on email. The refund policy is also limited to seven days, which is shorter than our other recommended VPNs for Dubai in this guide.
+ Pros
Dedicated bare-metal servers with self-hosted encrypted DNS
Excellent speeds with plenty of available bandwidth
Multi-hop (double VPN) server configurations
Obfuscation features with many different encryption options
Secure proxy browser extensions
WireGuard VPN support
– Cons
Does not work well for streaming

Fewer features than other leading VPNs

Limited refund window (7 days)
Discounted trial: You can grab a discounted one-week trial for only $2.00 (see the FAQ page).
See the VPN.ac review for detailed test results and analysis.
---
Important VPN characteristics for the UAE and Dubai
Whether you are visiting UAE as a tourist, or you work and reside in this country full time, you will need a good VPN for UAE.
While we listed the most important characteristics a VPN should have if you want to use it safely in the UAE and Dubai, we glossed over the details to let you see our recommended VPNs faster. If you were hoping for more details on any of those characteristics, you've come to the right place.
Here are some more considerations when selecting the best VPN for UAE and Dubai:
Get a VPN that is not based in the UAE
Because VPNs exist, "out there" on the internet somewhere, it's easy to forget that they have real, physical locations as well. That is vitally important because a VPN is subject to the laws of the jurisdiction it is based in. A VPN based in the UAE is subject to the UAE's strict internet censorship laws. Regardless of what their marketing might say, a UAE VPN has to do what they are told by their government.
If you use a strong pro-privacy VPN that is not based in the UAE (like any of those we discuss in this post), the UAE government can't compel the VPN to do anything. UAE law doesn't apply in Panama, the British Virgin Islands, the Netherlands, or Romania, the countries where our VPN picks are based.
Not only are these VPNs not bound by UAE law, but they have a vested interest in not complying with requests for information unless compelled by their local government. Any VPN that gets a reputation for giving up information about its users will get a reputation as one that can't be trusted. That is death for a privacy-focused company like a VPN.
The moral of the story is: If you plan on using a VPN for anything that is prohibited by UAE law, make sure the VPN you use is not based anywhere in the UAE.
The VPN uses secure VPN protocols with a strong cipher
While OpenVPN is still the most popular VPN protocol these days, it is not the only available one. Both the WireGuard VPN protocol and the Lightway VPN protocol offer some real advantages over OpenVPN. If this is the case, why is it so important to choose a VPN service that uses the OpenVPN protocol?
There are several reasons this is the case (see Other benefits of OpenVPN below)
The biggest reason you need OpenVPN for any VPN for UAE and Dubai is because the obfuscation systems they use to evade UAE censorship all require the use of OpenVPN. Obfuscation is the safest way to access the internet for Dubai and the UAE, so you will need a VPN that supports OpenVPN and obfuscation to surf the web safely.
Other benefits of OpenVPN
One reason that OpenVPN is so popular is that several of the older VPN protocols are known to have serious security vulnerabilities, including apparently being compromised by the NSA to make it easier to spy on their users. You definitely don't want to be using a compromised protocol, such as PPTP, in an environment like the UAE.
Another reason OpenVPN is so popular is that it is open source. Most people in the privacy community believe that open-source software is safer to use because anyone with the technical skills can review the code and look for backdoors and other trickery that could compromise OpenVPN. This is also a bit of a virtuous cycle: The OpenVPN protocol is popular, so more people are likely to check its code. This makes it seem safer, which in turn makes it more popular. And the cycle repeats.
Another benefit of OpenVPN's popularity is that developers develop for it first. When there is a new need (a way to obfuscate VPN data, for example) the chances are good that developers will concentrate their efforts on a fix for the most popular protocol first. OpenVPN and IKEv2 remain the most popular protocols, but WireGuard is also gaining popularity.
All of the VPNs we recommend for use in the UAE or Dubai provide strong encryption through the use of strong ciphers and secure VPN protocols. Could they ever be cracked? Perhaps sometime in the future. But we've seen calculations stating that even the fastest supercomputers today would need millions of years to crack the AES-256 cipher typically used by VPNs. That's strong enough for us.
Note: There may be a performance tradeoff when using obfuscation that adds an extra layer of encryption. If you want the fastest VPN we've tested, we'd recommend going with NordVPN.
FAQs: VPN for UAE and Dubai
Here are some of the most frequently asked questions about VPNs for UAE and Dubai along with their answers. Note that we are not lawyers and certainly not experts on the UAE's legal system. What you see here is our best understanding of the legal situation, but always check the laws in your respective country.
VPN Legality and Usage Guidelines in UAE
While the use of VPNs in the UAE is widespread, the legal status of VPNs in the country is in a gray area. It is generally allowed to use a VPN, provided that no prohibited activities are conducted with it, such as accessing blocked websites or sharing copyrighted material without a license.
The UAE government has passed laws that stipulate penalties for using a fraudulent IP address, which could include temporary imprisonment and fines ranging from Dhs 500,000 (USD $136,128.51) to Dhs 2,000,000 (USD $544,514.04). However, the enforcement of these laws is not consistent, and many users continue to use VPNs in the UAE without facing any legal consequences.
To ensure that you use a VPN safely and responsibly in this area, it is essential to choose a reliable VPN provider with strong encryption, obfuscation capabilities, and a no-log policy. By following the usage guidelines and staying informed about the legal status of VPNs in UAE, you can enjoy a secure and private browsing experience in the country.
Do Streaming and Gaming Work with a VPN in UAE?
VPNs can be used to access streaming services and gaming platforms in UAE and Dubai, allowing you to enjoy your favorite content without any restrictions. By connecting to a VPN server in another country, you can bypass geo-restrictions and access content that is not available in UAE/Dubai. Popular streaming services like Netflix, Amazon Prime Video, and BBC iPlayer can be accessed using a VPN like NordVPN, Surfshark, or ExpressVPN.
In addition to streaming, VPNs can also be used to access gaming platforms that may be blocked or restricted in UAE and Dubai. By connecting to a VPN server in another country, you can bypass these restrictions and enjoy a seamless gaming experience.
However, it is essential to choose a VPN provider with strong encryption, obfuscation capabilities, and a no-log policy to ensure your online privacy and security while streaming and gaming in UAE and Dubai. By using a reliable and secure VPN, you can enjoy unrestricted access to your favorite content and gaming platforms in the country.
What are Some Tips for Maximizing VPN Performance in UAE?
To get the best performance from your VPN in UAE and Dubai, there are several tips you can follow. First, use a VPN with obfuscated servers, like NordVPN or Surfshark. Obfuscated servers ensure that your VPN traffic is indistinguishable from regular internet traffic, making it difficult for network administrators to detect and block your VPN connection.
Another tip is to change VPN protocols if you're experiencing slow connection speeds or connection drops. Some VPN protocols, like OpenVPN, may be more susceptible to blocking by UAE's internet service providers. In such cases, switching to another protocol, like IKEv2 or L2TP/IPsec, can help improve your VPN performance.
Note: It would be wise to check with the VPN company support team before changing protocols. They can tell you which protocols they recommend for your specific location.
Finally, always keep your VPN software updated to ensure you have the latest security features and performance enhancements. Regularly updating your VPN software can significantly improve your VPN performance in UAE and Dubai, ensuring a secure and private browsing experience.
Finally, always keep your VPN software updated to ensure you have the latest security features and performance enhancements. Regularly updating your VPN software can significantly improve your VPN performance in UAE and Dubai, ensuring a secure and private browsing experience.
What is an obfuscated server and why is this important for UAE VPN services?
Normally when you use a VPN, your data is protected from outsiders by the encrypted tunnel the VPN creates. But what outsiders can see is that you are using a VPN service. That's because the format of VPN data is different than the format of regular Internet traffic. Sophisticated hardware called packet sniffers can detect those differences using a technique called deep packet inspection, and notify the authorities that you are using a VPN.
An obfuscated server is a VPN server that not only protects your data like a regular VPN server but also attempts to hide (obfuscate) the fact that you are using a VPN at all. The goal is to make it appear to the authorities that your suspicious VPN traffic is innocuous regular internet traffic.
Without diving deep into the technical side of things, here are some of the tricks VPNs can use to make your VPN data look like normal Internet traffic:
Apply an obfuscation algorithm such as OpenVPN Scramble or O

bfsproxy

to hide telltale indications that the message was encrypted with OpenVPN.
Use STunnel or the SSTP Protocol (Windows only) to hide your data in an SSL tunnel so it looks like HTTPS data.
The exact mix of tricks and techniques used to obfuscate your data varies from VPN to VPN, as do the naming conventions. Look for names like Obfuscated servers (NordVPN), Camouflage Mode (Surfshark), Chameleon or Stealth mode, China Optimized (VPN.ac), or For China Users (ExpressVPN) to see if a VPN service provides obfuscation.
As you can imagine, there is an ongoing obfuscation battle pitting privacy advocates and VPNs against oppressive governments and law enforcement. Sometimes the pro-freedom forces are ahead (obfuscation is working) and sometimes their opponents have the advantage (they can see past the defenses). But it is clear to us that in places like the UAE, taking advantage of the best obfuscated VPN servers (regardless of name) is the safest way to use the Internet.
Is using a VPN in the UAE illegal?
Using a VPN is legal in the UAE. Indeed, many business people rely on them to connect to their corporate servers while on business in the UAE. However, the UAE censors many types of websites, and accessing them with a VPN is illegal.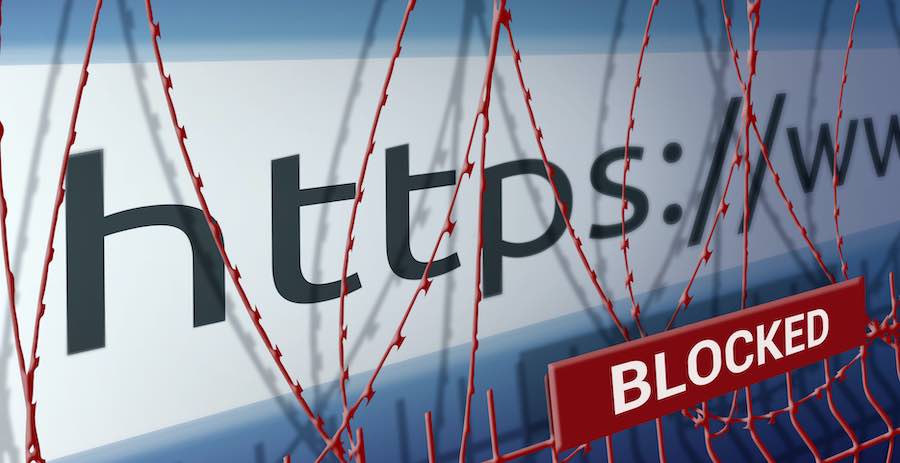 Some of the types of content that are censored/restricted in the UAE are:
Adult content websites
LGBT sites
Anti-religion sites
Anti-government sites
Gambling sites
Of course, using a VPN to unblock websites is one of the reasons so many people rely on VPNs in the UAE.
In addition, the UAE government is heavily involved in the communications sector of the economy, and the use of any VOIP (Voice Over Internet Protocol) services is prohibited. This means using a VPN to connect to services like Skype and Viber is illegal.
But even with the restrictions, UAE citizens are among the heaviest VPN users in the world. According to Statista, fully 25% of internet users in the UAE used a VPN in the second quarter of 2017, putting them in the top 10 for worldwide usage.
What happens if you use a VPN in UAE?
As you can see from the preceding statistic, VPN usage in the UAE is very common. It appears that there is no problem using a VPN, as long as you aren't caught doing anything prohibited with it. On the other hand, we have been hearing rumors that the country has been trying to block certain VPN service providers and that downloading a VPN while in the UAE could put you on some sort of list for additional scrutiny.
If you are planning to visit the UAE and will need to use a VPN while you are there, the best way to avoid any problems is to choose one of our recommended VPNs and install it before arriving in the country.
Can I use a VPN in Dubai?
Dubai is part of the UAE, and as far as we can determine is governed by the same laws with respect to VPNs. That means you can use VPNs, as long as you don't use them in any of the myriad ways prohibited by local laws.
Which VPN are people using in Dubai?
Given the confusing laws governing the use of VPNs in Dubai, it is no surprise that we have not been able to find any statistics on which VPNs people are using the most in Dubai.
However, given the fact that Surfshark, ExpressVPN, and NordVPN are the leading VPN services in the world, and all three are extremely well suited for use in Dubai and the rest of the UAE, it is a safe bet that they are the VPN services used by the most people in the emirate. While the UAE government has approved VPN services available, it is hard to imagine that very many people use them.
Conclusion: Use a good VPN for UAE in 2023
VPNs remain a popular tool for both residents and tourists in the UAE. However, for the best experience (and to avoid ending up on a government surveillance list) you should have a VPN installed and configured before your arrival.
Our top recommendation remains NordVPN. It is the most reliable VPN for UAE and also includes extra privacy and security features, plus excellent support for streaming services. The 68% off coupon is an added bonus, plus all plans come with a 30-day money-back guarantee.
In these days of ever-increasing surveillance, choosing the right VPN for your situation is important. It is doubly important when you are going to venture into a highly-censored and restricted environment like the United Arab Emirates. If you expect a VPN to protect your Internet activities there, you need one that has certain characteristics that can counter the threats you will encounter.
A VPN is also useful even if you aren't doing anything that UAE officials might object to. VPNs remain crucial tools for online streaming, which has exploded in popularity over the past few years, largely thanks to millions of people being locked down or restricted from travel. VPNs are also growing in popularity in response to increasing security risks online.
Each of the VPN services in this review has the characteristics you need to use the internet safely on your trip. But we strongly recommend you don't leave your decision to the last minute, as you will want to get the VPN configured for that hostile environment before you ever set foot in the Middle East. The last thing you want to be doing is configuring your VPN to evade censorship and surveillance where UAE authorities can see what you are doing!
So don't let internet restrictions hold you back! Embrace the freedom of a secure and private internet experience with one of the best VPNs for UAE and Dubai, and explore the digital world without limits.
While all the options covered here are excellent VPNs, our top pick for the UAE, Dubai, and other heavily restricted locations is NordVPN. Use the coupon below to get the best price possible for this exceptional VPN service.
This UAE VPN guide was last updated on August 28, 2023.