We've been hard at work testing to find the best VPNs for streaming. And with more people staying home to stream content online, finding a good VPN for streaming is more important than ever before.
Whatever your situation, you are here because you need a VPN (Virtual Private Network ) to view streaming content. And you know that not just any VPN will do. The requirements for streaming blocked content from multiple sources around the world are pretty stringent. Most VPNs do not make the grade.
To save you the time and headaches of finding VPNs that do make the grade, we did the work for you. We've already updated you on the best VPNs for Netflix. That makes sense since Netflix is the service most desired by people around the world. But there are lots of other quality streaming media services you might want to use.
So we expanded our testing a bit to give you this review of the best VPNs for media streaming, internationally, nationally, whatever it takes, wherever the content is that you need.
The result is this guide. We found four VPNs that will give you the best results for media streaming using the vast amount of blocked content from around the world.
Ranking the best VPNs for streaming in 2022
Here are the criteria we used when deciding which VPNs make the grade:
The ability to unblock US Netflix and other restricted content.
A fast-enough, reliable-enough server network that you can enjoy streaming HD content without interruptions.
Responsive technical support that can help you with general issues as well as problems connecting with a specific streaming service.
Quality apps for a range of streaming devices, not just your PC or smartphone.
Good performance across the range of supported devices and VPN servers.
The ability to serve as a great general-purpose VPN, not just a streaming media tool.
Now that we've covered the ranking criteria, let's examine the top performers.
Here are the best VPNs for streaming:
NordVPN – Best VPN for streaming
| | |
| --- | --- |
| VPN | NordVPN |
| Based in | Panama |
| Logs | No logs (audited) |
| Price | $3.29/mo. |
| Support | 24/7 live chat |
| Refund | 30 days |
| Website | NordVPN.com |
NordVPN is an excellent all-around VPN service and has earned the title as the best VPN for streaming. It effectively unblocks streaming media and smoothly delivers it to your device, wherever you happen to be located in the world. This VPN service is built on 5,200 fast VPN servers spread across 60 countries, giving you great access to the best streaming media services around the world.
The large server network provides access to all the major Netflix libraries around the world without getting blocked. NordVPN also works well if you need a VPN to unblock Hulu, Amazon Prime, BBC iPlayer, HBO Max, and more.
NordVPN helps you stream to the devices you want to use: computers, smartphones, and tablets of course. But also Android TV boxes, Smart TVs even FireSticks and Fire TVs. It even has a dedicated app in the Amazon store if you want to use a VPN for Firestick and Fire TV.
NordVPN is no slouch when it comes to classic VPN characteristics. It is based in Panama, keeps no logs of your online activities, and every one of its 5,200+ servers runs on dedicated hardware in RAM-disk mode, the latest in VPN server security. An audit by VerSprite confirmed their network security, while another audit by PWC AG verified that they really do keep no-logs of your IP address or anything else.
Even beyond its ability to unblock streaming content, NordVPN also delivers on privacy features:
CyberSec – This blocks ads, stops trackers, and prevents malware domains from doing you harm.
Double-VPN servers – These encrypt and route traffic through two VPN servers, making tracking your activities even more difficult for online snoops.
Tor-over-VPN servers – These combine the anonymity of the Tor network with the security and privacy of NordVPN's VPN server network.
Obfuscated servers – These make your VPN traffic look like HTTPS encrypted traffic, allowing you to get around blocks and restrictions (important if you need a VPN for China).
We already alluded to NordVPN's raw speed, but it also came out on top as the fastest VPN we have tested. Here is one of our speed test results with a NordVPN server in Seattle, giving us 445 Mbps.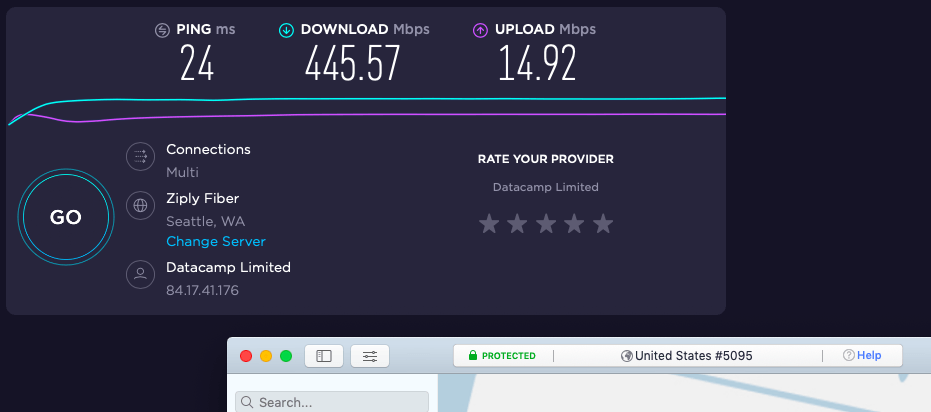 NordVPN has more than enough speed and reliability for full HD streaming and any other high-bandwidth activity. Then there is NordLynx, which is NordVPN's implementation of the WireGuard VPN protocol. This offers the latest cutting-edge security with top-tier performance.
Customer support: Users have access to 24/7 live chat support directly through the website, a major benefit if you run into a technical glitch or need to know which server works best for streaming. Finally, NordVPN also offers a 30 day money-back guarantee that will give you plenty of time to test-drive the VPN with any streaming service.
Streaming services unblocked: Netflix (US, UK, Canada, France, Germany, Netherlands, Spain, Japan, Australia, India, Italy, and possibly other regions), BBC iPlayer, Hulu, Amazon Prime, HBO, and many more.
+ Pros
User-friendly and reliable apps
Double-VPN and Tor-over-VPN servers
No logs (audited twice)
Strong encryption standards with full support for WireGuard
Works with Netflix and many other streaming services
CyberSec feature to block ads, trackers, and malware domains
24/7 live chat support
Dedicated RAM-servers with 10 Gbps bandwidth channels
– Cons
Big discounts only available with long-term subscriptions
NordVPN Coupon

Get 68% Off NordVPN plus FREE anti-malware protection for all your devices:
(Coupon is applied automatically.)
Want to learn more? Check out our full NordVPN review.
---
Surfshark – A cheap VPN for streaming with great performance
| | |
| --- | --- |
| VPN | Surfshark |
| Based in | The Netherlands |
| Logs | No logs |
| Price | $2.30/mo. |
| Support | 24/7 live chat |
| Refund | 30 days |
| Website | Surfshark.com |
Surfshark is a relative newcomer (launched in 2018) to the VPN world that is quickly gaining a first-class reputation. They have a large network of 3,200+ servers spread across 63 countries. More importantly for this review, Surfshark now offers faster speeds than ever with full support for the WireGuard VPN protocol. It even beat out ExpressVPN in the Surfshark vs ExpressVPN comparison.
They have the ability to unlock at least 20 Netflix regional libraries, and are hard at work expanding the list. Of course, to make this list they have to work with more than just Netflix, and they do, checking the boxes for all the major streaming services.
The Surfshark apps are also easy to use and were very reliable in our tests. Surfshark offers apps for Windows, Mac OS, iOS, Android, Linux, and more. Surfshark also supports different streaming devices, such as Smart TVs and even Amazon Firestick devices. Below is the Surfshark Windows VPN app we tested (allowing you to easily stream content on a Windows computer).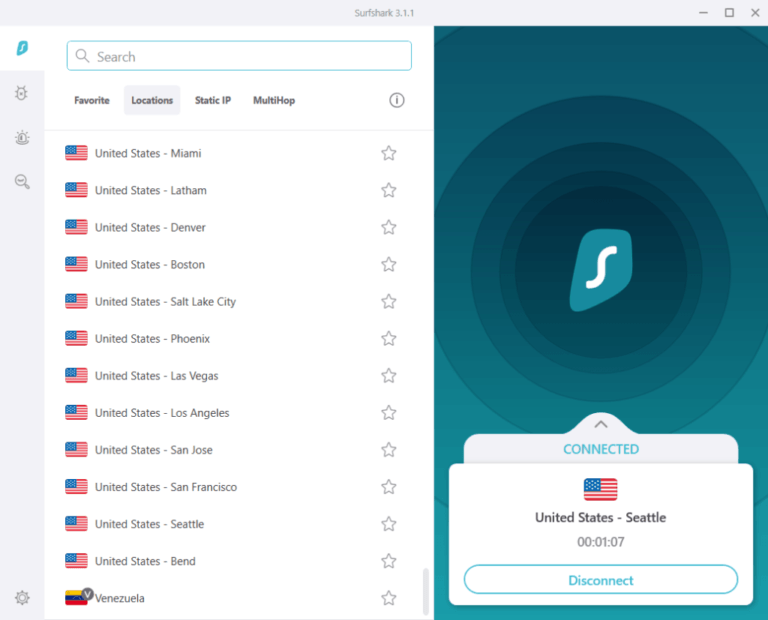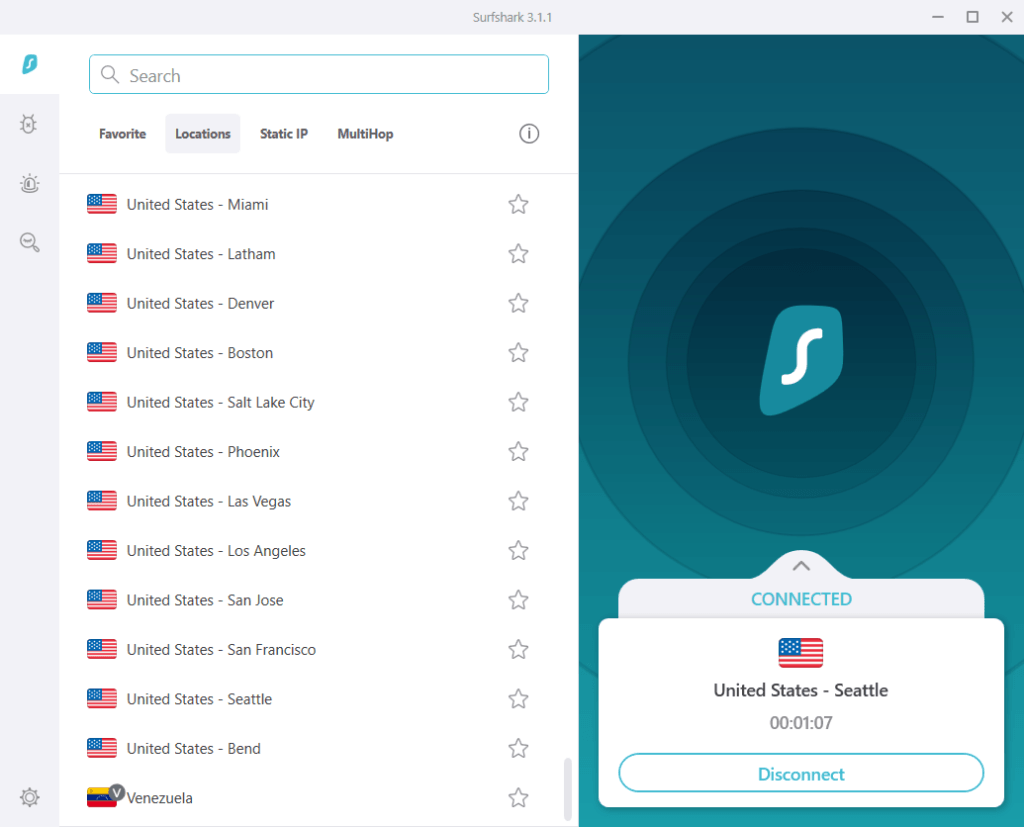 When it comes to regular VPN stuff, like securing your privacy against all the snoops and creeps out there, Surfshark ranks at or near the top in almost every category. It earned good marks from Cure53 in a security audit of their mobile device browser extensions, which boosts our confidence in the overall security of the service.
On the advanced VPN tech front, Surfshark offers some of the same tools as NordVPN:
CleanWeb to block ads, trackers, and malware domains
Double-VPN servers that encrypt traffic over two hops
Obfuscation features to conceal VPN traffic as regular HTTPS encryption
WireGuard support for mobile and desktop operating systems (except Linux)
In addition to everything above, Surfshark has two areas where it really stands out. First, they support an unlimited number of simultaneous connections with a single account. This is particularly important if streaming is a big part of your family life and want to connect every device in your household to the VPN.
The other standout feature of Surfshark is its price. Using the discount offer below, you can get this VPN for under $2.50 per month. With unlimited connections and a super-low price (one of the best cheap VPNs), you might think that Surfshark has to be cutting corners somewhere. But if they are, we can't find it.
They still offer quality apps for a large range of devices, 24/7 live chat support, and a 30 day money-back guarantee. Surfshark is definitely worth considering, especially if you have a bunch of people in the house who spend time streaming online.
Streaming services unblocked: Netflix (US, UK, Australia, Canada, Singapore, Italy, South Korea, Germany, Japan, Norway and working on more), Amazon Prime, BBC iPlayer, HBO, Hulu, SlingTV, and more.
+ Pros
Unlimited connections
User-friendly apps for all devices and operating systems
CleanWeb feature to block ads, trackers, and malware domains
Works great with Netflix and many other streaming services
24/7 live chat support
Strong encryption and leak protection features
– Cons
Limited support for VPN routers
No WireGuard support for Linux (currently in development)
Surfshark VPN Coupon

Get 82% off Surfshark VPN (drops the price down to $2.30 per month) plus two months FREE:
(Coupon is applied automatically.)
Want to learn more? Check out our full Surfshark review.
---
ExpressVPN – A secure and user-friendly VPN for streaming
| | |
| --- | --- |
| VPN | ExpressVPN |
| Based in | British Virgin Islands |
| Logs | No logs (audited) |
| Price | $6.67/mo. |
| Support | 24/7 live chat |
| Refund | 30 days |
| Website | ExpressVPN.com |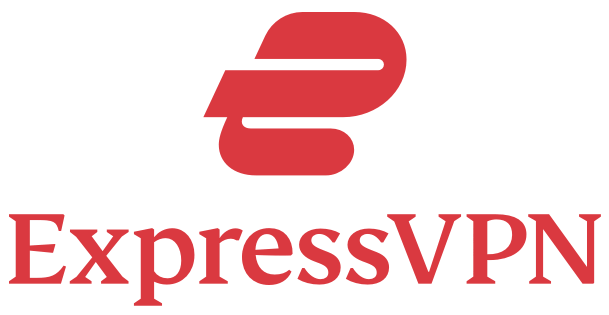 ExpressVPN is another fast, reliable VPN service that is great for unblocking Netflix and other streaming services. In comparison to NordVPN, ExpressVPN has more server locations, spanning 94 different countries. This may give it an edge with the most comprehensive coverage for streaming media from remote regions.
With an ExpressVPN subscription, you gain the ability to unblock all major Netflix libraries around the world. Additionally, ExpressVPN is one of the best VPNs for Amazon Prime Video and Hulu, as well as an unknown number of smaller, less-popular streaming services.
ExpressVPN has apps for numerous devices or operating systems you might want to use for streaming, including support for Smart TVs through their MediaStreamer smart DNS service. Below is the ExpressVPN Windows app I tested out for this guide.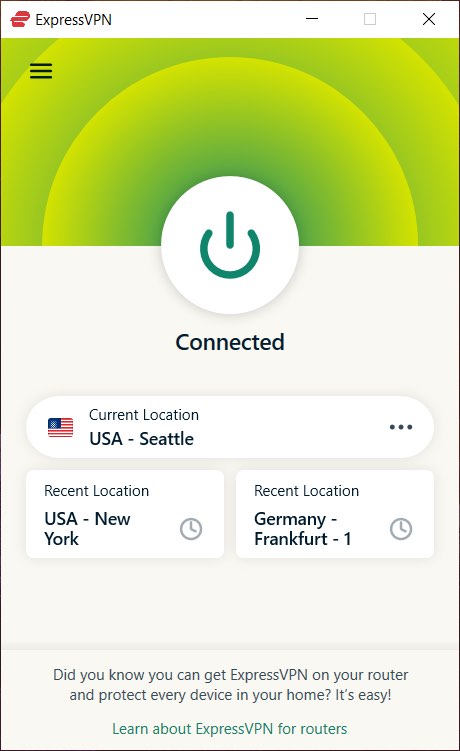 This VPN also excels at the traditional VPN features. It may not be as far out on the cutting edge of VPN tech as NordVPN is, but what ExpressVPN does, it does extremely well. Based in the privacy-friendly British Virgin Islands, this is a fast, secure, and private VPN with a strong no logs policy. It has passed independent audits for security and to verify that it is a no logs VPN service that remains true to its policies.
Customer Support is top-notch. We contacted their 24/7 live chat support with a problem connecting to one of the streaming services. It took just a few minutes for a Support tech to diagnose the problem and get me streaming the content I was looking for.
You can feel safe giving ExpressVPN a good, thorough trial since they offer you a 30 day money-back guarantee.
Streaming services unblocked: Netflix (US, UK, Canada, Australia, France, Italy, Japan, and Germany, along with other non-English-speaking regions), Amazon Prime, ESPN, HBO, Hulu, SlingTV, and more.
Note: ExpressVPN has been having troubles unblocking BBC iPlayer, but they told us things seems to be working again, for now. As an alternative, you may want to check out NordVPN or Surfshark for BBC iPlayer.
+ Pros
User-friendly and secure apps
Fast speeds throughout the server network
Split tunneling feature (for Mac OS, Windows, and routers)
Works with Netflix and most streaming services
24/7 live chat support
Passed independent third-party audits for security and no-logs
Very large server network
– Cons
Above-average prices
Fewer features than some leading VPNs
Want to learn more? Check out our full ExpressVPN review.
---
VyprVPN – Reliable and user-friendly streaming VPN (but expensive)
| | |
| --- | --- |
| VPN | VyprVPN |
| Based in | Switzerland |
| Logs | No logs (audited) |
| Price | $8.33/mo. |
| Support | 24/7 live chat |
| Refund | 30 days |
| Website | VyprVPN.com |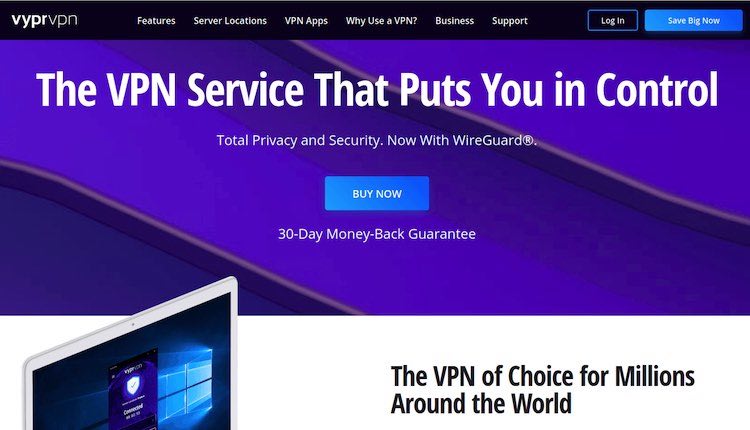 VyprVPN clocks in at #4 on our list of the best VPNs for streaming media of all sorts. While they have fewer servers than the other VPNs on this list (700+), those servers are distributed across 60+ countries, giving VyprVPN an excellent footprint for access to the world's best streaming media sources.
With VyprVPN, you gain access to three of the most important Netflix regional libraries and the rest of the streaming services listed above. Their network isn't quite as fast as ExpressVPN or NordVPN, but they are good enough to get the job done.
Like our other top two recommendations, VyprVPN also supports the WireGuard VPN protocol in all apps. We found this to work exceptionally well, with speeds up to 300 Mbps on some servers. However, it is still lacking with other features, as we noted in the VyprVPN vs NordVPN comparison.
VyprVPN easily handles all the basic VPN chores. They've passed a third-party audit of their system, and offer useful additional features like their own DNS servers, additional security for accessing cloud servers, and their Chameleon protocol for bypassing internet censorship.
Like the rest of our recommendations, VyprVPN offers 24/7 customer support and a 30 day money-back guarantee. Below you can see the VyprVPN desktop app we tested out for the review. All apps come with a VPN kill switch and access to every server in the network.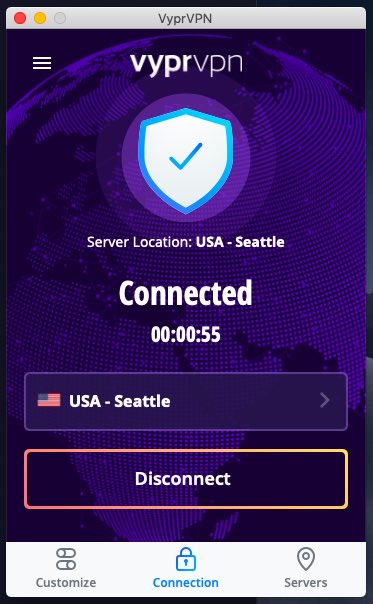 Streaming services unblocked: Netflix (US, UK, and Germany), Amazon Prime Video, BBC iPlayer, Hulu, HBO.
+ Pros
Secure applications with strong encryption
Excellent speeds with all servers tested
Full WireGuard support directly in VPN apps
Chameleon protocol (obfuscation)
Entirely self-owned server network
User-friendly apps for many devices/platforms
Based in Switzerland with an audited no-logs policy
30 simultaneous connections
– Cons
Requires name for registration
No cryptocurrency payment options
Above-average prices
Want to learn more? Check out our full VyprVPN review.
---
VPN Streaming FAQs
We've looked at the best VPNs for streaming media. But when it comes to streaming content, many people have questions beyond which VPN to use.
In this section we'll cover the most common questions related to VPNs and streaming content.
Here are the questions we'll answer:
Do you need a VPN for streaming
Which VPN is best for streaming
How to unblock Netflix
How to access streaming services from another country
Why streaming services block VPN users
How much speed you need with a VPN to stream video
Do you need a VPN for streaming?
If you don't care about privacy or security and just want to access local media, you may not need a VPN for streaming. For example, if you just want to stream Netflix USA from somewhere within the USA, in most cases all you will need is internet access.
However, there are many cases where using a VPN can offer big improvements for media streaming. Some Internet Service Providers still throttle streaming content. That is, they reduce the speed of your connection if they detect that you are streaming video, or using "too much" of their network's capacity. A VPN encrypts your connection, making it impossible for your ISP to see what you are doing online.
One big reason to use a VPN is to protect your privacy. After all, it is no one else's business what streaming content you consume. Streaming while using a VPN prevents various parties from spying on what you are doing online. This is especially important if you are using a VPN for torrenting to avoid copyright issues.
The biggest reason you might need a VPN for streaming is to access geo-restricted content. Many services check your physical location (represented by your IP address) and see if you are located within their service area. A VPN lets you change your IP address and apparent physical location to the location of the VPN server you are connected to.
By choosing the right VPN server with a good VPN for streaming, you can convince the streaming service that you are located in their region so they will let you view the content.
Which VPN is best for streaming?
Unfortunately, the answer to this question depends on your definition of "best." If you consider the best to be the fastest connection, the answer is NordVPN with its NordLynx protocol.
With that being said, any of the VPNs recommended in this guide are excellent options for streaming content online.
How to access streaming services from a different country
There are many reasons that you might want or need to get access to streaming services in another country. Since most streaming services place geo-restrictions on where their content can be viewed, a VPN is vital to getting access when it would otherwise be blocked.
But as we've seen in this post, most VPN services aren't up to the job. What you need is one of the best VPNs for streaming content, and a reliable internet connection. Here's how you get the job done, step-by-step:
Step 1: Get a VPN that works well with streaming services
You saw our recommendations for the best VPNs for streaming content. Here they are again:
Sign up for one of these services, then come back here.
Step 2: Install the VPN on the device(s) you will stream to
Leading VPN services often have apps for devices beyond just computers and smartphones. ExpressVPN and Surfshark are leaders here, with support for many streaming-capable devices such as smart TVs and consoles like Xbox and Playstation.


You can find the software for any supported device on the VPN service's website.
Step 3: Connect to a VPN server
Launch the VPN app on your streaming device. Select a server in the country you want to stream content from, not the country you are currently in. Wherever possible, connect to the server in the target country that is the closest to your present location. This should give you the best performance.
For example, say you want to stream US Netflix and you are sitting in Mexico right now. You should choose a US server located in someplace nearby, like Texas, rather than someplace far away, like New Jersey.
Note: The above advice is a general rule. In some cases, you may need to stream through a specific server in the target country, regardless of its physical location. Check with your VPN service if you are not sure which servers to use.
Step 4: Enjoy streaming content from anywhere in the world
Once you are connected to the right server in the target country, just log in to your streaming service as normal. Assuming the VPN you are using knows how to unblock the service you want to stream, that service will think you are just another local user.
Why streaming services block VPN users
Several major streaming services such as Netflix, Hulu, and the BBC make an effort to block VPN users from accessing their services. You shouldn't need to use a VPN for accessing BBC iPlayer, which is free anyway.
From the perspective of a user, this doesn't make any sense. After all, you are paying for your Netflix account, so why should you be blocked from using it just because you are on vacation in a different country?
The answer is that the people who hold the copyrights to streaming content want it that way. By dividing the world into regions and licensing content to each region based on its value in that region, the copyright holders can maximize profits from their content.
Reportedly, the contracts that streaming services sign with copyright holders require the streaming services to block people from outside the licensed region from seeing the content.
The streaming services have to acquiesce if they want the licenses, resulting in legitimate users being blocked from the content they pay for because they happen to be outside an arbitrary border.
This way of doing business also provides lucrative jobs for middlemen and gatekeepers who produce nothing while blocking regular people from access to content, media, websites, etc.
How fast does my VPN need to be for streaming?
The speed of your VPN is important, but what is really important is to be able to stream content of an acceptable quality.
Getting acceptable quality streaming depends not only on the high-speed connections within your VPN, but also the speed of your internet connection and the exact, real-world locations of yourself, the VPN server, and the streaming media servers.
This being the case, let's attack the problem by first looking at the speeds you need to attain for various video qualities, then by looking at things you can do to get the best speed out of what you have to work with.
Speed and quality
Here are some benchmarks for streaming speed and quality:
500 Kbps = Minimum quality
1,500 Kbps [1.5 Mbps] = Normal quality (less than 480p)
3,000 Kbps [3 Mbps] = SD quality (480p or better)
5,000 Kbps [5 Mbps] = HD quality (720p or better)
25,000 Kbps [25 Mbps] = Ultra HD quality (1080p or better)
Optimizing the speed of your connection
Let's assume you can't change your physical location, or the physical location of the streaming service. That leaves you with a few things you can change: the speed of your VPN, the speed of your internet connection, and the VPN server you connect to.
All else being equal, a faster VPN that can unblock the streaming service you want to use will give you a faster connection. The fastest VPNs we know of that are also capable of unblocking most streaming services are NordVPN and ExpressVPN. Choosing one of those will address this part of the speed equation.
All else being equal, a faster internet connection will give you better streaming results. If you are unhappy with the quality of your streaming content, try upgrading your internet service.
Why the last thing, the location of the VPN server you use, matters isn't so obvious. The reason is because messages traveling through the internet take longer the farther they need to travel. Connecting to a VPN server instead of directly to the streaming service always make the signal travel farther.
How much farther is the question. Say you are located in Monterrey, Mexico and you want to connect to a streaming service in New Orleans, Louisiana, USA.
You can reach the streaming service in New Orleans using any VPN server located in the United States. You could, for example, use a VPN server located in San Antonio, Texas (green circle). That server is almost directly between Monterrey and New Orleans, which means connecting to it doesn't force messages to travel much further than if you had a direct connection to New Orleans.
You can also reach the streaming service in New Orleans using a VPN server located in Miama, Florida (blue circle). But this connection will be much slower since messages between you and the streaming service have to travel thousands of kilometers out of the way to reach the VPN server in Miami.
To get the best speed and reliability, choose the VPN server that is located within the geographic region the streaming service supports (the United States in our example). If there is more than one VPN server available in the region, choose the one that is physically closest to you. Doing this will minimize the latency (delays) in the connection and should give you the best streaming performance possible in your circumstances.
Conclusion: Enjoy streaming with a good VPN service
Finding the best VPN for streaming media is more important than ever in this crazy, locked-down world of ours. With a streaming-ready VPN, you'll be able to:
Stream content from the US Netflix library and others, no matter which Netflix region you happen to be located in
Stream great content from major services like Amazon Prime, BBC iPlayer, and Hulu as well as hundreds of lesser-known streaming services
Gain all the privacy and security benefits that a quality VPN can provide
While today each of our recommended VPN services can unblock Netflix and other services, realize that VPN services and streaming media services are engaged in an unending war. The VPN server that gives you access to your favorite content today may fail miserably tomorrow. And the next day your VPN service may have 10 new servers that can make the connection. This is why 24/7 customer support is important. Never hesitate to contact support if you can't get into a particular streaming service. They will be able to help you quickly unblock access to the content you seek.
Streaming VPN Comparison Table

---

---

---

---
This VPN streaming guide was last updated with new information on March 7, 2022.