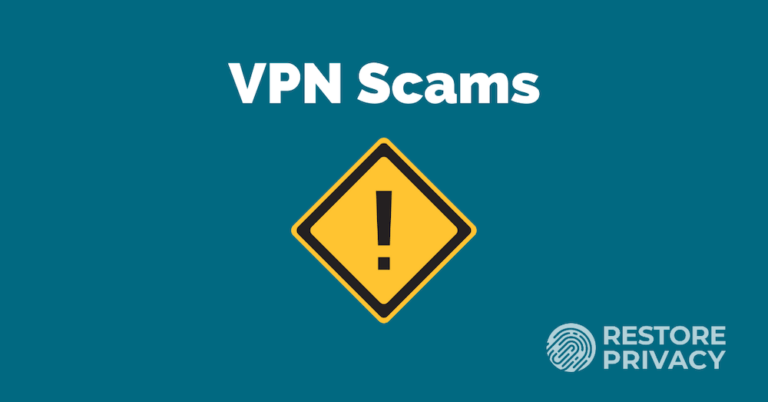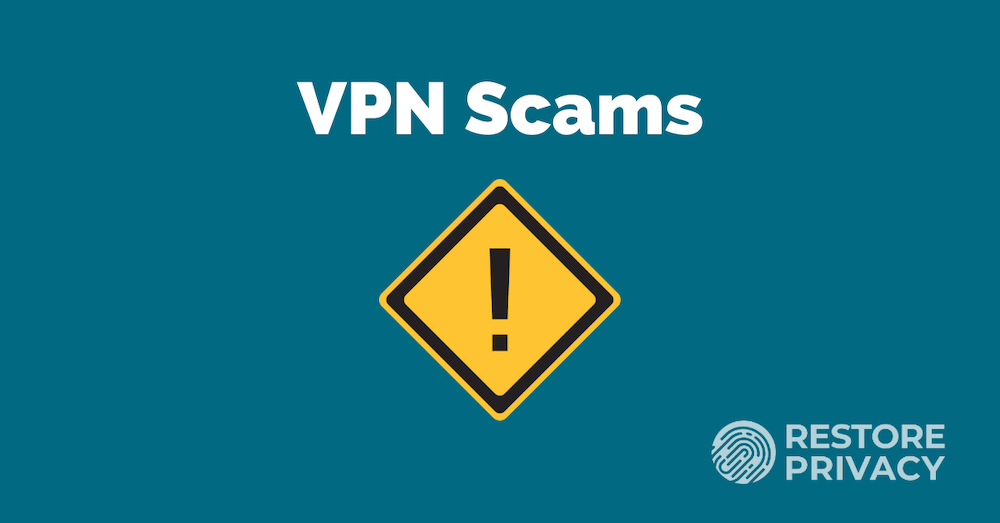 Have you been the victim of a VPN scam?
With the growing interest in online privacy and security, there are new VPN services popping up every week, promising 100% online anonymity and a "secure and private" browsing experience. And of course, you'll find plenty of fake reviews on various "best VPN" websites to tell you they're legit.
Unfortunately, I've found that many VPNs are misleading people with false marketing claims, sales gimmicks, and various scams. And because VPNs are often located in overseas jurisdictions, they will probably never be held accountable for dishonest marketing and/or outright fraud.
Since most people don't know what to watch out for, many fall victim to these common VPN scams.
But you're smarter than that.
Here are seven issues to avoid:
1. Lifetime VPN subscriptions
Running a fast, safe, secure network of worldwide VPN servers with good apps and support is expensive with fixed recurring costs.
Given these high costs, how can so many VPNs be offering cheap "lifetime subscriptions"?
There are a few different explanations:
The "free" or cheap VPN is collecting user data and selling it to third parties and advertisers. This is a popular and lucrative business – and it's most likely the business model behind most free VPNs.
The VPN blasts you with ads or redirects your browser to third party websites – and then earns commissions on sales.
The "lifetime" claim is a lie and they will simply cancel your "lifetime" subscription after a year or two (see VPNLand example below).
The VPN is similar to a Ponzi-scheme, requiring an ever-increasing number of new subscribers to remain financially solvent, until the house of cards collapses.
Bottom line: The "lifetime" is actually referring to the lifetime of the VPN company – not the customer. After selling a large amount of lifetime subscriptions, the owners could simply pay themselves out and then close the business. Buyer beware.
Some VPNs are simply cancelling all "lifetime subscriptions" and converting these accounts to recurring paid subscriptions. Here is one example I found with VPNLand, which is no longer operating (as of 2021):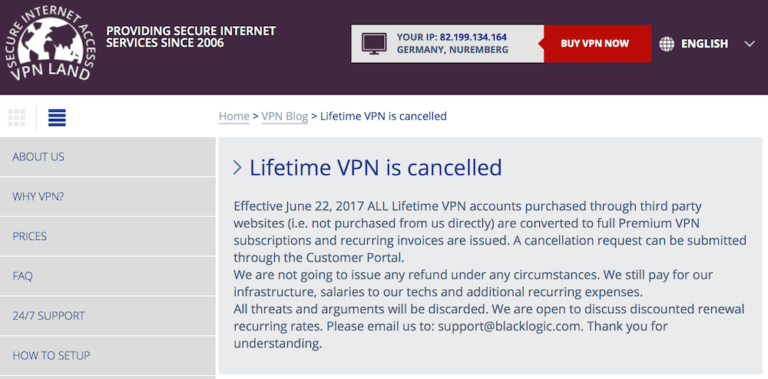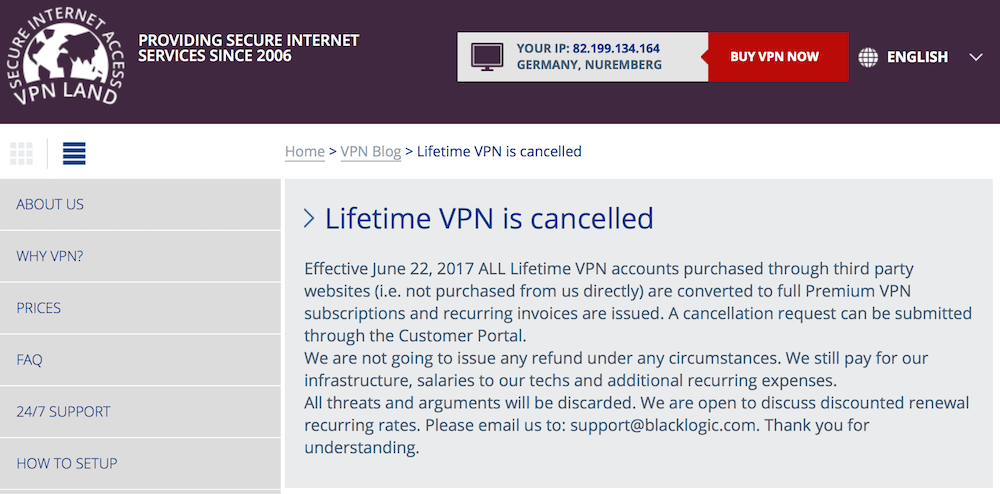 According to one user, he was given the following reply after complaining about the situation:
Just fyi. A "lifetime" account does not mean it will be valid till someone dies. It could be anyones lifespan – such as a cat, or lifespan of a hardware.
Don't fall for the lifetime VPN scam.
2. Free VPN services
Why are there so many free VPNs?
Answer: Free VPN services are being used as a tool to collect your data and resell it to third parties. Most people focus on the word "free" and ignore the dangers.
Just like with Gmail, Facebook, and other free products/services, free VPNs are are just another way for companies to profit off your private data. Data collection is the basic business model.
Example: This free VPN app is called "VPN Master – Free VPN Proxy" and is officially listed in the Google Play store. Notice that it has a high rating (4.5) and approximately 100,000 downloads.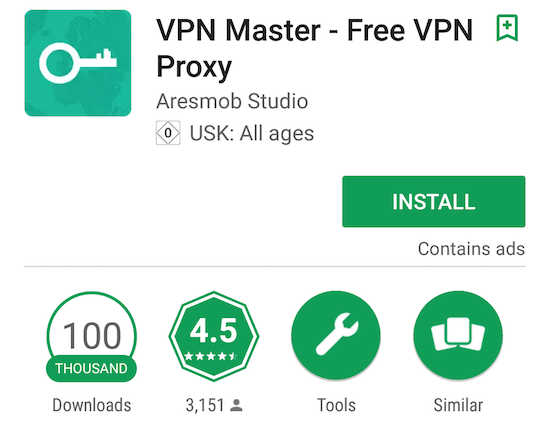 However, the "VPN Master – Free VPN Proxy" app also had eight positive hits for malware.
Below are the test results from VirusTotal: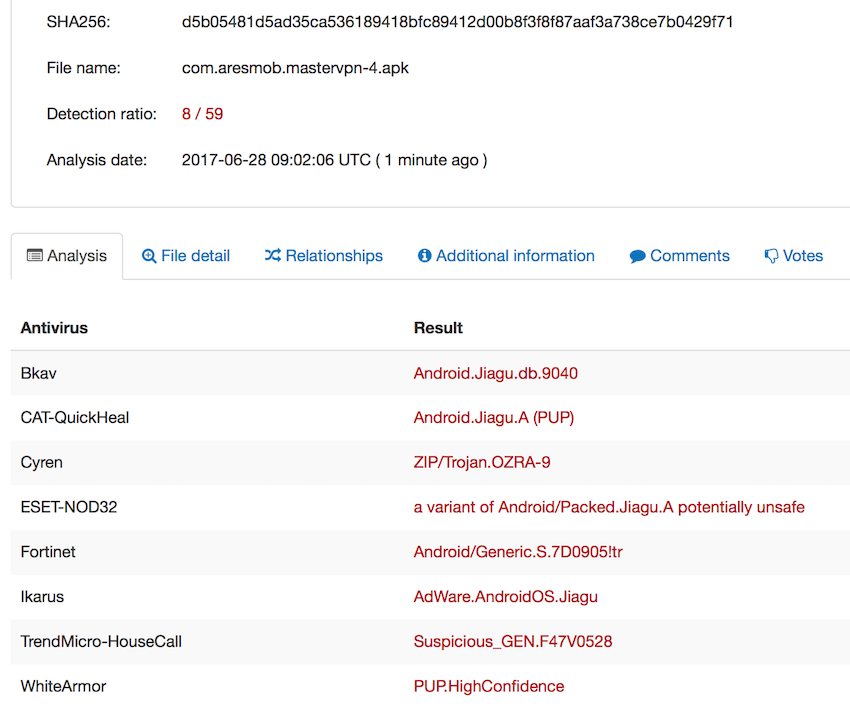 Extra Note: This is why you should never trust ratings in the Google Play and Apple stores.
Free VPN apps make money by:
Stealing your data (via malware, spyware, tracking, logging etc.) and reselling it to third parties
Redirecting your browser to "partner" websites, such as e-commerce or financial sites
Stealing your bandwidth and reselling it to third parties (see Hola on the VPN Warning List)
As the saying goes, there's no such thing as a free lunch. Or better yet, when something is free, you are the product.
On a positive note, a VPN subscription also does not have to break the bank. There are a number of cheap VPNs to choose from — but choose carefully.
There are also free trial VPN services to consider as well (try before you buy).
3. Shady free VPN apps
In general, free VPN apps have proven to be a problematic in terms of privacy and security. Recently, there was news about free VPN apps in the Google Play Store that were "designed to deliver financial malware" to unsuspecting victims. While there may be a few exceptions, the vast majority of free VPN apps you find in the Google Play or Apple stores are dangerous and insecure.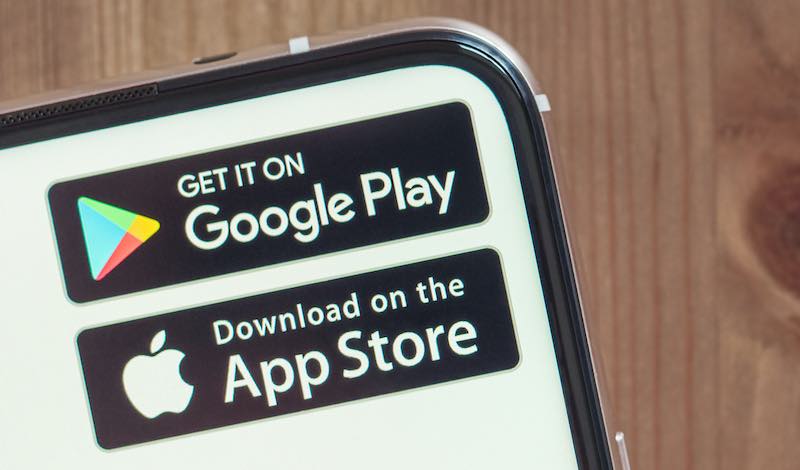 One team of researchers published a study of free Android VPN apps and found:
84% will leak your real IP address
82% attempt to access your sensitive data (user accounts, text messages)
75% utilize third-party tracking
38% contain malware (malware, trojans, malvertising, riskware, spyware) to steal or damage your information
18% don't even encrypt your data
16% steal user bandwidth
When you look closely at the growing VPN app scam, the scariest thing is that many of the most malware-infested apps are highly rated. This means there are literally millions of people using VPNs that contain malware and tracking. This is especially the case for free VPN apps – see the review for Betternet or VPN Master.
Note: Even some paid VPNs were named in the study. We covered this in our Hotspot Shield review, where this VPN had tracking libraries in the Android app.
4. Fake VPNs
With the growing interest in VPNs, fake VPNs are also coming onto the market. In other words, there is no VPN service at all – the scammers sell "VPN subscriptions" and then take your money and run. One example of this was MySafeVPN – but there are other examples as well.
In general, it's smart to avoid the new VPNs flooding onto the market, promising to make you "anonymous" with their software.
If the VPN service does not have a history and track record of good performance and support, it should probably be avoided.
5. Bogus VPN claims and faulty features
The VPN market is full of false claims. Here are a few common examples:
No Logs – There are a lot of VPN providers claiming to be a "no logs" or "logless" VPN services, but then carefully disclosing the information that is "collected" in their terms. Examples of this include Betternet and PureVPN. Always read the fine print (privacy policy). See the VPN logs guide for a crash course on this topic.
"Fastest" VPN – Many VPN services claim to be the "world's fastest VPN." Of course this is just marketing, with many VPNs having very mediocre speeds (usually because their servers are overloaded with users). There are indeed some fast VPNs, but you can only determine this with real-world test results.
IP address "leak protection" features – Lots of VPNs promote various leak protection features that don't actually work. The only way to verify the features is to run the VPN through a variety of VPN tests and checks.
Here is one example from the PureVPN review. Notice the DNS leaks: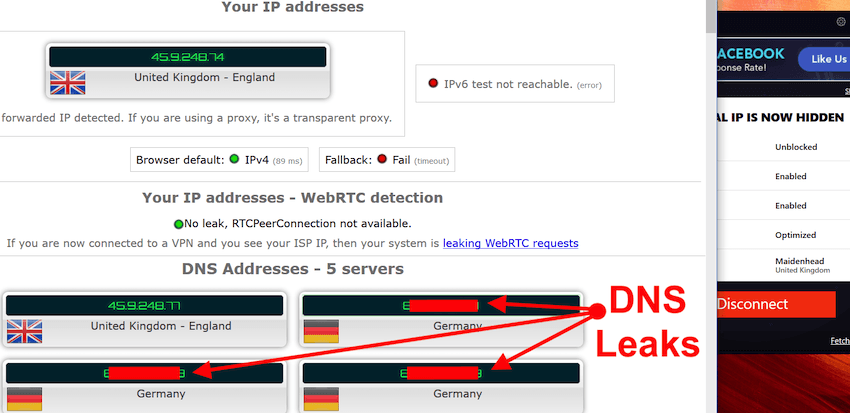 Have your scam radar on high alert when reading the claims and features on various VPN websites.
It's also worth mentioning, however, that there are some great VPNs out there that do provide some excellent features. One area we have been testing is VPN ad blocking features. This will allow you to block ads and trackers directly through your VPN app in one easy solution.
Note: Many VPNs claim to work in certain countries, but are in fact blocked. This is the case in a few countries such as China and the United Arab Emirates (UAE) where VPNs are blocked. For a discussion of this problem, and potential solutions, see our guide on VPNs for UAE and be sure to use a reputable provider.
6. Fake reviews, testimonials and comments
Every week there are new VPN services being offered and dozens of fake reviews to tell you they are amazing.
Over the years, I have seen various VPN providers bombarding forums, comment sections, and social media platforms with fake reviews of their products. This trend has been going on for years and it does not seem to be subsiding.
There also appears to be armies of paid commenters advocating how great certain VPNs are, especially whenever someone posts something negative. It's good to be cautious of everything you read online when it comes to VPNs, including:
Reviews
Testimonials
Comments
Keep in mind, many VPN "reviews" aren't based on actual testing. These reviews aren't reviews at all, but instead just paid marketing slogans.
There have also been VPN review sites caught promoting VPNs they own.
Conversely, there are also VPN companies that own review sites…
7. VPN-owned "review" websites
Would you trust a movie review that was written by the movie's own director? What about a book review that was written by the book's author? The answer to these questions is probably no, because there is an obvious conflict of interest in these cases. So why do we find so many VPN "review" websites owned by VPNs?
All the way back in 2017, I explained how some "VPN review" sites are probably operated by VPN services themselves. Well, this prediction has come true. Below are two examples where the "review" website and the VPN are owned by the same company.
The parent company of PCMag (J2 Global) is buying up VPNs, to include StrongVPN and now IPVanish. They recommend IPVanish in some of their "best VPN" guides, a trend I first reported in 2017. PCMag is a large publisher of digital content and owns many different websites discussing VPNs.
I wrote a report on this issue in 2021 after a major player in the VPN industry bought up a collection of review websites, and then promptly changed the recommendations. In this case, the parent company was Kape Technologies, which owns CyberGhost, Private Internet Access, and Zenmate VPN services. Kape made news when it purchased a company called Webselenese, which runs vpnMentor and Wizcase, two prominent VPN review websites.
Shortly after the purchase, I pointed out how the VPN rankings coincidently changed, with Kape Technologies' own VPNs (PIA and CyberGhost) getting a boost in the rankings. Here is the top of the website vpnMentor, which describes the new ownership if you click on the "Ownership" link: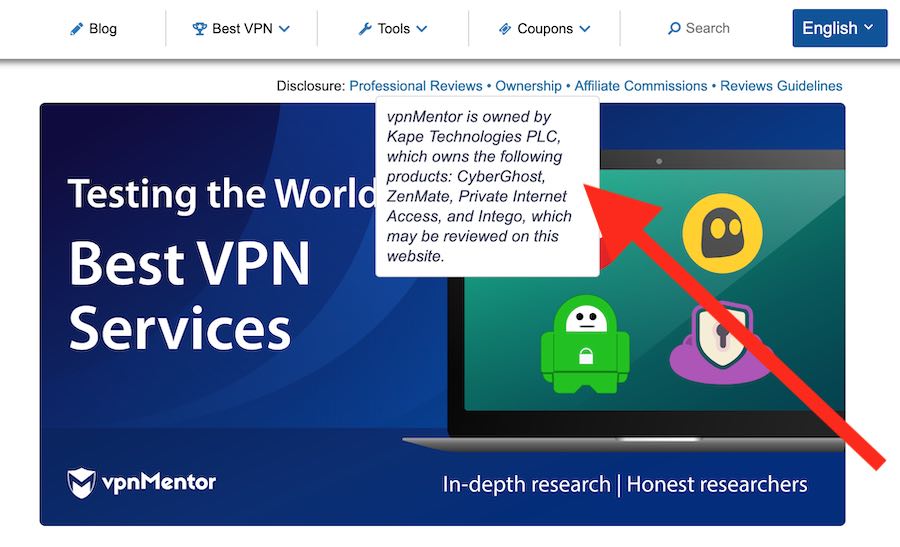 There are other examples of this in the industry, some which are documented, and others which are not. So do you think this is a VPN scam, a questionable practice, or perfectly acceptable business venture? I'll let you be the judge.
8. Third party sales websites
There seems to be a large market right now for third parties selling lifetime VPN subscriptions. These middle men should generally be avoided.
This trend raises a few questions:
Why trust your private information and banking details to third party sales websites?
Why is the VPN service even partnering with third party websites to offer "sales" or "lifetime subscriptions"?
This is something we noted in the Windscribe review, although the VPN is no longer selling these types of subscriptions.
It's best to avoid middle men and third party websites. Buy your subscription directly from the VPN company itself.
I have also seen examples of VPNs cancelling all lifetime subscriptions that were purchased through third parties. When the user complains, neither the VPN company nor the third party sales website take any responsibility.
My recommendation: only deal with your VPN directly, no third parties.
Conclusion: Steer clear of VPN scams in 2023
At the end of the day, a high-quality VPN service will not be free and will not resort to various gimmicks to boost their sales numbers. They will also be transparent and should have a strong track record of providing people with a good service.
If you are done reading about scams and want to see some high-quality VPNs that have passed all the privacy and security tests (and are located in good privacy jurisdictions), see my overview of the best VPN services.
You can also browse our page that lists all VPN reviews we've conducted over the years (the good and the bad).
Last updated and revised on January 3, 2023.