Windscribe is an interesting VPN out of Canada that refers to itself as a "meme focused VPN" on social media. Unfortunately, focusing on meme's does not equate to real-world performance and security with a VPN service.
Windscribe is a VPN service based in Canada. Since our last look at this service, they have added a number of new features to their already above-average feature set. With a mix of interesting advanced features and some notable drawbacks, Windscribe hasn't broken in to the first tier of services yet.
One major strike against them came in the Ukraine, where they suffered a security breach due to servers that were left unencrypted. Because the servers were left unencrypted, Ukrainian authorities were able to obtain Windscribe's private key when they seized the VPN servers, putting Windscribe users at risk.
While this incident demonstrates that Windscribe does not follow "industry best practices" (by their own admission), they have pledged to beef up their security. But before we dive into all the details of this Windscribe VPN review, let's first cover an overview of this VPN.
| | |
| --- | --- |
| VPN | Windscribe |
| Based in | Canada |
| Logs | Timestamps & Bandwidth |
| Price | $5.75/mo. |
| Support | Email |
| Refund | 3 days |
| Website | Windscribe.com |
+ Pros
User-friendly applications
Good leak protection features
Ad blocker (ROBERT)
Free plan with 10 GB of data per month
Browser extensions
– Cons
Slow speeds
Server security issues
Based in Canada (Five Eyes)
AI-based support system
Issues with professionalism
Additional research findings:
Windscribe logging policies
Windscribe is okay for Netflix
Windscribe is okay for torrenting
Windscribe VPN prices and refund policy
Now let's get into the results of this Windscribe review.
Windscribe VPN Pros
1. User-friendly applications
For this Windscribe review, I tested out both the Windows and Mac OS VPN clients. The VPN apps were user-friendly and simple, while also having some nice features.
Here was the Windscribe Windows VPN client I tested: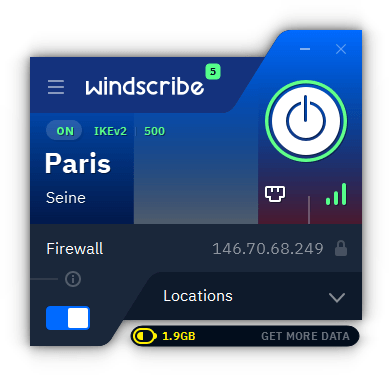 Note: The section at the bottom right in the preceding image is showing the amount of data available in the free version for the current month.
Clicking the three lines in the top-left corner of the VPN client will open up additional options and features for you to select. You can select startup options, auto-connection, customize notifications, and also modify the layout of the VPN client.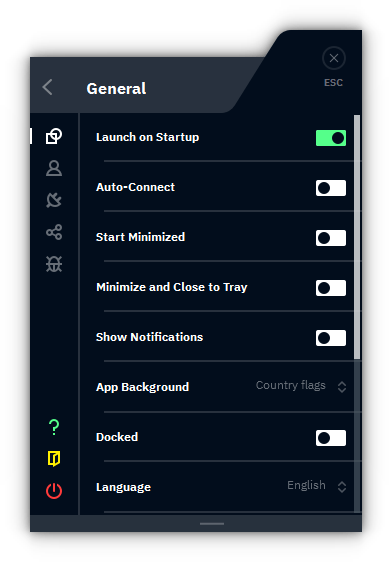 Overall I liked the look and feel of the Windscribe VPN clients. They are simple, clean, and intuitive. Although I did not test the Windscribe mobile apps for this review, they look similar and also have a decent rating (4.0) in the Google Play Store.
2. Good leak protection features
Another "pro" with Windscribe is the leak protection features.
In both the Windows and Mac OS clients, Windscribe offers a "Firewall" setting to block traffic if the connection is not active. The Firewall feature gives you three options: Manual, Automatic, and Always On.
Windscribe also allows you to configure DNS settings within the client. Below you can see both the Firewall options and DNS settings in the Windows VPN client. The "Firewall Mode" basically functions as the VPN kill switch.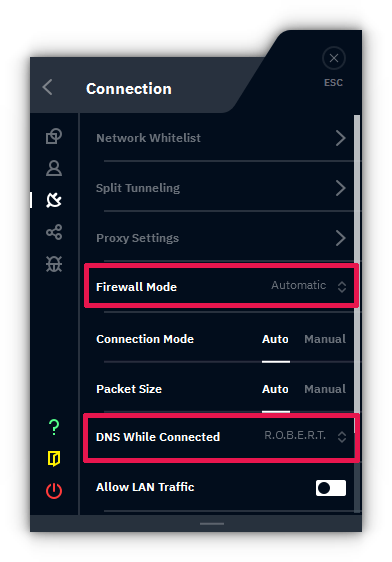 Ok, now on to the tests.
I ran Windscribe through a round of basic VPN tests and checks to identify any issues. The test results were good. I did not identify any leaks with Windscribe.
Here I'm testing the Windows client for IP address leaks and DNS leaks: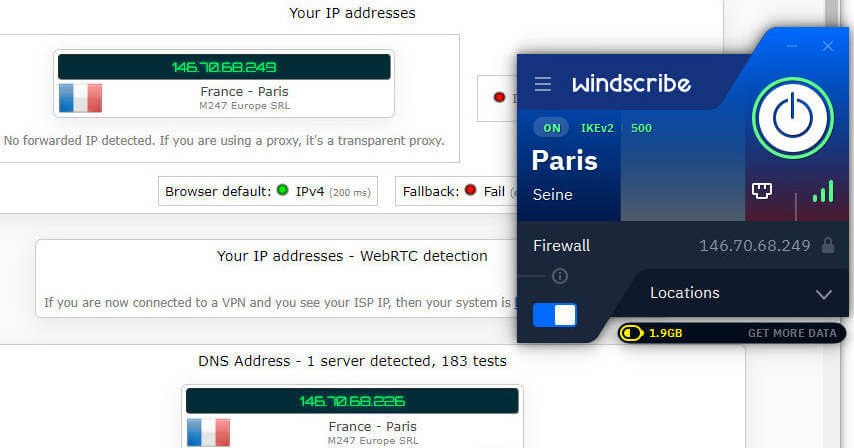 Above you can see that everything checks out (no leaks). I also ran the Windscribe Mac OS client through the same basic tests and the results were the same: no leaks.
Encryption – The Windscribe VPN desktop client uses an AES-256 cipher with SHA512 auth and a 4096-bit RSA key. The browser extension uses TLS 1.2, ECDHE_RSA with P-256 key exchange and an AES_128_GCM cipher.
WireGuard – Windscribe now supports the WireGuard VPN protocol. WireGuard is a protocol that aims to be much faster and more reliable than legacy protocols, while also upgrading the security. We've found that VPNs with WireGuard can really outperform those using legacy protocols, as you can see in the NordVPN vs ExpressVPN speed comparison.
We will update the speed test section of this review once we get a chance to redo the testing with WireGuard enabled.
In terms of basic security settings, Windscribe does well.
3. Windscribe's ad blocker (ROBERT)
Another cool feature that Windscribe offers is an ad blocker. The Windscribe ad blocker is called ROBERT. I'm not sure if "ROBERT" is an acronym for something, but either way, it does quite a bit of blocking.
Windscribe offers basic filter lists, which will block the following categories of URLs:
Malware
Ads + Trackers
Social media
Porn
Gambling
Fake News + Clickbait
Other VPNs
Cryptominers
This is a pretty robust filter feature. It is similar to the TrackStop filter, which we covered in the Perfect Privacy review. However, one cool aspect with Windscribe's ROBERT is that it is customizable. In other words, you can create custom white-lists for domains or IP addresses as well as custom block-lists.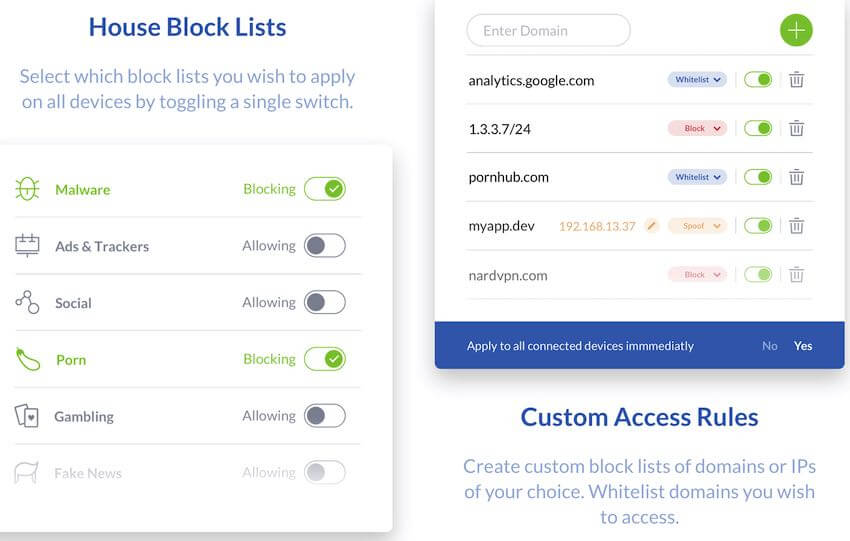 To customize R.O.B.E.R.T's settings, you need to log into the Windscribe website. This is a server-side ad blocker, which means it works independently of the VPN client with any device you are using. If you want a good VPN ad blocker solution, this may be an option to consider.
4. Free plan with 10 GB data/month
Another thing we like about this VPN is Windscribe's free plan. Windscribe offers a free plan with the following restrictions:
Only 10 GB of data allowed per month
The ROBERT feature only includes the "Malware" filter list (no blocking of ads or trackers)
Limited number of servers
On a positive note, Windscribe does give you a few different ways to increase your bandwidth allowance, including through promotional tweets and inviting friends.
While I generally do not recommend free VPN services, this may not be a bad option if you don't need very much data. This is arguably the best free VPN with a free plan at 10 GB, while most others have a smaller data limit.
5. Windscribe browser extension
When you go to download Windscribe, you notice that they recommend downloading both a VPN application and a browser extension.

More and more VPNs are offering browser extensions that can be used with VPNs. We covered this trend in our guide on the best VPN for Chrome browsers. Some VPNs use the browser extension as a proxy. Others use it just to control the desktop VPN client.
So why use the VPN together with the browser extension? Windscribe shows some of the benefits of combining the desktop client with their browser extension below: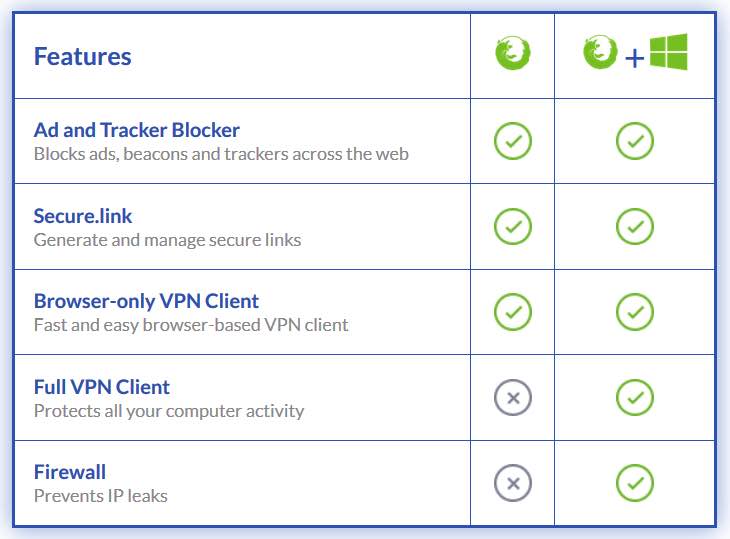 Using a browser extension may be good in certain situations. However, it's also important to note that browser extensions are not VPNs. Instead, they are HTTPS proxys, which do not offer the full protection of the VPN, as explained in our Proxy vs VPN guide.
6. Enhanced features
Windscribe has added some more useful features since we last reviewed it. Here are two that you should know about:
Static IPs
Static IPs (more completely known as Static IP Addresses) are actually regular IP Addresses. Normally when you connect to a VPN server, you get assigned one of the available IP Addresses. When you connect to a VPN server that supports Static IPs, you get assigned the same IP Address every time.
Windscribe has 13 Static IP server locations. Connecting to one of those will result in you using the same IP Address every time. Taking it one step further, Windscribe actually offers 2 "flavors" of static IPs:
Data-center IPs, which look just like any other IP address you might be assigned by Windscribe.
Residential IPs, which look as if they are one of the IP addresses that gets assigned to a home user. We're not sure how these look different.
If you would like to find out more about when and why you might want a Static IP, check out our guide to Static IP VPNs.
Split tunneling
Split tunneling is a way to make data from some websites and apps go through the VPN tunnel, while making other data go direct to the internet outside the tunnel. Split tunneling can be very useful for games, where you want the fastest connection possible, and aren't concerned about encrypting the game data flowing back and forth.
A split tunneling VPN is also useful with services like online banking. Many online banks will not work with a VPN, period. Without split tunneling, you have to disconnect the VPN whenever you want to log into the banking service, leaving you unprotected while connected to the bank. With split tunneling, the connection to your bank can go outside the VPN, while everything else is safely protected by the VPN.
We see more and more VPNs adopting some kind of split tunneling feature, as we noted in the Proton VPN vs NordVPN comparison.
Windscribe's split tunneling has 2 modes: one where you select the applications and sites you want to exclude from the VPN tunnel, and one where you select the applications and sites you want to include in the VPN tunnel.
You can see other new and advanced features of Windscribe here.
Windscribe VPN Cons
Now let's examine the cons of Windscribe.
1. Windscribe slow speeds
One big drawback with Windscribe is the performance with the OpenVPN protocol. To check for speeds with Windscribe, I used a 160 Mbps baseline (non-VPN) connection and tested many VPN server locations throughout the world. My physical testing location was in Western Europe.
Note: I configured the VPN client to only use OpenVPN UDP, which offers better performance over OpenVPN TCP.
The Windscribe VPN client gives you the option to connect to the "Best Location", which should offer the best speeds. Here were the results:
"Best Location" speed test with a nearby Windscribe server in Germany: 28 Mbps

This is definitely not a good test result for a nearby server, which should be offering near full capacity bandwidth.
Next up was a Windscribe server in Switzerland, which gave me even slower speeds around 18 Mbps.

I also tested a few Windscribe servers in the UK, which gave me about 30 Mbps.

If you want a fast VPN for the UK, Windscribe would probably not fit the bill. There are certainly better options to consider.
Next, I tested Windscribe servers in the United States. The test results were equally disappointing.
Here is a Windscribe server in New York giving me about 10 Mbps.

Even with the longer distances, this is still very slow.
Fortunately, there are a few different options for you. You can skip on OpenVPN and select the IKEv2 or WireGuard VPN protocols, which may be faster than OpenVPN.
Comparison – The fastest VPN we have tested so far is NordVPN. We were able to hit speeds up to 445 Mbps on a 500 Mbps internet connection.
2. Windscribe server security issues
We wrote a detailed article on the Windscribe security breach right after learning how it unfolded. You can read the original article, but here are the main highlights:
Windscribe left its VPN servers in Ukraine unencrypted and unsecured.
When Ukrainian authorities seized the servers, they also obtained Windscribe's private key.
With the private key, Ukrainian officials could decrypt traffic and spy on Windscribe users.
Windscribe admitted that it does not follow "industry best practices" with its server network, but promised to change.
Windscribe is in the process of upgrading server security and hopefully undergoing a security audit.
This incident highlights a major flaw in how the VPN itself is operated. We have seen other VPN services, include ExpressVPN and Perfect Privacy, also undergo server seizures. However, these other VPNs actually secured and encrypted their servers properly, which resulted in no customer data being affected.
Fortunately, Windscribe promises to upgrade security. However, the damage to its reputation is done, similar to IPVanish after the IPVanish logging incident.
3. IKEv2 is default protocol (rather than OpenVPN)
Another interesting thing with Windscribe is that it uses the IKEv2 protocol as the default option in the VPN clients.
While IPSec/IKEv2 is generally considered to be secure, it does have some noteworthy drawbacks. For one, IKEv2 is not open source and has not undergone extensive auditing like OpenVPN. Within the privacy and VPN community, OpenVPN is generally considered to be the gold standard, with WireGuard challenging for the leadership position.
The default protocol for the Windscribe VPN client is set to IKEv2, rather than OpenVPN. Windscribe probably decided to make IKEv2 the default because it offers better speeds than OpenVPN. Once again, however, there is a security tradeoff here and OpenVPN should probably be used as default.
Switching to a more secure protocol is easy. Simply open the settings, then select Manual and choose the protocol you want to use. Be aware that the interface abbreviates OpenVPN TCP to TCP, and OpenVPN UDP to UDP in the protocol list.
4. Based in Canada (Five Eyes)
Another drawback with Windscribe is that it is based in Canada, which is not a good privacy jurisdiction.
As we have discussed before, Canada is a member of the Five Eyes surveillance alliance, along with the United States, UK, Australia, and New Zealand.
Canada also has mandatory data retention laws and abusive surveillance practices. We discuss these issues more in my guide of the best VPNs for Canada. Jurisdiction is an important consideration when choosing a VPN because this determines what laws and governance the VPN must operate under.
Copyright violation laws are another aspect to consider with jurisdiction. Canada has some strict laws against copyright violations, along with data retention that is used to prosecute piracy (copyright infringement) cases.
5. AI-based support system
One thing that I found rather annoying with Windscribe is that they are using a robotic AI-based support system, which they call "Garry". When attempting to get help with some connection problems, I fired up a chat window. Garry did provide some suggestions and tips, but ultimately I wanted to speak with a human, rather than an AI bot.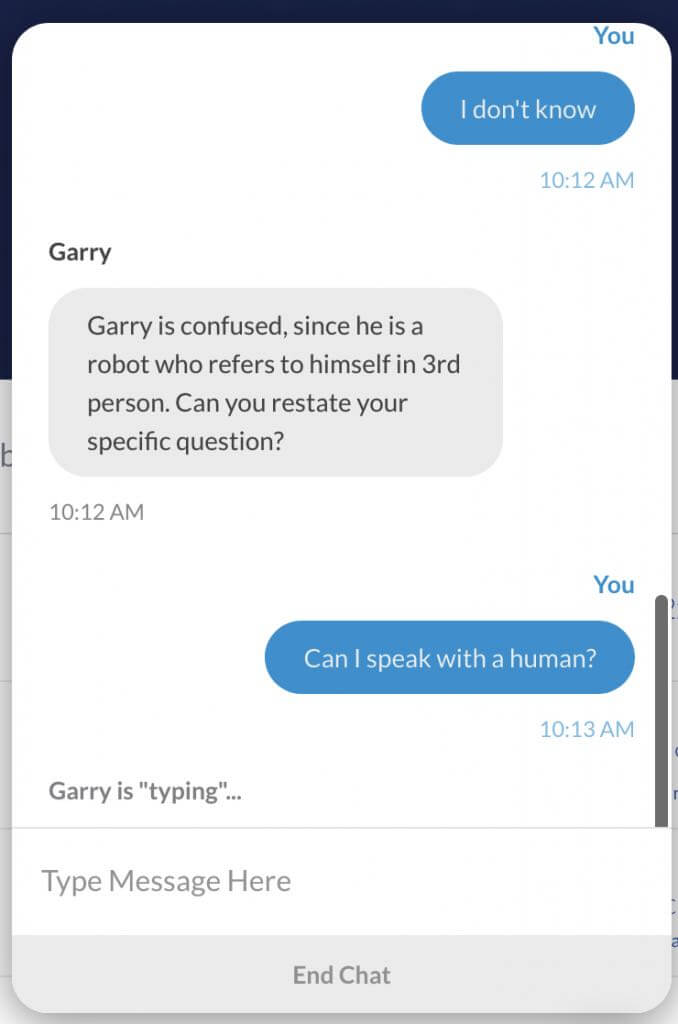 After growing frustrated with the AI bot, Garry eventually offered me the option to "talk to a human". This opened a screen where I could submit a support ticket and get help via email. There was no option to chat with a human.
Most of the top VPN providers, such as NordVPN and Surfshark, offer 24/7 live chat support with real humans. On a positive note, however, someone did email me some suggestions within 24 hours. Nonetheless, live chat support with a human being would be a lot better.
6. Issues with professionalism
One strange thing I noticed with Windscribe is that it really seems to be lacking in the professionalism department.
Here you can see that Windscribe refers to itself as a "meme focused VPN" — whatever that means. You can see this below with their Twitter account.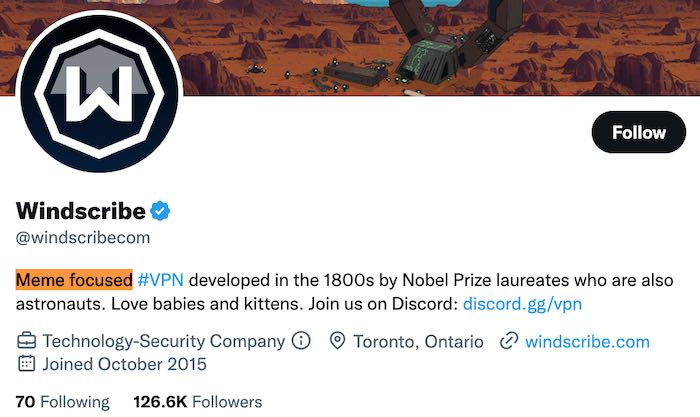 Another red flag I noticed was during the Windows client installation process. If you choose "Custom Install" you will see the following options under the "customize the experience" tab:
Slow down the connection
Disconnect randomly
Show random errors all the time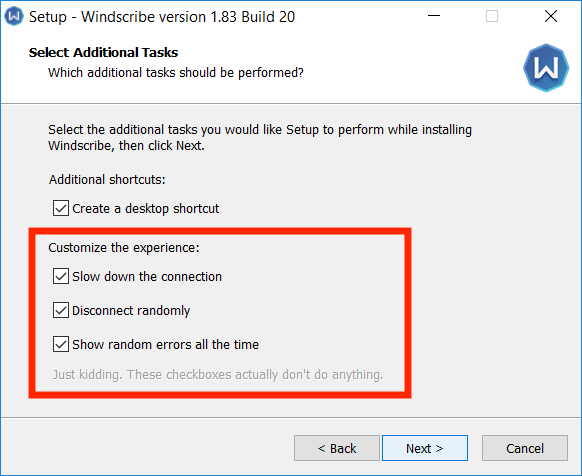 Below this, you see in light grey letters, "Just kidding. These checkboxes actually don't do anything."
I guess this is Windscribe's idea of a funny joke. Perhaps I'm old fashioned, but given the importance of security and privacy, I don't see this as the best venue for jokes about VPN errors and problems.
Additional research findings
Below are some additional findings for this Windscribe review.
Windscribe logging policies
In my previous Windscribe review, I called them out for falsely claiming to "delete everything" – a claim that does not align with their own policies.
Previous false claims:


On the Windscribe features page, you can see they are now claiming to have "no identifying logs".
Current logging claims: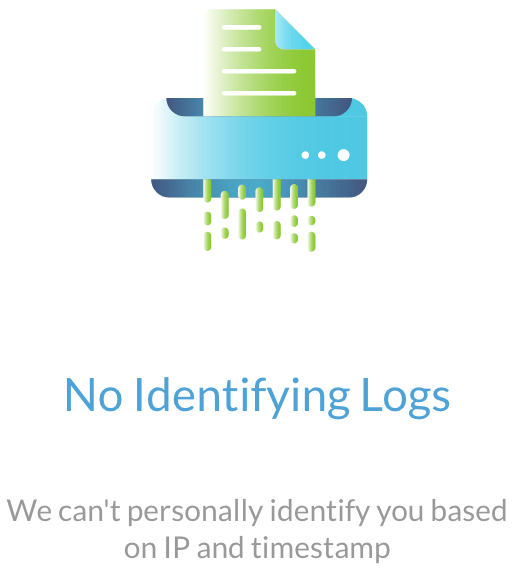 So let's examine the fine print.
At the very bottom of the Windscribe End User License Agreement (EULA) you find the following:


Now let's examine the Windscribe Privacy Policy:
"When you use Windscribe, we keep the following data associated with your account:
Total amount of bytes transferred in a 30 day period. Bandwidth reset date is in your "My Account" section.
Timestamp of your last activity on the Windscribe network.
This data is used to enforce free tier limitations, prevent abuse and weed out inactive accounts."
Verdict: In terms of logging policies, this isn't too concerning.
Many VPNs record timestamps (see our ProtonVPN review) and/or data transfer, which alone cannot be used to identify users.
If greater privacy is a concern of yours, there are also a handful of no logs VPNs that have been verified.
Windscribe works moderately well with Netflix
Although Windscribe does indeed work with Netflix to a limited extent, it's not the best VPN for Netflix I have tested.
First, I found that Windscribe does indeed unblock Netflix. I tested this with Windscribe's Windflix US and Windflix Canada servers. Both worked without getting blocked.
I did run into some problems, however, with playback speed and buffering. The connection did not seem very stable and consistently fast. To verify these issues, I ran some speed tests with the Windflix US server, which gave me around 5 Mbps.

Overall, Windscribe might be an OK option for streaming, but it's not the best VPN for Netflix due to the speed issues.
Firestick – Maybe you want a good VPN for Firestick, since this will help unlock stream channels. Windscribe VPN might be a good option because they have a dedicated app for Firestick in the Amazon Store. With that being said, the slow speeds may affect HD streams.
Other streaming services – Maybe you are looking for the best VPN for Amazon Prime. Well, according to people on Reddit, there are issues when using Windscribe with Amazon Prime.

Or perhaps you need the best VPN for Hulu. Again, I've seen lots of complaints.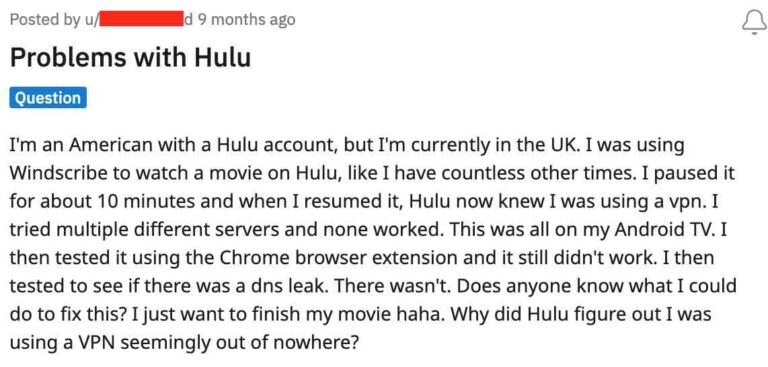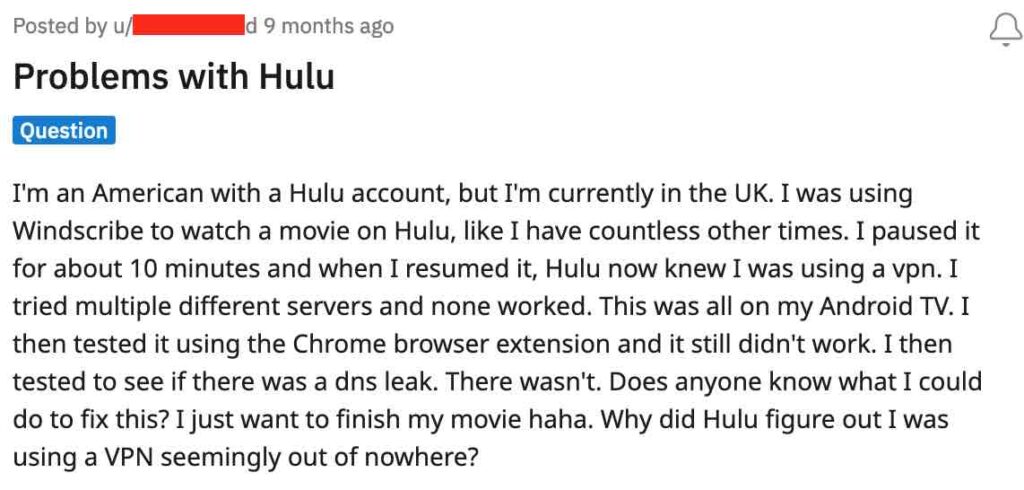 Now granted, opinions on the best VPN on Reddit can vary considerably, but these posts are still worth considering.
Windscribe is okay for torrenting
Windscribe may not be the worst VPN for torrenting, but it's also not the best. The main issue is the speeds. After all, torrenting with a slow VPN can be a real drag.
Windscribe's official policy is that they allow torrenting on most servers. From their website:
You can use the Bit Torrent protocol in any Windscribe server location except India, Japan and WINDFLIX. Simply connect to any other Windscribe location in our desktop applications and use any torrent client as you normally would. That being said, we don't condone using Windscribe for any illegal activity.
There are other good VPNs for torrenting, although Windscribe certainly is not the worst choice.
Windscribe VPN prices and refund policy
The prices for the paid plans with Windscribe are about average for the VPN industry.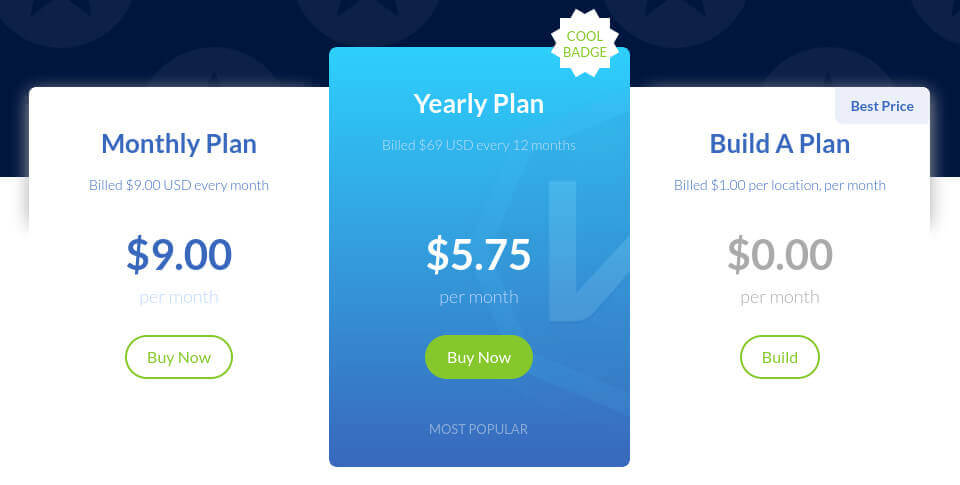 The "Build A Plan" option allows you to select which server locations you want and pay accordingly.
Although Windscribe is not one of the cheapest VPNs, it still offers a pretty good value when you consider all the features.
Windscribe refunds
Windscribe's refund policy contains some fine print. Here are three important points to keep in mind before you purchase a subscription:
The refund window is for 3 days.
The refund policy only applies if you purchase directly from Windscribe (no third-party sites like StackSocial)
If you use more than 10 GB of data your refund will be void.
This is certainly not a good refund window – but at least they don't have a "no refunds" policy, which we discovered in our TunnelBear review.
A shorter refund window is not too surprising since they encourage people to test out the free VPN service before going with a paid subscription. You see these trend with other free trial VPNs.
Windscribe VPN Frequently Asked Questions
Here are the answers to some frequently asked questions about Windscribe VPN:

Does Windscribe work with Netflix?

Windscribe does work with Netflix. However, we found it to have trouble streaming the content at full speed. The Windflix server for the US was slow, leading to a lot of buffering during playback. So while Windscribe does work with Netflix, it isn't the best Netflix option.

Here's our list of the best VPNs for Netflix today.


Is Windscribe good for torrenting?

As with Netflix, Windscribe does work for torrenting. However, the slow speeds we experienced during testing make using it for a lot of torrenting a sub-optimal experience.

It torrents are a major part of your online activity, you'll want to check our review of the best VPNs for torrenting.


Is my data safe with Windscribe?

In general, your data would be safe with Windscribe. But there are two things that you need to consider carefully. First, Windscribe is based in Canada, which is not a good privacy jurisdiction.

Second, Ukraine was able to get user data off a Windscribe server because the company had not encrypted that server. The company has vowed to make sure that all their servers are securely encrypted so theoretically that problem no longer exists.

Whether your data is sufficiently safe under these circumstances is something you will have to decide for yourself.


Is Windscribe free?

Windscribe does have a free version, and that free version has a pretty generous 10 GB per month data limit. This could be a good free VPN option is your data needs are limited and you don't mind the drawbacks of the service that we have listed elsewhere.

Windscribe made it into our list of the best free VPNs.

Windscribe review conclusion
Windscribe has both pros and cons, as we have detailed above in the review. And they continue to add features to the service, for which they deserve credit, as we noted in the Windscribe vs NordVPN comparison.
I'd say the biggest "pros" with Windscribe are the features, particularly the robust ad-blocking feature (ROBERT). The VPN apps are also user-friendly and offer some great options and leak-protection settings.
However, we are still unhappy with these three big issues:
Windscribe is based in Canada, a bad privacy jurisdiction.
It is slow (at least based on my tests with the OpenVPN protocol)
Windscribe suffered a major security incident and was not following industry best practices (by their own admission)
The Windscribe security breach, as we noted above, seriously undermines the reputation of this VPN service. Can they be trusted if they somehow failed to secure their VPN servers, exposing user data to a potentially hostile government? You'll have to decide that for yourself.
The performance issues are another big drawback, as this affects browsing, torrenting, downloads, and even streaming Netflix. For a seriously fast VPN with consistent performance, consider one of the alternatives below.
While Windscribe has made some improvements, there are better options to consider.
Best alternatives to Windscribe
Click the VPN name below to read our full review – or grab the discount for the best savings. All three of these VPNs have a 30 day money-back guarantee.
You can also check out our guide on the Best VPNs for the latest recommendations.
If you have used Windscribe VPN, feel free to share your honest review (good or bad) below.
This Windscribe VPN review was last updated on February 16, 2023 with new information and test results.