Betternet is a well-known VPN that offers both free and paid versions. Despite its renown, Betternet VPN has a very troubling history. As we'll explain further in this Betternet VPN article, a team of researchers caught Betternet embedding malware and tracking libraries in their VPN apps.
Adding to this VPN's woes, there are now reports that the son of Iran's Vice President is the software manager, chief executive officer and founder of Betternet VPN. In a statement that has since been deleted from the Pango Group Press page, the company stated that,
Hamid Rezazadeh does not work for Betternet. The company he founded was acquired in 2016 and he has had no affiliation with the company or its technology since. He has never been an employee of Pango Group.
It seems most likely to us that the post about Hamid Rezazadeh being software manager and CEO of Betternet is simply an old post that someone failed to update years ago. But the whole blowup is one more bit of controversy that Pango and Betternet VPN don't need.
If this is a VPN service you are considering (or already using), you will definitely want to keep reading as we explain this problem, along with other issues that surfaced during out testing. And if you don't have the time to read through all the sordid details, know that we do not recommend using Betternet VPN.
| | |
| --- | --- |
| VPN | Betternet |
| Based in | USA |
| Logs | Connection logs |
| Price | $7.99/mo. |
| Support | Email |
| Refund | 45 days |
| Website | Betternet.co |
What is Betternet VPN?
Betternet is a VPN service that began operating in 2015, quickly rose to popularity as a free VPN, and then was sold to Pango. When I first tested out Betternet for a review a few years back, it appeared to be an independent company based in Canada. However, for this updated review, it appears that Betternet is now owned by Pango, which is connected to Hotspot Shield VPN.
This is clear when you examine Betternet's Terms of Service and Privacy Policy, which both have many references to Pango. Pango's flagship VPN service Hotspot Shield is no stranger to controversy. It has been called out before for snooping web traffic and violating user privacy.
Is Betternet safe?
After extensively testing and researching Betternet, my answer is no, Betternet is not safe to use. This is my personal opinion based on the following findings for this Betternet review:
Researchers have found Betternet apps to contain malware
Betternet apps were also found to contain tracking libraries
Betternet was also hacked in 2017, whereby Betternet Chrome extensions were used to spread malware
We will address each of these issues more below.
Perhaps most concerning is the fact that Betternet has been caught embedding malware and tracking libraries into their VPN apps, while promising to protect the privacy and security of its users (we'll cover this in detail below).
Betternet apps found to contain malware and tracking libraries
A team of academic researchers studying VPNs identified Betternet as one of the most malware-infested VPN apps in the Google Play Store.
They found that Betternet tested positive for malware by 13 different antivirus programs. This gave it an AV-rank of 13.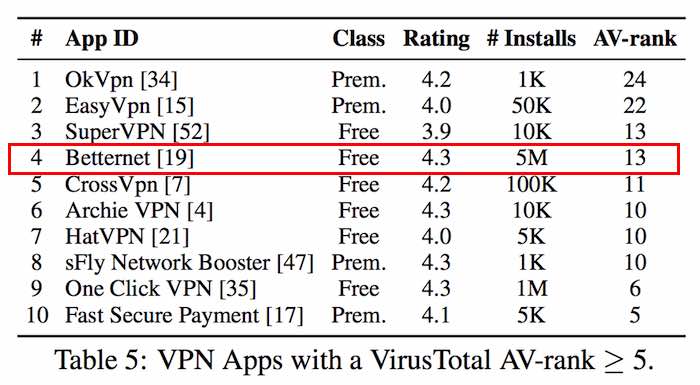 The same study also identified a high presence of third-party tracking libraries in Betternet's Android app.
Out of the applications studied, Betternet was found to have 14 tracking libraries in their Android app alone. These tracking libraries may be used for "analytics, tracking, or advertising purposes" and are embedded into the source code of the app.
Why was there malware and tracking in Betternet's applications?
The short answer is this: your data is valuable.
Malware and tracking are simply tools to collect your data, which is one way to monetize "free VPN" applications. After collection, your data can then be sold to third parties (a very large and profitable industry) or used to hit you with targeted advertisements (which brings in commissions on sales).
In essence, when you use a free VPN, you are usually the product. It is your data that is being collected, which is then used to monetize the free software. Fortunately, there are some good free VPNs you can consider, as noted in the ProtonVPN review.
Betternet Windows VPN app
As an update to this Betternet review, I decided to download the new apps for new tests.
The first thing I did was test the Betternet Windows app for malware using VirusTotal. Surprisingly, the results came back clean.
Note: I did all tests for this Betternet review inside a virtual machine, which protects my computer from getting infected from VPN malware that may be present.
Most of the testing for this review was on the Betternet for Windows application.
While many people seem to use Betternet on mobile devices, the Betternet Windows app also appears to be rather popular.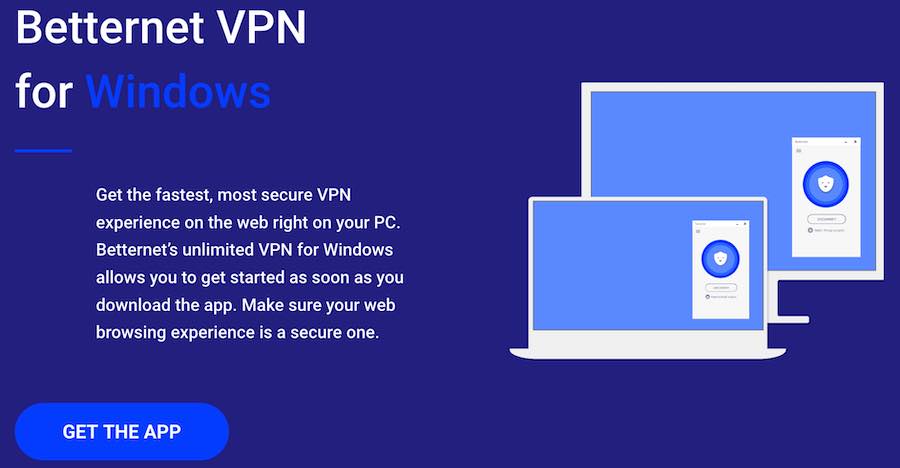 While Windows is the most popular operating system, it's not very good for privacy. This is especially true when you are using a VPN that is collecting your data (Betternet).
All of the testing for this Betternet reviews done on a Windows 10 virtual machine inside Virtualbox.
Below are the test results.
Betternet not connecting
One constant problem I had when testing out the VPN apps was Betternet not connecting. The connection problems happened with numerous servers I tried in Europe and the United States.
After selecting a location, you then hit the connect button, which shows the connection status: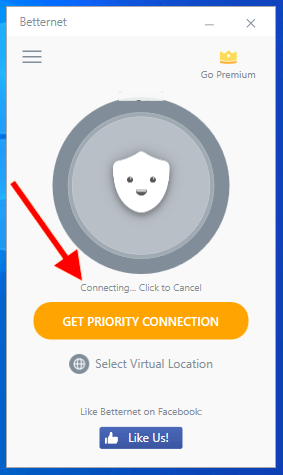 With many locations, I would receive a connection error telling me to, "Please repair the application" – whatever that meant.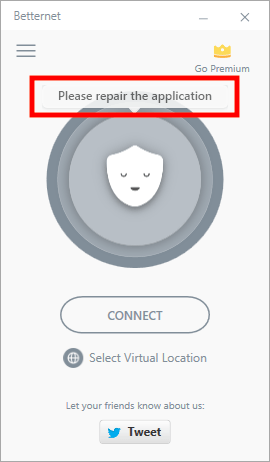 I received this same connection error with many different Betternet servers in Europe and the United States.
The connection problems with Betternet may be due to congested servers or other network issues. Given that they offer a free VPN service, it is very likely that the servers are simply overloaded with free users.
Betternet slow speeds
Another problem I had with Betternet was slow speeds. I ran all speed tests with Betternet using a 160 Mbps connection, with my physical testing location being in Western Europe.
Many Betternet VPN servers were slow to connect while also having slow download speeds.
Surprisingly, even with an active connection, I would get "Latency Test Errors" with various speed test websites. In other words, the latency was bad (high) and the speeds were extremely slow.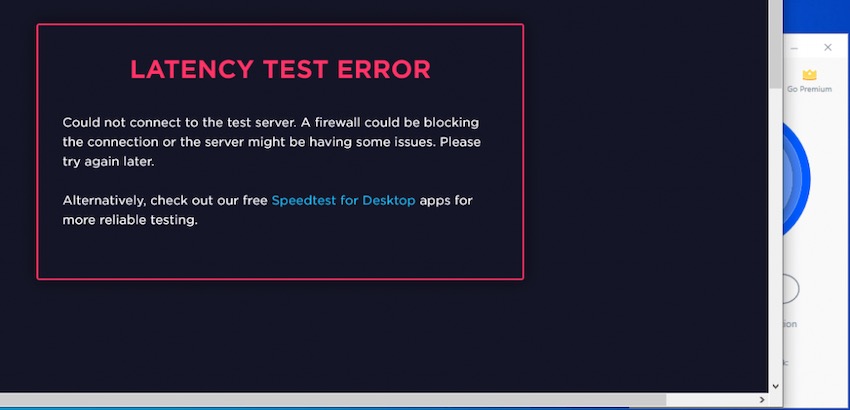 You can see above that Betternet is connected in the background, but the latency errors prevented the speed test website from even running. This was an issue for many different Betternet servers I tested. The speeds were also extremely slow, with websites taking a long time to load.
There were a few servers I could connect to and run speed tests, but the results were not that good given my 160 Mbps connection speed. Here was a Betternet speed test with a server in the UK at about 17 Mbps:

There are definitely better options available if you need a good VPN for the UK.
I also attempted to run tests with servers in the United States. Unfortunately, I had connection problems with many of the servers in the US.
When I was eventually able to get a connection, the speeds were (again) not very good. Here's a US VPN server with speeds around 16 Mbps.

Once again, Betternet is certainly not the best VPN for USA if you are looking for speeds and reliability.
Overall, performance with Betternet was not good. There are many faster VPNs available to choose from. However, considering that Betternet is a free VPN provider, I'm also not very surprised by the slow speeds.
Betternet IP address leaks and DNS leaks
In previous reviews, I found numerous leaks through testing, including IP address leaks and also DNS leaks.
Here is an example from the last Betternet review I did: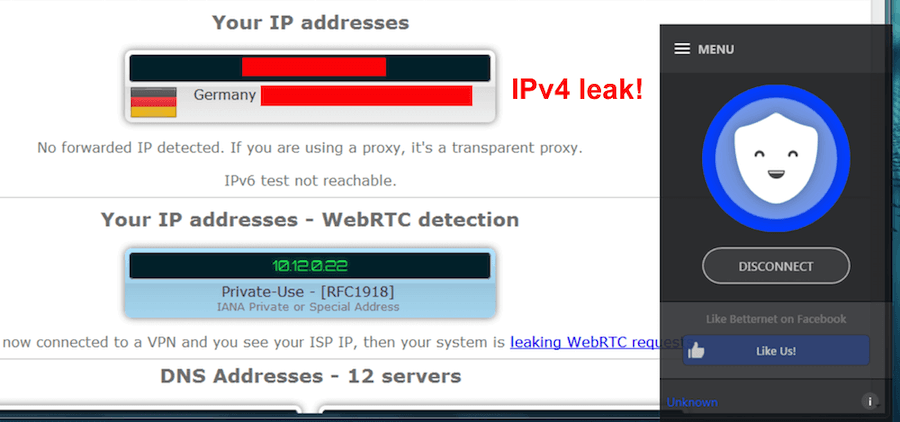 With the last Betternet review, I found IPv4 leaks, IPv6 leaks, and also DNS leaks.
For this new review update, I ran Betternet through some basic VPN tests to check for leaks when the connection was active and stable. Fortunately, it looks like everything was working correctly.
While data leaks were a serious problem with Betternet in the last review, it seems they have updated and improved their VPN apps.
WARNING: Betternet does not appear to have any kind of kill switch. A kill switch will block your traffic to keep your data safe if the VPN connection drops. While Betternet has some basic leak protection settings, not having a kill switch is dangerous (in my opinion).
If you want a VPN with advanced leak protection settings and a good kill switch, I'd still recommend another leading VPN, such as NordVPN or Surfshark.
Now we will take a look at some other issues with Betternet.
Is Betternet good for torrenting?
Due to the slow speeds, connection problems, and not having a kill switch, I would say that Betternet is not a good VPN for torrenting or other P2P traffic.
The biggest issues are the speeds and connection problems. Torrenting with your VPN will simply not work if the connection is constantly dropping.
Another problem this creates is that your data will potentially be exposed, since Betternet does not offer a kill switch. In other words, your real IP address could be exposed when you are torrenting, which may open you up to DMCA complaints.
Therefore I would strongly recommend alternatives to using Betternet for torrents and other P2P traffic. If this is important to you, check out this like to the best VPN for torrenting and P2P downloads.
Betternet VPN free trial
Betternet is basically a free VPN service that tries to get you to upgrade to a paid VPN subscription.
When you use their free VPN app, new windows are constantly popping up to register for a paid plan.
Also, with the Betternet Windows app, there are different buttons to sign up for different subscriptions. The "Join Now" button opens a window for a "free trial" that lasts seven days. However, if you read the fine print, you see that after your trial ends, you will be billed at $12.49 per month!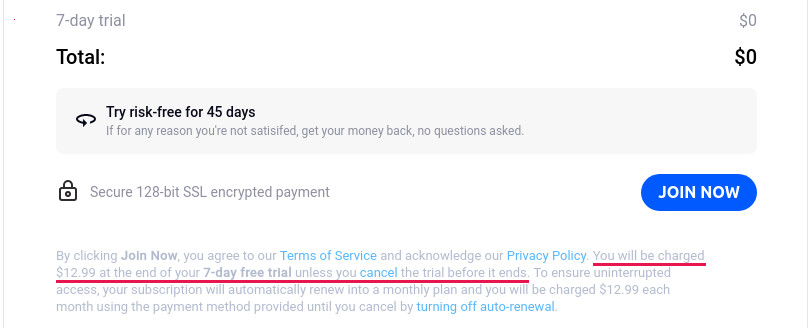 This is actually quite expensive, especially given that there are so many good cheap VPN services to choose from.
This may also explain the connections problems I had with Betternet's free plan. In other words, if you want better performance, you'll have to pay for an upgrade. This is not new, or surprising, however. There are many other free trial VPN services with this same business model.
At the end of the day, the best VPNs are paid VPNs.
Betternet price
The last time we reviewed Betternet, a low price was one of the few good things about the service. But since that time, the price has jumped sharply, from $3.19 per month to $7.99 per month for their cheapest plan.
Betternet refund policy
Betternet is now offering a 45 day money back window, which is actually pretty good. Here is the exact wording of the Betternet refund policy:
All Betternet, subscribers can request a refund within 45 days from the purchase date by contacting our Help Center.

(We apologize that iTunes and Microsoft Store Customers will need to contact the payment processor directly.)
In my previous review of Betternet, they had a horrible refund policy that was invalidated with 50 MB of data transfer. It appears the bandwidth clause is not in their updated policy, which is good.
Betternet logs
Betternet is certainly not a no-logs VPN service.
In fact, if you examine the privacy policy, you see that Betternet is collecting quite a bit of data. Here is a screenshot from the privacy policy: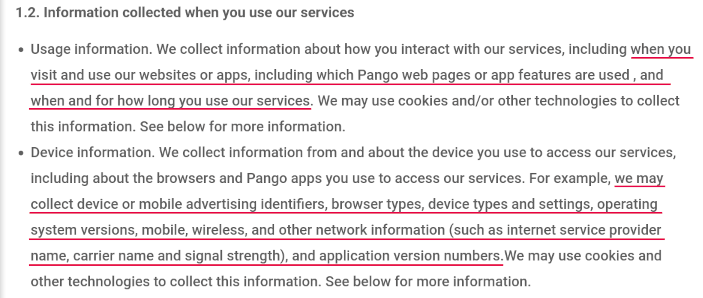 On a positive note, Betternet is not falsely claiming to be "no logs" anywhere on its website (at least that I could find). There are some VPNs that do this — see our PureVPN review for details.
Overall, Betternet certainly does not have a good privacy policy. If you care about privacy, you may want to check out a verified no logs VPN — there are some good options to choose from.
Betternet VPN protocols
In combing through the Betternet website, I found some interesting information on the protocols they are now using.
Under the Betternet FAQ page, they claim to now be using a proprietary VPN protocol called "Catapult Hydra" – which I have never heard of before. Here's the explanation from their website:
We created our own proprietary Catapult Hydra to address the issues of VPN latency.

Catapult Hydra uses different algorithms to establish the VPN tunnel, perform authentication, establish client connections, and exchange the payload data inside the tunnel. This results in significant performance advantages such as:

* Connection to a VPN server is established much faster

* Time to the first byte for each client connection inside the tunnel saves 1.2 RTTs

* Less data is transferred inside the tunnel

* Connection speed for long-distance connections is 2.4x faster than for OpenVPN tunnel between the same client and server

Our proprietary VPN protocol significantly improves performance over long-distance connections.
I would strongly recommend avoiding the Catapult Hydra protocol, and therefore Betternet VPN service, for the following reasons:
Proprietary and closed source (What's going on behind the scenes? Who knows.)
Not audited (Is it even secure?)
Not widely used
There are many other secure VPN protocols to choose from, particularly OpenVPN. OpenVPN has been fully audited, open source, used for many years, and is trusted by hundreds of VPN services. One of the best-performing protocols is the WireGuard VPN protocol.
We compared how well WireGuard performs against OpenVPN in our NordVPN vs IPVanish report. The results were huge with WireGuard VPN on top by a large margin.
Furthermore, this does not seem like a protocol that would work for a restricted country that blocks traffic. Does Betternet work if you need a VPN for China or a VPN for UAE? It's hard to say, but the answer is likely to be no.
With Betternet's "Catapult Hydra" you don't really know what you're getting.
No static IP addresses
Right now, Betternet does not offer any static IP addresses. A VPN with a dedicated IP (or static IP) is useful in some cases, but it also comes with added cost.
Does Betternet work with Netflix?
Based on all of our tests, Betternet does not work with Netflix (but this can change from day to day). We compare other good Netflix VPNs in our NordVPN vs ExpressVPN report.
Another problem with Betternet is that you probably won't get the speeds you need for good-quality Netflix streaming. For HD streams, you generally need a fast and reliable VPN connection. Therefore even if Betternet could unblock Netflix, the connection problems and speed issues would still be problematic. If you want to stream Netflix with a VPN, check out the best VPNs for Netflix here.
Firestick – Another drawback with Betternet is that it does not work well for FireStick. Streaming with a VPN on Firestick is popular because it unlocks many libraries. You will find that most of the larger VPN providers offer dedicated apps for Firestick. We discussed this more in our ExpressVPN vs Surfshark comparison.
Amazon Prime – In our tests, Betternet was also blocked by Amazon Prime. It does not seem able to unblock streaming services reliably. Check out these best VPNs for Amazon Prime for alternatives.
Hulu – Due to Betternet's small and limited server network, it is not a good VPN for Hulu.
Betternet VPN FAQ
Here are some common questions and answers about Betternet VPN.

Is Betternet VPN safe?

We do not consider Betternet VPN to be safe to use. There are a few reasons why. One is that a few years ago, researchers found that the Betternet Android apps contained a lot of malware and trackers. Another is that Betternet apps do not yet have kill switches. That means that your data can leak out onto the internet in unencrypted form if for some reason your device loses its connection to the Betternet VPN server. Yet another is that our tests showed that Betternet apps sometimes leaks user's IP addresses.

For all these reasons, we do not consider the Betternet VPN to be safe to use.

Does the Betternet VPN support WireGuard?

Betternet does not appear to support the WireGuard VPN protocol. They have their own proprietary VPN protocol called Catapult Hydra which they claim provides better performance than the standard VPN protocols, but we are not convinced it is safe to use.

Is Betternet a good VPN for China?

For a VPN to function in China it needs to have some sort of obfuscation protocol that can outsmart the Great Firewall of China. Betternet does not seem to support any obfuscation protocols. In addition, their lack of a kill switch could result in your actual IP address being exposed to Chinese censors.

Betternet is not a good VPN for China.
Betternet review conclusion
While Betternet may be popular with some mobile users (because it is free) it also carries some risks.
Overall, Betternet is not recommended for the following reasons:
Slow speeds
Connection problems
No kill switch
A troubled history of including malware and tracking libraries in VPN apps
Troubling privacy policy (data collection)
Use of proprietary VPN protocols (not OpenVPN)
Even if Betternet performed well for this review, their history of shipping malware with their VPN apps would be reason enough to avoid it. Even if you need a free VPN, I still would not recommend Betternet.
If you are open to other options, there are some much better VPNs to consider.
Alternatives to Betternet
Click the VPN name below to read our full review – or grab the discount for the best savings. All three of these VPNs have a 30 day money-back guarantee.
You can also check out our guide on the Best VPN Services for other recommendations.
Related Articles:
This Betternet VPN review was last updated on August 24, 2023.