PureVPN makes some big promises and claims on its website. The goal of this PureVPN review was to determine if it lives up to its claims — or if it continues to be held back by various issues.
PureVPN has had its ups and downs over the years. In past reviews, we identified faulty apps, mediocre performance, and poor streaming support. There was also the case of PureVPN collecting user data for an FBI investigation, all while claiming to be a "no logs" service. While it certainly has suffered from some setbacks, perhaps things have improved in this latest update to the PureVPN review.
To see, I ran the service through extensive testing and then analyzed all aspects of the VPN to help you decide if this VPN is worth your money. Unfortunately, the test results weren't pretty. Speeds were inconsistent and slow, the VPN apps were plagued with bugs and connection errors, and the overall quality seems to have gotten worse since I conducted the PureVPN review last year.
So let's start out with an overview before we get into the weeds.
| | |
| --- | --- |
| Website | PureVPN.com |
| Based in | British Virgin Islands |
| Logs | No logs* |
| Price | $1.99/mo. |
| Support | Email and Chat |
| Refund | 31 days |
*While PureVPN claims to be a "no logs" VPN today, it has a history of logging users for the FBI, while also claiming to be "no logs" — so tread with caution.
PureVPN overview in 2023
Here is a brief overview of my findings for this PureVPN review.
+ Pros
Cheap one-week trial
Live chat support
Some decent features
– Cons
PureVPN connection problems (not connecting)
Inconsistent and slow speeds
Expensive prices for long-term subscriptions
DNS leaks
Clunky VPN apps
PureVPN logged user data for the FBI
Does not work well with Netflix and streaming
Additional research findings
Run by Gaditek in Pakistan (with Ivacy VPN)
Does PureVPN work well for torrenting?
PureVPN comparisons
PureVPN Pros
Here are the Pros of PureVPN.
PureVPN one-week trial
With PureVPN, you can get a cheap one-week trial for only 99 cents. This trial was previously promoted on the PureVPN home page. It is no longer promoted there, but you can still get it if you use the link above.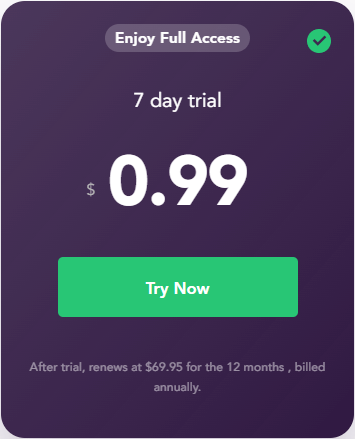 I checked the refund policy and if you are not happy with the trial, you can request a refund.
But there's a problem. After the trial expires, you are locked into a relatively expensive subscription at $69.95 per year ($5.83 per month). At the time of this review, this price was much higher than the standard 12-month plan, which cost only $3.24 per month.
Not only is this not a normal free trial VPN where you don't pay anything, but it also appears that taking the trial will lock you into an overpriced yearly subscription…
PureVPN has live chat support
Another good thing about PureVPN is the live chat support. However, this is common with the top VPN services. Live chat is available 24/7 and accessible through the PureVPN website in the bottom-right corner.
I tested out PureVPN's live chat support and I was quickly connected to a representative.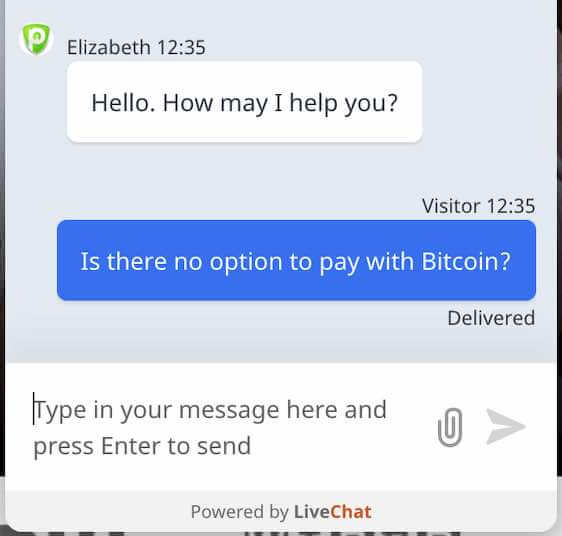 Overall, the chat representatives were pretty responsive and helpful with random questions I had.
Some decent features
Another positive aspect of PureVPN that is worth mentioning is the features that come with a subscription. We will cover this individually, starting with split tunneling.
PureVPN's split tunneling feature
A split tunneling VPN feature allows you to route specific apps and/or websites outside of the VPN tunnel. This can be useful if you need a certain app, such as a streaming app, or a website, such as your banking website, to bypass the VPN. We see this feature with both Surfshark and NordVPN, as well as CyberGhost and ExpressVPN.
At this time, split tunneling is available on the Windows VPN and Android VPN apps.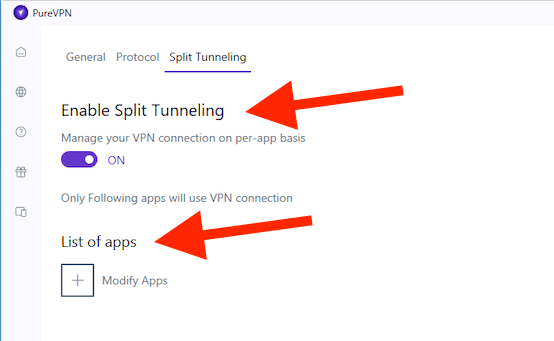 With PureVPN, the feature lets you select which apps bypass the VPN tunnel (but not websites).
PureVPN with dedicated IP
Next up is the option to add a dedicated/static IP address. A VPN with a static IP address can be beneficial in some use cases, but not for everyone. Some people may want a static IP for accessing online resources, configuring servers, or trying to avoid captcha authentication challenges.
PureVPN offers a static IP as an additional (paid) add-on, exactly as we see with both TorGuard and NordVPN. The price of a PureVPN static IP varies depending on the duration of the subscription you select.
Obfuscation feature
An obfuscation feature basically lets you hide the fact that you are using a VPN by hiding (or obfuscating) the VPN traffic to appear as regular HTTPS traffic. This is sometimes referred to as "Stealth VPN" with other services. We also see this feature with both Proton VPN and NordVPN.
PureVPN claims this feature will help users get around VPN blocks and restrictions. One example of this would be using a VPN for UAE, where VPNs are often blocked. Another example is using a VPN for China, which has stringent firewall restrictions designed to block VPN traffic.
PureKeep, PurePrivacy, and PureEncrypt
Many people are on the lookout for the best password manager to help keep their data secure. While top choices may include NordPass and 1Password, it looks like PureVPN now wants to join the party. For an added fee, you can select the PureKeep password manager, which currently costs an extra $0.85 per month.
There is also an option for PurePrivacy, which apparently lets you "scan your social media accounts" and monitor for data breaches. This feature is similar to a data breach monitoring tool, as we observed in our NordPass vs LastPass comparison. However, it does not appear to actively remove data from the internet, a feature that we tested out in our Incogni review.
Lastly, there is also a feature called PureEncrypt. As the name implies, this is a "cloud security" tool for encrypting and storing your files. It is similar to what we found in the NordLocker review.
Disclaimer: We found PureVPN's apps to be very buggy in our tests (see below). Consequently, the features listed above may or may not actually work.
Now let's cover some of the cons that we discovered in this PureVPN review.
PureVPN Cons
Here are some of the cons I found in testing and researching PureVPN.
Connection problems (PureVPN unable to connect)
With the latest round of testing for this PureVPN review, I ran into a regular problem. The problem was PureVPN not connecting to the servers. In other words, I clicked the connect button and after a long time, the VPN would time out and eventually return an error message.
Another connection problem I had with PureVPN is that it would apparently connect, but there would not be any bandwidth (100% packet loss). I'm not certain what was causing these connection problems. Hopefully, the PureVPN team will get them resolved soon.
PureVPN slow speeds
On the PureVPN website, they boldly claim to be "the fastest VPN service ever!"
I tested these claims with a 500 Mbps internet connection – and the results were not very good.
Here was a PureVPN server in the United States, giving me only 59 Mbps.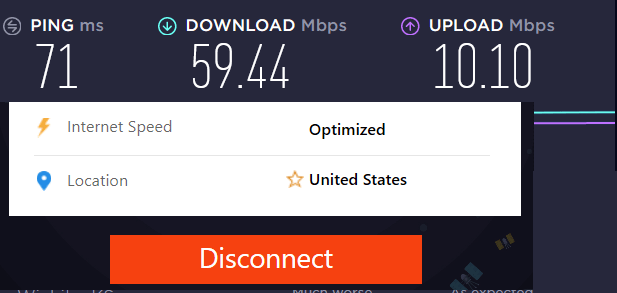 Not a good start. This is under 12% of my baseline connection speed.
Next, I tested a PureVPN server in Canada. Once again, the speeds were not very good at only 39 Mbps.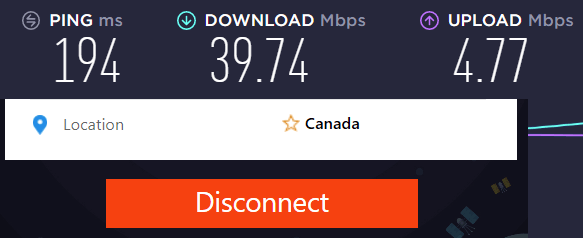 This is about under 8% of my baseline speed. It's clear that PureVPN is not the best VPN for Canada with a performance like this.
In addition to the slow download speeds, you can also see that latency, or ping, was unusually high. Ping should have been lower given my location in the United States. With slow pings, PureVPN would not be a good VPN for gaming.
Next, I tested PureVPN servers in the UK, and the results were similar. Here was a PureVPN server in London at only 18 Mbps.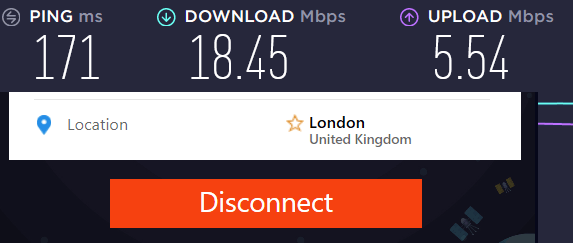 So these speed tests are only getting worse with PureVPN. While servers that are further from my physical location can be slower, they should not be anywhere close to this slow.
Comparison with NordVPN
To show you a quick comparison, let's take a look at NordVPN. Here is a NordVPN server in the UK with speeds of 295 Mbps:

You can see that NordVPN blows PureVPN out of the water in terms of performance.
Now let's see how fast NordVPN was with a server in the United States. Here I'm testing a NordVPN server in Seattle and getting 445 Mbps.

It's clear that PureVPN has a lot of catching up to do. It is nowhere near the speeds you will get with top-performing VPNs, as you can see in our NordVPN vs ExpressVPN report.
Why is PureVPN slow?
Many VPNs invest money in high-end server infrastructure that can deliver the fastest VPN speeds to their users. This may explain why PureVPN is slow: they are not running the best servers with sufficient bandwidth for their user base.
After the first subscription: expensive prices but expanded payment options
PureVPN has some good prices on their longer plans. At under $4.00 per month for both their 12-month and five-year plans, this is looking like a good cheap VPN.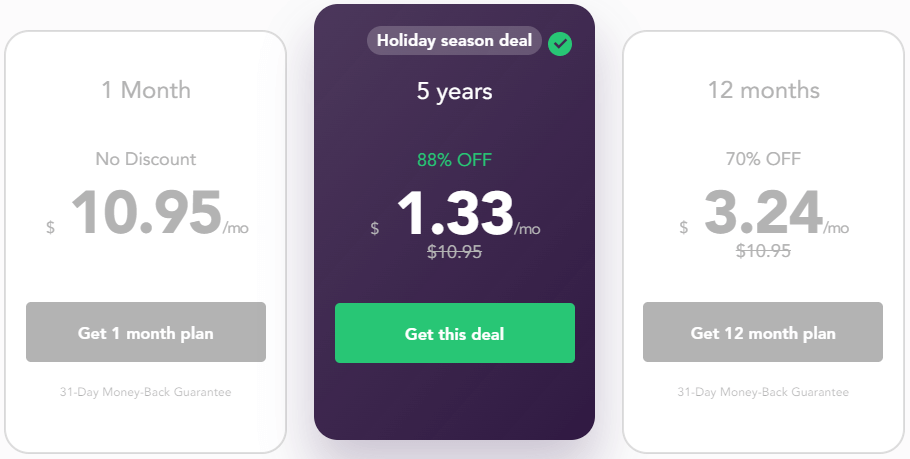 If the price was the only consideration, PureVPN could contend for a spot on our list of the best cheap VPNs. If you are looking for a great cheap VPN you should check out our review of Surfshark. And also see the PureVPN vs Surfshark comparison.
And speaking of prices, here is another issue I noticed…
Expanded payment options
PureVPN offers a good selection of payment options. ave significantly expanded the options now. Today you can pay for a PureVPN subscription with:
Credit cards
PayPal
Cryptocurrencies like Bitcoin, Litecoin, and Ethereum.
G Pay
It never hurts to have options when it comes to spending your money or guarding your internet traffic.
PureVPN refund policy
The PureVPN refund terms are pretty good. Here are the PureVPN refund terms:
If you aren't satisfied with PureVPN's service for any reason whatsoever, then you can claim a refund within 31 days of your order date.

Remember, we will first try to resolve your issue successfully before processing the refund request.
I'm not sure how this can be a "no questions asked, risk-free, stress-free refund policy" if the company is going to "try to resolve your issues successfully" before giving you the refund. The refund policy also references certain payment methods that are not refundable, such as Google Pay. Proceed with caution.
PureVPN and DNS leaks
In previous PureVPN reviews, I found the apps to suffer from data leaks, particularly IPv6 leaks. Unfortunately, we didn't get any better results this time.
Before running any tests, I ensured that all leak protection settings were activated, as you can see below: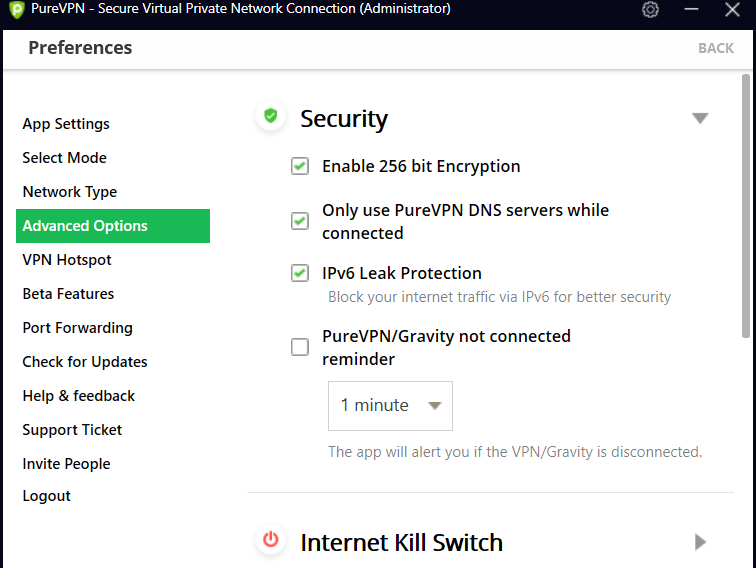 So theoretically, we should not find any leaks with PureVPN at this point with all leak protection settings activated. Next, I ran the PureVPN Windows app through some basic VPN tests. But we continued to get DNS leaks.
Note: These were active leaks when the connection was stable.
To identify leaks, I ran tests changing up the following variables:
Connecting to different PureVPN servers, including virtual locations
Changing the "mode" I was using "Security / Privacy, Stream, Internet Freedom, etc.
Changing up the protocol
I did not find DNS leaks with every server, protocol, and "mode" that I tested, but there were some clear cases where DNS requests were leaking out. This undermines the effectiveness of the VPN, while also exposing your data to third parties.
PureVPN's VPN apps
VPN apps should not crash, stall out, or require you to start the Task Manager to force the program to quit. We had many problems with the PureVPN apps and they did not function well. But that may all be changing. PureVPN has been rolling out a set of new and improved apps. Here´s the new Windows desktop app: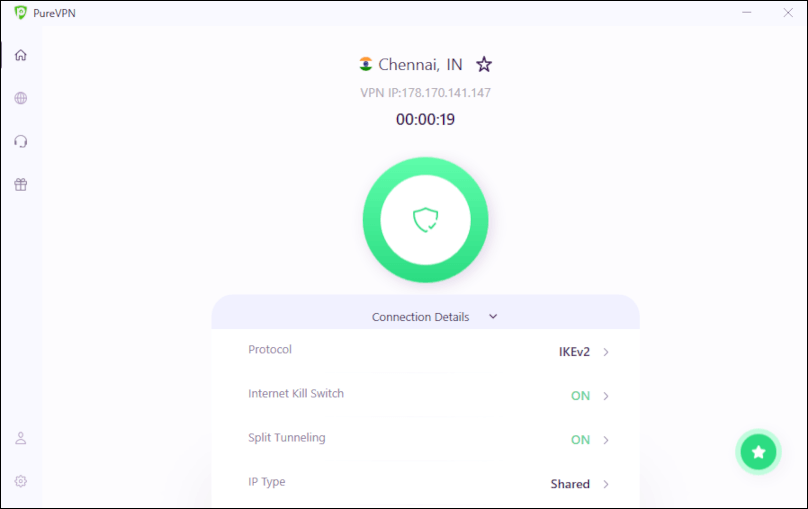 This new design is cleaner, with a look very similar to that of the NordVPN desktop app.
The mobile apps also have a clean look, including nice touches like dark mode. You can see in this in our screenshots of the Android VPN app below: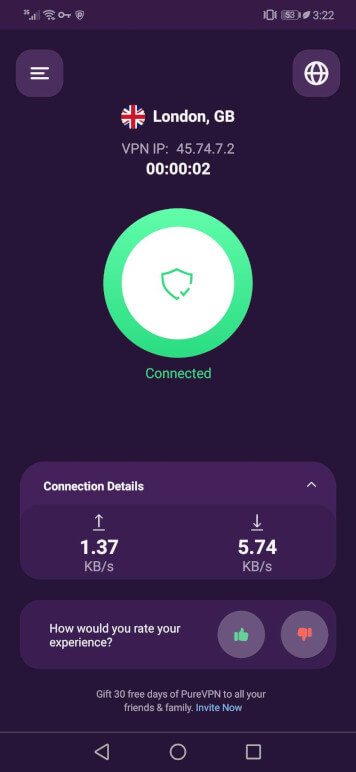 PureVPN also has extensions for different browsers. This may be useful if you need a VPN for Chrome or perhaps a VPN for Firefox, depending on the browsers you use.
PureVPN logging incident
As we have covered before here on RestorePrivacy, PureVPN is an example of a VPN that was caught logging user data and handing this data over to the FBI.
For years, PureVPN has claimed to have a "zero log policy" and not keep any data. However, in 2017, news broke that PureVPN had not only logged data about a user, they had also provided this data to the FBI (Federal Bureau of Investigation) for a criminal case. The records of this were made public.
There was quite a bit of attention on PureVPN after this case came out. PureVPN claimed it was a limited event but there's no way for us to tell if that is true.
It's also interesting to note that this all transpired despite PureVPN being based outside the United States, with no legal obligation to comply with US authorities.
PureVPN completes no-logs audit
In an attempt to revive trust, PureVPN has completed a third-party no-logs audit. The audit was conducted by Altius IT in June 2019. The auditors' report confirms that PureVPN now conforms with their no-logs policy and privacy protection procedures. We also discussed no-logs audits in the Private Internet Access vs NordVPN comparison.
While this is good news for the company and its customers, it is unclear whether this result has done anything to salvage PureVPN's reputation. All I have to say at the moment is that you should think carefully before trusting your data security to PureVPN.
PureVPN does not work well with Netflix
Unfortunately for those wanting to stream their favorite movies, PureVPN does not work well with Netflix.
The key problem I encountered when testing PureVPN with Netflix was buffering. Although I found that PureVPN could access American Netflix (not blocked), I did have buffering problems due to slow speeds.
While in "Stream" mode I frequently ran into buffering problems while connected to one or the other of PureVPN's US servers. Netflix was not blocked, but the speeds were so slow that the stream spent a lot of time buffering (indicated by a spinning red circle) instead of displaying video. The Netflix buffering issue seemed to occur randomly.
For these reasons, I don't recommend PureVPN for streaming. Instead, I recommend going with one of the services recommended in my list of the best VPNs for Netflix.
Note: Given the buffering problems, I didn't test PureVPN's ability to change Netflix regions so you can view content from other countries.
Other streaming services with PureVPN
Firestick – Many people use the Amazon Firestick or Fire TV to stream content from various sources. Loading a VPN on Firestick will allow you to access streams that may be geo-restricted. PureVPN offers a Firestick app, but the slow speeds will still be a problem.
And speaking of Amazon, you may be wondering if PureVPN is the best VPN for Amazon Prime. The answer is no, it didn't work well in our tests here, either.
Does PureVPN work for Hulu? According to some people on Reddit, PureVPN is not the best VPN for Hulu at this time. At this time, PureVPN is claiming that it's a good VPN for Disney Plus, but we have not yet tested it out.
Additional research findings:
Below are additional findings from my research of PureVPN for this review.
PureVPN, Gaditek, and Pakistan (with Ivacy VPN)
According to PureVPN's website, it is officially operated under the business GZ Systems Limited. For years, this VPN was based in Hong Kong. Today, however, it is based in the British Virgin Islands, as we see with ExpressVPN.
If you dig a bit deeper, you will find a company called Gaditek, based in Karachi, Pakistan. PureVPN appears to be owned and operated by Gaditek, which lists PureVPN as one of its brands: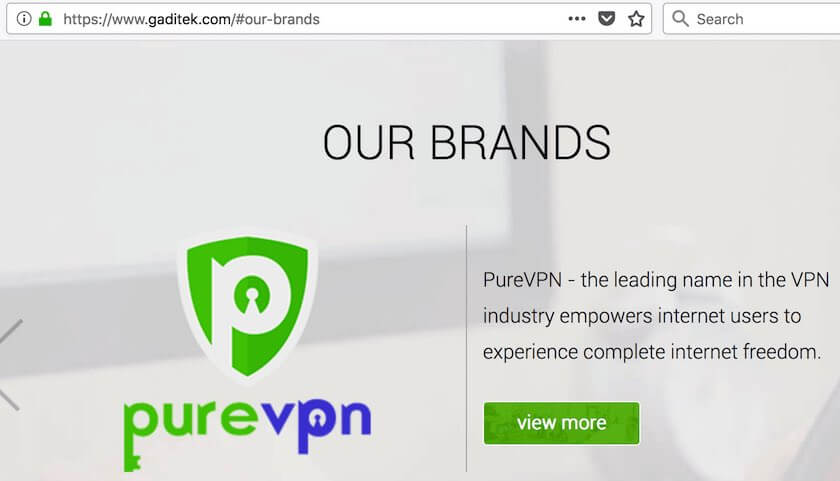 Whether PureVPN is operated in Pakistan does not really matter from a legal perspective, since the company is legally based in the British Virgin Islands, which is the jurisdiction it falls under.
There are also people who allege that Gaditek (PureVPN) is operating a network of VPN review sites, where PureVPN is consistently ranked as the top recommendation. See this report for further information.
Is Ivacy a rebranded version of PureVPN?
For many years there have been rumors (and lots of evidence) that Ivacy is a rebranded (white-label) version of PureVPN. This would not be too surprising since PureVPN offers a white-label version of their product, which they advertise on their website.
Finally, in March 2019, Ivacy staff officially admitted that PureVPN has "minor stakes" in Ivacy.
This isn't too uncommon, however, as there are other VPNs that appear to be independent but are owned by the same entity:
Does PureVPN work well for torrenting?
Many people are looking for a safe, reliable, and fast VPN for torrenting. This is because torrenting is often a grey area (depending on what you are torrenting) and this can put you at risk for copyright infringement.
So is PureVPN a good option for torrenting?
I would argue no. PureVPN is not a good VPN for torrenting when you examine the three criteria above:
Safe – PureVPN suffers from data leaks, which can expose your activities to your internet provider, and other third parties, such as copyright trolls. It only takes one leaked packet to expose your identity and online activities.
Reliable – PureVPN is not very reliable and suffers from connection problems.
Fast – PureVPN is certainly not fast, based on my own test results.
Considering these factors, PureVPN is not a good VPN for torrenting. You may want to consider other options.
PureVPN comparisons
For those who are interested in seeing how PureVPN compared to some of our other top-rated VPNs, we have a few comparison reports.
First up is our NordVPN vs PureVPN comparison. In this report, we see that NordVPN beat out PureVPN in all speed tests, while also offering more secure applications, better support for Netflix, and a cheaper price. NordVPN was the big winner here.
Second, we also have a PureVPN vs ExpressVPN comparison. While PureVPN came out slightly cheaper, ExpressVPN had much faster speeds, better streaming support, more reliable apps, and a much better track record. It's clear that ExpressVPN came out on top.
That's it for PureVPN comparisons, but we have many other VPN comparisons if you are interested.
PureVPN FAQ
Looking for quick answers to some of the common questions about PureVPN? This FAQ is the place to find them.

Is PureVPN good for streaming?

PureVPN is not good for streaming. While we have sometimes been able to connect to Netflix or Amazon Prime Video with PureVPN, it is a hit-or-miss process.

Here are links to our lists of the best VPNs for Netflix and the best VPNs for streaming.


Is PureVPN good for torrenting?

PureVPN is not good for torrenting. It sometimes leaks your IP address, which could result in you getting sued by some giant media conglomerate. Plus it is really slow.

Here's a link to our list of the best VPNs for torrenting.


Is it true that PureVPN logs user data for the FBI?

In 2017, the world learned that PureVPN had logged user data for the FBI, which was subsequently used in a court case. In 2019, PureVPN successfully complete an audit of their new no-logs policy. We have not seen any evidence that PureVPN keeps logs today.

Does PureVPN provide good customer support?

While we have not had any issues with PureVPN Customer Support, a number of our readers have. If you scroll through the comments section below this article you will see a number of angry complaints about poor customer service.
PureVPN review conclusion
When I began to update this review I hoped that PureVPN would have finally made some significant improvements to their service. The competition in the VPN space is intense, and companies need to keep improving just to avoid losing ground to the competition.
While the company has updated their VPN apps, I do not see much real improvement with PureVPN. In my opinion, it continues to lag behind the leading VPNs and may well be falling further behind in performance, security, and reliability.
While there are a few positive aspects of PureVPN, the final verdict is that this is not a VPN I can recommend after testing it for this review.
Alternatives to PureVPN
There are many VPN services that are superior to PureVPN. To learn about our top picks amongst all the available VPN services, check out our guide on the Best VPNs.
Related Articles:
If you have used PureVPN, feel free to share your honest review (good or bad) below.
This PureVPN review was last updated on May 30, 2023.