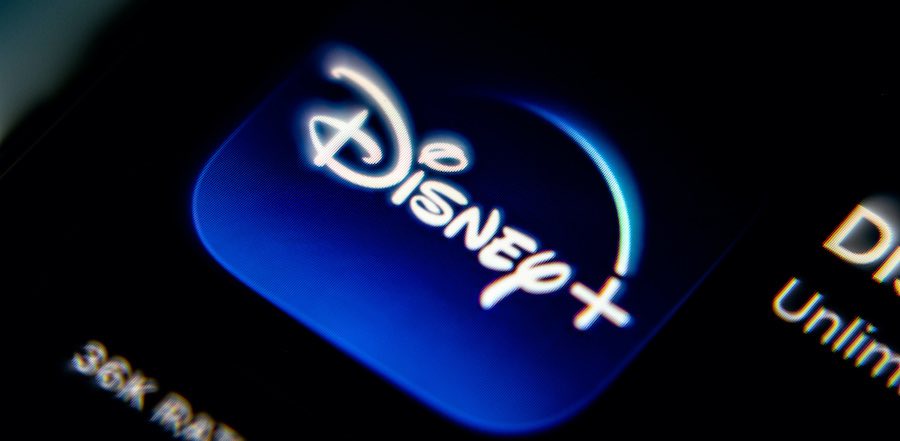 With a growing number of people staying home and streaming their favorite content online, Disney Plus is a great solution you should be considering. But to get the most out of your subscription, and to view content from anywhere in the world, you'll need to use a good VPN for Disney Plus.
Right now, Disney+ offers numerous different regional libraries. Each of these libraries offers a unique selection of content and each region is geo-restricted to IP addresses within the respective region. To get complete access to all Disney+ regions and content, you will need a good VPN for Disney+ with a large network of servers. Right now, only a few of the best VPNs are capable of consistently unblocking Disney Plus from anywhere in the world.
We've tested several VPNs to verify which ones can consistently unblock Disney Plus with all major regional libraries. Based on our tests, NordVPN is the top option for unblocking Disney Plus, while many others were blocked. This table highlights the top picks:
NordVPN – Best VPN for Disney Plus, consistently unblocks all regions, excellent speeds, fast servers, high-quality apps for all major devices (69% off coupon here)
Surfshark – Reliable and affordable VPN for accessing Disney Plus, quality apps, consistent speeds
ExpressVPN – Expensive, but reliable VPN for Disney plus and streaming
Note: There are also numerous reasons why you might want to take steps to protect your privacy, even while streaming Disney Plus and other media online. A VPN can help here too, and we'll explain the importance of this further below.
Using a VPN with Disney Plus
Just to be sure we are all on the same page, you should know that there are at least 15 national Disney+ libraries around the world. To connect to one of them using a VPN (virtual private network), you will need to use a VPN server located in the same country. For example, to connect to the Disney+ library in the UK, you'll need to select a VPN server located in the UK.
Curious about exactly where Disney+ libraries are located? The image below from NordVPN shows you some of the streaming libraries available, and also the NordVPN servers that work with these libraries.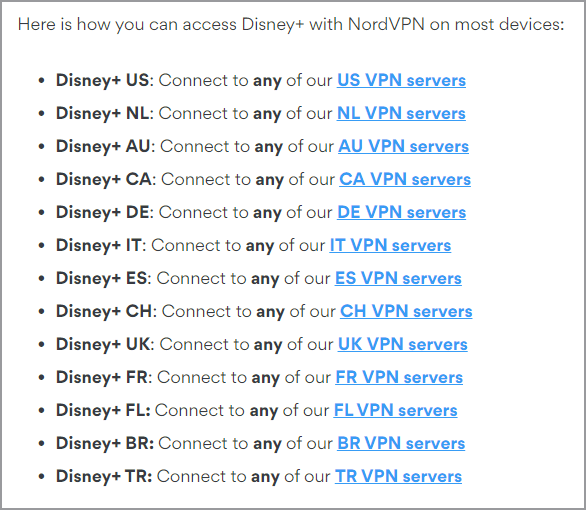 Tip: Grab the 69% discount coupon to get started with NordVPN.
You can see that NordVPN offers a huge selection of global servers to access any Disney Plus region from anywhere.
Ranking the best VPNs for Disney Plus
Here are the criteria we used to rank the best VPNs that work with Disney Plus:
The most important factor is the ability to connect to Disney+ without issues.
A geographically-dispersed network of fast VPN servers that can deliver HD-quality streaming content from whichever Disney+ libraries you happen to be subscribed to.
An assortment of quality apps that can display Disney Plus content on all major devices: computers, tablets, TVs, phones, and more.
A good reputation as a general-purpose VPN.
A responsive support team that can quickly answer Disney+ questions and help with any other problems.
Now that you know the criteria we used, let's take a good look at each of the Disney Plus VPNs we selected.
Here are our picks for the best Disney Plus VPNs:
NordVPN – All-around Best VPN for Disney+
| | |
| --- | --- |
| VPN | NordVPN |
| Based in | Panama |
| Logs | No logs (audited) |
| Price | $2.99/mo. |
| Support | 24/7 live chat |
| Refund | 30 days |
| Website | NordVPN.com |
As one of the best all-around VPN services, and our pick as the best VPN for streaming, it should come as no surprise that NordVPN is also our pick as the best VPN for Disney+. During our testing, we found that NordVPN can connect to all Disney+ regional libraries with ease. It simply works, without any hassle.
NordVPN currently offers about 5,500 servers in 60 countries around the world. This large server network gives you easy access to most Disney Plus libraries, as well as numerous other streaming services. Below I'm streaming Disney Plus with a NordVPN server in the United States.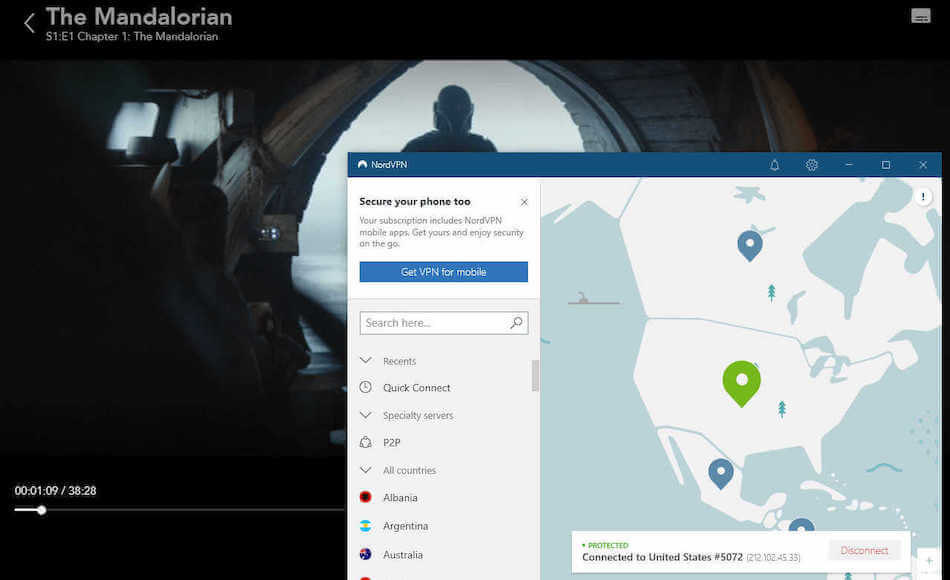 As you can imagine, VPN speed is an important factor for smoothly streaming HD video. NordVPN has this covered. While it has long been one of the fastest VPN services around, they upped the ante by releasing their NordLynx VPN protocol. NordLynx is NordVPN's custom implementation of the WireGuard VPN protocol. WireGuard uses modern encryption techniques and efficient coding to make it extremely fast and secure.
We tested NordVPN for our WireGuard vs OpenVPN comparison and were able to hit speeds of 445 Mbps on a 500 Mbps connection. This is the fastest VPN speed test we have recorded, making NordVPN a great solution for HD streaming with Disney+ and other services.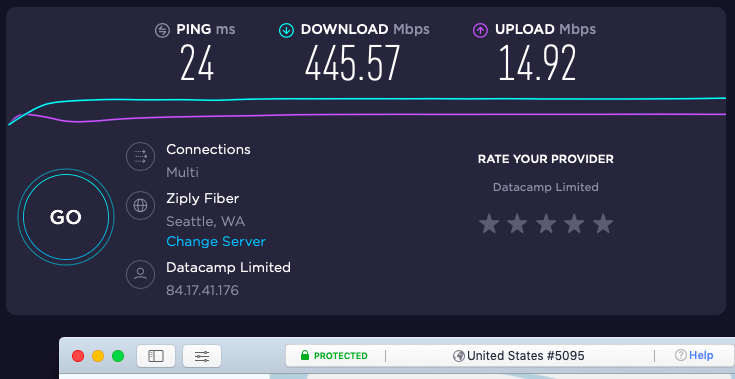 Nord Security, the parent company of NordVPN, is also boosting the bandwidth of the VPN server network. They are replacing the 1Gbps servers in key parts of the network with 10Gbps servers. This higher bandwidth helps protect against network congestion and will become even more important as more of the world moves to 5G data networks.
NordVPN apps
NordVPN provides apps for a vast range of devices and operating systems, including Windows, macOS, Linux, iOS, Android, Android TV, Fire TV stick, game consoles, Raspberry Pi, Chromebook, and more. They also have browser extensions for Chrome, Firefox, and Edge browsers. Here's the NordVPN Windows app: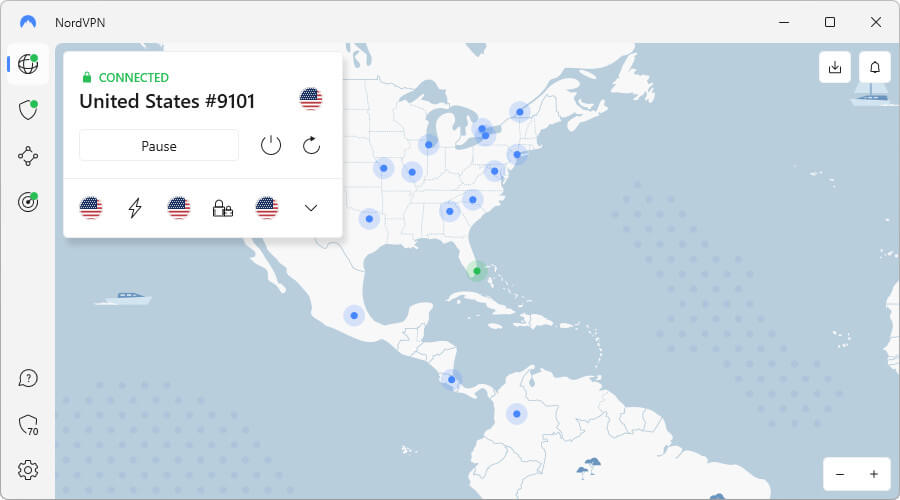 The appearance of the NordVPN apps can vary depending on the device or operating system. It offers excellent Android and iOS VPN apps as well.
NordVPN security features
In addition to Disney+ streaming support, NordVPN delivers many security features. Here are the highlights:
Threat Protection and Threat Protection Lite are two advanced NordVPN features that boost your online security. With Threat Protection, NordVPN blocks ads, trackers, and potential malware websites. It can also scan downloads for malware and can protect your traffic even when that traffic does not pass through the VPN tunnel.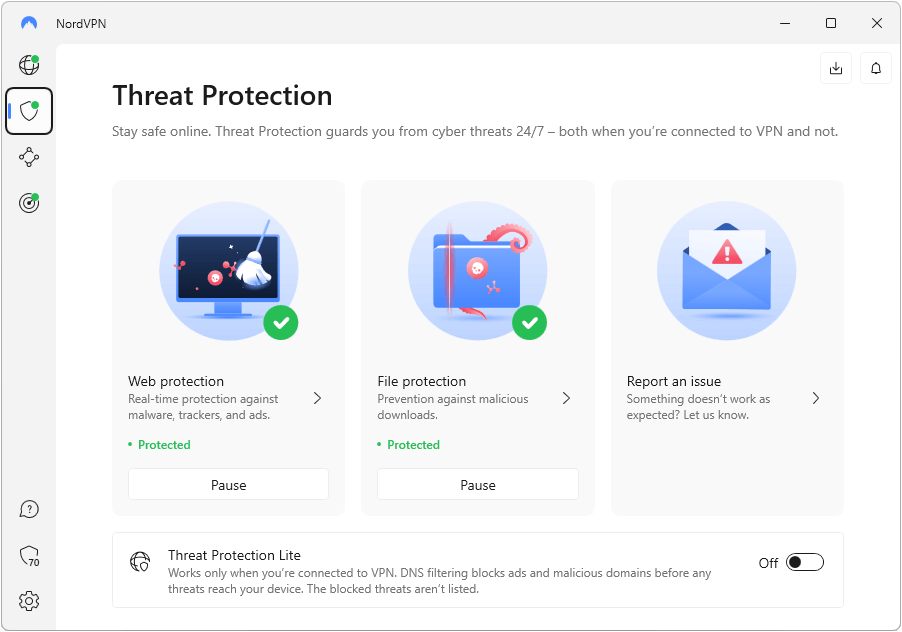 Meanwhile, Threat Protection Lite blocks, ads, trackers, and malware sites but requires an active VPN connection. Threat Protection Lite cannot scan documents for malware. It is similar to Surfshark's CleanWeb.
Threat Protection is built into the NordVPN Windows and macOS apps. Threat Protection Lite is built into the NordVPN Windows, macOS, Linux, Android, and iOS apps, as well as the NordVPN browser extensions.
We recommend you turn on a version of Threat Protection on all your devices to benefit from the additional security of one of the best VPN ad blockers available.
Note: The Windows and macOS apps can use either Threat Protection or Threat Protection Lite at your discretion.
The company is further enhancing the security of the network by moving to a colocated server model. Colocated servers are servers that are owned and managed by NordVPN but physically located in third-party data centers.
NordVPN also has specialty servers for different use cases:
Double-VPN servers encrypt your internet traffic twice by passing it through two NordVPN servers, resulting in what could be the tightest security in the VPN industry.
Tor-over-VPN servers that add anonymity to the privacy and security of the VPN.
P2P servers that are optimized for torrenting and fast download speeds. (NordVPN is currently the #1 best VPN for torrenting.)
Obfuscated servers to conceal VPN traffic and also get around VPN blocks and/or restrictions. (These servers help you get around VPN blocks, such as if you need a VPN for China or other restricted networks.)
Dedicated IP servers for when you need a dedicated IP address as well as the privacy and security of a VPN.
NordVPN privacy features
NordVPN also earns high marks in the privacy category. It is a verified no-logs VPN service, having passed multiple separate independent audits for verification. Being based in Panama, NordVPN is not required to keep any logs and can better protect user data. All of NordVPN's servers are running in RAM-disk mode to ensure no data can ever be stored on a VPN server.
NordVPN has apps that run on almost any device you are likely to have handy. Computers, tablets, smartphones, Smart TVs, even routers, and Network-Attached Storage (NAS) devices. And if you need a VPN for Firestick, NordVPN offers a dedicated app in the Amazon App Store.
The NordVPN support team does great work, and they are always available to help thanks to their 24/7 live chat support. Finally, they offer a 30-day money-back guarantee so you'll have lots of time to experience what this leading VPN service can do for you.
Non-Disney+ streaming services unblocked: Netflix, BBC iPlayer, Amazon Prime, Hulu, HBO, DAZN, and many more.
+ Pros
User-friendly and reliable apps
Double-VPN and Tor-over-VPN servers
Passed numerous 3rd-party audits
Strong encryption standards with full support for WireGuard
Works with Netflix and many streaming sites
Threat Protection feature to block ads, trackers, and malware
Professional 24/7 live chat support
Consistently fast speeds
Dedicated RAM-servers with 10 Gbps bandwidth channels
– Cons
Big discounts only available with 2-year plans
NordVPN's Cyber Deal is live:

Get 69% Off NordVPN with the coupon below plus 3 months FREE, no activation code needed:
(Coupon is applied automatically; 30 day money-back guarantee.)
Want to learn more? Check out our full NordVPN review.
---
Surfshark – Cheapest VPN for streaming Disney Plus
| | |
| --- | --- |
| VPN | Surfshark |
| Based in | The Netherlands |
| Logs | No logs (audited) |
| Price | $1.99/mo. |
| Support | 24/7 live chat |
| Refund | 30 days |
| Website | Surfshark.com |
Of all our recommended VPNs in this guide, Surfshark holds the top spot as the cheapest VPN for Disney+. Surfshark runs on a network of 3,200 VPN servers located in 100 countries. With this large network, Surfshark VPN works with Disney Plus libraries around the world.
We rate Surfshark as the second-fastest VPN we have ever tested. Surfshark delivers premium speeds when you choose to use the WireGuard VPN protocol. It easily came out on top in speed tests for our Surfshark vs IPVanish comparison and is one of the fastest VPNs on the market, trailing only NordVPN as you can see in our recent NordVPN vs Surfshark VPN comparison. Here is one of their impressive results on our speed tests:

Surfshark apps
Like our other recommended VPNs, Surfshark offers quality apps for the most popular devices and operating systems, including streaming devices. These apps include kill switches and Bypasser, Surfshark's version of split tunneling. The Surfshark browser extensions earned high marks in a security audit by Cure53, which is why we ranked it as one of the best VPNs for Chrome. Surfshark also offers a dedicated app for Firestick and Fire TV devices. Here is the Surfshark VPN app we tested for this guide: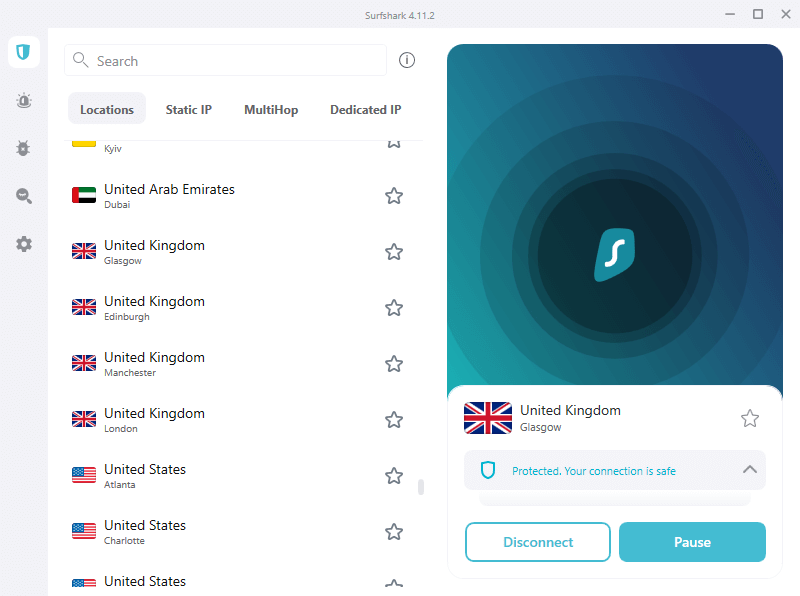 Surfshark VPN privacy and security features
Surfshark is based in the Netherlands (a good privacy jurisdiction) and keeps no logs. This status was recently confirmed in a third-party audit of the Surfshark no-logs policy conducted by auditing firm Deloitte. CleanWeb is Surfshark's ad, tracker, and malware blocker. It has capabilities very similar to those of NordVPN's Threat Protection Lite. Thanks to CleanWeb, Surfshark is also on our list of the best VPNs with ad blockers.
Coming back to the Surfshark VPN server network, they are converting all servers to run in RAM-disk mode. They are also in the process of moving to 100% colocated servers and upgrading to 10Gbps servers in key sectors of their network.
Like NordVPN, Surfshark includes numerous specialized servers and server capabilities within their server network. This includes:
MultiHop servers are a pre-defined set of double-VPN servers that provide additional encryption and security. Surfshark engineers are currently testing Dynamic MultiHop, a system that allows you to define your own double-VPN pairs. You select the entry location and exit location, and Surfshark builds the connection for you in real-time.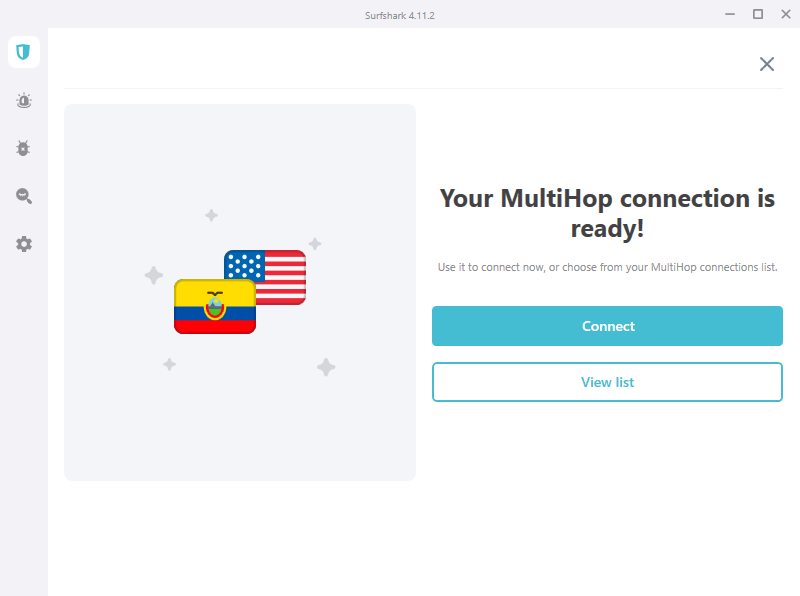 Camouflage mode is Surfshark's name for their obfuscated server mode, which camouflages VPN traffic to look like regular HTTPS encryption and get around VPN blocks.
Static IP servers give you the same IP address whenever you connect to them, hence the name Static IP. However, you may share that IP address with multiple other users.
Dedicated IP servers also give you the same IP address whenever you connect to them. But with these servers, the IP address is dedicated to your use only. (See our guide on dedicated IP VPNs here.)
Rotating IP is a new feature that rotates the IP address assigned to you by the server without changing your VPN location. This eliminates the potential privacy problem of staying connected for a long time using the same IP address.
Surfshark stands out from the other Disney Plus VPNs in that it gives you unlimited VPN connections with your subscription. Surprisingly, despite all the features and extra options, Surfshark still remains the cheapest VPN on our list at less than $2.50 per month. And if you need any help setting up this super affordable VPN, Surfshark provides 24/7 live chat support and a 30-day money-back guarantee on all subscription plans.
Non-Disney+ streaming services unblocked: Netflix, Amazon Prime, BBC iPlayer, HBO, Hulu, SlingTV, and more.
+ Pros
Unlimited connections
User-friendly apps for all devices and operating systems
CleanWeb feature to block ads, trackers, and malware
Works great with Netflix and many other streaming services
24/7 live chat support
Strong encryption and security features (audited)
– Cons
Limited support for VPN routers
Above average monthly prices
Surfshark Coupon:

Get 80% off Surfshark VPN (drops the price down to $1.99 per month) plus 5 months FREE:
(Coupon is applied automatically.)
If you want to learn more, check out our full Surfshark review.
---
ExpressVPN – A VPN to view Disney Plus from anywhere
| | |
| --- | --- |
| VPN | ExpressVPN |
| Based in | British Virgin Islands |
| Logs | No logs (audited) |
| Price | $6.67/mo. |
| Support | 24/7 live chat |
| Refund | 30 days |
| Website | ExpressVPN.com |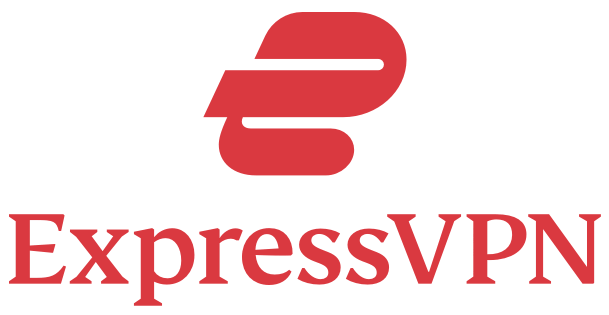 ExpressVPN constantly ranks high in terms of streaming performance, effortlessly unblocking Disney Plus. With an extensive server network spanning 94 countries, ExpressVPN provides outstanding speed and accessibility to all popular streaming platforms.
This VPN is based in the British Virgin Islands, a great jurisdiction for privacy, and is a verified/audited no-logs VPN provider. It scores well on privacy and security, having passed a double-handful of independent audits. ExpressVPN uses the Lightway protocol (similar to WireGuard) to give users excellent speeds and strong security.
The VPN, located in the privacy-friendly British Virgin Islands, has been confirmed and audited as a no-logs VPN service. Its privacy and security are impressive and have been verified by numerous independent audits. Using the Lightway protocol, which is similar to WireGuard, ExpressVPN delivers impressive performance to its users.
All ExpressVPN apps that we tested are secure, reliable, and user-friendly. The apps incorporate a VPN kill switch (called Network Lock) to ensure no data leaks occur at any time. They have apps for Windows, Mac OS, iOS, Android, Linux, and even routers. ExpressVPN also supports numerous streaming devices through the MediaStreamer app, which works with Smart TV systems, gaming systems, TV boxes, and more.
Aside from unblocking Disney+, ExpressVPN also works well with many other streaming services. It officially supports 12 different Netflix regions (allowing you to easily change Netflix regions from anywhere). ExpressVPN is also a great VPN for Amazon Prime and many other streaming services. They also have a dedicated VPN Firestick app in the Amazon store.
While ExpressVPN is more expensive than some of our other recommended Disney Plus VPNs in this guide, they do offer a coupon for three months free (see below). Additionally, this VPN continues to be one of the more reliable options around for unblocking streaming content, especially when some other VPNs may be getting blocked.
All ExpressVPN plans come with a 30-day money-back guarantee and immediate access to 24/7 live chat support. In short, they've got your back if you need anything. And if you have trouble finding the correct VPN servers to unblock Disney Plus, the support department will tell you exactly where to connect.
Other supported streaming services: Netflix, BBC iPlayer, Amazon Prime, DAZN, Hulu, HBO, ESPN, and more.
+ Pros
User-friendly and secure apps
Split tunneling feature (for macOS, Windows, and routers)
Works with Netflix and most streaming services
24/7 live chat support
Passed independent third-party audits for security and no-logs
Very large server network
– Cons
Above average prices
Fewer features than other leading VPNs
ExpressVPN Coupon:

Sign up for the 12-month plan and get 3 months added to your subscription for free.
(Coupon is applied automatically.)
To learn more about ExpressVPN, see our ExpressVPN review.
---
Using VPNs to access Disney Plus regional libraries
The Disney+ service is rapidly gaining in popularity, hitting 160+ million users in the first quarter of 2023. Meanwhile, traditional services like DISH Network and AT&T lost viewers. Clearly, Disney Plus is a service to keep your eye on – and a VPN is the best way to access all your favorite content on any Disney+ library, from anywhere in the world.
Do these VPNs always work with Disney Plus?
Please keep in mind that while each of these recommended VPNs is very good at defeating geo-blocking technology, no one can guarantee they will always succeed. You may see this at some point: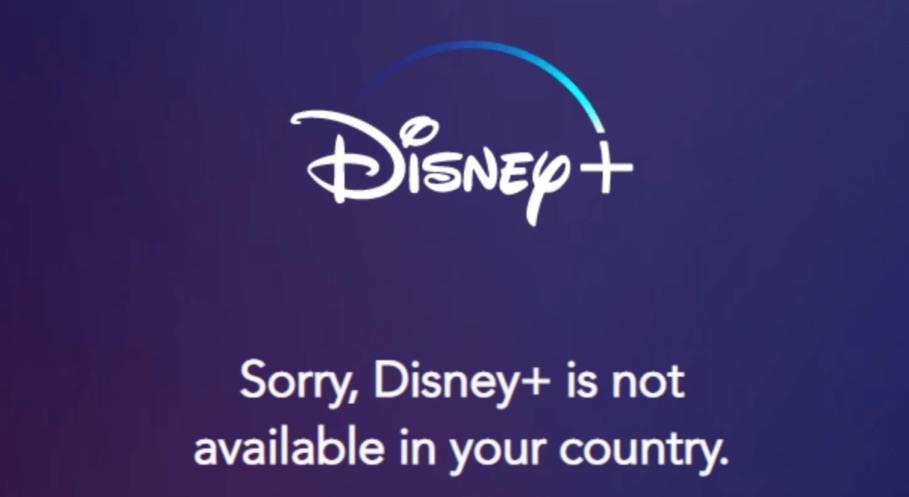 While it may seem absurd, streaming media companies like Disney+ have deep pockets and binding agreements to control access based pm your physical location. An ongoing war exists between VPNs and streaming platforms, with your connection potentially becoming collateral damage.
If you run into any problems connecting to a streaming service, just reach out to your VPN's customer service team. They can get you straightened out quickly, typically by telling you which of their server locations is currently working with the Disney Plus library you are interested in.
On a positive note, our recommended Disney Plus VPNs all invest lots of resources into streaming. In other words, they have built a business around unblocking streaming services and will most likely continue to work for the long term.
Disney Plus VPN FAQs
We've done a good job going over the best VPN services for Disney Plus. But what if you have more general questions related to the subject?
Here are the most common questions we've heard and the answers to them.
Here are the questions we'll answer:
Do I need a VPN for Disney+?
Which VPN is best for Disney Plus?
How do I access Disney Plus from another country?
Why does Disney Plus block VPN users?
Do you need a VPN for streaming Disney Plus?
If you subscribe to the Disney Plus library in your country, you can watch popular movies without any issues. However, you will need a good VPN to access Disney Plus regions outside your location.
Using a VPN is not just about unblocking websites; it's also about protecting your privacy. In today's world, it is important to keep your viewing habits to yourself. For just one example, people in the UK have been using VPNs since 2016 to avoid the government's invasive tracking policies. A quality VPN for UK streaming is a necessity.
If you don't use a VPN, your internet service provider (ISP) can see everything you do online. In the United States, they can even sell your data to anyone interested in it. Do you want advertisers to know everything you do online? We think that's creepy.
Which VPN is best for unblocking Disney+?
Based on our tests, the best VPN for Disney+ is NordVPN with its NordLynx protocol. This will deliver the best speeds for streaming Disney Plus with a VPN, on any type of device.
While NordVPN is our definite top pick, all four of the VPNs we cover here do a good job when viewing Disney+ content. Try whichever one looks best to you. They all offer a 30-day money-back guarantee, so you have plenty of time to test it out before you have to commit. You really can't lose.
How do I access Disney Plus from another country?
If you need to access your Disney Plus library from outside the "correct" country, you will need to invest in one of the VPN services profiled in this article. Here are the steps you need to follow.
Step 1: Subscribe to one of the VPNs described here
Sign up for one of these Disney Plus VPNs:
NordVPN
Surfshark
ExpressVPN
Step 2: Install the VPN on one of the devices you intend to use to view Disney Plus content
Unless you use some very uncommon hardware, one or more of the VPNs listed here should have an app that works. Even if they don't you might be able to install the VPN on your router to make it all work.
Step 3: Connect to one of the VPN's servers
Launch the VPN app device. Select a server in the same country as the Disney Plus library you want access to.
Step 4: Start watching Disney Plus content
Once you successfully connect to the right server in the target country, just log in to your streaming service as normal. Assuming the VPN you are using knows how to unblock the service you want to stream, that service will think you are just another local user.
Why does Disney Plus block some VPNs?
Most big streaming services (Disney Plus, Hulu, Amazon Prime, and particularly Netflix) try hard to block VPN users from accessing their services. This is a problem we also discussed at length in our guide on the best VPNs for Netflix.
From our perspective as paying customers, this doesn't seem to make any sense. But it does make sense from the perspective of the people who own the rights to the content that appears on the streaming services.
Streaming services try to block VPNs because they want to restrict access to their content based on geography. Services have different licensing agreements and distribution deals based on the country where they are distributing the content. This is why the available content varies depending on where you are located
By blocking VPNs, Disney Plus and other streaming platforms try to limit users to viewing content from the country in which they are located. While this can protect the rights of content owners and prevent copyright infringement, it can make life difficult for users.
A VPN can get you around all that, so to honor their contracts with the content owners, the streaming services have to try to shut out us VPN users.
Conclusion: Use a good VPN to unblock Disney Plus in 2023
If you like Disney Plus now, you will love it when you invest in a quality VPN. There are lots of reasons why one of the VPNs we recommend in this article will improve your experience. Specifically, using a quality VPN will make it easy to:
Stream the Disney Plus content you want, regardless of where in this crazy world you happen to be located
Stream from other services too (there are lots of lesser-known local streaming services out there to explore)
Protect yourself from attacks and third parties that want to spy on your online activities
While there are no guarantees a VPN that can always unblock Disney Plus, these VPNs all want to maintain their reputation as one of the best VPNs for unblocking Disney Plus. And if you do lose the ability to connect to Disney Plus one day, contact customer support immediately. Each of these services offers 24/7 support and will reconnect you to your Disney+ fix pronto!
This guide on the best VPNs for Disney Plus was last updated on June 19, 2023.