With a growing number of people staying home and streaming their favorite content online, Disney Plus is a great solution you should be considering. But to get the most out of your subscription, and to view content from anywhere in the world, you'll need to use a good VPN for Disney Plus.
Why do you need the best VPN for Disney Plus?
Right now, Disney+ offers ten different regional libraries. Each of these libraries offers a unique selection of content, and is restricted to IP addresses within the respective region. To get complete access to all Disney+ content with every regional library, you will need a good VPN with a large server network around the world. Right now, only a few of the best VPNs are capable of consistently defeating the Disney+ geo-blocking technology.
Note: There are also ever-growing reasons why you might want to take steps to protect your privacy, even in something as seemingly benign as watching shows on Disney Plus. A VPN can help here too.
Whatever your reason, you are here because you want (or need) to use a VPN to connect to Disney+. So let's get started.
Using a VPN with Disney Plus
Just to be sure we are all on the same page, you should know that there are 10 national Disney+ libraries around the world. To connect to one of them using a VPN, you will need to use a VPN server located in the same country. For example, to connect to the Disney+ library in the UK, you'll need to select a VPN server located in the UK.
Curious about exactly where Disney+ libraries are located? The image below from NordVPN shows you the streaming libraries available, and also the NordVPN servers that work with these libraries.
Grab the 68% discount coupon to get started with NordVPN.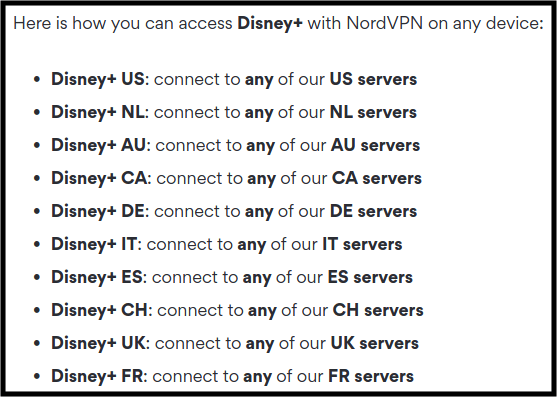 How we rank the best VPNs for Disney+
Here are the criteria we used to rank the best VPNs that work with Disney Plus:
The most important factor is the ability to connect to Disney+ without issues.
A geographically-dispersed network of fast VPN servers that can deliver HD-quality streaming content from whichever Disney+ libraries you happen to be subscribed to.
An assortment of quality VPN apps that can display Disney Plus content on all major devices: computers, tablets, TVs, phones, and more.
A good reputation as a general-purpose VPN, in addition to a streaming media player.
A responsive support team that can quickly answer Disney+ questions and help with any other problems.
Now that you know the criteria we used, let's take a good look at each of the Disney Plus VPNs we selected.
1. NordVPN – Best VPN for Disney+ streaming
As one of the best VPNs in the world, and our pick as the best VPN for streaming, it should come as no surprise that NordVPN is also our pick as the best VPN for Disney+. During our testing, we found NordVPN to connect to all Disney+ regional libraries with ease. It simply works, without any hassle.
NordVPN currently offers about 5,400 servers in 59 different countries around the world. This VPN works for unblocking all Disney Plus regional libraries. Below I'm streaming Disney Plus with a NordVPN server in the United States.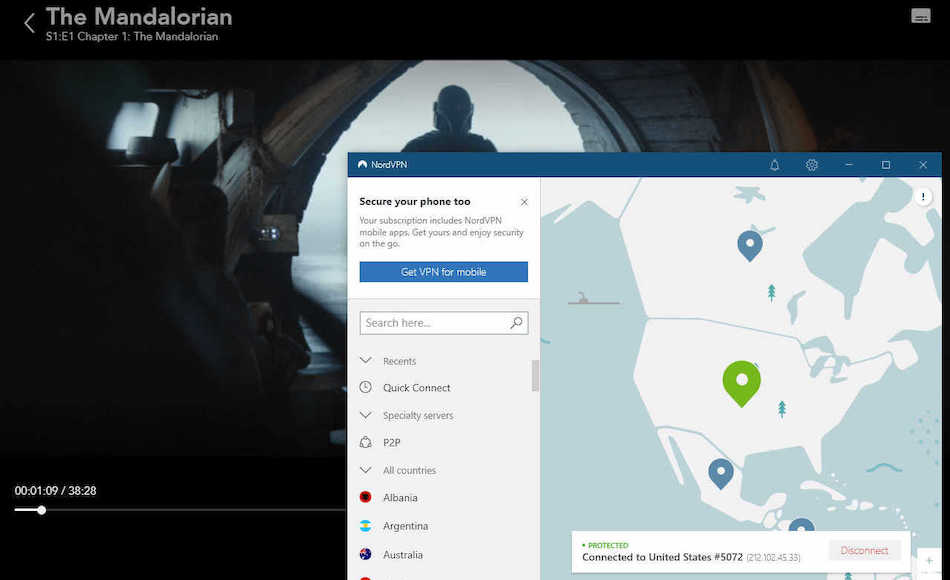 As you can imagine, VPN speed is an important factor for smoothly streaming HD video. NordVPN has this covered. While it has long been one of the fastest VPN services around, they upped the ante a lot this year by releasing their NordLynx VPN protocol. NordLynx is NordVPN's custom implementation of the WireGuard VPN protocol. WireGuard uses modern encryption techniques and efficient coding to make it super fast and secure.
We tested out NordVPN for our WireGuard vs OpenVPN comparison and were able to hit speeds of 445 Mbps on a 500 Mbps connection. This is the fastest VPN speed test we have recorded, making NordVPN a great solution for HD streaming with Disney+.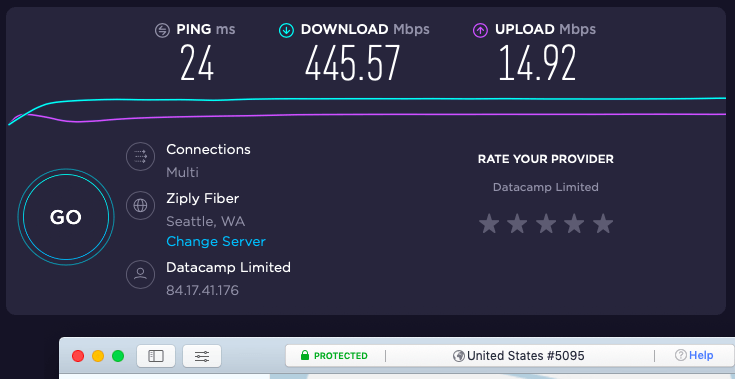 Above we noted that NordVPN has 5,400 servers in 59 countries. This also includes lots of specialty servers for different uses:
Double VPN servers that encrypt traffic over two hops.
P2P servers that are optimized for the torrenting and fast download speeds. (NordVPN is currently the #1 best VPN for torrenting.)
Obfuscated servers to conceal VPN traffic and also get around VPN blocks and/or restrictions.
The obfuscated servers will be a useful feature if you need a VPN to evade censorship or blocking efforts. This makes it a great VPN for China. Additionally, they also offer a CyberSec feature. This blocks ads, trackers, malware, and even phishing domains.
NordVPN also earns high marks in the privacy category. It is a verified no logs VPN service, having passed two separate independent audits for verification. Being based in Panama, NordVPN is not required to keep any logs and can better protect user data. Lastly, all of NordVPN's servers are running in RAM-disk mode to ensure no data can ever be stored on a VPN server.
NordVPN has apps that run on most any device you are likely to have handy. Computers, tablets, smartphones, Smart TVs, even routers and Network-Attached Storage (NAS) devices. And if you need a VPN for Firestick, NordVPN offers a dedicated app in the Amazon App Store.
The NordVPN support team does great work, and they are always available to help thanks to their 24/7 live chat support. Finally, they offer a 30 day money-back guarantee so you'll have lots of time to experience what this leading VPN service can do for you.
Non-Disney+ streaming services unblocked: Netflix, BBC iPlayer, Amazon Prime, Hulu, HBO, and many more.
NordVPN Cyber Deal is Now LIVE:
Get 68% off NordVPN (drops the price down to $3.71 per month).
Get the 68% Off NordVPN Coupon >>
(Discount is applied automatically.)
Want to learn more? Check out our full NordVPN review.
---
2. ExpressVPN – A user-friendly VPN for Disney Plus
ExpressVPN could be the best all-around VPN service for most people and it is an excellent option for Disney+ users. This service is fast, polished, and extremely reliable. ExpressVPN has a large global network of 3,000+ servers spread across 94 countries. This gives you more than enough servers for streaming any Disney Plus library you need.
As for other important characteristics, ExpressVPN uses industry-standard encryption, keeps no logs, and their entire network is diskless for your security.
We know we just finished talking about the huge range of devices that NordVPN supports, but ExpressVPN works with even more devices. All of the apps are well-designed and user-friendly. This gives it an edge, as noted in our ExpressVPN vs Nordvpn comparison. Below you can see all the devices that are supported by ExpressVPN:

Not only does ExpressVPN support a large variety of devices, it can connect you to a huge range of streaming services. From unblocking all the major Netflix libraries worldwide, to being one of the best VPNs for Amazon Prime, to Hulu and many less well known streaming services, ExpressVPN gets the job done.
It also excels at the full range of general VPN tasks. Fast, secure, and private, ExpressVPN is based in the British Virgin Islands (BVI), a popular location for privacy-conscious services. Throw in their independently-audited no-logs policy, RAM-disk servers, and easy-to-use, reliable apps, and ExpressVPN provides a great overall user experience. And like NordVPN, ExpressVPN has also been audited for both security and privacy (no logs).
One thing we did find during testing is that not every server in their network works with Disney+. This gave us the perfect opportunity to test the ExpressVPN Customer Support team. We posted a question to their 24/7 live chat support line and in under 2 minutes they gave us a list of servers we could use to connect. You can't ask for more than that.
Finally, you also get a full 30 day money-back guarantee as well as access to 24/7 live chat support. You can try the service for a few weeks before making a hard commitment.
Non-Disney+ streaming services unblocked: Netflix, Amazon Prime, BBC iPlayer, Hulu, ESPN, HBO, SlingTV, and many more.
ExpressVPN Coupon
Sign up for the 12 month plan, and get 3 months FREE (49% Off)
Get Three Months Free + 49% Off ExpressVPN >>
(Discount is applied automatically.)
Want to learn more about this great VPN? Check out our full ExpressVPN review.
---
3. Surfshark – Another strong choice for streaming Disney+
Surfshark is a relative newcomer to the ranks of the top VPN services. The company was founded jsut a few years ago, but has already muscled past most of the competition. One reason for this rapid progress is their prowess when it comes to streaming media like Disney Plus.
In just over 2 years, Surfshark has built out a network of more than 1,800 VPN servers in 63 countries. One drawback that we highlighted in our Surfshark vs NordVPN comparison is that Surfshark is not quite as fast as other leading VPNs. Nonetheless, it is plenty fast enough to handle streaming media from Disney+ and many other streaming services.
Like our leaders, Surfshark offers quality apps for the most popular devices and operating systems, including their mobile device browser extensions, which got good marks in a security audit by Cure53.
And like ExpressVPN, Surfshark is based in the British Virgin Islands and keeps no logs.  It has also followed the lead of others by converting all servers to run in RAM-disk mode. Like NordVPN, they also offer a range of specialized servers and features, including CleanWeb, which blocks ads, trackers, malware, and phishing from loading on your device.
Now let's talk about something no one else on this list offers: an unlimited number of simultaneous internet connections in a single account. While the competition supports 5 or 6 devices connected to the VPN at one time, Surfshark puts no limits on your number of connections. With a Surfshark account, the limit on how many devices you can realistically use, on how many devices can be streaming Disney+ at one time, becomes the speed of your internet connection, rather than an arbitrary number imposed by the VPN service.
Surprisingly, with all the goodness offered by Surfshark, subscriptions are still only $2.49 per month, making this the cheapest VPN on our list.
And don't worry if you need some help. Surfshark has 24/7 live chat support to get everyone up and running fast. With its great performance, rich feature set, unlimited number of users, and super low price, Surfshark provides a ton of value. And they offer a 30 day money-back guarantee if, despite all its benefits, you decide Surfshark doesn't meet your needs.
Non-Disney+ streaming services unblocked: Netflix, Amazon Prime, BBC iPlayer, HBO, Hulu, SlingTV, and more.
Surfshark 81% Off Coupon
Get 81% off Surfshark VPN (drops the price down to $2.49 per month)
81% Off Surfshark VPN Here >>
(Discount is applied automatically.)
Would you like to learn more about this high-value VPN? Read our full Surfshark review.
---
4. VyprVPN – Another reliable, affordable Disney Plus VPN
VyprVPN is known as a safe and reputable VPN provider with a solid track record. In the past year, it has put lots of resources into streaming support and today is one of the best VPNs for Disney Plus you'll find. Based in Switzerland, this service does a fine job of unblocking all major streaming services.
VyprVPN takes a different approach to their server network than the other VPNs in this list. They have something north of 700 servers, far fewer than the others. However, those servers are located in 64 countries, giving them good coverage for Disney+ libraries and most other VPN uses.
Why so "few" servers? One reason is that VyprVPN owns every one of their servers, while most VPNs rent at least a portion of their servers from other businesses. This gives them complete control over their network for high security and the ability to do things like integrate WireGuard support into their network. This makes them one of the first services to do so, and makes their network quite speedy. While they aren't quite as fast as NordVPN, they are more than fast enough to stream Disney+ without interruption.
VyprVPN offers several advanced features to their users, including the Chameleon protocol which obfuscates VPN traffic and helps you get around VPN blocks.
Finally, VyprVPN offers 24/7 customer support and a 30 day money-back guarantee.
Non-Disney+ streaming services unblocked: Netflix, Amazon Prime Video, BBC iPlayer, Hulu, HBO.
Want to learn more? Check out our full VyprVPN review.
---
Using VPNs to access Disney Plus regional libraries
The Disney+ service is rapidly gaining in popularity. It reportedly gained around 25 million new viewers in the second quarter of 2020 alone. Meanwhile, traditional services like DISH network and AT&T lost viewers. Clearly, Disney Plus is a service to keep your eye on – and a VPN VPN is the best way to access all your favorite content on any Disney+ library.
Do these VPNs always work with Disney Plus?
Please keep in mind that while each of these services is currently very good at defeating geo-blocking technology, no one can guarantee they will always succeed.
As ridiculous as it may sound, streaming media companies like Disney+ have deep pockets and contractual requirements to control access based on your physical location. There is an ongoing war between VPNs and streaming services, and your connection could become a casualty. If you ever run into problems, simply contact your VPN's support department. They can help you quickly get connected again, usually be telling you which of their server locations works for the Disney Plus library you need.
Disney Plus VPN FAQs
We've done a good job going over the best VPNs for Disney Plus. But what if you have more general questions related to the subject?
Here are the most common questions we've heard and the answers to them.
Here are the questions we'll answer:
Do I need a VPN for Disney+?
Which VPN is best for Disney Plus?
How do I access Disney Plus from another country?
Why does Disney Plus block VPN users?
Do I need a VPN for Disney+?
If you are physically located in the same country as the Disney Plus library you subscribe to, you should be able to use the service no problem. But if you want to view Disney Plus regions outside of your location, you'll need a VPN
Aside from just unblocking Disney Plus, a VPN is also a wise choice for anyone who cares about their privacy. Today, you really should keep your viewing habits to yourself.
If you don't use a VPN, the employees of your internet service provider (ISP) can see everything you do online. In the United States they can even sell that data to anyone who wants it. Do you want advertisers to know everything you do online? Creepy.
Which VPN is best for Disney+?
Based on our tests, the best VPN for Disney+ is NordVPN with its NordLynx protocol.
While NordVPN is our definite top pick, all four of the VPNs we cover here do a good job when viewing Disney+ content. Try whichever one looks best to you. They all offer 30 day money-back guarantees, so you have plenty of time to test it out before you have to commit. You really can't lose.
How do I access Disney Plus from another country?
If you need to access your Disney Plus library from outside the "correct" country, you will need to invest in one of the VPN services profiled in this article. Here are the steps you need to follow.
Step 1: Subscribe to one of the VPNs described here
Sign up for one of these Disney Plus VPNs:
NordVPN
ExpressVPN
Surfshark
VyprVPN
Step 2: Install the VPN on one of the devices you intend to use to view Disney Plus content
Unless you use some very uncommon hardware, one or more of the VPNs listed here should have an app that works. Even if they don't you might be able to install the VPN on your router to make it all work.
Step 3: Connect to one of the VPN's servers
Launch the VPN app device. Select a server in the same country as the Disney Plus library you want access to.
Step 4: Start watching Disney Plus content
Once you successfully connect to the right server in the target country, just log in to streaming service normally. Assuming the VPN you are using knows how to unblock the service you want to stream, that service will think you are just another local user.
Why does Disney Plus block VPN users?
Most big streaming services (Disney Plus, Hulu, Amazon Prime, and particularly Netflix) try hard to block VPN users from accessing their services.
From our perspective as paying customers, this doesn't seem to make any sense. But it does from the perspective of the people who own the rights to the content that appears on the streaming services. It lets them license their content to services in each region based on its value in that region. And that lets them maximize their profits.
A VPN can get you around all that, so to honor their contracts with the content owners, the streaming services have to try to shut out us VPN users.
Disney+ VPN Conclusion
As a Disney Plus fan, we think you'll find that investing in one of the best VPNs for Disney+ will improve your experience. Specifically, doing so will allow you to:
Stream the Disney Plus content you want, regardless of where in this crazy world you happen to be located
Stream from other services too (there are lots of lesser-known local streaming services out there to explore)
Protect yourself from attacks and third parties that want to spy on your online activities
While there are no guarantees a VPN that can unblock Disney Plus today will be able to do so tomorrow, these VPNs all want to maintain their reputation as one of the best VPNs for unblocking Disney Plus. And if you do lose the ability to connect to Disney Plus one day, contact customer support immediately. Each of these services offers 24/7 support and will reconnect your to your Disney+ fix pronto!
---
---
---
---
---