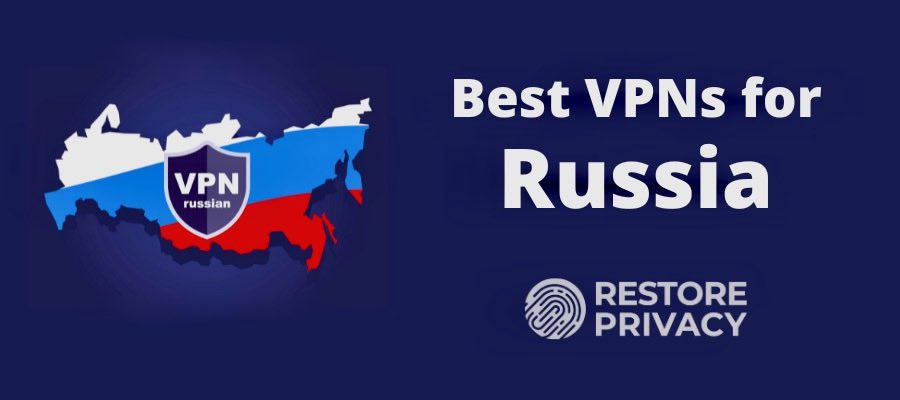 World events have been changing quickly and now millions of people are looking for a good VPN in Russia. In today's world, a VPN is necessary to unblock websites, securely communicate with others, and have more privacy and security online. Our focus today is on giving you reliable solutions for anyone who is looking to get a good VPN for Russia.
Recently we've seen announcements that Russia is blocking access to social media websites, such as Twitter and Facebook, as well as various international news websites. The solution to this problem is to use a good VPN in Russia that will get you easy access to websites and content from anywhere in the world. We'll show you exactly how below!
Note: Russia is now blocking the shadowsocks protocol, but the VPNs recommended in this guide still work with other protocols (detailed instructions below).
Top VPNs for Russia
Why everyone needs a VPN in Russia in 2023
There are numerous reasons why people in Russia need a VPN. In fact, many of these reasons have only gotten more urgent over the past few months with the conflict in Ukraine and wide-scale online censorship. Here are the top reasons for using a VPN in Russia. To:
Access social media – Russia blocks access to many Western social media sites. To access those sites from inside Russia, you will need to connect to a VPN server outside of Russia. We already see that Facebook, Twitter, and some news websites are blocked — and more sites will surely be blocked over time. By connecting to a VPN server outside Russia, you will have easy access to all websites and media.
Get the uncensored news – Russia recently blocked her people from using internet news sources to prevent the public from hearing outside reports about the Wagner mercenary group's advance on Moscow. If you are in Russia and need access to news sources that are not controlled by the Russian government, you will need to use a VPN.
Speak freely – Free speech is under attack in Russia (and much of the rest of the world). Speaking out online there can get you arrested. However, by using a VPN when you go online, your IP address and location will be concealed and you will have a lot more privacy. But you still need to be smart.
Torrent safely – Many torrent sites are banned by Russian authorities. A secure VPN can let you ignore those bans by keeping your real IP address from being visible to the authorities.
Stream non-Russian content – It can be difficult or impossible to get access to major streaming services like Netflix and Amazon Prime Video if you are in Russia. Connecting to a VPN outside of Russia can give you easier access to the streaming content you want.
Be secure – A VPN will add an extra layer of encryption and security to your internet connection. You'll want to use a VPN whenever you go online, particularly when accessing the internet through public wireless locations that can be exploited by hackers. A VPN is again the solution.
How to pay for a VPN in Russia
Before we discuss the top VPNs for Russia, we need to discuss payment options. Right now, this is a challenge. Last year, Visa and Mastercard announced they were suspending operations in Russia. Additionally, UnionPay, which is based in China, has also suspended operations in Russia. This creates some payment difficulties.
Considering all of this, the best solution if you are physically located in Russia is to pay for a VPN with cryptocurrency. This means Bitcoin or some other cryptocurrency that works with the VPN you want to purchase. Looking at NordVPN's website when accessed from Russia (we tested this), there are currently two payment options: cryptocurrency and UnionPay.

> (opens in a new tab)">See NordVPN payment options for Russia here >>
If you are not up to speed on using cryptocurrency, there are plenty of websites and youtube videos to get you started.
To really get up to speed, check out our guide on private and anonymous payments here >>
Note: ExpressVPN currently offers the most flexible payment options for people in Russia. You can select Qiwi as a payment option and proceed as normal with checkout. (This is not currently possible with most other VPN services.)


You can get a 49% Off Coupon with ExpressVPN here >>
How we rank the top VPNs for Russia
Here are the different factors we considered when ranking the best VPNs for Russia:
Ability to consistently work in Russia and bypass VPN blocks with select VPN protocols
Passed all tests with no leaks found (no IP address leaks or DNS leaks)
Good performance throughout the server network (fast speeds and good reliability)
High-quality VPN apps with all features working correctly
Supports secure VPN protocols with strong encryption standards
Offers a money-back guarantee
Trustworthy and well-established VPN provider with a good track record
Here are the best VPNs for Russia:
NordVPN – Best VPN for Russia in 2023
| | |
| --- | --- |
| VPN | NordVPN |
| Based in | Panama |
| Logs | No logs (audited) |
| Price | $2.99/mo. |
| Support | 24/7 live chat |
| Refund | 30 days |
| Website | NordVPN.com |
Topping our list of the best VPNs for Russia in 2023 is NordVPN. It passes every category with flying colors and has the features and performance you'll need, plus a huge network of worldwide servers for unblocking websites and any other content.
First, let's look at the server network. NordVPN has a network of 5,800+ servers located in 60 countries around the world. All of NordVPN's servers are secure and run in a RAM-disk operation that is not capable of collecting any logs or data. This includes servers that are close to Russia, thereby giving you the best performance for unblocking websites with low latency and fast speeds:
Estonia servers
Latvia servers
Lithuania servers
Ukraine servers
NordVPN is also a verified no logs VPN service, having passed third-party audits for both privacy and security. It operates from the safe (and independent) jurisdiction of Panama, safely outside the reach of surveillance partners and 5 Eyes countries that demand data retention.
NordVPN offers a huge selection of apps for mobile and desktop devices, as well as support for other operating systems and devices. They have dedicated apps for Windows, macOS, Linux, Android, and iOS devices. Below we are testing out NordVPN's VPN app for Windows, and it worked well: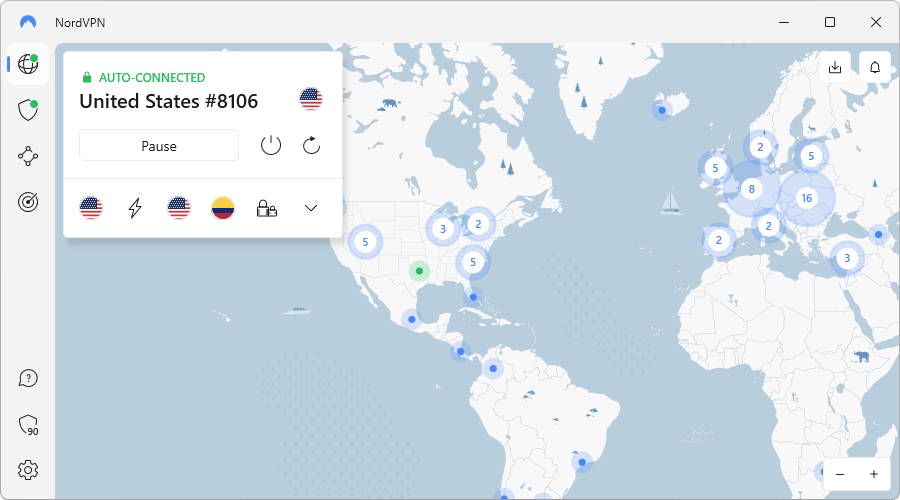 NordVPN also shines above the rest in the privacy and security categories. Here are some of the top features:
Threat Protection – ad blocker and much more
Threat Protection is a feature to block ads, trackers, and malware domains from infecting your device. In addition, it can scan downloaded documents for malware before you open them. And it can protect your traffic even when not connected to a VPN server. Threat Protection works on Windows and macOS.
For other operating systems there is Threat Protection Lite. This version blocks, ads, trackers, and malware domains, but lacks the document scanning ability of its big brother. In addition, you must be connected to a VPN server for Threat Protection Lite to function.
Whether you have access to Threat Protection or Threat Protection Lite, anyone using a VPN in Russia should enable these features right away. The extra security they provide could be a lifesaver in this high-surveillance environment.
Advanced server types
NordVPN provides a number of advanced server types. Some of them could be particularly useful in Russia.
Double-VPN servers pass your traffic through two VPN servers in different locations. This additional security makes it much more difficult for the Russian government to track your online activities.
Onion-over-VPN servers combine the security and privacy of a VPN with the anonymity of the Tor network. As with double-VPN, Onion-over-VPN makes it much more difficult for the Russian government to track your activities. However, the Tor network is extremely slow,
Obfuscated servers that will conceal your VPN traffic as regular HTTPS encryption. This hides your traffic from the Russian censorship systems. NordVPN obfuscated servers can reliably bypass Russian systems. This is also a useful feature if you need a VPN for China.
Dedicated IP servers give you the security of NordVPN, plus a static IP address that is dedicated to your use. While a dedicated IP has several advantages, using one can reduce your privacy. Dedicated IP servers are a bad idea for anyone trying to evade Russian internet restrictions.
Additional NordVPN features
Here are some additional NordVPN features that you may find useful.
Kill switches block your data from going to the internet if the VPN connection drops for some reason. This prevents your traffic from being exposed on the public internet without encryption.
Split tunneling allows you to route certain apps or websites outside the VPN. A split tunneling VPN is very useful for anyone in Russia who wants to use their VPN to access websites or services that are blocked (connect through the VPN) but also needs to access servers within Russia (connect outside the VPN).
Meshnet is a feature that lets you establish a private, encrypted network that connects trusted servers, without going through any of the NordVPN servers. It is designed for applications that require a high speed, low latency (ping) connection, plus strong security. Use it for private file transfers, direct access between multiple devices, and even playing LAN games without a LAN.
See all NordVPN security features here >>
NordVPN performance
NordVPN is extremely fast, which will benefit anyone in Russia who needs a VPN for high-bandwidth activities like HD streaming, torrenting, or downloading large files. NordVPN fully supports the WireGuard VPN protocol, which offers the best speeds and the latest encryption upgrades. NordVPN's implementation of WireGuard is called NordLynx — and it is extremely fast, with download speeds up to 755 Mbps in our tests: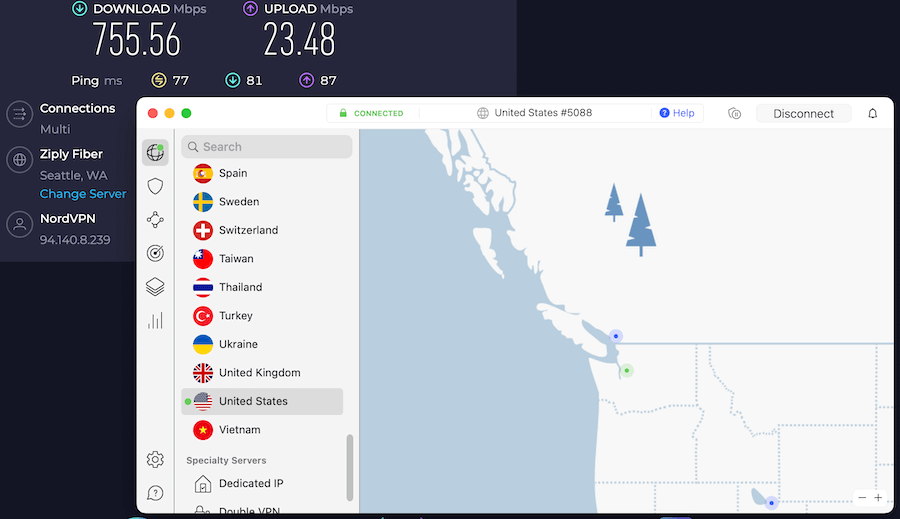 With full support for the WireGuard VPN protocol via NordLynx, NordVPN has a big performance advantage over other VPN services. You can see this, for example in our NordVPN vs ExpressVPN comparison, as well as the CyberGhost vs NordVPN report.
Below are the Pros and Cons of NordVPN, as well as links to a discount coupon and our in-depth review.
+ Pros
User-friendly and reliable apps
Double-VPN and Tor-over-VPN servers
Passed numerous 3rd-party audits
Strong encryption standards with full support for WireGuard
Works with Netflix and many streaming sites
Threat Protection feature to block ads, trackers, and malware
Professional 24/7 live chat support
Consistently fast speeds
Dedicated RAM-servers with 10 Gbps bandwidth channels
– Cons
Big discounts only available with 2-year plans
NordVPN's Cyber Deal is live:

Get 69% Off NordVPN with the coupon below plus 3 months FREE, no activation code needed:
(Coupon is applied automatically; 30 day money-back guarantee.)
Check out our NordVPN review for additional details and test results.
---
Surfshark – A fast, secure, and low-cost VPN for Russia
| | |
| --- | --- |
| VPN | Surfshark |
| Based in | The Netherlands |
| Logs | No logs (audited) |
| Price | $1.99/mo. |
| Support | 24/7 live chat |
| Refund | 30 days |
| Website | Surfshark.com |
Next up on our list of the best VPNs for Russia is Surfshark. Surfshark VPN burst onto the scene in 2018 and rapidly grew in popularity with a big list of features and very fast speeds. We have found Surfshark to perform at a very high level in the areas of speeds, unblocking websites, and advanced security features.
Surfshark currently has a network of 3,200+ servers that are spread across 100 countries. This large VPN server network works very well for unblocking websites from Russia and accessing media located anywhere in the world. Here are the Surfshark servers that are close to Russia:
Estonia servers
Latvia servers
Ukraine servers
Surfshark offers a wide selection of VPN apps for Windows, macOS, Android, iOS, and Linux devices. Surfshark also supports other devices, including a dedicated app if you need a VPN for Firestick. Below is the Surfshark VPN app we tested out on Windows. It was secure, user-friendly, and reliable, while also being packed with features: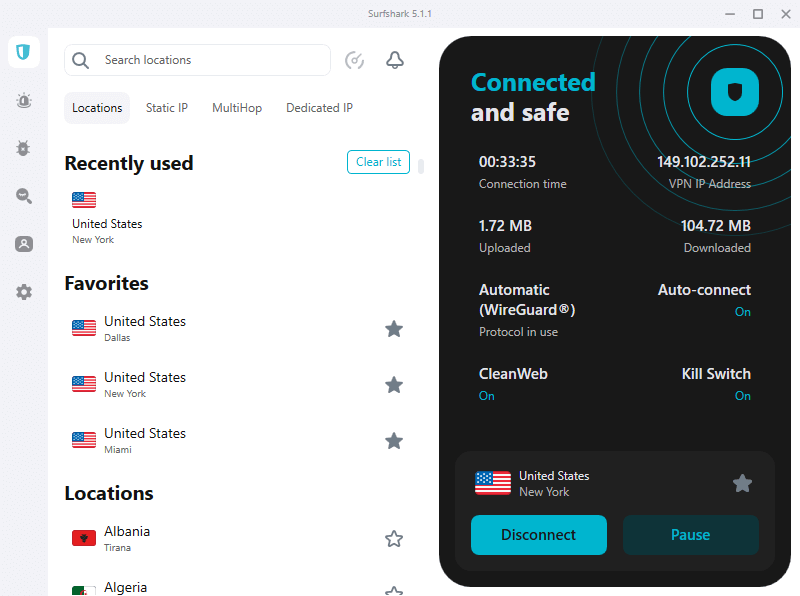 Like NordVPN, Surfshark also offers a robust list of privacy and security features. This includes the following:
CleanWeb blocks ads, trackers, and malware for traffic passing throuh the VPN. It is very similar to NordVPN's Threat Protection Lite.
MultiHop is Surfshark's name for double-VPN servers. Surfshark's regular MultiHop lets you route traffic through two pre-defined VPN servers. Dynamic MultiHop allows you to specify which two servers will be used.
Bypasser is Surfshark's version of split tunneling.
Camouflage mode is Surfshark's version of obfuscated servers. Camouflage mode is always active if you are using the OpenVPN protocol.
Kill switch
See all Surfshark VPN features here >>
Surfshark also has a few different paid add-ons, including an antivirus solution, a safe search feature, and an identity theft alert service.
Additionally, Surfshark earns high marks for performance with support for the WireGuard VPN protocol on Windows, MacOS, iOS, and Android (but not yet Linux). It performed very well with speeds up to 397 Mbps in tests for the Surfshark vs NordVPN comparison report.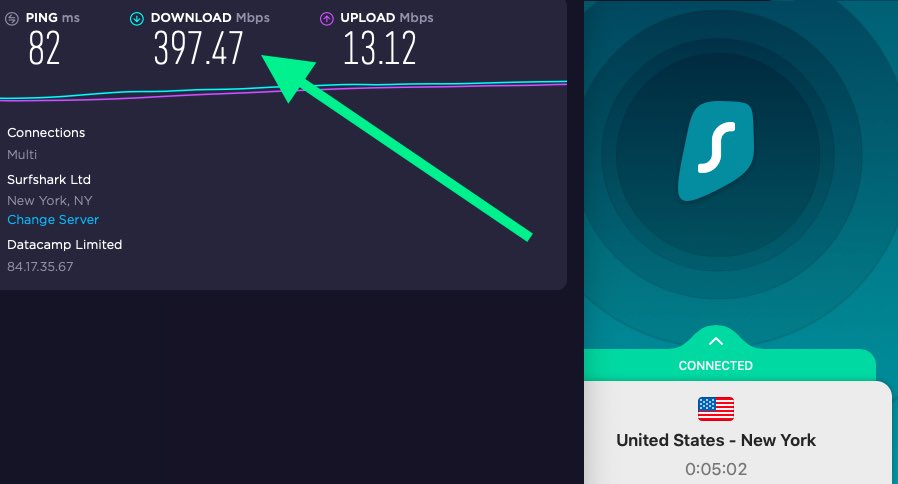 If you are in Russia and looking to unblock streaming websites, then Surfshark has you covered. It is one of the best VPNs for Netflix, while also working well with Amazon Prime, Hulu, Disney Plus, and BBC iPlayer. And of course, it will easily give you access to social media sites like Facebook, Twitter, and Instagram, which are also blocked in Russia right now.
A major benefit of choosing Surfshark is unlimited simultaneous connections. This means that you can share your VPN account with the whole family — at home or abroad. With unlimited connections, Surfshark is a great VPN for multiple devices.
+ Pros
Unlimited connections
User-friendly apps for all devices and operating systems
CleanWeb feature to block ads, trackers, and malware
Works great with Netflix and many other streaming services
24/7 live chat support
Strong encryption and security features (audited)
– Cons
Limited support for VPN routers
Above average monthly prices
Surfshark Coupon:

Get 80% off Surfshark VPN (drops the price down to $1.99 per month) plus 5 months FREE:
(Coupon is applied automatically.)
Check out our Surfshark VPN review for more test results and details.
---
ExpressVPN – A secure and user-friendly Russia VPN (but expensive)
| | |
| --- | --- |
| VPN | ExpressVPN |
| Based in | British Virgin Islands |
| Logs | No logs (audited) |
| Price | $6.67/mo. |
| Support | 24/7 live chat |
| Refund | 30 days |
| Website | ExpressVPN.com |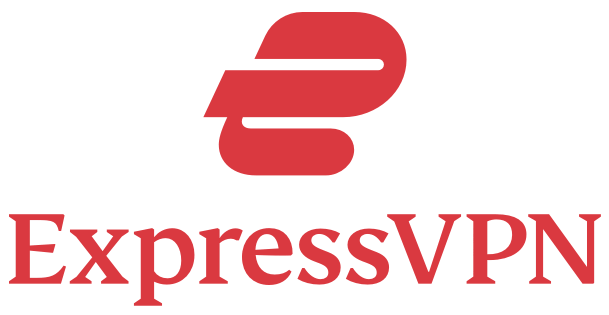 Next up on our list of the best VPNs for Russia is ExpressVPN. ExpressVPN offers the security, privacy, speed, and ability to unblock websites in Russia and beyond. This VPN is a longstanding veteran in the industry and continues to perform at a very high level. However, it is certainly not the cheapest VPN, coming in at about $6.67 per month.
While ExpressVPN does not have all the features we find with NordVPN and Surfshark, it is a very reliable and secure service. It has passed third-party audits for both security and privacy, and is also consistently a top performer in speed tests. ExpressVPN also offers a great lineup of apps for Windows, Android, MacOS, and iOS devices. Below is the Windows VPN app we tested from ExpressVPN; it performed well without any problems.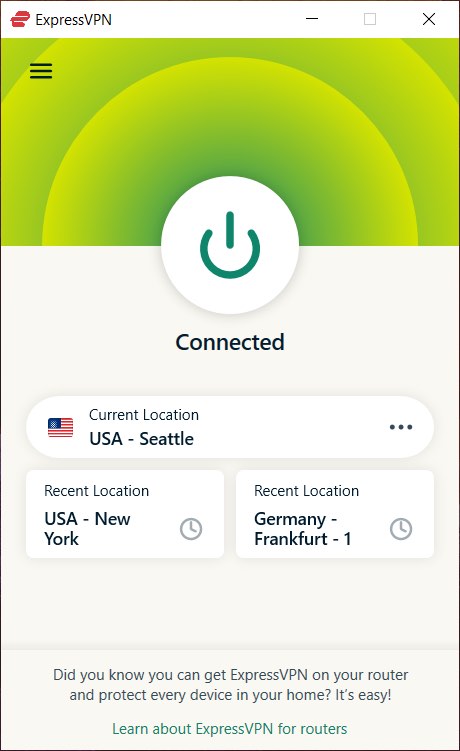 Rather than using the WireGuard VPN protocol, ExpressVPN has opted for its own self-developed Lightway protocol, in addition to OpenVPN and IPSec. The Lightway protocol is similar to WireGuard, but it was not quite as fast in our tests (see for example our Surfshark vs ExpressVPN comparison).
ExpressVPN will also work well when accessing content from Russia. They currently have 3,000+ servers in 105 countries. ExpressVPN runs all servers in a secure RAM-disk setup with no hard drives (just like NordVPN and Surfshark). All apps include a VPN kill switch to block traffic if the connection drops for any reason.
Lastly, ExpressVPN also works well for streaming. If you need a VPN in Russia to stream Netflix, Hulu, BBC iPlayer, or any other outlet, then ExpressVPN has you covered. We've found it to be a good VPN for BBC iPlayer, Disney Plus, and many other services.
+ Pros
User-friendly and secure apps
Split tunneling feature (for macOS, Windows, and routers)
Works with Netflix and most streaming services
24/7 live chat support
Passed independent third-party audits for security and no-logs
Very large server network
– Cons
Above average prices
Fewer features than other leading VPNs
ExpressVPN Coupon:

Sign up for the 12-month plan and get 3 months added to your subscription for free.
(Coupon is applied automatically.)
Check out our updated ExpressVPN review for more info and test results.
---
Perfect Privacy – A great Russia VPN service with servers in Moscow
| | |
| --- | --- |
| VPN | Perfect Privacy |
| Based in | Germany |
| Logs | No logs |
| Price | $8.95/mo. |
| Support | Email |
| Refund | 7 days |
| Website | Perfect-Privacy.com |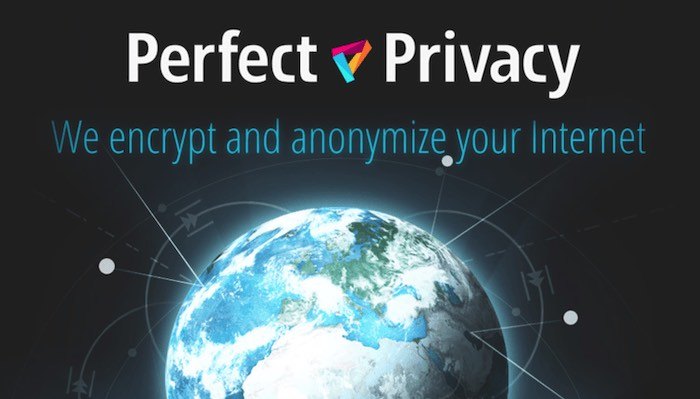 Last on our list of VPNs to use in Russia is Perfect Privacy. Perfect Privacy is a major player and longstanding veteran in the VPN industry. This is a no logs VPN service based in Switzerland that caters to those focused mostly on privacy.
You will see that Perfect Privacy is one of the most expensive VPNs on our list. Like Surfshark VPN, Perfect Privacy provides you with an unlimited number of simultaneous connections and no limits on bandwidth. It has secure VPN apps for Windows, Mac OS, Linux, and Android. Unfortunately, there are no iOS VPN apps, but you can still use your iOS device with Perfect Privacy using the built-in VPN functionality.
Interestingly, Perfect Privacy still has an operational VPN server in Moscow. As a smaller VPN service, they appear to be flying under the radar by maintaining a server in Moscow, but not complying with any censorship records. You can see the server that is live and operational now on Perfect Privacy's website under the Server Status page:

Perfect Privacy confirmed in a response on their forum that they still have not been contacted by Russian authorities demanding they censor content or remove their servers. Such are the benefits of being a small VPN service. We'll see how long they can continue to operate their remaining Moscow server.
Being a smaller VPN, in comparison to our other recommendations, Perfect Privacy has a very limited network. In fact, it only has servers in 25 countries. This also means that Perfect Privacy is also not good at unblocking websites. We have found this to be particularly clear with streaming websites, such as Netflix, that block Perfect Privacy.
On a positive note, this VPN provides some good privacy and security features. These include the following:
TrackStop – This is a VPN ad blocker, as we see with Surfshark and NordVPN.
Multi-Hop – This allows you to chain two to four VPN servers at the same time.
IPv6 support – You can use both IPv4 and IPv6 addresses.
We see Perfect Privacy as a good option for people who want a secure VPN service but do not need access to a large network of servers. However, keep in mind that Perfect Privacy is expensive, and it only has a 7-day refund window. With our other recommended VPNs, you get a full 30 days to test out the VPN risk-free.
+ Pros
Multi-hop VPN chains, up to 4 servers (self-configurable)
Zero logs with an unlimited number of connections
Dedicated bare-metal servers with full IPv6 support
Obfuscation support (Stealth VPN)
Customizable firewall and port-forwarding options
TrackStop filter to block ads, trackers, malware, and more
– Cons
Expensive

Does not work well with streaming sites, such as Netflix and Disney Plus

No iOS VPN app
Check out our Perfect Privacy review for more info.
---
Now that we have discussed the best VPNs for Russia, let's move on to some other topics.
Why is Russia blocking access to some websites?
Russia has engaged in online censorship for many years now. The ongoing conflict in Ukraine has only seen those efforts intensify.
In Russia, the media communication regulatory agency, called Roskomnadzor, maintains a giant list of blocked websites. These websites are censored by Russian internet service providers.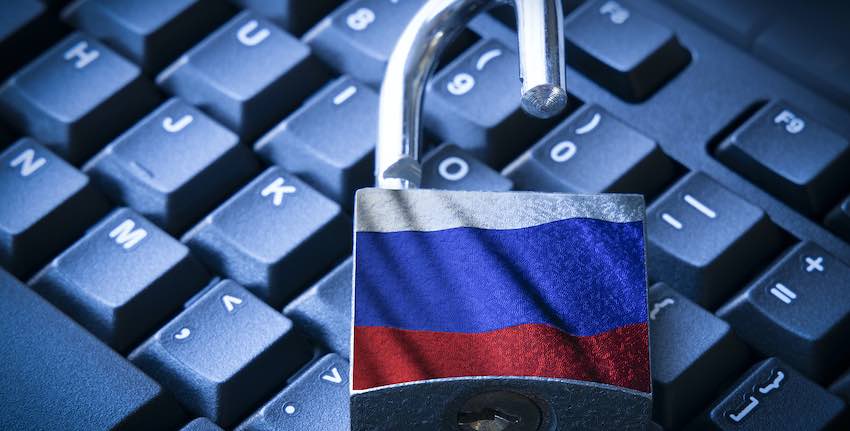 The list of blocked websites is known as the "single register" and includes IP addresses, domain names, and URLs. To access websites that are on this block list, you will need a good VPN in Russia.
Right now, you can see the history of blocked websites in Russia in this article. Recent additions to the list of blocked websites include Twitter, Facebook, and Instagram, as well as news websites such as the BBC.
Are VPNs legal in Russia?
Right now, it is still perfectly legal to use a VPN in Russia. Of course, you cannot use the VPN for doing anything illegal, but using a VPN on its own is legal in Russia today.
This is good news since there are millions of people in Russia who will be using VPN services to unblock content and access news websites, social media, and more. Additionally, we see numerous businesses using VPN technology every day in Russia to access secured services. This is nothing out of the ordinary.
Why does Russia block some VPN services from operating?
Back in 2019, news broke about Russia banning certain VPN providers. To understand why, we need to go back to the internet censorship issue and the giant list of blocked websites (the Single Register) that is maintained by the Russian government.
Because VPNs are a tool that can be used to evade censorship and internet blocks, Russia demanded that popular VPN providers participate in the government's blocking efforts. In essence, they told the popular VPN services that had servers in Russia that they would need to block access to websites on the Single Register list.
However, because these VPNs did not comply with Russia's censorship demands, they were officially blocked and added to the list of blocked websites. You can see the official announcement here.
It's important to remember two things from this announcement:
Russia did not block all VPN services, only about ten of the most popular VPNs at the time of the announcement.
It is still legal to use VPNs in Russia, including the VPNs on the block list. However, accessing the VPN's website from inside Russia may be tricky at this time (but we'll show you how below).
How to use a VPN in Russia
Using a VPN in Russia is incredibly simple. Just follow these steps:
Purchase a subscription to a reliable VPN service. (Our top choice is NordVPN with this 69% discount coupon.)
After you have a VPN subscription, download and install the VPN app on your device.
Then, open the VPN app and enter your login credentials.
Connect to a VPN server. (We recommend using a VPN server that is close to your region for faster speeds and better reliability.)
Enjoy surfing the internet with privacy, security, and freedom.
How to purchase a VPN subscription for someone already in Russia (and give them easy access)
Perhaps you have a friend or relative living in Russia, and they are having a hard time getting access to a good VPN. You can help them out and provide them with everything they need. Here's how:
First purchase a VPN subscription to a good VPN service.
Save the login credentials for the VPN (this should be the registration email and the password for the VPN).
Send your VPN credentials to the person living in Russia. You can send this via email, text message, or other secure messaging app.
Then, the person living in Russia can simply download the VPN app, log in using the credentials you provided, and enjoy the benefits of the VPN.
If the person is having trouble accessing the VPN's website to download the app, there are solutions to this as well. Simply download the Brave browser, and then open a "New Private Window with Tor" in the browser. This should allow you to access the VPN's website through the Tor network, without getting blocked.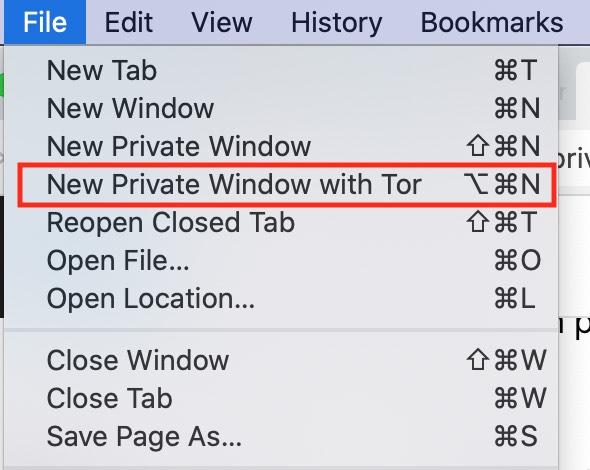 Finally, if that is still not working for the person in Russia, then simply reach out to your VPN service, via live chat, and ask them for a unique download link for the VPN app that can be accessed from Russia. For example, if you purchase a subscription to NordVPN, go to the website here, open a live chat support window, then ask them for a unique download link that you can share with someone in Russia.
VPNs with good customer support will also be able to help you install the app, and give you tips and recommendations on the best servers to use. These VPNs offer live chat support:
NordVPN (24/7 live chat)
Surfshark VPN (24/7 live chat)
ExpressVPN (24/7 live chat)
Conclusion on VPNs for Russia in 2023
Governments are getting ever more controlling, and online censorship continues to get worse. We see this not only with Russia, but also with many other countries and regions around the world. Regardless of where you happen to be located, using a VPN is an important tool for online privacy, security, and digital freedom.
As things continue to deteriorate, we can expect people in Russia to be blocked from many more websites and social media platforms. A VPN will be the ticket for access.
Ultimately, if Russia decides to actively block most VPNs, as we see in China today, then there will be challenges and solutions for that as well. If and when this happens, we will probably see most VPNs rolling out obfuscation solutions. For example, obfuscation techniques will conceal VPN traffic as regular HTTPS encryption.
But you don't have to worry about it. That's because all four of the VPNs we recommend in this Russia VPN guide have obfuscation solutions you can use right now, including Obfuscated Servers or "Stealth VPN" features. These features should help you defeat VPN blocks that utilize deep packet inspection techniques. These VPNs should also work in places like the UAE or China, which use blocking techniques, or even on work or school networks that also block VPNs.
Once again, there are problems and there are also solutions to the problems.
Our top recommendation for the best VPN for Russia remains NordVPN. It also comes with a full 30 day money-back guarantee and a 69% off coupon here.
This Russia VPN guide was last updated on November 15, 2023.