In today's world of deteriorating digital privacy, selecting the right VPN for your needs is vital. In this article, we pit NordVPN vs Windscribe. While NordVPN is much better known, each of these services has its unique strengths and features. But which one is best for you?
This comparison dives into the depths of both services, comparing them in eleven different areas to give you a comprehensive analysis. Whether you are a casual internet user or a hardcore privacy expert, you will learn whether NordVPN or Windscribe is best for your personal situation.
Before we hit on the test results, we'll first cover the basics in the table below.
| | | |
| --- | --- | --- |
| | NordVPN | Windscribe |
| Website | NordVPN.com | Windscribe.com |
| Location | Panama | Canada |
| Servers | 5,600+ | 110 |
| Countries | 60 | 63 |
| Logs | No logs (audited) | No logs |
| Torrenting | All servers | All servers |
| Support | Knowledge Base; 24/7 chat | Knowledge Base; Email |
| Apps for | Windows, macOS, Linux, Android, iOS | Windows, macOS, Linux, Android, iOS |
| Price | $3.19 (with coupon) | $5.75 |
| Coupon | 68% Off + 3 Months Free > | N/A |
Here are the specific categories we are going to compare in this comparison of NordVPN vs Windscribe:
VPN apps
Speed tests
Features
Security and encryption
Privacy and logging policies
Jurisdiction
Simultaneous connections
Netflix and streaming
Torrenting
Customer support
Prices and refund policies
Overall value
---
VPN apps: Windscribe vs NordVPN
Since Windscribe is the challenger in this showdown, it is only fair to start with them. Windscribe offers VPN apps for a good range of operating systems and devices. These include the big four: Windows, macOS, Android, and iOS/iPhone.
Beyond these, Windscribe has recently added a GUI interface for Linux to go along with their older CLI. This makes it a decent option if you need a VPN for Linux and want a GUI, but you'll want to keep reading first. In addition, they have a dedicated app if you need a VPN for Firestick and Fire TV. They apparently had an app for Huawei devices, but after Canada joined the rest of the Five Eyes countries in blocking Huawei devices, that app is no longer available.
We found the Windscribe apps to be user-friendly and visually interesting, similar to Surfshark VPN. At the same time, they include some interesting features and options. Here's the free Windscribe Windows VPN app we tested with (you can see we had 1.9GB of data left of our free quota):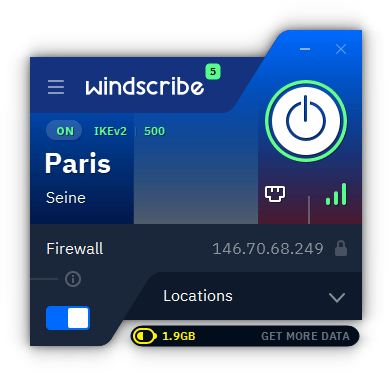 Here's the Windscribe Android app. Other companies could learn a thing or two from Windscribe about making their apps interesting and visually appealing: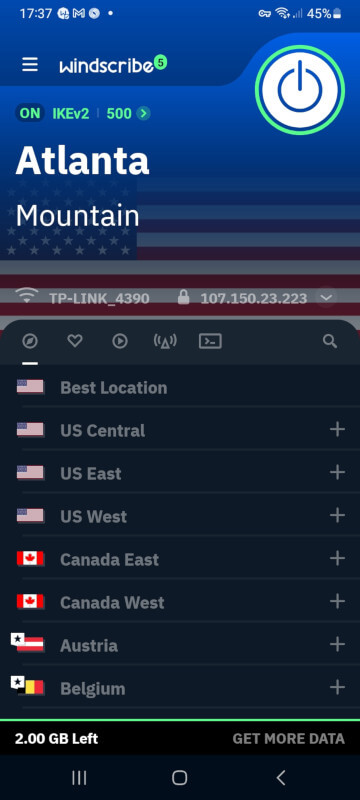 Windscribe is looking good so far. They also have good iPhone VPN apps as well.
NordVPN apps are user-friendly and well-designed. The NordVPN Windows and macOS VPN apps aren't as flashy as the Windscribe apps, taking a more conservative and professional approach as you can see from our tests below.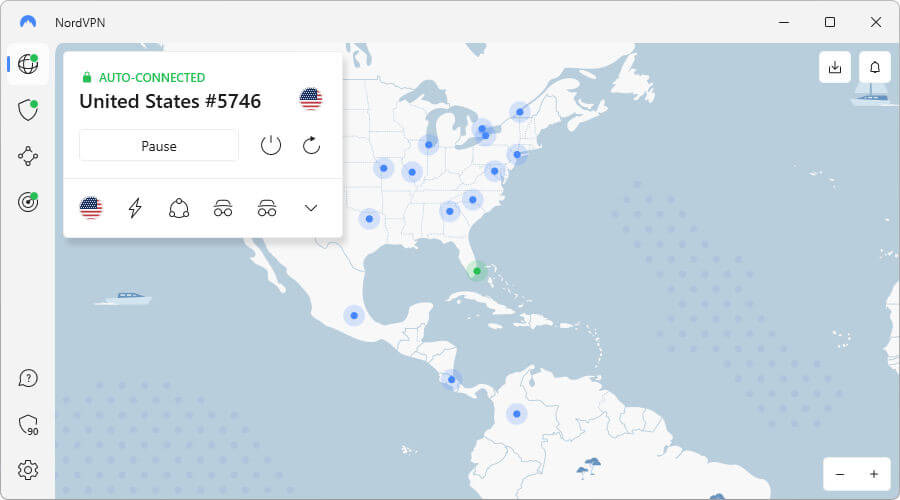 You can access all of NordVPN's features and servers directly from the app, including the built-in kill switch to secure message traffic if the VPN connection fails.
Meanwhile, here's what the NordVPN Android VPN app looks like. It is shown in Dark Mode.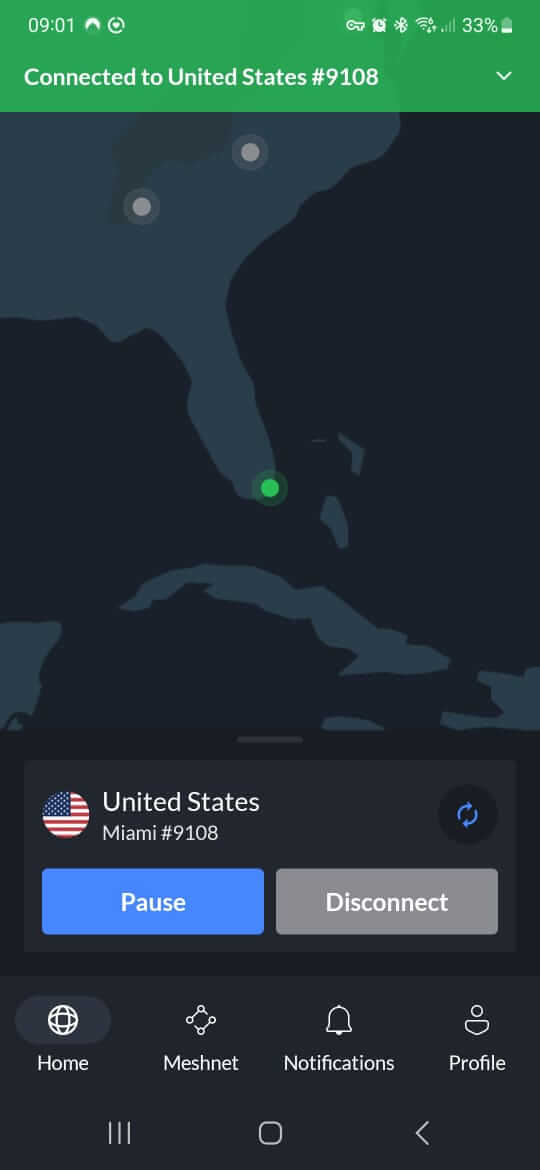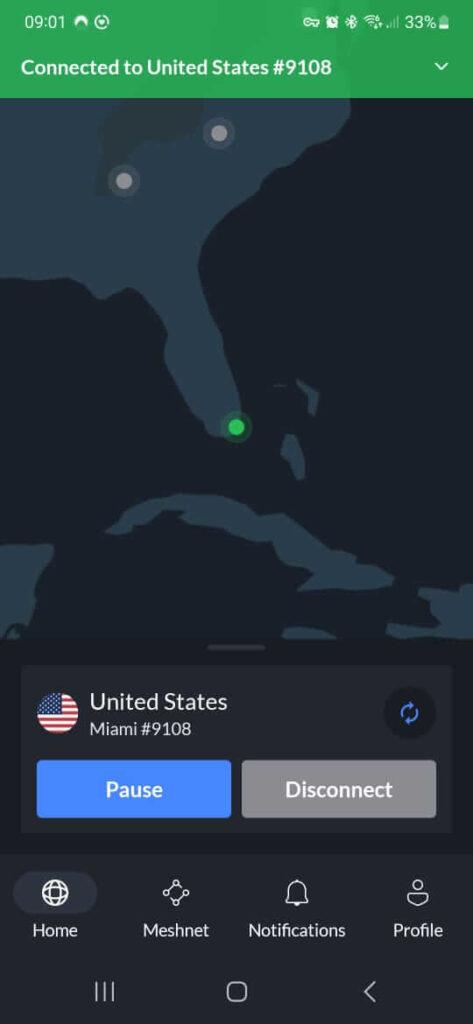 There really is little to distinguish between the apps provided by these two services beyond aesthetics. Some people will like the looks of the Windscribe apps, while others like NordVPN. We're going to call this category a tie.
Winner for VPN apps: Tie
---
Speed tests: Is Windscribe faster than NordVPN?
For our Windscribe vs NordVPN speed comparison, we ran tests with servers in the US and UK.
Test #1: New York, USA
Here we have NordVPN connecting to a server in New York, with a very speedy result of 280 Mbps.

We also checked Windscribe connecting to a server in New York. The results were bad:

Next up was a server in the UK.
Test #2: United Kingdom
Here we have NordVPN connecting to a server in the United Kingdom, with an impressive result of 295 Mbps.

How did Windscribe do when connecting to a server in the UK? Not so great, turning in a speed of about 30 Mbps.

Since I am currently traveling in South America, we won't have any new "official" Windscribe speed test results anytime soon. But I do have a very informal test result for you. Here are the speed test results I got when testing NordVPN with NordLynx and connecting from the South American country of Ecuador, to New York on a 200 Mbps line: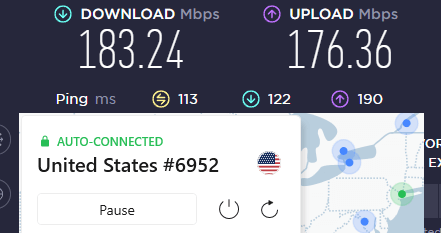 Compare NordVPN's 183 Mbps speed on a 200 Mbps connection to NYC, to Windscribe's 10 Mbps on a 160 Mbps connection, and you can get a better sense of how much faster NordVPN running NordLynx really is. In fact, it is one of the fastest VPNs we have tested to date.
Winner for speed tests: NordVPN
> (opens in a new tab)">Learn more about NordVPN with WireGuard here >>
---
Features: Is NordVPN or Windscribe the best?
Unless your need for a VPN is very basic, understanding the feature sets of Windscribe and NordVPN will figure into your selection. Windscribe has a few features beyond the most basic, while NordVPN has
NordVPN specialized servers and advanced features
One of the reasons NordVPN is a leading VPN service is the way it is jam-packed with more features and advanced server types than most other VPNs can deliver. Let's start with servers. As of the latest count, NordVPN has over 5,600 servers in 60 countries.
Among these thousands of servers, NordVPN has a large number of specialized servers for various use cases. For example, NordVPN has the following specialty server types:
Double-VPN servers encrypt your traffic twice by passing it through two different VPN servers in different locations.
P2P servers are optimized for secure, high-speed torrenting. We rate NordVPN as the best VPN for torrenting thanks to its great speed and tight security.
Obfuscated servers are servers that disguise (obfuscate) your traffic to make it invisible to internet censors and other unsavory characters. Obfuscated servers are only available when you are using the OpenVPN protocol.
Dedicated IP servers function like regular VPN servers, but provide you with a dedicated IP address for your personal use. Dedicated IP servers are available at an additional cost, and only appear in the Specialty Servers list when you are using the OpenVPN protocol. NordVPN is one of the best options if you need a VPN with a dedicated or static IP address.
Onion-over-VPN servers add an additional layer of protection to your regular VPN traffic by passing it through the Tor (Onion) network.
> (opens in a new tab)">See all NordVPN features here >>
We tested each of these specialty servers for our NordVPN review. We found them all to perform as specified.
NordVPN has a new feature called Threat Protection. It goes beyond ad blocking and protects against ads, trackers, malware, and phishing domains. It scans downloaded documents and deletes malicious ones. It even works when you're not connected to a VPN server. Threat Protection is available on Windows and macOS desktops.
For Linux, Android, iOS, mobile devices, and web browsers, there is Threat Protection Lite, which offers a subset of the Threat Protection features but only protects traffic through a VPN server.
Split tunneling is another powerful NordVPN feature. With this feature, you can send some of your traffic through the VPN server and some of it directly to the internet outside of the VPN. NordVPN offers split tunneling in their Windows, Android, and Android TV VPN apps.
Perhaps the most popular feature of NordVPN is NordLynx, NordVPN's custom implementation of the WireGuard VPN protocol. NordLynx is considered to be more secure than OpenVPN, as well as much faster. We recommend you enable NordLynx, which is easily done on the Connections page of NordVPN Settings: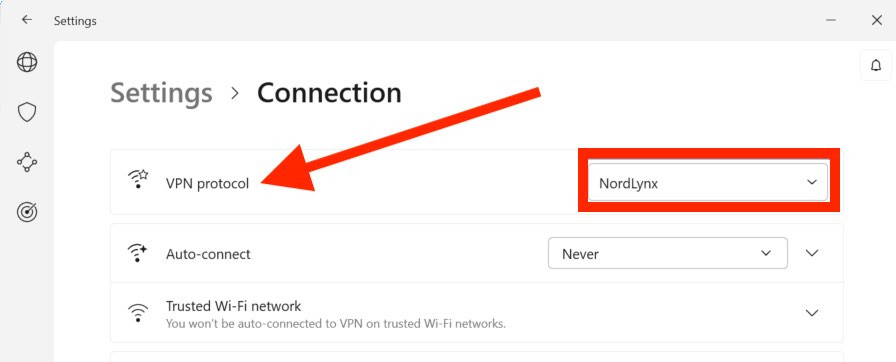 DNS, the Domain Name Service, is an important consideration for internet security that many people don't think about. ISPs and other snoops can watch your DNS calls to see what websites you visit. NordVPN provides a private DNS service that cannot be monitored by outsiders, removing this privacy weakness.
NordVPN's SmartPlay feature combines smart DNS with VPN security for accessing geo-blocked content while maintaining privacy. Smart DNS can give you access to geo-blocked content located in another country but by itself lacks the security and privacy of a VPN. Integrated with NordVPN, you get the benefits automatically.
Windscribe specialized servers and advanced features
NordVPN offers a larger server network than Windscribe, although how much larger is uncertain due to Windscribe's fluctuating server count. Windscribe has hundreds of servers in 63 countries, but only eleven of those countries have servers for free Windscribe users. On the other hand, NordVPN stands out with its extensive range of specialized servers and advanced features, setting it apart from most VPNs. Despite this, Windscribe has its own unique strengths that make it a noteworthy option to consider.
Windscribe lacks the range of specialized servers found in NordVPN, but it does offer Static IP servers. These servers provide the same IP address each time you connect, but this address is not uniquely yours. Everyone using the server will have the same static IP address.
Windscribe's version of double-VPN servers is called Double Hop servers. Double Hop servers are similar in effect to Surfshark VPN's dynamic MultiHop servers. They allow you to route your traffic through any two locations in the Windscribe network. To do this, you connect to one VPN server using the Windscribe desktop app and a different VPN server using the Windscribe browser extension.
Note: Surfshark's approach doesn't require you to use the browser extension.
Windscribe also has R.O.B.E.R.T., their IP address and domain blocker that is somewhat similar to Threat Protection Lite. One thing that makes R.O.B.E.R.T. more interesting than the typical VPN ad blocker is that you can control the block lists that this feature uses to protect your device. What kinds of block lists are there? Here is a partial list of the available block lists: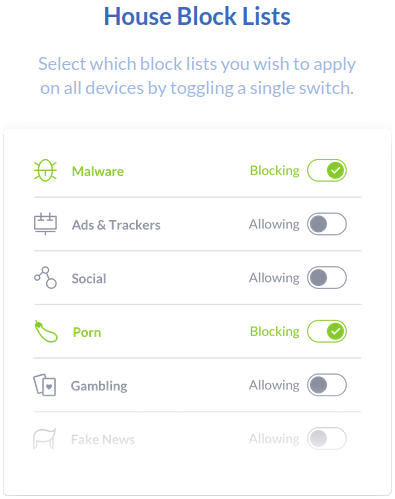 Windscribe takes customization even further with its Custom Access Rules list. This feature gives you control over which IP addresses and domains are blocked or allowed through the VPN filter. It's great for tailoring your browsing experience to your specific requirements.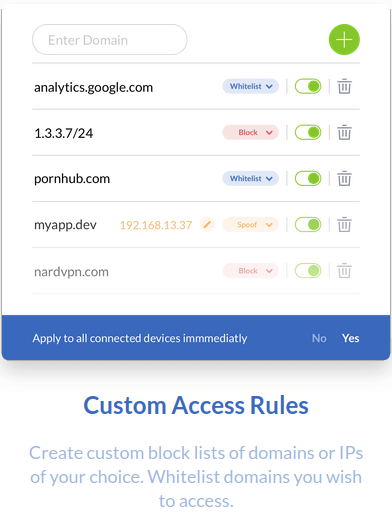 If having in-depth control over the domains and IP addresses that appear on your devices, Windscribe is definitely a service you should consider.
Other advanced Windscribe features that we don't have room to discuss in detail here include things like Cookie Monster, Split Personality, and Location Warp round out their offering.
Windscribe's feature set is more extensive and advanced than most, but NordVPN's feature set is a bit stronger overall.
Winner for feature sets: NordVPN
---
Security and encryption
Security for your data is one of the key features of any VPN service. Using strong encryption is necessary for that security, but by itself is not sufficient. As we will discuss here, while both of these VPNs have strong encryption, only one of them can be considered truly secure.
NordVPN security
NordVPN goes to great lengths to ensure that your data is secure. All NordVPN apps have a built-in kill switch to prevent any data leaks if the connection between your device and the VPN server is lost. We've already talked about how Threat Protection and Threat Protection Lite work to keep malware and trackers at bay. But NordVPN goes even further.
NordVPN has updated all VPN servers to run in RAM-disk mode. In other words, the servers have no physical disk drives.
Without disk drives, VPN usage data cannot be saved on a server, eliminating the risk of accidental storage. Even if a physical VPN server is seized by a hostile power, retrieving user data from that server will be impossible.
Next for NordVPN on the server front is the ongoing rollout of colocated (self-owned) servers for all server locations. Colocated servers are servers that are located in a third-party's data center, but owned and maintained by NordVPN. Owning and maintaining all their own servers lets NordVPN eliminate yet another potential risk to the security of their servers.
As far as the encryption goes, NordVPN secures all traffic through the VPN tunel with an AES-256 cipher and HMAC SHA256 hash authentication while using the OpenVPN and IKEv2 protocols. When you use NordLynx, your data is encrypted with modern encryption algorithms and the ChaCha20 cipher.
To confirm that everything is secure, NordVPN has commissioned third-party security audits by Versprite Security Consulting Services. These audits covered NordVPN infrastructure and included penetration testing to surface any vulnerabilities.
Windscribe security
In 2021, Windscribe experienced a severe server security breach. Two of its servers were seized by a hostile force, and unfortunately, the data on those servers was not encrypted. This allowed the attacker to obtain Windscribe's private key, enabling them to impersonate a Windscribe VPN server and capture Windscribe VPN traffic. As a result, user data security was compromised due to the lack of encryption on the servers.
While Windscribe has taken steps to address the issue, the failure to encrypt all their servers raises worries about their security. If keeping your data secure is important to you, strongly consider using a different VPN service.
Winner for security and encryption: NordVPN
---
Privacy and logging policies
Protecting user privacy is a crucial aspect of any VPN. In a world filled with entities seeking to steal your personal information, it's important to assess a VPN's ability to protect your privacy. You must consider the logging policies of the VPN service. If a VPN logs your activities, your privacy is at risk.
NordVPN privacy and logging policies
NordVPN is a no logs VPN provider that does not log user activity or connections. NordVPN is one of the few VPNs that has conducted multiple security and logging policy audits. The most recent audit was conducted by Deloitte, and completed in December 2022. The auditors concluded that,
Third-party audits are important since some "no-logs" VPNs have in fact logged user information for the FBI. Examples include PureVPN, IPVanish, and HideMyAss.
Windscribe privacy and logging policies
Windscribe has a privacy problem in that it is based in Canada. This jurisdiction is not a good choice for someone who wants online privacy. We'll discuss why this is so in the next section.
Windscribe keeps some logs, including the amount of bandwidth used and the last active time. These logs are used to enforce limitations and prevent abuse. While not a complete no-logs guarantee, these policies are reasonable for a free VPN with data limits. However, their jurisdiction raises concerns. More on this in the next section.
Winner for privacy and logging practices: NordVPN
---
Jurisdictions: Are these VPNs safe?
When we talk about privacy, it is also essential to consider the jurisdiction where the VPN is based. This is crucial as it determines the laws and the governments the VPN company has to follow. Generally, it is best to avoid services that are situated in countries that are part of the Five Eyes alliance (United States, United Kingdom, Canada, Australia, and New Zealand).
NordVPN's jurisdiction is Panama
NordVPN is headquartered in Panama, which is an ideal jurisdiction for a VPN. That's because Panama is not part of the European Union (EU) or a territory of the United States (US). Those governments have been known to force private email and VPN service providers to record user data and submit it to the relevant authorities. This has even happened in Switzerland (a country once famed for privacy). You can learn more about this data scandal in our ProtonVPN vs NordVPN comparison.
Windscribe's jurisdiction is Canada
Canada is not a very good privacy jurisdiction. A member of the Five Eyes alliance, Canada gathers and shares intelligence with other members. This can include intel on each other's citizens.
Canada also has laws forcing companies to log user data. And government agencies, local telecom companies, and ISPs can monitor online activities. The government justifies this surveillance as combating copyright infringement but ignores the privacy implications.
Note: See our guide to the best VPNs for Canada if you want more specifics.
Winner for jurisdictions: NordVPN
---
VPN connections: NordVPN vs Windscribe
Finally, a category that Windscribe wins. As more and more of us use more and more internet-connected devices, we need to have more devices connected to the internet simultaneously. Here we look at how many simultaneous connections each VPN supports.
NordVPN allows you to have six simultaneous connections to their VPN servers. While you can install NordVPN apps on any number of devices, only a maximum of six devices can be connected to a VPN server at any one time.
Windscribe allows you to have unlimited simultaneous connections to their VPN servers. If you need more than six simultaneous connections, Windscribe could be your best option.
Note: While the Windscribe website doesn't put a fixed limit on the number of devices you can have connected at one time, they do remind you that their service is for personal use only, and they reserve the right to ban you if they think you are misusing the service. See this page for the not-so-specific details.
Winner for simultaneous connections: Windscribe
---
Netflix and streaming: Windscribe vs NordVPN
If you are one of the millions of people who want a VPN to give you access to Netflix and other streaming platforms, this section is for you. We concentrate on two issues: download speed, and the ability to unblock geo-blocked content.
High download speed is important to ensure smooth video and audio. Streaming video using a low-speed VPN on a slow internet connection can lead to reduced video resolution, as well as stuttering and pauses in the stream.
The ability to unblock geo-blocked content is important since most streaming services try to control access to their content based on your geographic location. While controlling access may be important to streaming platforms, most people simply want to be able to stream the content they want to see, without being blocked because they happen to be in the "wrong" location at the moment.
NordVPN for Netflix and streaming
NordVPN is one of the best VPNs in the world for streaming in general and Netflix in particular. Here's why:
NordVPN is extremely fast, which leads to smooth HD video streaming, without any playback issues.
Our testing has shown that NordVPN can unblock most streaming services and Netflix regional libraries, letting you stream the best content around the world, regardless of your current geographic location.
NordVPN works so well with Netflix that it is on our list of the best VPNs for Netflix. It handles other streaming platforms so well that it is also on our lists of the best VPNs for Amazon Prime, Hulu, BBC iPlayer, among others. In other words, NordVPN is one of the best VPNs for streaming.
Using Windscribe with Netflix and streaming
Windscribe is not the worst VPN for Netflix and streaming. In our tests, the company's Windflix US and Windflix Canada servers could indeed unblock Netflix. That is more than most VPN services can claim.

The problem with using Windscribe for Netflix was the speed of the service. As you can see in the image above, the Windflix servers were extremely slow, which sometimes led to poor playback quality. Using Windscribe for occasional Netflix viewing should be fine, but this is certainly not among the best VPNs for Netflix.
The same could be said for using Windscribe with Amazon Firestick and Fire TV. Windscribe offers a dedicated app for this, but the poor download speed of Windscribe will likely give you less sub-optimal results.
When it comes to other streaming services, we've seen lots of reports that Windscribe has trouble reliably streaming services like Amazon Prime and Hulu. And even if you can get connected, there is still the speed issue to contend with. Compare these issues with the impressive performance of NordVPN, and you know who is the winner in this category.
Winner for Netflix and streaming: NordVPN
---
Torrenting: NordVPN vs Windscribe
When it comes to torrenting, the #1 priority is protecting your IP address. Because torrenting has an uncertain legal status in many jurisdictions, it is best to torrent with a VPN that can hide your IP address. Both Windscribe and NordVPN do a good job here.
That being the case, we move to the #2 priority when torrenting, which is download speed. If you know your IP address is safe when torrenting, your next priority will almost always be to get the torrent done and move on. With its vastly greater speed, NordVPN is easily the better choice here.
Winner for torrenting: NordVPN
---
Customer support: Windscribe vs NordVPN
The best VPN services provide 24/7 live chat support with experienced staff to quickly resolve any issues you may encounter. Fast responses and problem resolution are crucial. Waiting for email support or dealing with untrained personnel won't suffice.
NordVPN provides 24/7 live chat support with the support line staffed by experienced personnel.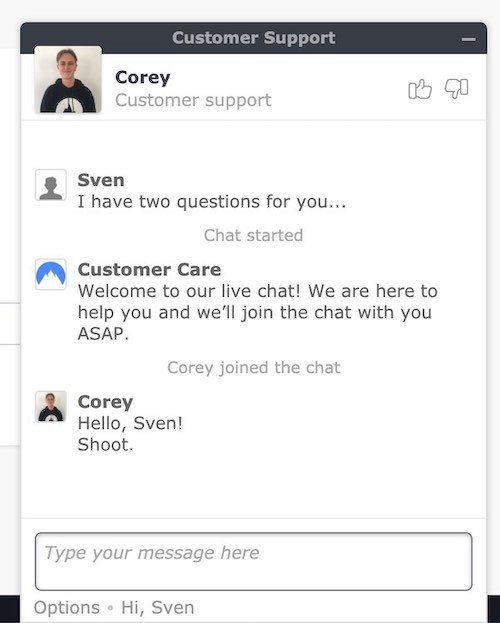 Windscribe provides 24/7 AI bot support. Their support bot, called Garry, can handle some issues.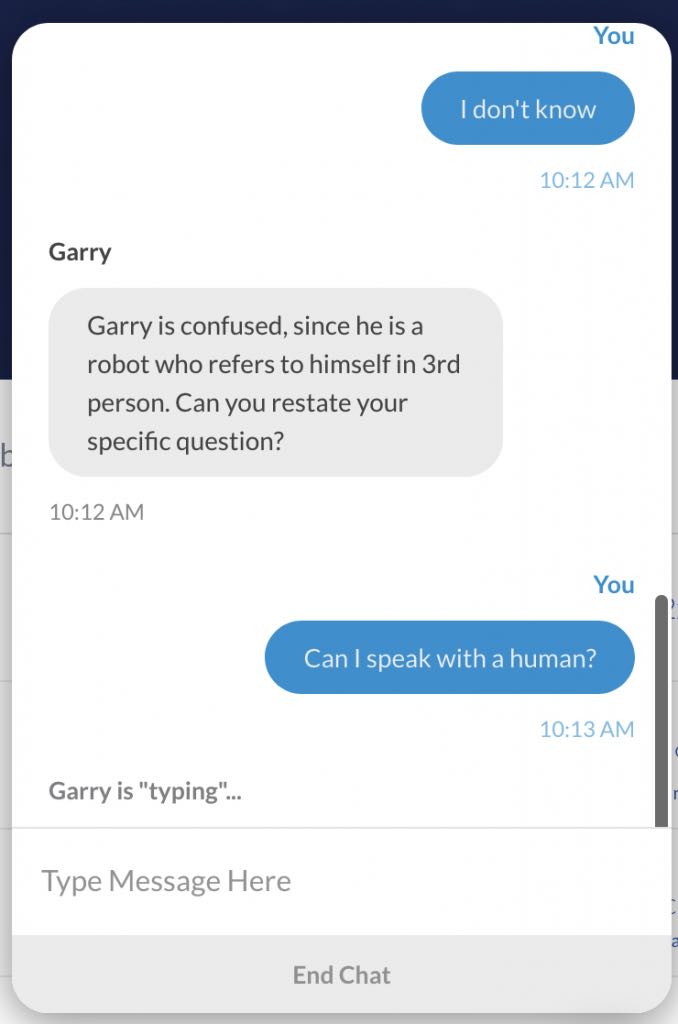 But in our testing, Garry became confused, and we eventually needed a human involved. At that point Garry gave us the option to open a ticket for email support. Someone replied within 24 hours, but this doesn't compare to the NordVPN support experience.
Winner for customer support: NordVPN
---
Prices and refund policies: Is NordVPN or Windscribe best?
Now that you've seen what these two VPNs can do, you're probably wondering what they cost. Let's compare the subscription prices and refund policies.
Windscribe price and refund policy
Windscribe pricing is okay. It certainly isn't a cheap VPN, but it isn't horribly expensive either. One oddity of their pricing is the Build A Plan option. With this plan, you specify the Windscribe server locations that you want access to and the company charges you $1.00 per server location per month. Depending on your use case, this could either be an incredibly expensive option or an incredibly economical one.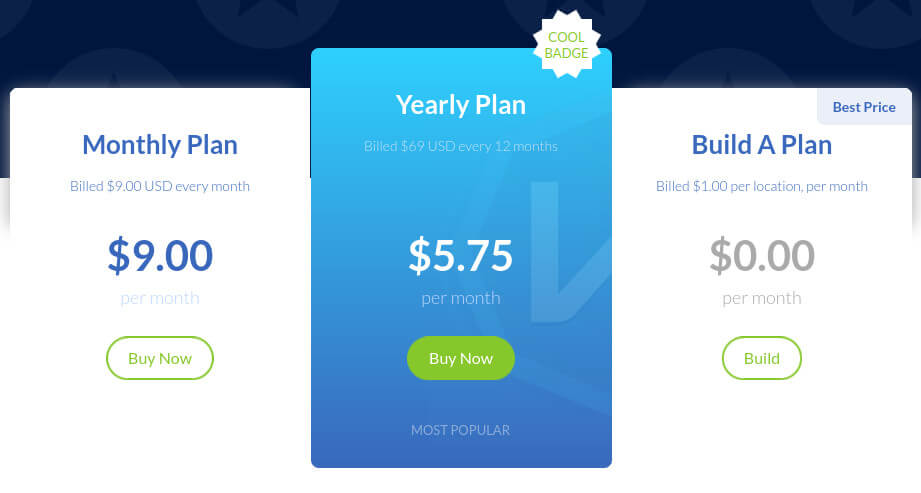 While Windscribe pricing is acceptable, their refund policy is pretty horrible.
First, you must request a refund in the first three days. The VPN industry standard is 30 days.
Second, you can get a refund only if you purchased directly from Windscribe.
Third, you can only get a refund if you have used less than 10GB of data.
While we think this refund policy is terrible, we do need to remember that Windscribe offers a free version of their service that you can use to thoroughly test the VPN before buying a subscription. Still, three days?
Note: You can learn more about the free version of Windscribe in our detailed Windscribe VPN review.
NordVPN price and refund policy
With all the performance and features packed into NordVPN, you would expect it to be expensive. But it isn't. If you are willing to sign up for a 2-year subscription, NordVPN is actually a cheap VPN, with a price under $4.00 per month, assuming you use this NordVPN discount coupon.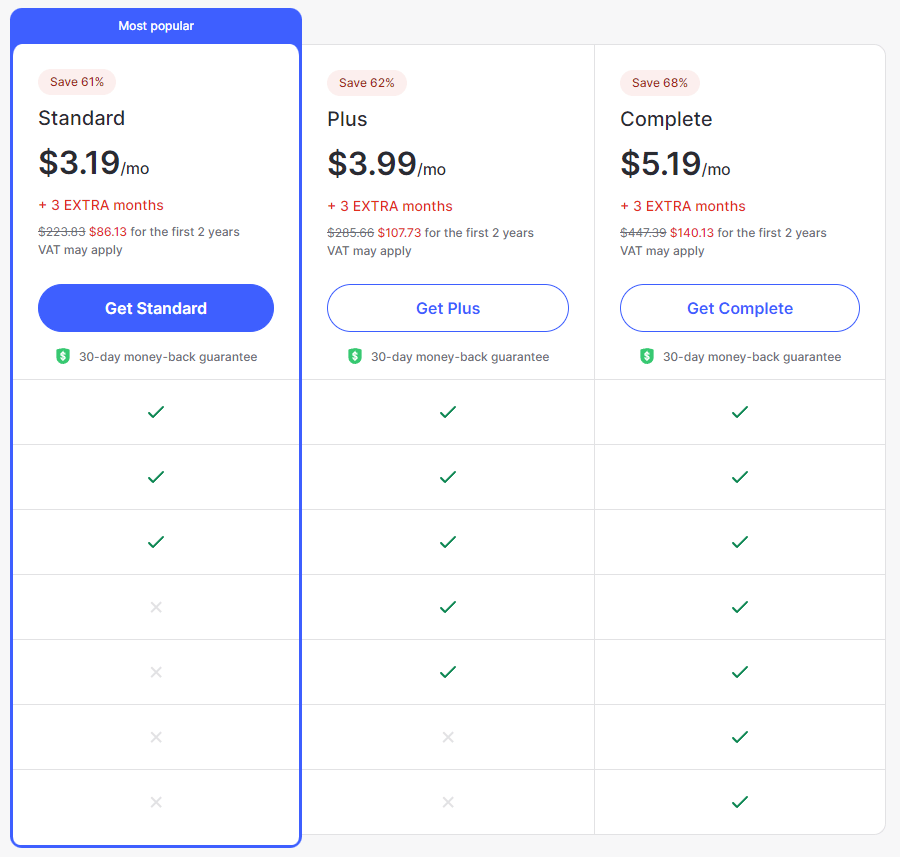 Not only is NordVPN less expensive than Windscribe, but NordVPN also has a vastly superior refund policy. It is a very simple: 30-day money-back guarantee.
With better pricing and a better refund policy, NordVPN wins this final category too.
Winner for prices and refund policies: NordVPN
Overall Value? NordVPN wins
If you want a fully-featured VPN, plus everything that goes with it, NordVPN wins. In comparison to Windscribe, NordVPN has the clear advantage with features, speeds, pricing, and refunds.
It is also the winner in the value category. So now let's recap everything to see who comes out on top.
---
Conclusion: NordVPN wins in 2023
In conclusion, we can see that NordVPN surpasses Windscribe (and most other VPNs) in functionality and performance. While Windscribe offers some appealing features, NordVPN is clearly the better VPN. Its superior performance has earned it a spot on our list of the top VPNs.
To summarize our findings for each category:
VPN apps: A tie
Speed tests: NordVPN
Feature sets: NordVPN
Security and encryption: NordVPN
Privacy and logging policies: NordVPN
Jurisdiction: NordVPN
Simultaneous connections: Windscribe
Netflix and streaming: NordVPN
Torrenting: NordVPN
Customer support: NordVPN
Prices and refund policies: NordVPN
Overall value: NordVPN
Given these results, there is really only one thing to do–try NordVPN now. You'll get the best pricing possible for this leading VPN when you use this discount coupon:
NordVPN's Cyber Deal is live:

Get 68% Off NordVPN with the coupon below plus 3 months FREE, no activation code needed:
(Coupon is applied automatically; 30 day money-back guarantee.)
Related articles:
If you still aren't ready to take the plunge, check out these related articles. They'll give you more insight into how NordVPN performs against other, VPN services.
This Windscribe vs NordVPN comparison report was last updated on September 23, 2023.