| | |
| --- | --- |
| VPN | VPNArea |
| Based in | Bulgaria |
| Logs | No logs |
| Price | $3.99/mo. |
| Support | Email & Chat |
| Refund | 30 days |
| Website | VPNArea.com |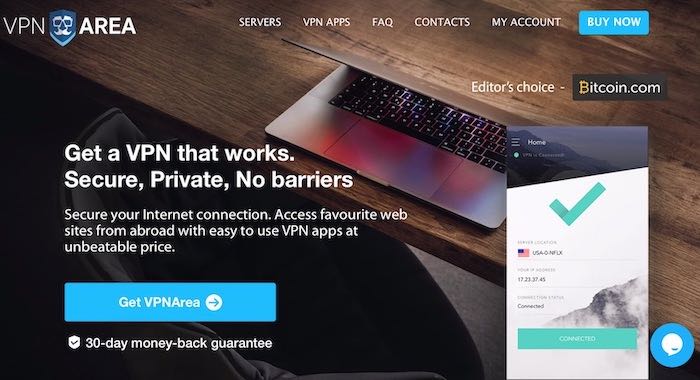 In this VPNArea review, I put the service under a microscope and also subjected it to numerous tests to check for speed, security, performance and how well the application features worked. All of the test results are posted below with screenshots.
Although VPNArea does not get tons of attention, and largely flies under the radar, this VPN performed well in testing for this review.
VPNArea overview
VPNArea is a Bulgaria-based VPN provider that does very well in the areas of performance and privacy. It is one of the fastest VPNs I've tested recently, nearly maxing out my baseline speed of 160 Mbps with nearby servers in Europe.
VPNArea is also a good choice if you want a VPN for streaming Netflix, as it offers various Netflix streaming hubs with 24/7 access. It's also a great VPN for torrenting, with numerous P2P-designated servers that offer excellent performance for large downloads. And for those that want it, you can also get your own designated (static) IP address at a very reasonable price in various locations.
+ Pros
No logs
Great speeds and reliability
Works with Netflix, BBC iPlayer, and other streaming services
Anonymous payment options
Strong security features, with self-hosted DNS
Ad blocking
Dedicated IP addresses available
Large server network
– Cons
Apps can be a bit clunky
Limited number of Netflix streaming servers
Company information and jurisdiction
VPNArea has been around since 2012 and is under the parent company of Offshore Security EOOD.
The parent company (Offshore Security EOOD) is registered in Bulgaria. From a legal perspective, that puts VPNArea under Bulgarian laws.
Bulgaria is a good privacy jurisdiction and it is not a close partner with any surveillance regimes, such as the US and UK. (See the 5 Eyes and 14 Eyes surveillance guide for more info on this topic.)
From a legal jurisdiction and privacy standpoint, VPNArea is a good choice.
VPNArea price and refund policy
VPNArea has three different pricing tiers, with the best deal being the two-year plan at only $3.21 per month: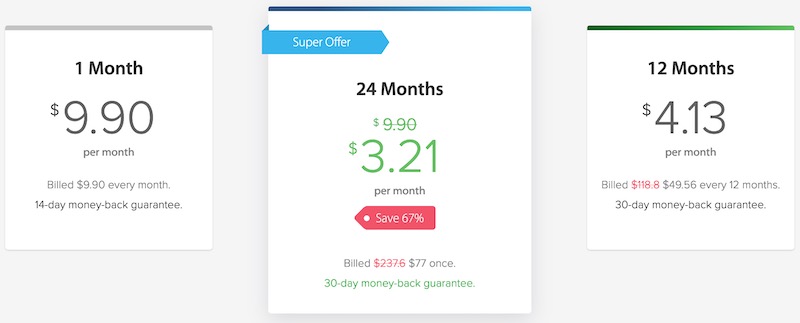 This makes VPNArea one of the best cheap VPNs on the market. It's comparable to what we saw in NordVPN review with the long-term plan, but also cheaper with the monthly and annual rates.
When it comes to features, all of the accounts are the same. The one exception is that dedicated IP address option is only available with 6-month or 12-month accounts. For other options, check out our guide on the best VPNs for a dedicated IP.
When purchasing a subscription you only need to provide an email and can choose your own username and password. VPNArea gives you lots of different payment options, including anonymous payment methods, such as Bitcoin.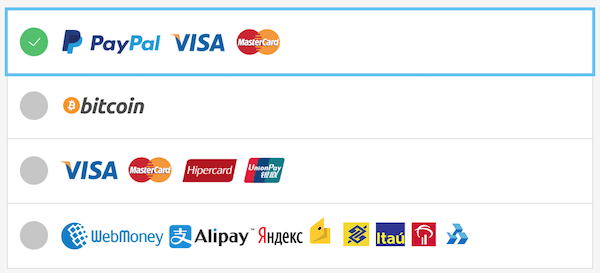 We also noted in our NordVPN vs Surfshark comparison that these two VPNs support Bitcoin and other cryptocurrencies.
Note: One unique benefit you get with VPNArea is the ability to share your account with others (most VPNs prohibit this). This will potentially allow you to split the cost with others.
Refund policy – VPNArea offers the following refund windows:
14-Day money back guarantee on 1 month plans
30-Day money back guarantee on 1 year and 3 year plans
VPNArea apps
VPNArea has a nice lineup of VPN applications for all major devices and operating systems. The layout is intuitive and user-friendly, while at the same time offering lots of great features and unique settings.
6 connections – VPNArea gives you six simultaneous connections to use with your subscription.
VPNAre'as website provides you with step-by-step installation tutorials for many devices and platforms. In the member's area you can access guides for:
Windows
Android
Mac OS X
Linux
iOS (iPhone and iPad)
Routers (Asus, DD-WRT, Tomato, GLI, Asus Merlin)
Streaming services and other devices
On the topic of streaming, VPNArea even has a dedicated app if you want a VPN for Firestick.
VPNArea's main application is called Chameleon. We'll take a close look at how it performed with both Windows and Mac OS.
VPNArea on Windows
VPNArea's Windows did pretty well in testing, although it was a little bit buggy. It offers you a user-friendly layout that also incorporates the numerous privacy and security features. Here you can see a few of the features and settings in the Windows app.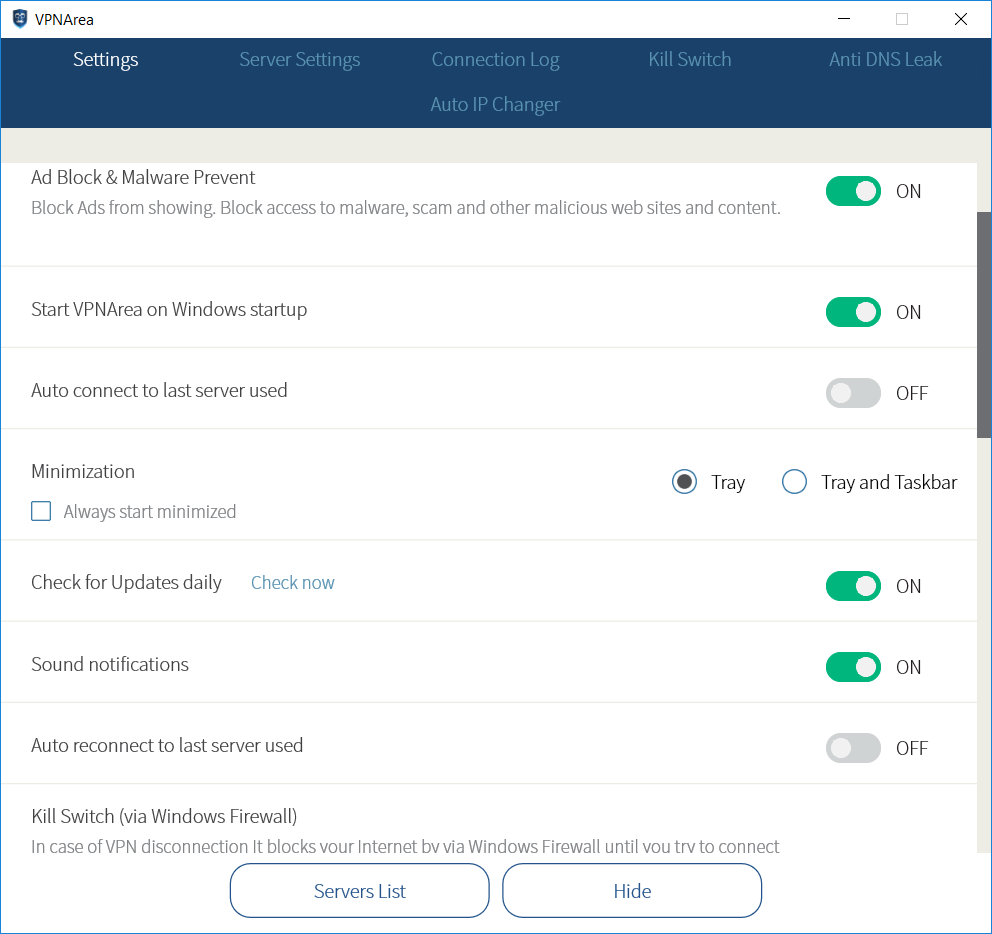 The VPNArea Windows app is polished and user-friendly. Changing the settings and connecting to a VPN server is simple and intuitive.
Here are some of the main features and settings you will find:
DNS leak protection
IP address leak protection
Kill switch (to block traffic if the VPN connection drops)
Startup options for full-time, always-on VPN use
Overall the Windows client performed pretty well in my testing and daily use, with stable connections and no leaks: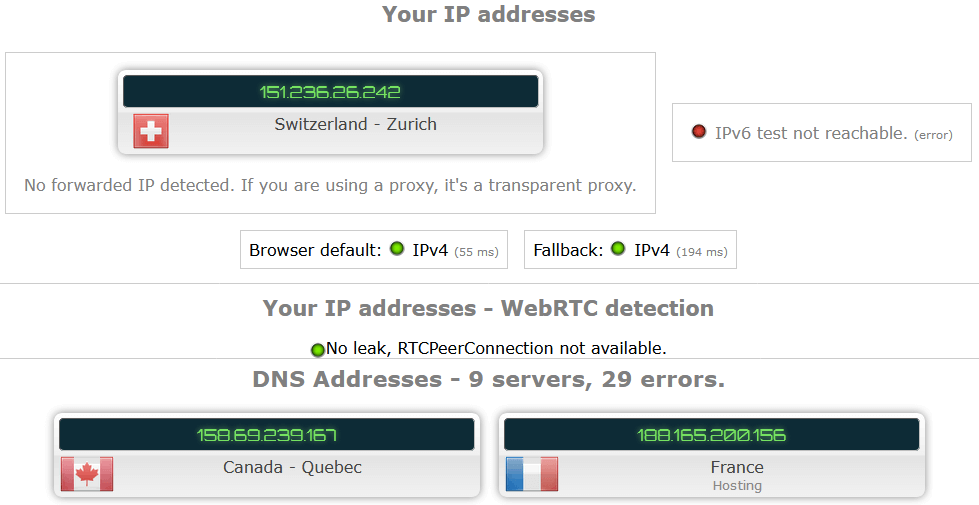 The one main drawback is that I did run into an occasional bug where the client would not connect. However, this was quickly solved by just restarting the application.
VPNArea has also launched their own VPN leak test website. You can use this to check any VPN for leaks and vulnerabilities.
VPNArea on Mac OS
Just like with Windows, VPNArea also has a newer version of their Chameleon application (version 2) for Mac OS. It offers all of the important features and leak protection settings that you will find with the VPNArea Windows app.
Here is the VPNArea Mac OS client I tested for the review: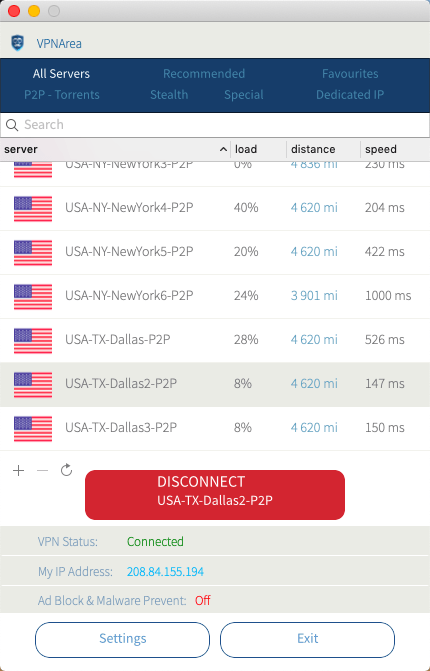 Just like with the Windows client, I was not able to find any major issues with the Mac OS client after running it through a number of different VPN tests.
The Mac OS client comes with all of the standard leak protection settings, kill switch, and configuration options. VPNArea is currently featured among the best VPNs for Mac OS.
VPNArea for Netflix, streaming, and torrenting
VPNArea is an ideal choice for anyone wanting to stream media and/or torrent (P2P downloads).
They offer dedicated servers for various streaming services. There are a few different regional hubs that provide access for:
VPNArea is one of the best VPNs for Netflix because it continues to provide good access to the service without getting blocked. Regardless of where you are located in the world, there are different Netflix streaming hubs you can connect to for full access to Netflix.
Within the VPNArea app you can find a large number of servers that are designated for P2P (torrenting) downloads. These servers are optimized to provide plenty of bandwidth for large downloads.
Unlike with many VPN providers, VPNArea does not limit or restrict torrent traffic. This is another advantage of using VPNArea for torrenting, in addition to their offshore jurisdiction and zero logs policy. Considering all factors, VPNArea is currently one of the best VPNs for torrenting and P2P filesharing.
VPNArea server network
VPNArea has a large server network which should provide you with a fast and reliable server no matter where you are located in the world. They currently have servers in 70 different countries. This is comparable to what we saw in the NordVPN vs ExpressVPN report.
Another benefit of VPNArea's server network is that there is plenty of available bandwidth. You can see bandwidth and server stats in both the applications and in the member's area of their website.
VPNArea's server network now also supports the IKEv2 VPN protocol.
While IKEv2 is not open source, like OpenVPN, it is still considered secure and can be used on most operating systems without third-party apps. Another benefit with IKEv2 is that it is less CPU-intensive in comparison to OpenVPN.
You will likely experience the best performance with the IKEv2 protocol, which is easy to setup with most operating systems.
VPNArea Stunnel servers – VPNArea also has a great selection of obfuscated servers which use Stunnel to obfuscate VPN traffic behind HTTPS. This is a simple solution for anyone needing a realible VPN for China, restricted work or school networks, or any location where VPNs are blocked.
VPNArea = no logs
The next important topic when discussing privacy is logs. VPNArea is a clear no logs VPN, as explained on the website. Here is the relevant logging section from their Privacy Policy:
No Log Files

We do not monitor, record or store logs for any single customer's VPN activity. We do not monitor, record or store any login dates, timestamps, incoming and outgoing IP addresses, bandwidth statistics or any other identifiable data of any VPN users using our VPN servers.
After reading through all of VPNArea's policies, I did not find anything alarming.
If you are looking for a no-logs VPN service that checks all the right boxes with customer privacy and data security, then VPNArea would be an excellent choice. There are also a few VPNs that have passed real-world tests of their no-logs claims, as we discussed in the NordVPN vs PIA comparison.
VPNArea speed tests
I tested a number of different servers for this VPNArea review and overall the speeds were great.
My baseline connection speed for testing was about 160 Mbps and my physical testing location was in Western Europe.
VPNArea speed with nearby servers
First I tested servers close to my location. Here was a server in Berlin, Germany: 137 Mbps

Next up was a server in Amsterdam at 154 Mbps:

Finally I also tested a VPNArea server in the UK, which had the best speeds of all at 155 Mbps:

VPNArea is certainly a fast VPN for the UK, if you are looking for the best speeds.
With all of the VPNArea servers I tested in Europe, the speeds were excellent. With some nearby servers, the speeds essentially maxed out my baseline connection speed.
I also ran some long-distance speed tests were servers in the United States. Once again, speeds were very impressive.
First up was a server in New York, which gave me around 150 Mbps.

Perhaps it was a fluke. I then tested a VPNArea server in Dallas, Texas: 152 Mbps

I also tested a few servers in Canada, and the results were great.
Montreal, Canada: 154 Mbps

I found lots of capacity and bandwidth on Canadian servers, once again making VPNArea a good choice if you need a good VPN for Canada.
Overall these are very impressive speed test results. I've been testing VPNArea for the past three years and these are the best speeds I've ever gotten with their servers.
Note: The fastest VPN protocol right now appears to be WireGuard, which utilizes the latest encryption standards and is built on a leaner codebase. VPNArea does not currently support WireGuard. And while WireGuard is generally faster than most other protocols, there is still some variability between different WireGuard VPNs, as you can see in our NordVPN vs CyberGhost comparison.
Support and website
One great new addition to VPNArea is the 24/7 live chat support. You can get instant access to support through the VPNArea website in the bottom right-hand corner. I tested this out for the review and was connected to a support technician in under a minute. In all interactions I found the support staff to be helpful and professional.
In addition to the live chat support, VPNArea also offers support via email (ticket system).
VPNArea's website is simple and easy to navigate. You can see the server status page from within the member's area. There is also a user forum where you can post general inquiries or suggestions.
VPNArea conclusion
Overall, VPNArea is a good VPN service for privacy-conscious users that also does well with performance (speed) and streaming content.
It seems that VPNArea has made some good improvements with their network speeds as I verified with the latest round of testing. The Windows and Mac OS apps performed well.
And if you are someone who likes to stream Netflix, BBC iPlayer and other services, VPNArea remains an excellent choice. While it doesn't offer as many Netflix servers as ExpressVPN or NordVPN, VPNArea still gets the job done with their regional hubs in Europe and the US.
If you value performance, privacy, and the ability to stream your favorite content, VPNArea is worth a try.
Alternatives to VPNArea
Click the VPN name below to read our full review – or grab the discount for the best savings. All three of these VPNs have a 30 day money-back guarantee.
You can also check out our best VPN report for other recommendations.
---
This VPNArea review was last updated on November 16, 2021.