NordVPN and Private Internet Access (or PIA for short) remain big names in the VPN industry. Both are frequently discussed and recommended on various websites. But that is about where the similarity ends — these VPNs have some big differences, particularly with performance tests.
This comparison is designed to give you objective information you can use to decide for yourself which of these VPNs (if either) is worth your time and money. I put both VPNs through extensive testing and analysis for this NordVPN vs PIA comparison report, with all the screenshots and test results posted below.
Based on all of the latest test results, NordVPN was the winner. Our tests and analysis found that NordVPN has much faster speeds, better apps, advanced security features, and better support for streaming platforms than Private Internet Access.
The table below highlights the key facts of each VPN (Virtual Private Network):
| | | |
| --- | --- | --- |
| | NordVPN | PIA |
| Website | NordVPN.com | Privateinternetaccess.com |
| Location | Panama | United States |
| Servers | 5,500+ | 5,000+ |
| Countries | 59 | 84* |
| Logs | No logs (audited) | No logs (audited) |
| Torrenting | All servers | All servers |
| Support | Knowledge Base; 24/7 chat | Knowledge Base; chat |
| Apps for | Windows, macOS, Linux, Android, iOS | Windows, macOS, Linux, Android, iOS |
| Price | $3.19 (with coupon below) | $2.03 |
| Coupon | 68% Off NordVPN + 3 Months Free > | N/A |
*PIA advertises 84 server locations, but this is deceptive because many of these locations are actually virtual server locations. With these virtual servers, the server is not actually (physically) in the advertised location. This allows PIA to advertise more server locations than they actually have with physical servers. NordVPN does not do this and every server truthfully matches up with the advertised location (no virtual servers with NordVPN).
NOTE: One of these VPNs (Private Internet Access) was also bought out by a VPN conglomerate that has previously been associated with malware. This is a fact that most "review" sites simply ignore. Additionally, the same parent company (Kape) also bought out CyberGhost and ZenMate a few years ago, along with ExpressVPN last year.
Here are the test categories we looked at for this PIA vs NordVPN comparison:
Apps – Which service offers the best VPN apps?
Speed – Numerous servers tested in Europe and North America
Features – Does NordVPN or PIA offer the best features?
Connections – How many connections come with a subscription?
Security – Do any of the VPN apps leak IP addresses or DNS requests?
Logging Policies – What are the policies about logging user data?
Company and Jurisdiction – Where is the VPN located and how does this affect data security?
Netflix & Streaming – Which VPN is best for Netflix and other popular streaming services?
Price – Which VPN offers the lowest prices?
Payments & Refunds – Payment options and refund policies
Value – Which VPN offers the best value for your money?
Conclusion – There is a clear winner
NordVPN vs PIA: Who has the best VPN Apps?
Before we dive into the speed tests, let's take a quick look at the desktop VPN apps for NordVPN and Private Internet Access.
Below is the NordVPN app we tested for this comparison guide. It gives you quick and easy access to all servers and features within the app, without taking up too much space.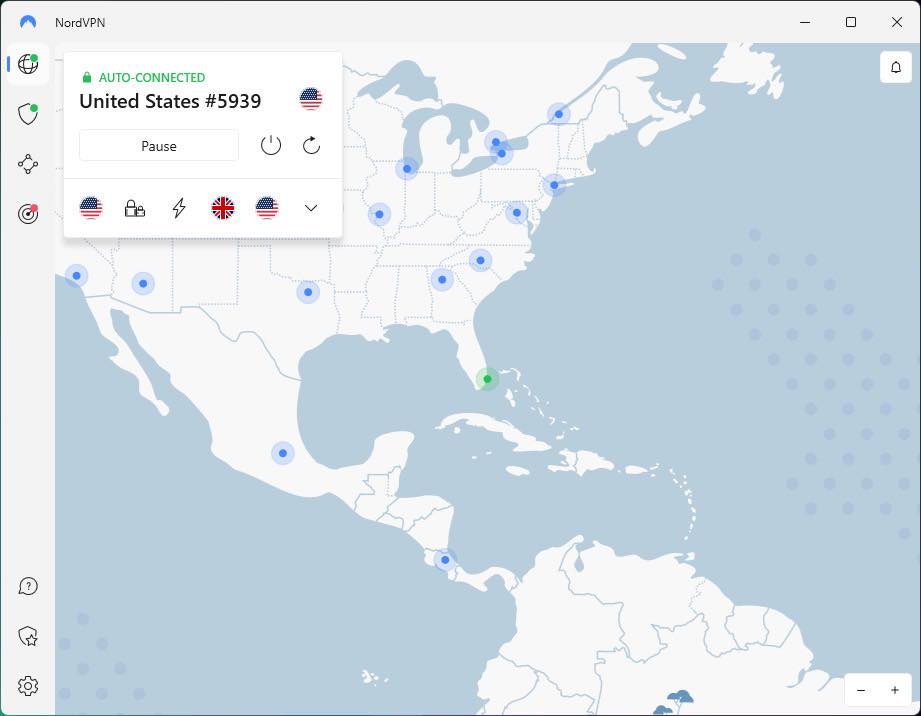 Throughout our testing for this and other articles, all the NordVPN apps worked well, with no errors or leaks. They are good examples of what a VPN app should be.
The PIA apps are a bit more minimal, which makes sense since they don't offer as many features. That said, we didn't have any problems with bugs or leaks during our PIA testing. Here is the PIA app we tested for this report.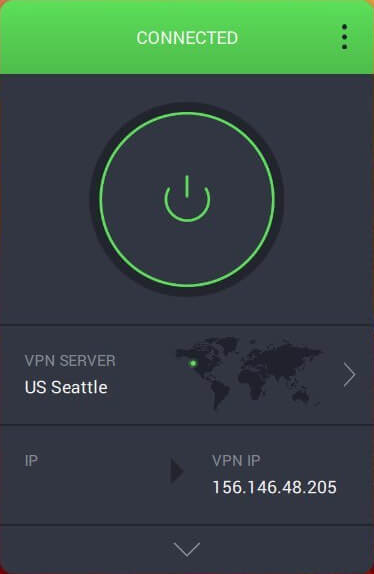 The apps for each service are secure and provide useful interfaces to the underlying VPN network. But NordVPN's apps are more attractive and offer far more features than those of PIA.
Winner for Apps: NordVPN
---
NordVPN vs Private Internet Access Speed Tests
In testing out NordVPN vs PIA with speeds, I found that NordVPN was consistently faster in all locations tested.
Note: All speed tests between NordVPN and PIA were conducted using the WireGuard VPN protocol and the official apps. WireGuard is usually much faster than OpenVPN, as we found in our WireGuard vs OpenVPN speed tests. My baseline (non-VPN) speed was about 500 Mbps.
First I tested server locations in the United States where both VPNs had a presence.
Here is a NordVPN server in Seattle with a 445 Mbps download speed:

This is an amazing result from NordVPN. With our VPN tests, any download speed over 200 Mbps is really good. Getting over 400 Mbps puts NordVPN in the realm of the fastest VPN we have tested. Let's see if PIA can match NordVPN's impressive speeds.
Here is a PIA speed test in Seattle, which gave me about 41 Mbps download speeds.

Right off with the first location, we see that NordVPN has a big advantage and is over ten times faster than Private Internet Access.
Next up were servers in Los Angeles.
Here is a NordVPN server in Los Angeles with speeds of 304 Mbps:

Once, again, this is another great test result from NordVPN. Can PIA do better?
Here is the Private Internet Access server in Los Angeles with speeds of about 85 Mbps:

While this is faster than the previous location, we still see that NordVPN is significantly faster than PIA — by about 219 Mbps.
Next, I tested a connection to the East Coast.
Here was the NordVPN server in New York, at around 280 Mbps:

At well over 200 Mbps, these are still phenomenal speeds from NordVPN. How does PIA compare in the NY location?
Next up, the PIA server in New York was (again) slower than NordVPN, at about 23 Mbps:

For this location, we see that PIA is much slower than NordVPN, by about 257 Mbps.
So we see that with servers in the United States, NordVPN provides us with much faster download speeds than Private Internet Access.
Lastly, I checked servers in the United Kingdom.
Here was the NordVPN server in the UK at 295 Mbps:

Despite the long distance (and the resulting higher ping) between me and the server, NordVPN is still putting up very impressive speed test results, getting close to 300 Mbps.
This was the PIA server in the UK, which was significantly slower with download speeds of 10 Mbps:

This is really slow, even slower than all of our tests with Private Internet Access servers in the United States. With the final server location in the UK, we see that NordVPN is about 285 Mbps faster than PIA. In other words, on this test, NordVPN was almost 29 times as fast as PIA!
Overall, we see that NordVPN is significantly faster than Private Internet Access in all server locations we tested. This is important for anyone needing a fast VPN for high-bandwidth activities, such as when using a VPN for torrenting.
Why is NordVPN faster than Private Internet Access?
Over the past few years, we have seen NordVPN implement significant server upgrades, which gives it an edge over most competitors:
Converted all servers to run in RAM-disk mode.
Currently rolling out self-owned (colocated) servers for all locations.
Rolling out high-bandwidth 10 Gbps servers, which are the fastest servers we've seen.
Full WireGuard support in all apps. WireGuard is integrated into their NordLynx VPN protocol.
Given these changes, it's not very surprising that NordVPN beats PIA by a large margin. NordVPN also beats out other leading VPNs, as we found in the ExpressVPN vs NordVPN speed tests.
If performance is important to you, NordVPN would be the best choice.
Winner for speed: NordVPN (with all locations tested)
---
Features comparison: NordVPN vs PIA
While both NordVPN and Private Internet Access offer various features, there was a clear winner in this category.
PIA feature set
First, we'll look at Private Internet Access. PIA offers a good lineup of basic features that include:
Leak protection settings and split tunneling
Different encryption options
A basic ad blocker called PIA MACE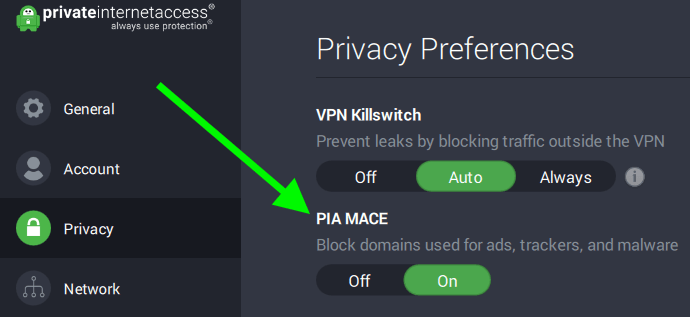 Overall, Private Internet Access doesn't really stand out with features. It is a minimal VPN. Sure, the VPN ad blocker feature is nice, but we also see this with other VPNs. For example, we also find VPN ad blockers with NordVPN and Surfshark.
Note: One of the advanced features PIA does have is dedicated IP addresses. These are static addresses, each dedicated to one individual user.
NordVPN feature set
In contrast to PIA, NordVPN offers numerous security and privacy features for all types of users. It is really a fully-featured VPN service:
Double-VPN servers encrypt your traffic twice over two separate locations.
Tor-over-VPN servers encrypt your traffic with the VPN server as well as the Tor network.
Leak protection settings and a kill switch for both applications and traffic (via the firewall).
Threat Protection feature to block domains for ads, trackers, and known malware domains. It can even scan downloaded documents and works even when you are not connected to the VPN. (Threat Protection is far more capable than PIA's MACE feature.)
Obfuscated servers to hide VPN traffic as regular HTTPS encryption. This makes NordVPN a good VPN for China or anywhere else that VPNs are blocked.
Full access to Netflix and other streaming platforms (PIA was blocked, as discussed below).
NordVPN Threat Protection
Threat Protection is the latest in protection against cyber threats. As noted above, it blocks domains for ads, trackers, and known malware domains. Such defenses are becoming ever more important with ads and even social media sites trying to dump malware onto your systems. Preventing these threats from depositing code on your devices, makes you safer. It can even make your browsing faster since none of this junk will get downloaded and displayed.
It can even scan downloaded documents and works even when you are not connected to a VPN server.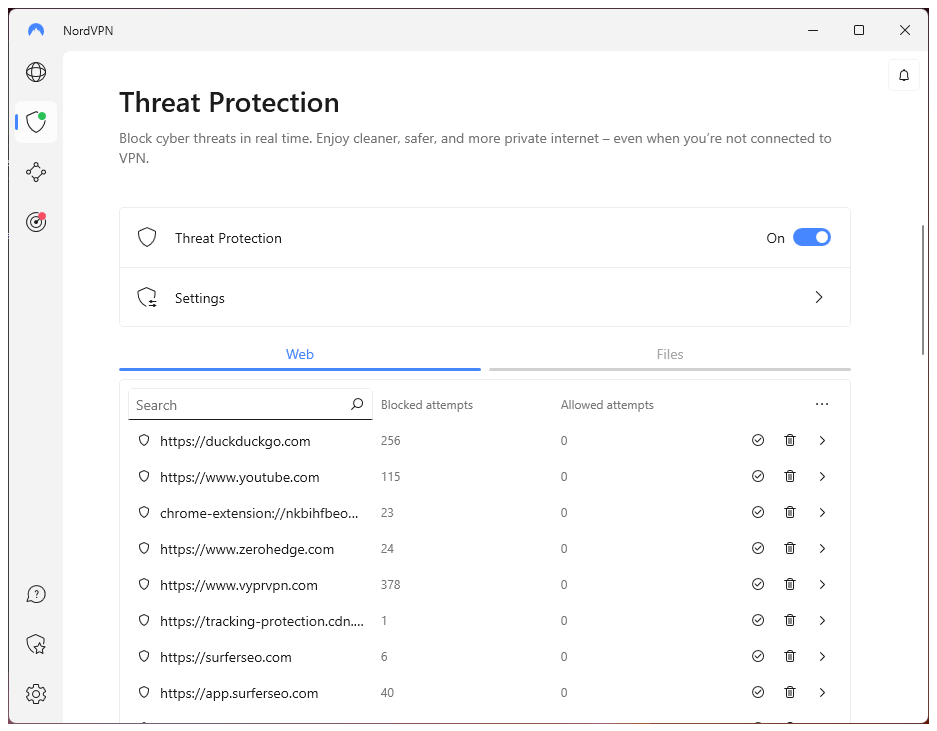 Additionally, the double VPN feature offered by NordVPN is great for those looking for an additional layer of protection. This will route your traffic across two encrypted servers. I tested the double-VPN feature out for the NordVPN review and speeds were still excellent, despite the higher latency.
NordVPN's lineup of Tor-over-VPN servers may also be useful, depending on your needs.
NordVPN also offers dedicated IP addresses for an extra charge. If you need a VPN with a static IP (dedicated IP address), check it out.
Unlike NordVPN, PIA does not offer any double-VPN or Tor-over-VPN servers. These added privacy and security features definitely have some significant advantages, as I explained in my guide on multi-hop VPN services.
The clear winner in the features category is NordVPN.
Features winner: NordVPN
---
Connections: NordVPN vs Private Internet Access
Does NordVPN or Private Internet Access give you the most connections with your subscription? The answer is Private Internet Access. In March 2019, PIA increased the number of connections to ten.
In terms of internet connection policies, this is far better than most VPNs. With more and more of our electronic devices connected to the internet, those extra simultaneous connections could come in handy. But if you really have a lot of devices to use with the VPN, some VPNs offer an unlimited number of connections, as you can see in our Surfshark VPN review.
Note: Another option is to use a VPN router that gives protection to every device that connects to it. We have tested and reviewed different VPN routers, but our favorite so far is the Vilfo router.
NordVPN offers six connections with every subscription, which they explain on their website here:
With a single NordVPN account, you can connect up to 6 devices simultaneously without compromising your online security and privacy of one device for another.
PIA is the winner in this category since it offers four more connections than NordVPN.
Connections winner: Private Internet Access
---
Security: Is NordVPN better than PIA?
Both NordVPN and Private Internet Access offer secure applications with strong encryption. I did not find any IP address leaks or DNS leaks with either of these two providers.
Encryption options
PIA encryption: For encryption, PIA uses an AES-256 cipher with SHA256 for authorization and an RSA-4096 handshake with the OpenVPN protocol and IKEv2 protocol. PIA also allows users to adjust VPN protocols and encryption ciphers within the VPN client (Windows and Mac OS). PIA also supports the WireGuard VPN protocol, which uses the ChaCha20 cipher.
NordVPN encryption: Similar to PIA, NordVPN also uses an AES-256 cipher with SHA256 authorization and an RSA-4096 handshake with OpenVPN and IKEv2. Like PIA, NordVPN also supports WireGuard with the ChaCha20 cipher.
Both PIA and NordVPN offer good encryption standards.
As we covered above, NordVPN offers some great security features, including double-VPN servers and Tor-over-VPN servers. Both of these provide you with a higher level of security with your data being double-encrypted. Additionally, NordVPN also offers two different types of kill switches:
App-level kill switch (closes any app if the VPN connection drops)
Internet kill switch (blocks all internet traffic if the VPN connection drops)
Private Internet Access also offers a good kill switch and leak protection features, but it does not offer any double-encryption options like NordVPN.
Security audits
Since our last review of PIA, it has joined NordVPN on the list of VPNs that have passed third-party audits of their no-logs status. Independent security audits are a great way to build trust and verify the VPN service itself from an outside team of auditors. One of the first VPNs to do this was TunnelBear VPN.
PIA worked with Deloitte to confirm that the VPN does not log any personally identifiable information at any point.
NordVPN has partnered with Versprite, a third-party cybersecurity firm to:
Conduct a full audit of all VPN apps and infrastructure
Assess third-party vendor security where NordVPN servers are located
Carry out ongoing penetration testing and security checks
NordVPN has also conducted three separate no-logs audits, which verified that it remains true to its privacy and data security policies. In contrast to NordVPN, PIA has not done any of these audits.
Server security
NordVPN and PIA both run all servers in RAM-disk mode. This is more secure as it ensures no user data can ever be stored on physical hard drives. Both ExpressVPN and Surfshark also run servers in RAM-disk mode.
NordVPN is currently upgrading its entire network with:
Self-owned (colocated) servers, which will replace all rental servers.
High speed hardware capable of 10 Gbps (I have not seen any other VPN service offer this).
Virtual server use
I have found that PIA uses many virtual server locations where the true (physical) location does not match up with the announced location from the IP address. NordVPN does not have any virtual server locations and instead uses real servers in all advertised locations.
The winner of the security category is NordVPN. While PIA has upped their game with a third-party no-logs audit and the transition to RAM-disk servers, NordVPN offers more security features, and their upgrades to colocated servers and 10 Gbps connections give them the edge.
Security winner: NordVPN
---
NordVPN vs PIA: Privacy and their no-logs policies
Both NordVPN and PIA are proven no-logs VPN services. Each VPN has had its policies related to logging verified with real-world tests in addition to their recent third-party audit.
Private Internet Access was proven to be a no logs VPN provider on two separate occasions:
In 2016, PIA was subpoenaed to provide data logs for a criminal case, but they went on record claiming they do not have data logs and could only provide the addresses of their servers (but no customer data).
A similar case happened in June 2018, when PIA's no-loggin policies were again tested and verified with a criminal case in court.
NordVPN has had its privacy policy tested and verified via multiple third-party audits. The no-logs audits were conducted by PWC in Zurich, Switzerland, and validated NordVPN's no-logs claims. I examined the audit reports and they both verified that NordVPN remains true to its "no logs" claims.
This is similar to our ExpressVPN vs PIA comparison, where both VPNs did well in the logs/privacy category. And since both NordVPN and PIA are verified to not keep data logs, this category is a tie.
Logging policy winner: Tie
---
Company and Jurisdiction comparison
Company background and jurisdiction are important considerations when choosing which VPN to trust with your data and security.
NordVPN Company and Jurisdiction check
The company behind NordVPN is Tefincom SA, based in Panama. NordVPN explains on its website that it is a global tech business with employees all over the world, but it maintains the parent company in Panama to better protect user privacy.
Panama is an excellent privacy jurisdiction because it:
Is not part of any surveillance alliances.
Has no mandatory data retention laws, such as those in Europe that affect UK VPN services.
Is renowned for corporate privacy laws with many protections in place.
PIA Company and Jurisdiction check
PIA started out as a reputable VPN company based in the US, but it has now been sold off. In 2019, news broke that Kape acquired PIA. Kape is an interesting company that is often associated with malware (see Crossrider). Kape also purchased CyberGhost VPN a few years earlier, and most recently, Kape purchased ExpressVPN.
Kape also owns a collection of VPN review websites, which coincidentally now rank all of Kape's VPN holdings in the top spots.
Note: The story of Kape and its past is complex. To understand more about this growing player in the VPN industry, check out this detailed analysis.
PIA is based in the United States, which is a big red flag. As we have covered before, the US is a very bad privacy jurisdiction with many laws in place that undermine data security. The US is part of the Five Eyes surveillance alliance.
Jurisdiction is a key consideration that affects the safety of your data. As we've seen before, the US government can force VPNs and email services operating there to collect user data. This has happened before with Riseup and also Lavabit. There was also the case of US-based IPVanish being forced to log users for the FBI, even while claiming to be a "zero logs" VPN. This is discussed more in our NordVPN vs IPVanish comparison, as well as the IPVanish review.
NordVPN clearly comes out on top in both jurisdictions and also the company background check.
Company and Jurisdiction winner: NordVPN
---
NordVPN vs PIA Netflix and streaming support
In terms of streaming Netflix with a VPN, NordVPN is definitely a better option than Private Internet Access. So first let's examine Private Internet Access.
PIA with Netflix and streaming
For many years now, PIA has struggled to unblock Netflix servers. In fact, you can see this below where the app is on the right, and the Netflix error message is in the background (Netflix not working with PIA):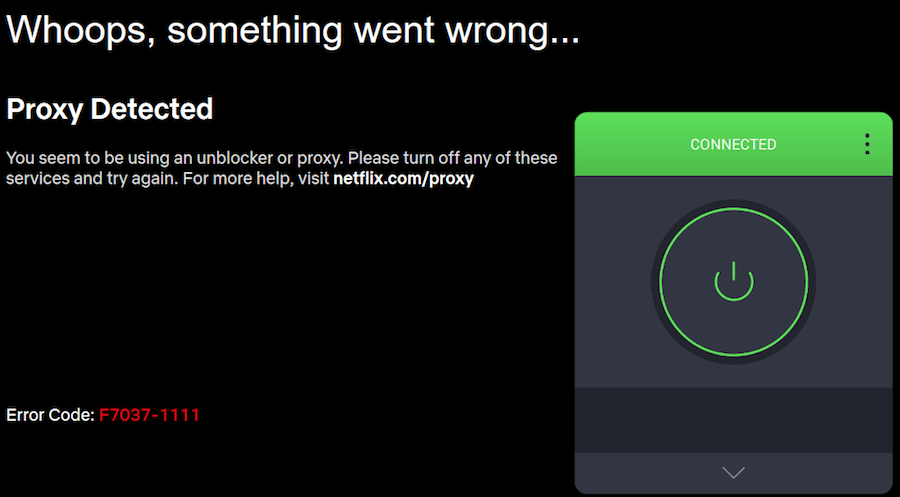 In addition to Netflix, I also tested Amazon Prime Video – and it was also blocked. PIA is not a good VPN for Amazon Prime at this time, but there are other options to consider.
Many streaming services can be hit-or-miss with most VPNs, as we see above with PIA. However, there are a few VPNs that work with Hulu, Netflix, Amazon, and more. These VPNs typically invest resources into acquiring (and maintaining) IP addresses that work with Netflix. And if that wasn't enough, PIA was also blocked by BBC iPlayer (the UK streaming service) in my tests.
PIA clearly isn't the best VPN for streaming, so let's see how NordVPN does.
NordVPN with Netflix and streaming
NordVPN is a great choice if you want to stream Netflix and it worked well in our tests without any problems. Below you can see I'm streaming Netflix through a NordVPN server in the United States without any problems.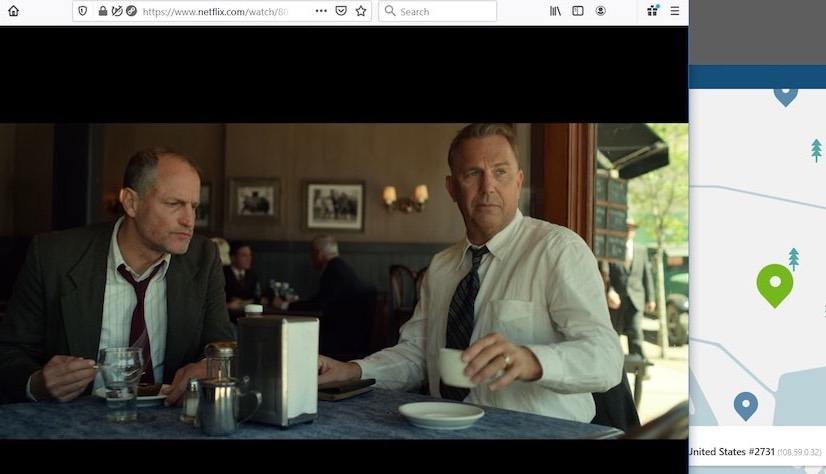 Here are some of the Netflix regions supported by NordVPN: US, UK, Canada, France, Germany, Netherlands, Finland, Spain, Japan, Australia, India, Korea, and Italy. Additionally, NordVPN works well for many popular streaming services. You can use this VPN with Disney+, Hulu, Amazon Prime, BBC iPlayer, and more.
We also have screenshots of NordVPN working well with BBC iPlayer in our roundup guide on the best VPNs for BBC iPlayer (one of only two VPNs that consistently work well).
Netflix and streaming winner: NordVPN
---
PIA vs NordVPN price comparison
Both NordVPN and PIA are cheap VPN services with low prices.
While PIA has traditionally been the same price as NordVPN, their current prices are below.

In comparison to NordVPN, the monthly price of PIA is definitely cheaper at $2.03.
Below you can see the current prices with NordVPN coming in at $3.19 per month with the two-year VPN subscription. This makes NordVPN a bit more expensive than PIA, but with access to more features and services.
The one drawback here is that you have to commit to a two-year subscription in order to lock in the cheap rate of $3.19 per month. The same holds true for PIA, which restricts the biggest discount to their three-year plan. (You may find other NordVPN coupons to consider with different prices and subscription lengths.) You should also keep in mind that VPN prices change frequently. You will only be sure of the price you will pay if you visit the relevant website when you are ready to pull the trigger. But right now, PIA wins.
Price winner: PIA
---
Payments and refunds: PIA vs NordVPN
Both NordVPN and Private Internet Access VPN support a wide variety of payment options:
Cryptocurrencies
Credit cards
Amazon Pay
While PIA supports PayPal, NordVPN supports ACH transfers and UnionPay options, which PIA does not have.
Refund policy comparison
NordVPN and PIA both have a 30-day refund window. This is great, especially when some VPNs have many obstacles in place for getting a refund, as we saw in our Avast SecureLine VPN review.
This category is a tie for both payments and refunds.
Payments and refunds winner: Tie
---
Value: Is NordVPN or PIA best?
Value is a subjective determination that's hard to measure. Essentially, the question is:

Which VPN offers the best value for your money?
I would argue that NordVPN is a better value. While NordVPN is a bit more expensive than PIA, it offers significantly more features:
Advanced features (Double-VPN servers; Obfuscated server; Tor-over-VPN servers…)
Much larger server network than PIA
Full support for Netflix and many other streaming services
Two types of kill switches
Good VPN apps for all major devices and operating systems
24/7 live chat support (PIA only offers email support)
The support category is definitely noteworthy. PIA does not offer any live chat support and their email support has been very slow in my experience. With NordVPN, you get 24/7 live chat support directly through their website.
Another big factor that differentiates these two companies is jurisdiction. Being based in the United States (Five Eyes) is a major drawback for PIA. If US authorities were to force PIA to log user data (such as we have seen with both Lavabit and IPVanish), PIA would not be able to disclose this information to their customers due to gag orders.
Value winner: NordVPN
---
Conclusion: NordVPN overwhelmingly wins in 2023
Both NordVPN and PIA have been busy upgrading their services this year. However, their relative rankings haven't changed. That means there is still a clear winner based on all test categories.
NordVPN was the big winner in this PIA vs NordVPN battle, coming out on top by a large margin. NordVPN was the winner in seven categories, PIA won two, and two categories were tied. Here's a breakdown of the results:
Apps – NordVPN
Speeds – NordVPN
Features – NordVPN
Connections – PIA
Security – NordVPN
Logging Policies – Tie
Jurisdiction – NordVPN
Netflix & Streaming – NordVPN
Price – PIA
Payments & Refunds – Tie
Value – NordVPN
Conclusion – NordVPN wins
At this time we cannot recommend PIA. Even leaving out the whole Kape/Crossrider situation, the VPN continues to operate in the United States, which seriously undermines data security. And even if you ignore that, we've found Private Internet Access to be much slower than NordVPN, with far fewer features, and much less capacity to stream content. You can learn more about this VPN in our PIA VPN review here.
If you want to try NordVPN, keep in mind you have a 30-day money-back guarantee. This means that you can cancel any time in the first 30 days for a full refund, without any hassle. And be sure to get the best price with the coupon below, which is currently active:
NordVPN's Cyber Deal is live:

Get 68% Off NordVPN with the coupon below plus 3 months FREE, no activation code needed:
(Coupon is applied automatically; 30 day money-back guarantee.)
Either way, you will surely want to use a VPN when you go online. There are numerous security risks and also privacy risks with various third parties wanting to get your data. Protect yourself accordingly with a good VPN.
Related Articles:
Have you used PIA or NordVPN? Feel free to share your experience in the comments below to help other users.
This NordVPN vs PIA comparison guide was last updated on April 28, 2023 with new test results and information.