Surfshark and IPVanish are both well-known VPN services. While IPVanish has been around for a long time, Surfshark officially launched in 2018 but has already positioned itself as a market leader. In this new and updated IPVanish vs Surfshark comparison, we tested out each VPN to see which is best based on nine different categories.
While there was one overall winner in this guide, each VPN has its own strengths and weaknesses. So to determine whether Surfshark or IPVanish is right for you, simply keep reading to see which VPN comes out on top in the categories that you find important.
This table highlights the main facts about each VPN service:
| | | |
| --- | --- | --- |
| | Surfshark | IPVanish |
| Website | Surfshark.com | IPVanish.com |
| Location | The Netherlands | United States |
| Servers | 3,200 | 2,000+ |
| Countries | 100 | 40+ |
| Logs | No logs | No logs |
| Torrenting | All servers | All servers |
| Support | Knowledge Base; 24/7 chat | Knowledge Base; chat |
| Apps for | Windows, macOS, Linux, Android, iOS | Windows, macOS, Android, iOS |
| Price | $2.30 | $3.33 |
| Best Deal | 82% Off Coupon > | 74% Off Coupon > |
Here are the categories we'll cover in this IPVanish vs Surfshark report:
Company and Jurisdiction
Speed Tests
VPN Apps
Features
Security and Encryption
Privacy and Logs
Netflix, Streaming, and Torrenting
Reliability and Support
Price and Refund
Let's begin with the background and jurisdiction check.
Company and Jurisdiction check
| | | |
| --- | --- | --- |
| | Surfshark | IPVanish |
| Jurisdiction | The Netherlands | United States |
| Five Eyes | No | Yes |
You use a VPN to protect your privacy online. A secure VPN service will do that since their system will securely encrypt your data so outsiders can't read it. But you have to be able to trust the VPN not to spy on you or do anything shady in the background. For that, you'll want to know the company and the jurisdiction it is based in.
Surfshark company and jurisdiction
Surfshark VPN is based in The Netherlands. While this is in Europe, which is not ideal, it's also not in a 5 Eyes jurisdiction like the US or UK, which should be avoided. Surfshark is a strict no logs VPN service and even maintains a warrant canary. A warrant canary is basically a transparency report dedicated to showing people if any government has requested/demanded data logs.
Based on our research, Surfshark has no history of privacy or security issues and has a very clean track record since its launch in 2018. Additionally, Surfshark has passed independent audits, which we will discuss more in the security section below. Both Surfshark and NordVPN are now part of the same parent company, Nord Security.
Surfshark VPN passes the background check and it is based in a great jurisdiction.
IPVanish company and jurisdiction
IPVanish has gone through a few owners in the last couple of years. They are currently owned by J2 Global. This is a large conglomerate that not only owns a collection of other VPN services, it also owns a portfolio of "VPN review" websites like PCMag.
Making matters worse, IPVanish is based in the United States, a founding member of the Five Eyes surveillance alliance. US-based privacy companies can be (and have been) forced to log user data for US agencies and other authorities. Aside from IPVanish, Lavabit and RiseUp are two other examples.
Background Check and Jurisdiction winner: Surfshark
---
IPVanish vs Surfshark speed tests
While you can expect any top VPN to provide comparable levels of privacy and security, the speed of VPN services varies all over the place. Some, like NordVPN with its NordLynx protocol, are lightning-fast. Others move more like molasses than lightning. When it comes to IPVanish vs Surfshark speed tests, the results will tell the tale.
Speed tests
This is one of the areas where IPVanish has made huge strides since the last time we compared them to Surfshark. In our previous testing, Surfshark has already upgraded to the WireGuard VPN protocol, and had become one of the fastest VPNs in the world.
Like NordVPN and CyberGhost, IPVanish now fully supports the WireGuard protocol in its apps. With that being said, we can still find lopsided test results with one clear winner, as we found in our NordVPN vs IPVanish comparison.
But let's not rule IPVanish out. It has some very fast speeds, as we found in our test results below.
Test #1: Seattle
Surfshark Seattle results: 752 Mbps.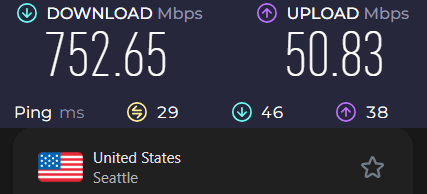 This is one of the fastest test results we have ever seen. Up to this point, only NordVPN has been fastest connecting to Seattle. And that only by 3 Mbps. Even with WireGuard, can IPVanish possibly do better?
IPVanish Seattle results: 829 Mbps.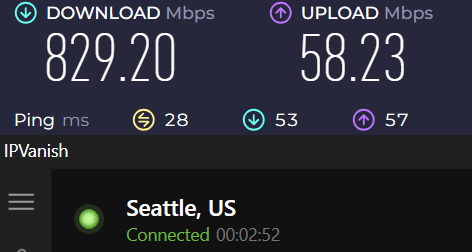 IPVanish crushed Surfshark (and NordVPN) on this test. This is the first time we have seen a speed of over 800 Mbps from any VPN period. At least as far as this test, IPVanish is now the fastest VPN.
Test #2: Los Angeles
Surfshark Los Angeles results: 653 Mbps.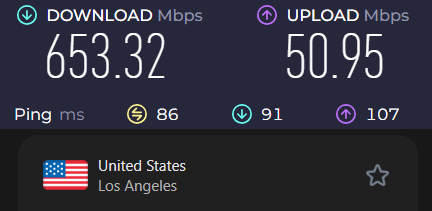 While not as good as the Seattle result, this is still another impressive result from Surfshark.
IPVanish Los Angeles results: 262 Mbps.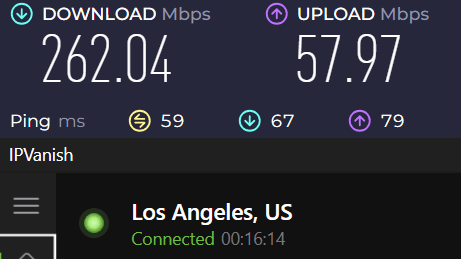 Wow. This is quite the disappointment after the Seattle results. Here Surfshark is more than twice as fast as IPVanish. Given these first two results, it was hard to predict what would happen when we connected our competitors to their New York servers.
Note: Surfshark is consistently fast. We saw an even larger performance difference in our Proton VPN vs Surfshark comparison.
Test #3: New York
Surfshark New York results: 637 Mbps.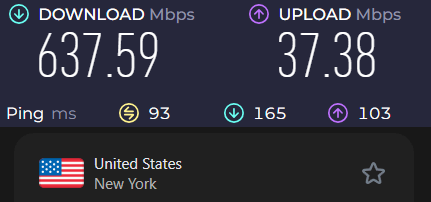 This is another strong result for Surfshark. A little slower than the others, but not surprising since New York is also further away. The big question is, "How will IPVanish do this time?"
IPVanish New York results: 606 Mbps.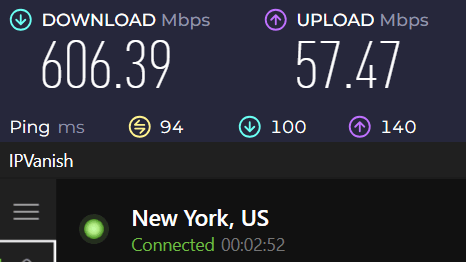 IPVanish is back in the fight now. It is slightly slower than Surfshark, but the difference in speed is just a few percent and would probably be unnoticeable in normal use. The three locations we tested gave us some mixed result. While IPVanish turned in the fastest individual speed, Surfshark put up the best average USA VPN speed test results.
Note: Although we did not test servers in Canada, we have found that Canadian servers typically perform on par with US servers. See the best VPNs for Canada here.
Test #4: United Kingdom
For our last test, we connected to servers in the United Kingdom. This is a very long-distance connection, which will logically result in slower speeds.
Surfshark London, UK results: 556 Mbps.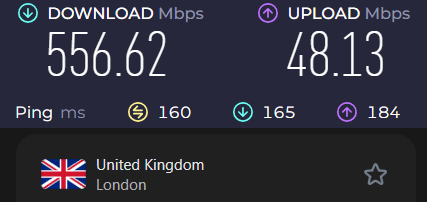 Impressive results like these are just one reason we rate Surfshark as one of the best VPN services for the UK. Now let's see how IPVanish clocks in.
IPVanish London, UK results: 431 Mbps.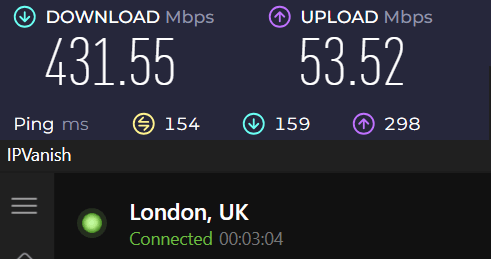 IPVanish lagged Surfshark here too. That said, this result isn't horrible but it isn't anything to brag about either.
Here's a table with all the speed test results in one place for easy comparison:
| | | |
| --- | --- | --- |
| Location | Surfshark | IPVanish |
| Seattle | 752 Mbps | 829 Mbps |
| Los Angeles | 653 Mbps | 262 Mbps |
| New York | 637 Mbps | 606 Mbps |
| United States Average Speed | 680 Mbps | 565 Mbps |
| | | |
| London, UK | 556 Mbps | 431 Mbps |
| Total Average Speed | 649 Mbps | 532 Mbps |
Summary of speed test results.
What do we make of all this. First, the team at IPVanish deserve kudos. Not only did they massively increase the speed of their service, they set an impressive new "best speed" for the other VPNs to aim at. Second, while Surfshark turns in pretty consistent results across its network, IPVanish results vary greatly depending on which VPN server you connect to.
If you are looking for the absolute fastest connection possible, you could download IPVanish and run speed tests from your specific location to the specific server locations you expect to connect to. That way you can see what kind of speeds you could expect in your specific circumstances. But if you are just looking for a very fast VPN that will give you excellent performance without the hassles, Surfshark will get the job done for you.
Speed test winner: Surfshark
---
VPN Apps
| | | |
| --- | --- | --- |
| | Surfshark VPN | IPVanish |
| Apps | Windows, macOS, Linux, iOS, Android | Windows, macOS, Linux, iOS, Android |
| Browsers | Chrome, Firefox, Edge | N/A |
| Other | Android TV, Fire TV, Gaming systems, Routers, and more | Apple TV, Fire TV, NVIDIA SHIELD, Chrome OS, and routers |
Surfshark Apps
Surfshark offers a large selection of user-friendly VPN apps for Windows, macOS, Linux, iOS, and Android devices. They also support Smart TVs and gaming systems (see our VPN for gaming guide). All VPN apps include a kill switch to keep your traffic from leaking onto the internet if the VPN connection fails. They also have a Bypasser split tunneling feature, which allows you to route traffic or websites outside of the VPN tunnel.
Here is the Surfshark Windows app we tested for this review: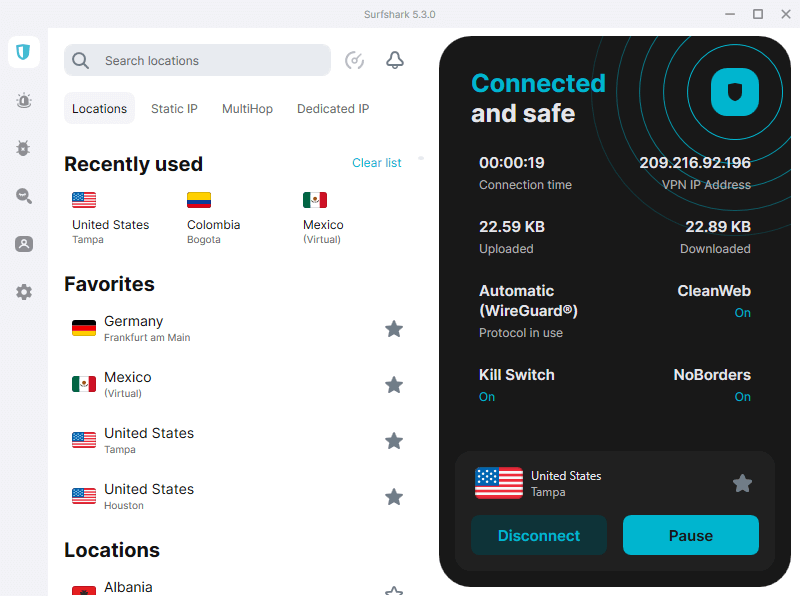 An advantage Surfshark has over IPVanish is that Surfshark also provides browser extensions. Surfshark Apps are full-fledged VPN services that encrypt all your internet traffic, except for traffic sent outside the VPN connection using the Bypasser split tunneling feature. The apps also have features like MultiHop and Dynamic MultiHop connectivity, Smart DNS, and CleanWeb. When you use the apps you get an all-around secure and private browsing experience.
The Surfshark browser extensions provide a subset of the features in the apps, and only affect your activities within your browser. They are great for hiding your IP address and encrypting browser traffic but don't have the advanced features of the full apps. On the other hand, the browser extensions don't use as many resources as the full apps. Here's the Surfshark browser extension for Firefox: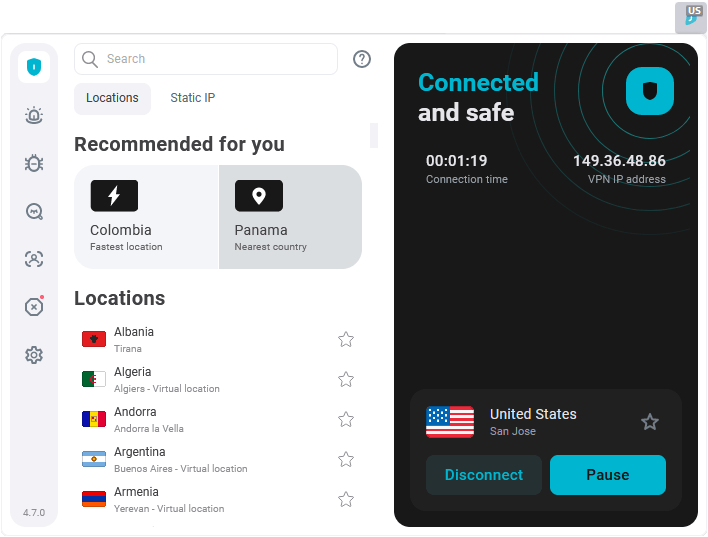 To sum it up, Surfshark provides attractive, reliable, easy-to-use VPN apps as well as extensions for the leading web browsers.
Read more about Surfshark VPN apps here >
IPVanish Apps
IPVanish offers a set of VPN apps that should be sufficient for most users. They also support some less common operating systems and devices such as NVIDIA SHIELD and Chrome OS. And they have recently added an app for Apple TV, which is one place where they are ahead of Surfshark.
IPVanish users used to have to get by with clumsy, buggy, unattractive VPN apps. But the company have fixed that by upgrading all their apps to look and function much better than in the past. Here's what the IPVanish Windows VPN app looks like now: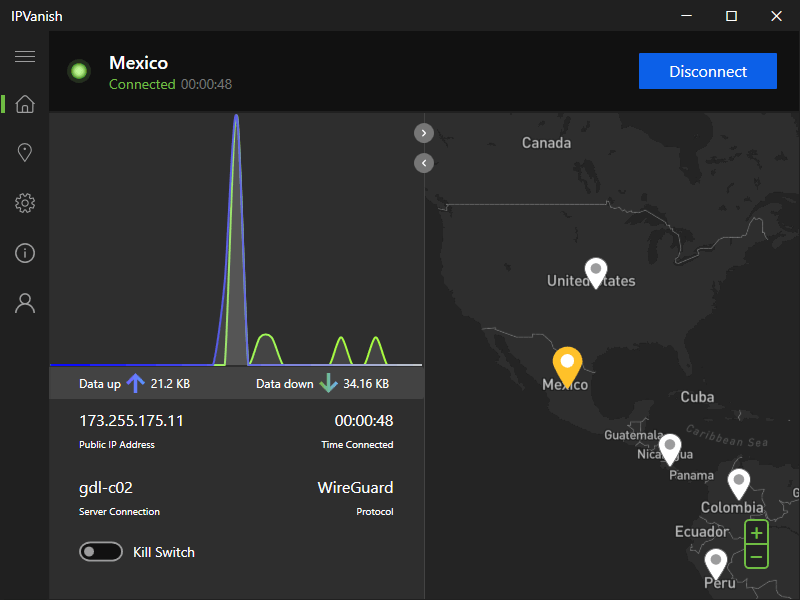 The IPVanish team didn't settle for just upgrading the main apps either. Here's their slick Fire TV VPN app. Besides looking sharp it is one of the few Fire TV apps that has a built-in kill switch to protect you while streaming content.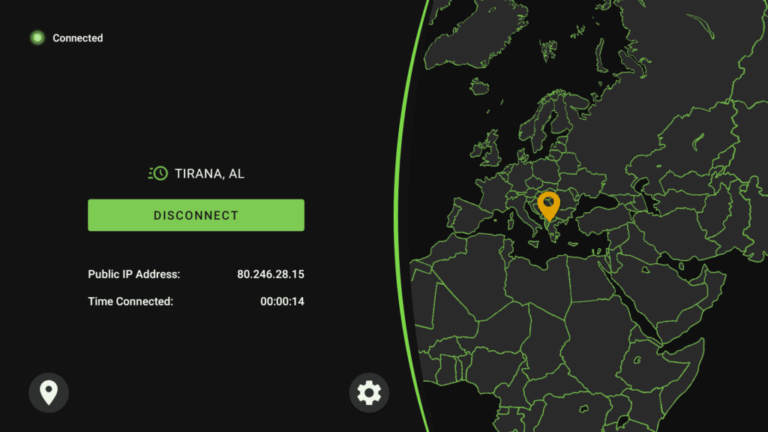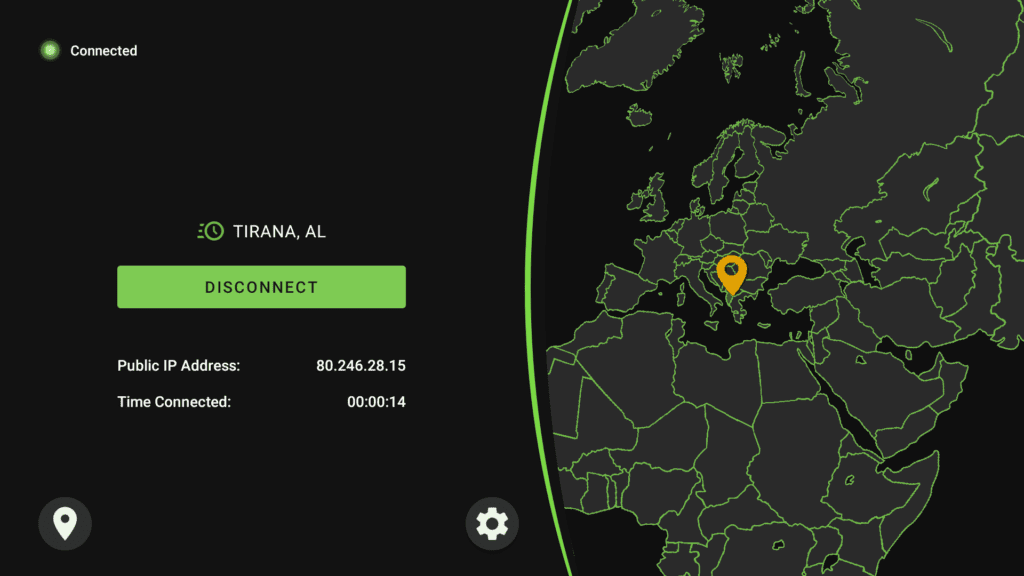 Now that IPVanish has upgraded their apps, this is a much closer competition than in the past. Deciding which VPN service has better apps now depends more on which specific operating systems and devices you use than on anything else. Need Apple TV VPN support? Then IPVanish is your winner. Want browser extensions? Then Surfshark is the only choice. We will call this one a tie.
Check out IPVanish apps here >
VPN apps winner: Tie
---
IPVanish vs Surfshark features
Many people want a VPN that has a rich array of features for various use cases. Let's see how Surfshark and IPVanish do in this category.
| Feature | IPVanish | Surfshark VPN |
| --- | --- | --- |
| Split tunneling | Yes | Yes |
| RAM-only servers | No | Yes |
| Kill Switch | Yes | Yes |
| Private DNS | Yes | Yes |
| Logs | No logs (audited) | No logs (audited) |
| WireGuard protocol support | Yes | Yes |
| Multiple VPN protocols | Yes | Yes |
| Double VPN servers | No | Yes |
| Obfuscated servers | Yes | Yes |
| Dedicated IP servers | No | Yes |
| Static IP servers | No | Yes |
| Rotating IP addresses | No | Yes |
| Browser Extensions | No | Yes |
| Built-in ad blocking | No | Yes |
Surfshark features
One killer feature of Surfshark is the great speed it gets from the WireGuard VPN protocol. Not only does it offer blazing-fast download speeds, but it also allows you to connect faster, and is better at maintaining connections for mobile devices. To enable WireGuard with Surfshark, you can easily select it in the Surfshark VPN app settings: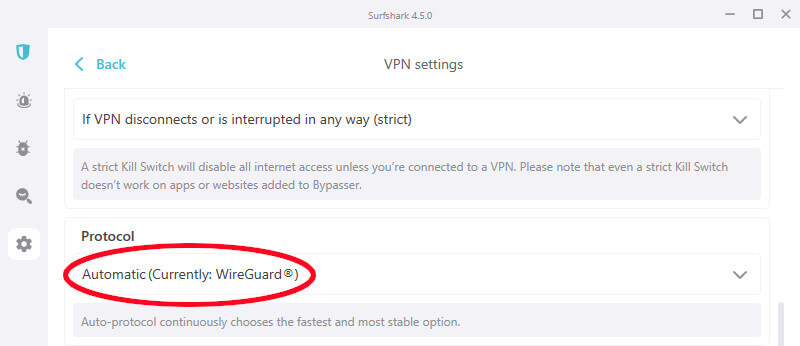 Surfshark currently boasts a network of over 3,200 VPN servers in 100 countries. The network includes fast, reliable standard VPN servers as well as double-VPN servers that encrypt traffic twice for extra security, and Camouflage mode (obfuscated) servers designed to defeat internet censors. The obfuscated servers are useful if you need a good VPN for China, where VPNs are typically blocked.
Not long ago, Surfshark released CleanWeb, a feature that blocks ads, trackers, and malware domains from ruining your day. This gave Surfshark additional protection beyond just a standard VPN ad blocker.
But things don't stand still for long in the VPN industry. Surfshark has already released CleanWeb 2.0, an even more capable version of CleanWeb. To see the current features available with CleanWeb, here are the configuration options currently available: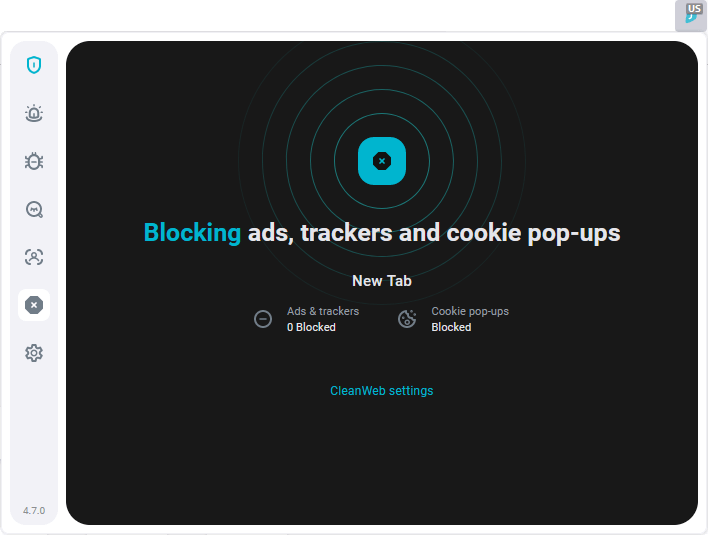 Static IP – Surfshark is also a VPN with a static IP option. This is a static IP address that does not change, but can be shared by other users as well.
Surfshark also offers a few paid add-on features:
Dedicated IP servers are Static IP servers that you do not share with other Surfshark users.
Surfshark Alert lets you know if your private information has been stolen and published somewhere online.
Surfshark Search is a private search engine, which eliminates another possible location where hostiles might spy on your online activities.
Surfshark One is a combined cybersecurity suite that includes the Alert and Search features above, as well as an antivirus product.
See all Surfshark features here >
Routers – While Surfshark does not have a dedicated router app, it does still support most types of routers. To use Surfshark VPN with a router, you will simply need to import the configuration files. This will then allow you to use devices like Apple TV with a VPN with all of the traffic on your router.
Connections – Surfshark has one more feature you might like: support for unlimited simultaneous connections. Most VPNs, including ExpressVPN and NordVPN, support five or six simultaneous connections. And while this is enough for most people, Surfshark gives you even more.
IPVanish features
In addition to better apps and massively higher performance, IPVanish has boosted their feature set. We already covered their move to use WireGuard in addition to the long-time industry standard OpenVPN. You can learn much more about these two competing standards in our detailed guide to WireGuard vs OpenVPN.
While each protocol has its pros and cons, it seems that WireGuard is the future of the industry. In fact, Atlas VPN is one VPN service we know of that has eliminated OpenVPN support altogether and runs its network on WireGuard by default.
Despite this leap into the future, IPVanish is still a fairly basic service. That isn't meant to criticize the service. It has long offered a VPN kill switch, private DNS, and a fairly large server network. For most users, that is all they will ever need. Besides, IPVanish has added some interesting and useful new features:
OpenVPN Scramble is the IPVanish version of an obfuscated server (like Surfshark's Camouflage mode). OpenVPN Scramble makes your VPN traffic look like regular internet traffic encrypted with the HTTPS protocol. Most websites now use HTTPS for security, meaning internet censors can't pick out your VPN traffic from amongst all the regular internet traffic. Note: When we did the IPVanish VPN review, support told us that OpenVPN Scramble does not work in China.
Split tunneling lets you control which traffic goes through the VPN tunnel and which traffic goes outside it. There are various uses for this capability. See our guide to the best VPNs for split tunneling to learn more. Surfshark calls their version of split tunneling Bypasser.
SOCKS5 proxy is a feature you can use for faster torrenting. It works fine, but when you use it your connection is not encrypted. That means people can see your real IP address when you torrent or do other downloads. And that can lead to big problems in you inadvertently download some copyrighted content and get yourself sued by some mega-corporation for violating their copyright. Use this feature with care.
Unlimited simultaneous connections. Just as with Surfshark, you can have an unlimited number of your computers, phones, and other internet devices actively using the VPN at the same time without worries.
See all IPVanish features here >
What about servers? IPVanish offers 200+ servers in 40+ countries around the world. This is about on par with other large VPN services, including CyberGhost and ExpressVPN.
IPVanish has a solid basic feature set, along with some nice additional features. But Surfshark comes out on top in this category by offering many more features. Interestingly, in previous ExpressVPN vs IPVanish comparisons, ExpressVPN had the better feature set. In our most recent comparison of those two services, IPVanish had the better feature set. This VPN service is making up ground on the industry leaders.
Feature set winner: Surfshark
---
Security and Encryption
For a VPN to protect your privacy, it needs excellent security. And to have excellent security, it must use excellent encryption. So let's take a quick look at the security and encryption provided by Surfshark and IPVanish.
| | | |
| --- | --- | --- |
| | IPVanish | Surfshark |
| Encryption | AES-256, ChaCha20 | AES-256, ChaCha20 |
| Audited no-logs policy | Yes | Yes |
| RAM-disk servers | No | Yes |
| Kill switch | Yes | Yes |
| Ad blocker | No | Yes |
| Tracker and malware blocker | No | Yes |
| DNS leak protection | Yes | Yes |
| Jurisdiction | United States | Netherlands |
Surfshark security and encryption
When you use Surfshark's WireGuard VPN protocol, your traffic is protected by a ChaCha20 cipher and other advanced encryption technology. When you use their OpenVPN or IKEv2 VPN protocols, Surfshark uses AES-256 cipher for encryption to give your traffic the security it needs.
We ran leak tests with the Surfshark VPN apps and did not identify any leaks, bugs, or security problems: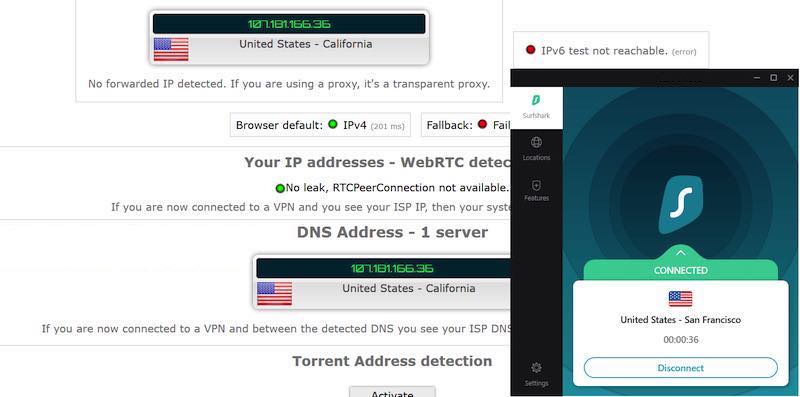 Another security benefit you get with Surfshark is that all servers run on RAM-disk volatile memory with no hard drives. With all data stored in volatile memory, even if a Surfshark server gets seized by hostile forces there will be no disk drive to hack for user data. No hard drives = no data.
Note: NordVPN, Perfect Privacy, and ExpressVPN have also converted their networks to diskless operation.
Further cementing their standing as a secure VPN, Surfshark commissioned the German cybersecurity firm Cure53 to conduct an independent security audit of Surfshark's browser extensions. This makes it an excellent choice if you need a VPN for Chrome. You can get more details about the audit in our Surfshark review.
IPVanish VPN encryption and security
As we've noted numerous times so far, IPVanish has got their WireGuard support up and running, with some excellent results. They now support the two major VPN protocols, putting them on a par with Surfshark here too.
Like Surfshark, we also did not find any leaks, bugs, or security flaws in our tests of the IPVanish apps: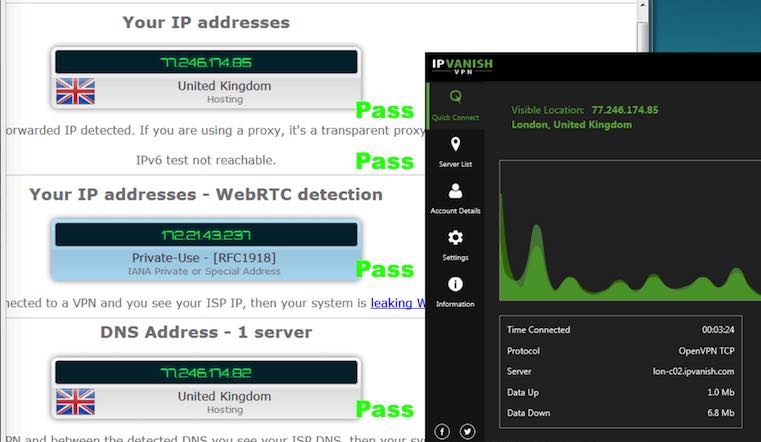 Security and encryption: Surfshark
---
Privacy and Logs: Is Surfshark or IPVanish best?
As important as VPN security is, our top priority here at RestorePrivacy is to help you protect your privacy. So we need to look at the privacy policy of each VPN provider, their logging policies, and anything else that could impact your privacy.
| | | |
| --- | --- | --- |
| | IPVanish | Surfshark |
| No Logs Policy | Yes | Yes |
| Audited By | Leviathan | Deloitte |
Surfshark privacy and logs
Surfshark is a no-logs VPN provider. Reviewing their Privacy Policy and Terms of Service shows that they don't log IP addresses or activities usage data that could be used to violate your privacy.
Note: The service optionally sends anonymized crash reports on mobile apps, but this can be easily disabled in the preferences.
Surfshark also publishes a warrant canary to warn users about privacy violations. At of the end of 2023, Surfshark's warrant canary shows no problems whatsoever: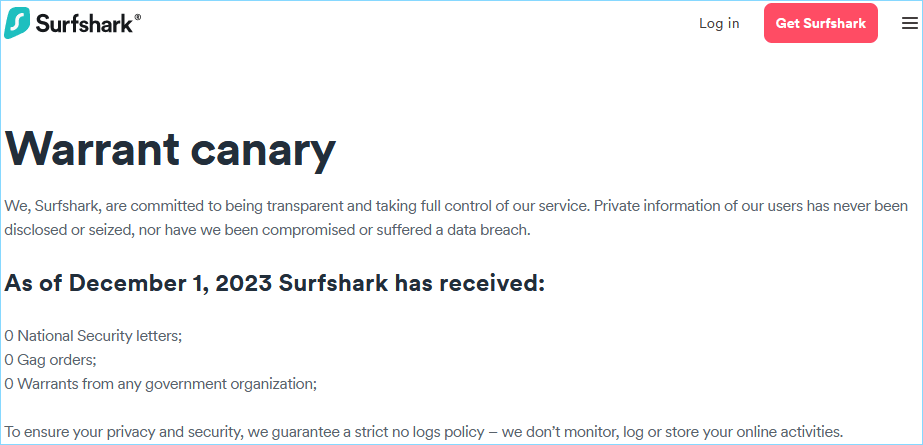 On the privacy front, Surfshark is looking good. This especially true since they finally completed a third-party audit of their no-logs policy. This audit was conducted by Deloitte.
IPVanish privacy and logs
IPVanish had an incident a few years ago where they were forced by the US government to log the activities of one of their users and turn the data over to the FBI. Since then the company has made a major effort to put those problems behind them. That includes the completion of a no logs VPN audit conducted by Leviathan Security Group in 2022. This is a plus for them given their bad logging episode.
While it appears that their privacy problems are behind them, IPVanish is still subject to US laws so could conceivably be compelled to secretly begin logging user data some time in the future. We don't think there is much of a privacy risk with IPVanish now, but thanks to a better jurisdiction, Surfshark wins this category.
Privacy and logs winner: Surfshark
---
Netflix, Streaming, and Torrenting
Many VPN users depend on their VPN to safely stream, download content or unblock websites. But only certain VPNs can bypass the geo-blocking software deployed by streaming media services. Many users depend on their VPN to protect their privacy when downloading content by torrenting or P2P file sharing. Let's compare IPVanish vs Surfshark on these capabilities.
Netflix and streaming
| | | |
| --- | --- | --- |
| | IPVanish | Surfshark |
| Unblocks Netflix | Yes | Yes |
| Unblocks BBC iPlayer | Yes | Yes |
| Unblocks other leading services | Yes | Yes |
| App for Smart TV? | No | Yes |
| App for Firestick / Fire TV? | Yes | Yes |
| App for Apple TV? | Yes | No |
The ability of a VPN to unblock Netflix and other streaming services is important. One that can do those things and is fast enough to display HD video has a shot at the top of this category.
Surfshark does it all, making it one of the best VPNs for Netflix. Officially, Surfshark supports about 17 different Netflix libraries around the world, including all of the most popular regions, such as the US, UK, Canada, and more. Below we are streaming UK Netflix through a Surfshark server in London: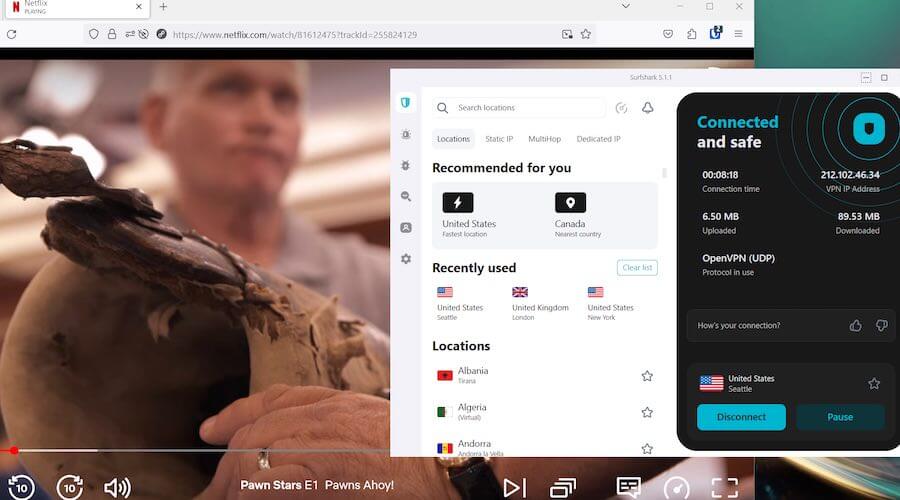 Surfshark is one of the best VPNs for streaming in existence. No matter where you are on Earth, Surfshark can probably unblock what you want to stream. It is a great VPN for Disney Plus, BBC iPlayer (see below), DAZN, and it is also an excellent choice for Hulu VPN streaming.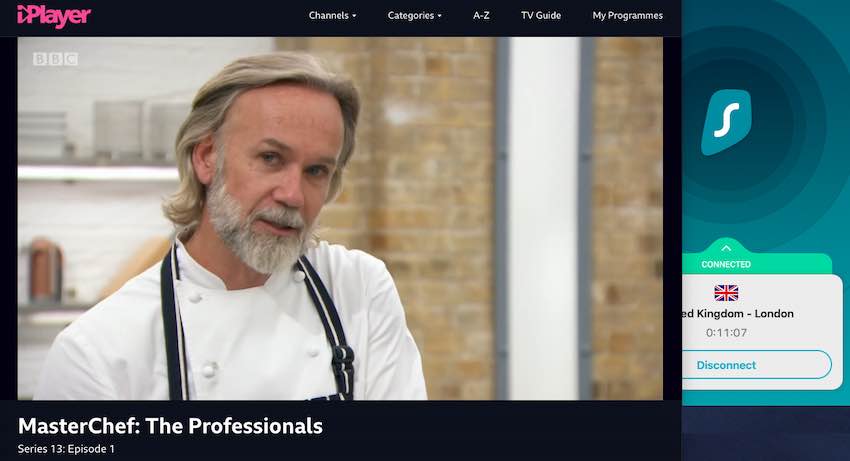 IPVanish used to have problems streaming Netflix and other services. But here again, the IPVanish team has doen a great job of improving the capabilities of their service. Now, IPVanish is an excellent VPN for Netflix.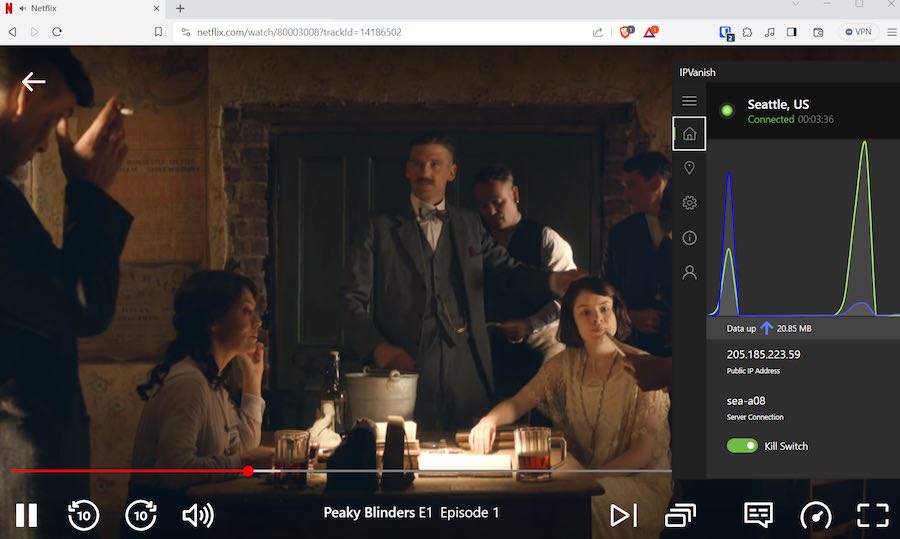 It is now also a fine VPN for BBC iPlayer and other streaming services, as shown here: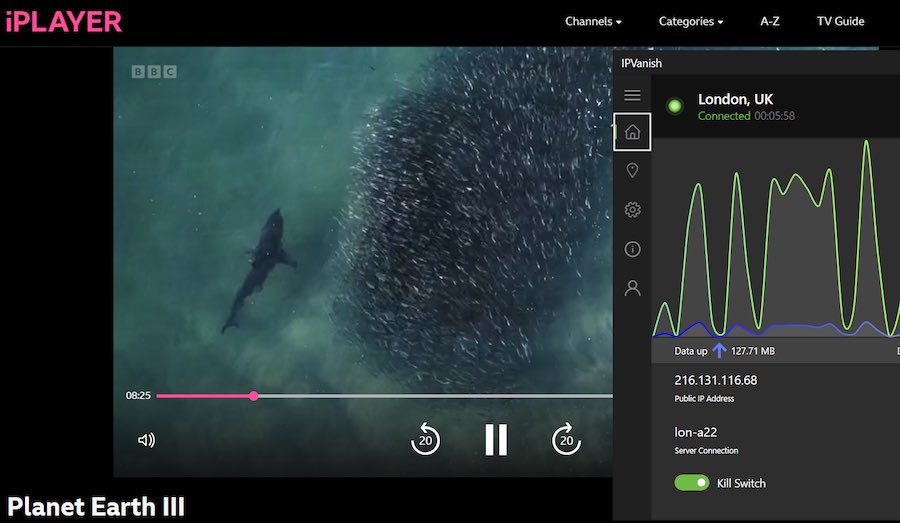 IPVanish has become one of the best VPNs for streaming geoblocked content.
Torrenting with Surfshark and IPVanish
When it comes to P2P file transfers and torrenting, the most important characteristics are VPN speed and knowing your IP address will never be exposed.
Surfshark is one of the best VPNs for torrenting. With leak protection and kill switches built into their apps. Additionally, with the WireGuard protocol, Surfshark can deliver blazing-fast speeds for P2P torrenting on all servers.
IPVanish provides good security against leaking your IP address, and has generally very good download speeds. But you do need to keep in mind that IPVanish is based in the US, which is home to some of the harshest copyright violation laws we've seen.
Netflix, streaming, and torrenting winner: Surfshark
---
Reliability and Support: Surfshark and IPVanish
| | | |
| --- | --- | --- |
| | Surfshark | IPVanish |
| Live Chat | Yes (24/7) | Yes (24/7) |
| Email | Yes | Yes |
| Articles | Yes | Yes |
| FAQs | Yes | Yes |
| System Status Displayed | No | Yes, on Support Center page |
Surfshark has a reputation for being a reliable service, and it was certainly reliable during our testing. And if you do have a problem or question, customer support is always available through their responsive 24/7 live chat system. We contacted them several times during our testing. The Surfshark team was always fast and helpful.
IPVanish functioned reliably during our testing. They also offer 24/7 live chat support. Their support team was competent, although we sometimes waited 5+ minutes to be connected to a chat representative.
Reliability and support winner: Tie
---
Price and Value
IPVanish pricing is very good, as you can see in the table above. Right now, a two-year plan will only cost you $2.99 per month. That's quite a deal for this high-quality VPN service, especially when you take into account that it supports unlimited simultaneous connections.
Now let's compare this to Surfshark.
Surfshark is also an all-around good cheap VPN service. As you can see in the table, right now it is slightly more expensive than IPVanish for the monthly and yearly plans, but significantly less expensive for the two-year plan.
Refunds – Both VPN providers give you a 30-day money-back guarantee on their one-year and two-year plans.
Price and refund winner: Surfshark
Note: To see other deals and discounts, check out our guide on VPN coupons here.
---
Conclusion: Surfshark is the best option in 2023
Surfshark won every category in this comparison except two. That is not surprising since we consider it to be one of the best VPN services in the world.
| | |
| --- | --- |
| Category | Winner |
| Company and Jurisdiction | Surfshark |
| Speed Tests | Surfshark |
| VPN Apps | Tie |
| Features | Surfshark |
| Security and Encryption | Surfshark |
| Privacy and Logs | Surfshark |
| Netflix, Streaming, and Torrenting | Surfshark |
| Reliability and Support | Tie |
| Price and Refund | Surfshark |
While Surfshark won most of the categories, in some ways this competition was much closer than it appears. In some categories, the biggest strike against IPVanish was its US jurisdiction and the fact that they once logged user data for the US government.
That's a big sticking point for us. But we know that isn't really a concern for some people. If you are one of those people, you may evaluate some categories differently than we did, making IPVanish a better option for your particular circumstances.
In addition, you could easily rate the Speed Tests and VPN Apps categories differently than we did. On average, Surfshark was faster than IPVanish. Yet IPVanish did turn in an incredible result for the Seattle test, which might make it your personal choice. We like the Surfshark apps and like that they have browser extensions while IPVanish doesn't. But IPVanish has an Apple TV app while Surfshark doesn't. If that is crucial to you than IPVanish would by your best VPN Apps option.
In other words, despite the lopsided results in the table above, either one of these VPNs could be the right one for you. If you are not sure which one to choose, remember that they both offer 30-day money-back guarantees, which gives you time to try each one out for yourself.
If you want to give Surfshark a try, you'll get the best deal with the coupon below. Remember you have 30 days to test the service risk-free.
Surfshark Coupon:

Get 80% off Surfshark VPN (drops the price down to $1.99 per month) plus 5 months FREE:
(Coupon is applied automatically.)
If you want to give IPVanish a try, use the discount coupon below for the best possible price.
IPVanish Coupon:

Get 81% off IPVanish (drops the price down to $2.49 per month):
(Coupon is applied automatically.)
Have you used Surfshark or IPVanish? Share your thoughts below in the comments.
This Surfshark vs IPVanish comparison guide was last updated on December 1, 2023.