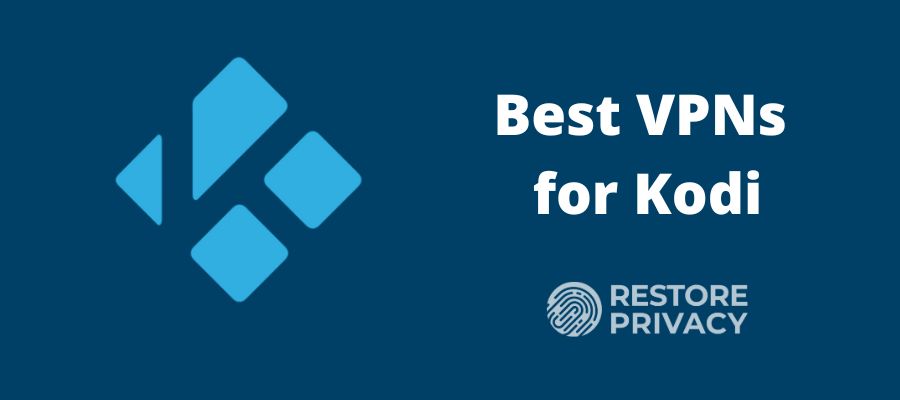 This updated guide examines the best VPNs for Kodi that offer fast speeds, strong security, and full support for all streaming devices. We have thoroughly tested and researched all of the top Kodi VPNs to find the best options for streaming.
Using a VPN for Kodi is now essential if you want to enhance and secure your streaming experience. A good VPN will protect you against internet service provider (ISP) spying and potential copyright issues, while also giving you full access to third-party add-ons and streams.
But how do you find the best VPN for Kodi in 2023 with so many to choose from? This guide will show you which VPNs performed best in our test results. We'll also cover easy Kodi VPN setup options, tips, and other ways to maximize your streaming ability.
WARNING: Although most VPNs claim to work with Kodi, the truth is that many of them suffer from serious problems:
traffic leaks that expose your IP address
low-quality and buggy apps that crash
slow speeds from server network congestion
There are also VPNs that have logged user data for government agencies, all while claiming to be "no logs". A popular example of this is IPVanish and the infamous IPVanish logs case. Another example of a "no logs" VPN gone rogue is PureVPN.
In this guide, we're only going to highlight the best VPNs for Kodi that did well in real-world testing for traffic leaks, speed, app performance, and more. The list below highlights our top recommendations, before we give you a detailed overview of each service.
Top Kodi VPNs
NordVPN – Best VPN for Kodi with the fastest speeds, secure apps, and full support for all types of streaming devices (with a 69% off coupon)
Surfshark – A secure, fast, and budget-friendly VPN for Kodi
ExpressVPN – Reliable VPN for Kodi with secure and user-friendly apps
Ranking criteria – All of the Kodi VPN services below meet the following criteria:
Offer custom VPN apps for all major Kodi streaming devices
Passed all tests with no leaks found (no IP address leaks or DNS leaks)
Reliable connections and fast speeds throughout the server network
Supports the OpenVPN protocol and strong encryption standards
Offers a 30-day money-back guarantee
Located in a safe privacy jurisdiction (outside the US, UK, and Five Eyes countries)
Trustworthy and well-established VPN with a good track record
Here are the best VPNs for Kodi streaming:
NordVPN – Best VPN for Kodi in 2023
| | |
| --- | --- |
| VPN | NordVPN |
| Based in | Panama |
| Logs | No logs (audited) |
| Price | $2.99/mo. |
| Support | 24/7 live chat |
| Refund | 30 days |
| Website | NordVPN.com |
Our testing and analysis for the NordVPN review confirm that it is the best VPN for Kodi due to its extensive server network, user-friendly apps, and competitive pricing. NordVPN is based in Panama and gives you high-level privacy features like Double VPN, Tor-over-VPN, and Dedicated IP servers, as well as Threat Protection, an advanced VPN ad-blocker.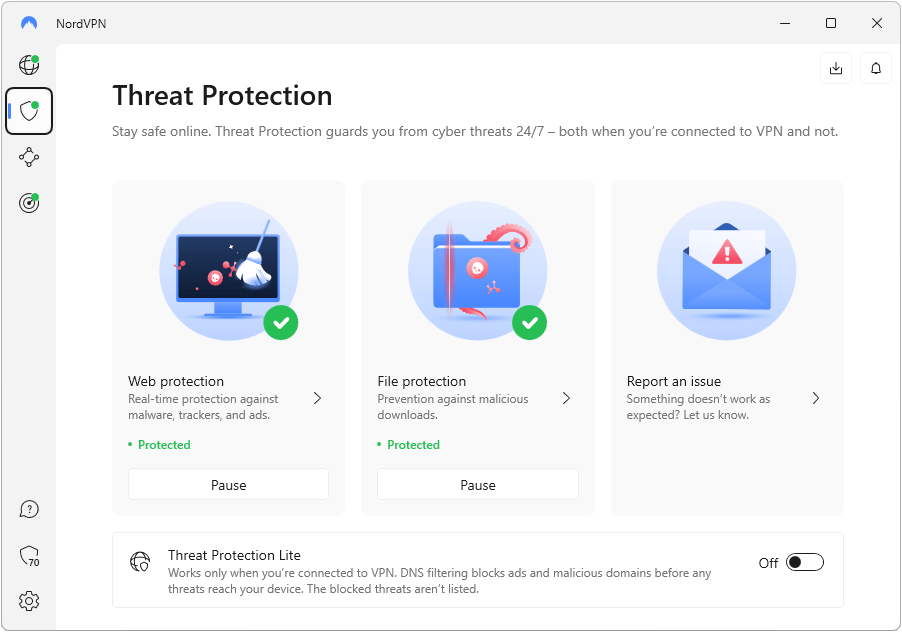 NordVPN's upgraded server network is great for streaming Kodi. You can choose from 5,700+ servers in 60 countries, all of which offer full streaming support. All servers in the NordVPN network run in RAM-disk, without hard drives. This ensures no data can ever be stored on a VPN server.
If you're streaming Kodi and looking for a fast, no-buffering experience, NordVPN is an excellent choice. It uses the WireGuard VPN protocol, known for its impressive speed and security. NordVPN with WireGuard generated the fastest download speed our lab ever recorded, 445 Mbps on a 500 Mbps internet connection.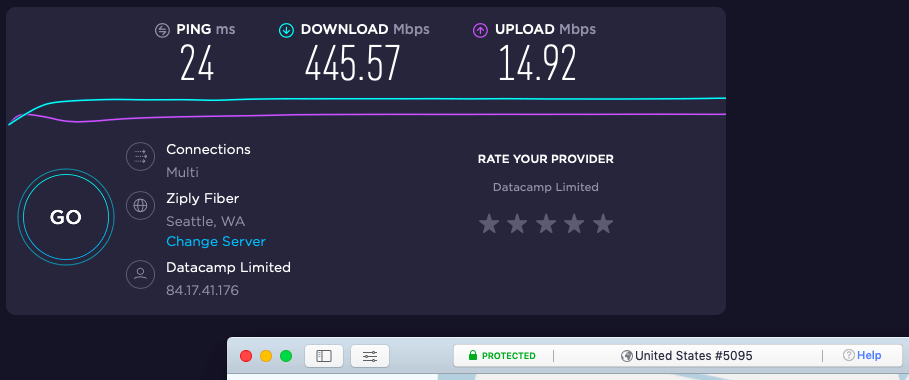 Setting up NordVPN to use with Kodi is simple with any device. You can easily install NordVPN apps on Kodi TV boxes, computers, tablets, phones, routers, and more. NordVPN also works well with Real Debrid, Exodus, and all other Kodi add-ons. The latest speed tests in the NordVPN vs IPVanish comparison prove it has excellent performance throughout the network.
All NordVPN apps come with built-in leak protection to ensure your data does not leak out of the VPN tunnel. There is also a split tunneling feature, which allows you to route designated apps or websites outside the VPN tunnel. Below is the NordVPN Windows VPN app we tested out.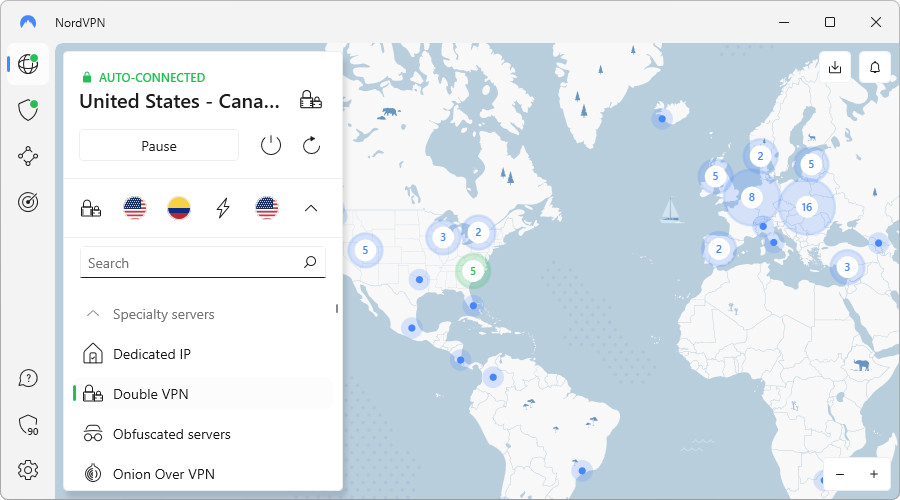 If you need any help setting up NordVPN for Kodi, they offer 24/7 live chat support and can walk you through setup options. NordVPN also offers a 30-day money-back guarantee on all plans. Using our NordVPN coupon below, you'll get the best NordVPN price available.
+ Pros
User-friendly and reliable apps
Double-VPN and Tor-over-VPN servers
Passed numerous 3rd-party audits
Strong encryption standards with full support for WireGuard
Works with Netflix and many streaming sites
Threat Protection feature to block ads, trackers, and malware
Professional 24/7 live chat support
Consistently fast speeds
Dedicated RAM-servers with 10 Gbps bandwidth channels
– Cons
Big discounts only available with 2-year plans
NordVPN's Cyber Deal is live:

Get 69% Off NordVPN with the coupon below plus 3 months FREE, no activation code needed:
(Coupon is applied automatically; 30 day money-back guarantee.)
Our NordVPN review has more info and test results.
---
Surfshark – Reliable and low-cost VPN for Kodi streaming
| | |
| --- | --- |
| VPN | Surfshark |
| Based in | The Netherlands |
| Logs | No logs (audited) |
| Price | $1.99/mo. |
| Support | 24/7 live chat |
| Refund | 30 days |
| Website | Surfshark.com |
Surfshark is a VPN that has moved into the top tier of VPN services since its launch in 2018. It performed very well in our Surfshark VPN review. It has far more features than most VPNs, and supports unlimited simultaneous connections, while still asking only a "cheap VPN" price.
In terms of streaming with Kodi, Surfshark VPN has a lot to offer. You can use Surfshark's VPN apps on a wide range of Kodi devices, from Kodi TV boxes to laptops, tablets, and phones. You can easily stream Kodi through the Zomboided VPN Manager add-on (instructions below). If you enjoy streaming Fire TV, Surfshark has an app for that, too.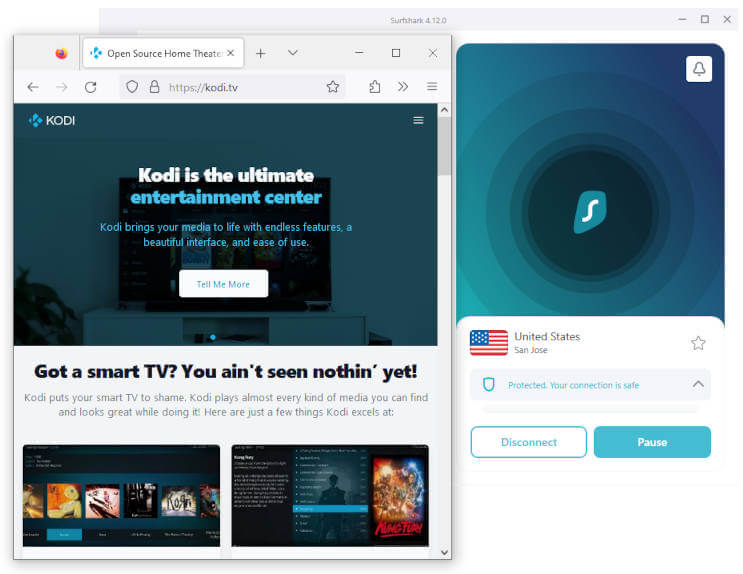 Additionally, Surfshark offers extensive support for all major streaming services. They can unblock numerous Netflix libraries, including all major regions around the world. Surfshark is also a great VPN for BBC iPlayer, Hulu, Amazon Prime, and more.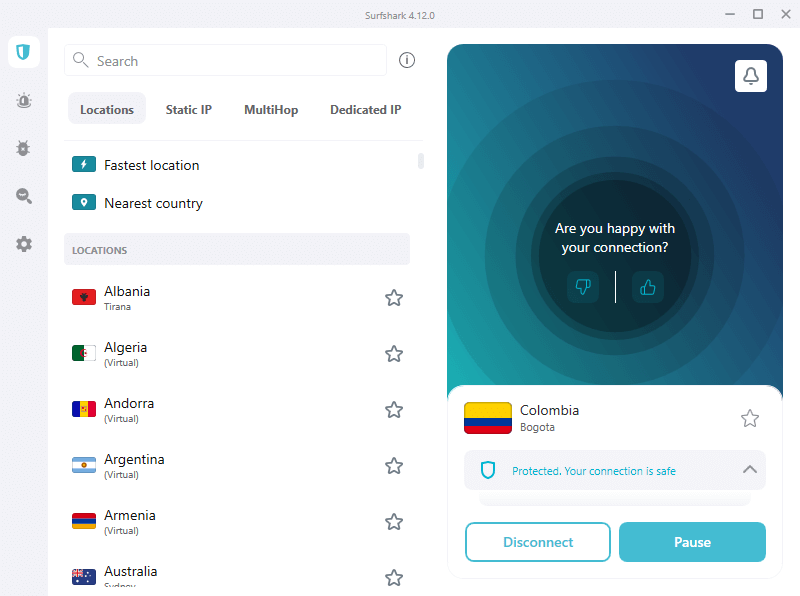 Surfshark's network includes more than 3,200 RAM-only servers in 100 countries. They provide a wide array of specialized servers and advanced features, including:
MultiHop (Double VPN) servers and Dynamic MultiHop servers
Camouflage mode, obfuscation that is automatically applied whenever you select the OpenVPN protocol.
WireGuard protocol support for extremely fast and secure connections
Bypasser (split tunneling) support
CleanWeb ad, tracker, and malware protection
Lastly, Surfshark is one of the cheapest VPN services for Kodi. At the time of this update, Surfshark costs less than $2.50 per month when you go with the two-year plan and the discount coupon below. This is quite impressive when you also consider that Surfshark gives you an unlimited number of simultaneous connections, a 30-day money-back guarantee, and 24/7 live chat support. So if you are looking for an excellent-quality budget Kodi VPN service, you need to give Surfshark a try.
+ Pros
Unlimited connections
User-friendly apps for all devices and operating systems
CleanWeb feature to block ads, trackers, and malware
Works great with Netflix and many other streaming services
24/7 live chat support
Strong encryption and security features (audited)
– Cons
Limited support for VPN routers
Above average monthly prices
Surfshark Coupon:

Get 80% off Surfshark VPN (drops the price down to $1.99 per month) plus 5 months FREE:
(Coupon is applied automatically.)
Our in-depth Surfshark review has more info and test results.
---
ExpressVPN – Reliable and secure VPN for Kodi
| | |
| --- | --- |
| VPN | ExpressVPN |
| Based in | British Virgin Islands |
| Logs | No logs (audited) |
| Price | $6.67/mo. |
| Support | 24/7 live chat |
| Refund | 30 days |
| Website | ExpressVPN.com |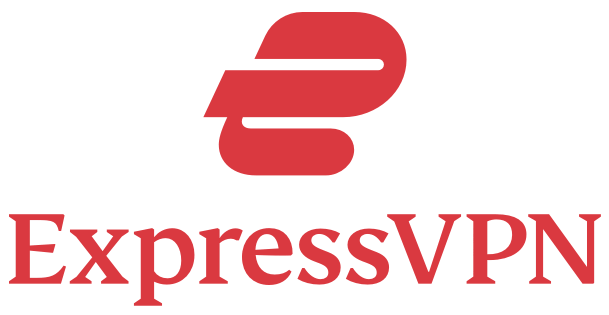 ExpressVPN has also earned a spot on our list of the best Kodi VPNs. It gives you a large selection of high-quality apps that can be used on all devices (Kodi TV boxes, Windows, Mac OS, iOS, routers, and more). All plans come with a 30-day money-back guarantee as well as 24/7 live chat support.
ExpressVPN does not restrict P2P torrenting in any way, on any server. This may be important for Kodi streaming or accessing certain Kodi add-ons which require P2P support. It is also one of the best VPNs for Firestick and Fire TV, being able to access all major streaming services.
Aside from just streaming, ExpressVPN is an excellent VPN service that can be used for many other purposes. Whether you want more privacy and security online or a way to unblock websites, ExpressVPN is a solid choice. It is fast too, thanks to the company's new Lightway VPN protocol. NordVPN and Surfshark are even faster, but ExpressVPN will still blow away most VPNs out there.
ExpressVPN's applications come with a great lineup of privacy and security features. These features include DNS and IP leak protection, split tunneling, the Network Lock kill switch, and secure, diskless servers to keep your data safe.
Kodi streaming with ExpressVPN is very easy and straightforward. Specific instructions depend on the operating system and device you are using to stream Kodi. Overall, ExpressVPN is a fast service, although it still came in second place in our NordVPN vs ExpressVPN tests.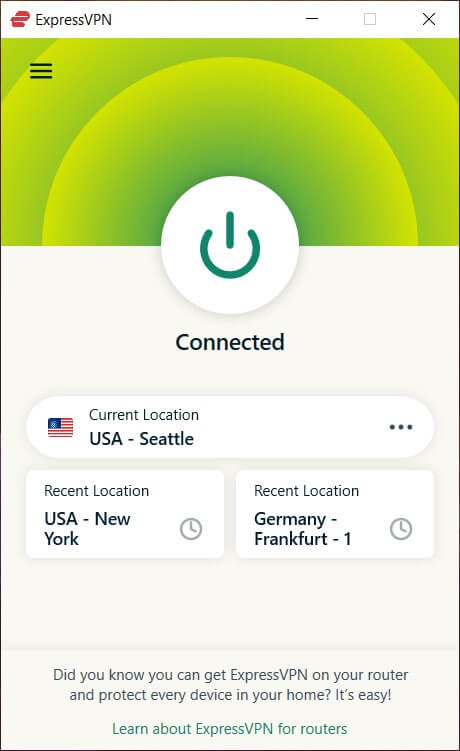 Real-Debrid – ExpressVPN is also a great option if you want to access Real Debrid. Last time we checked, ExpressVPN was listed as a non-cooperative VPN, but that has changed. ExpressVPN has joined NordVPN and Surfshark on the Cooperative VPN list.
ExpressVPN has excellent VPN apps for Netflix – and also supports other streaming services such as Amazon Prime, Hulu, Sky Go, and more.
+ Pros
User-friendly and secure apps
Split tunneling feature (for macOS, Windows, and routers)
Works with Netflix and most streaming services
24/7 live chat support
Passed independent third-party audits for security and no-logs
Very large server network
– Cons
Above average prices
Fewer features than other leading VPNs
See our ExpressVPN review for more info.
---
Do you need a VPN for Kodi?
In the past few years, countries around the world have really started cracking down on copyright infringement. There are three major trends we see unfolding right now:
New laws threaten jail time and massive fines for any form of copyright infringement. This can even include accessing unofficial Kodi channels and streams. The US even went so far as to include the threat of 10 years in prison for illegal streaming in the 2020 COVID stimulus bill. In the UK, authorities sent letters to thousands of Kodi users threatening police raids. Seems like a great use of limited government resources to us!
Countries are actively blocking access to websites, Kodi add-ons, and streams. This is a problem in the UK and Australia. The blocks are often carried out by internet providers on behalf of multi-billion dollar corporations. A VPN will easily get around any of these blocks.
Lawsuits, DMCA notices, and other legal action for alleged copyright violations. This is a growing industry whereby "copyright trolls" (lawyers) target Kodi users with threatening notices and demanding you pay up (settle the suit) or face even higher fines. The scary thing here is that most internet providers will hand over evidence of your online activity to third parties (if you're not using a VPN).
While the authorities were quick to ram through draconian laws during COVID, they have been noticeably slower to relax their grip since the end of the crisis.
The headline below shows the direction we are headed. And it also highlights the importance of always using a VPN for Kodi.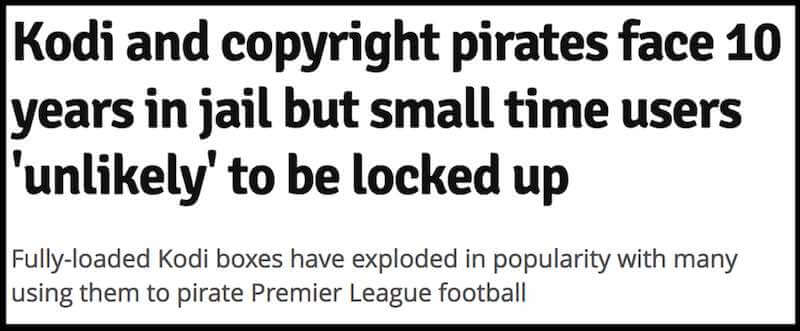 Fortunately, a good VPN is the solution to these risks because it will:
Encrypt and anonymize your internet connection
Hide your real IP address and location
Give you full access to all Kodi streams and third-party add-ons
The same arguments apply if you are looking for the best VPN for torrenting.
Is streaming Kodi with a VPN legal?
With the scary headlines above, you may be wondering if streaming Kodi with a VPN is legal.
Answer: Yes, it is legal to use a VPN service with Kodi, but copyright infringement remains illegal in most areas. We see authorities fretting about copyright issues the world over, from the UK to the US and Australia.
The trouble is, Kodi streaming is often a grey area. There are many official Kodi add-ons that are perfectly legal to watch anywhere. However, there are also third-party streams that may not be legal depending on the content and your location.
This is why we urge you to always use Kodi with a VPN. It's better to be safe than sorry.
But also, never forget that the streams you access are entirely your business – not the business of your ISP. We all have a fundamental right to privacy – and that extends to your Kodi streaming as well! (And of course, none of this is legal advice!)
Why should you use a VPN with Kodi?
A VPN is the ultimate solution for Kodi streaming and protecting yourself from the risks above. A good VPN service will allow you to easily:
1. Encrypt and anonymize your online activity
A Kodi VPN will encrypt and anonymize all your internet traffic. This means that your ISP, authorities, hackers, and various third parties will not be able to spy on your browsing and online activities because the VPN's encryption makes your traffic unreadable.
2. Hide your IP address and physical location when Kodi streaming
Another great feature you get with the best VPN services is the ability to hide your IP address and real location. When you connect to a VPN server, your real IP address and location will be replaced by that of the VPN server. This is a huge advantage as it provides you with a higher level of online anonymity.
Additionally, this allows you to spoof a location from anywhere in the world where your VPN has a server. You can virtually pretend to be in any location that has the best Kodi content.
3. Access blocked Kodi addons and content
Chances are, many of the Kodi add-ons you want to access may be blocked by your internet provider. This is especially the case in the UK, but content blocks are being used elsewhere too. To get around this problem, simply connect to a VPN server and access any blocked Kodi add-on or stream.
Because these are regional restrictions, connecting to a VPN server outside your country will unlock the Kodi add-on you need. This is the exact same reason that people use a VPN for China to access blocked websites.
4. Stay safe and secure online
A VPN is an important security tool to protect your data whenever you are online – whether you are streaming Kodi or not. Hackers regularly exploit public wireless hotspots, such as in cafes, airports, and hotels. Using public WiFi without a VPN leaves you exposed to these risks, which could result in identity theft, fraud, or personal documents/passwords being stolen.
VPN services are also necessary for privacy since your online activities are being tracked and recorded by various third parties, including your own ISP (Internet Service Provider)! Each of the VPNs profiled here includes private DNS, which means even your ISP can't see what you are up to. A VPN will give you the online privacy you need when streaming Kodi.
How to use a VPN for Kodi streaming
Setting up a VPN for Kodi is quick and easy if you are using a good VPN service provider. The Kodi VPNs recommended on this page all provide custom apps you can use on different operating systems and devices. This makes it easy to download and set up a VPN in just a few minutes.
To use a VPN with Kodi you basically have two different methods.
Method 1: Using a VPN to stream with Kodi separately
Using a VPN with Kodi separately just means your VPN is running in the background, encrypting all your internet traffic, while you stream with Kodi as normal. This is the most common option that will work well on many different platforms and devices. It also offers the most security against leaks by keeping your data completely secure through the native VPN application. We will go over setup instructions in the Kodi VPN Setup section below.
Method 2: Using a VPN within Kodi via add-ons/apps
Using a VPN within Kodi via addons or apps is not an option for most devices (as of now). This VPN Kodi setup is limited to Linux-based platforms (OpenELEC and LibreELEC), Mac OS, and Raspberry Pi 3. We will cover setup steps in the Kodi VPN Addon section below.
How to set up a VPN for Kodi
The steps below will show you how to install a VPN for Kodi. With this setup, your VPN will be running in the background and encrypting all internet traffic (using the VPN app) while you stream with Kodi as normal.
You can use Kodi on the following platforms:
And finally, you can also use Kodi on the following devices:
Nvidia Shield – To use Kodi on Nvidia Shield, simply download the Kodi Android app.
Amazon Fire Stick – To use Kodi on your Fire Stick, just use the Downloader app and then load the Kodi Android APK file.
Chromebox – To use Kodi on Chromebox, check out this guide.
Google Nexus Player – To install on Google Nexus Play you will need a separate installer – see here.
OK, so you have Kodi set up and working on one of the devices/platforms above. Now let's use Kodi with a VPN by following these four steps:
Step 1: Subscribe to a good VPN service
Grab a subscription to any of the recommended Kodi VPNs above. And if you want the best savings, use one of our coupon links.
Step 2: Install the VPN app for Kodi
The next step is to simply install the VPN application on the device you will be using to stream Kodi.
If you go with NordVPN, setup will be quick and easy because their website includes numerous guides, how-to videos, and 24/7 live chat support to help you with the installation.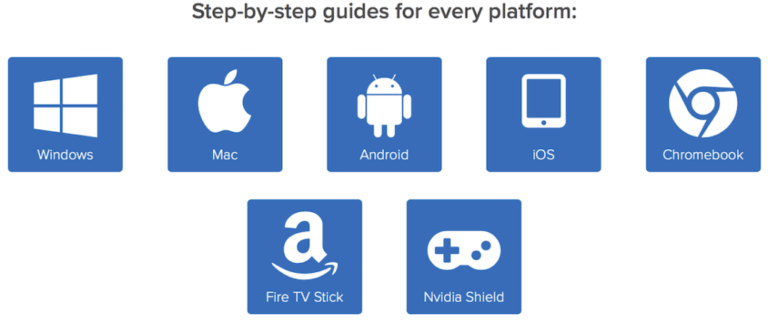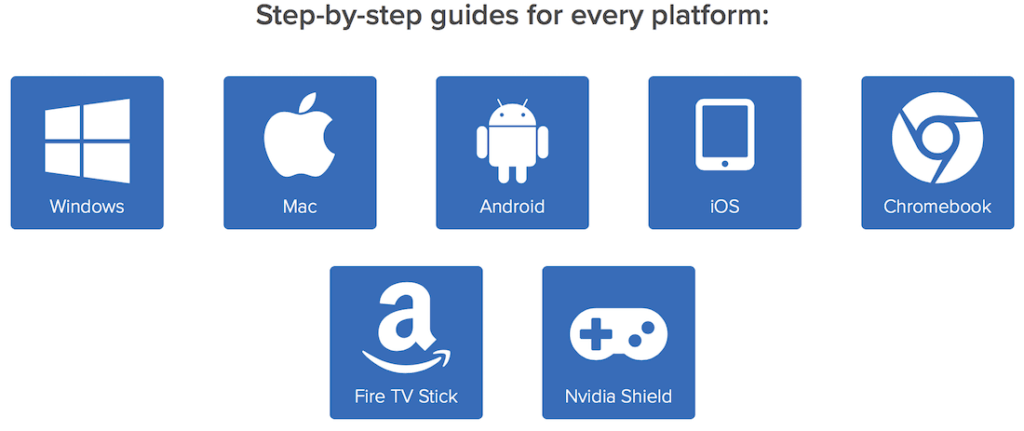 Note – If you are using one of the many Android-based Kodi boxes, you can simply install the Android VPN app on the device. If you have questions, just ask NordVPN's 24/7 live chat support, and they will walk you through the installation process.
Setting up a VPN for Kodi will be different depending on the device you are using.
Step 3: Connect to a VPN server
After installing the VPN on your Kodi device, the next step is to log in and connect to a VPN server.
Tip – Connecting to the nearest server possible will improve both speed and reliability. If streams or websites are blocked in your country, connecting to a server in a nearby country should get around these restrictions.
With your Kodi VPN connection activated, you are now ready to stream with more privacy and security.
Step 4: Open Kodi and enjoy your streaming
Now that you have your VPN connection, you can stream anything you want with full privacy protection. Everything you stream on Kodi will be encrypted and secured by your VPN, making your online activities unreadable to third parties.
As you can see, using Kodi with a VPN is actually quite simple.
Kodi VPN add-ons
Another way to use a VPN with Kodi is through add-ons. With this option, you can control your VPN from within Kodi. Unfortunately, however, this setup is limited to only a few platforms (listed below).
Another drawback is that this method is generally less secure than using a dedicated VPN app outside of Kodi. That's because dedicated VPN apps offer stronger privacy and security features to protect your data and these features will not be accessible when used within Kodi. And finally, the setup will likely be more complex.
Below we will discuss two options for using Kodi VPN add-ons.
Zomboided VPN Manager
The Zomboided VPN Manager is one option for controlling your VPN directly from within Kodi. (Source code is here.)
This VPN addon supports many different services (including all VPNs recommended on this page). The Manager works with OpenVPN and can be used on the following operating systems:
LibreELEC (7.x onwards)
OpenELEC (5 onwards)
Other Linux-based installs (e.g. OSMC)
Windows (Windows 7 tested)
Unfortunately, the Zomboided VPN manager is limited to only these platforms. Consequently, you won't be able to use it with most Kodi boxes, which run on Android. The GitHub page also lists all of the VPNs that have been tested and found to work with this VPN addon.
Below are the basic steps for installing Zomboided VPN Manager on Kodi. (Note: these are general instructions – the exact steps may be different for your situation and setup. See the Zomboided GitHub page for more info.)
Download the Zomboided repository and transfer it to your device for uploading to Kodi.
On Kodi, open SYSTEM > Add-ons > Install from the zip file
Navigate to where you downloaded the Zomboided repository, and then select it.
Wait for the add-on enabled notification, then select Install from repository > Zomboided Add-on Repository > Services > Install. Now wait for the add-on enabled notification (it make take some time).
In the VPN Configuration Window select your VPN provider, then enter your VPN username and password for authentication.
Select the VPN Connection tab, then select First VPN connection (optionally used to auto-connect during boot).
A pop-up window should appear and you will be able to select the location to connect to.
The option Second VPN connection should appear. This will allow you to add different VPN server locations. The same applies to more connections, with up to 10 different VPN locations.
Kodi VPN add-ons conclusion – Installing VPN add-ons inside Kodi can sometimes be tricky – but it all depends on your setup. If you are having trouble installing one of these Kodi VPN add-ons, you may just want to use Kodi and your VPN service separately (method 1 from above).
VPN for Kodi box
Many people enjoy streaming Kodi through a Kodi TV box. Installing a VPN on a Kodi TV box is quite easy in most cases. This allows you to unlock any blocked or restricted add-ons while protecting your privacy at the same time.
The most popular TV boxes are those based on Android.
Kodi Android TV Boxes with a VPN
Using a VPN with an Android-based Kodi box works great for several reasons. First, there are plenty of quality Android Kodi boxes available. Second, running a VPN on your Android box is usually a piece of cake. All our recommended VPNs have Android apps you can install and run on the Android Kodi box.
To install a VPN on your Android Kodi box, just navigate to the app store and download the app from your VPN provider. Popular Android Kodi boxes include:
Nvidia Shield
Matricom G-Box
Emtec Gem Box
Seguro Trongle X4
DroidBOX PlayOn GPD XD
Tops MXV Android TV BOX Amlogic S905
Mini M8S II 4K Android 6.0 TV BOX
T95Z Plus Android TV Box Amlogic S912
Beelink GT1 Ultimate TV Box
EstgoSZ H96 Pro
Xiaomi Mi Box
There are also a few non-Android Kodi boxes you may want to use with a VPN. In these cases, you will need to side-load the VPN onto the device (instructions may vary).
Tips for using Kodi with a VPN
Here are a few tips to get the most out of streaming Kodi:
Use a good VPN. Your data, privacy, and security are extremely valuable. Choosing the wrong VPN could expose your identity, data, and activities to third parties. Happily, you can get a quality Kodi VPN for a cheap VPN price by choosing Surfshark or NordVPN.
Test your VPN. It's good to periodically test your VPN to make sure it's protecting your identity and keeping your data safe.
Connect to the closest server. For optimal speed and reliability, connect to the nearest server. For instance, if you're in the UK and require a US server for a Kodi addon, a New York VPN server is preferable over Los Angeles.
Always use a VPN. Streaming unofficial Kodi channels without a VPN? You are asking for trouble. Lawyers love to target potential copyright infringers with lawsuits. ISPs in the US, and elsewhere likely record your activities. Protect yourself by always using a VPN to hide your identity and online activities.
Be careful with Kodi addons. Using unofficial Kodi addons involves risks, including potential malware. Do your research before downloading third-party software from unknown sources. Tip: NordVPN's Threat Protection for Windows or macOS can scan the addons for you, or you can upload any file to VirusTotal for testing.
Consider your VPN protocol. VPN services usually offer a variety of protocols to choose from. The fastest VPN protocol we've tested is WireGuard. It beat out OpenVPN by a large margin in the OpenVPN vs WireGuard speed tests. IKEv2 is also a secure and moderately-fast protocol.
Note: If you are using NordVPN, WireGuard is incorporated into the NordLynx VPN protocol. NordLynx combines the speed and security of WireGuard with a Double NAT system that keeps your real IP address from ever being exposed to third parties.
Get the best VPN for Kodi and stream safely
Online privacy in general, and streaming in particular, are both under assault. Government bureaucrats are pushing massive fines, even jail time for the "crime" of streaming Kodi content. And hordes of lawyers are trying to justify their enormous paychecks by looking for people they can accuse of copyright violations.
But don't let these trends discourage you.
A good VPN service is the key to restoring your privacy and unlocking the freedom to access any Kodi streams or add-ons you want.
And even if you are not streaming Kodi, a good VPN will have the added benefit of protecting your privacy and securing your data from third parties.
Enjoy your Kodi streaming and stay safe!
Kodi VPN comparison table
Below is a recap of the best VPN services for Kodi.
---

---

---
Now it is up to you. Pick one of the Kodi VPNs in this guide and start streaming Kodi safely and smoothly.
This Kodi VPN guide was last updated on July 6, 2023.