Trust Zone is a Seychelles-based VPN service that offers a basic, minimal VPN at a competitive price. For this new and updated TrustZone VPN review, I put the VPN through a barrage of tests to see how it performed. Overall the results were good, but Trust.Zone also has some shortcomings.
Trust.Zone offers dedicated apps for Windows, iOS, and Android. This leaves Mac OS users relying on third-party apps or other solutions.
Fortunately, Trust.Zone offers an option to test the VPN for free here, and it also gives you a 10-day refund window on paid plans.
Now let's examine the test results for this Trust Zone VPN review.
+ Pros
Competitive prices
Great speeds and reliability
Good leak protection settings
Can try the VPN for free
P2P torrents allowed
Dedicated IP addresses are available
– Cons
Fewer features than competitors
No custom VPN clients for Mac OS (but still supported)
Clunky apps
Trust.Zone Discount
You can now get an exclusive 10% discount on any Trust.Zone VPN subscription.
First go to Trust.Zone's website here >
Then enter the coupon code below:
RESTOREPRIVACY10
Company and jurisdiction
The company behind Trust.Zone VPN is Trusted Solutions Ltd.
The company is based in Seychelles.
Good privacy jurisdiction – Seychelles is a small chain of islands off the coast of Africa. It is not a member of any mass surveillance alliances (5 Eyes or 14 Eyes). Being a small independent island chain in the middle of nowhere, Seychelles appears to be a very good jurisdiction for a VPN service.
Another company associated with Trust.Zone is Tersys Group OÜ. According to the Terms of Service,
Trust.Zone authorizes the Tersys Group OÜ (Distributor) with an address located at J.Poska, tn.11, Tallinn, Estonia to receive payments from customers of the software, websites and other services provided by Trust.Zone.
It's not too uncommon for VPNs in overseas jurisdictions to work with other entities for payment processing. Trust.Zone appears to be using the company Tersys Group OÜ in Estonia for this purpose. (Estonia is also not a member of the 5/9/14 Eyes surveillance groups.)
Trust.Zone VPN prices
Trust Zone offers very competitive prices with three different pricing tiers.
Below you can see the best savings are with the 3-year plan, which is only $1.77 per month when you use our coupon code: RESTOREPRIVACY10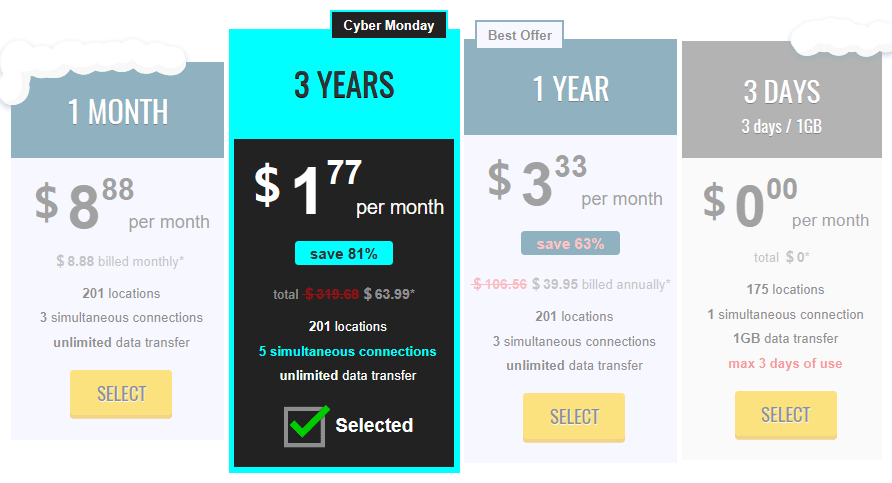 Aside from the cheapest monthly rate, another benefit of the 2-year plan is that you get five simultaneous connections, rather than three.
One cool add-on is the option to get a dedicated (static) IP address. This can be purchased as an extra feature, with the prices varying by location. There are also other VPNs with dedicated IPs to consider as well.
If you want an anonymous payment option, you can pay in Bitcoin. Right now, TrustZone is even offering a 10% discount with Bitcoin and other cryptocurrency payments.
Here are the payment options available: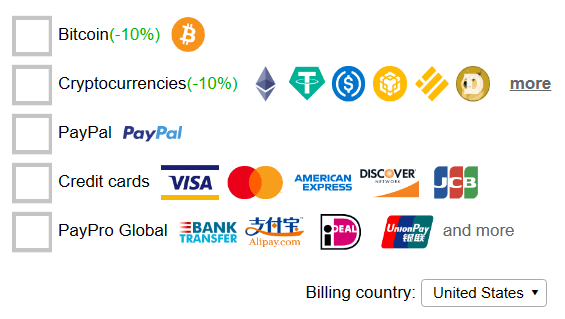 Now let's look at another way to save money.
How to use the Restore Privacy coupon code for the best Trust.Zone price
TrustZone VPN is also offering an exclusive coupon code for Restore Privacy readers to get another 10% off. Simply enter this coupon code:
RESTOREPRIVACY10
Here's how to get the cheapest monthly price on TrustZone VPN:
Go to the checkout page and enter the coupon code: RESTOREPRIVACY10
Select the three-year plan
Select Bitcoin or another cryptocurrency for an additional 10% savings
Checkout and get Trust.Zone VPN for only $2.02 per month
This will drop the price to $63.99 for a three-year subscription.
These prices are about as cheap as you'll find anywhere for a good VPN, but you can also find some great deals on the VPN coupons page. See for example the NordVPN coupon and also the ExpressVPN coupon.
You can try TrustZone for free
The trial window is probably the best option if you are on the fence about a subscription but still want to test it out. You will get to use the service for 3 days or 1 GB of data transfer, whichever comes first.
Note: Unlike many other free trial VPNs, Trust.Zone does not require any payment information to get started. Simply create an account and test out the service, completely risk-free.
See also some other free trial VPNs here.
Trust.Zone refund policy
Trust Zone offers a 10-day refund window, but only if you don't go over 1 Gb of data transfer (total download and upload). As they explain on their website:
If you are not completely satisfied with our VPN services, and you notify us in writing via email within the first 10 days of your contract that you wish to cancel, you will be given a 100% refund of the contract amount in case the bandwidth usage is not more than 1GB.

In exceptional cases if your paid subscription plan's quota is exceeded more than 1GB, you are able to ask for a partial refund. Fill in a form for a partial refund here.
Using Trust.Zone VPN
As of the time of this Trust.Zone VPN review, there are three custom VPN clients that Trust.Zone offers:
Windows VPN client (compatible with Windows XP, Vista, 7, 8, and 10)
Android VPN client (compatible with Android 4, 5, 6, 7, 8, and 9)
iOS VPN client (added in August 2020)
Note: As of January, 2023, Trust.Zone has not verified that their Windows VPN client works with Windows 11.
The one noteworthy app that is still missing is a VPN for Mac OS. Nonetheless, they do offer full support for other devices and operating systems through third-party apps. These are still supported:
Mac OS (uses Tunnelblick with OpenVPN)
Linux
Routers
Gaming systems (Play Station and Xbox 360)
Smart TVs
Amazon Fire TV & Fire Stick
Setting up Trust.Zone VPN on one of the devices or operating systems above is very easy with their Connection Wizard. This handy tool walks you through the process step-by-step:
Choose your operating system
Select a VPN protocol
Choose a server location
Follow the custom instructions, which are created based on your previous selections.
You can also download a zip file with every VPN server configuration file, which is useful for setting up your VPN on a router.
The lack of custom VPN clients for other operating systems may be frustrating for some people, especially Mac OS users. This is because third-party apps are usually short on features and do not offer leak protection settings. If you want a fully-featured VPN with a large lineup of custom VPN apps, then ExpressVPN may be worth considering.
Browser extensions for Chrome and Firefox
In addition to everything we covered above, Trust.Zone also has extensions for Chrome and Firefox browsers. The extensions only apply to the browser and are not a full VPN for your operating system.
Trust Zone VPN apps
For this Trust.Zone review, I thoroughly tested out their VPN apps on the Windows 10 operating system. The Trust.Zone Windows VPN app did very well in testing. Although it is somewhat small and minimal, it offers all the basic settings you needed and a good layout. Below you can see the main screen of the TrustZone VPN app in the first image, with the Settings screen in the second image.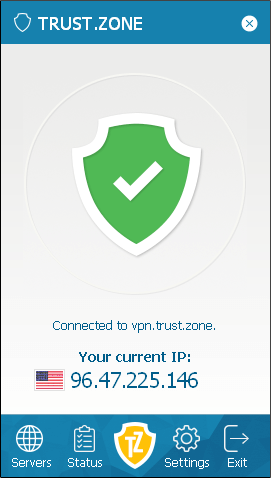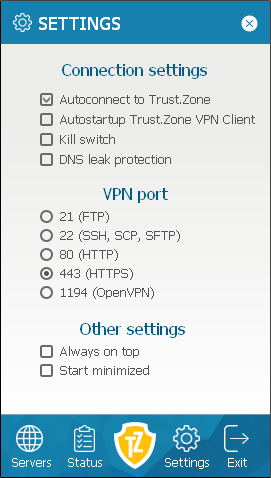 I tested the TrustZone Windows VPN client and it performed very well:
The kill switch and leak protection settings effectively secured all traffic (no leaks)
Port selection was easy
Connections were quick to establish and reliable
No bugs, errors, or problems to report
This is a solid VPN for Windows.
Trust.Zone VPN speeds
For this Trust Zone review, I ran a number of different speed tests with servers in Europe and the US. The results were excellent. All tests were carried out with a 160 Mbps connection from my physical location in Western Europe.
Here is the result for a Trust Zone server in Denmark, giving me 147 Mbps:

This is a great speed test very close to my baseline speed.
Next up was a server in France at 155 Mbps.

This was even better than before.
Next up was a Trust Zone server in the UK. Again, the speeds were maxing out my baseline connection at around 155 Mbps.

With these speeds, Trust.Zone would be a great option if you need a fast and reliable UK VPN service. In fact, all of the Trust.Zone servers I tested in Europe offered speeds between 145 to 155 Mbps, which is very impressive.
In addition to testing nearby servers, I also tested a number of servers in the US, and the speeds were also great.
Trust Zone VPN server in New Jersey: 152 Mbps.

Trust Zone VPN server in Miami, Florida: 112 Mbps

Trust Zone server in Georgia: 118 Mbps

As you can see above, TrustZone is a great option if you need a good VPN for USA or other regions in North America.
Verdict on speeds: Trust.Zone VPN offers excellent speeds throughout their server network. Servers in my general location nearly maxed out my baseline bandwidth connection at around 155 Mbps. This is one of the fastest VPNs I've tested.
Trust Zone VPN privacy and security
Trust Zone VPN also does well in terms of privacy and security.
For encryption, Trust.Zone uses an AES-256-CBC cipher, SHA256 authentication, and an RSA-2048 handshake. The Trust.Zone client offers built-in leak protection settings, including a kill switch and DNS leak protection.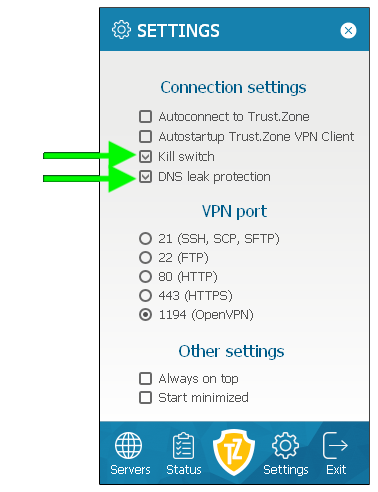 I thoroughly tested the Windows VPN app with different servers. I did not find any IP address leaks or DNS leaks.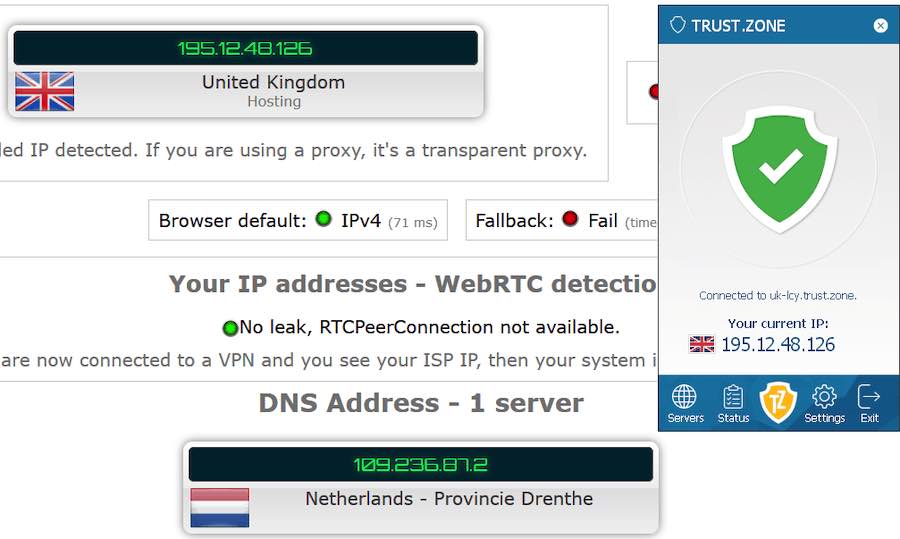 Mac OS X – Although Trust.Zone does not offer a VPN client for Mac OS, I did run some tests using Tunnelblick. Tunnelblick is a free, open source OpenVPN client that you can easily use with Trust.Zone. Everything worked well without any problems or issues.
Note: If you are using Trust.Zone with Mac OS using Tunnelblick, keep in mind that Tunnelblick does not have a kill switch. This means that your traffic is not getting blocked if the VPN connection drops. For Mac OS users who want full protection, see the best VPNs for Mac OS.
Trust.Zone adds support for double VPN
One recent update with Trust.Zone is that it now supports double VPN. In case you are wondering, double VPN means encrypting traffic over two different VPN servers. We discuss this feature in the NordVPN vs Surfshark guide and also see it with a few other VPNs.
As of the time of this review, the Trust.Zone double VPN is limited to only a few locations, but they should be adding more in the future. We'll update this Trust.Zone review with that info as the updates unfold.
To learn more about the advantages of routing your traffic over multiple VPN servers, check out our multi-hop VPN guide.
Trust Zone VPN on Android
Trust.Zone offers a good Android VPN app. It offers all the basic features you would expect in any Android VPN client.
Here are a few screenshots of the TrustZone Android client: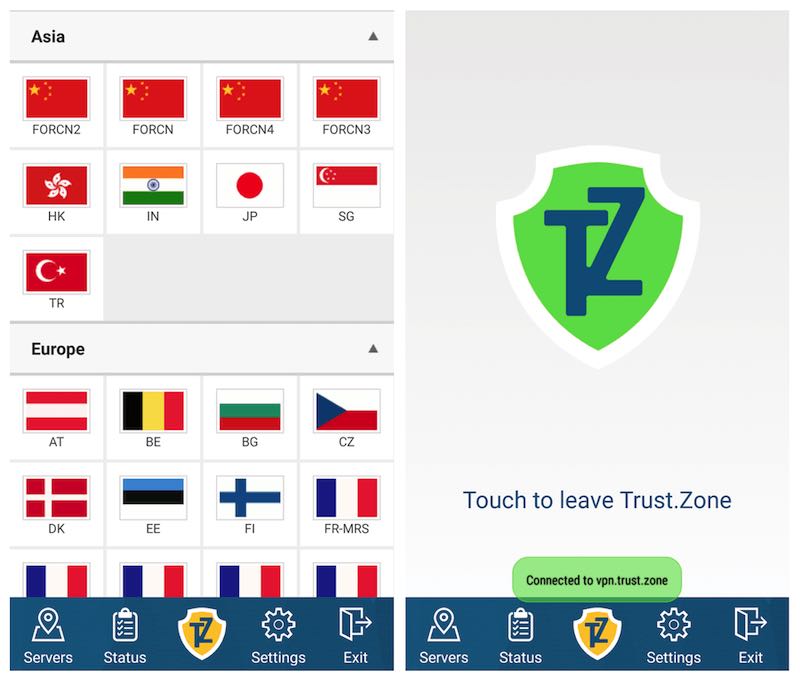 In testing various VPN servers on Android, I did not run into any problems. The connections were fast and reliable.
TrustZone iOS app (iPhone and iPad)
In August 2020, Trust.Zone released their iOS app in the Apple Store.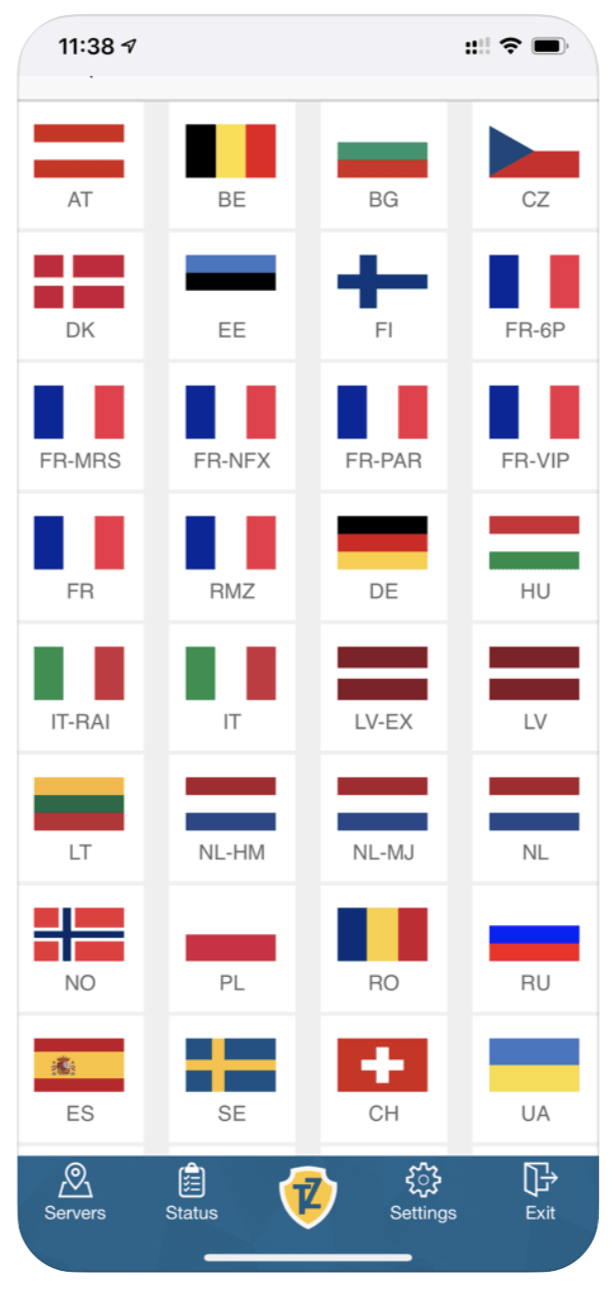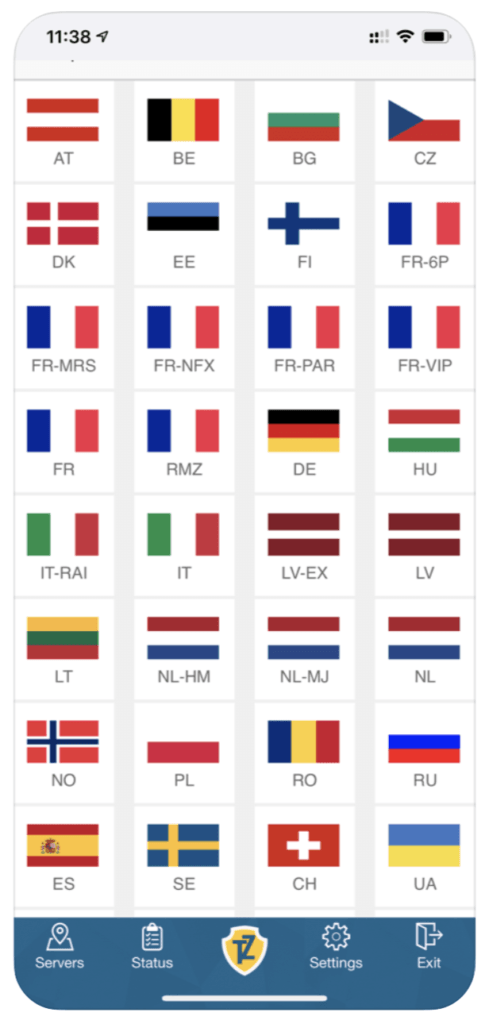 The look and feel are the same as the Windows and Android VPN apps.
Trust Zone customer support
When testing everything for this review, I sent the Support department a few random questions. The response times were good, with all questions being answered on the same day I submitted the tickets.
Trust Zone does not offer live chat at this time. All support queries are handled through a ticket system in the member's area of their website.
One drawback that has been noted in the comments section is that Trust.Zone support is not available on weekends. This is explained in the member's area as follows:
Support is available: Sunday to Friday, 10:00 PM – 08:00 AM
If you want a VPN with 24/7 live chat support, you could check out NordVPN or ExpressVPN.
TrustZone VPN for torrenting and Netflix
TrustZone is a decent VPN for torrenting, but only if you are using the Windows VPN app. If you are a Windows user, you can use the TrustZone Windows client, which offers the full protection of a kill switch. This will keep your traffic secure if the VPN connection drops, thereby protecting your real IP address.
Whichever operating system you use, you can test the VPN to ensure your IP address and DNS requests remain hidden. Check out the best VPNs for torrenting to see more options.
TrustZone with Netflix
Next up is the question of Netflix. Does TrustZone work well with Netflix?
Within the Trust.Zone client there's a dedicated server in the US for American Netflix. I tested it and everything worked well.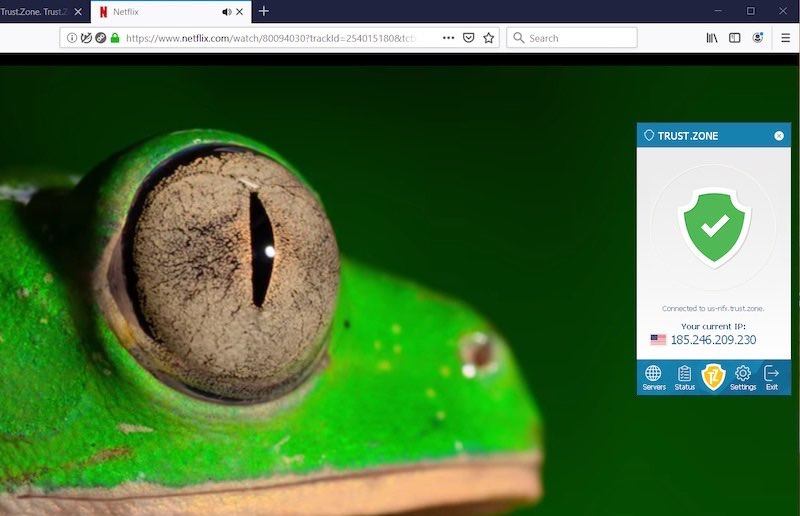 In addition to Trust.Zone, you can see other good VPNs that work with Netflix here.
In addition, Trust.Zone has a dedicated server for Amazon Prime in the US. However, if you want more geographic selection for Amazon Prime libraries, consider alternatives. We have a guide on the best VPNs for Amazon Prime here.
Trust.Zone logs
On the Trust.Zone homepage, the company claims to be a "no logging" VPN service.
Reading through their privacy policy, I found this section on data collected when you use the VPN service:
What information is logged when customers connect to our VPN service?

All our VPN servers around the world ARE NOT storing any log files to keep your privacy safe. All the usage data is anonymous and not connected to your real, public IP address.
Because Trust.Zone gives people a free test window with a data cap, it necessarily follows that they are logging bandwidth. After all, the trial is limited to only 1 GB of bandwidth or three days, whichever comes sooner. Previously, they would show the bandwidth that was logged under your account, but it appears they removed this feature.
If you find this concerning, there are a handful of VPNs that don't keep logs, which may be a better alternative.
Trust.Zone FAQ
Here are several frequently-asked questions about Trust.Zone (along with my answers to those questions):

Can I use Trust.Zone on Fire Stick and Fire TV?

Even though it does not have a dedicated app in the Amazon App Store, you can use Trust.Zone VPN with Fire Stick and Fire TV. To do this, you will need to use third-party apps on your Fire Stick and then import a Trust.Zone server configuration file for the server location you want to use.

Note: Some people prefer to use dedicated VPN apps on their Firestick because this is easier to set up and makes switching servers fast and simple. This is explained more in our guide on the best VPN for Firestick.


Does TrustZone work in China?

Many VPNs are blocked in China. This is due to censorship efforts and what is known as the Great Firewall of China, which effectively blocks many VPN services.

Trust.Zone claims their VPN works in China if you utilize port 443, although I cannot confirm if this is true or not.

Check out my guide on the best VPN for China for additional options.


Can I use Trust.Zone VPN service for free?

You can have limited use of the Trust.Zone VPN for free. The free use lasts for three days, or until you transfer 1 GB of data, whichever comes first. During this time, you get access to 175 of the Trust.Zone VPN servers, and can connect one device to the VPN at a time.

Trust.Zone review conclusion
Trust.Zone is one of the cheapest VPN services on the market that still performs well. It offers good performance, some decent features, and good basic VPN apps for Windows, Android, and iOS.
We found that Trust.Zone did well in all of the tests we conducted for this review. From a privacy perspective, it offers many benefits: it has an excellent jurisdiction (Seychelles), no leaks, a good kill switch, and minimal logs (bandwidth). It is also a fast VPN with solid performance.
For a basic VPN service, Trust.Zone does well. If all you need is basic VPN protection, than Trust.Zone could be a good choice for you.
But what if you want a fully-featured VPN? One with apps for all the devices and operating systems you are likely to use, and with advanced features beyond those found in Trust.Zone? In that case, check out the alternatives below. These VPNs offer more features, including advanced features like ad blockers and specialized server types.
Lastly, if you're on the fence, you can simply try Trust.Zone for free right now.
Website: https://trust.zone/
And if you end up going with a paid plan, don't forget to use our special coupon code for the lowest prices on the Trust.Zone VPN:
RESTOREPRIVACY10
Alternatives to Trust.Zone
Click the VPN name below to read our full review, or grab the discount for the best savings. All three of these VPNs have a 30-day money-back guarantee.
You can also check out these best VPNs to see our other recommendations and top performers.
If you have used Trust.Zone VPN, feel free to share your honest review (good or bad) below.
This TrustZone VPN review was last updated on February 4, 2023.