In today's world of eroding online privacy, content restrictions, and increasing data security risks, every Windows user needs a good VPN. And with more people working from home and streaming content online, VPNs are an important tool for unlocking content from around the world. But how do you find the best VPN for Windows with so many options on the market?
We took the guesswork out of the equation by testing dozens of popular VPNs for Windows and ranking the top providers. This guide highlights the four best VPN services for Windows. While each of them offers a unique mix of features and performance, they are all reliable, secure, and private. You can't go wrong choosing any one of them.
If you haven't been using a VPN with your Windows PC, now is the time to start. The risks to your privacy are high when internet service providers log everything you do online and share this information with a wide network of third parties. Security risks today are also high. Every week we hear news stories about hackers exploiting networks and computers around the world. Protect yourself accordingly.
Ranking the best VPNs for Windows in 2023
Before we examine each of the VPNs in detail, let's first cover the criteria we used for ranking the best VPNs for Windows operating systems. All of our recommended Windows VPN services meet these criteria:
Passed all tests with no data leaks found (no IP address leaks or DNS leaks)
Good performance throughout the server network (speed and reliability)
High-quality Windows VPN apps with all features working correctly (including a kill switch)
Supports secure VPN protocols and strong encryption standards
Offers a money-back guarantee
Trustworthy and well-established VPN provider with a good track record
Located in a safe privacy jurisdiction (outside of Five Eyes countries, such as the US and UK) to keep your data safe
Now let's check out the top performers.
Here are the best VPN services for Windows:
NordVPN – Best VPN for Windows in 2023
| | |
| --- | --- |
| VPN | NordVPN |
| Based in | Panama |
| Logs | No logs (audited) |
| Price | $3.29/mo. |
| Support | 24/7 live chat |
| Refund | 30 days |
| Website | NordVPN.com |
Based on our test results and analysis, NordVPN is currently the best VPN for Windows. It not only offers the best performance that we verified in our tests, but it also has a great Windows app that is packed with features. Tap the Quick Connect button to instantly connect to the best VPN server available. You can also set NordVPN to launch when you start your Windows device, or to launch whenever you connect to a WiFi hotspot, shielding you from the dangers of public WiFi services.
NordVPN has a strong no-logs policy which has been verified by a third-party audit. Their ongoing security audit partnership with Versprite and a public Bug Bounty program to help ensure that they maintain the strongest security standards for your protection.
If your concern is privacy while using your Windows computer, NordVPN has lots to offer:
Double-VPN servers – Encrypting your traffic across two separate VPN servers provides an extra layer of security for your data. (Our multi-hop VPN guide breaks down all the benefits of this powerful feature.)
Tor-over-VPN servers – The Tor network provides a layer of anonymity for its users. NordVPN's Tor-over-VPN servers exit onto the Tor network allowing you to benefit from Tor's anonymity.
CyberSec – Ads, trackers, and malware domains are all security risks that also slow down your browsing and waste bandwidth. NordVPN's CyberSec blocks them all, making your Windows PC VPN connection faster and safer.
WireGuard – NordLynx is NordVPN's custom implementation of the WireGuard VPN protocol. Available for Windows PCs, NordLynx offers excellent security and makes for extremely fast Windows PC VPN connections.
Obfuscated servers – Find yourself in a place where normal access to VPN services is blocked? NordVPN's obfuscated servers disguise your VPN traffic to make it invisible to censors.
Are you a streaming media fan? If so, NordVPN is a great choice. It unblocks 17+ Netflix libraries around the world. With excellent connection speeds, NordVPN won the top spot as the best VPN for torrenting, making it a great choice for any filesharing activity.
NordVPN consistently outperforms other VPN services, even those that also support WireGuard. For example, you can see in the NordVPN vs CyberGhost comparison that NordVPN was faster in every server location tested. For Windows users craving speed and reliability, NordVPN is the best option.
Below I'm testing the NordVPN Windows app while connected to a double-VPN server configuration: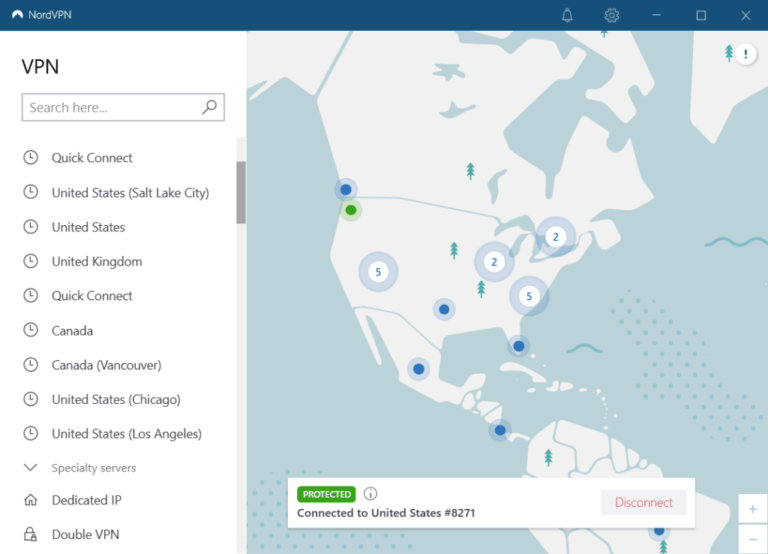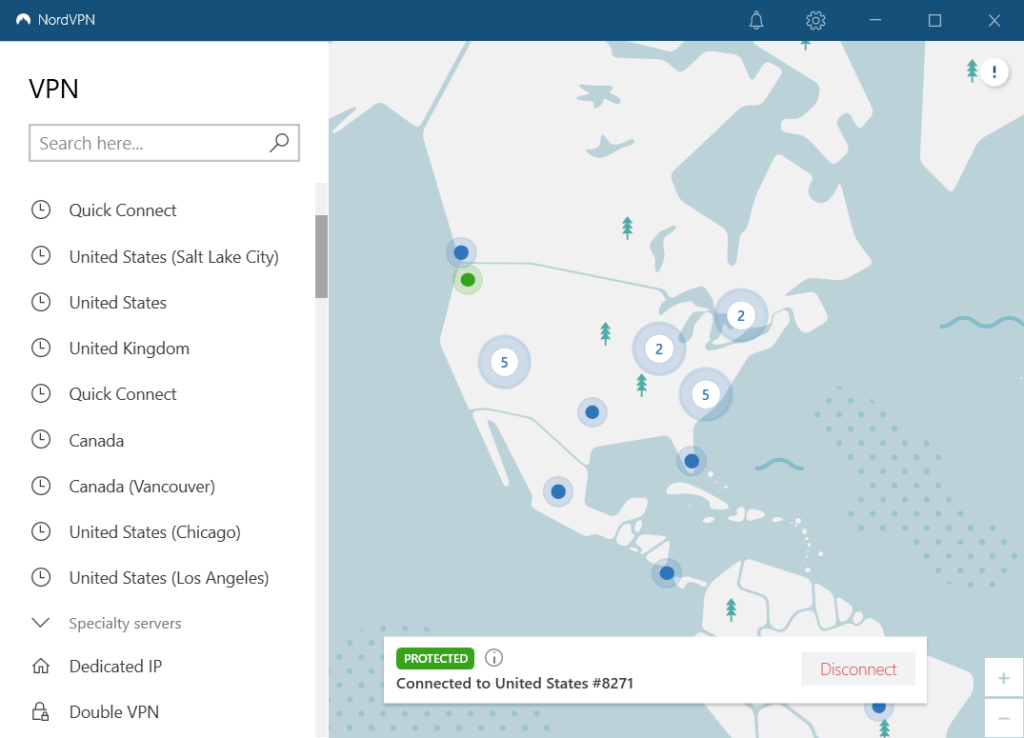 NordVPN offers a full 30-day money-back guarantee and 24/7 live chat support directly through their website. It is also one of the best values in the world of Windows VPNs, costing only $3.30 per month when you use the coupon below.
+ Pros
User-friendly and reliable apps
Double-VPN and Tor-over-VPN servers
No logs (audited twice)
Strong encryption standards with full support for WireGuard
Works with Netflix and many other streaming services
Threat Protection feature to block ads, trackers, and malware domains
24/7 live chat support
Dedicated RAM-servers with 10 Gbps bandwidth channels
– Cons
Big discounts only available with long-term subscriptions
NordVPN's Cyber Deal is live:

Get 63% Off NordVPN plus an additional 3 months FREE:
(Coupon is applied automatically.)
See the NordVPN review for test results and more info.
---
Surfshark – A cheap VPN for Windows with great performance
| | |
| --- | --- |
| VPN | Surfshark |
| Based in | The Netherlands |
| Logs | No logs |
| Price | $2.30/mo. |
| Support | 24/7 live chat |
| Refund | 30 days |
| Website | Surfshark.com |
Surfshark is another secure, fully-featured Windows VPN that you should consider. Based in the British Virgin Islands, this VPN offers outstanding features and unlimited connections for a very cheap price. Surfshark is one of the cheapest VPN services on the market and a great overall value.
This VPN service launched in 2018. It offers strong security and a no-logs privacy. Other privacy-focused features you find in this polished Windows VPN include:
Double-VPN servers – Encrypting your traffic across two separate VPN servers provides an extra layer of security for your data.
CleanWeb – Surfshark's feature that blocks ads, trackers, and malicious domains (similar to NordVPN's CyberSec).
Camouflage mode – Surfshark's version of obfuscated servers that conceals VPN traffic as regular HTTPS encryption
WhiteLister – Gives you control over which Internet traffic passes through the VPN tunnel (also known as split tunneling)
Browser extensions for Chrome, Chromium-based browsers, and Firefox
Surfshark is a friendly place for anyone who likes streaming video or torrenting. They support all major streaming services, including ten different Netflix libraries. It is also a great VPN for Hulu, BBC iPlayer, Amazon Prime, and many other streaming options. Torrenting is allowed on all Surfshark servers and Surfshark offers a dedicated Amazon app if you want to use a VPN on Firestick.
Surfshark offers great speeds on most servers and even outperforms other market leaders, as you can see in the Surfshark vs ExpressVPN comparison. Surfshark's performance is bolstered with full support for the WireGuard VPN protocol and a large network of fast servers. They currently have 3,200+ servers in 95 countries around the world.
The Surfshark Windows VPN app I tested was simple, user-friendly, and did not give me any bugs, errors, or problems.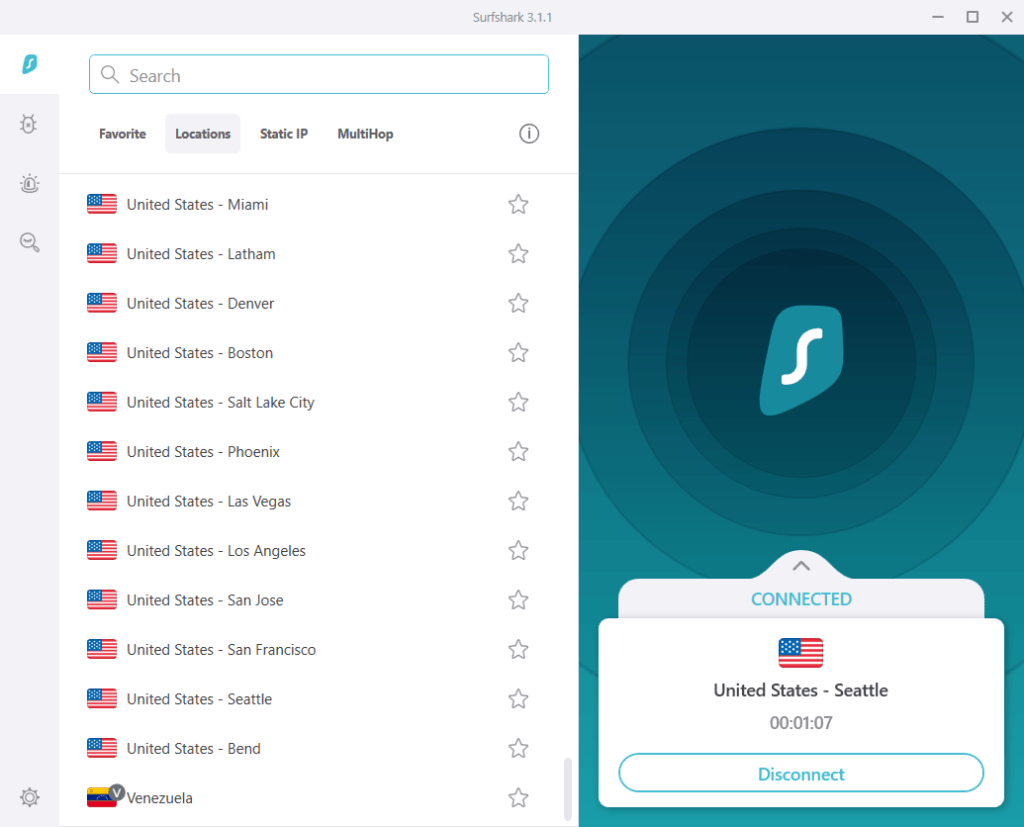 Both NordVPN and Surfshark have now implemented full RAM-disk servers for a higher level of security. And similar to NordVPN, Surfshark supports a wide range of VPN protocols, including OpenVPN, IKEv2, and WireGuard. In our WireGuard vs OpenVPN speed tests, we found WireGuard to be about 58% faster than OpenVPN.
+ Pros
Unlimited connections
User-friendly apps for all devices and operating systems
CleanWeb feature to block ads, trackers, and malware
Works great with Netflix and many other streaming services
24/7 live chat support
Strong encryption and security features (audited)
– Cons
Limited support for VPN routers
Average OpenVPN speeds (use WireGuard)
Surfshark VPN Coupon:

Get 82% off Surfshark VPN (drops the price down to $2.30 per month) plus 2 months FREE:
(Coupon is applied automatically.)
Check out our Surfshark review for more info and test results.
---
ExpressVPN – Secure and user-friendly VPN for Windows Computers
| | |
| --- | --- |
| VPN | ExpressVPN |
| Based in | British Virgin Islands |
| Logs | No logs (audited) |
| Price | $6.67/mo. |
| Support | 24/7 live chat |
| Refund | 30 days |
| Website | ExpressVPN.com |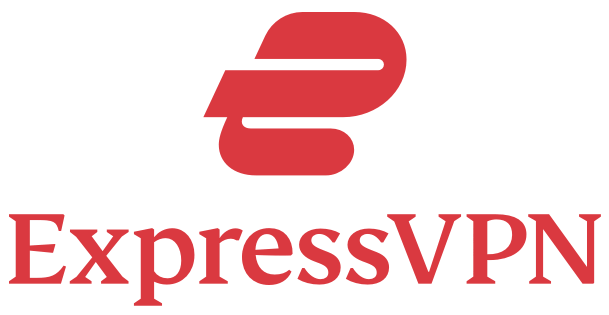 Next up in our discussion of the best VPNs for Windows is ExpressVPN. The service is based in the British Virgin Islands, a great privacy jurisdiction with no mandatory data retention laws. ExpressVPN is a verified no-logs VPN provider that has passed independent security and privacy audits. It offers strong encryption and secure applications for your Windows PC and numerous other devices. ExpressVPN apps have built-in leak protection, split tunneling, and a kill switch feature Network Lock feature.
If you are looking to access international media, such as sports, movies, or TV shows, ExpressVPN is a great choice. It works well for accessing home-country media if you are living abroad, with support for many streaming services. ExpressVPN is currently ranked as the best VPN for Netflix and consistently works well without issues. Note that ExpressVPN is not currently the best VPN for BBC iPlayer, due to blocks that we found in our tests.
Like with NordVPN and Surfshark, ExpressVPN runs all servers run in a volatile RAM-disk to improve data security. The ExpressVPN Windows VPN app secures your data with an AES-256 cipher and supports the OpenVPN, IPsec, and Lightway protocols. Lightway is a new, self-developed protocol from ExpressVPN that has many similarities to WireGuard.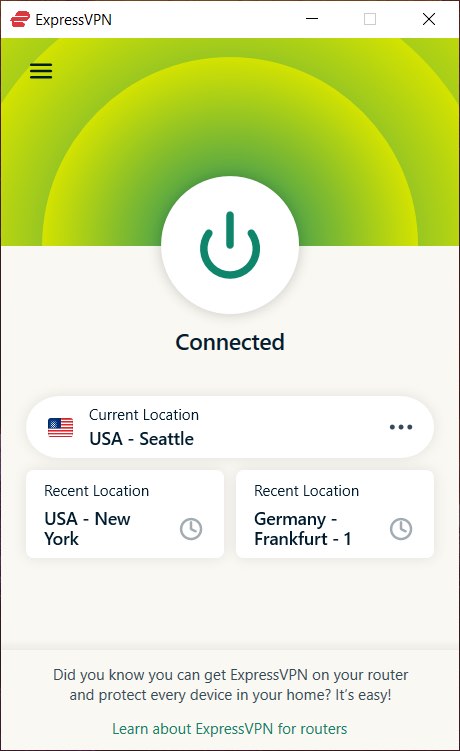 Need support? ExpressVPN offers 24/7 live chat assistance directly through their website. All ExpressVPN subscription plans come with a 30 day no-questions-asked money back guarantee.
+ Pros
User-friendly and secure apps
Split tunneling feature (for Mac OS, Windows, and routers)
Works with Netflix and most streaming services
24/7 live chat support
Passed independent third-party audits for security and no-logs
Very large server network
– Cons
Above-average prices
Fewer features
Average OpenVPN speeds (use Lightway)
See our ExpressVPN review for more information and analysis.
---
VPN.ac for Windows devices
VPN.ac is another fast, secure Windows VPN. Created by a team of network security professionals, our extensive testing found the service to perform exceptionally well in terms of speed and security. VPN.ac is based in Romania, a good privacy jurisdiction.
VPN.ac features double-VPN servers, numerous encryption protocols, built-in leak protection, and a secure browser extension for Firefox, Chrome, and Chromium browsers. Like our other top Windows VPN picks, VPN.ac has a lineup of obfuscated servers to conceal your VPN traffic and get through VPN blocks. This makes it particularly useful anywhere VPNs may be blocked, from school or work networks, or even if you need a VPN for UAE (United Arab Emirates). VPN.ac runs only bare-metal VPN servers, ensuring better performance and security.
VPN.ac isn't as good as our other Windows VPN recommendations when it comes to unblocking streaming services, but it does usually work with US Netflix. However, it's not a reliable VPN for Amazon Prime or BBC iPlayer at this time. Overall, VPN.ac is more focused on privacy and security than streaming services.
Whether you are using a VPN on Windows or you need a VPN for Mac OS, VPN.ac offers polished, secure, and reliable apps. Below is the Windows VPN app I tested.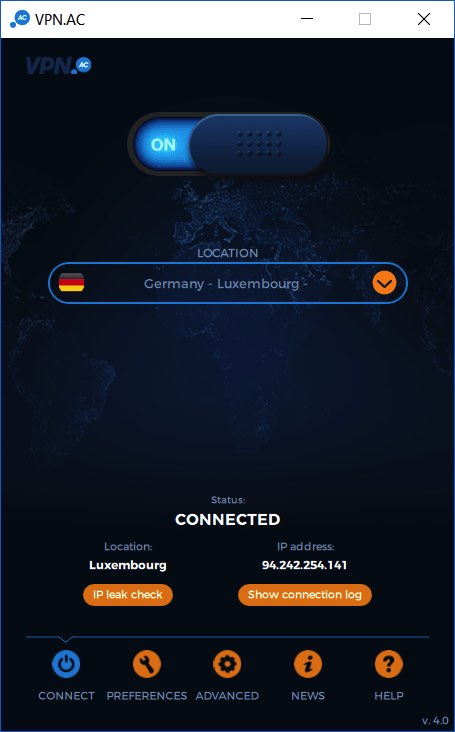 + Pros
Dedicated bare-metal servers with self-hosted encrypted DNS
Excellent speeds with plenty of available bandwidth
Multi-hop (double VPN) server configurations
Obfuscation features with many different encryption options
Secure proxy browser extensions
WireGuard VPN support
– Cons
Does not work well for streaming

Fewer features than other leading VPNs

Limited refund window (7 days)
Discounted trial: You can get a discounted one-week trial for only $2.00 (see the FAQ page).
See the VPN.ac review for detailed test results and analysis.
---
Why Windows users need a good VPN
The world is full of risks, with regular news stories of hackers exploiting people and online vulnerabilities. And of course, none of us want to be a victim of these attacks.
If you have a quality PC running Windows 10 and the latest antivirus / anti-malware software, you may be wondering why you would even need a VPN. You do need one, for several reasons.
While your computer may be well protected, its connection to the rest of the world through the Internet is not well protected at all. The Internet protocols (communication rules) that the world still relies on were not designed to protect us from hackers, spy rings, and similar problems. A lot has been done in recent years to improve the situation, but the Internet remains vulnerable. That's where a strong VPN service comes into the picture.
By creating an encrypted connection (called a tunnel) between your Windows PC and resources on the Internet (your favorite websites, Netflix, and so on), a strong VPN service provides both security and privacy. Security, because the encryption prevents outsiders from reading the messages that flow back and forth through the VPN tunnel. Privacy, because the VPN masks both the identity of your Windows PC and its location, preventing outsiders from tracking what you are doing online.
VPNs can also make it look like you are physically located somewhere else in the world, potentially giving you access to resources that are not available in your actual location. This goes beyond just being able to hide your IP address.
What can your ISP see if you don't use a VPN on Windows?
If you are not using a good VPN service, internet service providers and mobile carriers can easily record your data and see every website you visit. What they do with that user data depends on which country you are in. For example, in Australia (and many other countries), your ISP will record connection data and hold it for at least 2 years in case someone from the government wants access to it for some reason.
In the United States, ISPs can legally collect your data and sell it to anyone they wish, without your permission. This has been legal since 2017, but probably in practice for much longer.
To see which websites you visit, ISPs monitor your DNS requests. Whenever you want to visit a website, your Windows PC will send a request to translate the URL (the human-readable form of the address) into an IP address (the computer-readable form). Normally, these DNS requests are translated by your ISP and also logged.
With most Windows VPNs, DNS requests are completely encrypted (making them unreadable to your internet service provider) and handled by the VPN's DNS servers. This way, the ISP can only see that you are using a VPN service. They have no way of knowing what you are up to beyond that.
The Windows VPNs we recommend all have their own DNS servers and encrypt DNS requests in the VPN tunnel. Additionally, the VPN replaces your IP address and location with the VPN server's IP address and location before sending your request out to the Internet at large. This way, even if someone was watching all the VPN's servers, they still wouldn't be able to tell what you are up to.
This diagram shows basically how a VPN protects your data from nosy third parties:

As you can see in the diagram, the strong encryption applied to your internet traffic and online activities by the VPN service makes them unreadable to third parties.
Are Windows VPNs legal?
First off, we are not lawyers, so do not consider what follows as legal advice. If you are really worried about violating the law by using a VPN for your Windows PC, your best bet is to contact your lawyer for personalized advice.
In general, the answer is yes, it is perfectly legal (and normal!) to use virtual private networks (VPNs), even if you are in a place like China where VPNs are restricted. VPNs are used every day by businesses and individuals throughout the world for basic privacy and security purposes. Businesses rely on VPN technology and encryption for security reasons and it would not make sense for this to ever become illegal.
That being said, China currently has a "ban" on non-approved VPN services that do not go along with state censorship requirements, as explained in the China VPN guide. The United Arab Emirates and a few other Gulf State countries have laws against people using VPNs to evade state censorship. Fortunately, this is not really an issue in the Western world, where VPNs remain a safe, legal, and popular tool.
Is it safe to use a VPN for Windows?
If you are using a good, reputable VPN service that effectively secures your traffic like the ones we review here, then yes, a Windows PC VPN is safe to use. That said, even the best VPN service has its limits. If you are up to something that will annoy a powerful opponent like the CIA or other national intelligence agency, all bets are off. See our guide on how to be anonymous online.
But is anything completely safe these days? Even public WiFi carries risks, which can be mitigated by encrypting your traffic with a good Windows VPN.
Why you should not use a VPN based in your own country
Under normal circumstances, using a VPN based in another country is safer than using one based in your own country. Every VPN service is bound by the laws of the country in which they legally reside. This is the key.
Imagine that you are a US citizen and are using a US-based VPN. That VPN is bound by the laws of the United States. Now suppose some US lawyer wants to see what you have been doing online. The US lawyer gets a judgment against you in a US court. Using that, the US lawyer can apply US law to force the US VPN to turn over any information it has about you.
Now imagine the same situation, but this time you are using another VPN, which is based in some other country, not the United States. The US lawyer gets a judgment against you in a US court. But the offshore VPN is not bound by US law. They have no reason to respond to the US lawyer. Depending on the circumstances, it may even be illegal in their own country to give the US lawyer anything. To get anything out of this VPN, the US lawyer will have to file and win a lawsuit in the country that the VPN is based in before the VPN can be forced to turn over information about you.
In most situations, this just isn't practical, making you safer when you don't use a VPN based in your own country.
How do I set up a VPN on Windows?
The exact steps for setting up a Windows PC VPN will vary from vendor to vendor, but at the most basic level, the process looks like this:
Purchase one of our recommended VPN services for Windows using our discount link for the best savings.
Download the VPN service's Windows app.
Find the VPN app file in your Downloads folder and double-click it.
Run the installer, replying to any questions it may ask you along the way.
Launch the Windows PC VPN app.
In the app window, choose the VPN server you want to use and click Connect. The NordVPN app gives you a Quick Connect button that automatically selects the best server for your specific area. Most VPN apps have something similar.
After a moment, the app will indicate that you are connected to the server and your Internet connection is now protected.
Using a VPN to stream TV and sports on Windows from anywhere in the world
For various commercial and legal reasons, many international TV and sports sources that are available on the Internet are geo-blocked. That is, they are restricted to only be viewed in certain geographical areas. When you try to connect to one of these sources, their servers check the IP address of your computer to decide whether you are located in a geographical area that is allowed access to the content you want to view.
VPN services have servers located all around the world. Each of these servers has an IP address that corresponds to its physical location. By connecting to a VPN server that is located in an unblocked physical location, you can get access to content that would otherwise be off-limits. Of course, you may still need an account to log into a service, but there are still lots of legitimate situations where this capability can come in handy. Imagine that you are going to be on a vacation or business trip when "The Big Game" is scheduled. You have a subscription to your favorite streaming sports channel, but the area where you will be is geo-blocked for marketing purposes.
If you are using NordVPN or one of our other recommended Windows PC VPNs, the odds are excellent that you will still be able to view the game. How? Log into a VPN server in a region that isn't geo-blocked, then log into the streaming service as you would normally. In all likelihood you will be able to view the game as if you were home on your own sofa. It you can't log in using the VPN server you selected, keep trying different ones until you can log on.
You can also use this capability to watch TV and sports (and news, and anything else) that you wouldn't otherwise have access to from your normal location. Say you are in the USA and want to learn Spanish. Why not connect to a VPN server in Spain or Mexico and watch the news or a soap opera in Spanish? Or connect to a server in the land down under and get the Australian perspective on the US/China trade talks? A VPN lets you become a virtual world traveler, something more valuable than ever in this virus-ridden world.
Conclusion: Use a good VPN for Windows in 2023 to stay safe online
In a world of threats, dangers, and geo-restricted content, a VPN is a must-have tool for Windows users. And with growing content blocks around the world, we can expect VPNs to continue to grow in popularity. Hopefully, VPNs will not be banned anytime soon, as we saw with Signal in China after it exploded in popularity.
There you have it. Four excellent Windows PC VPNs that can boost your online security and privacy, while giving you access to the best Internet resources from around the world. But the information we've provided here only summarizes what each of these great products can do. We urge you to read the descriptions here, then follow the included links to get our detailed reviews of the VPNs that look most interesting to you or go right on to the website.
Every VPN we recommend offers a money-back guarantee between 7 and 30 days.
We're confident that one of these five will turn out to be the best Windows VPN service for you. And if you are on a tight budget, you may want to consider these VPN coupons for additional savings.
This Windows VPN guide was last updated on January 5, 2023.