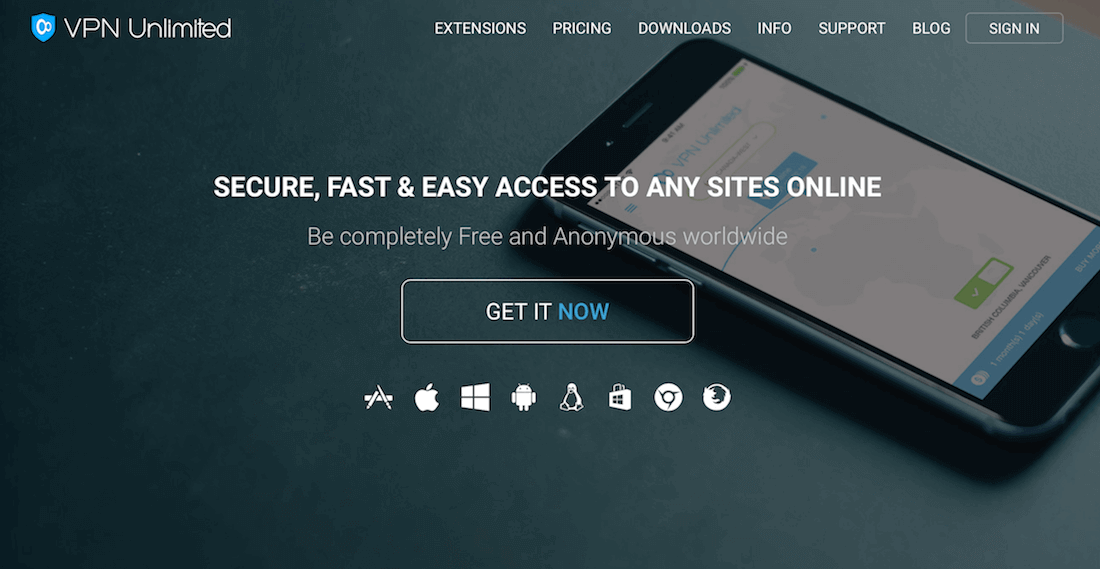 VPN Unlimited Review and Test Results
Performance

Features

Support

Value
Review of:
KeepSolid VPN Unlimited
VPN Unlimited is a newer VPN service that is heavily marketed online by various websites. While the support was decent and the apps are easy to use, extensive testing and research for this review identified a number of issues:
IP address leaks
DNS leaks
WebRTC leaks
No kill switch
Connection problems
Troubling privacy policy
Bad privacy jurisdiction (United States)
Due to these issues (and more), VPN Unlimited is not recommended by RestorePrivacy.
If you are open to alternatives, you may want to check out the Best VPNs list instead.
+ Pros
Easy to use
Responsive support
– Cons
DNS leaks
IP address leaks
WebRTC leaks
No kill switch
Connection problems
Variable speeds
Connection logs
Based in the United States

Connections
5

Price
$4.17

Jurisdiction
United States

Privacy Tests
IPv6 leaks
DNS leaks
WebRTC leaks
No kill switch
Keepsolid VPN company and jurisdiction
The company behind VPN Unlimited is KeepSolid Inc.
KeepSolid Inc. offers a variety of digital products and is based in the United States.
In general, the United States is a poor jurisdiction due to mass surveillance, corporate surveillance, and harsh copyright infringement/DMCA laws (always use a good VPN for torrenting). Additionally, US authorities can force VPNs to monitor and log their customers, while prohibiting disclosure through gag orders.
KeepSolid markets a variety of different products, which you can see below: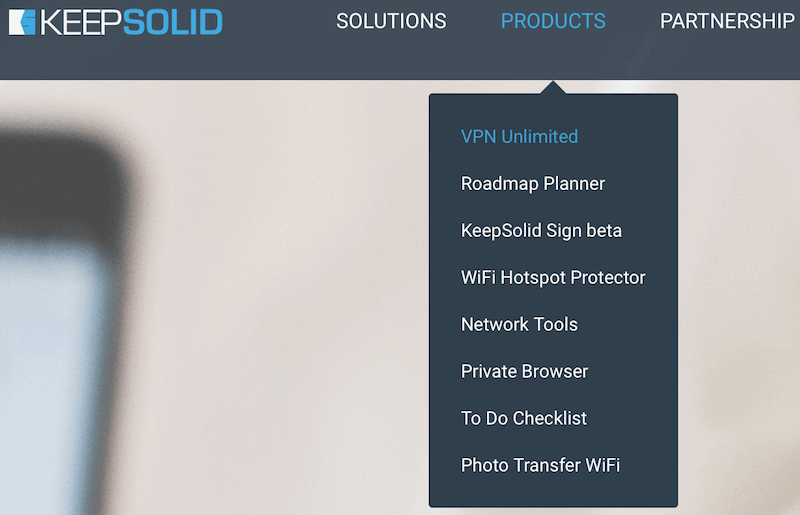 All of the products offered by KeepSolid appear to be marketed in the same basic manner, with similar website layouts, along with various testimonials.
Price and "Lifetime subscription"
VPN Unlimited offers the following pricing tiers:

VPN Unlimited really tries to upsell their "lifetime" subscription.
It is advertised as a "limited time offer" (although it appears to be continuous). After signing up, I was spammed with numerous "lifetime offers" to extend my account. And finally, they have partnered up with StackSocial (third party sales website) to offer discounted "lifetime subscriptions".
Note: The Lifetime Subscription tactic appears to be a questionable business model that leads to overselling the service. VPNs have also been known to cancel "lifetime" accounts after a few years (discussed further in the VPN scams guide). Additionally, the VPN could simply close the business after overselling their "lifetime" subscriptions.
In other words, the true duration of the "lifetime" account may be completely arbitrary. Recommendation: avoid.
If you are looking for a lower-priced VPN service, you can also check out the VPN coupons page for the latest deals. Currently we have the following coupons available for our readers:
KeepSolid VPN Unlimited apps
VPN Unlimited supports the following devices and operating systems:

For this VPN Unlimited review I tested out the Windows and Mac OS applications.
The apps did not do well in testing. I found various leaks on both the Windows and Mac OS clients.
There is also very little information on the website about the details of their VPN service. It appears to be mostly marketing.
Encryption – KeepSolid VPN Unlimited supports OpenVPN 256-bit encryption on Windows and Linux, but only IPSec/IKEv2 on their native Mac and iOS clients.
VPN Unlimited testing
I ran the VPN Unlimited Windows and Mac OS apps through extensive testing for this review. Overall, the results were not good.
To check performance, I did speed testing with the website speedof.me, in addition to general browsing, videos, and downloading.
To check for IP address leaks, DNS leaks, and WebRTC leaks, I mainly used ipleak.net – along with the basic test procedures described here.
IPv6, WebRTC, and DNS leaks
Extensive testing of the latest version of the VPN Unlimited apps identified a number of problems and leaks.
Windows client – Prior to testing, I verified that I was using the latest version of the Windows app. Additionally I enabled the OpenVPN UDP protocol and the "Stop DNS Leak" feature.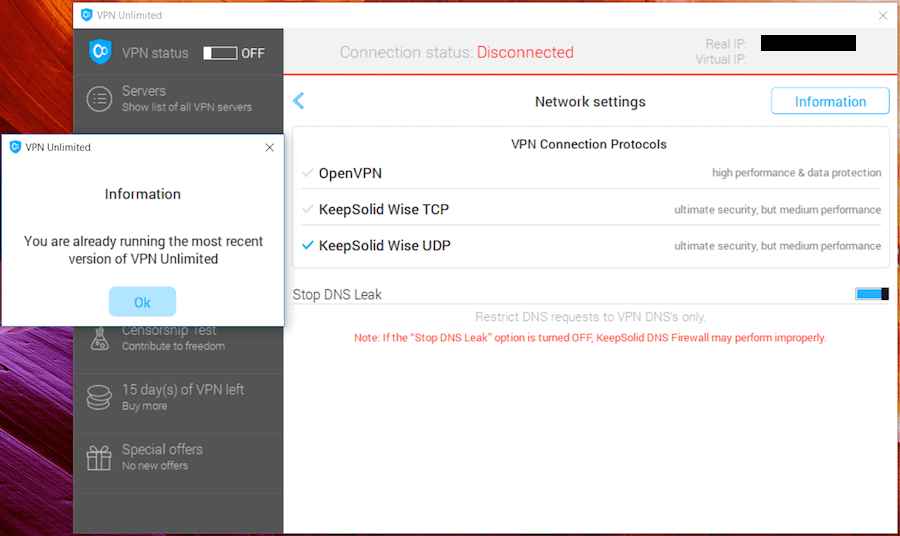 For the DNS Firewall I chose the "high" level of protection: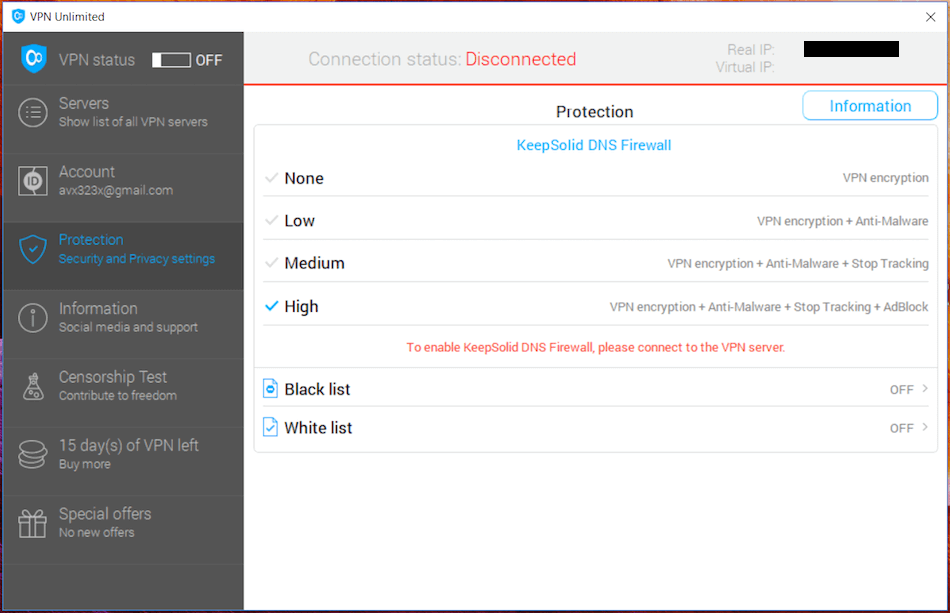 Despite having all of the privacy and security settings enabled, I still found active IPv6, WebRTC, and DNS leaks.
Here is one test results with a New York server using the Windows client on a Windows 10 PC with full IPv4/IPv6 connectivity. You can see I have IPv6, WebRTC and DNS leaks: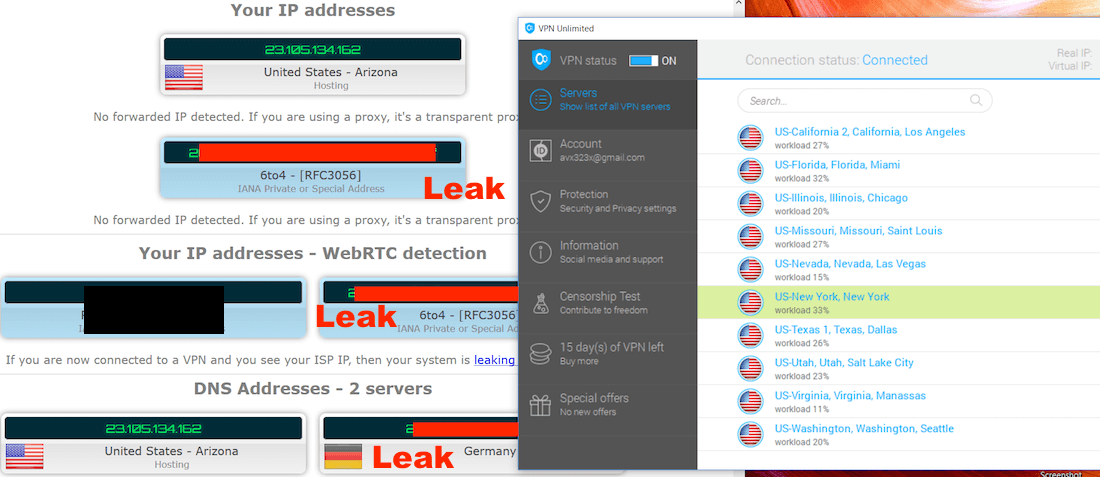 Changing servers did not affect the test results. With every server I tested using the Windows client, there were IPv6 leaks, WebRTC leaks and DNS leaks. Here is another example for a server in the United Kingdom: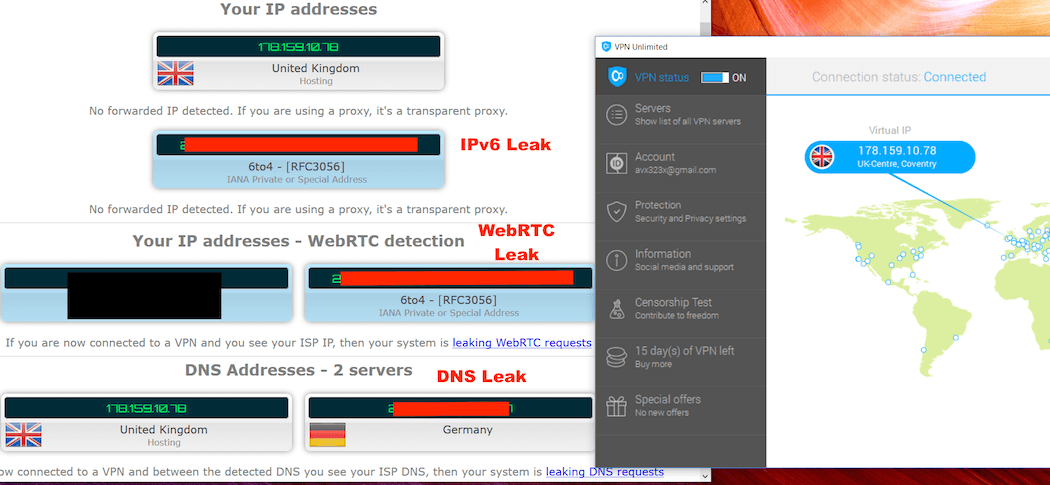 As you can see, these testing results are quite bad with the VPN Unlimited Windows client.
Mac OS app – I tested out the latest version of VPN Unlimited on Mac OS Sierra. One downside is that the application only supports IPSec/IKEv2.
Testing the VPN Unlimited Mac OS client identified WebRTC leaks (IPv6):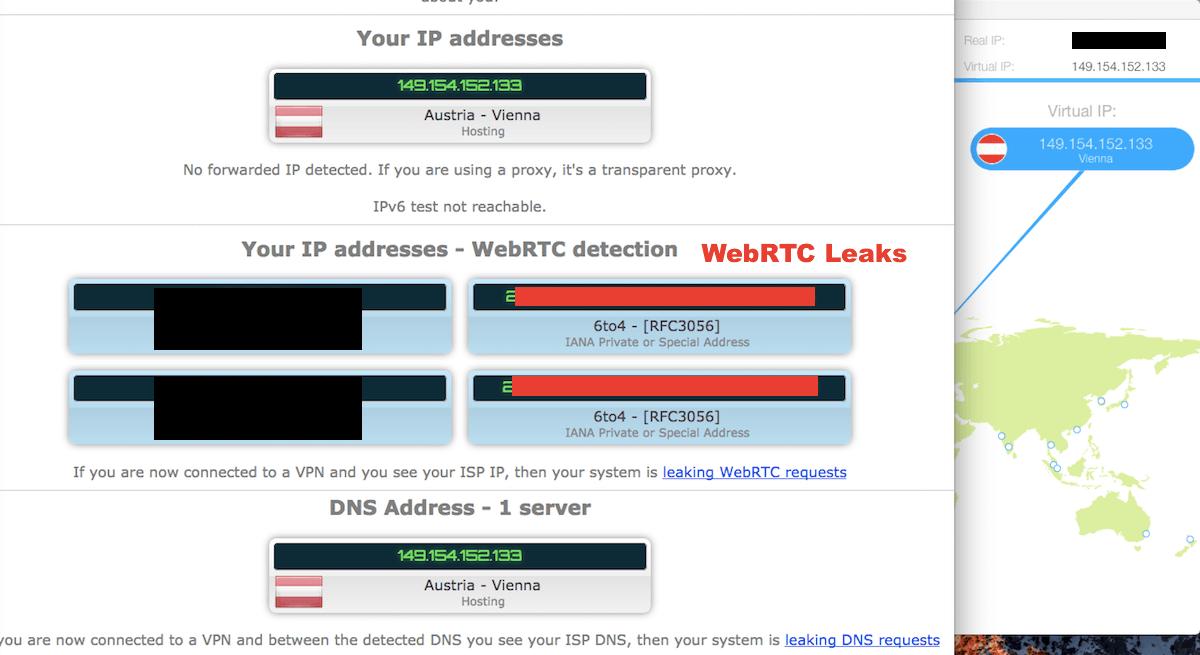 Privacy Warning – These leaks on the Windows and Mac OS clients are very concerning in terms of privacy. It only take one leaked packet to expose your identity and activities. However, the test results show continuous leaks with the latest version of the VPN software.
This is a problem, because KeepSolid VPN Unlimited claims to protect your IP address and keep you "anonymous" online.
In my opinion this creates a false sense of security.
No kill switch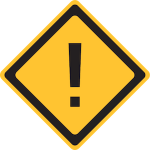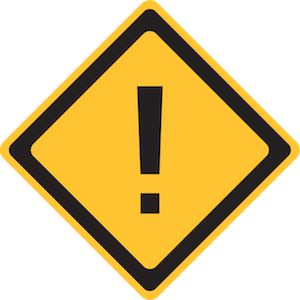 Another drawback with VPN Unlimited is that there is no kill switch. Without a kill switch, your regular traffic will hit your ISP any time the VPN connection is interrupted.
This means that every time you switch servers or the connection unexpectedly drops, your regular traffic will be exposed.
A kill switch is a basic and essential feature that most VPNs have. When I asked support about this, they stated that adding a kill switch feature was on their "wish-list" for future updates, but did not provide any timeframe.
VPN Unlimited not connecting
In addition to the random dropped connections, I also found that VPN Unlimited had connection problems. The Windows client, particularly, would often not connect to a given server.
Some servers would randomly fail to connect. The VPN status would show as "on" in the top left corner, but the application would not be able to establish a connection and time out.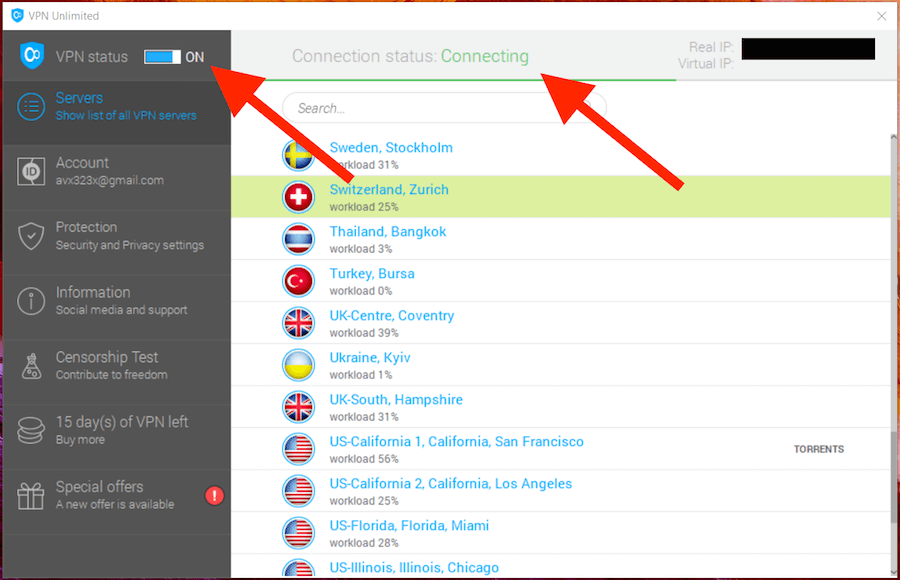 The connection problems seemed to occur randomly with the Windows client.
VPN Unlimited speed tests
I found the speeds with VPN Unlimited to be variable.
Some servers were decent, but others were slow.
The fastest server I could find was Milan, Italy where I got a download speed of about 40 Mbps.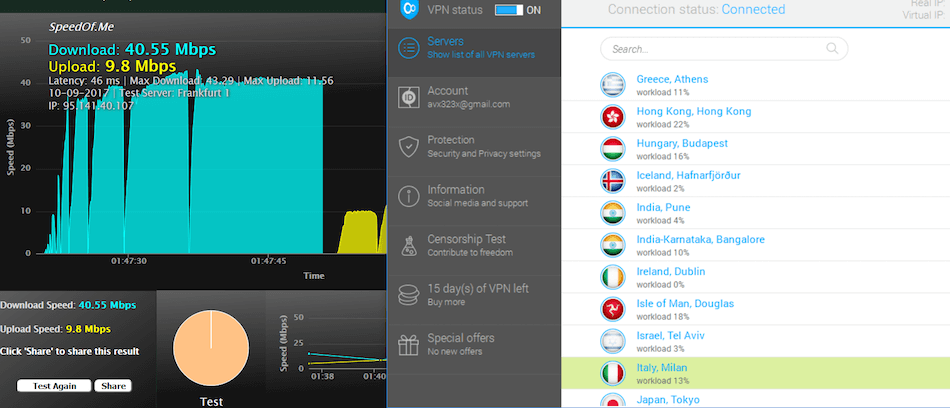 With nearby servers I typically got around 10 to 20 Mbps. Here is a New York server with a download speed of 15 Mbps.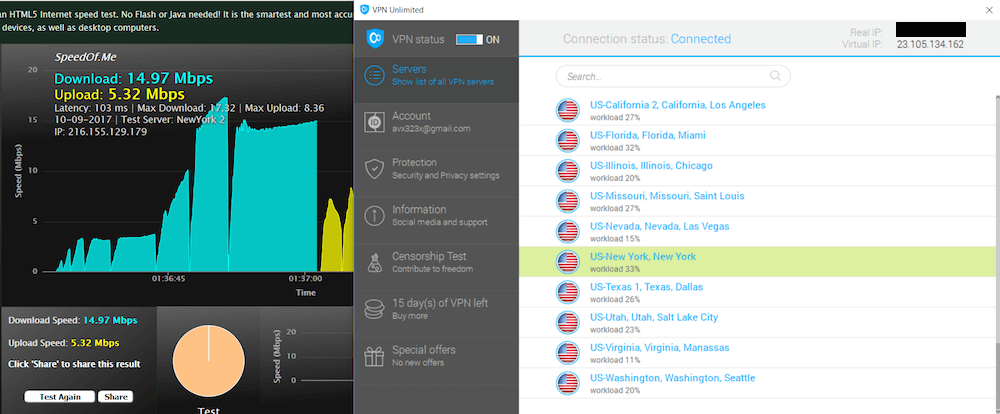 Overall I found the speeds to be quite variable.
VPN Unlimited torrenting
At the time of this review, torrenting and file-sharing are only allowed on designated P2P servers.

Restricting P2P downloads to designated servers is fairly normal.
But given their privacy policy, US jurisdiction, and connection logs, you may want to consider some alternatives.
VPN Unlimited Netflix and BBC iPlayer
According to the KeepSolid VPN Unlimited website, Netflix and BBC iPlayer do not work with their service (as of now).

Netflix and BBC iPlayer have been blocking VPN services over the past year.
However, two options that still work with Netflix and BBC iPlayer are:
VPN Unlimited Logs
Another drawback with KeepSolid VPN Unlimited is that they keep connection logs. You can find the relevant details on their website, but here are some highlights with their current logging policies:
KeepSolid Inc. does NOT collect and log any user activities while using any of their VPN services, except the total amount of web traffic for each session and session dates, for displaying them in user's web cabinet and within the VPN client apps. KeepSolid Inc. also stores the encrypted information about the amount of connected devices for each account, as the maximum permitted amount is limited.

KeepSolid Inc. will never disclose any personal private data to third parties except when we must comply with laws that require such disclosure to law enforcement authorities or other government third party officials, such as subpoenas.
There are a few concerning issues here.
KeepSolid claims they will release user data to third parties in certain circumstances. Okay, but they are also based in the United States, where authorities can easily compel the release of user data. This was illustrated recently when US authorities obtained connection logs and arrested a VPN user for cyberstalking.
VPN Unlimited review conclusion
KeepSolid VPN Unlimited appears to be yet another example of a VPN service that is heavily marketed online, but does very poorly in testing. Their use of the "lifetime subscription" tactic raises further concerns about the long-term viability of the business.
Due to the IP address leaks, WebRTC leaks, and DNS leaks identified in this review, VPN Unlimited is not recommended by RestorePrivacy.
You may want to consider some better alternatives – see the Best VPNs list.
---
Alternatives to VPN Unlimited: