PUBG (Player Unknown Battleground) is one of the most popular games in the world. With tens of millions of players spread across the planet, PUBG offers both intense battle royale gaming and a massive online community. Unfortunately, anything this popular attracts the attention of both those who want to take advantage of the players, and those who want to control the players.
As with any popular online service, you can find hackers, trolls, and assorted troublemakers hanging around PUBG looking for potential victims. Due in part to these cretins, PUBG is divided into geo-restricted regions, which normally limit which servers (and hence which games) you can join.
In addition, several governments have banned PUBG over the years. The reasons vary from excessive violence (Nepal, Iraq, Jordan), to lack of socialist values (China), to it being a waste of time and distraction for students preparing for exams (India, Pakistan).
Fortunately, there is an easy solution to both of these problems. A good VPN for PUBG will allow you to easily bypass geo-restrictions and break through any blocks.
In the rest of this guide, we'll talk about the key characteristics of a PUBG VPN. Then we'll take a look at three VPNs that fit the description of a PUBG VPN. You'll see why we like them for this job, and what makes us rank them the way we did. For each of the contenders, we also include a link to our in-depth review of that VPN.
Note: PUBG Lite is shutting down, so we won't be discussing it in this guide.
So let's first clear up a bit of confusing terminology.
What is a PUBG VPN?
Strictly speaking, there is no such thing as a PUBG VPN. The phrase "PUBG VPN" is really shorthand for, "A VPN that works well for PUBG." Of course that doesn't tell you a lot unless you know what a VPN is, and what characteristics a VPN must have to work well for PUBG. So let's get into those two right now.
What's a VPN?
A VPN (Virtual Private Network) is a system that "allows you to access the internet with more security and privacy, while also giving you the ability to get around censorship or content restrictions." We don't need to get down into the dirt of exactly how a VPN does these things, but let's just touch the really high level.
A VPN consists of an app that runs on your device, and a server (or more commonly thousands of servers) that act as the connection between your device and the internet. It uses extremely secure encryption (look for AES-256, also known as 256 bit AES encryption) to prevent outsiders from seeing the messages going back and forth between your device and the VPN server. The VPN server also makes changes to the messages flowing from your device, resulting in your identity remaining private.
A top VPN service will also give you the ability to get around censorship or content restrictions by placing their servers in key locations around the world. Both internet censorship and content restrictions are based on knowing your physical location, as encoded in something called an IP address. When you try to connect directly to a PUBG server, the server can see your IP address. It uses that address to decide whether you are allowed to connect or not.
But when you use a VPN to communicate with PUBG, the game's servers don't see your IP address. They instead see the VPN server's IP address. If the VPN server is located in an area that is "acceptable" you should be able to log in, even if you would otherwise have been prevented from doing so.
How we rank the best VPNs for PUBG
Remember the characteristics of a VPN we talked about in the last section: security, privacy, and the ability to get around blocks, censorship, or any other content restrictions. Those characteristics are exactly what we need to deal with the PUBG problems we talked about earlier.
However, those aren't the only characteristics the best VPN for PUBG must have. Here are the rest:
Speed. All VPNs have some effect on the speed of your connection. A tiny slowdown won't be a problem for your gaming experience. But a VPN that seriously slows down your connection is likely to lead to you dying before you even know there is an enemy in front of you. So we absolutely must have a fast VPN.
Lots of servers. The more servers a VPN has, and the more countries those servers are in, the greater the chance that you will find one that gives you access to the PUBG servers you want to use. We recommend only using a VPN with at least 1,000 servers located in at least 50 countries.
The ability to unblock PUBG servers. If you want to get the most out of this game, you want a VPN that can unblock geo-blocked PUBG servers. This means you want a VPN that will let you log into PUBG servers wherever you're located. Unblocking servers like this is a specialized skill that most VPNs simply do not possess. But our three PUBG VPNs are great at it.
A strong, no-logs policy. While it may be hard to believe, gamers have been arrested for daring to log into PUBG after their local politicians had declared it illegal. A VPN that has a strong no-logs policy can help you avoid this fate. If the VPN has no records of your online activities, they can't be compelled to turn over incriminating evidence to the local enforcers.
Enhanced security features. The sophisticated encryption used by VPNs provides one level of security. But beyond that, features like a network kill switch (which keeps your IP address from getting exposed even if something happens to the VPN connection), ad and malware blocking (to keep those hackers at bay), and diskless VPN servers (ensuring that no incriminating information is available even if a server is physically seized by the authorities) help keep you safe from draconian laws while playing your favorite game.
Apps for a wide range of devices. Considering that you can play PUBG or MUBG Mobile on everything from game consoles to PCs to smartphones, the best VPN for PUBG needs to have apps for all the devices that you might choose to play on. Note that in some cases, installing the VPN on your home router (a VPN router) instead of directly on your gaming device might be your best bet.
24/7 live chat support. While the VPNs we recommend are very reliable, stuff happens. That being the case, you want a VPN that offers fast, reliable technical support whenever you need it. The last thing you want is to miss a battle because you are waiting around for an email from some slow tech support department.
With this extensive list of characteristics, the best VPNs for PUBG need to possess, only a few VPNs could make the cut. Let's talk about those right now.
The Best VPNs for PUBG
We've tested a lot of VPNs here at RestorePrivacy.com over the years. And it was clear from the beginning that most of them don't have what it takes to be a great PUBG VPN. However, the three that did make the cut are:
NordVPN
Surfshark
ExpressVPN
We're going to take a real quick look at each of them here, discussing just what's relevant to their role in the PUBG world. At the end of each mini-review you'll find a link to our complete review of that VPN.
Here are the best VPNs for PUBG:
NordVPN – Best VPN for PUBG in 2023
| | |
| --- | --- |
| VPN | NordVPN |
| Based in | Panama |
| Logs | No logs (audited) |
| Price | $3.29/mo. |
| Support | 24/7 live chat |
| Refund | 30 days |
| Website | NordVPN.com |
NordVPN is our #1 pick for the best VPN service for PUBG. It meets or exceeds every expectation for this work. Between their high-speed servers and the new NordLynx VPN protocol, NordVPN is the fastest VPN we have ever tested. Not only is it super fast, it excels at unblocking PUBG game servers.
NordVPN offers apps for all the major operating systems, Android and iOS (for PUBG mobile) devices, even many home routers. We rate it as the best VPN for PC and desktop computers, and it also scores high for mobile devices. This means you can game on whatever gadget you want. Their apps are secure, user-friendly, and reliable, so you don't have to worry about crashing out in the middle of a battle. Additionally, NordVPN offers many advanced security features including DNS leak protection, malware blocking, and kill switches to secure all traffic.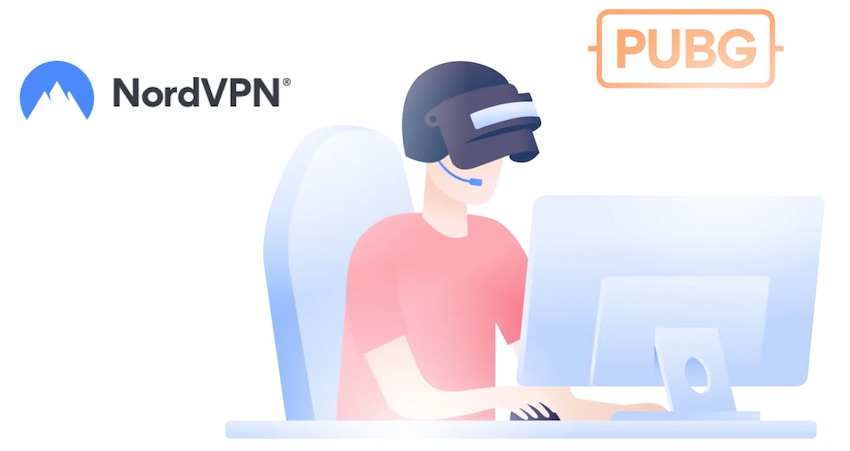 NordVPN has deployed over 5,200 high-speed servers across 60 countries worldwide. This huge network includes a variety of specialized servers you can call on when necessary. These include servers with extra security, the ability to defeat internet censorship, and access geo-blocked sites like that PUBG server you've been dying to play on but are locked out of.
NordVPN is one of the few verified no-logs VPN services that has been audited by outside parties. All servers in NordVPN's network run on dedicated hardware (no virtual servers) in RAM-disk mode. These RAM servers (no hard drives) ensure no data can ever be stored on a VPN server.
With 24/7 live chat support, we've always found their team to be responsive and able to help us with any problem that came up. They also make it easy (and risk free) to test drive their service with their free 30 day money-back guarantee. Simply cancel within 30 days for a full refund. They are also offering a great discount with the coupon below:
NordVPN's Cyber Deal is live:

Get 63% Off NordVPN plus an additional 3 months FREE:
(Coupon is applied automatically.)
For more info on this VPN, check out our NordVPN review.
---
Surfshark – A fast and affordable VPN for PUBG
| | |
| --- | --- |
| VPN | Surfshark |
| Based in | The Netherlands |
| Logs | No logs |
| Price | $2.30/mo. |
| Support | 24/7 live chat |
| Refund | 30 days |
| Website | Surfshark.com |
Surfshark is one of the newer VPN services, having launched in 2018, and it continues to grow in popularity. It made our recommendation list as one of the best VPNs for PUBG — and it has a lot to offer. Like NordVPN, Surfshark now supports the WireGuard VPN protocol for extremely fast speeds, which you can see in our NordVPN vs Surfshark comparison.
And when it comes to defeating the geo-restrictions keeping you off the PUBG server of your choice, Surfshark is a top choice. They have 3,200+ servers in 65 countries around the world. So wherever you happen to be located, connecting to a fast PUBG server is easy with this VPN.
Surfshark offers apps for all popular operating systems, and you can install their app on your router if they don't have an app for your favorite device. Their apps are very reliable and secure, with a kill switch to secure traffic, built-in leak protection, very strong encryption, and numerous VPN protocols to choose from. It is a great VPN for gaming and works well for many different use cases.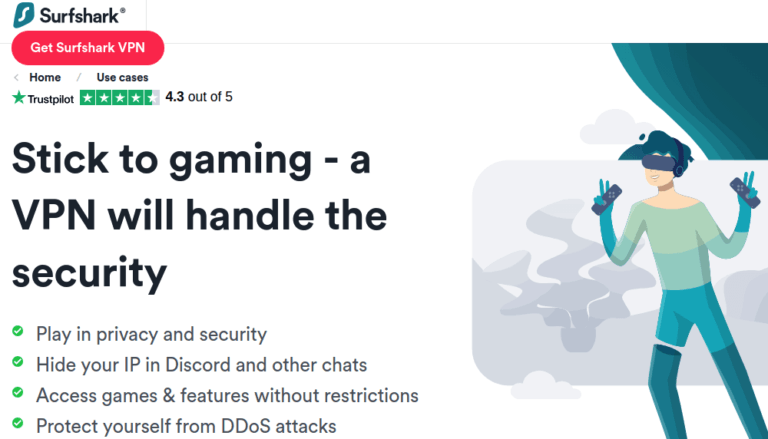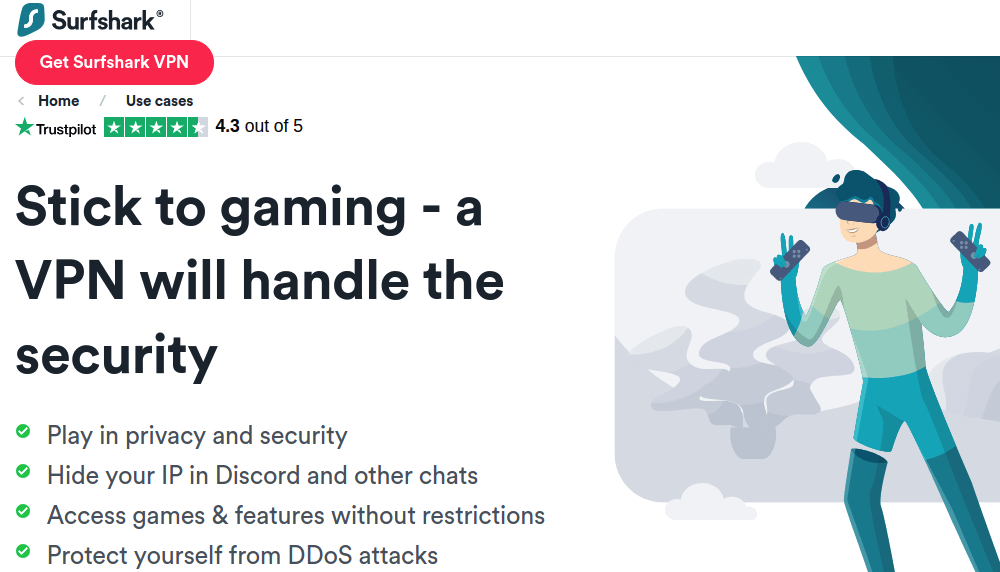 Just like NordVPN and ExpressVPN (more on them in a minute), Surfshark has a hard no-logs policy and runs only RAM servers with no hard drives. Surfshark also offers 24/7 live chat support with an experienced, responsive team. This means you're never stuck waiting long for an answer to urgent questions.
Two other things to consider when thinking about adding Surfshark to your PUBG experience. First, it is one of the best cheap VPNs for the features and performance it delivers. Second, Surfshark gives you an unlimited number of simultaneous connections to their network. Among other things, that means when you want to play PUBG, you can do so, without having to worry about how many other devices in the house are online at the same time.
Add it all up and Surfshark is definitely worth consideration. Their 30 day money-back guarantee allows you to put the service through its paces. You can use this like a free trial VPN, testing out the service in the first 30 days to see if it meets your needs. Use the coupon below for the best savings.
Surfshark VPN Coupon:

Get 82% off Surfshark VPN (drops the price down to $2.30 per month) plus 2 months FREE:
(Coupon is applied automatically.)
Want to learn more about Surfshark? Here's the link to our full Surfshark review.
---
ExpressVPN – A secure and reliable PUBG VPN
| | |
| --- | --- |
| VPN | ExpressVPN |
| Based in | British Virgin Islands |
| Logs | No logs (audited) |
| Price | $6.67/mo. |
| Support | 24/7 live chat |
| Refund | 30 days |
| Website | ExpressVPN.com |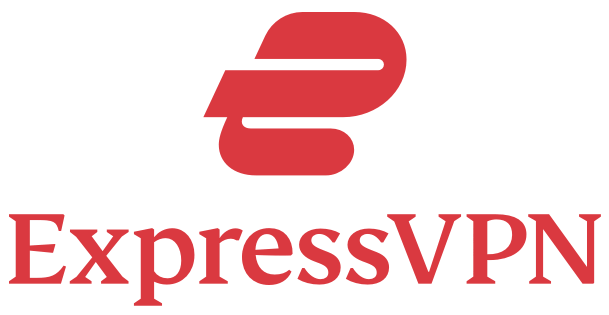 ExpressVPN rounds out our list of the best VPNs for PUBG. They too have introduced a new VPN protocol to improve the speed and security they provide. This is the Lightway protocol and it gave us consistent speeds over 200 Mbps in our tests. However, it's not quite on par with NordVPN and the WireGuard protocol, as we observed in the ExpressVPN vs NordVPN comparison.
ExpressVPN is still quite fast. And for most Playerunknown's Battlegrounds situations, it should offer solid performance, particularly if you play PUBG mobile, which is surging in popularity and revenues.
Fortunately for the ExpressVPN crew, speed isn't the only characteristic a VPN needs for PUBG. ExpressVPN has long been known for extremely reliable, bug-free, apps. The apps include a kill switch, private DNS, and they passed all our leak tests. This VPN has a proven ability to defeat the geo-blocking software, unblock websites, and access most any PUBG or streaming media server you want.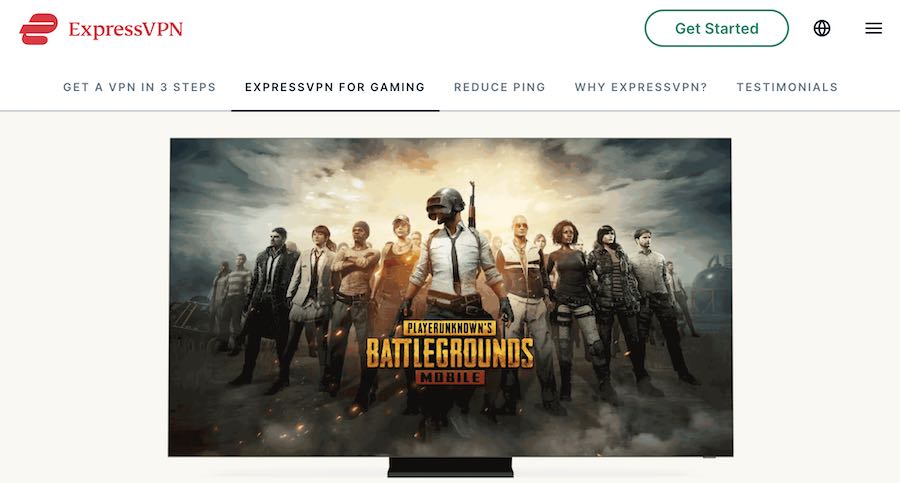 ExpressVPN has the best distribution of servers, with their 3,100+ VPN servers deployed across 160 locations in 94 countries across the globe. Like their competitors, the servers are extremely fast, with unlimited bandwidth and strong 256-bit encryption. All ExpressVPN servers are diskless and run on RAM memory in secure data centers.
ExpressVPN has a well-earned reputation for quality customer service. We've talked to them numerous times over the years, usually through their 24/7 live customer support chat line. And don't forget the obligatory 30 day money-back guarantee you can use for testing before committing. They are currently offering 3 months free with the coupon below:
To get the full story on ExpressVPN, read our ExpressVPN review.
---
Conclusion on PUBG VPN services
While you don't usually have to have a VPN to play PUBG, it sure helps. Today, we talked about why you might want to use a VPN for this game, as well as the characteristics that such a VPN should have to be considered one of the best PUBG VPNs. We wrapped it up with short reviews of the three services vying for the title of the "Best VPN for PUBG."
If any of the use cases we described sound like something you need, then we urge you to download and try out one of these PUBG VPNs and put it to the test. Good luck, and may you be the last person standing!
This guide on the best VPNs for PUBG was last updated on January 3, 2023.