Today we are going to talk about the importance of a VPN for PC users like you and me. We'll go over what they are, how they work, and what you should look for to choose the best VPN for PC use.
With all that out of the way, we'll give you overviews of four of the best VPNs for PC applications. And we'll wrap it up with some FAQs (Frequently Asked Questions) on the subject of using VPNs with a PC. By the end of this article, you'll understand how valuable VPNs for PCs are, and be ready to choose one that will best suit your needs.
So let's get started.
The internet is an incredible resource for PC users. Unfortunately, it is also the wild, wild, west when it comes to cybercrime, identity theft, and even ransomware.
There are lots of crooks, hackers, and spies out there who would love to get their hands on your private data. Your credit card information is constantly flying back and forth across the internet, along with medical information and other data you would like to keep private. In today's work-from-home world, you may well be passing company secrets back and forth as well.
Even seemingly innocuous stuff like which websites you frequent, and who you exchange messages with, is valuable to people who want to track you, profile you, attack your political views, or simply sell you junk you don't want or need. And out of all this horde of people profiting from collecting and selling your data, not one red cent makes it into your hands. For you, the results of all this hard work will probably be negative.
The key to regaining control of your data, and protecting yourself from all these people, is a VPN. A VPN, short for Virtual Private Network, uses sophisticated techniques to prevent people from being able to track where you go and what you do online. Aside from privacy and security, VPNs are also a valuable tool to unblock websites and access content from anywhere in the world. This is done by hiding your IP address and replacing it with the VPN's IP address and virtual location.
The trick is knowing which PC VPN is best for you.
There are hundreds of VPN services these days. Virtually every one of them offers a VPN for PCs running Microsoft Windows.
Now we know that you don't have the time or the interest to test loads of PC VPNs yourself. So we did it for you. We've tested dozens of popular VPNs for the PC and identified the best services that met the following criteria:
Passed our IP address and DNS leak tests with no data leaks found
Are consistently fast and reliable across their VPN server network
Give you high-quality PC VPN apps with a kill switch and no buggy features
Support the OpenVPN protocol and strong encryption standards (with bonus points for WireGuard support)
Offer a money-back guarantee
Are backed by established, trustworthy companies with good track records for protecting their users
Are located in privacy-friendly jurisdictions outside the USA, UK, and other Five-Eyes countries
The four VPNs we cover in this article are all reliable, secure, and protect your privacy. That said, each has its own unique features, and its own pros, and cons. Still, they are all quality products that offer a lot of value for your money.
Note: There is one last topic to cover before we get deep into this. Today, the vast majority of PCs use the Windows 10 operating system from Microsoft. But some people out there are still running the excellent Windows 7 operating system, or heaven forbid, the disaster that was Windows 8. If you are running either Windows 7 or Windows 8, you would really benefit from upgrading.
Now let's examine the test results and top performers.
Here are the best VPNs for PC:
NordVPN – The best VPN for PC users in 2023
| | |
| --- | --- |
| VPN | NordVPN |
| Based in | Panama |
| Logs | No logs (audited) |
| Price | $3.19/mo. |
| Support | 24/7 live chat |
| Refund | 30 days |
| Website | NordVPN.com |
Coming in at number one, NordVPN tops our list as the best VPN for PC. This Panama-based service competes head-to-head with ExpressVPN in most categories. But that doesn't mean these services are clones of each other. Far from it.
If ExpressVPN is the mature, polished, somewhat conservative guy in the three-piece suit who concentrates on getting the things he does exactly right, NordVPN is more the techie in the back room. He might need to get his hair cut and a little more attention to how he dresses but is out there pushing the edge on PC VPN technology.
For example, NordVPN was one of the first VPNs in the world to support the WireGuard VPN protocol. This offers the fastest speeds and the latest in VPN encryption and security. NordVPN's implementation of this new protocol is called NordLynx.
NordLynx gives NordVPN users the blinding speed of WireGuard, as well as addresses a potential privacy risk in the WireGuard design. ExpressVPN, meanwhile, seems content to leave WireGuard to the kids for now, but will likely support it once they have their own, highly-polished implementation.
The WireGuard protocol gives NordVPN a big advantage in performance over other VPNs. You can see this in the NordVPN vs PIA comparison. Below is a NordVPN speed test result. It is the fastest VPN for PC that we've tested at 445 Mbps.

Given their technical bent, you won't be surprised to hear that Nord's VPN client for PCs is loaded with features. Hit the Quick Connect button to let NordVPN find the best server for you in real-time and connect your PC to it in seconds. You can also set NordVPN to connect automatically when your PC starts or when you try to connect it to a WiFi hotspot. This is a great way to ensure that your personal information is protected when you are using your computer in a risky environment like a coffee shop or public park.
Like ExpressVPN, third-party audits confirm that NordVPN's strong no-logs policy works as advertised. They have also moved to a diskless server model, private DNS, and a kill switch to ensure that their security is the best possible.
Let's get back to that theme of edgy VPN technology. Beyond NordLynx, the NordVPN network includes several types of special-purpose servers that you might want to take advantage of:
Double-VPN servers that route traffic over two VPN servers. This doubles the VPN encryption for your PC. We describe the benefits of multi-hop VPNs here.
Onion-over-VPN servers add the Tor (The Onion Router) network into the mix, giving you the anonymity benefits provided by Tor.
Obfuscated servers that disguise your PC's VPN traffic to look like standard HTTPS encryption. This allows you to use a VPN in Dubai, China, and anywhere else where VPNs may be blocked.
Then there is CyberSec, which is a VPN ad blocker (and more). Turn on CyberSec, and the VPN will automatically block ads, trackers, malware, and even phishing domains from loading on your PC. Not only does CyberSec protect your PC from all that junk, but it also makes your connection faster by blocking these bandwidth-guzzling resources.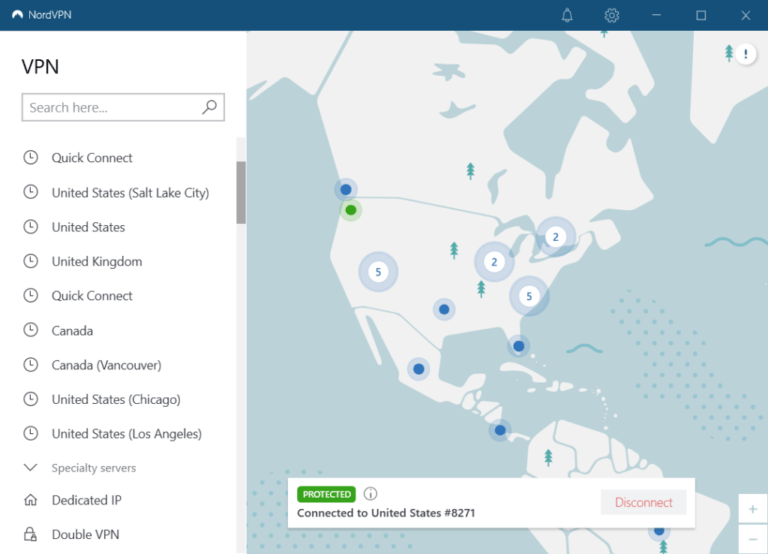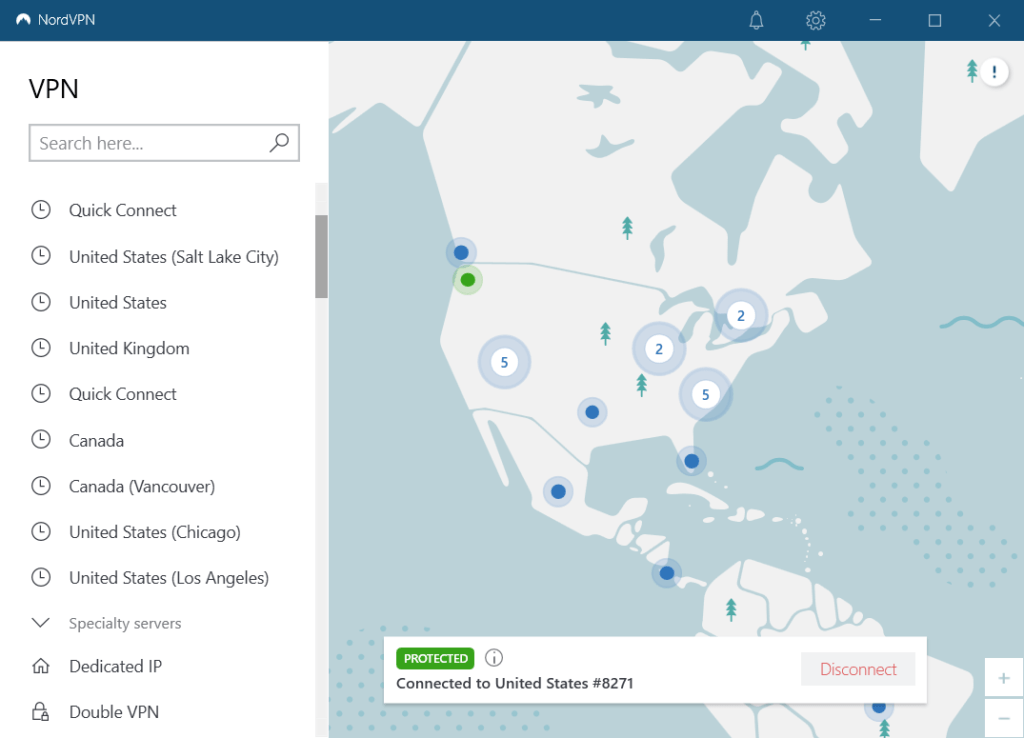 NordVPN also shines if you need a VPN for streaming. It can access many Netflix libraries, including the US, UK, Canada, Germany, France, and other locations. NordVPN also works with other streaming services such as Hulu and Amazon Prime. Lastly, NordVPN was our top pick as the best VPN for torrenting thanks to its torrent-friendly policy, strong security, and fast speeds.
Like most top-notch VPNs, NordVPN has a full 30-day money-back guarantee, along with 24/7 live chat support. On a final note, you get all this for the price of a cheap VPN, at under $4 per month with the coupon below.
+ Pros
User-friendly and reliable apps
Double-VPN and Tor-over-VPN servers
Passed numerous 3rd-party audits
Strong encryption standards with full support for WireGuard
Works with Netflix and many streaming sites
Threat Protection feature to block ads, trackers, and malware
Professional 24/7 live chat support
Consistently fast speeds
Dedicated RAM-servers with 10 Gbps bandwidth channels
– Cons
Big discounts only available with 2-year plans
NordVPN's Cyber Deal is live:

Get 68% Off NordVPN with the coupon below plus 3 months FREE, no activation code needed:
(Coupon is applied automatically; 30 day money-back guarantee.)
Our NordVPN review goes into much more detail on all this.
---
Surfshark – A reliable and fast PC VPN
| | |
| --- | --- |
| VPN | Surfshark |
| Based in | The Netherlands |
| Logs | No logs |
| Price | $2.30/mo. |
| Support | 24/7 live chat |
| Refund | 30 days |
| Website | Surfshark.com |
Next up on our list is Surfshark, an up-and-coming VPN service based in the British Virgin Islands. Only a few years old (launched in 2018), Surfshark has been quickly rising through the crowd with excellent speeds, lots of great features, and a very affordable price.
Surfshark offers a feature set that's similar to NordVPN while adding a couple of features that really help it stand out. Here are a few:
MultiHop is the Surfshark version of Double-VPN servers.
CleanWeb is a filter to block ads, trackers, and malware domains.
Camouflage mode is an obfuscated server feature to hide (obfuscate) VPN traffic.
WireGuard support with top-grade encryption and excellent speeds.
WhiteLister is a split tunneling solution.
Alert and BlindSearch are extra (paid) features that you can add to your subscription. Alert notifies you if your email address is involved in any data breach, while BlindSearch is a bare-bones, ad-free, private search engine.
As you would expect from a PC VPN on this list, Surfshark does a good job of streaming video with support for 10+ Netflix regional libraries. It is also one of the best VPNs for Hulu, BBC iPlayer, Amazon Prime, and others. As far as torrenting, Surfshark allows it on all their servers.
Adding to Surfshark's value is the fact that the service is dirt cheap. In a Surfshark vs NordVPN price comparison, Surfshark comes out ahead with a price of only $3.19 per month. On top of that, unlike most other VPNs, Surfshark gives you an unlimited number of connections. Depending on the number of PCs in your family, this could be a huge bonus for Surfshark subscribers.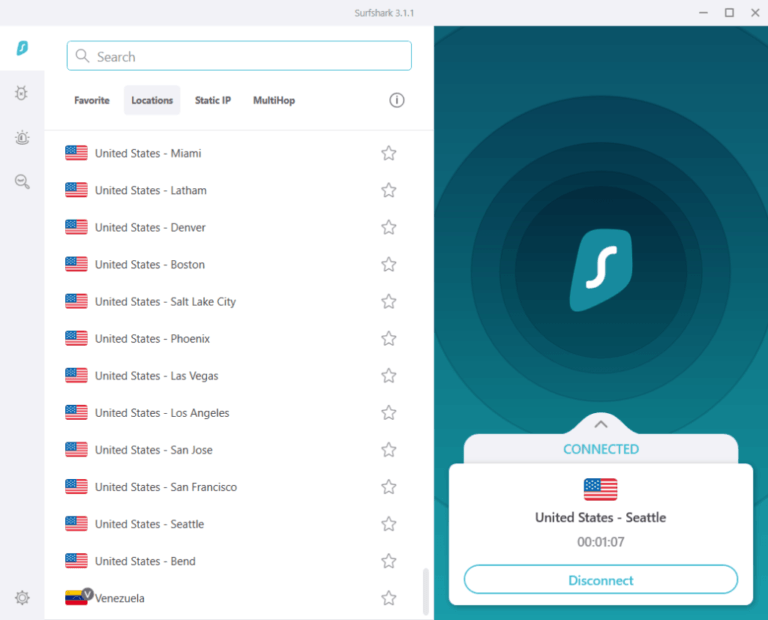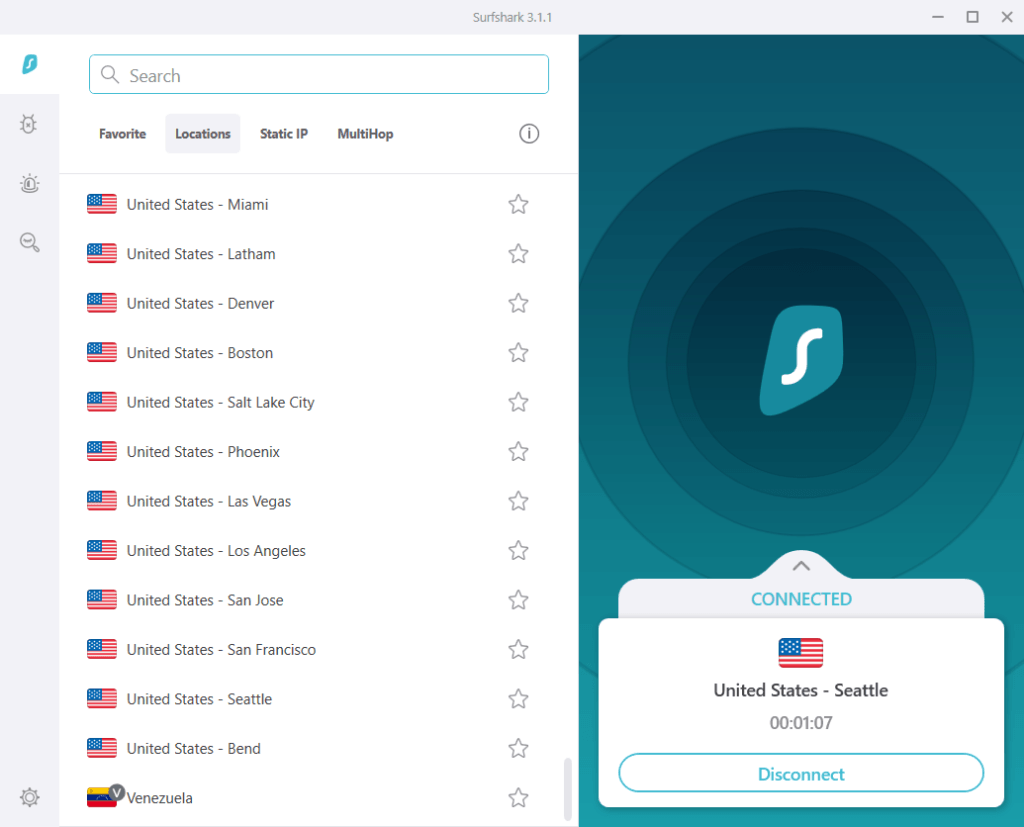 Surfshark is of course a no-logs VPN with a kill switch and their own private DNS service like the rest of our contenders. Also, like them, they give you 24/7 live chat support and a 30 day money-back guarantee.
Surfshark might have ranked even higher as a VPN for PCs except that it isn't quite as fast as ExpressVPN or NordVPN. This isn't a major problem, particularly when you consider unlimited connections and a super low price tag.
+ Pros
Unlimited connections
User-friendly apps for all devices and operating systems
CleanWeb feature to block ads, trackers, and malware
Works great with Netflix and many other streaming services
24/7 live chat support
Strong encryption and security features (audited)
– Cons
Limited support for VPN routers
Above average monthly prices
Surfshark VPN Coupon:

Get 82% off Surfshark VPN (drops the price down to $2.30 per month) plus 2 months FREE:
(Coupon is applied automatically.)
You can learn even more in our Surfshark VPN review.
---
ExpressVPN – Secure, reliable, and user-friendly VPN for PC
| | |
| --- | --- |
| VPN | ExpressVPN |
| Based in | British Virgin Islands |
| Logs | No logs (audited) |
| Price | $6.67/mo. |
| Support | 24/7 live chat |
| Refund | 30 days |
| Website | ExpressVPN.com |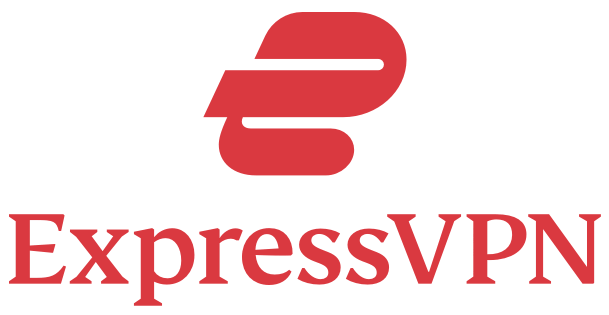 ExpressVPN is an excellent all-around VPN for many types of uses, and it's also a great VPN for PC users. The company is based in the British Virgin Islands (BVI). The BVI is considered to be an excellent privacy jurisdiction. The government there imposes no mandatory data retention laws and the country is a favorite locale for VPNs and other privacy-oriented services. Add in the fact that ExpressVPN is a verified no logs VPN provider (confirmed by independent audits) and you can see how it ranks well in the privacy category.
On the technical front, ExpressVPN's attractive PC app gives you strong encryption along with features like built-in leak protection, split tunneling, private DNS, and Network Lock (the ExpressVPN version of a VPN kill switch).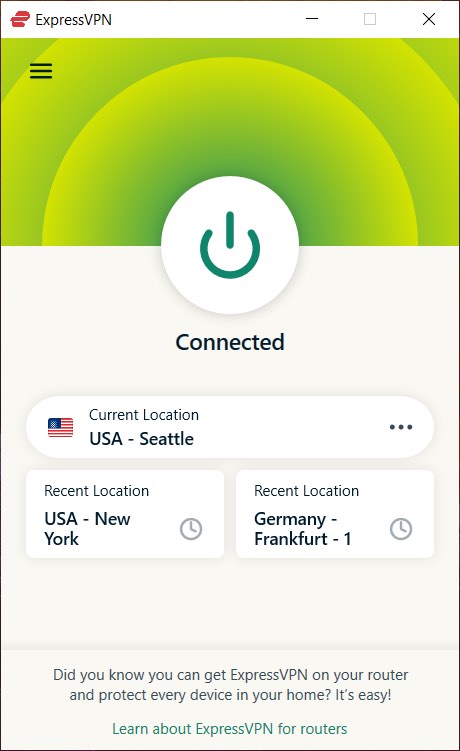 What about security? Yes, ExpressVPN provides excellent security too. Their VPN for PCs running Microsoft Windows secures your data with the AES-256 cipher and supports the OpenVPN, IPSec, and Lightway VPN protocols. Lightway is similar to WireGuard, but it's developed exclusively by ExpressVPN.
Server security is also a top priority. ExpressVPN runs all servers in RAM-disk mode, which means no data can ever be stored on the servers. They were one of the first VPNs to offer this feature, and we see others following suit.
Okay, that all sounds good. What about streaming media? Well, ExpressVPN is one of the best VPNs for Netflix, BBC iPlayer, and Hulu, regardless of where you are located in the world. It is also a great VPN for Amazon Prime, providing consistent access. It doesn't matter where you happen to be, because ExpressVPN has servers in 160 different locations spread across 94 countries.
While ExpressVPN is super reliable if you need support, ExpressVPN has you covered. They offer 24/7 live chat support and can help you with virtually any problem you might have (VPN-related, of course). If this all sounds interesting, it is easy to test-drive ExpressVPN too. They offer a 30-day, no-questions-asked, money-back guarantee for all their subscriptions. That's plenty of time to see what this excellent VPN can do for you.
+ Pros
User-friendly and secure apps
Split tunneling feature (for macOS, Windows, and routers)
Works with Netflix and most streaming services
24/7 live chat support
Passed independent third-party audits for security and no-logs
Very large server network
– Cons
Above-average prices
Fewer features
Average OpenVPN speeds (use Lightway)
See our ExpressVPN review for more information and analysis.
---
VyprVPN – A Swiss VPN for PC users
| | |
| --- | --- |
| VPN | VyprVPN |
| Based in | US |
| Logs | No logs (audited) |
| Price | $5.00/mo. |
| Support | 24/7 live chat |
| Refund | 30 days |
| Website | VyprVPN.com |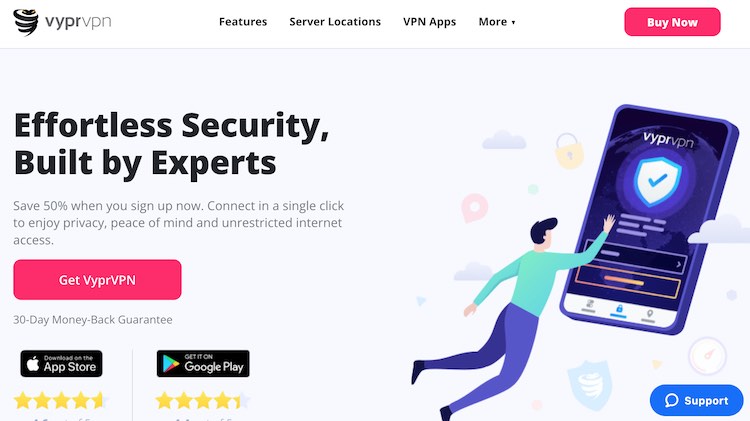 One thing we like to do is keep in touch with the companies producing privacy products. The best companies are constantly striving to improve, adding new features and fixing problem areas identified previously. VyprVPN is a perfect example. In the past, there were some things about this PC VPN that bothered us, enough so that we weren't comfortable recommending them. But this service has really upped their game recently.
Based in Switzerland, VyprVPN has made a number of major improvements recently, including the addition of support for the WireGuard protocol. This service is now much faster than before, turning in excellent results in our testing of their WireGuard implementation. While not the fastest VPN on the market, VyprVPN is definitely faster than the majority of VPN services. This level of performance is sufficient to make it a good VPN for gaming.

Beyond their WireGuard support, VyprVPN is comparable to the other VPNs in this guide. They allow torrenting on all servers and support a variety of streaming services. They even offer a dedicated app if you want to use a VPN for Firestick.
Top-tier encryption, leak-free operation, a kill switch, private DNS, 30-day money-back guarantee, and all the rest of the criteria we mentioned at the start of this post. While it did not win over our top recommendation in the NordVPN vs VyprVPN comparison, VyprVPN is still worth considering and remains one of the top VPNs for PC users.
+ Pros
Secure applications with strong encryption
Excellent speeds with all servers tested
Full WireGuard support directly in VPN apps
Chameleon protocol (obfuscation)
Entirely self-owned server network
User-friendly apps for many devices/platforms
Based in Switzerland with an audited no-logs policy
– Cons
Requires name for registration
No cryptocurrency payment options
Above-average prices
Fewer features than some other leading VPNs
Check out our VyprVPN review for more info.
---
PC VPNs that are NOT recommended
There are over 200 VPN services on the market, and just like anything, there are some bad apples you'll want to avoid.
Here are a few VPNs that we are not recommending:
There are many other VPNs that I don't recommend. If you want to know more, check out our VPN reviews.
Best VPN for PC FAQs
Here are some of the frequently asked questions related to finding and using the best VPN for PCs.
Do you need a VPN for your PC?
If you are like most PC users, your computer is running Windows 10. This is a powerful operating system and combined with the latest antivirus / anti-malware software, it should be well-defended against attacks. So why would you need to shell out for a PC VPN too?
A VPN for a PC provides a different kind of protection than antivirus and anti-malware software and even Windows 10's built-in defenses. Those all protect your computer against outsiders trying to break in. A VPN protects the messages that pass back and forth between your PC and the rest of the world. When you do anything online, messages pass from your PC to your ISP (Internet Service Provider), through various servers and other hardware, until they eventually reach their destination (the Restore Privacy website, for example). Messages returning to your computer do the same, only in reverse.
Unfortunately, this message traffic is not guaranteed to be safe from snoops. At various points along its path, the messages passing to and fro could be intercepted and read by various strangers. While the HTTPS protocol that many websites use does protect your traffic to some extent, your ISP can see who you are communicating with. The website or other computer you are ultimately communicating with can see your IP address, which at a minimum tells them where you are physically located, and might even be enough to identify you individually.
Even governments get in on the act when it comes to spying on what you are doing online. Don't believe it? Let us introduce you to Room 641A. According to Wikipedia, "Room 641A is a telecommunication interception facility operated by AT&T for the U.S. National Security Agency, as part of its warrantless surveillance program as authorized by the Patriot Act. The facility commenced operations in 2003 and its purpose was publicly revealed in 2006."
When faced with powerful opponents like these, the only defense normal people have is to use a VPN on your PC. A VPN creates an encrypted tunnel between your PC and the Internet.
You get security thanks to encryption. You get privacy because the VPN service prevents others (even the site you are communicating with) from seeing your true IP address.
How a PC VPN solves the ISP spying problem
If you aren't using a VPN for your PC, your ISP (and your mobile carrier if you are using your smartphone) can see a lot of what you are doing online. The HTTPS protocol is being adopted by more and more websites. With HTTPS, no one (except you and the website you are connected to) can read the messages flowing between the two. That's great, but HTTPS cannot prevent the ISP or mobile carrier from seeing which website you are communicating with.
To pass your message traffic back and forth, they have to know where the traffic is coming from and going. This connection data in itself is very valuable to certain parties. In the United States, companies are allowed to use this information themselves, as well as sell your data to anyone who wants to buy it. In other countries Australia for example, those companies are required to record and store your connection data for at least 2 years in case some government bureaucrat wants to see it.
In the US, the FTC published a report showing how all the major ISPs are collecting data and sharing it with a wide network of third parties. See our article describing how internet service providers are collecting browsing history.
If you aren't using a VPN, companies can monitor your DNS requests to see which websites you communicate with. Your web browser can't understand addresses that are in a human-readable form (say, https://restoreprivacy.com). When you enter one like this into your browser's address bar, the browser will send that address to a DNS service with a request to translate it into a computer-readable form (an IP address, which looks something like this: 45.79.189.67). Normally, your ISP or mobile provider controls the DNS and as part of the process of translating from human to machine-readable form, they record that at this time your computer communicated with this website.
While this may sound innocuous, it isn't. Do you want anyone at your ISP to know every website you visit and pass this information on to third parties?
One of the benefits of using the best VPNs for PCs is that they can encrypt your DNS requests before your internet service provider can see them. Then the VPN's own DNS can handle the requests. With both your message traffic and DNS requests protected by the VPN, your ISP only knows that you are using a VPN (which is completely legal in all but a handful of super-repressive countries). Beyond that, your privacy is completely protected.
Are VPNs legal for PCs?
Note: We are not lawyers. This is general information only. If you want a formal legal opinion, please contact your personal attorney.
As alluded to above, in almost all countries, it is legal and common for companies and individuals to use virtual private networks (VPNs), to secure their private communications. Businesses and government agencies rely on VPNs to protect their own communications and it would make no sense to make doing so illegal.
However, the Chinese government has a ban in place for VPNs that don't meet the government's strict state censorship requirements. You can learn more about this particular situation in our VPN for China guide. Other repressive countries such as the United Arab Emirates (UAE) also have similar laws. But if you live virtually anywhere else in the world, using a PC VPN remains safe, legal, and popular.
Are VPNs for PCs safe to use?
This depends on your definition of "safe." Except in a few extremely repressive countries, using a VPN is legal, and therefore safe.
If you are asking whether a PC VPN can keep your communications safe from prying eyes, good, reputable VPNs like the ones we recommend here can protect your communications from most threats. However, if you get the attention of a sufficiently powerful enemy, there are no guarantees. Annoy the NSA or some other national intelligence service, and the odds are high that they will find out what you are up to and make you regret it. In addition, if you use a VPN service that is based in the same country as the government you annoy, the odds of your getting caught increase greatly.
If you want to go beyond what even a VPN can do for you, check out our guide on how to be anonymous online.
Can I use a PC VPN to watch international TV and sports?
Yes you can. Not all VPNs are capable of making this work, but the best VPNs for PCs are quite capable of it.
Watching international sports and television shouldn't even be a problem, but for various commercial and legal reasons, much international content is geo-blocked. That is, the content is restricted to only specific regions. To know who gets to see the content, most streaming media services check the IP address of the computer or other device that is requesting access to the content. Only devices connecting from the "right" IP addresses are allowed to see the content.
This is why VPNs have servers located all around the world. The IP address of each server corresponds to its physical location. By using a VPN server that is located in the "right" geographic region, you should be able to view the content.
But things aren't that clear-cut. That's because many services such as Netflix try to prevent VPN users from getting access to their content. To get the job done, you need a VPN like the ones we recommend here. They all have the ability to get access to international TV and sports that most VPNs can't. For more specific information, check out this guide to the best PC VPNs for streaming media.
Conclusion on PC VPN services in 2023
That wraps up this review of the best VPN services for PC users. We've given you the names of four excellent VPNs that provide security to your internet activities while protecting your privacy from the many threats lurking on the internet. Even better, these top VPNs give PC users access to the best information and entertainment available on the internet regardless of where you are or where it originates.
Remember that what we give you here is only a summary of what makes each of these VPNs great for PC users. To get the full scoop on any or all of them, follow the links below. And don't be afraid to download one of these VPNs and give it a solid test drive. Every VPN we recommend here gives you a full 30-day, money-back guarantee. You've got nothing to lose.
---

---

---

---
Note: You can get more information and a different perspective in this VPN for Windows comparison.
This guide on the best VPNs for PC was last updated on August 31, 2023.