IPv6 is increasingly common as more devices connect to the internet, from mobile phones to Smart TVs. And as more devices go online, there will be a growing demand for the universal adoption of IPv6. Right now, however, there are only a few VPNs with IPv6 support. In this guide we'll examine the top IPv6 VPNs and also answer some frequently asked questions.
One problem when using a VPN (virtual private network) is IP address leaks. This is especially the case with IPv6 (Internet Protocol Version 6). While many VPN services block IPv6, there are also some VPNs with IPv6 support, thereby giving you a full IPv6 and IPv4 address with every server in the network.
However, before we discuss these IPv6 VPN services, let's first cover some basics.
What are IPv4 and IPv6?
Every device that connects to the internet has a unique IP (Internet Protocol) address. This address can be used to identify your specific device and geographic location. An IPv4 address is an IP address system that utilizes a 32-bit decimal number (like this: 192.0.2.235). But because we're rapidly running out of IPv4 addresses with more devices connecting to the internet, the transition to IPv6 is getting underway.
An IPv6 address is the updated IP address system, which uses a longer 128-bit version. This significantly increases the number of IP addresses available. An IPv6 address looks like this:
2001:0db8:0000:0042:0000:8a2e:0370:7334
The transition from IPv4 to IPv6 that is currently underway creates a problem for most VPN services.
VPN services with full IPv6 support
Most VPNs have been slow to accommodate this transition to IPv6 and update their server networks accordingly, even in 2023 with more devices online. Of course, upgrading servers to support IPv6 is an expensive and difficult fix. So it's understandable that it's not (yet) a top priority.
Right now, we only see a few VPN services offering full IPv6 support, whereby you will receive both an IPv4 and IPv6 address when you connect to the VPN server. So without further delay, let's examine some IPv6 VPNs.
Here are the best VPNs with IPv6:
Perfect Privacy VPN with IPv6
| | |
| --- | --- |
| VPN | Perfect Privacy |
| Based in | Germany |
| Logs | No logs |
| Price | $8.95/mo. |
| Support | Email |
| Refund | 7 days |
| Website | Perfect-Privacy.com |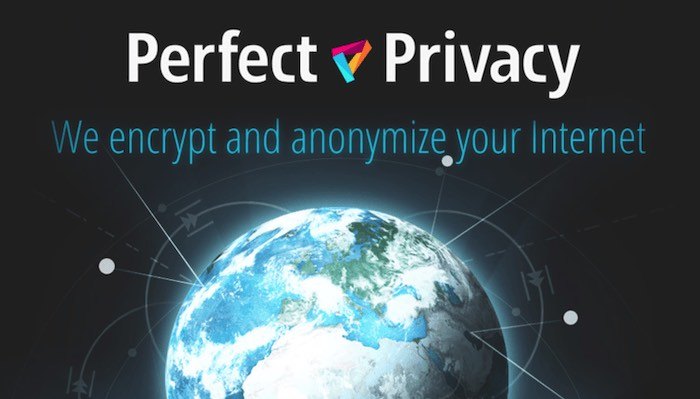 We have been fans of Perfect Privacy VPN for many years, and it is often ahead of the crowd when it comes to VPN features and improvements. For example, it was one of the first VPNs to offer an ad-blocking VPN feature with robust filtering capabilities.
Perfect Privacy VPN has supported IPv6 for many years now. You can see this on the Perfect Privacy server status page, which shows:
All server locations and which servers are online
Real-time bandwidth statistics
The VPN servers that support IPv6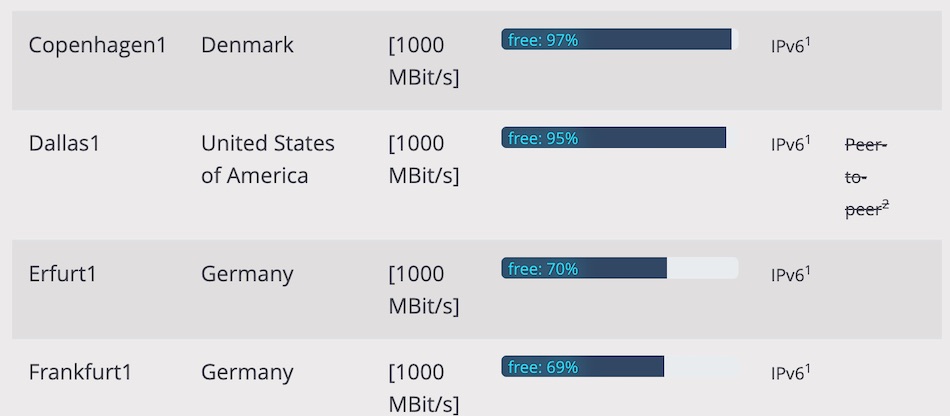 Nearly every server in the Perfect Privacy network supports IPv6, as you can see is noted on the right in the image above. One interesting point that we also see is that torrenting is not allowed on US servers, such as in Dallas. Many VPNs block torrenting on servers in countries that have strict copyright regulations. This is discussed more in our torrenting VPN guide.
Perfect Privacy has apps for Windows, Mac OS, Android, and Linux. Other operating systems are supported natively or through third-party apps like Tunnelblick. Regardless of what app or device you are using, Perfect Privacy servers always provide you with a full IPv6 and IPv4 address whenever you are connected.
Perfect Privacy has some other useful features, including a VPN ad blocking tool called TrackStop. It's multi-hop VPN feature is provides users with more security by allowing you to chain up to 4 VPN servers at the same time.
Overall, Perfect Privacy is a great service for those seeking advanced Privacy and security features, but it does come with a few drawbacks:
Above-average prices (starting at $8.95 per month)
Limited support for streaming services (see these other VPNs for streaming)
No apps for iOS devices
Our Perfect Privacy Review has more info and test results.
---
OVPN – Privacy-focused IPv6 VPN service
OVPN is a VPN service based in Sweden that is heavily focused on privacy. And like Perfect Privacy, OVPN has offered IPv6 support for the past few years. It is also a verified no-logs VPN, having had their no-logs policy challenged (and verified) in court.
OVPN performed well in our tests for the OVPN review. We found it to be fast, reliable, and user-friendly. And while it is somewhat limited in streaming support, it is still a VPN that works with Netflix for a select few regions. Below is the OVPN Windows VPN app we tested out. Notice that you can enable/disable IPv6 directly in the settings area: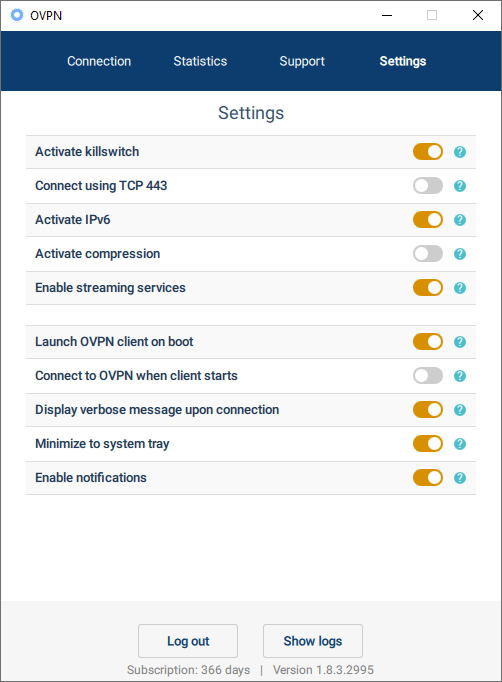 OVPN also now supports the WireGuard VPN protocol. WireGuard is a newer VPN protocol that delivers excellent performance and upgraded security. In our tests, we have found WireGuard to significantly outperform OpenVPN and other legacy protocols. Similarly, VPNs with WireGuard usually outperform VPNs with (only) OpenVPN by a large margin. You can see this in the NordVPN vs IPVanish comparison.
OVPN also has some great privacy features. First, they offer VPN browser extensions with ad-blocking capability. They also have double-VPN servers that route and encrypt traffic over two hops in the network. OVPN owns all of the servers in their network, giving them full control over all infrastructure hardware (no rental servers). To learn more, check out their website or read our review below.
See our OVPN review for more info and test results.
---
Mullvad VPN – Privacy-focused VPN with IPv6
Next up on our list of IPv6 VPNs is Mullvad. Mullvad is a privacy-focused VPN in Sweden. Not only do they offer a VPN service, they also have developed a secure browser.
With Mullvad, you can enable IPv6 easily from within the VPN Settings area of the VPN client, as you can see below.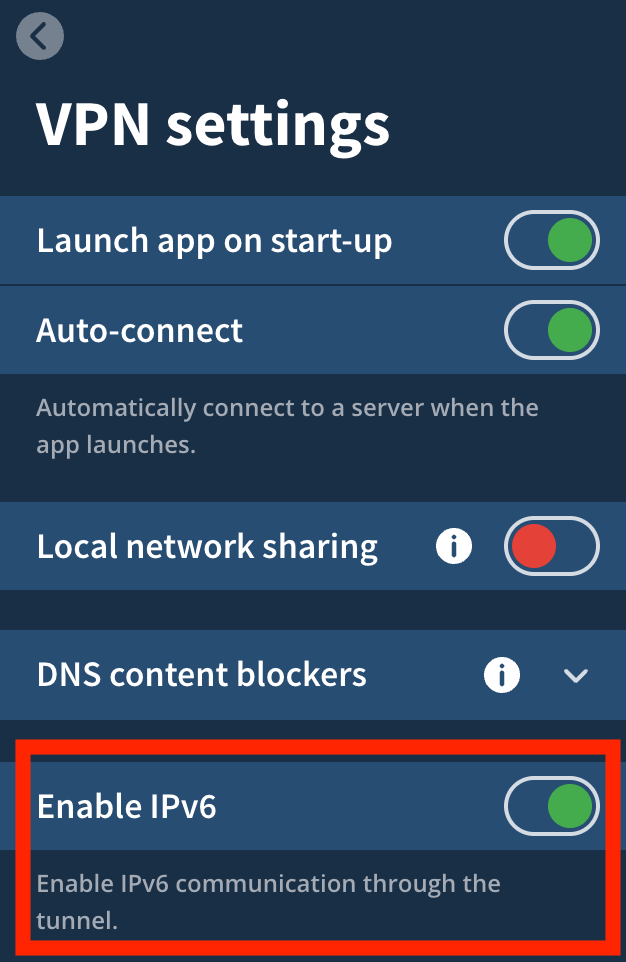 Aside from IPv6, Mullvad also has an ad-blocking feature. While it does well in the areas of privacy and security, it is not great at unblocking websites and accessing streaming content. It is not a great VPN for BBC iPlayer and was blocked in our tests. Similarly, it's also not a reliable option if you need a VPN for Amazon Prime.
Mullvad offers VPN apps for Windows, macOS, iOS, and Android. You can also use the VPN on a router, but it does not have a direct router VPN app. If you wanted a router VPN app, ExpressVPN may be a better option.
---
AzireVPN – An affordable IPv6 VPN
AzireVPN is another Swedish VPN service that is heavily focused on privacy and security. Like OVPN, AzireVPN also owns all the hardware in its network and has a strict no-logs policy. It supports the WireGuard VPN protocol, but only offers apps for desktop operating systems.
One benefit to AzireVPN is that it is a cheap VPN, with prices under $3 per month – but it's also quite basic. It does not offer the features you would find with ExpressVPN and NordVPN, but the price is reasonable.
AzireVPN has a very small/limited server network, but this is also to be expected with a smaller niche VPN service. The lack of mobile apps is another big drawback, but you can still use third-party apps with AzireVPN. Every server in AzireVPN's network has full IPv6 support.
---
Is my IPv6 address safe with a VPN?
The short answer is maybe. As we already noted above, most VPNs do not support IPv6. This means that they merely block IPv6 on your devices.
We have tested all of the best VPN services we recommend and found them to not leak IPv6 addresses. However, there are some VPNs that we have found to leak IPv6 addresses. One such example was noted in our VPN Unlimited review. As you can see below, the VPN app was providing us with an IPv4 address, but our real IPv6 address was leaking out of the tunnel.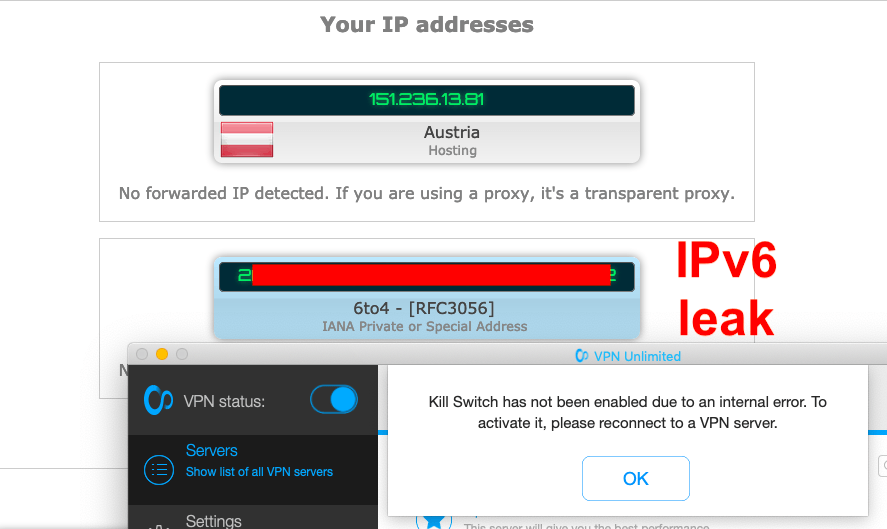 Note: These leaks were limited to the Mac OS VPN apps and were related to problems/errors with the kill switch.
Of course, there are also VPN services that effectively block IPv6, thereby preventing any leaks. However, this situation is a reminder that illustrates the importance of testing your VPN. We have a list of VPN tests you can run to verify IPv6, IPv4, DNS, and more.
VPN IPv6 Solutions in 2023
In dealing with IPv6 with your VPN, you basically have three options:
Use a VPN with full IPv6 support
Disable IPv6 on your device
Use a VPN that effectively blocks IPv6
The best solution is to utilize a VPN service that supports both IPv4 and IPv6 on their VPN server network. As we've already discussed, very few VPNs offer this solution. When you use a VPN with full IPv6 support, you will be broadcasting both an IPv4 and IPv6 address when your device connects to the VPN server.
The second solution is to simply disable IPv6 on your device. This is an easy fix for some operating systems, but not all. For example, you can easily disable IPv6 on Windows, Mac OS, and Linux. However, many mobile devices today rely entirely on IPv6, rather than IPv4. The same holds true for "smart" devices that connect to your network.
Of course, the third option is to use a VPN that effectively blocks IPv6 within the VPN client. We see this solution being implemented with most VPNs today, as we noted in our Surfshark vs NordVPN comparison. And as the demand for IPv6 increases, we can expect to see more VPNs offering full IPv6 support.
It's also important to note that the decision to use IPv4 or IPv6 should not have any effect on VPN speeds. We cover this topic more in our guide on the fastest VPN services.
To conclude, you may also want to check out our roundup of the best VPN services. These are the VPNs that did not have any data leaks and also meet other published criteria.
This IPv6 VPN report was last updated on September 7, 2023.