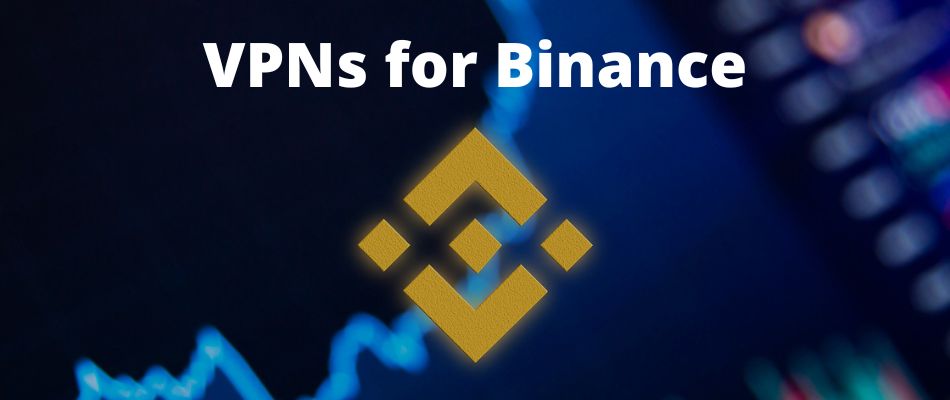 Binance is the world's biggest cryptocurrency exchange platform and it offers many advantages to its users with a huge range of cryptocurrencies and additional capabilities. Unfortunately, the main Binance platform is inaccessible to people in the US and some other countries. Fortunately, there is an easy way to get access with a good VPN (virtual private network), as we'll show you below.
Thanks to regulations from the Commodity Futures Trading Commission (CFTC), people in the US are forced to use Binance.US, a version of Binance that complies with US regulations, but is also quite limited and restricted. Consequently, people are looking for solutions to get full access to Binance.com (the main platform).
If you want full access to Binance.com, you will need a good VPN (virtual private network) — but not just any VPN will work. Many inferior VPNs are already getting blocked by Binance (and many other services for that matter). You will want a VPN with a large network of fast and reliable servers located all over the world. That way, you will literally have hundreds (if not thousands) of servers that you can use for accessing Binance.com
These three VPNs still work for accessing Binance.com and have thousands of fast and reliable servers located around the world:

---

---

---
To quickly access Binance.com from anywhere, simply follow these steps:
Get a subscription to a good VPN service with a large global server network. We recommend NordVPN with this 63% off coupon.
Download and install the VPN app on your device(s).
Connect to a VPN server in a country that does not restrict Binance, such as Mexico, France, Spain, or Canada (outside Ontario).
Access Binance.com as normal and enjoy trading!
Why do people want to unblock Binance.com (and not use Binance.us)?
If you are physically located in the US and you try to log into Binance.com (without a VPN), you'll see a message like this one: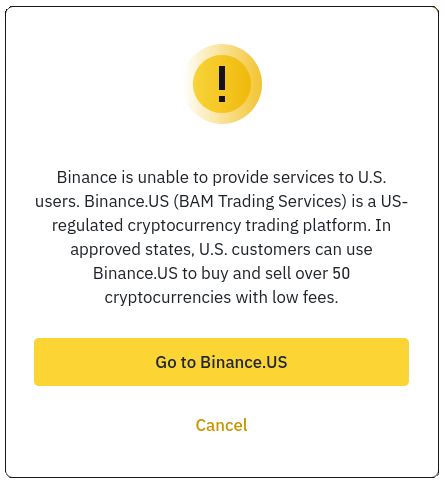 Most crypto users want nothing to do with Binance.US because it is restricted. Among its problems is that it supports only around 60 cryptocurrencies, while the full Binance service (Binance.com) supports hundreds of cryptos. And even crippled as it is, some states ban their residents from using even this version.
The full version of Binance is better all around. But you either need to go outside the United States to use the full version of Binance, or you need to make Binance think you are outside the United States. To make that happen you need to use a VPN for Binance.
Wondering how Binance knows where you are located?
Your web browser tells it. More specifically, your web browser passes along your IP address. Your IP address identifies your computer and also provides some geographic location information. Based on the location information within your IP address, Binance decides whether you are in the United States or not. This is where a VPN for Binance users comes into play. A VPN can easily hide your IP address and make you appear to be in a different location.
How using a VPN for Binance gets you connected
Many people use VPNs for streaming services to appear in a different physical location in the world and defeat geo-blocking. Using a VPN to access Binance works almost the same way. In this case, you connect to a VPN server that is physically located outside the United States. The VPN server replaces your IP address with its IP address. As a result, you will appear to be located where the VPN server is located.
Once connected to a VPN server outside the US, you will be able to access Binance.com, create an account, and trade normally. When the Binance website reads your IP address, it will see the non-US location of the server and let you through.
Not all VPNs can pull off this trick. For whatever reason, Binance can sometimes detect that you are using a VPN and block the internet connection. Other VPNs might be able to get through, but leak your real IP address from time to time. Because it is a violation of the Binance terms of service for someone in the United States to use Binance.com, such a leak could conceivably get you banned from Binance.
Simply put, you need a good VPN for Binance.
In this article, we recommend three VPN services that allow you to reliably connect to Binance, without leaking your IP address or otherwise causing you problems.
Ranking the best VPNs for Binance
In order to make our list of the best VPNs for Binance, a VPN service had to meet these criteria:
Easy access. The VPN needs to be able to easily access Binance.com without getting blocked.
Strong Security. To keep your internet traffic secure, we look for VPNs that employ the best modern VPN protocols (OpenVPN and WireGuard) with strong encryption standards.
Privacy Protections. We look for no logs VPNs with strong privacy policies. In addition, they must prevent leaks of your IP address or your DNS queries. Last but not least, we want VPNs with good reputations for guarding your data and keeping it out of the hands of outsiders.
A safe jurisdiction. While some jurisdictions respect online privacy rights, others do not. It seems every week there is a new spying scandal in the news. It is wise to choose a VPN that is not based in the United States or one of its close 5 Eyes allies.
Quality VPN apps. We look for VPNs with high-quality apps for common operating systems and devices, apps that are also reliable and easy to use.
Vast server networks. A good VPN will have a large, fast, and secure server network. Considering the topic of this article, we've added the presence of lots of servers in Mexico and Canada. Connecting to Binance through servers in neighboring countries is the best way to keep the latency of the connection to a minimum.
Speed. More speed is always welcome in a VPN. You'll be happy to know that the three VPNs we recommend are three of the fastest VPNs available.
24/7 customer support. It doesn't matter how well made a VPN is; in the real world things sometimes go sideways. We recommend VPNs with strong customer support, particul 24/7 live chat support.
A good money back guarantee. Until you use a VPN yourself, you won't know for sure that it is right for you. The VPNs we recommend all offer 30 day money back guarantees. This gives you plenty of time to test out the VPN to make sure it works for your needs.
Now let's examine the best VPNs for Binance.
NordVPN – Best VPN for accessing Binance (fastest speeds and best features)
| | |
| --- | --- |
| VPN | NordVPN |
| Based in | Panama |
| Logs | No logs (audited) |
| Price | $3.29/mo. |
| Support | 24/7 live chat |
| Refund | 30 days |
| Website | NordVPN.com |
Based on our research and testing, NordVPN is the best VPN for Binance. It does a great job of connecting you to Binance from the US, or anywhere else in the world. With hundreds of servers in Canada and several in Mexico, and the fastest speeds we have ever seen in a VPN, you've got everything you need.
NordVPN is based in Panama, a great jurisdiction for a VPN that respects privacy. This VPN also stands out with a strict no-logs VPN policy and it has passed multiple independent third-party audits.
As we noted earlier, NordVPN is the fastest VPN we have tested. It offers full support for the WireGuard VPN protocol via NordLynx. This integration makes a fast, secure VPN into an even faster, more secure service. NordVPN easily bests other leading VPNs, as seen in the PIA vs NordVPN comparison.
NordVPN has built a very secure network with more than 5,500 servers in 59 countries. Each of those servers now functions in RAM-disk mode (they contain no hard drives or logs). This makes it impossible for any personal information (or malware) to be stored on the servers. Beyond accessing Binance, this larger server network also makes NordVPN the best VPN for Netflix streaming by giving you access to numerous regions around the world.
Device and operating system support
NordVPN has apps for all the major operating systems and devices, including game consoles, Smart TVs, and popular routers. This means that you should be able to find a VPN app (client) for virtually anything you have that might connect to the internet. If by some chance you do have something that they didn't create an app for, try their browser extensions (Chrome and Firefox). If that doesn't work, consider installing NordVPN on your main router or setting up a special VPN router to handle the problem devices.
Privacy and security features
NordVPN subscriptions allow you to have six simultaneous connections active, and allow unlimited bandwidth. While all their servers support connections to Binance, for additional security you can use their Double VPN servers (see below) that will ensure your real IP address is never exposed. As you can see below, the NordVPN apps we tested passed all our tests without any issues.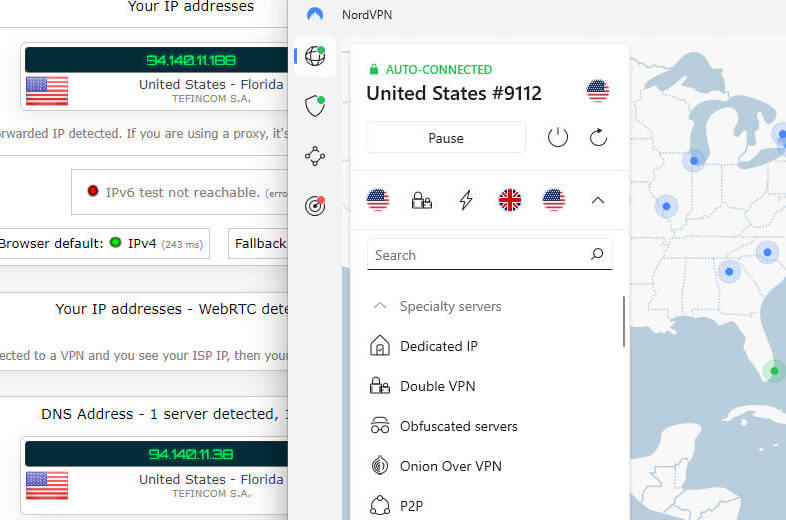 In addition to the Double VPN servers mentioned above, NordVPN has several other advanced privacy and security features, including:
Double VPN servers that add extra security by passing your traffic through VPN servers in two separate locations to add an extra layer of security. (Check out the double-VPN server speed comparison in our NordVPN vs ProtonVPN report to see how this affects performance.)
Tor-over-VPN servers that pass your VPN traffic through the Tor network, in addition to the VPN server.
Obfuscated servers that get through VPN blocks by making your VPN traffic look like regular HTTPS encryption. (This is ideal if you need a VPN for China or other restricted networks.)
Secure apps with a built-in kill switch to prevent leaks and secure all your data.
CyberSec, a powerful feature that blocks ads, trackers, malware, and phishing domains. CyberSec is particularly interesting. It not only improves security and privacy, but it lets pages load faster since all the ads and trackers are blocked before reaching your device.
See all NordVPN security features here >>
Streaming and torrenting
Beyond its prowess unblocking Binance, NordVPN is one of the best VPNs for Amazon Prime streaming, and also Netflix, offering full support for 15+ regional libraries. NordVPN works with BBC iPlayer, Hulu, Disney Plus, and more.
The same capabilities that make NordVPN a safe VPN for Binance make it an ideal VPN for torrenting. In fact, it tops our latest list of the best VPNs for torrenting.
Whatever use you might have for a VPN, NordVPN is a great all-around choice at a very affordable price.
Support – You can contact the techs directly through their 24/7 live chat support line. Or if you are the do-it-yourself type, you can probably find whatever information you need in the guides and instructional videos on the support page. All NordVPN subscription plans come with a full 30 day money-back guarantee.
+ Pros
User-friendly and reliable apps
Double-VPN and Tor-over-VPN servers
No logs (audited twice)
Strong encryption standards with full support for WireGuard
Works with Netflix and many other streaming services
Threat Protection feature to block ads, trackers, and malware domains
24/7 live chat support
Dedicated RAM-servers with 10 Gbps bandwidth channels
– Cons
Big discounts only available with long-term subscriptions
NordVPN's Cyber Deal is live:

Get 63% Off NordVPN plus an additional 3 months FREE:
(Coupon is applied automatically.)
For more info, check out our NordVPN review.
---
Surfshark – Fast, secure, and reliable VPN to access Binance
| | |
| --- | --- |
| VPN | Surfshark |
| Based in | The Netherlands |
| Logs | No logs |
| Price | $2.30/mo. |
| Support | 24/7 live chat |
| Refund | 30 days |
| Website | Surfshark.com |
Surfshark is another VPN that can easily access Binance. While it is only a few years old (launched 2018), Surfshark continues to impress us with its premium features, WireGuard-enhanced speed, and a polished look and feel. It can easily give you access to the full Binance platform through its network of over 3,200 reliable servers in 65 countries. Both Surfshark and NordVPN run all servers in RAM-disk mode to give you enhanced data security.
Surfshark supports WireGuard VPN in all its apps, boosting both performance and security whenever you activate it. When we tested it out for our full Surfshark VPN review, this reliable VPN service reached speeds of almost 400 Mbps using WireGuard. For situations where you can't use WireGuard, Surfshark also supports the OpenVPN and IPSec/IKEv2 protocols. Both of these use the extremely secure AES 256 cipher.
In order to ensure that you suffer no data leaks, all Surfshark apps have a built-in kill switch.
Beyond its Binance capabilities, Surfshark has many advanced privacy and security features. These features include the CleanWeb VPN ad blocker, double-VPN servers, and a split tunneling VPN option.
Device support
Like NordVPN, Surfshark provides easy-to-use apps for all the major operating systems and popular devices. This includes Smart TVs, game consoles, and many of the most popular routers. Here's the Surfshark VPN app for Windows undergoing testing: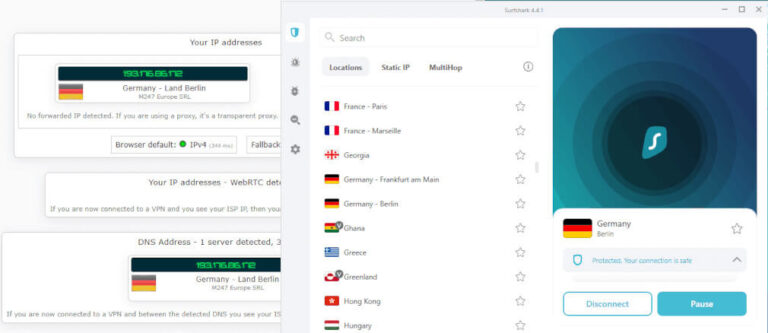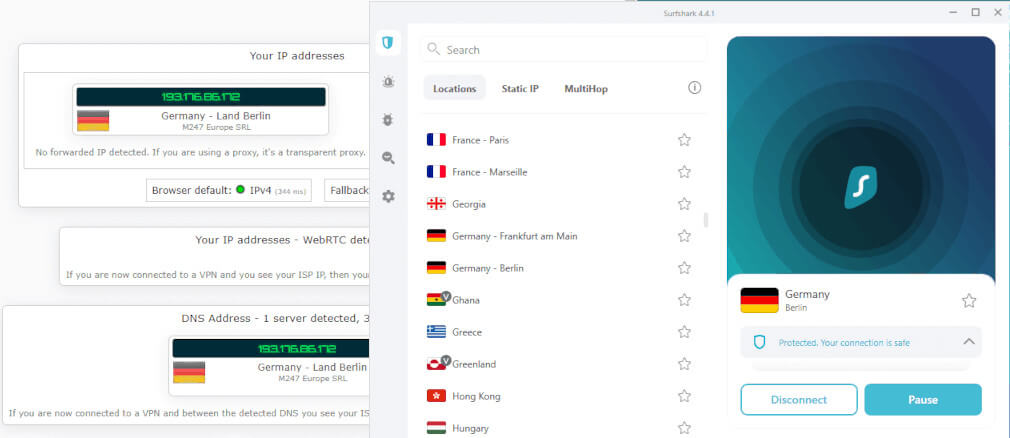 Finally, they have browser extensions for Chrome, Firefox, and Microsoft Edge. The probability that you will have something kind of internet gizmo that they can't support is very low.
Surfshark has two distinct competitive advantages in the battle for the title of best Binance VPN.
First, they allow unlimited simultaneous connections to the network. That means you can have any number of computers, smart phones, and other devices all actively using the VPN simultaneously. Most VPN services prevent unlimited simultaneous connections, usually limiting you to 5 or 6.
Second, they have an amazingly low price. Costing just $3.29 per month, Surfshark is among the best cheap VPN services on the market. Surfshark is an excellent VPN for nearly all uses despite the fact that is one of the cheapest VPNs out there.
Lest I forget, Surfshark is a great choice for torrenting, and it officially supports streaming more than 20 different Netflix libraries. They even have an Amazon app for anyone who needs a VPN for Fire TV and Firestick.
Support – Surfshark has 24/7 live chat support system that is staffed with responsive, knowledgeable, helpful technicians. Surfshark also offers a full 30 day money-back guarantee with all subscription plans.
This Netherlands-based VPN is in a safe jurisdiction and has a strict no logs policy. I can't think of a use case where Surfshark wouldn't be a good option.
+ Pros
Unlimited connections
User-friendly apps for all devices and operating systems
CleanWeb feature to block ads, trackers, and malware
Works great with Netflix and many other streaming services
24/7 live chat support
Strong encryption and security features (audited)
– Cons
Limited support for VPN routers
Average OpenVPN speeds (use WireGuard)
Surfshark VPN Coupon:

Get 82% off Surfshark VPN (drops the price down to $2.30 per month) plus 2 months FREE:
(Coupon is applied automatically.)
Check out our Surfshark VPN review for more details.
---
ExpressVPN – A user-friendly interface to your Binance account
| | |
| --- | --- |
| VPN | ExpressVPN |
| Based in | British Virgin Islands |
| Logs | No logs (audited) |
| Price | $6.67/mo. |
| Support | 24/7 live chat |
| Refund | 30 days |
| Website | ExpressVPN.com |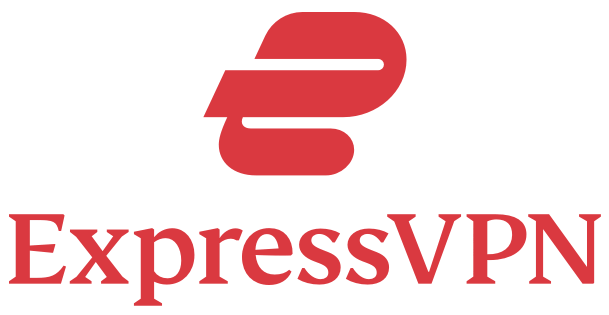 ExpressVPN is an excellent VPN and a definite contender for the best VPN for Binance award. While not as fast as NordVPN or Surfshark, ExpressVPN is still faster than the majority of VPNs available. It also is well-equipped to unblock Binance, with first-class security features and a multi-year reputation for unblocking virtually any geo-blocked website.
ExpressVPN's newfound speed is the result of their new Lightway VPN protocol. Lightway makes ExpressVPN much faster and even more secure than it was before. However, based on our testing, Lightway is not nearly as fast as WireGuard, giving WireGuard-equipped VPNs like NordVPN and Surfshark inherent speed advantages over ExpressVPN.
Note: You can get a good sense of the speed differential in our NordVPN vs ExpressVPN guide.
Based in the British Virgin Islands, this VPN service includes a great lineup of custom applications. It also performed very well in our recent ExpressVPN review. When it comes to privacy and security, ExpressVPN protects your data with a no logs policy, very secure applications (with their Network Lock kill switches installed, of course), and an excellent pro-privacy offshore jurisdiction.
Like the other VPNs in this guide, ExpressVPN is part of the rarified strata of VPNs that have passed a third-party security audit and a no logs VPN audit. They've even survived having a hostile government seize a VPN server looking for data (see our ExpressVPN review for the details). The investigators failed because ExpressVPN really is a secure, no-logs VPN.
Supported devices
ExpressVPN supports a huge range of devices, as you can see on the ExpressVPN website. Below is the ExpressVPN Windows app that we tested out for this report.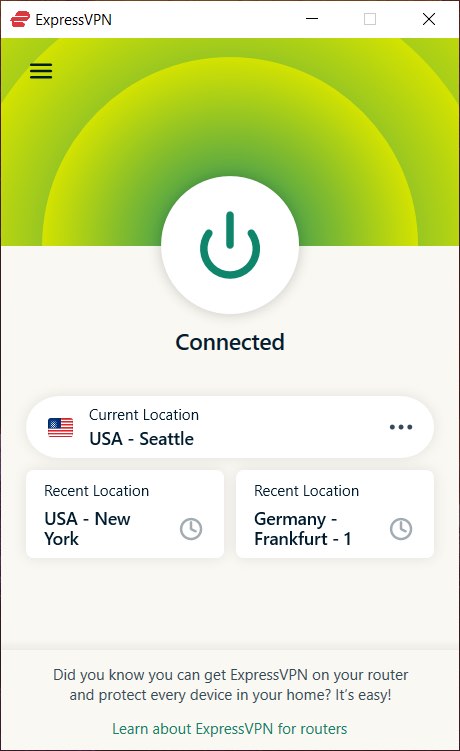 Support – We can say from experience that ExpressVPN's customer support team is excellent. They are also readily accessible thanks to the company's 24/7 live chat support system.
If reliability and ease of use is more important to you than the highest speeds and the most features, then ExpressVPN may be your best VPN for Binance. It is worth considering, especially if you use the discount coupon below.
See the ExpressVPN review for additional information and test results.
---
How to use a VPN with Binance
It is really easy to use a VPN to access Binance from the United States – or anywhere in the world. There are just a few steps you need to follow:
Select a VPN from our list of the best options. Use our coupon for the best savings. Any of them will do the job for accessing Binance.
Sign up for the VPN, then download and install the VPN app on your computer and other devices you want to use.
Launch the VPN app, then connect to a VPN server outside of the United States, such as a server in Mexico or Canada.
Browse over to Binance.com and create an account (or log in if you already have one).
That's it! You are ready to start crypto trading on Binance.com with privacy, security, and peace of mind.
Note: Make sure you always activate your VPN and log into a suitable VPN server before connecting to Binance.com.
The need for internet security demands a VPN for Binance regardless of where you are
Putting aside other considerations, you should always use a VPN to access Binance regardless of where you are located. You need internet security and privacy in today's crazy world.
On the crypto front, day by day more people realize how important it is to own some Bitcoin. This may be good for you as a crypto investor, but it also presents a problem. Today the internet is overrun with creeps trying to steal your cryptocurrencies, particularly your Bitcoin.
The threat is real. Back when Bitcoin was only around $20,000 per coin, an acquaintance of ours watched in horror as some hacker broke into his crypto wallet and transferred out 2 full Bitcoin. With the world economy in a bad way, and predictions of Bitcoin breaching the $100K mark soon, the attacks are going to get even more intense. Just see these two Bitcoin thieves who allegedly stole $3.6 billion in cryptocurrency.
A good VPN will encrypt your connection to Binance, keeping dishonorable creeps from seeing things like your Binance login credentials. If you use a VPN's private DNS as well, not one, not even your ISP will have any idea that you are crypto trading on Binance.
But wait, you say. The VPN will know what I am doing. It is true that they could watch what you are up to. But remember two things. First is that it is their business to protect your privacy. So it is in their economic interest to not pay any attention to what you do. Second, the VPNs we recommend are all trusted, no-logs VPNs with a good track record. Since they don't keep any logs of your online activities, they can't even turn over information about you to someone who does want to spy on you.
Are there other VPNs that unblock Binance.com?
Yes, there may be other VPNs that unblock Binance.com, but they do not meet our strict criteria listed above.
Take for example IPVanish. On the surface this is a decent-looking VPN with a large server network. However, IPVanish was caught logging its own users for the FBI, all while claiming to be a no-logs VPN service.
Similarly, PureVPN is another example of a troubling track record. This self-proclaimed "zero logs" VPN was actually proven to be logging its users when court documents were released for a criminal investigation. See the PureVPN logs case here.
In many cases, we also recommend Proton VPN, a service that has a good track record. Unfortunately, we have also found Proton VPN speeds to be hit or miss, especially compared to other top VPN providers (see the Proton VPN vs Surfshark comparison).
FAQ: Using a VPN to access Binance from the USA
These are some of the common questions and answers that come up when the subject is using a VPN for accessing Binance from the US:
Why do you need a VPN for Binance access?
You need a Binance VPN (a VPN that can successfully access Binance from within the United States) because the US government has banned the full version of Binance from doing business within the United States. The regulators only permit people in the US to use Binance.US, a very limited version of the full Binance trading platform. Someone located within the US who wishes to use the full power of Binance needs a VPN in order to look like they are located outside the US.


Is it legal to use a VPN with Binance?
We know of no law against using a VPN with Binance. In fact, it is a wise idea to use a VPN with Binance or any other crypto trading platform in order to protect your privacy (and the safety of your cryptocurrencies). However, using a VPN to access Binance from the USA violates the Binance.com Terms of Service.

If you are going to do this you should use one of the VPNs we recommend in this article. They will protect your privacy and prevent anyone from knowing your actual physical location when you log in.


How does a VPN work with Binance?
A VPN works with Binance in two ways. First, it creates an encrypted tunnel through the internet. This tunnel protects your VPN connection from snoops trying to steal personal information like the username and password of your Binance account.

Second, using a VPN with Binance hides your physical location. When you use a VPN to connect to websites, those sites see the IP address of the VPN server, not your IP address. This is important because an IP address contains basic location data about the device you are using.

Theoretically, it shouldn't matter where you are when you log into a cryptocurrency exchange doesn't matter. But US regulators have banned Binance from doing business with people located in the United States. Using a VPN server located outside the United States lets you connect to Binance in defiance of US regulators.


Which VPN servers should I use to access Binance safely?
While you could log into Binance using VPN servers located wherever you want, some locations make more sense than others. For the best performance, you should always connect to server locations that are as physically close to you as practical, while still achieving your goals.

When your goal is to safely access Binance from the United States, your best bet is to log in through a server in either Mexico or Canada. These are two countries that are physically close to the United States and do not place any restrictions on the use of Binance.com.


Can I use a free VPN for Binance?
You might be able to use a free VPN for Binance, but we don't recommend it. Here are some reasons why you could regret using a free VPN for Binance.

First, it isn't likely to work. Most paid VPNs have trouble defeating geo-blocking software. Free VPNs are likely to fare even worse.

Second, most free VPNs are not secure. That is, they tend to use weak, old encryption and VPN protocols. Many of them don't have a kill switch and leak your IP address if the connection drops, exposing your real IP address to Binance.

Third, free VPNs are almost always slower and less reliable than paid ones. Do you really want to be doing high-dollar crypto transactions on a slow and unreliable connection?

Fourth, many free VPNs sell you out. A free VPN needs to make money some way. Many of them do so by selling your personal information or installing malware on your computer.
While using a free VPN sounds like a good idea, it really isn't.


Conclusion: The best VPNs for Binance in 2023
When you are physically located inside the United States, you are blocked from using the full version of Binance (Binance.com). Instead, you are told to use a crippled version of the service (Binance.US) designed to meet the demands of US government regulators. There are only two ways for someone located in the US to use Binance.com: move to a different country, or use a VPN for Binance to make the connection.
In this article we've looked at three VPNs that can give you Binance assess without the hassles of moving to another country. Each is fast, secure, and adept at unblocking Binance. Each is also one of the best VPNs available for general-purpose use.
We strongly urge you to choose one and put it to work right away. Not only will it unblock Binance for you, but it will also protect you from all the creeps who want to spy on your internet connection.
And if you are on a tight budget, you may want to check out our page of VPN coupons here.
Have a question or comment about how to use a VPN with Binance? Then drop a line below!
This Binance VPN guide was last updated on January 4, 2023.