Atlas VPN and Surfshark are two very similar services. Both are high-quality inexpensive VPN services that support an unlimited number of simultaneous connections. They both also have some advanced features that boost their utility beyond traditional VPN uses.
If you are looking for this kind of VPN service, you will find this comparison very interesting. The table below highlights the main facts from each VPN service, along with coupon links at the bottom.
| | | |
| --- | --- | --- |
| | Atlas VPN | Surfshark VPN |
| Website | AtlasVPN.com | Surfshark.com |
| Location | United States | The Netherlands |
| Servers | 750+ | 3,200+ |
| Countries | 37 | 95 |
| Logs | No logs | No logs |
| Torrenting | All servers | All servers |
| Support | Knowledge Base; Live chat | Knowledge Base; 24/7 live chat |
| Apps for | Windows, macOS, Linux, Android, iOS | Windows, macOS, Linux, Android, iOS |
| Price | $2.05 | $2.30 (with coupon) |
| Best Deal | 81% Off Coupon > | 82% Off Coupon > |
Here are the categories we used to test these two VPNs:
VPN Apps
Speed Tests
Reliability
Features
Security
Logging and Privacy
Torrenting
Netflix and Other Streaming Services
Prices and Refunds
Conclusion and final recommendations
---
VPN Apps: Atlas VPN vs Surfshark
While the heart of any virtual private network (VPN) is the server network that provides a secure infrastructure for your data, the face of a VPN is its apps (also called clients). The apps are our interface to the server network, and the only piece of the VPN that we have direct access to. In this section we evaluate the apps provided by Atlas VPN and Surfshark to see which service (if either) has an edge.
Atlas VPN apps
Atlas VPN has been hard at work to fill out their selection of VPN apps. They most recently added a Linux app, bringing their VPN app selection to: Windows, macOS, Linux, Android, iOS, Android TV, and Amazon Fire TV. Their apps are well-designed, with a clean look, and ease of use for even beginner VPN users. The Atlas VPN Windows desktop app looks like this: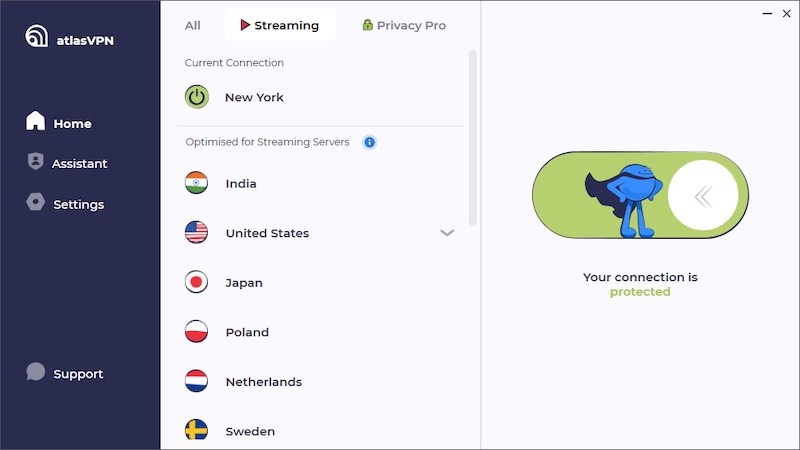 One feature of this app we particularly like is the way Atlas VPN makes it easy to choose between server types. Looking at the second column in the image above, you can see three categories of server: All, Streaming, and Privacy Pro.
As you might imagine, the All option lists the entire set of available servers. The Streaming option lists the subset of servers that is optimized for connecting to streaming services around the world.
The Privacy Pro option is a little different. This selection is only available for people with paid Atlas VPN subscriptions. It gives you access to Atlas VPN's advanced servers, which we will look at in detail in the Features section of this comparison.
Note: While we like the Atlas VPN Windows app, Atlas VPN is not one of our recommendations for Windows users. To see which VPNs we do recommend for those users, check out our list of the best VPNs for Windows.
The Atlas VPN mobile apps follow a similar lean and clean design philosophy. They manage to include all the options of the desktop apps in an even more compact package as you can see here: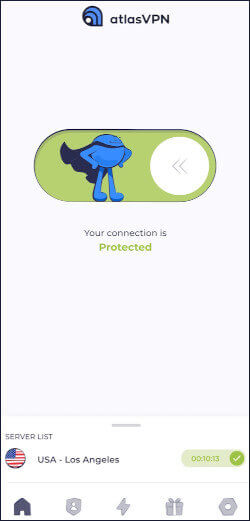 Hitting Server List on the lower left side of the screen gives you access to all the server options available in the desktop apps.
During our testing we found that the Atlas VPN apps and their built-in kill switches worked without errors, and the apps passed our leak tests without any issues.
Surfshark apps
Surfshark has been around longer than Atlas VPN and has a full set of VPN apps available to its users. They include apps for: Windows, macOS, Linux, Android, iOS, Fire TV, Smart TVs, Xbox, and PlayStation, as well as browser extensions for Chrome, Firefox, and Edge.
Note: Since Surfshark also works well with various game consoles, it made our list of the best VPNs for gaming.
The Surfshark VPN apps have a different design than those of Atlas VPN, but they are also clean and easy to navigate. Here's the Surfshark VPN app for Windows: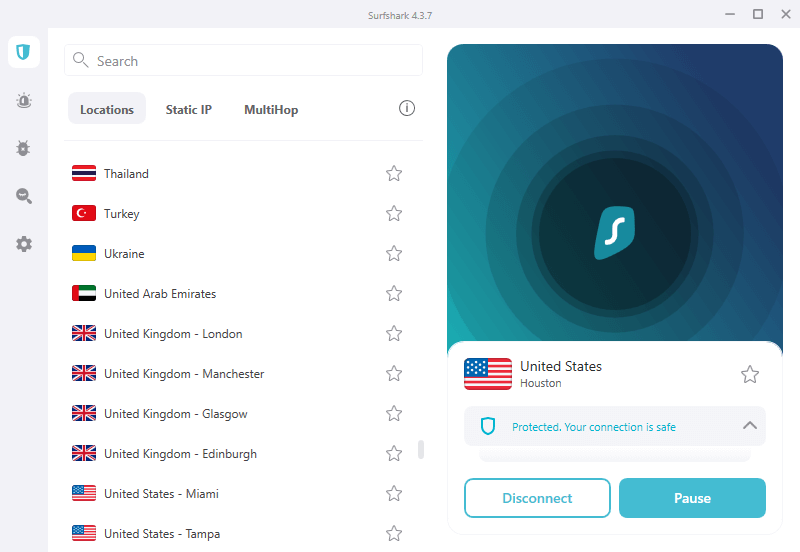 One of the many things we like about the Surfshark apps is Bypasser, their flexible split tunneling feature. You can either control which apps and sites bypass the encrypted VPN tunnel, or select which ones are routed via the VPN tunnel, whichever makes the most sense for your particular requirements.
Here's what the Surfshark Android app looks like. It is displaying in "dark mode" to match the theme of my phone. It is easy to see the family resemblance between it and the desktop app.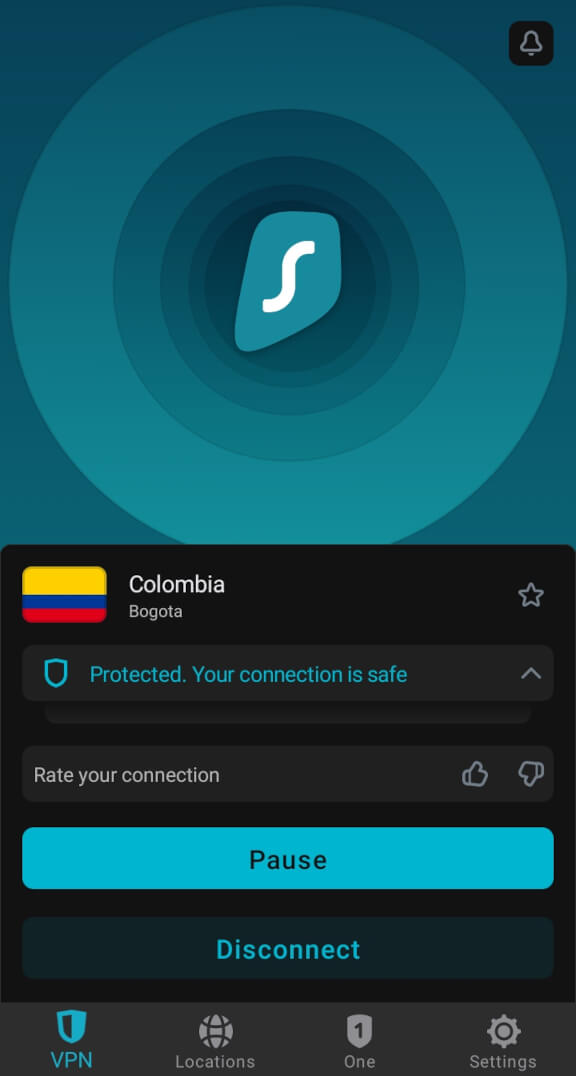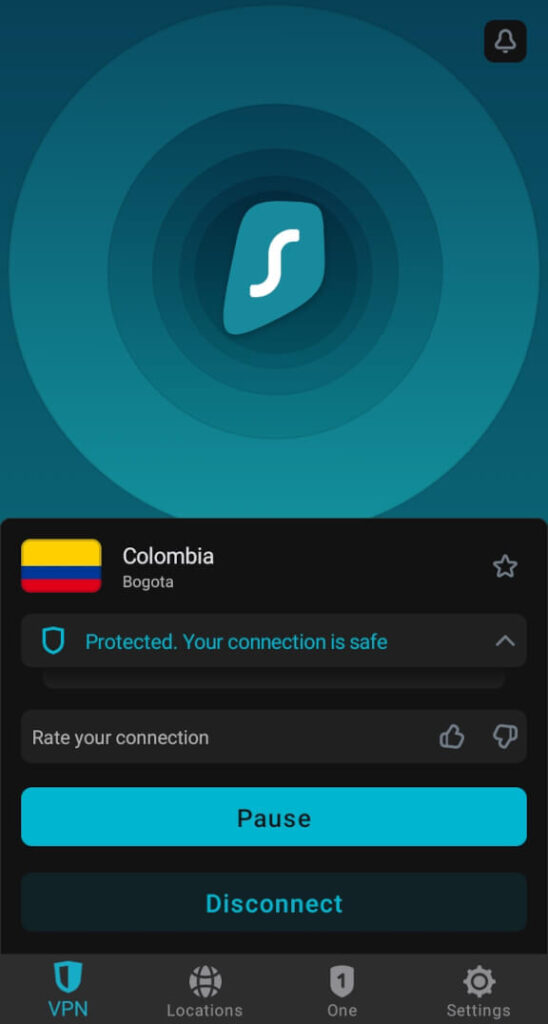 A recent update to the Surfshark VPN introduced SurfsharkOne, a suite of additional features that we will cover in the Features section of this comparison.
Choosing a winner in this category is difficult in that both companies provide quality VPN apps. That said, we are going to give this one to Surfshark. Their apps feel a little more refined than those of Atlas VPN, and there are apps for more devices and operating systems.
VPN apps winner: Surfshark
---
Speed Tests: Can Atlas VPN catch Surfshark?
All VPNs impact the speed of your VPN connection to some extent, and it is important to know how fast a VPN really is. That's because some VPNs slow your connection by an unnoticeable few percent, while others can make your fast fiber-optic internet connection seem like one of those old dial-up lines from the dark ages.
We tested each VPN on our lab's 500 Mbps fiber optic internet connection. To make the tests as consistent as possible, the test machines were connected to the router by ethernet, not WiFi. We selected the fastest VPN protocol for each, which was WireGuard in both cases. Then we connected to VPN servers in the locations shown below, while recording the best results returned by each VPN.
Here is what we found.
Test #1: New York
Atlas VPN connected to a server in New York City: 232 Mbps

Atlas VPN turned in a good, but not exceptional speed on this test.
Surfshark connected to a server in New York City: 397 Mbps

Surfshark turned in an exceptional speed on this test. One of the fastest we have ever seen.
Test #2: Los Angeles
Atlas VPN connected to a server in Los Angeles: 156 Mbps

This is not a very good result. Remember that we are running the test on a 500 Mbps internet connection.
Surfshark connected to a server in Los Angeles: 346 Mbps

Again, Surfshark turns in an impressive result, more than twice as fast as Atlas VPN on this test.
Test #3: London, UK
Atlas VPN connected to a server in London, UK: 154 Mbps

Another disappointing result for Atlas VPN. Given that it is running WireGuard on a 500 Mbps internet connection, Atlas VPN should be able to do better.
Surfshark connected to a server in nearby Manchester, UK: 330 Mbps

Even when connecting to the UK, Surfshark delivers impressive speed, once again double that of Atlas VPN.
Speed tests winner: Surfshark
---
Reliability: Is Surfshark or Atlas VPN best?
Whatever else you might expect from a VPN, reliability has to be one of the top priorities. It doesn't matter how fast, secure, or private a service is, if the darn thing doesn't work when you need it to. For us, the reliability of a VPN includes what it does when something fails. Forces outside the control of your VPN service can result in a severed connection between your device and the server network. When this happens you need to be sure that your VPN won't start puking your unprotected data directly onto the internet (particularly important if you are torrenting).
Both of these VPN services are reliable. Their apps worked without bugs or glitches throughout our testing. They passed our leak tests without problems. And their kill switches cut in to prevent any of that unwanted data puking when the connection to the VPN server was lost.
Beyond these considerations, both of these services use the WireGuard VPN protocol, an extremely secure protocol with a small code base that is easy to audit and maintain. We have to declare both of these VPNs to be reliable.
Reliability winner: Tie
---
Features comparison
As we saw in our recent Atlas VPN vs NordVPN comparison, Atlas VPN includes some features that go above and beyond the norm for the industry. As you are about to see, Surfshark is also an overachiever in this respect. But their feature sets aren't an exact overlap, so you may find that one of these VPNs is a much better match for your specific needs than the other.
Atlas VPN features
We've already talked about Atlas VPN's apps and how easy they are to use. We've also already talked about how reliable Atlas VPN proved to be during our testing, and how their leak resistance and built-in kill switches protect you from accidentally exposing your data. What other standard features does Atlas VPN give you? How about:
Using the secure, fast WireGuard VPN protocol as their default VPN protocol.
A private DNS service that handles VPN users' DNS queries, preventing your ISP or others from knowing what pages you are viewing.
Split tunneling which lets you decide what data goes directly to the internet (for greater speed and compatibility), and what data goes through the encrypted VPN tunnel (for maximum security).
A free (but limited) version of the VPN.
Unlimited simultaneous connections, letting you protect all your devices with a single subscription.
Advanced features of Atlas VPN
Atlas VPN has two interesting advanced features that are available to anyone using one of the paid subscriptions. They are: Tracker Blocker, and Data Breach Monitor.
You can reach both of these advanced features from the Atlas VPN Assistant menu: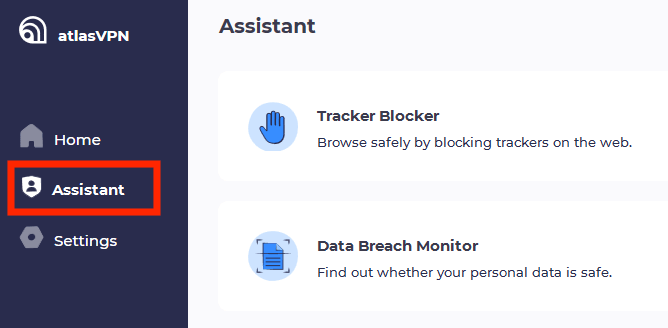 Tracker Blocker – This is a defensive tool, which blocks ads, malicious websites, and trackers from getting access to your systems. Note that Tracker Blocker only works if you are browsing through an Atlas VPN server. Anything connecting directly to the internet is unprotected by Tracker Blocker.
Note: NordVPN recently rolled out Threat Protection, which does everything that Tracker blocker does, and more. This includes its ability to protect everything on your system, whether you are connected through a NordVPN server or not.
Data Breach Monitor – A feature like this is brilliant in a day and age where copies of your personal data end up stored on thousands or millions of oftentimes poorly-protected third party servers. All you need to do is launch Data Breach Monitor and enter an email address. The monitor will search databases of known breaches and inform you if the email address you entered appears among data stolen in breaches.
Atlas VPN servers
By industry standards, Atlas VPN has a modest-sized server network. Their network consists of over 750 servers in 43 locations across the globe. Their servers use disk drives (Surfshark VPN servers are diskless) but the company says that all of their servers are encrypted (unlike the unencrypted Windscribe servers that Ukraine got access to.
The company says that the servers available to paid users of the service are optimized for speed, while the three servers allocated to users of the free plan (see below) tend to get crowded, which would presumably make them slower.
Some of the Atlas VPN servers are optimized for streaming, while others are "P2P friendly." You can see a list of the Streaming servers, as well as get access to two advanced types of servers: SafeSwap Servers and MultiHop+ Servers from the tabs here: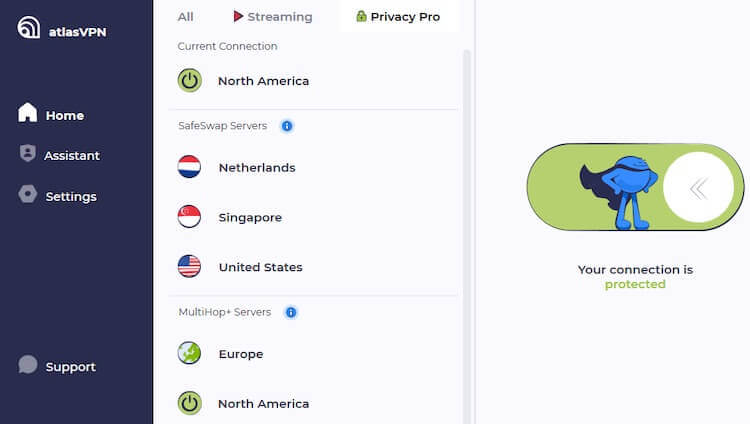 SafeSwap Servers are designed to give you additional security. There are some techniques where powerful opponents (think national security agencies) could potentially track you online by timing the traffic passing through servers and looking for correlations.
Normally each VPN server has a single IP address, and traffic passing through it is assigned that IP address until you disconnect from that server and connect to a new one. SafeSwap servers have multiple IP addresses, and change the address assigned to you whenever you browse to a different location on the internet. This makes the job of tracking your movements much more difficult.
At the time of this review there were three SafeSwap server locations: United States, Switzerland, and the Netherlands. Windows, macOS, Linux, Android, and iOS users who subscribe to a paid Atlas VPN plan can use these servers.
MultiHop+ Servers also make you much harder to track online, but do it in a different way. Regular multi-hop servers work by passing your traffic through two (or more) VPN servers, one after the other. This protects your traffic with multiple layers of encryption. The individual servers are usually located in different countries making it even harder for attackers to figure out what is going on.
Note: ProtonVPN multi-hop servers add to this by starting with servers in super secure locations such as an underground bunkers and a former military base.
MultiHop+ servers extend the concept as follows:
MultiHop+ picks a random exit server from a pool of VPN servers in different locations and rotates it as you browse, making your online activity virtually untraceable. At the same time, you also benefit from double encryption.
As of October 2022, there were 2 MultiHop+ server locations, one in Europe and one in North America. As with SafeSwap servers, Windows, macOS, Linux, Android, and iOS users who subscribe to a paid Atlas VPN plan can use MultiHop+.
Surfshark features
Surfshark consistently ranks as one of the top VPN services. A large part of that result is their impressive feature set. We've already touched on how darn fast and reliable it is. What we will cover here are other Surfshark features that you need to know about.
Proven leak resistance along with kill switches built into their apps prevent data leaks.
Support for all the most popular VPN protocols.
Private DNS to shield your DNS queries from nosy outsiders like your Internet Service Provider (ISP).
Bypasser, a flexible split tunneling system formerly known as WhiteLister.
Unlimited simultaneous connections to protect all your devices with a single Surfshark subscription.
Advanced features of Surfshark
Surfshark also has some excellent advanced features. These include:
CleanWeb, an ad, tracker, and malware domain blocker that is similar to Atlas VPN's Tracker Blocker. Like Tracker Blocker, CleanWeb can only protect data that passes through a Surfshark VPN server
SurfsharkOne is the name for a set of features that, like CleanWeb, extend beyond strictly VPN functionality. At the time of this review, SurfsharkOne had three components:
Surfshark Alert, which searches for data breaches that contain your email address, credit card numbers, or personal ID numbers.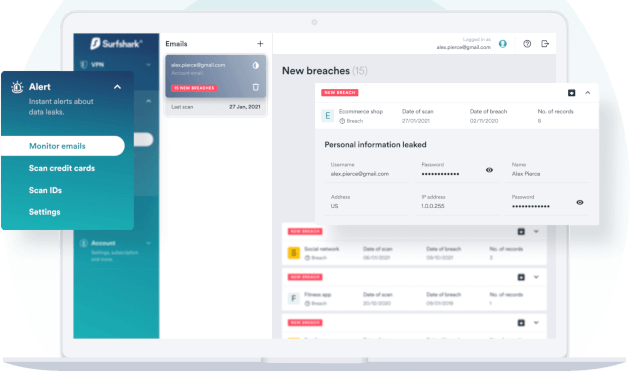 Surfshark Antivirus, which can scan your device for viruses at the click of a button.
Surfshark Search, which delivers, "purely organic search results, free from ads and tracking."
Surfshark servers
Surfshark has a large network of 3,200+ VPN servers. Even more impressive is the breadth of this network. It seems every time we write about Surfshark, they have servers in more countries. They now have servers in 100 countries, a truly impressive number.
All the Surfshark servers are very fast (as demonstrated by the speed test results we covered earlier). And they have all been converted to diskless operation, making them even more secure that the encrypted drives used by Atlas VPN and most other services.
With the large size of their network it isn't surprising that Surfshark supports a number of special server types. These include:
MultiHop servers that pass your data through two different VPN servers. These servers are typically located in different countries, making your connection more secure and private. MultiHop is the Surfshark name for double-VPN servers.
Camouflage mode servers make your VPN data look like standard HTTPS traffic. By disguising your data in this way, Surfshark can evade most forms of internet censorship. As such, it is one of the best VPNs for China and other oppressive regimes. Camouflage mode is Surfshark's name for obfuscated servers.
Atlas VPN features go above and beyond those of the vast majority of VPNs. But once again, Surfshark takes the category by delivering a bit more than Atlas VPN.
Features winner: Surfshark
---
Security
Earlier we noted that an unreliable VPN is of little value, no matter how secure it is. Well the opposite is true too. A super-reliable VPN is of little value if it isn't secure. So let's talk about who is more secure in this Atlas VPN vs Surfshark battle.
Atlas VPN security
Atlas VPN made a good commitment to user security when they chose to use WireGuard as their default VPN protocol. WireGuard is considered to be more secure than other VPN protocols, and several VPN services now offer it as one of their protocols. But most of those default to the industry standard OpenVPN protocol, with WireGuard as an option.
Atlas VPN went all in, promoting WireGuard to the #1 position, and eliminating OpenVPN entirely (they do also support IPSec/IKEv2 for users who can't use WireGuard for some reason). One of the many benefits of this approach is a smaller code base which should be easier to audit and keep secure.
With WireGuard, Atlas VPN uses secure ChaCha20 encryption with Poly1305 authentication. They also support AES-256 encryption with SHA-384 authentication for their IPSec/IKEv2 protocol. Kill switches built into their apps provide security in case the connection between your device and the server network fails.
One place where Atlas VPN could improve security is on their servers. Atlas VPN's servers contain encrypted disk drives to prevent attackers from stealing data off the server. The leading VPN services (including Surfshark) are moving to diskless servers. With no disk drives, there is nowhere for attackers to acquire data.
As of now, Atlas VPN has not conducted any third-party audits to confirm the security of their systems.
Surfshark security
Surfshark also offers WireGuard as their main VPN protocol, along with IPSec/IKEv2. Similarly, they offer ChaCha20 encryption with Poly1305 authentication and AES-256 encryption with SHA-384 authentication. Unlike Atlas VPN, Surfshark continues to support the OpenVPN protocol as well.
Surfshark goes further down the road to security than Atlas VPN by running all their servers in diskless mode. Even if a foreign government seizes one of their servers it will be impossible for them to extract any data from those non-existent drives. In addition, Surfshark is moving to colocated servers. This means that, while their servers may be physically located in a third-party data center, Surfshark owns and maintains their own servers.
One final security plus for Surfshark: they have been audited. In 2018, the company Cure53 conducted an audit of Surfshark's browser extensions. In 2021, Cure53 conducted an audit of the Surfshark infrastructure and VPN configuration. These audits backed up Surfshark's claims to be a secure, no-logs VPN.
As we've seen more than once so far, Atlas VPN is good but Surfshark is better. There is nothing wrong with Atlas VPN's security. But Surfshark's security, with its diskless servers and third-party audits,Surfshark takes this category.
Security winner: Surfshark
---
Logging and Privacy
Privacy is another must-have characteristic of a VPN. This is a category where Atlas VPN is very vulnerable due to the jurisdiction of the location where is is based.
Surfshark is based in the Netherlands. This is a jurisdiction with a reputation for protecting the privacy of online users. Their network is secure, and they have a strong no-logs policy. In addition, the third-party audits we discussed earlier give us high confidence in the safety and privacy protection afforded by the Surfshark network.
Atlas VPN is based in the United States. This is unfortunate, because the United States is not a good jurisdiction for privacy. The USA can and does sometimes force VPNs and other privacy companies to spy on their own users. It can force them to secretly log user activity and hand the data over to the FBI or other government agencies in violation of the company's own terms of service and privacy policies.
In addition to their inconvenient jurisdiction, Atlas VPN has not published any third-party audits of their no-logs policy or other aspects of their service.
Logging and privacy winner: Surfshark
---
Torrenting: Does Atlas VPN or Surfshark work better?
Torrenting and other P2P (peer-to-peer) activities are popular use cases for VPNs. But due to the prevalence of illegal downloading of copyrighted content, there is some potential risk to using these kinds of services. To protect yourself, you need a VPN that will not expose your real IP address during these activities. Thanks to their solid protection against leaks and their built-in kill switches, both Surfshark and Atlas VPN will protect your IP address.
Going beyond that, the next most important characteristic of a torrenting or P2P VPN is download speed. We've already seen that Surfshark is much faster than Atlas VPN. So while you should be able to safely use either of these VPN services for torrenting and other P2P activities, Surfshark will get your downloads done much faster.
Torrenting winner: Surfshark
---
Netflix and Other Streaming Services
Viewing content from Netflix and other streaming services is another major use case for a VPN. While it is easy to stream Netflix or other content from your current geographic region without using a VPN, streaming content from other regions is normally blocked.
Certain VPNs have the ability to defeat the geo-blocking systems that arbitrarily control what content you can view based in where you happen to be located at any given moment. Both of the VPNs we are reviewing today are capable of getting the job done, but there are some differences in the details that make one of these VPNs better than the other for Netflix and other streaming services.
Atlas VPN Netflix and streaming
Atlas VPN does a far better job of streaming Netflix from multiple regions than most VPNs. To do so, you begin by opening an Atlas VPN app and selecting the Streaming option we mentioned earlier. this displays all the Atlas VPN server locations that are enabled for streaming.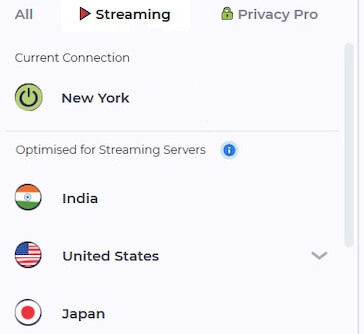 Log into the location where the content you want to stream is located, then log into Netflix (or other streaming services) normally to see content from that geographic region. While Atlas VPN is not as fast as Surfshark, with a decent internet connection you should be able to stream HD quality video without buffering, delays, or other problems.
Surfshark Netflix and streaming
Surfshark too is capable of unblocking Netflix and streaming content from sources around the world. Here's a screen capture of us viewing Doctor Who through Surfshark's London, UK server location.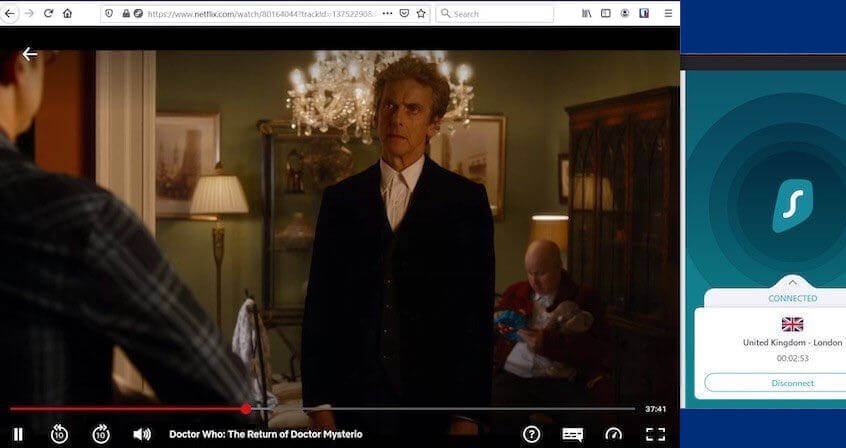 But there are two big advantages to doing this using Surfshark for Netflix and streaming, instead of Atlas VPN. One is that Surfshark is much faster that Atlas VPN. That makes the chances of poor streaming performance are reduced with Surfshark.
The other big benefit is that you don't have to switch to special streaming servers when you want to stream something. Just log into a server location in the correct region and Surfshark takes care of the rest. Details like this explain why Surfshark is on our lists of the best VPNs for streaming in general as well as the best VPNs for Netflix.
Netflix and other streaming services winner: Surfshark
---
Prices and Refunds
Another great thing about these two VPNs is their price. They both fit into the "cheap VPN" category, and currently have long-term subscription prices of less than $2.50 per month.
Atlas VPN prices
If you are willing to invest in a long-term Atlas VPN subscription, you can get a great deal with our Atlas VPN discount coupon. 2 full years of Atlas VPN for $2.05 per month ($49.19 for the full 2 years) billed up front. This is definitely one of the best prices available for a quality VPN.


Remember that for this price you get an unlimited number of simultaneous connections, along with all the premium features offered by Atlas VPN.
Atlas VPN free plan
The Atlas VPN free plan is of course, free of charge. This might sound like the ideal way to go, but this plan has a few limitations. They include:
Access to only 3 VPN server locations which sometimes get overloaded
A maximum of 10 GB of data per month which is easy to use up in a few days
No streaming or torrenting possible
No access to Privacy Pro servers or advanced features
Unless your needs for a VPN are extremely limited, you should treat the Atlas VPN free plan as just a limited way to try the service before subscribing.
Surfshark prices
Surfshark prices tend to fluctuate going up and down a bit depending on the time of year and current marketing campaigns. Our coupon below always gets you the best deal available. At the time of this review, Surfshark's best price was a 24 month + 2 months free deal of $2.30 per month, or $59.76 billed up front, for an 82% discount from their normal price:

Surfshark offers a great service at a great price. But Atlas VPN is also an excellent service, and is even less expensive than Surfshark. While both of these have made it onto our list of the best cheap VPNs, Atlas VPN's super-low price gives them the win here.
Refunds
Both services offer 30 day money-back guarantees with no pro-rating or weird conditions that might prevent you from actually getting your money back. We rate the Refunds sub-category a tie.
Prices and refunds winner: Atlas VPN
---
Conclusion
Atlas VPN is an up and coming service with a lot of potential. Going up against the typical VPN, they would likely dominate the comparison. But in Surfshark, they are facing an industry leader with few peers. The final results of our comparison illustrate this: Surfshark won 7 categories, while Atlas VPN won one category, and one category was a tie.
VPN Apps – Surfshark
Speed Tests – Surfshark
Reliability – Tie
Features – Surfshark
Security – Surfshark
Logging and Privacy – Surfshark
Torrenting – Surfshark
Netflix and Other Streaming Services – Surfshark
Prices and Refunds – Atlas VPN
Given the results above, we can only see two reasons to choose Atlas VPN over Surfshark: you are looking for a limited-use free VPN, or want the absolute lowest monthly price you can get. If either of these describe your situation, then you can get the best current price on Atlas VPN using our discount coupon:
Surfshark is superior to Atlas VPN for the vast majority of users. We recommend you take advantage of their 30 day money-back guarantee and put it to the test. click the button below to get the best current deal on Surfshark.
Surfshark VPN Cyber Deal:

Get 84% off Surfshark VPN (drops the price down to $2.05 per month) plus 2 months FREE:
(Coupon is applied automatically.)
This Atlas VPN vs Surfshark comparison was last updated October 18, 2022.