Today we'll be comparing Surfshark and CyberGhost, two well-known VPNs with many users around the world. While CyberGhost has gotten lots of good reviews, Surfshark continues to improve with new security features and other updates. We're going to find out who comes out on top in this Surfshark vs CyberGhost comparison.
Based on the latest test results and analysis, Surfshark is the winner. In comparison to CyberGhost, Surfshark offers much faster speeds, more security features, better apps, better support for streaming, and more connections. In short, Surfshark is a better all-around deal, especially with the coupon below for 3 months free.
This table highlights the main facts about each VPN:
| | | |
| --- | --- | --- |
| | Surfshark | CyberGhost |
| Website | Surfshark.com | Cyberghostvpn.com |
| Location | The Netherlands | Romania |
| Servers | 3,200 | 5,000+ |
| Countries | 100 | 80 |
| Logs | No logs | No logs |
| Torrenting | All servers | All servers |
| Support | Knowledge Base; 24/7 chat | Knowledge Base; chat |
| Apps for | Windows, macOS, Linux, Android, iOS | Windows, macOS, Android, iOS |
| Price | $2.30 | $2.75 |
| Best Deal | 82% Off Coupon > | N/A |
Our goal here is to give you the information that will be most important for choosing a strong, secure VPN that protects your privacy to the maximum extent possible. These are the categories we're using today for this CyberGhost vs Surfshark VPN comparison:
Background Check and Jurisdiction
Features
Speed tests
Security and Encryption
Privacy and Logs
Netflix, Streaming, and Torrenting
Reliability and Support
Price and Value
Let's get to it.
Background Check and Jurisdiction
When you use a VPN, you are counting on them to be secure and protect your privacy. That makes it important to know something about the company providing the service, as well as the jurisdiction it is based in. It doesn't matter how good a VPN's technology is if the company backing it is untrustworthy, or the country it is based in can force it to disclose your personal information. We've noted before in the IPVanish review how US VPN services can be compelled to log data for government agencies. So let's take a closer look.
Surfshark company and jurisdiction
Surfshark (full name Surfshark LTD) was previously based in the British Virgin Islands, but then changed jurisdictions to The Netherlands in late 2021. The Netherlands is a good jurisdiction for privacy and falls outside of the "5 Eyes" surveillance alliances.
Surfshark VPN, which launched in 2018, has no history of privacy violations or security breaches that we have been able to uncover. Surfshark is also a transparent company with public-facing leadership, as you can read about on their website.
CyberGhost company and jurisdiction
CyberGhost is owned by Kape Technologies. Kape was formerly known as Crossrider and was often discussed with malware distribution. Why did the company change its name? According to this 2018 interview with Kape's CEO, the company changed its name because the previous name was so strongly associated with their past activities. Today, Kape also owns Private Internet Access, Zenmate, ExpressVPN and also a few VPN review websites.
We investigated this company more after Kape bought ExpressVPN. Overall, we are not fans of consolidation in the VPN industry. It means there are fewer independent VPNs for people to choose from. But it's also just a sign of the times.
Legally, CyberGhost falls under Romania's jurisdiction, which is where it operated before being purchased by Kape. The parent company, Kape, however, is an international company that is publicly traded on the London Stock Exchange. This setup is similar to what we noted in the TunnelBear review, where the Canada VPN service was purchased by a US cybersecurity company.
Company and Jurisdiction winner: Surfshark
---
CyberGhost vs Surfshark apps and features
In this section, we do a quick run through the features provided by each VPN and pick the one that we think provides the best feature set.
Surfshark features
We've already touched on Surfshark's support for the WireGuard VPN protocol, which is responsible for their excellent speed test results. In addition to lightning speeds, WireGuard allows Surfshark to connect faster and also gives it better mobile performance when switching network interfaces.
So what else does Surfshark have to offer? Their network consists of over 3,200 servers in 65 countries. This network includes more than standard VPN servers. You also get access to:
MultiHop (Double VPN) servers that encrypt traffic over two hops for extra security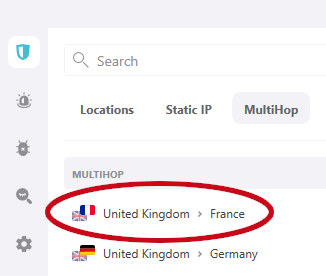 Camouflage mode (obfuscated) servers to conceal your VPN traffic from government censors and other blocks (useful if you need a VPN for UAE or a VPN for China)
Surfshark Alert – This gives you real-time alerts if your private information has been compromised (paid add-on feature)
Kill switch – All Surfshark apps have a VPN kill switch to block traffic and leaks if the VPN connection ever drops.
Surfshark Search – This is a private search engine (paid add-on features)
CleanWeb 2 – This feature blocks ads, trackers, and malware domains and is activated directly in the VPN app (see below)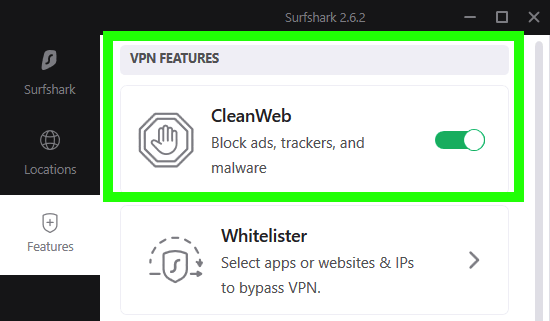 Last time we updated this review, Surfshark had brought out their CleanWeb feature. It was a great VPN ad blocker because it could improve your privacy and security easily through the VPN. Additionally, it could improve speeds by blocking resources used by ads and trackers.
But things move really fast in the VPN industry. Surfshark has already upgraded CleanWeb to CleanWeb 2.0. This new version improves on its previous features and adds a cookie pop-up blocker as you can see here: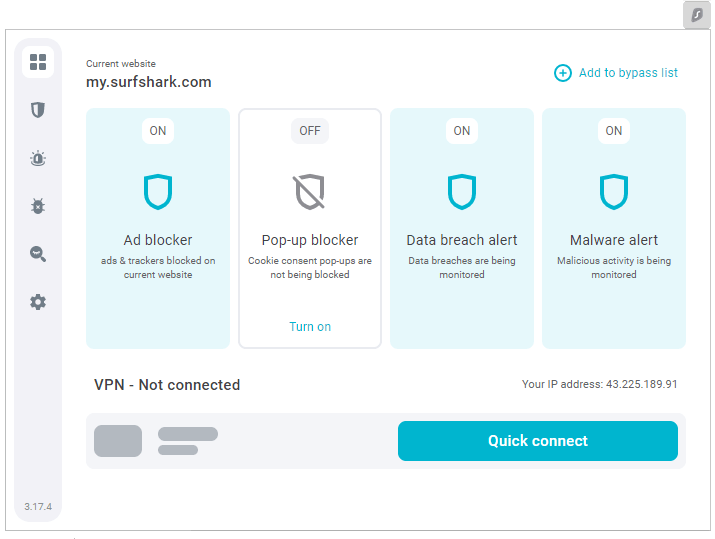 You can connect to this high-end network from almost any device you want thanks to the wide range of VPN apps they make available. Surfshark apps present a clean user interface that results in ease of use. Their apps for Windows, Mac OS, iOS, and Android are clean and user-friendly.
Here's the Surfshark VPN Windows desktop app: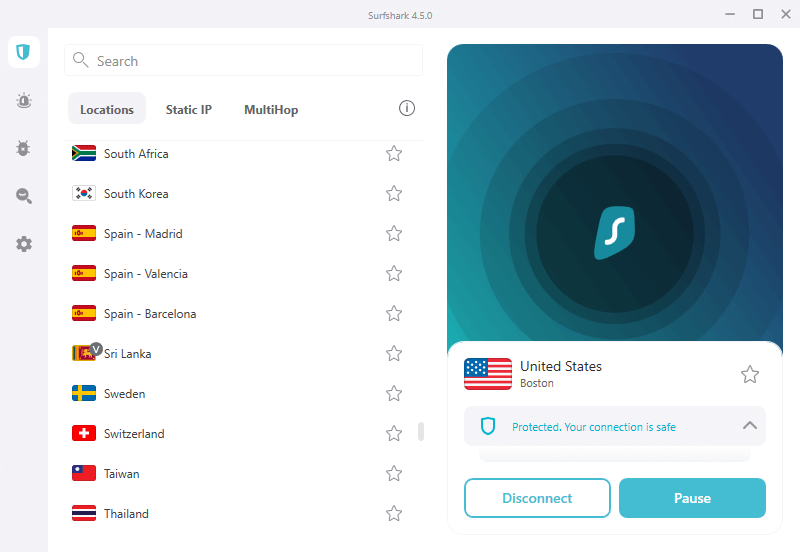 We consider Surfshark to be one of the best VPNs for iPad. Here's what the Surfshark VPN app for iPad looks like. Note the family resemblance with the desktop app.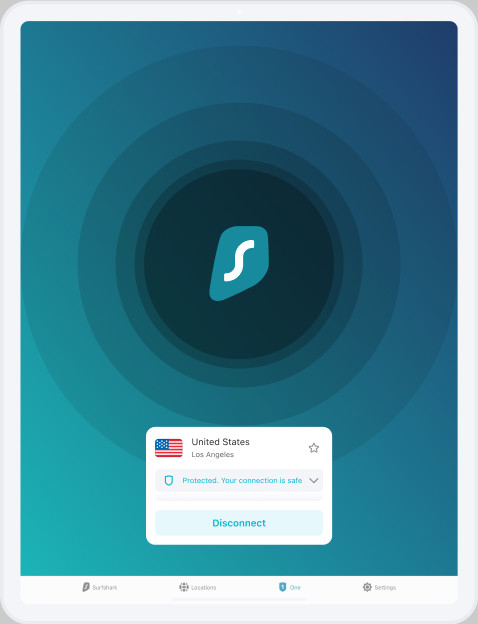 Note: Both Surfshark and ExpressVPN have many similarities with the layout of their VPN apps. This type of clean, user-friendly style seems to be turning into an industry trend, at least among the leading VPN services.
Finally, we have what might be the most popular feature of Surfshark: support for unlimited simultaneous connections. While most VPN providers limit you to having 5 or 6 devices connected to their network simultaneously, Surfshark places no limits.
As more and more of our technology becomes internet-connected, limitations on the number of simultaneous VPN connections become more and more onerous. Surfshark eliminates this problem, making it a great VPN for multiple devices.
We also see IPVanish offering unlimited simultaneous connections, as we noted in our IPVanish vs Surfshark comparison.
CyberGhost features
One strong feature of CyberGhost is their number of servers and the distribution of their server network. According to the website, they currently have over 6,600 servers located in 88 countries. This is on par with NordVPN and IPVanish.
Note: Such a large number of servers would lead you to believe that the service would be faster than it is. During our complete CyberGhost review, however, we discovered that many of their servers are running at 75%, 100%, even 125%. This heavy loading probably explains their poor performance in speed tests.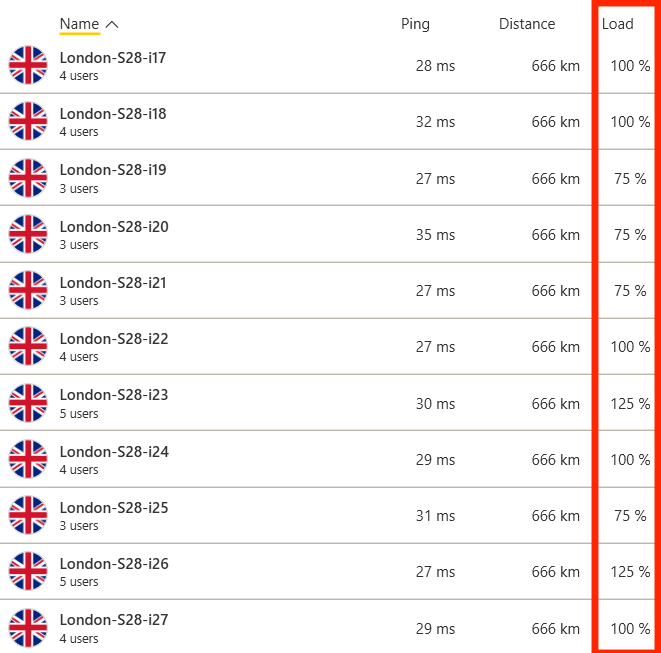 But the CyberGhost server overloading problem may soon get fixed. In November 2022, CyberGhost announced that they were upgrading their servers from 1 Gbps to 10 Gbps. Assuming everything goes well with that upgrade, it should result in much better performance from CyberGhost.
Like Surfshark, CyberGhost provides apps for a large number of devices and operating systems. You can even use the VPN for Apple TV and gaming systems. The apps include good DNS leak protection options and a kill switch. We didn't find any leaks during our testing.
At this time, CyberGhost does not have any double-VPN servers. However, if this is a feature you want, check out Surfshark or ProtonVPN.
CyberGhost also has an ad-blocking feature, but we strongly recommend against using it. Instead of simply blocking ads and malicious content, the CyberGhost "ad blocker" does not even work on HTTPS websites, which is most of the internet today. Here is the CyberGhost desktop app we tested out: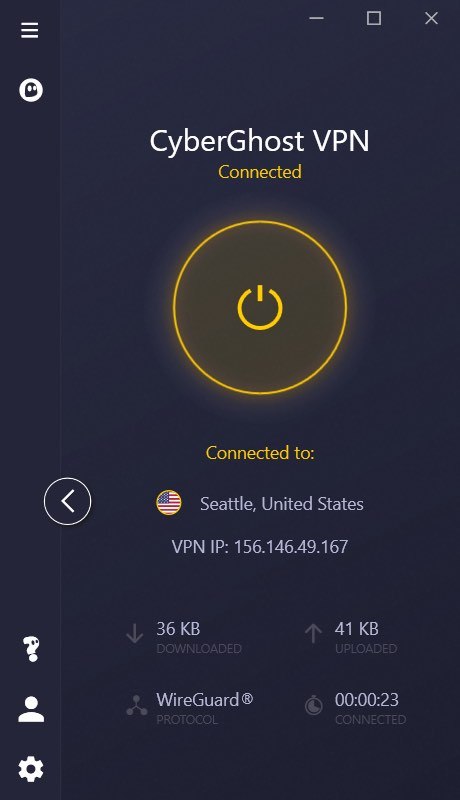 CyberGhost also offers specific servers for different types of use cases. These include servers for VPN streaming, torrenting, and gaming. Unfortunately, we found all of these different types of servers to offer mediocre performance at best. This means that Surfshark is not the best VPN for gaming, where excellent performance is crucial.
In another late 2022 announcement, CyberGhost unveiled their Security Suite for Windows. The suite includes CyberGhost and two other programs: an antivirus program, and Security Updater. Security Updater checks all our installed apps looking for potential security problems. as described in the image below:

Split tunneling – Both Surfshark and CyberGhost support split tunneling. A split tunneling VPN feature will allow you to route specific websites or apps outside of the encrypted VPN tunnel. With CyberGhost, this feature is available on Android devices. With Surfshark, it's available with Windows and Android devices.
Feature set winner: Surfshark
---
Surfshark vs CyberGhost speed tests
VPN speeds are a major factor when selecting a VPN service. After all, slow internet speeds are a real pain — especially when streaming video, torrenting, gaming, or any other high-bandwidth activity.
Thanks to their adoption of the WireGuard protocol, Surfshark is now one of the fastest VPN services on the planet. CyberGhost VPN also recently adopted WireGuard, so let's see if the ghost can run with the shark.
Note: All tests were run on a 500 Mbps internet connection from our US lab.
Test #1: Los Angeles
Here were the Surfshark results when we connected to a server in Los Angeles: 346 Mbps.

At over 300 Mbps, these are excellent speeds right out of the gate with Surfshark.
Here are the CyberGhost results for a connection to a server in LA: 32 Mbps.

Surfshark turned in very strong results while CyberGhost's results were not very good at all.
Test #2: Seattle
Surfshark turned in these results for Seattle: 308 Mbps.

CyberGhost turned in these results for Seattle: 12 Mbps.

For the Los Angeles server location, we again see that CyberGhost is significantly faster than Surfshark by a wide margin.
Test #3: New York
Maybe CyberGhost can make up some ground on the long connection between our lab and New York City.
Surfshark New York results: 397 Mbps.

At nearly 400 Mbps, this is one of the fastest test results we have ever measured.
CyberGhost New York results: 46 Mbps.

With all of the servers we tested in the United States, Surfshark speeds were significantly faster than CyberGhost.
Test #4: United Kingdom
For our last test, we connected to servers in the United Kingdom. By this time it was pretty clear that Surfshark would be the winner. But the results surprised us.
We connected Surfshark to their server in Manchester, UK and got these results: 330 Mbps.

CyberGhost connected to a server in London, UK gave us these results: 6 Mbps. No, that isn't a typo. Take a look at the screen capture below.

The surprise here was not that Surfshark turned in such good results. Indeed, we rate it as one of the best VPN services for the UK. The surprise was that CyberGhost was so incredibly terrible. Remember, the test was run on a 500 Mbps connection. They got 6 Mbps on a 500 Mbps connection. What would their results be like on a typical home internet connection?
Note: As you've seen, Surfshark turns in excellent results while using the WireGuard protocol. This gives you a big performance advantage on both mobile and desktop operating systems.
Speed test winner: Surfshark VPN by a mile.
---
Security and Encryption
The security that a VPN provides must be as close to inviolable as possible. And the encryption used by VPN companies is a key determinant of how strong that security is. Here is a quick look at the security and encryption provided by each service.
Surfshark security and encryption
Surfshark provides excellent security for your VPN traffic with an AES-256 cipher (OpenVPN and IKEv2 VPN protocols). This is important if you need a VPN for Mac OS since these are the supported protocols.
If you use Surfshark's WireGuard VPN protocol, you'll get enhanced security thanks to WireGuard's use of the latest encryption technology. You can select WireGuard right in the settings area of the Surfshark VPN app. We recommend WireGuard if you are using a VPN for Android because this protocol performs the best on mobile devices.
Further boosting your security, Surfshark has converted all their servers to run in RAM-disk mode. This protects against the physical seizure of servers and ensures no data can be physically stored on any server. We see other VPNs also implementing RAM servers, as noted in our NordVPN vs ExpressVPN report.
To confirm their security, Surfshark commissioned an independent security audit that examined their browser extensions. This makes it a trusted Chrome VPN that has been independently audited. The audit was conducted by Cure53, a German cybersecurity firm. You can get more details in our Surfshark review.
CyberGhost security and encryption
As we mentioned earlier, CyberGhost has added support for the WireGuard protocol. That is in addition to their earlier support of the OpenVPN, L2TP-IPSec, and PPTP protocols. We're not big fans of those last two, but OpenVPN has been the VPN industry-standard protocol for several years now. That means they support AES-256 ciphers like Surfshark does, as well as WireGuard's state-of-the-art encryption. So far, so good.
When it comes to enhanced security features, however, CyberGhost is like most other VPN services. They are using standard servers instead of moving to RAM-only (diskless) servers. However, CyberGhost has remedied their former lack of third-party audits. On December 19, 2022, CyberGhost announced that they underwent an audit of their no-logs policy conducted by Deloitte, a Big Four accounting firm.
CyberGhost got the basics right, but Surfshark's additional security features put them over the top. It wins the CyberGhost vs Surfshark security category.
Security and encryption: Surfshark
---
Privacy and Logs comparison
VPN security is surely important, but our big focus here at Restore Privacy is privacy. In this section, we look at the privacy policy of each VPN provider, logging, and anything else that would indicate how well the service protects your privacy.
Surfshark privacy and logs
Surfshark is a no logs VPN provider with a good reputation. Their Privacy Policy and Terms of Service indicate that they do not log IP addresses or usage data that could identify a user or their activities online. They do have an option to send anonymized crash reports and their mobile apps may contain an advertising ID. Both these options can be disabled in the settings.
Additionally, Surfshark maintains a warrant canary to alert their users to anything that might infringe upon user privacy. As of today, the warrant canary showed no issues.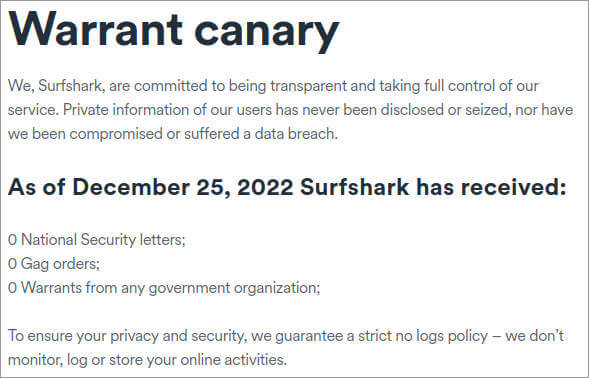 This all sounds good. However, they have not yet completed an independent audit to confirm their no-logs policy. This puts Surfshark a step behind services like NordVPN and ExpressVPN, which have conducted such audits.
CyberGhost privacy and logs
CyberGhost promotes itself as having a strict no-logs policy. However, if you look at their privacy policy, you will learn that they actually log connection data. Many VPNs log very basic connection data to police their connection limits. CyberGhost goes further than this by logging the devices you use to connect to the VPN. You can see this on your account page.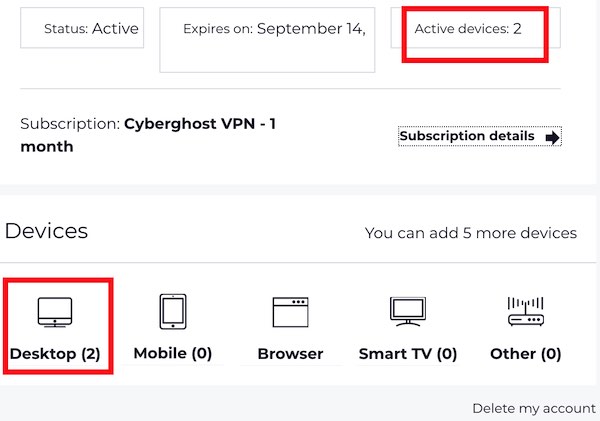 Combine this logging of connection data with Kape's past history of installing adware and malware on users' machines, and we're not real confident that your privacy will be well-protected with this service.
Privacy and logs winner: Surfshark
---
Netflix, Streaming, and Torrenting
Some of the most popular uses of VPNs are streaming (especially Netflix) and torrenting (P2P downloading). So let's see who comes out on top in the Surfshark vs CyberGhost Netflix category first.
Netflix and streaming
To be a good VPN for Netflix and streaming in general, the VPN needs the following characteristics:
The ability to unblock the service or services you want to view.
Sufficient speed to display HD video content without any interruptions or degraded video quality
Surfshark is one of the best VPNs for Netflix. It gives you access to at least 17 Netflix regional libraries, including the US, UK, Canada, and more. This makes it very easy to change Netflix regions and access the libraries you want. The following image shows Surfshark working with the UK Netflix library.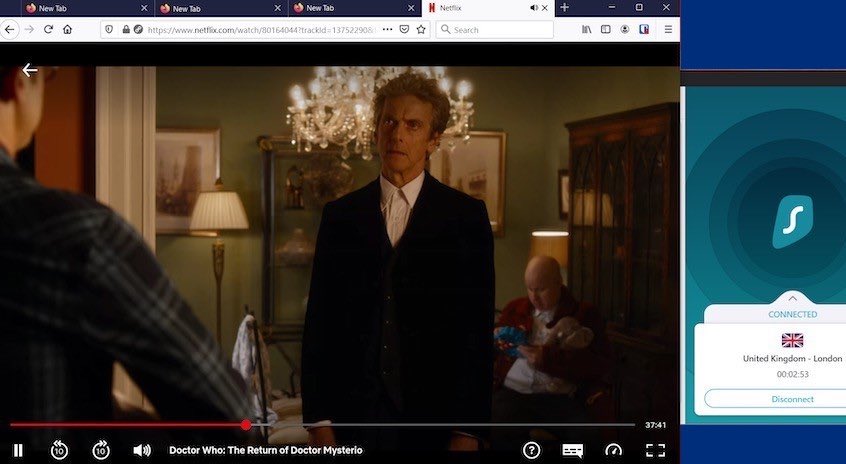 The same characteristics that make Surfshark work so well with Netflix make it one of the best VPNs for streaming. You can also use this VPN for BBC iPlayer, DAZN, Disney Plus, Hulu VPN streaming, and many more.
CyberGhost isn't as strong in the streaming category. They have some dedicated streaming servers that can sometimes get through to the Netflix US library — but that's about it. In our tests, CyberGhost was blocked by US Netflix, even while we were connected to the CyberGhost Netflix server: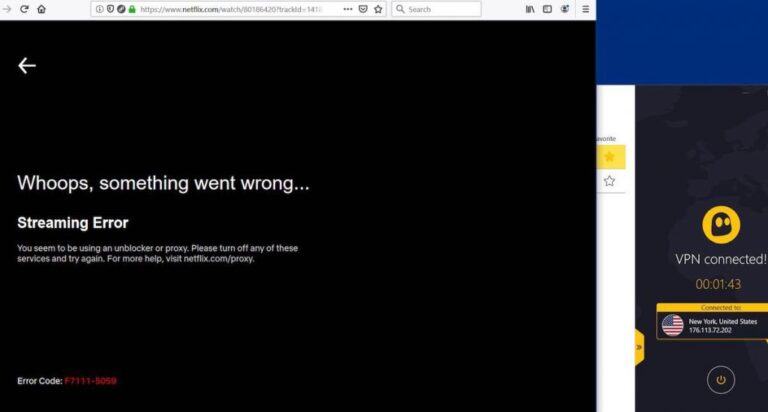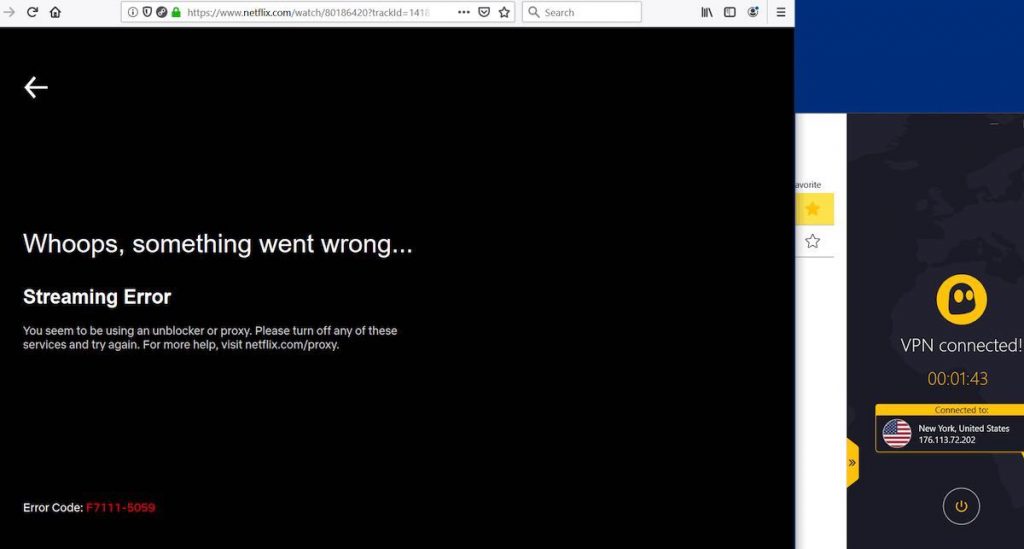 They're not the worst service for streaming, but not in the same league as Surfshark.
Torrenting with Surfshark and CyberGhost
For torrenting, the most important characteristics are speed and security. Fortunately, it is easy to run these VPN tests to ensure your connection is not leaking data. After all, there have been many people who have landed in trouble when their IP address was exposed while torrenting copyrighted material.
We rate Surfshark as one of the best VPNs for torrenting. It is very fast, very secure, and allows torrenting (P2P downloads) on every server.
CyberGhost – Some VPNs offer dedicated P2P servers, such as we see with CyberGhost and NordVPN. In contrast, Surfshark and many other services support torrenting on all their servers. Overall, CyberGhost is not an ideal VPN for torrenting, namely because of the slow speeds.
Netflix, streaming, and torrenting winner: Surfshark
---
Reliability and Support
Surfshark was very reliable during our testing and has a reputation for reliability. That said, it is good to know that if you do have a problem, Surfshark has a responsive 24/7 live chat support system. During our full Surfshark testing process, we found their customer support team to be fast and helpful.
Surfshark earns top marks for both reliability and support, with no issues to report.
As noted in the relevant sections of this article, CyberGhost was less reliable than Surfshark. We ran into more problems with things like the inability to unlock Netflix or other streaming services.
Fortunately, CyberGhost offers 24/7 chat support for when things go wrong (and they certainly did). Their customer support team was quick to respond, replying to messages within 30 seconds every time we contacted them. While CyberGhost isn't as solid a product as Surfshark, their customer support team can hold their own against the boys from the BVI.
Reliability and support winner: Surfshark
---
Price and Value
The price of a VPN service is easy enough to rate. CyberGhost offers low prices with different subscription tiers, as you can see below. The cheapest rate is $2.75 for the 18-month package.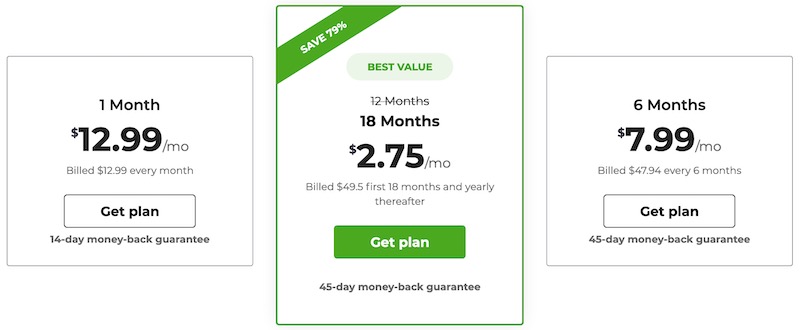 Refunds – They offer a 14-day money-back guarantee on their 1-month plan and 45-day money-back guarantee on their longer plans. This is about average.
Surfshark also offers affordable price plans. They are one of the cheapest VPNs that is still a high-quality service. Here are the current prices:

Refunds – They give you a 30 day money-back guarantee. You'll want to use the following discount coupon if you decide to try out Surfshark.
The value a service offers you depends somewhat on what you plan to do with it. Some VPNs are better at certain things than others. Then there are situations like this one. Putting it bluntly, Surfshark is better at everything than CyberGhost. And it supports unlimited devices connected simultaneously while costing less at every price point.
Note: If you want to save some money on a VPN subscription, check out our active VPN coupons guide.
Price and value winner: Surfshark
Conclusion: Is CyberGhost or Surfshark the best in 2023?
There isn't much to say here. Surfshark is the big winner in this CyberGhost vs Surfshark comparison. It was the winner in every category we examined.
Surfshark is also one of the best VPN services in the world. At the time of this review, NordVPN was the only VPN service we might consider to be superior to Surfshark. For a detailed comparison of these two services, check out our Surfshark vs NordVPN guide.
If you want to test drive this VPN, be sure to grab the discount below for the best prices. And remember you have 30 days to change your mind and get a 100% refund, no questions asked.
Surfshark Coupon:

Get 80% off Surfshark VPN (drops the price down to $1.99 per month) plus 5 months FREE:
(Coupon is applied automatically.)
Lastly, if you want to check out CyberGhost VPN, you can see its website here. Or you can see our CyberGhost review for more details.
Have you used either Surfshark or CyberGhost? If so, leave your honest review below in the comments to help others.
Related Articles:
This CyberGhost vs Surfshark comparison was last updated on December 5, 2023.