Atlas VPN is a newcomer in the VPN world, having launched just a few years ago. Conversely, ExpressVPN is a longstanding veteran with millions of users. While technology veterans can have a lot of momentum, upstarts like Atlas VPN often have an edge with innovation. So let's see who comes out on top in this ExpressVPN vs Atlas VPN comparison.
To find a winner, we tested and analyzed both of these VPN services in ten different categories (including our conclusion and final recommendations). Overall there was a clear winner, as seen in the test results below.
This table highlights the key facts from each VPN (along with coupon links for each service):
| | | |
| --- | --- | --- |
| | Atlas VPN | ExpressVPN |
| Website | AtlasVPN.com | ExpressVPN.com |
| Location | United States | British Virgin Islands |
| Servers | 750+ | 3,000+ |
| Countries | 37 | 94 |
| Logs | No logs | No logs |
| Torrenting | All servers | All servers |
| Support | Knowledge Base; Live chat | Knowledge Base; 24/7 live chat |
| Apps for | Windows, macOS, Linux, Android, iOS | Windows, macOS, Linux, Android, iOS |
| Price | $2.05 | $6.67 (with coupon) |
| Best Deal | 81% Off Coupon > | 49% Off + 3 Months Free > |
Here are the categories we used to test these two VPNs:
VPN Apps
Speed Tests
Reliability
Features
Security
Logging and Privacy
Torrenting
Netflix and Other Streaming Services
Prices and Refunds
Conclusion and final recommendations
Now we'll start out this comparison by examining the VPN apps.
VPN Apps: Atlas VPN vs ExpressVPN
VPN apps (also called VPN clients) are the only visible part of a VPN service. Most of the hard work is done behind the scenes, in the hundreds or thousands of VPN servers that comprise the VPN network. But the apps are our interface to all that hardware, as well as our control center for all the action. In this section, we take a look at the Atlas VPN apps and the ExpressVPN apps.
Atlas VPN apps
Atlas VPN's apps are clean-looking and functional. In our tests they were easy to use, even for people with no VPN experience. Here's the Atlas VPN app for Windows that we tested: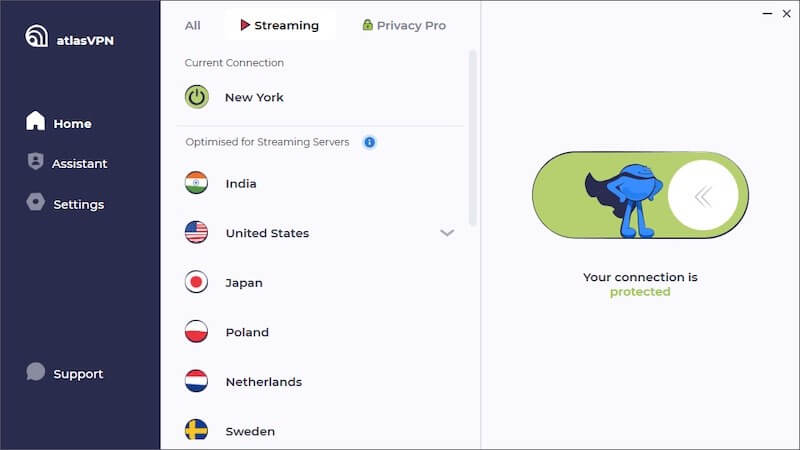 Like NordVPN and CyberGhost, Atlas VPN provides different server types. We'll talk about those server types later. For now, we want to point out how easy Atlas VPN makes it to switch between server types. At the top of the app window you can see three options: All, Streaming, and Privacy Pro. Selecting one of those displays only the servers of that type.
While this may not seem like a big deal, many VPNs leave it up to you to wade through enormous lists of all their servers, looking for the server type you need. It is a nice touch, and makes finding a server of the type you need, much easier.
Here's the Atlas VPN Android app. They do a good job of replicating the Windows desktop design within the limitations of a much smaller screen. The icons at the bottom of the screen give you access to the rest of the features on the desktop. Above those icons, you can tap Server List to get access to the same server options as on the desktop.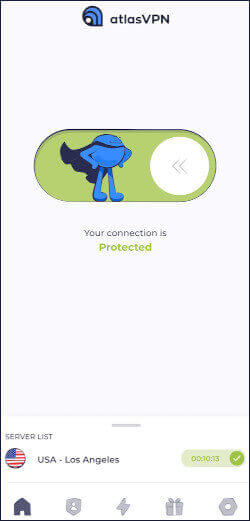 During our testing, the Atlas VPN apps performed well, with no bugs, no crashes, and no leaks. The apps include a VPN kill switch to prevent any data leaks.
Atlas VPN provides apps for: Windows, macOS, Linux, Android, iOS, Android TV, and Amazon Fire TV.
ExpressVPN apps
Many of you are probably familiar with this app, as ExpressVPN has been one of the most popular VPN services for years. It has a clean, user-friendly design, without confusing lists of servers or settings to distract you from starting the VPN and getting back to your day.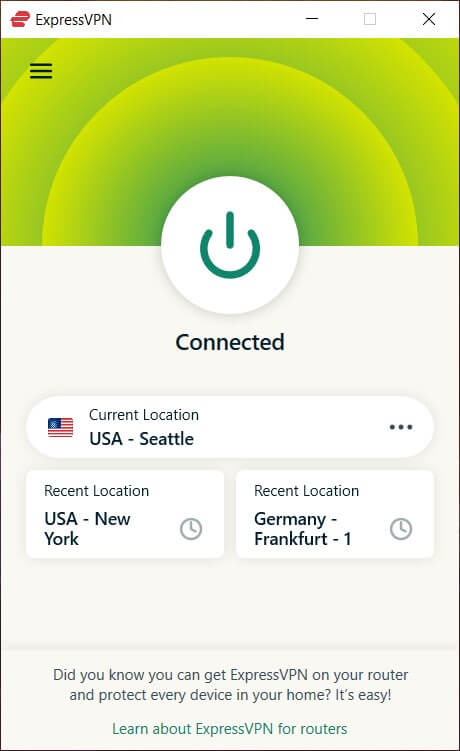 You can reach the rest of the ExpressVPN features by clicking the three-bar icon (sometimes called a hamburger icon) at the top-right of the app. This causes the ExpressVPN window to expand so you can see the servers and options.
One ExpressVPN option you will want to check is to confirm that ExpressVPN is configured to use the Lightway VPN protocol, which is a fast and reliable VPN protocol. Lightway often performs well against other VPNs in speed tests, as you can see in the ExpressVPN vs PIA comparison. Just click Options, then select the Protocol tabbed page and select Lightway.
Note that you can't adjust the size of the ExpressVPN window either when it is expanded or contracted.
ExpressVPN provides apps for: Windows, macOS, Linux, iOS, Android, Chromebook, Kindle Fire, routers, Smart TV, Apple TV, Amazon Fire TV, Roku, ChromeCast, game consoles, web browsers, and more.
With both companies providing quality apps, the quantity makes the difference.
VPN apps winner: ExpressVPN
---
Atlas VPN vs ExpressVPN Speed Tests
For our ExpressVPN vs Atlas VPN speed tests, we ran our tests using the 500 Mbps fiber optic connection in our US lab. The test machines are all connected directly to the router through ethernet cables, to eliminate any possible impact of a wireless connection. In addition, we tested using the fastest VPN protocol for each service. That means WireGuard for Atlas VPN and Lightway for ExpressVPN. And here are the results…
Test #1: New York
Atlas VPN connected to a server in New York City: 232 Mbps

Atlas VPN turned in a good, but not exceptional speed on this test.
ExpressVPN connected to a server in New York City: 214 Mbps

Atlas VPN has the edge so far.
Test #2: Los Angeles
Atlas VPN connected to a server in Los Angeles: 156 Mbps

This is a pretty bad result from Atlas VPN. The best services we have tested so far get over 300 Mbps on this particular test.
ExpressVPN connected to a server in Los Angeles: 209 Mbps

ExpressVPN's results weren't great, but they were much better than those of Atlas VPN.
Test #3: London, UK
Atlas VPN connected to a server in London, UK: 154 Mbps

Once again, the Atlas VPN results were pretty disappointing. Despite it being a long transatlantic connection from our US lab, the fastest VPNs manage over 300 Mbps on this test.
ExpressVPN connected to a server in nearby Manchester, UK: 235 Mbps

ExpressVPN easily wins this leg too. Their speed is not exceptional, but better than that of most VPNs on this particular test.
While it wasn't a clean sweep, ExpressVPN does appear to be faster than Atlas VPN with most servers. This is a bit surprising, since the WireGuard protocol is usually faster than Lightway, as you can see in the NordVPN vs ExpressVPN comparison.
Speed tests winner: ExpressVPN
---
Reliability: ExpressVPN or Atlas VPN
When you consider that the primary job of a VPN is to protect your privacy and secure your internet traffic against snoops, reliability has to be the top priority for any VPN. Fortunately, both of these VPNs are highly reliable. Their apps worked perfectly for us during testing, and they incorporate kill switches. The result was no leaks exposed throughout our tests.
In terms of reliability in restricted networks, both seem comparable. For instance, if you need a VPN for China, both claim to work. The same goes for if you need a VPN for UAE, a location where VPNs are frequently blocked.
We're going to declare this one a tie.
Reliability winner: Tie
---
Features comparison: ExpressVPN vs AtlasVPN
This is a category that could favor Atlas VPN. As we have seen in our recent coverage of this VPN, it incorporates a number of advanced features that few other VPNs can match. Meanwhile, ExpressVPN doesn't go for a lot of fancy features, instead concentrating on rock-solid performance of the features it does have.
Note: We're not going to rehash the apps and the reliability of each VPN. In this section, we are going to talk about other features that you'll want to know about when comparing the two services.
Atlas VPN features
Atlas VPN has a nice set of standard features. These include:
Using the WireGuard VPN protocol as their default protocol to maximize the speed and security of their network.
Including a private DNS so your ISP (or other snoops) can't see what websites you are looking up.
Split tunneling VPN feature so you can route traffic outside the VPN when that makes the most sense.
Unlimited simultaneous connections, meaning you can have all your stuff talking to the internet at the same time while still being protected by Atlas VPN.
A free version of the VPN. It is of course limited, but could be all you need, depending on your unique needs and circumstances.
Advanced features of Atlas VPN
As we noted above, Atlas VPN also has a number of advanced features. Here are two standouts: Tracker Blocker and Data Breach Monitor.
In the Atlas VPN apps you will find an option called Assistant. You get access to the advanced features by selecting Assistant, as shown below.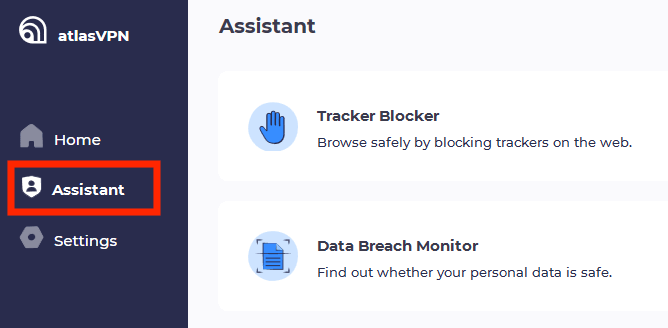 Tracker Blocker
As the name implies, Tracker Blocker blocks the trackers that many websites try to install on your devices. Blocking those suckers will help protect your privacy and shield you from targeted marketing. We see many VPNs rolling out VPN ad blocking features. For example, this is also available with Windscribe and NordVPN.
But Tracker Blocker does more than stop trackers. It also blocks ads from appearing when you visit web pages. Finally, it prevents malicious websites from putting spyware and other garbage on your devices.
Like most such features, Tracker Blocker only protects connections that pass through the VPN tunnel. In a recent innovation, NordVPN rolled out a feature called Threat Protection, which protects against even more problems than Tracker Blocker. And it does so for everything on your computer, whether the traffic is flowing through the VPN or not. You can learn more about NordVPN's Threat Protection in our in-depth NordVPN Review.
Atlas VPN servers
Atlas VPN has approximately 750 VPN servers deployed in 43 locations worldwide. Like the servers of most VPNs, the Atlas VPN servers use hard disk drives to store information. That can potentially be an issue since there have been cases in the past where some hostile entity (the Turkish government, for example) physically seized VPN servers (those of ExpressVPN in this case) to search for evidence of a crime.
While Atlas VPN's servers do use disk drives, the company says all their drives are encrypted. That should ensure that even if an Atlas VPN server were seized, the hostile entity would be unable to get any data from it (as opposed to the unencrypted Windscribe servers that were seized a few years ago and user data extracted from them).
Atlas VPN has a small number of servers (three servers right now) that are for users of their free VPN plan. The vast majority of the servers are reserved for paying customers. Those servers are optimized for speed, while the servers that are reserved for free users tend to get overloaded and slow down.
Additionally, there are SafeSwap servers and MultiHop+ servers, some of which you can see in the image below. These Privacy Pro servers, as well as the streaming and P2P servers, are also off-limits to users of the free plan.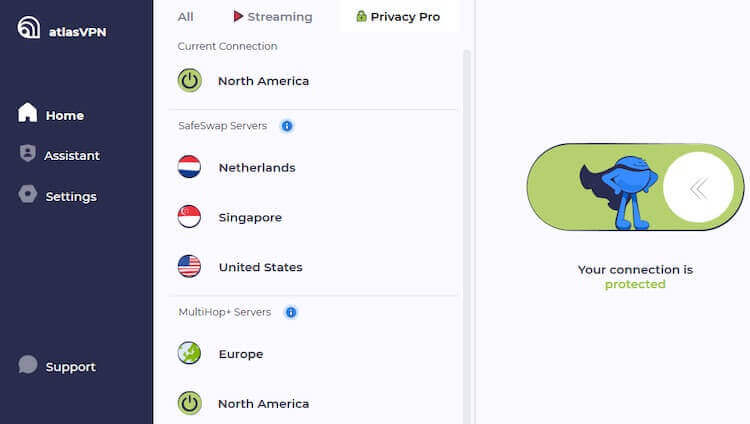 SafeSwap servers
SafeSwap servers provide additional security for your internet traffic. Normally, once you connect to a VPN server, all of your traffic through that server gets assigned the IP address of the server. That IP address stays assigned to you until you log off the server.
SafeSwap servers each have a multiple IP addresses. Whenever you browse to a different internet location from a SafeSwap server, the server randomly assigns you one of its IP addresses. This makes it much more difficult to track your online activities, since each site you visit potentially sees a different IP address for you.
Currently there are SafeSwap servers in the United States, Switzerland, and the Netherlands. Paying customers using Windows, macOS, Linux, Android, or iOS can use the SafeSwap servers.
MultiHop+ servers
MultiHop+ servers take the VPN concept of multi-hop VPN servers and supercharge it. Standard multi-hop consists of a chain of two (and sometimes more) VPN servers. By passing your internet traffic through one VPN server after another, you benefit from multiple layers of encryption on your traffic. And because the servers in the chain are typically located in different countries, it is extremely hard to track your activities.
With MultiHop+, you get the benefits of regular multi-hop. However, with MultiHop+, the final server in the chain changes every time you visit a new site. Right now there are two MultiHop+ server locations. One is in Europe, and one is in North America. Paying customers using Windows, macOS, Linux, Android, or iOS can use the MultiHop+ servers.
See all Atlas VPN features here >>
ExpressVPN features
As we noted above, ExpressVPN isn't one of those services that tries to have all the latest features. Instead, they offer a pretty basic VPN, but execute extremely well. One nice feature that they have is Split Tunneling.
ExpressVPN's version of split tunneling allows you to either prevent certain apps from sending their data through the VPN tunnel, or to only allow certain apps to use the VPN tunnel. The feature works well but is no longer a particularly impressive addition to a VPN. For example, leading VPN services like NordVPN and Proton VPN also have it.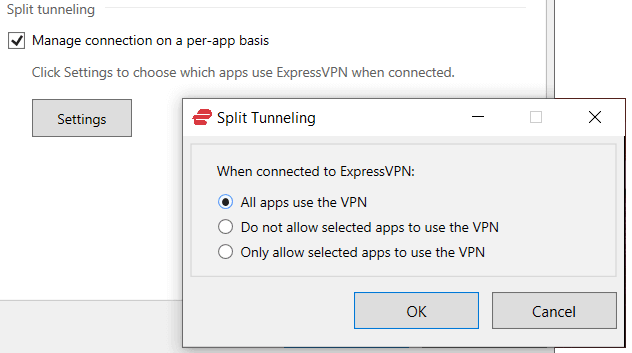 Two other VPNs that offer split tunneling are NordVPN and Surfshark.
Although we've already touched on it earlier, ExpressVPN's LightWay protocol is another quality feature. With many leading VPNs adding support for the WireGuard VPN protocol, ExpressVPN decided to develop their own protocol. It is faster and apparently more secure than OpenVPN, and it is good to see someone taking a different path.
Advanced features of ExpressVPN
When it comes to advanced features of ExpressVPN, Threat Manager immediately comes to mind. It is a feature that blocks ads, trackers, and malicious websites. It does so when you are connected to the internet through the VPN. In other words, it is similar to Atlas VPN's Tracker Blocker.
To activate Threat Manager, simply go to Preferences, and select the Threat Manager tab, as shown below. Also shown below is the notification that Threat Manager is only active when the VPN is connected, making it basically the same as Tracker Blocker.

Static IP addresses – Neither ExpressVPN nor Atlas VPN have a static IP address feature (where you are assigned a static IP). A static IP VPN can be useful, but it also comes with added cost. Prices for this feature can vary depending on the VPN you go with. Two VPNs that offer static IPs are TorGuard and NordVPN.
See all ExpressVPN features here >>
Features winner: Atlas VPN
---
Security: Atlas VPN vs ExpressVPN
Security is another of those crucial VPN characteristics. Nothing else really matters if your VPN isn't secure. While it is impossible to guarantee a VPN (or anything else) is 100% secure from all attacks, VPNs can be secure against any attacks it is likely to face. In this section we talk about how secure Atlas VPN and ExpressVPN are.
Atlas VPN security
Atlas VPN is among the small group of VPNs that has support for the WireGuard VPN protocol. It is also among the even smaller group of VPNs that has made the WireGuard protocol their default protocol. Most VPNs, even those that support WireGuard, have OpenVPN as their default, with WireGuard as an option you must select manually.
This is all good, but Atlas VPN has taken things to the next step by eliminating OpenVPN completely. They use WireGuard, with IPSec/IKEv2 as the alternate for those who can't or won't use WireGuard. With its relatively small code base, WireGuard is considered to be more secure than other protocols, including OpenVPN.
In case you are interested in this level of detail, for WireGuard Atlas VPN uses secure ChaCha20 encryption with Poly1305 authentication. For IPSec/IKEv2, Atlas VPN uses AES-256 encryption with SHA-384 authentication. The kill switches in their apps make sure that your traffic doesn't get shunted onto the internet without encryption in the rare situation where a VPN server goes down while you are connected to it.
Audited: Atlas VPN underwent a full third-party audit last year conducted by Versprite. The audit focused on Atlas VPN apps. The audit identified a few minor issues that were immediately patched.
ExpressVPN security
While Atlas VPN and many others have gone with WireGuard to enhance the security of their networks, ExpressVPN rolled out their Lightway protocol instead. As a result, they now support a wider range of VPN protocols, including: Open VPN UDP and TCP, IPSec/IKEv2, IPSec/L2TP, and Lightway. That would make ExpressVPN the logical choice if you need one of these protocols that Atlas VPN doesn't support.
For encryption, ExpressVPN uses the following across their various protocols: AES-256 encryption with SHA-512 authentication, and the wolfSSL cryptograpic library with an option to use ChaCha20.
Audited: Like Atlas VPN above, ExpressVPN has also passed third-party security audits. Earlier this year, ExpressVPN underwent a no logs VPN audit from KPMG, as well as a security audit from Cure53. We also saw similar audits with NordVPN and Private Internet Access.
This is a tough category. Both services are secure. ExpressVPN supports more protocols, while Altas VPN uses the more-widely adopted WireGuard protocol.
Security winner: Tie
---
Logging and Privacy: ExpressVPN vs AtlasVPN
Here at RestorePrivacy, we of course love VPNs that can protect your privacy. To us, that means a VPN does not log your online activities, and it ideally has been audited by outside experts who verify that it abides by its privacy policies. In addition, to really protect your privacy, a VPN should be located in a safe jurisdiction – one that does not spy on your online activities or force VPNs to do it for them.
ExpressVPN is based in the British Virgin Islands. This is a very good jurisdiction for privacy in that the country isn't part of any surveillance alliance, and it does not force VPNs to log user data. The company's privacy policy explicitly states that they do not log your online activities. And finally, they have had multiple third-party audits of their no-logs policy and their security.
Atlas VPN is based in the United States. This is unfortunate because the United States is a bad jurisdiction for privacy. The USA is a founding member of the Five Eyes surveillance alliance. It can, and has, forced VPNs to secretly log user activities and turn the data over to the FBI. While Atlas VPN has been audited, it has not passed a privacy (no logs) VPN audit yet.
Logging and privacy winner: ExpressVPN
---
Torrenting with Atlas VPN or ExpressVPN
The most important feature of any VPN that you will use for torrenting and other forms of P2P file transfers is the ability to keep your IP address from being exposed. People have been sued by huge media companies for illegally downloading copyrighted content. Regardless of what you do online, you need a VPN that will not expose your real IP address while you are torrenting or otherwise downloading P2P content.
This is an area where both ExpressVPN and Atlas VPN do well. They both passed our leak testing, and they both have effective kill switches to protect you even if the VPN server goes down.
Once you know your IP address will be protected, the other thing to look for in a VPN for torrenting is speed. Even though you are not consuming the content as it arrives, the faster the VPN, the shorter the wait before you can consume the content. Based on our testing, ExpressVPN is somewhat faster than Atlas VPN, which makes ExpressVPN the winner in this category.
Torrenting winner: ExpressVPN
---
Netflix and streaming: Is Atlas VPN or ExpressVPN best?
Viewing Netflix and other streaming services is one of the biggest uses of VPNs. Viewing local content (such as viewing US Netflix while being in the United States) is easy. You don't need a VPN for that. But if you want to view content from around the world, you do need a VPN. And not just any VPN will do.
A good VPN for Netflix or streaming needs the ability to defeat the geo-blocking systems that many content providers use to control what you view. Both of the VPNs we are talking about today can do this, but one is definitely better at it than the other.
Netflix and streaming with Atlas VPN
Using one of Atlas VPN's streaming servers, you can view content from multiple locations around the world. This makes them far better than most VPNs, which can't stream any content from outside your current location. While Atlas VPN is slower than ExpressVPN, with any decent internet connection, it should be a great VPN for Netflix streaming.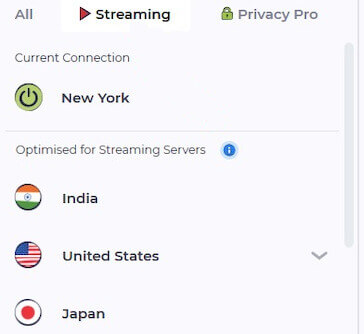 Atlas VPN is also a great VPN for Firestick streaming with a dedicated app in the Amazon store.
Netflix and streaming with ExpressVPN
ExpressVPN can definitely unblock and stream content from Netflix. But they don't seem to support too many regional libraries beyond the United States, Japan, and the UK. And like Atlas VPN, it isn't blindingly fast, but it is fast enough to smoothly display your Netflix selections if you have a decent internet connection.
Both of these services claim to be good VPNs for unblocking BBC iPlayer, but this streaming channel can be hit or miss.
These VPNs seem broadly equivalent when it comes to Netflix and streaming.
Netflix and other streaming services winner: Tie
---
Prices and Refunds comparison
Now it is time to talk about money. After all, it doesn't matter how good a VPN is if you can't afford it!
Atlas VPN prices
Atlas VPN is one of the least expensive VPNs you will find. As a matter of fact, it is on our list of the best cheap VPNs. If you opt for a 2 year or longer subscription, their prices are consistently well below $3 per month. Right now they are running a great deal. If you click the Get Started with Atlas VPN button below, you can get a 2-year subscription, plus 6 months extra for only $49.19, or $1.64 per month.


That price is hard to beat, particularly when you consider that you can have unlimited simultaneous connections for that price. ExpressVPN gives you 6 simultaneous connections for a much higher price.
Atlas VPN free plan
When it comes to free VPN plans, Atlas VPN is one of the best, as demonstrated by the fact that it resides on our list of the best free VPN services. But like all legitimate free VPN plans, it has some limitations. Here they are, in no particular order:
You are limited to only three VPN servers, which the company admits sometimes get overloaded and slow.
You are prohibited from using the Atlas VPN streaming and torrenting servers.
You are prohibited from using Atlas VPN's advanced Privacy Pro servers.
You are limited to a maximum of 10 GB of data per month. Unless your need for a VPN is very limited, you could easily use up that quota of data in a few days.
As you can see from that list, Atlas VPN's free plan is of little use for anyone who plans on using their VPN a lot. However it is a great way to get a feel for the service before paying for a subscription.
ExpressVPN prices
ExpressVPN is far more expensive than Atlas VPN at every price point. There really isn't anything else to say. Atlas VPN pricing puts it in the cheap VPN category, while ExpressVPN is one of the more expensive VPNs on the market.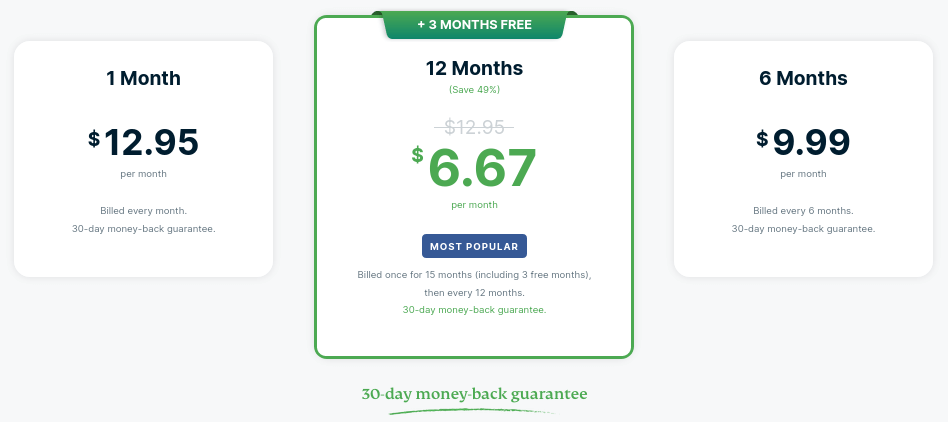 The price contrast becomes even more extreme when you remember that ExpressVPN limits you to six simultaneous connections while Atlas VPN gives you an unlimited number of them.
Refunds
Both of these VPNs give you a 30 day money back guarantee, which is now the standard among top-quality VPN services.
Prices and refunds winner: Atlas VPN
---
Conclusion: ExpressVPN wins in 2023
This has been the closest battle so far for Atlas VPN. Taking a look at this summary of the results shows us that ExpressVPN won in four categories, while Atlas VPN won in two categories. There were three ties.
VPN Apps – ExpressVPN
Speed Tests – ExpressVPN
Reliability – Tie
Features – Atlas VPN
Security – Tie
Logging and Privacy – ExpressVPN
Torrenting – ExpressVPN
Netflix and Other Streaming Services – Tie
Prices and Refunds – Atlas VPN
Conclusion – ExpressVPN Wins
Depending on your exact requirements, and how wary you are of a VPN based in the United States, either one of these could be a good option. For a deeper dive, check out our Atlas VPN review or our ExpressVPN review.
If you want to give Atlas VPN a try, click the button below to get the best available offer:
If you want to give ExpressVPN a try, click this button to get the best available offer:
Related Articles:
This Atlas VPN vs ExpressVPN comparison was last updated August 25, 2023.