Today we are testing Surfshark vs PIA (Private Internet Access). Both of these VPNs are well-known and have lots of users — but we also found some big differences, especially with performance. This comparison guide should help you select the best fit for your needs in 2023.
Based on the latest test results, Surfshark was the winner in this comparison. Compared to Private Internet Access, Surfshark offers much faster speeds, better apps, more security features, and access to more streaming channels. It is also cheaper with the coupon in the table below.
This table highlights the main facts about each VPN:
| | | |
| --- | --- | --- |
| | Surfshark | PIA |
| Website | Surfshark.com | Privateinternetaccess.com |
| Location | The Netherlands | United States |
| Servers | 3,200 | 5,000+ |
| Countries | 100 | 84 |
| Logs | No logs | No logs |
| Torrenting | All servers | All servers |
| Support | Knowledge Base; 24/7 chat | Knowledge Base; chat |
| Apps for | Windows, macOS, Linux, Android, iOS | Windows, macOS, Linux, Android, iOS |
| Price | $2.30 | $2.85 |
| Coupon | 82% Off Coupon > | N/A |
PIA was once one of the leading VPNs — but a lot has changed. It has fallen behind in recent years with performance and features. A few years ago it was sold off to a company that is often associated with malware and adware (but we'll explain why more below).
Meanwhile, Surfshark is one of today's best VPN services and it continues to gain popularity. It offers excellent speeds with the WireGuard VPN protocol and comes packed with features. In this comparison of the PIA VPN vs the Surfshark VPN, we'll find out whether Private Internet Access or Surfshark is the leader in these eight categories:
Company and Jurisdiction
Features
Speeds
Security and Encryption
Privacy and Logs
Netflix, Streaming, and Torrenting
Reliability and Support
Price and Value
Let's get down to work.
Company and Jurisdiction for PIA and Surfshark
More and more people around the world are using a VPN to protect their online privacy. Using sophisticated encryption techniques, a secure VPN service will prevent outsiders from reading your message traffic. A quality VPN will prevent outsiders from seeing what you are doing online,
However people often forget that their VPN provider could potentially see their traffic. While in an ideal world a VPN provider would never spy on users and risk the company's reputation, this most certainly is not an ideal world. A few VPNs have been found to spy on their users, typically under duress from the government of the jurisdiction where they are based.
Knowing a bit about the company and jurisdiction they are based in will make it easier to decide if you can trust them.
Surfshark company and jurisdiction
Surfshark LTD was incorporated in 2018. Since that time, they have maintained a sterling reputation for providing secure, private VPN services to a large and growing audience. We know of no privacy or security violations with this service. The Surfshark VPN has also passed an independent security audit performed by Cure53.
Surfshark is based in The Netherlands. While this is not a great jurisdiction, being located in Europe, it is also not horrible. The Netherlands is not a member of the infamous 5 Eyes alliance (US, UK, Australia, Canada, and New Zealand). Additionally, Surfshark has a strict no-logs policy and also a great track record.
Private Internet Access company and jurisdiction
For many years, Private Internet Access had an excellent reputation in the privacy community. However, as we noted in our PIA review, things began to slowly change. Support deteriorated, debt accumulated, and eventually the company founders decided to sell out.
In 2019 Kape purchased Private Internet Access. Kape was previously named Crossrider, a company that has often been associated with malware. However, in our investigation of Crossrider and Kape, we learned that Crossrider simply produced a browser development platform, which was then used by malicious third parties to distribute malware. Today, Kape also owns CyberGhost VPN, ZenMate VPN, and most recently, Kape purchased ExpressVPN.
Additionally, Private Internet Access is based in the United States, which is one of the worst jurisdictions in the world for a privacy-focused business. There have been many cases of the US government forcing US VPNs or email providers to collect data on users for various investigations. For example, we have seen this happen with Lavabit, IPVanish, and RiseUp. Consequently, we do not recommend any US-based VPN, including PIA, due to the security and privacy risks. (We covered this issue more in our NordVPN vs IPVanish comparison.)
Based on our research, it also does not look like PIA has undergone third-party audits, unlike Surfshark VPN.
There's a clear winner in this category, and that is Surfshark.
Company and Jurisdiction winner: Surfshark VPN
---
Private Internet Access vs Surfshark features comparison
A VPN that doesn't have the features you need is worthless (to you). This section gives a quick overview of each VPNs feature set.
Surfshark features
Surfshark is full of useful features. Start with their super fast network of around 3,200 servers in 100 countries. Surfshark runs all servers in RAM-disk mode, which eliminates the need for hard drives and also means no data can ever be stored on a server. We also see this server feature with both Surfshark and ExpressVPN.
Surfshark also offers different types of specialty servers: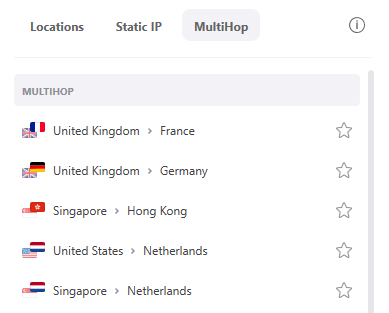 The MultiHop servers are very useful for anyone wanting an extra layer of encryption with two VPN servers. We also tested this feature in our ProtonVPN vs NordVPN comparison.
Surfshark also has a Camouflage mode feature that allows you to get through network restrictions. This is useful if you need a good VPN for China or any other location where VPNs are blocked, including work and school networks.
Need a VPN for all of your devices? Surfshark offers a huge selection of apps with built in protection against leaks. All the basics are covered: Windows, Mac OS, Android, iOS, and Linux. Surfshark is also a great VPN for gaming systems, Smart TVs, and VPN routers. Putting a VPN on the router allows you to use Apple TV with your VPN. Lastly, if you need a VPN for Firestick, Surfshark has you covered with a dedicated app in the Amazon App Store.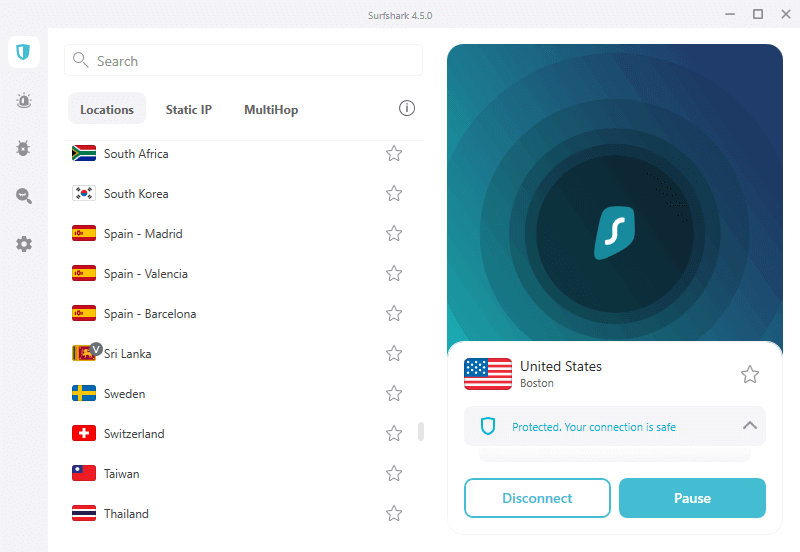 All of the above apps include an effective kill switch which acts to keep your traffic off the internet if you lose the VPN connection. Surfshark's VPN apps offer some great features, including:
The CleanWeb feature is a great VPN ad blocker to improve privacy and security, beyond just encrypting traffic. CleanWeb can also improve page load speeds since ads and trackers can eat up lots of resources. This is an excellent feature to enable when using a VPN for Android or iOS mobile devices.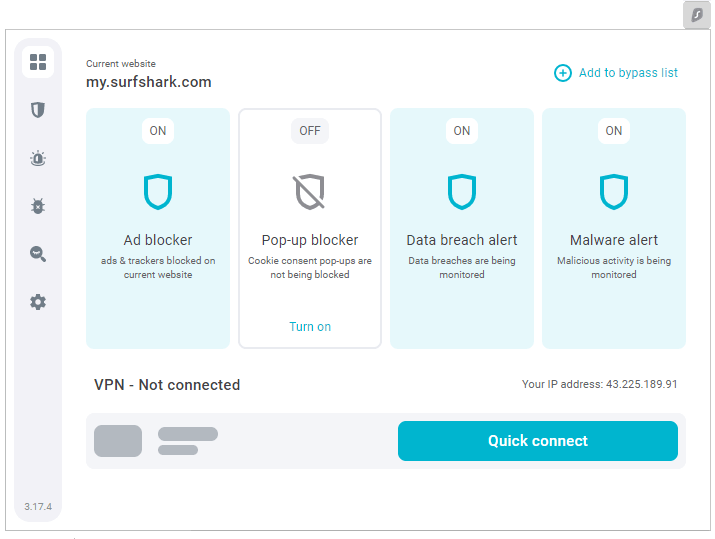 Malware protection is getting to be a "must-have" feature as cybercriminals become ever more aggressive and creative in their attacks. Recently the FBI warned consumers about the flood of fake ads in search results. These ads imitate legitimate brands, but instead of taking your to your favorite store, they take you to phishing sites or try to ram malware into your system.
There are also two (paid) add-ons you can include in your VPN subscription:
And perhaps the top feature of all: support for unlimited simultaneous connections. Most VPNs provide you with about five or six simultaneous connections, as we noted in our ExpressVPN vs NordVPN comparison. Surfshark gives you as many connections as you want under a single subscription.
PIA features
We've already touched on PIA's move to support the WireGuard protocol, which is a feature most VPNs still do not have. Beyond that, however, Private Internet Access is fairly simple. Their apps include a kill switch and a basic VPN ad blocker called PIA MACE. Ad blocking with VPNs is becoming more common — we also see it with CyberGhost and NordVPN.
Servers – PIA claims to have around 23,000 servers in 80 countries. That is truly a huge number, although it is surprising that with so many servers they don't provide any special-purpose servers, or for that matter better speeds during testing. It also appears that most of these are virtual server locations, rather than physical servers. You can see these are labeled as "geo-located" on their server page.
Below is the PIA Windows app I tested. Recent updates include a split tunneling feature for desktop operating systems. And while it's not the best VPN for Windows systems, the PIA desktop app did not have any bugs or crashes in my tests.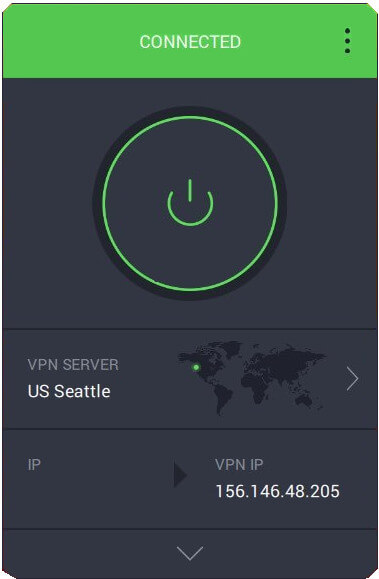 Unlike with Surfshark, we do not see any double-VPN servers in the PIA VPN app. There are also no added privacy features, such as the private search engine or alert system for data exposures.
Surfshark has a richer feature set, without a doubt. It wins the Surfshark vs PIA features category.
Features winner: Surfshark
---
Surfshark vs Private Internet Access speeds
If a VPN service is too slow, everything you do online through the VPN will be a real drag. Because both Surfshark and PIA now support the WireGuard protocol, we would expect them to be fast. Let's see what the tests reveal.
We run our speed tests using the fastest VPN protocol supported by each service. That means WireGuard for both of these contenders. All our speed testing was conducted on a 500 Mbps internet connection using the latest VPN apps.
Test #1: Los Angeles
Surfshark Los Angeles speed test results: 346 Mbps.

Right away we see Surfshark performing at an extremely high level above 300 Mbps. Can PIA match this?
Here was the Private Internet Access server speed for Los Angeles: 85 Mbps.

Surfshark was about four times faster than PIA for the Los Angeles test run — quite a big difference.
Test #2: Seattle
Surfshark Seattle results: 308 Mbps.

Another great test result from Surfshark, still delivering speeds over 300 Mbps.
Here was the PIA Seattle server speed: 41 Mbps.

This is another slow speed test result from Private Internet Access. PIA's Seattle results were half as fast as their Los Angeles results. As a result, Surfshark was 7 times faster than PIA on this test.
Test #3: New York
Surfshark New York results: 397 Mbps.

Few VPNs have ever been this fast with the New York server location.
PIA New York results: 23 Mbps.

PIA turned in results that are again, about half as fast as on the previous test, while Surfshark was faster than ever. So for the New York location, Surfshark was 17 times faster than PIA. We see Surfshark is clearly the best VPN for USA server speeds in these tests.
Test #4, United Kingdom
Here's a transatlantic test. Surely PIA can't continue their trend of ever-decreasing speeds, can they?
Surfshark UK speed test results: 330 Mbps.

This kind of speed helped Surfshark make our list of the best VPNs for the UK. And here we can also see that even with higher latency (ping), Surfshark still delivers excellent performance.
PIA London, UK results: 10 Mbps.

For the UK location, Surfshark was about 33 times faster than PIA. Ouch.
PIA is really falling behind in this Surfshark vs PIA speed category. We found similar results in our NordVPN vs Private Internet Access comparison. This is interesting, especially since PIA supports WireGuard and you would think speeds would be faster.
Speed test winner: Surfshark
---
Security and Encryption: Private Internet Access and Surfshark
Protecting your privacy requires a VPN to have excellent security. And that means excellent encryption, along with any other special security measures a service might take. Here is what each VPN offers in terms of security and encryption.
This category shows a lot of promise for PIA. That's because both Surfshark and PIA use the WireGuard VPN protocol along with OpenVPN. Their WireGuard implementations use ChaCha20 encryption and other advanced encryption technology. Their OpenVPN implementations use AES-256 encryption.
It is in the additional security features where the shark pulls ahead. Surfshark has converted all their servers to operate in only volatile RAM memory with no hard disk drives. operation. And with no disk drives to potentially hold private information, even seizing a Surfshark server for analysis can't expose any user data. This is a major advantage.
Like the vast majority of VPN services, PIA is still using disk drives in their servers. This means data stored on the VPN server could potentially be seized by a third party.
Surfshark has also passed a third-party security audit. The audit was conducted by German cybersecurity firm Cure53, and turned out well for Surfshark.
If Private Internet Access has had an independent security audit, they haven't seen fit to publish the results.
Security and encryption winner: Surfshark
---
Privacy and Logs: Is Surfshark or PIA best?
In this section we cover privacy policy of each VPN, what logs they keep (it better be none), and anything else about them that could compromise your privacy.
Surfshark privacy and logs
Surfshark claims to be a no-logs VPN provider. Our review of their Privacy Policy and Terms of Service confirm that the only information they record is your email address and billing info. None of your online activity is logged.
They also maintain a canary to warn about privacy-related issues. As of December 25, 2022, we have not seen any reports in the warrant canary about surveillance or data collection activities.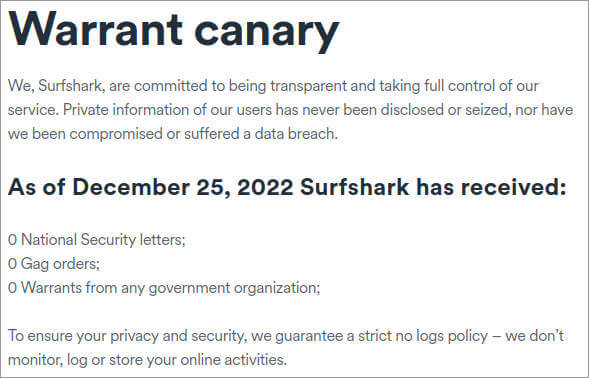 PIA privacy and logs
PIA has both strengths and weaknesses in the privacy and logs category. For strengths, it is a verified no logs VPN service, having been validated by Deloitte Audit Romania, as well as in two different court cases. Private Internet Access includes an internet kill switch, as well as PIA MACE, a feature that blocks ads, trackers, and malware. You can see both of these features in the image below: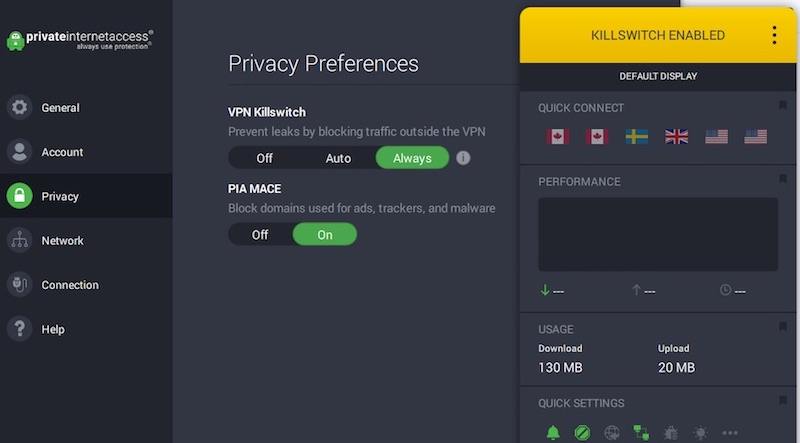 But this is less reassuring when you remember that PIA is based in the United States. This means it could be forced to log users at any time by US authorities, as we have seen at least three times before. They could also be forced to do this logging under a gag order. Such an order would prevent PIA from notifying their users that such surveillance was going on, regardless of PIA's own policies and agreements with their users.
Another issue is that PIA is now part of a large VPN conglomerate falling under Kape Technologies. This may or may not be a good development, depending on your opinion and if you want an independent VPN service.
Privacy and logs winner: Surfshark
---
Netflix, Streaming, and Torrenting
When it comes to Netflix and streaming, the choice is pretty stark.
Surfshark Netflix and streaming performance
Surfshark is fast and unblocks a huge selection of services. It is one of the best VPNs for streaming. It and officially supports 17 different Netflix regions. Below I'm streaming UK Netflix through a Surfshark server in London with no problems!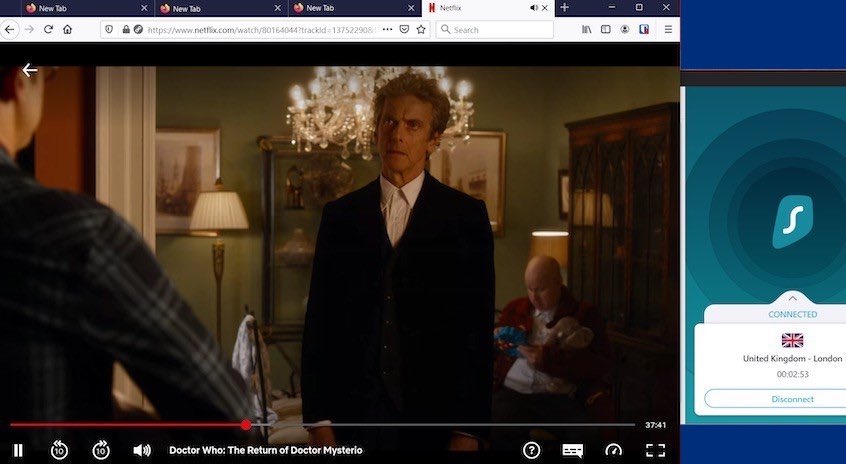 But that's not all. Surfshark is also a reliable VPN for BBC iPlayer, DAZN, Disney Plus, Hulu, and more.
PIA Netflix and streaming performance
According to our own tests (and PIA's own support staff) Private Internet Access gets blocked by Netflix much of the time. They also have trouble with other top streaming services like Hulu. Below you can see PIA getting blocked by Netflix in our tests. It is definitely not the best VPN for Netflix.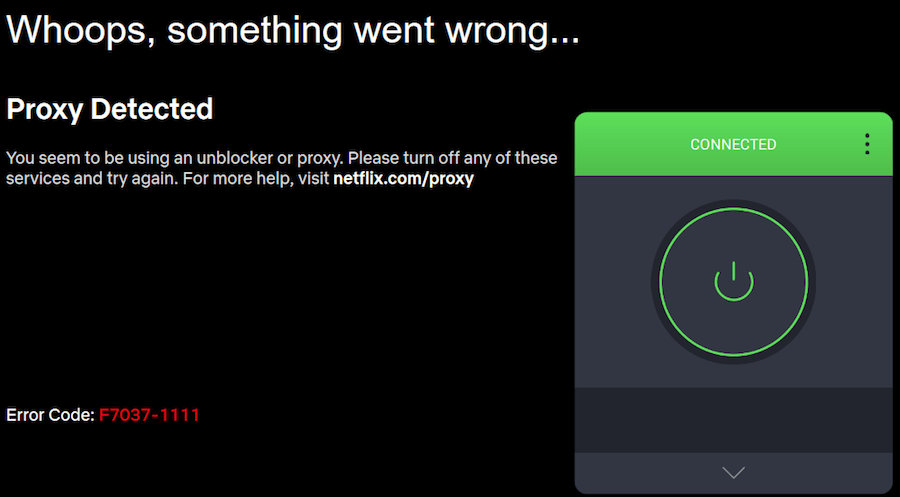 Surfshark is the winner when it comes to Netflix and streaming.
When it comes to torrenting (P2P file transfers), things are a little more nuanced. Our testing shows that Surfshark is among the best VPNs for torrenting. With leak protection and kill switches built into their apps, this is a very fast network that allows torrenting and P2P downloads on every server.
PIA is also solid on the technology side of the issue, if not as fast as we would like. And while they do support port forwarding, which is beneficial for torrenting, the speeds are too slow. This prevents us from recommending PIA for torrenting or any other high-bandwidth activity.
Netflix, streaming, and torrenting winner: Surfshark
---
Reliability and Support
Surfshark is a reliable service. We had no problems with the VPN during our testing. We did, however, communicate with their 24/7 live chat customer support team on a few different occasions. We found the support team to be quick to respond, and very helpful.
Private Internet Access was also reliable during out testing. While PIA does offer email and live chat support, we had some issues when we tried to contact them for help. There was nobody available for live chat support, as you can see here: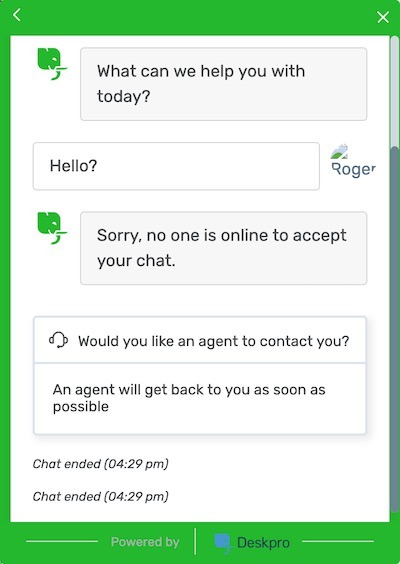 Surfshark is the clear winner in the support and reliability category.
Reliability and support winner: Surfshark
---
Price and Value comparison
PIA pricing is a strong point. As you can see below, their prices are even lower than Surfshark. Below you can see the three pricing tiers for PIA:

At under $3 per month, Private Internet Access is certainly a cheap VPN service with an affordable price. All PIA subscriptions come with a 30 day money-back guarantee.
Surfshark is also an affordable VPN service. Like PIA, Surfshark offers three different pricing tiers, with the cheapest rate coming in at $2.30 per month, making it slightly less expensive than Private Internet Access.

With the two-year plan at only $2.30 per month, Surfshark is one of the cheapest VPNs in the industry that is still high quality. It even beat out NordVPN in the price category for the NordVPN vs Surfshark comparison. And just like PIA, Surfshark also offers a 30 day money-back guarantee with all subscription plans.
Based strictly on price, Surfshark is the winner. However, you may be able to find VPN coupons for these services at different times of the year.
And when you consider value, Surfshark really pays off. In comparison to PIA, Surfshark is much faster, offers far more features, streams content better, and comes from a solid company based in a privacy-friendly jurisdiction.
Where VPNs offer different capabilities or performance, your personal circumstances and needs determine which one provides the most value to you. But at other times, one service will be a better value under virtually any circumstances.
This is our situation today. Surfshark does everything that PIA does, all at a better price. And it does each of those things as well or better, while also having a better privacy record and being based in a better privacy jurisdiction.
Price and value winner: Surfshark
---
Conclusion: Surfshark wins in 2023
Surfshark won every category, although a couple were close. It is clearly the better value and is in fact one of the best VPN providers period. We can recommend Surfshark to you without reservations.
If you decide to give Surfshark a try, you'll want to take advantage of the discount offer below to get the best possible price. You'll have plenty of time to really put Surfshark through the ringer. We expect you'll like what you see, and with their 30 day money-back guarantee you literally have nothing to lose.
Surfshark VPN Coupon:

Get 82% off Surfshark VPN (drops the price down to $2.30 per month) plus 2 months FREE:
(Coupon is applied automatically.)
Related Articles:
Have you used either of these VPN providers? Feel free to share your honest review in the comments below.
This PIA vs Surfshark VPN guide was last updated with new information on January 15, 2023.