This ExpressVPN vs PureVPN comparison report examined eight different categories — and the test results reveal a clear winner.
Two of the more recognizable VPN services are ExpressVPN and PureVPN. Each has been around for many years and both are based outside of the United States, which is a good thing for privacy. But this is where the similarities end, as you'll see in this PureVPN vs ExpressVPN comparison guide. One of these VPNs has a clean track record, while the other has fallen behind and even suffered from a data logging scandal.
Based on all of the latest test results and analysis, ExpressVPN is the winner for 2022. Compared to PureVPN, ExpressVPN is faster, has much better apps, more security features, better reliability, and more support for streaming services. Additionally, ExpressVPN has a good track record, while PureVPN was found to be lying about data logs a few years ago based on public court documents.
This table highlights the key facts about each VPN:
| | | |
| --- | --- | --- |
| | ExpressVPN | PureVPN |
| Website | ExpressVPN.com | PureVPN.com |
| Location | British Virgin Islands | British Virgin Islands |
| Servers | 3,000+ | 6,000+ |
| Countries | 94 | 78 |
| Logs | No logs (audited) | No logs* |
| Torrenting | All servers | Restricted |
| Support | Knowledge Base; 24/7 live chat | Knowledge Base; email |
| Apps for | Windows, macOS, Linux, Android, iOS | Windows, macOS, Android, iOS |
| Price | $6.67 | $1.33 |
| Coupon | 49% Off Coupon > | N/A |
* PureVPN now claims to be a "no logs" VPN and has a couple of third-party audits to back that claim. However, it was caught a few years ago collecting user data logs for the FBI during a criminal investigation while claiming to be a "zero logs" VPN.
In this ExpressVPN vs PureVPN comparison, you will see that one of these VPNs comes out on top by a large margin. In fact, one VPN was the winner in six out of the eight categories we examined.
Here are the areas we'll cover:
Company background check and jurisdiction
Speed tests
Streaming & torrenting
Security & encryption
Reliability
Support
Prices and refunds
Value
In cases where a category had sub-categories, such as streaming & torrenting, we evaluated each and then came up with an overall score for the category. So let's get started!
Company background and jurisdiction
It is important to remember that a good VPN can protect you from outsiders, even your ISP. But the VPN service itself can also be spying on all traffic. This means that you need to be able to trust your VPN service. That's why we conduct background checks on all the VPNs we review. In this section we give you a quick rundown of what we learned about ExpressVPN and PureVPN.
ExpressVPN background and jurisdiction
Thanks to its reputation as one of the best VPNs in the business, ExpressVPN has gotten a lot of scrutiny over the years. ExpressVPN's reputation in the VPN industry is rock solid. It has never been affected by any kind of privacy scandal and has delivered years of quality and secure service for its users.
Further bolstering trust is the fact that ExpressVPN has undergone various third-party audits for both privacy and security, which we'll cover more below.

ExpressVPN is based in the British Virgin Islands (BVI). The BVI is a renowned privacy-focused locale for businesses that need to protect their customers' data. The BVI is not a member of any international spy alliances and is legally and politically independent. Other VPNs have also recently incorporated in the BVI, as we discussed in our ExpressVPN vs Surfshark comparison.
PureVPN background & jurisdiction
While ExpressVPN has a great reputation and squeaky-clean background, PureVPN's has a checkered past. The VPN itself is run by GZ Systems Limited. This company was based in Hong Kong, but has since moved to the British Virgin Islands. But as we noted in our PureVPN review, a company called Gaditek, based in Karachi, Pakistan, is somehow involved with PureVPN. Adding to the confusion, the Gaditek website states that they work with the Disrupt.com Group, a company in the UAE. This company now lists PureVPN as one of their brands. While all this is very confusing, in the end, it looks like PureVPN legally falls under the British Virgin Islands' jurisdiction.
This is good for PureVPN, since Hong Kong is coming under a lot of pressure from China with a National Security Law that was passed in 2020.
Another major red flag we found in the PureVPN background check relates to user privacy. In late 2017 news broke that PureVPN was logging user data for the FBI, despite claiming to be a "zero logs" VPN service.
We covered this PureVPN logs case, which raises questions about whether this VPN can be trusted with sensitive data.
Company and jurisdiction winner: ExpressVPN
---
ExpressVPN vs PureVPN speed tests
Using a VPN always has some impact on the speed of your internet connection. After all, a VPN has to do a lot of work to encrypt and decrypt messages and adds an additional destination (the VPN server) in the middle of the connection. With top-performing VPNs, however, this speed tradeoff is minimal.
For all of the speed comparison tests below, we used the 500 Mbps internet connection in our Western US lab.
Note: We tested PureVPN using their standard OpenVPN implementation. We tested ExpressVPN with their new Lightway protocol, which is generally faster than their own OpenVPN implementation.
US server speeds
First we tested the two services using their United States servers.
PureVPN server in the United States: 59 Mbps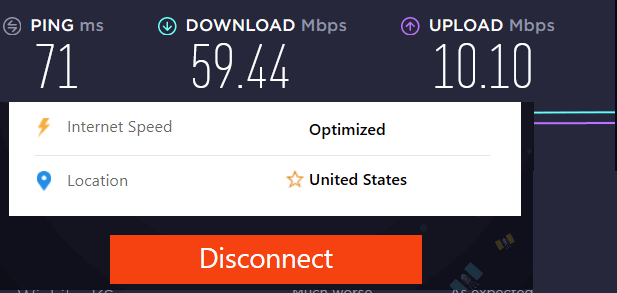 This is not a very good result at all when you remember that we were testing on a 500 Mbps connection. Now let's see if ExpressVPN is faster than PureVPN for this location.
ExpressVPN server in Seattle, USA : 196 Mbps

While certainly much better than the PureVPN result, 196 Mbps on a 500 Mbps connection is still not amazing. We've seen double this speed from VPNs that use the WireGuard VPN protocol.
UK server speeds
Next, we did a long-distance test, connecting to servers in the United Kingdom. Were the results any different?
PureVPN server in the United Kingdom: 18 Mbps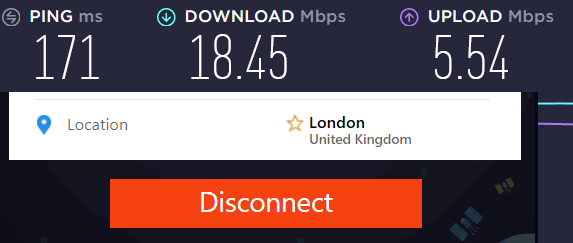 This was even slower than before. PureVPN is not a good choice if you need a UK VPN server with fast speeds.
Here was the ExpressVPN server in the United Kingdom: 235 Mbps.

This result is not bad, especially since it is much better than the speed we got testing through a much closer US server. And it is almost 15 times faster than PureVPN in this test!
Note: While ExpressVPN is much faster than PureVPN, it is still not the fastest VPN we have tested. That honor goes to NordVPN with the WireGuard protocol. And you can see the tests in our NordVPN vs ExpressVPN comparison report.
Winner for speed: ExpressVPN
---
Netflix, streaming, and torrenting
One of the top uses for VPNs these days is to unblock websites for streaming media content. So let's talk about streaming. Here we'll concentrate on streaming Netflix, which is the top streaming target for most people.
PureVPN Netflix streaming
We did find that PureVPN could connect to the American Netflix servers at least sometimes. Unfortunately, the video quality was bad. This was caused by slow speeds with PureVPN servers. Aside from the pixelated images, the stream would randomly freeze and buffer for a while before displaying another bit of video. Streaming Netflix with PureVPN was unwatchable.
Due to playback errors and buffering, we do not consider PureVPN to be the best VPN for streaming.
ExpressVPN Netflix streaming
ExpressVPN provides a much superior Netflix experience. It is able to unblock Netflix libraries from various parts of the world without any issues. Even better, the quality of the media stream is excellent. Here's an example where we are streaming US Netflix with an ExpressVPN server in Washington, DC.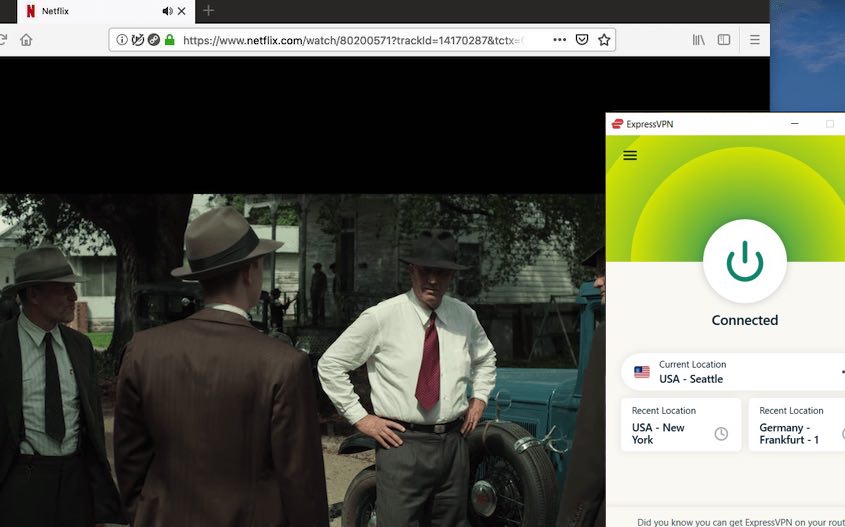 With quality like this, it is easy to see why ExpressVPN is on our list of the best VPNs for Netflix. And they also support 10+ different Netflix regional libraries. This makes it a good tool to change Netflix regions and access more content.
Note: ExpressVPN can officially unblock the following Netflix libraries: US, UK, Australia, Canada, France, Italy, Japan, and Germany. And its streaming capabilities are not limited to Netflix. Additionally, it is a great VPN for Disney Plus, Hulu, Amazon Prime Video, and more.
Torrenting
Torrenting is also known as peer-to-peer or P2P file sharing. The two most important factors when ranking the best VPNs for torrenting are as follows:
Fast speeds (nobody wants a slow VPN for torrenting)
Secure VPN apps with no leaks (this protects your IP address and identity at all times)
For the first factor, we already showed above that PureVPN was much slower than ExpressVPN in our speed tests. So that one is clear.
For the second factor, ExpressVPN again comes out on top because it has very secure VPN apps that do not have problems with data leaks. Unlike ExpressVPN, we did identify DNS leaks with PureVPN, which we will cover more below in the security section.
ExpressVPN is the clear winner for both streaming and also torrenting.
Streaming & torrenting winner: ExpressVPN
---
Security and Encryption
If a VPN cuts corners on security and encryption, it basically makes the VPN worthless. Unless you are only concerned with unblocking websites, the added benefits of security and privacy go by the wayside if your data is getting leaked.
In our tests, there was a big difference between ExpressVPN and PureVPN in the area of security.
ExpressVPN security and encryption
ExpressVPN uses very strong encryption to protect your data. This includes an AES 256-bit cipher with a 4096-bit RSA key and SHA-512 HMAC authentication. This level of encryption is considered unbreakable.
To keep you secure if you somehow lose connection to the VPN server network, ExpressVPN includes a Network Lock kill switch. The Network Lock feature blocks all traffic if the VPN connection drops, thereby ensuring your data remains entirely secure and encrypted. And to keep your DNS requests secure, ExpressVPN utilizes their own secure DNS service, which translate DNS requests fully encrypted in the tunnel so not even your ISP can see which sites you are interested in.
RAM servers – Another noteworthy security advantage with ExpressVPN is that their entire network runs on RAM-disk servers. This is called the TrustedServer feature. With RAM-disk servers, it is impossible to store any data or information on the VPN server itself. This provides ExpressVPN users with a higher level of data security. It also protects your data in the extreme case where an ExpressVPN server is seized by a third party.
You will not find RAM-disk servers with PureVPN. We do, however, find RAM servers with both Surfshark and NordVPN.
ExpressVPN has also conducted two security audits. These audits confirmed that their system was secure as advertised, and verified their no-logs policy and the TrustedServer feature (RAM servers).
PureVPN security and encryption
PureVPN also claims to use an AES 256-bit cipher and a kill switch to encrypt and secure your data. However, in some ways, whatever encryption they use is irrelevant. One reason is that their apps are unreliable and leak data. Another reason is that PureVPN has been known to log data for the FBI.
Below you can see the results of a leak test we ran with the PureVPN Windows client. We found it to be leaking DNS requests.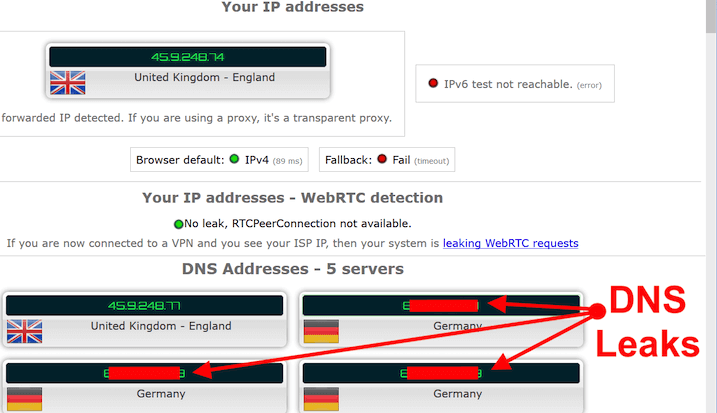 DNS leaks expose your browsing activity and general location to third parties. Unlike PureVPN, we did not find any DNS leaks with ExpressVPN.
PureVPN Audit – In 2019, PureVPN was audited by Altius IT to verify the no-logs policy. It's important to note that the audit was done "remotely" without physical server inspections. Does this rectify their past mistakes of providing user data to the FBI?
More recently, PureVPN was audited by KPMG two different times. Each audit confirmed that PureVPN is complying with its no-logs policy.
We might be overly cautious, but with trustworthy VPN services like ExpressVPN easily available, we see no reason to trust PureVPN again.
Security winner: ExpressVPN
Note: If you want to see how PureVPN compares to other top performers in the security category, check out our NordVPN vs PureVPN report.
---
Reliability: Is PureVPN or ExpressVPN the best?
Here are the three main areas of reliability we're going to consider:
App reliability – Do the VPN apps work well, or do we see bugs or crashes?
Connection reliability – Does the VPN client remain connected, or does it randomly disconnect?
Speed reliability – Are connection speeds consistent across the network, or do speeds vary dramatically?
Is ExpressVPN reliable?
ExpressVPN is definitely reliable. You can count on their apps stay connected and work without bugs or crashes. This applies both to their desktop apps and their mobile apps. As a result, we rate ExpressVPN as one of the best VPNs for PC and Windows users.
What about speed reliability? As you have seen, ExpressVPN is pretty fast, especially with the new Lightway protocol. What you can't see from our speed testing is that we found server speeds to be consistent across many different locations around the world. You can rely on ExpressVPN to deliver consistent speeds.
Is PureVPN reliable?
In a word, no. During testing, we frequently were unable to get the PureVPN app to connect to the VPN server network. After clicking the Connect button nothing would happen for a while. Then we would see a red banner across the top of the PureVPN window stating that it was, "Unable to connect to remote server."
For whatever reason, the client simply could not connect to the server network. Add to this the times when the client would connect but no data would move through the VPN, and we can stop right here.
Winner for reliability: ExpressVPN
---
Support
Depending on your experience level and what you plan to do with your VPN, support can be the make-or-break feature in the buying decision. Even with a super easy to use product like ExpressVPN, support can be critical if you can't connect to Netflix, or there is some kind of conflict with other products or services you use.
ExpressVPN live chat support

ExpressVPN provides 24/7 live chat support through their website. We've tested their responsiveness and expertise on numerous occasions and they have always come through for us. We've always received fast, professional service. You can't ask for more than that.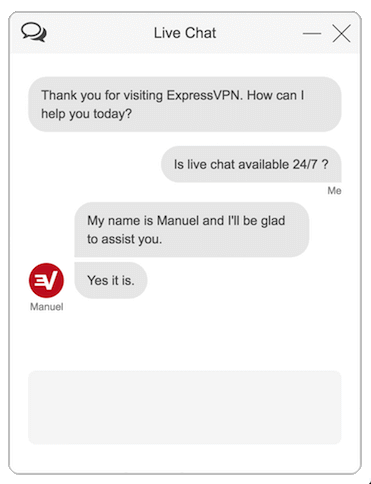 What about PureVPN?
PureVPN live chat support
Like ExpressVPN, PureVPN also offers 24/7 live chat support that is available through the website. In our testing, the PureVPN chat support team was responsive and helpful.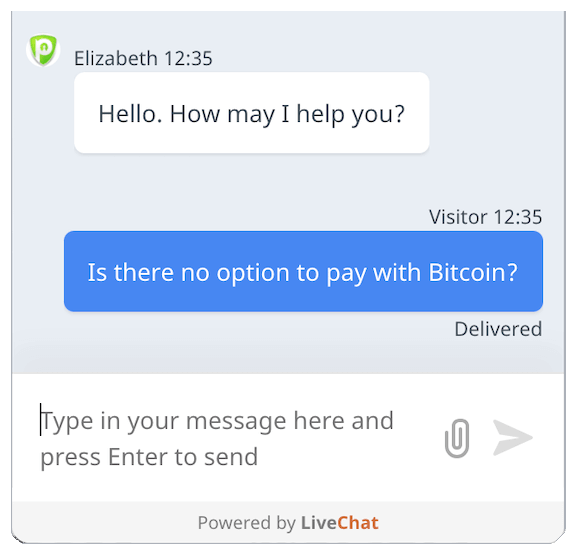 While overall the support experience with ExpressVPN might be a little better, we're going to call this category a tie.
Support winner: Tie
---
ExpressVPN vs PureVPN Prices and Refunds
Now let's see what it will cost us to use these services. We'll look at both the prices and refund policies.
PureVPN price & refund policy
PureVPN offers a crazy low monthly price. $1.33 per month! But you only get that price if you sign up for a 5-year subscription!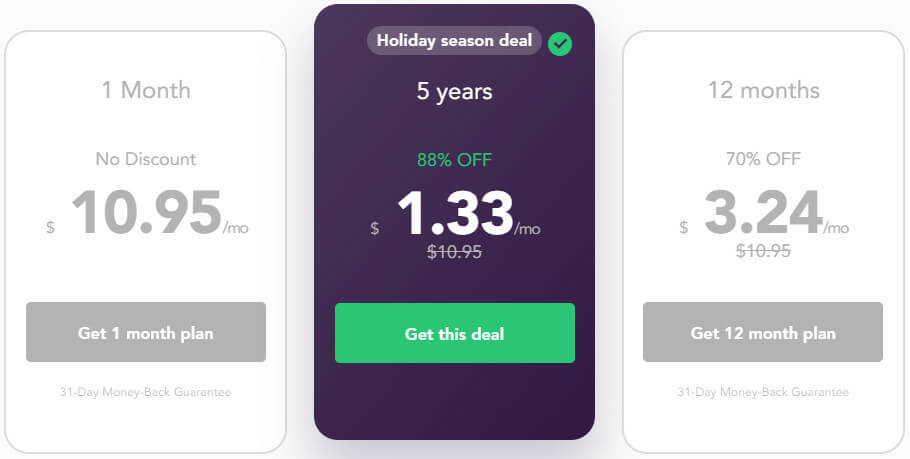 PureVPN also offers a cheap 7-day trial for about $1 — but then the price jumps up to $6.49 per month. This is an automatic charge that may confuse some users. And when you consider this as the standard price, PureVPN would not even qualify for the cheap VPN category under $4 per month. In other words, taking advantage of the cheap 7-day trial could end up costing you dearly.
Refunds – PureVPN gives you a 31 day money-back guarantee with any plan you choose.
Note: When I requested a refund from PureVPN after about three days, it was very difficult to get my money back. Per their policy, they attempt to resolve your problems with the service before giving you a refund. As a result, they kept forcing me to go through troubleshooting, without issuing the refund.
ExpressVPN price & refund policy
ExpressVPN is more expensive than PureVPN. The default one year subscription for ExpressVPN works out to $8.32/mo.
They do, however, offer a discount coupon here that includes three months free and drops the price down to $6.67 per month. The coupon will be automatically activated through this link:
And if you use this coupon, you will see these prices on the checkout page: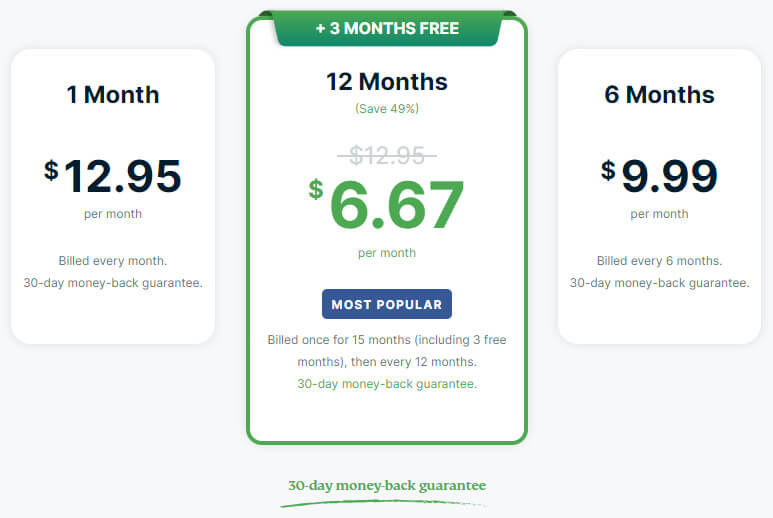 Also, while it is not visible in the screen capture above, right now ExpressVPN gives you a free password manager with every subscription.
ExpressVPN offers a 30 day money-back guarantee. The refund is a "no questions asked" policy and does not include any hidden exceptions or clauses.
When you consider the default price of PureVPN as $6.49 per month, it comes in slightly cheaper than ExpressVPN, with about the same refund policy.
Prices and refunds winner: PureVPN
---
Is ExpressVPN or PureVPN the best value?
The value of a VPN service is subjective. It really depends on how well the VPN meets your specific needs. Sometimes it can be tough to balance the pros and cons of a service to decide its value to you.
At other times, it seems like an easy decision. ExpressVPN works well and has a great reputation. PureVPN doesn't work well, and has already been caught lying to its users once. Who cares if PureVPN is slightly cheaper? We can't think of a situation where PureVPN offers a better value than ExpressVPN.
And as a brief recap, for just a little bit more per month, here's what you get with ExpressVPN:
Faster speeds
More secure VPN apps (with zero leaks!)
Better access to streaming sites
More reliability with apps that always work well
Value winner: ExpressVPN
Conclusion: ExpressVPN wins in 2022
We've evaluated these two VPN services across a range of important categories. Let's look at the winner in each category. Here is a summary of our findings for this PureVPN vs ExpressVPN comparison:
Company background and jurisdiction – ExpressVPN
Speed tests – ExpressVPN
Streaming & torrenting – ExpressVPN
Security & encryption – ExpressVPN
Reliability – ExpressVPN
Support – Tie
Prices and refunds – PureVPN
Value – ExpressVPN
It is easy to see that ExpressVPN is the better of these two VPNs, regardless of the slight price difference. ExpressVPN won six of the eight categories, tied one, and lost one. It is clearly the better VPN service.
We recommend you take advantage of ExpressVPN's 30-day money-back guarantee and give ExpressVPN a good test drive. We think ExpressVPN is a good value at its full price… but you won't have to pay anywhere near that if you take advantage of this discount coupon:
ExpressVPN Coupon:

Sign up for the 12-month plan and get 3 months added to your subscription for free.
(Coupon is applied automatically.)
Still not convinced that you've found the best VPN for your unique circumstances? In that case, be sure to check out the latest test results of the best VPN services. And if you are on a tight budget, you could also check out our guide on the best cheap VPNs.
Lastly, if you have used either ExpressVPN or PureVPN, feel free to post a comment below to let others know your experience.
This ExpressVPN vs PureVPN guide was last updated on December 25, 2022 with new test results and information.