NordVPN and PureVPN are both recognizable VPN brands with many users around the world. And while each of these VPNs have been around a long time, there's only one we're recommending in this PureVPN vs NordVPN showdown.
Based on the latest test results, NordVPN is the winner for 2022. In comparison to PureVPN, NordVPN offers much faster speeds, better apps, more security features, better reliability, and more access to different streaming channels. It was the clear winner in this comparison.
This table highlights the key differences between PureVPN and NordVPN:
| | | |
| --- | --- | --- |
| | NordVPN | PureVPN |
| Website | NordVPN.com | PureVPN.com |
| Location | Panama | British Virgin Islands |
| Servers | 5,500+ | 6,000+* |
| Countries | 59 | 78* |
| Logs | No logs (audited) | No logs** |
| Torrenting | All servers | Restricted |
| Support | Knowledge Base; 24/7 chat | Knowledge Base; email |
| Apps for | Windows, macOS, Linux, Android, iOS | Windows, macOS, Linux, Android, iOS |
| Price | $3.29 (with coupon) | $1.33 |
| Coupon | 63% Off Coupon > | N/A |
* PureVPN claims to have over 6,000+ servers in 78 countries — but many of these are virtual server locations that are not actually located in the claimed country.
** PureVPN claims to be a "no logs" VPN — but it was caught a few years ago collecting user data logs for the FBI for a criminal investigation (verified by court documents).
Here are the eight categories we will use to compare the two services:
Company background and jurisdiction
Features
Speed tests

Streaming and torrenting

Security and Encryption
Privacy
Prices & Refunds
Value
By the time we finish evaluating all these categories, you'll have everything you need to know to choose between them. So let's not waste any time and dive into the NordVPN vs PureVPN comparison.
Background check and jurisdiction
VPN services have strong incentives to protect your privacy, but that are no guarantees. Some services have even been caught violating their own "no logs" policies. IPVanish, which provided user logs to the FBI – but that's not the only example, as we'll see in a minute with PureVPN. There are also some VPNs that have been busted for embedding tracking libraries in their apps. Hotspot Shield VPN is one such example.
While past results are no guarantee of future performance, a company's background (and geographic location) are the best indicators that we have of how well they will protect our privacy in the future.
NordVPN background and jurisdiction
| | |
| --- | --- |
| VPN | NordVPN |
| Based in | Panama |
| Logs | No logs (audited) |
| Price | $3.29/mo. |
| Support | 24/7 live chat |
| Refund | 30 days |
| Website | NordVPN.com |
NordVPN is one of the best-known and most trusted companies in the VPN industry. It has undergone multiple security and privacy audits, further bolstering trust. Despite having a global workforce, the company is strategically based in Panama due to its privacy advantages. Because Panama has no mandatory data retention laws and is not a member of any international intelligence alliances, NordVPN is well insulated from outside pressure to reveal user data.
Add in the fact that the service is a no-logs VPN provider that has been audited multiple times, and we have no problem recommending NordVPN.
NordVPN itself is part of the new brand, NordSec. The rebrand includes two other NordSec products: NordPass, a secure password manager, and NordLocker, a combined encryption tool and secure cloud storage solution. Both of these products did well in testing for the reviews.
PureVPN background and jurisdiction
| | |
| --- | --- |
| VPN | PureVPN |
| Based in | British Virgin Islands |
| Logs | No logs |
| Price | $6.49/mo. |
| Support | Email and Chat |
| Refund | 31 days |
| Website | PureVPN.com |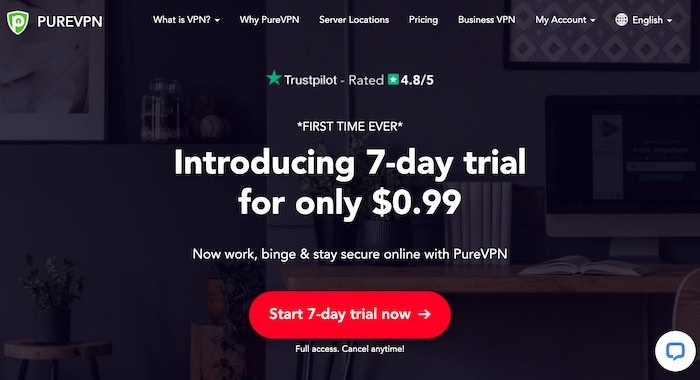 PureVPN is a product of GZ Systems Limited, formerly a Hong Kong company, it is now in the British Virgin Islands. However, during our research, we discovered that a company called Gaditek, based in Karachi, Pakistan lists PureVPN as one of the brands it helps "Disrupt.com Group to create, establish, and grow."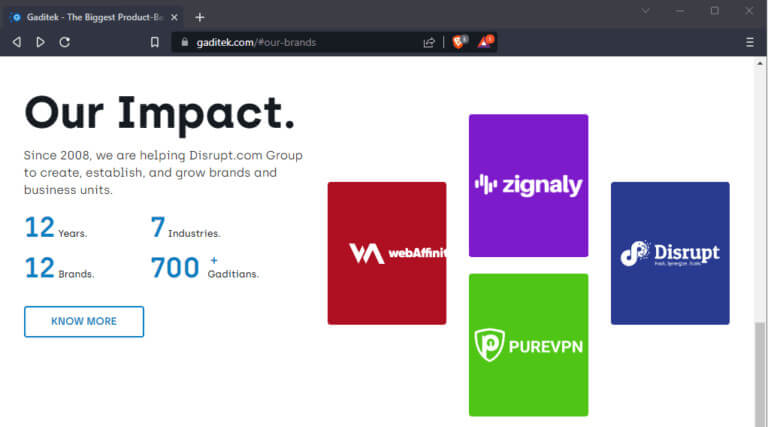 While that is kind of confusing, it isn't necessarily anything to worry about. The important thing to know is that PureVPN's legal jurisdiction is in the British Virgin Islands. Overall, this seems to be a decent privacy jurisdiction, as we discussed in the ExpressVPN review.
PureVPN collected user data for the FBI
No discussion of PureVPN would be complete without discussing the logging case. A few years back, PureVPN was caught logging user data and handing it over to the FBI. Since this happened, it seems PureVPN has been in a downward spiral, losing both trust and users.
It is difficult to trust a company with data security after it has been caught logging users for state agencies. Consequently, we no longer recommend PureVPN to our readers.
Company background and jurisdiction winner: NordVPN
---
Features comparison: Is NordVPN or PureVPN better?
PureVPN claims to have 6,000+ VPN servers in over 78 countries. This is pretty impressive and is even a larger number of servers than ExpressVPN and Surfshark. Unfortunately, we found that PureVPN uses many virtual server locations. These are servers that advertise a given location, but in reality, are located somewhere else. PureVPN does this for many of its exotic locations, which helps to inflate the number of locations.
PureVPN supports a full range of VPN protocols throughout their network, and a wide range of devices and operating systems, including Linux and various routers. It even offers an app for Firestick, but we certainly wouldn't call it the best VPN for Firestick due to performance problems.
PureVPN apps
PureVPN has recently upgraded its VPN apps, replacing its old-fashioned ones with new ones that in some ways seem inspired by NordVPN. Here, for example, is the PureVPN Windows desktop app: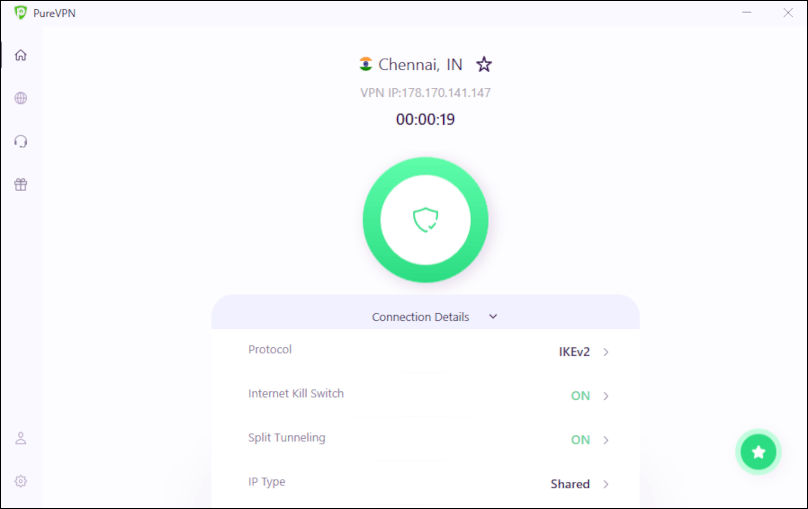 While it doesn't include a large interactive map like the NordVPN desktop app does, this new design is much cleaner than the old one and arranges the icons very much like NordVPN. Since NordVPN is an industry leader, emulating their design makes a lot of sense.
One nice feature of PureVPN is Split Tunneling, which allows you to control which apps will transfer data through the VPN connection and which will pass the data directly to the internet connection.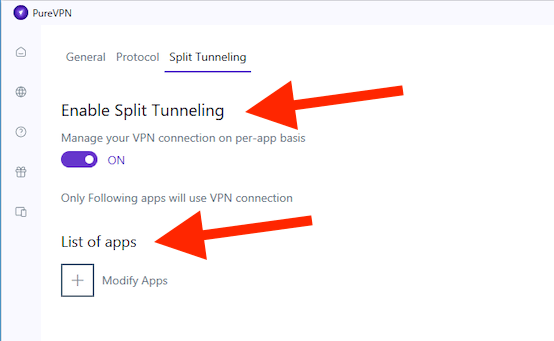 Right now, split tunneling is only available for the Window and android apps.
While we like the new look of the PureVPN apps, one of the problems we've had with their desktop apps in general is that they were buggy and would sometimes not connect with a given server. This would result in a vague, "Unable to connect to remote server" connection error, as discussed in the PureVPN review.
The connection problems with PureVPN seemed to occur randomly with various servers.
PureVPN has also updated their mobile apps. Here's the PureVPN Android app in its new Dark mode: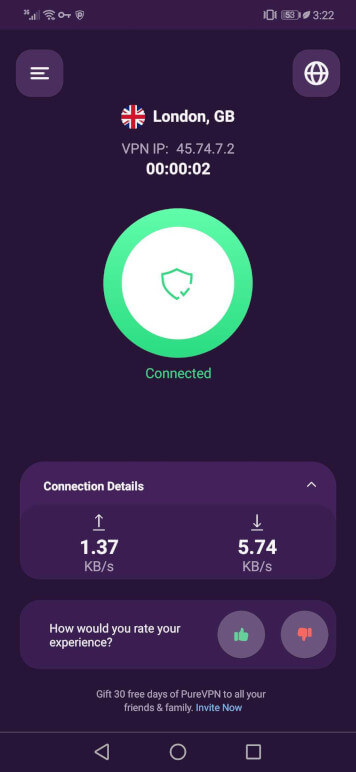 Dedicated IP addresses – Like NordVPN, PureVPN offers a dedicated IP address add-on option. A dedicated IP VPN is a static IP address that only you have access to. This kind of address can be useful if you want to have a static IP address for server networking, accessing resources online, or perhaps avoiding captcha authentication issues. Because it is a dedicated address, you will not share that IP address with any other VPN users. Dedicated IP addresses are an extra-cost option.
Connections – One nice feature of PureVPN is that it supports 10 simultaneous connections. This is about double the industry standard and more than both NordVPN and ExpressVPN.
NordVPN features and apps
NordVPN has all the basic features you might want, along with many advanced features. They offer all the same apps and browser extensions that PureVPN does, but with added features. NordVPN even goes a few steps beyond, supporting unusual hardware like the Raspberry Pi, as well as VPN routers like the Vilfo. Below is the NordVPN Windows app: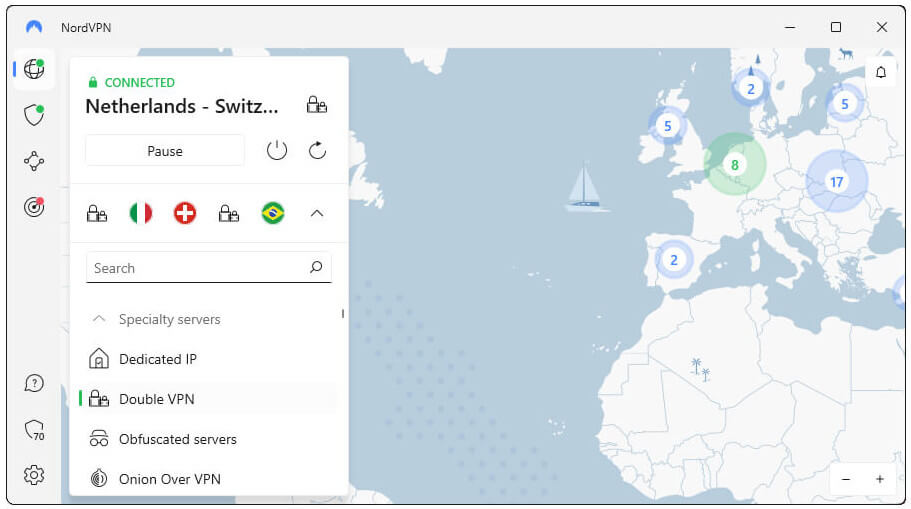 These guys were one of the first companies to integrate the WireGuard protocol into their network. It arrived in the form of NordLynx, a fast, lean, privacy-focused implementation of WireGuard on the NordVPN server network.
NordVPN also offers a large network of over 5,200 servers spanning 56 countries. And unlike PureVPN, NordVPN does not use any virtual server locations that broadcast fictitious geolocations. All of NordVPN's servers run on dedicated hardware in the true location that matches the IP address.
Another great feature of NordVPN is the large number of specialty servers that are optimized for different use cases:
P2P servers that are optimized for torrenting and file transfers.
Obfuscated servers that hide VPN traffic to get around blocks and restrictions. (These come in handy if you need a good VPN for UAE or China.)
Double-VPN servers that pass your traffic through two VPN servers for extra security.
Tor-over-VPN servers that add an extra layer of encryption through the Tor network.
NordVPN Threat Protection
One of my favorite NordVPN features is called Threat Protection. This feature is enabled directly in the NordVPN apps and blocks ads, trackers, malware, and phishing domains. Beyond that, it can do things like scanning downloaded files and deleting harmful (infected) ones before they can do any harm.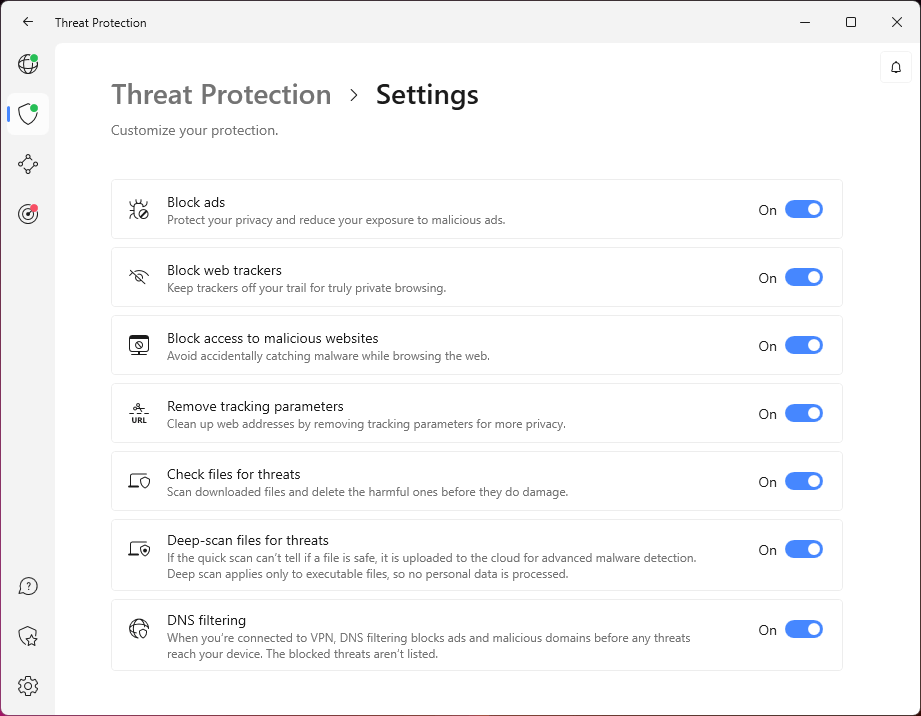 The full version of Threat Protection runs on Windows and macOS. In addition to the capabilities shown in the image above, Threat Protection even protects connections that do not run through the VPN.
Threat Protection Lite is available in other NordVPN apps and their browser extensions. It is a powerful ad blocker that also protects against malware and phishing domains. However, it only protects connections running through a VPN server.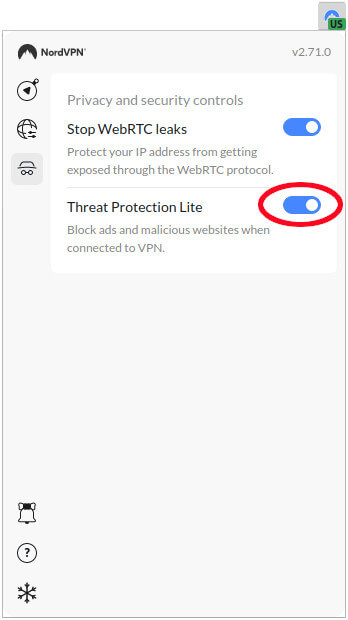 Given all the power of Threat Protection and Threat Protection Lite, it is easy to see why NordVPN is on our list of the best VPNs with ad blocking.
Both NordVPN and PureVPN offer fully featured Mac OS VPN apps. With that said, NordVPN still offers a much more reliable and fully-featured Mac OS app in comparison to PureVPN. This was the same across the board when examining the mobile and desktop apps.
Connections – NordVPN allows for six simultaneous connections with your VPN subscription. This is about average. However, there are some VPNs that offer an unlimited number of connections, as we noted in the NordVPN vs Surfshark comparison.
Features winner: NordVPN
---
NordVPN and PureVPN speed tests
With people spending more time online for streaming, browsing, and connecting with others, it's important for a VPN to have good performance. Therefore we thoroughly test VPN speeds in all of our VPN reviews and comparisons.
We've gotten excellent results in past NordVPN speed tests, but PureVPN may have something to say on this subject. According to the PureVPN website,
Our self-engineered VPN service and proprietary apps are optimized for evolving broadband connections. Our service runs seamlessly in the background to provide the fastest speeds across the globe.
So now let's examine a few PureVPN vs NordVPN speed tests. This should be good.
Note: All speed tests were conducted on a 500 Mbps connection in our US-based lab.
Transatlantic speed test results
For the first round of testing, we tried VPN servers located in the UK. A fast and secure UK VPN is vitally important as legal privacy protection is fast becoming a memory in the United Kingdom.
PureVPN server in UK: 18.45 Mbps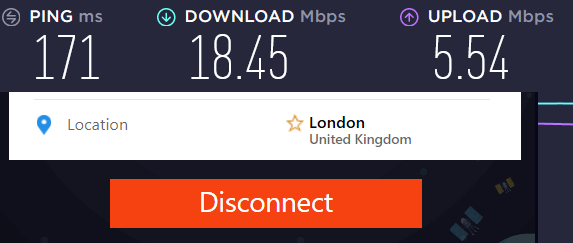 A download speed of 18.45 Mbps on a 500 Mbps connection is really bad. Can NordVPN do better?
Here was the NordVPN server in UK: 295 Mbps

With a download speed of 295 Mbps, NordVPN is around 16 times as fast as PureVPN for the UK location.
This speed difference with UK servers was similar to what we observed in the ExpressVPN vs PureVPN comparison.
North American speed test results
Given PureVPN's speed claims, perhaps the UK result was some kind of issue with that particular PureVPN connection. Let's find out if they are more competitive when connecting to locations in North America.
PureVPN server in the United States: 59 Mbps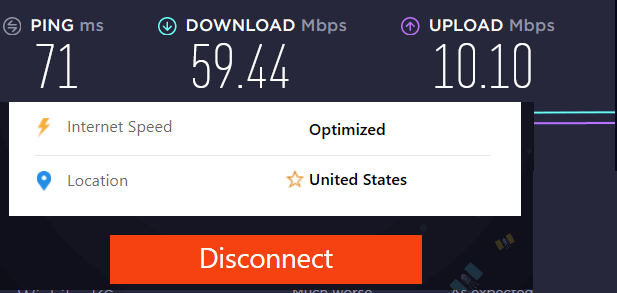 This is better than the PureVPN server in the UK, but is still nothing to brag about. Now let's compare this to NordVPN.
Here was a NordVPN server in the United States: 445 Mbps

Yes, you are reading that correctly. With a maximum possible download speed of 500 Mbps, NordVPN delivered over 445 Mbps. That's the highest speed we've ever seen in our VPN testing. Note also that NordVPN scored a ping of 24 ms. That makes NordVPN a promising VPN for gaming, when low latency is important.
As a result, even with PureVPN's improved results, NordVPN is still more than 7 times as fast.
That's enough for us. PureVPN's bold claims aren't backed up by results. NordVPN was much faster than PureVPN in all server locations we tested. And this is not an anomaly. NordVPN also came out on top in our ExpressVPN vs NordVPN article.
Note: One reason that NordVPN is so much faster than PureVPN is that it uses the WireGuard VPN protocol. WireGuard promises much faster speeds than OpenVPN, while also delivering upgraded security and the latest encryption.
Speed test winner: NordVPN
Note: NordVPN continues to beat out other VPN services in the performance category, as you can see in the NordVPN vs IPVanish comparison.
---
Streaming and torrenting with NordVPN and PureVPN
Both services support streaming and torrenting. Let's see if PureVPN can score some points against the other guys in this important aspect of VPN use.
Streaming comparison: Can PureVPN compete with NordVPN?
Streaming at home is becoming increasingly popular, a trend that really kicked off during the lockdowns. Untold millions of people would love to use a VPN to view content from across the planet. Even though most major streaming services use geo-blocking technology to control who can view their content, a good VPN can usually get through restrictions to unblock websites and content.
Some of the most popular streaming services are Netflix, Hulu, and Amazon Prime. Using a VPN for Disney Plus is also popular.
NordVPN Netflix and streaming performance
If unblocking Netflix is high on your list, you need to test drive this VPN. NordVPN officially supports 15+ Netflix regions, including all of the most popular locations. Simply connect to a NordVPN server in the region you want to unblock, and enjoy streaming content. Here we are using a NordVPN server in the US to unblock the US Netflix library: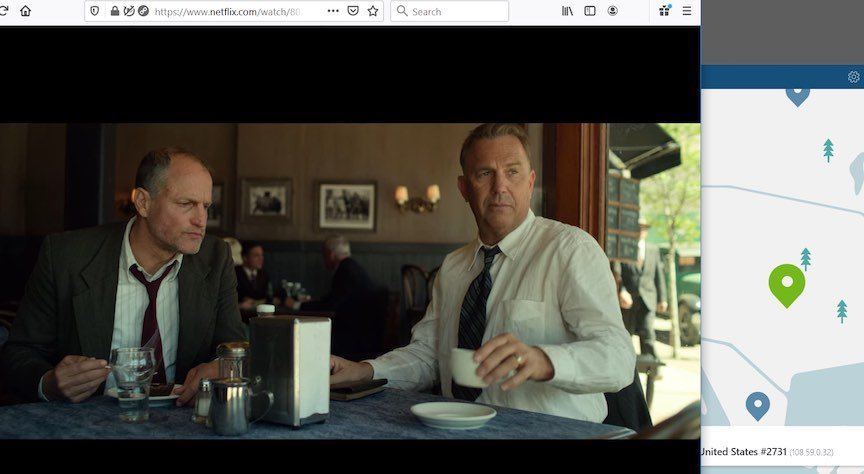 Beyond Netflix, NordVPN is also a great VPN for BBC iPlayer, Hulu, Disney Plus, and many more. And with the premium speeds we tested earlier, you will be able to stream HD content without any annoying delays, buffering, or interruptions.
PureVPN Netflix and streaming performance
In our tests, PureVPN was able to access US Netflix – but there was a problem. PureVPN speeds with Netflix were slow, which resulted in playback and buffering issues.
This is where PureVPN falls down. Because their server network is so slow, they can't display streaming content at full resolution without buffering. In other words, if you watch a streaming video with PureVPN, you will likely find yourself watching a blurry (low-quality) image that occasionally freezes while waiting for adequate bandwidth.
Given that the problem here is the speed of the network, this kind of problem will most likely apply to other streaming services you want to access with PureVPN. I have seen complaints from users about this not being a good VPN for Hulu streaming, as well as failing to get the job done with Amazon Prime Video.
NordVPN is easily the winner when it comes to streaming.
Torrenting with NordVPN and PureVPN
Many people are using VPNs for torrenting. After all, this will hide your IP address and keep you safe when downloading files online, especially if you are at risk of any copyright violations for music or videos. Unfortunately, some VPNs restrict torrenting on their network. This is the case with TorGuard, which blocks torrenting on US servers (explained more in the TorGuard vs NordVPN comparison).
So how do NordVPN and PureVPN compare with torrenting? Privacy, reliability, and speed are what matter here. Can PureVPN compete?
NordVPN is perhaps the fastest VPN in the world and provides excellent protection against leaks. We recently rated it the best VPN for torrenting with exceptional speeds and secure, leak-proof applications.
PureVPN is leaky. This means the network and apps can leak your personal data to the internet. And that means your identity could be revealed, potentially even leading to legal trouble when torrenting. Add in the speed issues we found earlier, and this is not a good option for torrenting.
NordVPN beats PureVPN when it comes to torrenting too.
Streaming and Torrenting winner: NordVPN
---
PureVPN vs NordVPN encryption and security
Security and encryption are of the utmost importance for a VPN. Unfortunately, only one of these two services can be counted on here.
VPN Encryption levels
NordVPN and PureVPN have comparable levels of encryption:
PureVPN: Offers a range of encryption options up to and including AES-256
NordVPN: AES-256 for the OpenVPN and IKEv2 protocols; ChaCha20 ciphers for the WireGuard protocol
NordVPN gives you more options for VPN protocols and encryption. Additionally, the WireGuard VPN protocol is considered more secure than OpenVPN by some experts. This is because WireGuard uses the latest encryption standards and is significantly smaller, operating on a leaner codebase that is less bloated and easier to audit.
IP and DNS Leak protection
Both NordVPN and PureVPN offer a kill switch in their respective VPN apps, and this should theoretically protect users against leaks. In our tests, the NordVPN kill switch worked perfectly, and we could not detect any leaks.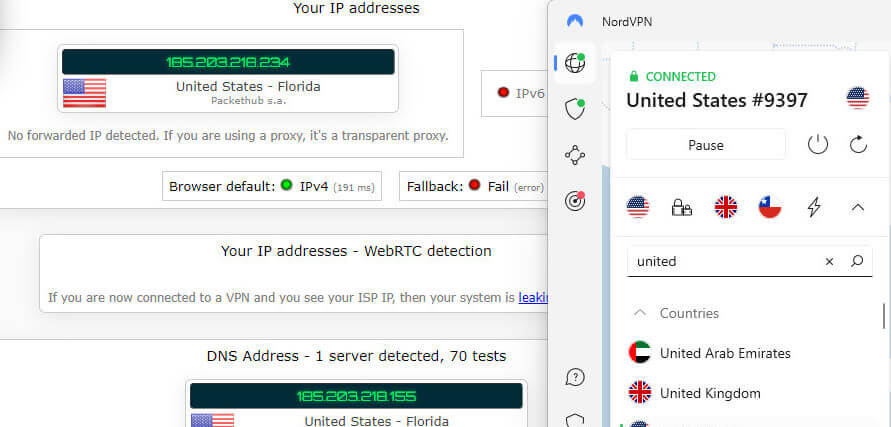 NordVPN has built-in leak protection with all apps for Windows, Mac OS, Android, and iOS.
PureVPN was a different story. Unlike NordVPN, we discovered DNS leaks with the PureVPN Windows client, in addition to other bugs and problems.
The PureVPN DNS leaks are a serious issue, as you can see in the screenshot below taken with the PureVPN Windows client:
These DNS leaks with PureVPN expose your browsing history (via DNS requests) to third parties, as well as your general location and internet service provider. No leaks were identified with NordVPN.
Security audits
NordVPN has undergone the following third-party audits:
A no-logs audit by PricewaterhouseCoopers AG Switzerland.
A second PricewaterhouseCoopers no-logs audit covering regular, obfuscated, Double VPN and P2P servers (completed in 2020).
An application and infrastructure audit conducted by VerSprite.
PureVPN had its no-logs policy audited in 2019 by Altius IT. This is important because they are one of the VPN companies that previously turned over user logs to the FBI, despite having a no-logs policy at the time.
According to this blog post, since then they have had their no-logs policy audited twice by KPMG. This is an excellent move forward for PureVPN in light of their FBI logging incident.
Unlike with NordVPN, we have not found any references to PureVPN security audits conducted by outside firms.
VPN server security
NordVPN has converted all of the VPN servers in their network to diskless operation (a.k.a. RAM-disk mode). This makes it impossible for any data to be stored on the server, while also protecting NordVPN from rogue third-party server seizures, which has happened to a few VPNs. Either way, there are no logs available.
PureVPN does not use RAM-disk mode for its servers, which puts PureVPN users at a disadvantage. Meanwhile, more VPNs are converting their networks to RAM-only operation, a trend we first noted in the ExpressVPN review.
Security winner: NordVPN
---
Privacy: PureVPN vs NordVPN
The security win goes to the team from Panama. Which service is better for privacy?
PureVPN privacy problems
We have already covered the following issues that give PureVPN low marks for the privacy category:
A past history of logging users for state agencies.
Jurisdiction in Hong Kong (increasingly under the thumb of China)
Data leaks that expose user data to third parties
It's clear that PureVPN does not do very well in the privacy category.
NordVPN excellent privacy
NordVPN has a great track record of protecting the privacy of its users and is based in Panama, a country renowned for privacy-focused businesses. It passed all tests with no leaks. NordVPN also earns privacy points for being a verified no-logs VPN (audited twice) and having a RAM-disk server network.
Privacy winner: NordVPN
---
Prices and refunds comparison
Let's see how these two compare when it comes to pricing.
PureVPN pricing – This VPN services offers something I have never seen before: a 5-year subscription. Right now, as part of their holiday season sale, they are offering 1-month, 12-month, and 5-year plans. The 5-year plan has an amazingly low price of just $1.33 per month.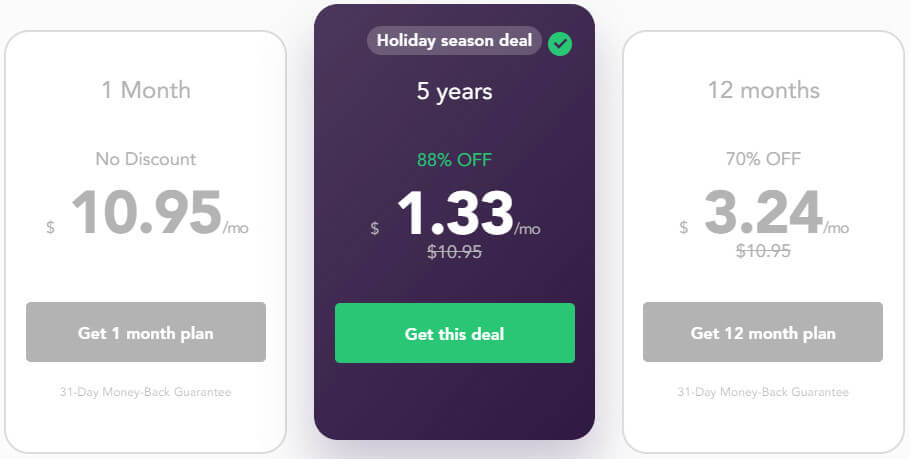 All PureVPN subscriptions come with a 31-day money-back guarantee, but PureVPN support put me through the hoops when trying to get my money back. And considering the baseline price, PureVPN is definitely not the cheapest VPN by a long shot.
NordVPN pricing – NordVPN now offers three different plans: Standard, Plus, and Complete. All three plans give you access to the full set of NordVPN features. The difference lies in the additional security options they give you. The image below show you those options as included in NordVPN's 2-year subscription. Whichever plan you decide you want, you can get the best possible price if you use the NordVPN discount coupon here: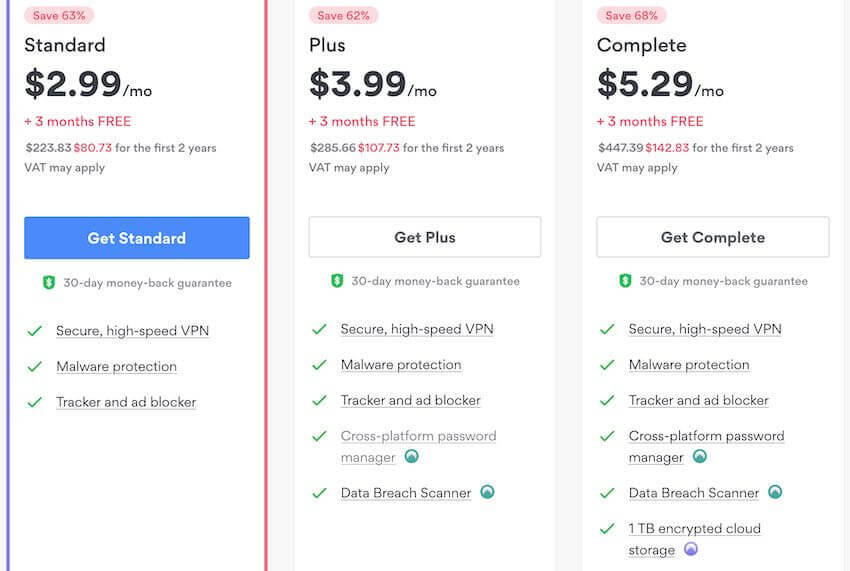 All NordVPN plans come with a 30-day money-back guarantee, but without the refund hassle you get with PureVPN.
Does NordVPN or PureVPN offer the best refund policy?
The difference here is small: NordVPN gives you a 30-day guarantee, and PureVPN gives you a 31-day guarantee.
Price and Refund Winner: While the refunds are basically the same, PureVPN offers much lower prices than NordVPN. So for this category the winner is PureVPN.
---
Is NordVPN or PureVPN the better value?
Choosing a VPN based on value can be hard since it depends greatly on what you plan to do with that product. If you need a service that excels at streaming, you'll place much more value on streaming performance than someone who doesn't.
Since we can't tell you how you are going to use your VPN, we can only compare NordVPN and PureVPN on the three key characteristics that every user expects from their VPN: security, privacy, and speed.
Unfortunately for the PureVPN team, NordVPN is superior in all three categories:
NordVPN is many times faster than PureVPN
NordVPN is more secure
NordVPN is more likely to be able to protect your privacy today and into the future
Value winner: NordVPN
---
Conclusion: NordVPN wins in 2022
Tallying up the results of our 8 test categories, we see that NordVPN won seven out of eight of them. Yes, this battle was rather lopsided. Here's a summary of the test results:
Company background and jurisdiction: NordVPN
Features: NordVPN
Speed tests: NordVPN
Streaming and Torrenting: NordVPN
Security and Encryption: NordVPN
Privacy: NordVPN
Price and Refund: PureVPN
Value: NordVPN
Given the bugs and leaks we saw in PureVPN's clients, the slow speed of their network, their history of sharing user data despite being a "no-logs" VPN, and the precarious situation of their home jurisdiction, there is no way we can recommend PureVPN. Additionally, in a world of increasing cyber threats, why take any risks with a VPN that has failed in the past and provided logs to authorities?
We can, however, wholeheartedly recommend NordVPN. It continues to excel in our tests and is one of our top-recommended VPN providers.
Want to give NordVPN a try? Be sure to grab the discounted rate with this coupon:
NordVPN's Cyber Deal is live:

Get 63% Off NordVPN plus an additional 3 months FREE:
(Coupon is applied automatically.)
Related Articles:
Have you used either PureVPN or NordVPN? If so, share your experience below in the comments to help others.
This PureVPN vs NordVPN comparison guide was last updated on December 25, 2022 with new information and test results.