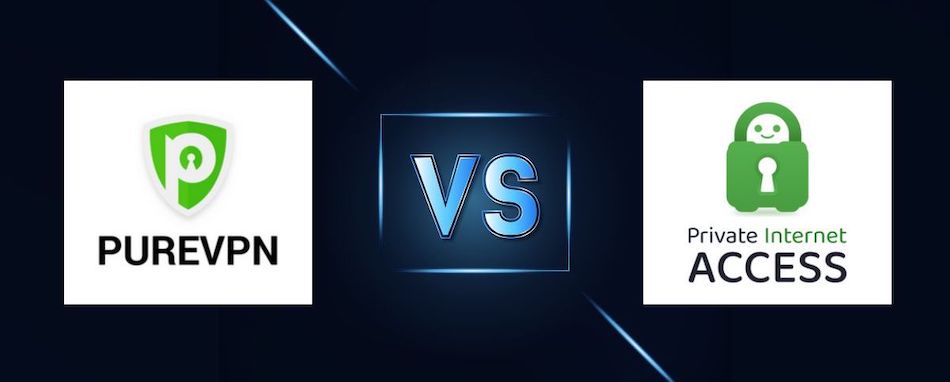 PureVPN and Private Internet Access are both large VPN providers – but is either one a good choice? This in-depth PureVPN vs PIA comparison will reveal a clear winner between the two, while also suggesting some alternative VPNs that performed much better in our testing.
After covering an overview of each VPN, here are the areas we will examine for this PIA vs PureVPN guide:
Background check
Performance
Server network
Price and refund policy
Features
Privacy and Security
Netflix and streaming
Conclusion
So let's get started.
PureVPN vs PIA background check
We'll start by examining PureVPN.
PureVPN's corporate structure is a bit confusing, but ultimately is run by a company called GZ Systems Limited, which is based in the British Virgin Islands (BVI) The BVI is one of the best jurisdictions for a privacy company.
While PureVPN looks good on the surface, testing and analysis for the PureVPN review uncovered many problems. These problems included data leaks, slow speeds, broken features, and connection issues.
Making matters worse, a few years ago PureVPN was found to be logging users. Based on official court records, we learned that PureVPN was cooperating with the FBI (Federal Bureau of Investigation) by logging user data and handing it over to authorities even though the company claimed to be a zero-logs VPN at the time. They later confirmed this to be true after various outlets picked up the story – see my article VPNs Are Lying About Logs.
Now let's take a look at Private Internet Access.
Private Internet Access (PIA) is one of the older players in the VPN industry — but a lot has changed in just the past few years. In late 2019, PIA was acquired by Kape, which has been on a buying spree and also owns several other VPN services. Most recently, Kape bought ExpressVPN in September 2021.
While PIA performed better in testing than PureVPN, it still comes with many notable drawbacks. Speeds were mediocre, and like PureVPN, Private Internet Access does not do well with streaming content.
One major drawback with Private Internet Access is that it is based in the United States. This is generally considered to be a bad privacy jurisdiction because it is part of the Five Eyes alliance. Additionally, being based in the US, PIA could be forced to log user data at any time, as we have seen with other US-based VPNs, such as IPVanish.
As far as I am concerned, both of these VPNs fail our background checks. PureVPN has spied on its users for the FBI, while PIA is in one of the worst privacy jurisdictions. This category is a tie because they both fail.
Background check winner: Tie
---
Performance: PureVPN vs PIA
My testing found PureVPN to be pretty unreliable, which is thoroughly documented in the PureVPN review. Here are some of the problems I discovered:
Could not connect to many of their VPN servers
Dropped connections
Unreliable speeds (sometimes OK, but usually very slow)
DNS leaks with the Windows VPN client
These problems with reliability also match up with feedback I have gotten from other PureVPN users.
Speed tests
I conducted speed tests for both VPNs using the 500 Mbps internet connection in my US testing facility.
Here is the result of one of my PureVPN speed tests with a US server. The best result I got was a speed of 59 Mbps: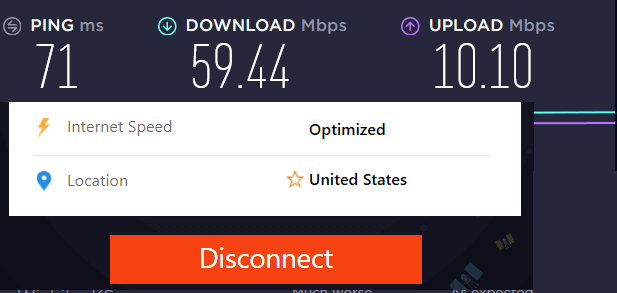 I found PureVPN to be slow with all the servers I tested. This lines up with our other tests in the NordVPN vs PureVPN comparison.
Private Internet Access was not much better. Here was the PIA server in the US with speeds around 85 Mbps.

While this is faster than PureVPN, it's still not very impressive.
I also tested servers in the UK, and once again, speeds were not very good with either of these VPNs.
PureVPN server in the UK: 18 Mbps.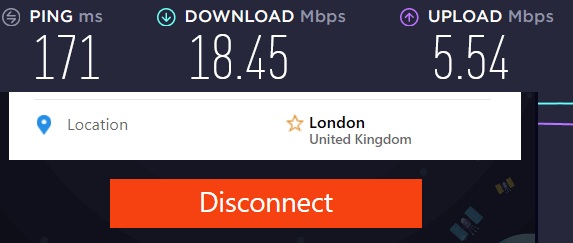 This is quite bad. Several of the VPNs I have tested have turned in speeds on this test in excess of 200 Mbps. Surely Private Internet Access will be able to do better than this.
Well, maybe not. Here are the results I got when connecting to a PIA server in the UK: 10 Mbps.

In the first test, Private Internet Access was pretty slow, but significantly faster than PureVPN. In the second test, PureVPN was extremely slow, but still faster than Private Internet Access. As a result, I can't say one of these VPNs is faster than the other. All I can say is that both are very slow, and get run over by other leading VPNs.
For example, here is NordVPN's best US speed test result: 445 Mbps

Yes, NordVPN was really more than 5 times as fast as Private Internet Access on that test. This isn't a fluke either. If you check out the NordVPN vs PIA comparison you will see that NordVPN massively outperformed PIA in all locations we tested.
Things are even worse when we look at connections to the UK. Compare PureVPN's 18 Mbps to Surfshark's result of: 330 Mbps.

Surfshark was more than 18 times as fast as PureVPN when connecting from our lab to the UK. This too is no fluke, as you can see in our Surfshark vs PureVPN comparison, where Surfshark crushed PureVPN in every speed test.
There is no way around it. Both PureVPN and Private Internet Access are slow VPNs.
Performance winner: Tie
---
Server Network: PureVPN vs PIA
PureVPN works hard to emphasize its large server network, but the network suffers from various connection problems, which I observed when testing for my PureVPN review. I suspect this may be due to their overloaded servers – but there's no way to know for sure because they don't provide a server status page with real-time bandwidth.
Furthermore, there is very little information about the quality of the servers – another concerning factor. Often times VPNs will use cheap virtual servers or low-quality (cheap) physical servers instead of expensive dedicated premium servers. Virtual servers are usually logged by the server host, so this creates privacy concerns.
Private Internet Access has a smaller server network with fewer locations than PureVPN. The majority of PIA's servers are located in the United States. Recently, they have begun using more virtual server locations, which has both pros and cons.
Note: Among other things, virtual servers allow a VPN to have IP addresses that correspond to locations where they don't or can't have install physical servers. There are a few other VPNs using virtual locations, as we discussed in the ExpressVPN vs Surfshark comparison.
As with PureVPN, I found it impossible to get any details on the quality of the servers they use. Many VPNs have undergone various security audits, such as we see in the NordVPN and TunnelBear comparison. However, with PIA and PureVPN, we haven't seen any server security audits.
While I would love to have more information about each company's server network, based on the information I have now, I have to give PIA the nod.
Server Network: Private Internet Access
---
Price and refund policy: Is PureVPN or PIA better?
Many people are looking to save money on a VPN. So which one of these two comes out with a better price?
PureVPN doesn't offer a free version of their VPN, or even a free trial. But it does offer a one-week trial for $0.99 as you can see below: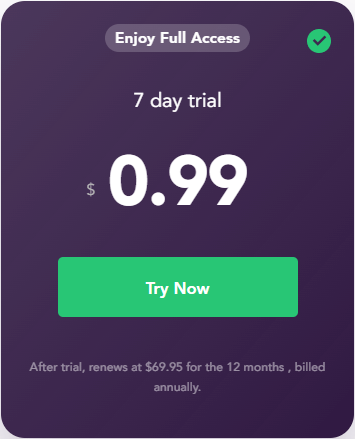 This looks like a great deal, until you look carefully at the fine print. I've magnified that fine print for all of you reading this comparison on your phone:

Unless you cancel the trial before the week is up, PureVPN will automatically enroll you in a 12-month subscription for $69.95. That's $5.83 per month, a very high price for a 12-month subscription. That puts them close in price to ExpressVPN, one of the best (and most expensive) VPN services on the market. See our ExpressVPN vs PureVPN comparison to see how much better ExpressVPN is.
This deal looks even worse when you look at PureVPN's current prices: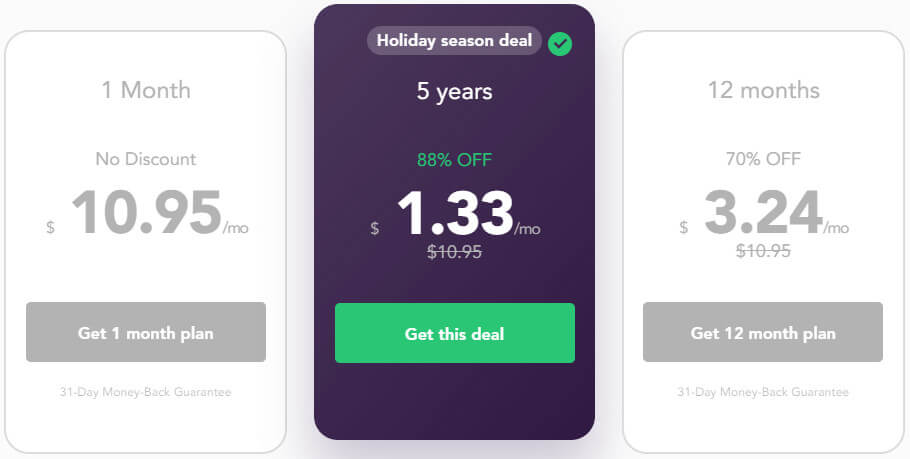 $5.83 per month is close to double their current 12-month subscription pricing. With their low 12-month and 5-year subscription prices, PureVPN fits into our definition of a cheap VPN. Indeed, the $1.33 per month price of a 5-year subscription is one of the lowest prices we have ever seen.
Private Internet Access also has three pricing tiers, with the 3-year (+3 months free) deal being by far the best option.
While PIA's best price is still far higher than PureVPN's best price, $2.03 per month is still a very aggressive price and puts Private Internet Access into the cheap VPN category.
Note: If you're looking for VPN deals, you can also check out the VPN coupons page. One of the best deals right now is with the NordVPN coupon, which drops prices down to only $3.30 per month with the two-year plan. NordVPN is currently one of the top-ranked VPNs here on Restore Privacy.
Price winner: PureVPN
Refund policies
PureVPN refund policy – PureVPN provides a 31-day money-back guarantee. But as I found in the PureVPN review, they make it very difficult to actually claim a refund. Instead, they try to force you through endless troubleshooting.
Private Internet Access refund policy – PIA offers a 30-day money-back guarantee with a few exceptions for various payment processors. Unfortunately, we have seen several comments where users claim that PIA simply refused to refund their money, which leaves us wondering about how safe it is to rely on their money-back guarantee.
I'm not happy with either company's refund policies. I will call this one a tie because the refund policies for PureVPN and PIA have significant problems.
Refund policies winner: Tie
PureVPN has better prices than Private Internet Access and we don't like either VPN's refund policies. PureVPN wins the overall category.
Prices and refund policies winner: PureVPN
---
Features: PureVPN vs PIA
PureVPN makes a lot of big claims regarding their features, especially their privacy and security features. But testing revealed many of their "features" don't work correctly. Below is an example. I have the kill switch enabled to block any VPN leaks, yet I am still getting a DNS leak with PureVPN: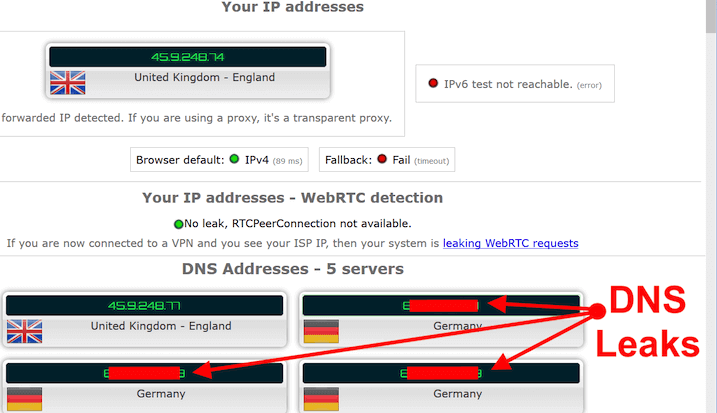 PureVPN offers a lot of features, but many of these simply do not work well. The apps are buggy and slow, and the service can't even unblock popular streaming websites.
PureVPN apps
One positive for PureVPN is that they havefinally upgraded their old, clunky VPN apps. Here's what the new Windows desktop app looks like: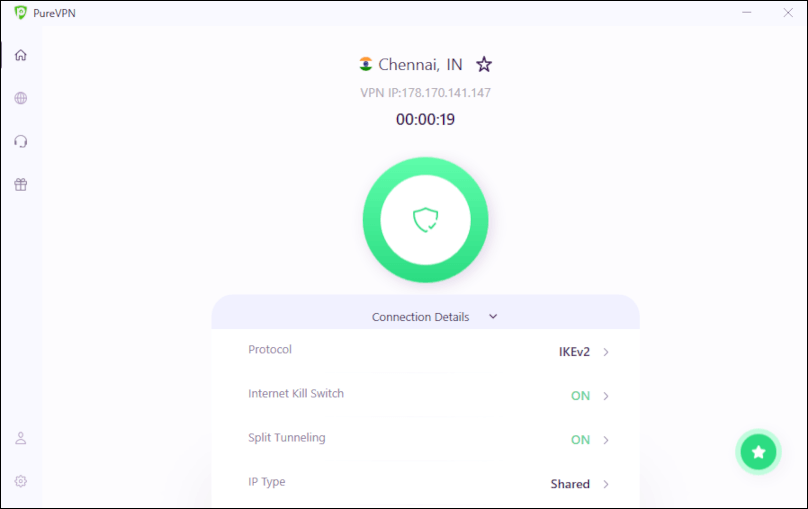 This new look is similar to that of NordVPN, at least ifyou ignore the interactive map that NordVPN uses: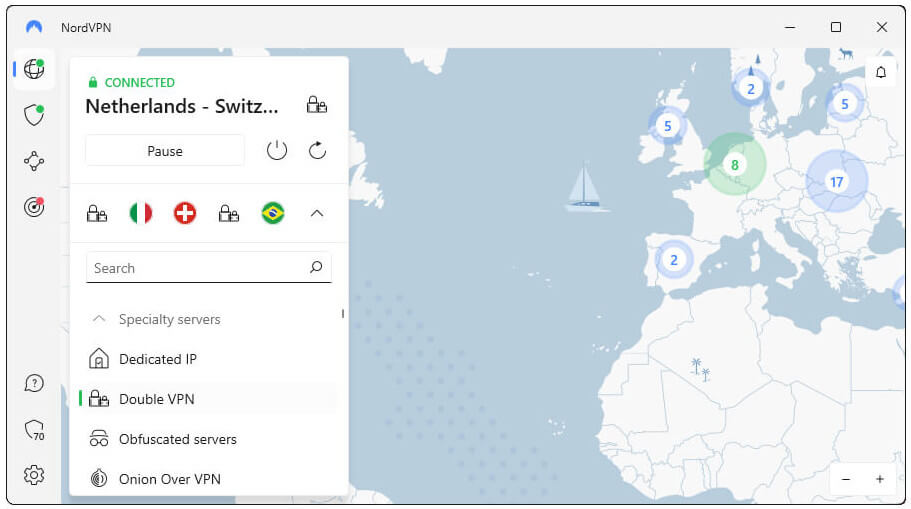 While the new design is a big improvement over the old design, it still feels a little unfinished to me. What do you think?
PureVPN also offers static IP addresses. A VPN with a static IP can be useful in some cases, but it also comes with an added cost.
Private Internet Access is a basic VPN with minimal features, but the features seem to work well. Their main features/settings are an a VPN ad-blocker called PIA MACE, a kill switch, and IPv6 leak protection.
The PIA VPN apps are pretty modern looking, with the desktop app appearing much like their mobile app when in its collapsed version: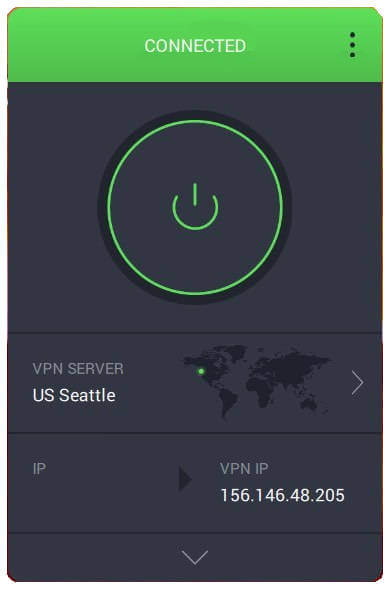 In the image below you can see the kill switch, PIA MACE features, and the expanded desktop app: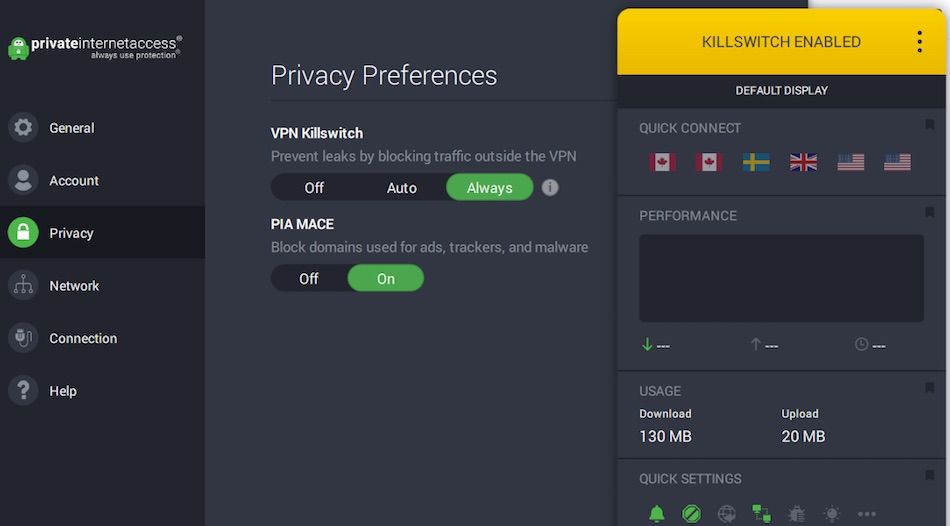 In comparison to PureVPN, PIA has fewer features, but they work correctly.
Features winner: Private Internet Access
---
Privacy and Security: PureVPN vs PIA
PureVPN has a few privacy and security problems. These are the issues that were identified through testing in the review:
DNS leaks
Kill switch that does not block traffic
Overall, we do not consider this to be a very secure VPN.
Private Internet Access did better in terms of privacy and security.
Here I'm testing the PIA Windows client for leaks (no leaks were found):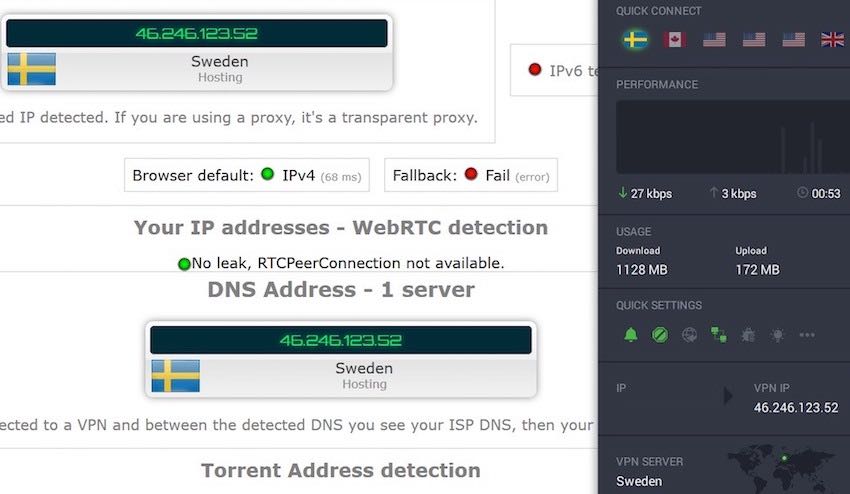 However, the major drawback with PIA in terms of privacy is the jurisdiction. Being based in the United States poses risks to customer data and privacy. For VPNs located in a good privacy jurisdiction, see the NordVPN vs ExpressVPN report, with both of these VPNs being good options.
Despite being in the US jurisdiction (a bad place for a privacy company to be), over all Private Internet Access provides somewhat better privacy and security.
Privacy and Security winner: PIA.
---
PIA vs PureVPN Netflix and streaming
Unfortunately, neither PureVPN nor PIA is a good choice for streaming in general and Netflix in particular.
Even if you find a PureVPN server that would unblock Netflix, I experienced constant connection issues and slow streaming speeds. These performance issues make PureVPN a poor choice for Netflix or any kind of streaming.
Private Internet Access is also not the best VPN for Netflix. My biggest problem here was that I kep getting blocked when I tried to connect to Netflix. Instead of the video I was looking for, I would see something like this: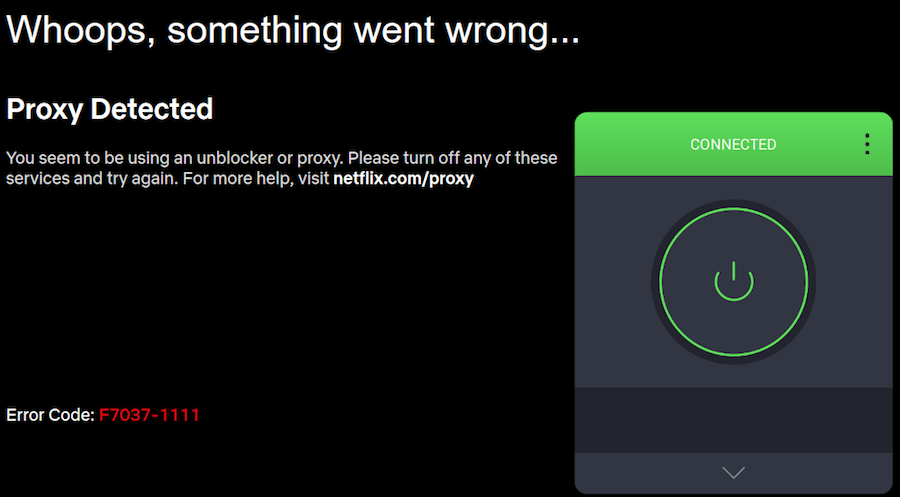 In addition to Netflix, we also found PIA to get blocked with BBC iPlayer. Right now there are only three VPNs that work with BBC iPlayer on a consistent basis.
Generally speaking, I do not consider either of these VPNs to be very good for streaming. However, at least PureVPN gets through to Netflix, even though it had buffering problems.
Streaming winner: PureVPN
---
Conclusion: PIA wins in 2022 (but consider the alternatives)
This comparison resulted in a somewhat unusual result. Private Internet Access narrowly won this competition, as you can see in this brief recap of the winner in each category of this comparison:
Background check – Tie
Performance – Tie
Server network – Private Internet Access
Price – PureVPN
Features – Private Internet Access
Privacy and Security – Private Internet Access
Netflix and streaming – PureVPN
This was one of our closest competitions ever. Private Internet Access won three categories. Pure VPN won 2 categories. And we had two ties. Private Internet Access is the winner in this PureVPN vs Private Internet Access comparison. To learn more about Private Internet Access, you can check out my review of PIA.
But as we saw during our testing, both of these VPNs have some pretty big problems. We really can't recommend either of them. Instead, our recommendation is:
Consider alternatives
If you're open to alternatives, there are certainly some better options on the market that performed better in testing. For a full description and comparison of the top VPN recommendations, see my report on the best VPN services.
Top alternatives to PureVPN and PIA:
Click the VPN name below to read our full review – or grab the discount for the best savings. All three of these VPNs have a 30-day money-back guarantee.
This PIA vs PureVPN comparison was last updated on July 27, 2023.