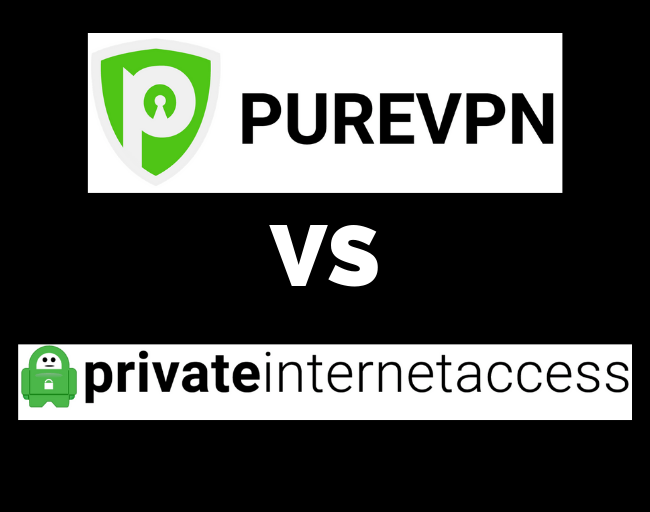 PureVPN and Private Internet Access are both large VPN providers – but is either one a good choice?
This in-depth PureVPN vs PIA comparison will reveal a clear winner between the two, while also suggesting some alternative VPNs that performed much better in my testing.
After covering an overview of each VPN, here are the areas we will examine for this PIA vs PureVPN guide:
Performance
Server network
Price
Features
Privacy and Security
Netflix and streaming
Conclusion
So let's start with an overview of each VPN service.
PureVPN Overview
| | |
| --- | --- |
| VPN | PureVPN |
| Based in | Hong Kong |
| Logs | Connection logs |
| Price | $2.95/mo. |
| Support | Chat & Email |
| Refund | 30 days |
| Website | PureVPN.com |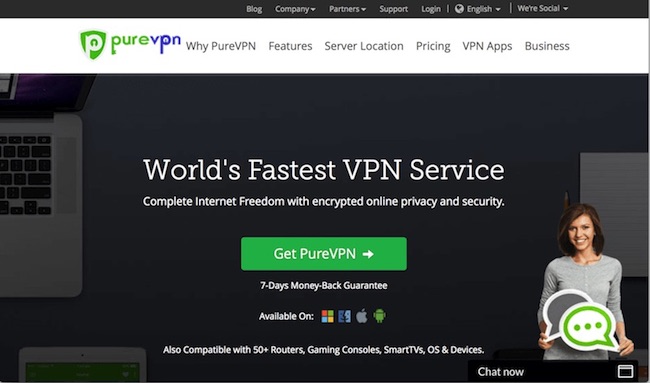 PureVPN is run by a company named Gaditek, which is based in Karachi, Pakistan, although the VPN is officially under Hong Kong jurisdiction.
While PureVPN looks good on the surface, testing and analysis for the PureVPN review uncovered a number of problems. These problems included data leaks, slow speeds, broken features, and connection problems. Here is a brief overview of the pros and cons:
+ Pros
Low cost
Live chat support
– Cons
Persistent connection problems
DNS leaks
Inconsistent speeds (slow)
Clunky apps
Logs user data and provides to FBI (despite the "no logs" policy)
Bad reputation and track record
ALERT: PureVPN was found to be cooperating with the FBI (Federal Bureau of Investigation) – logging user data and handing it over to authorities. They later confirmed this to be true after various outlets picked up the story – see my article VPNs Are Lying About Logs.
Private Internet Access Overview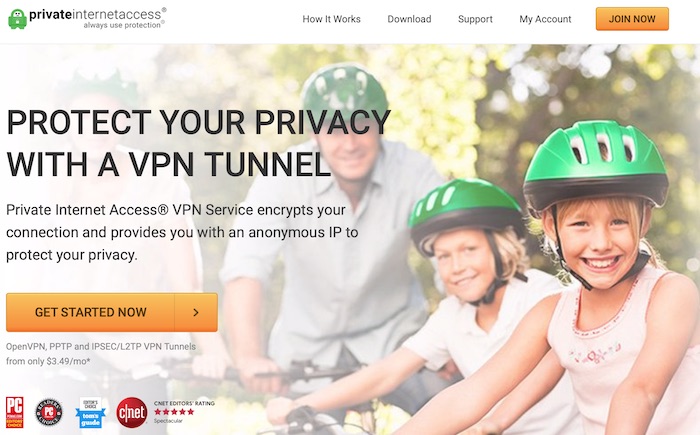 Private Internet Access is run by a company named London Trust Media, which is based in the United States – despite the name.
Private Internet Access performed better in testing for the Private Internet Access review. PIA offers a very basic application without many features. However, there are still some noteworthy drawbacks.
One major drawback with Private Internet Access is that it is based in the United States. This is generally considered to be a bad privacy jurisdiction because it is part of the Five Eyes alliance.
+ Pros
Good speeds
Secure apps (no leaks)
Good privacy and security features (ad blocking)
Tested and proven no logs VPN provider
Great prices
– Cons
Based in the US (Five Eyes)
Does not work with Netflix or other streaming services
1. Performance: PureVPN vs PIA
My testing found PureVPN to be pretty unreliable, which is thoroughly documented in my review of PureVPN. Here are some of the problems I discovered:
Could not connect to many of their VPN servers
Dropped connections
Unreliable speeds (sometimes OK, but usually very slow)
IP address leaks and DNS leaks
These problems with reliability also match up with feedback I have gotten from other PureVPN users.
Private Internet Access in general does much better in the performance category.
Speeds were decent, although not great, and reliability was also good. Granted, PIA has room for improvement when it comes to performance, but it is still a decent choice for this category.
Performance winner: Private Internet Access
2. Server Network: PureVPN vs PIA
PureVPN works hard to emphasize their large server network, but it suffers from various connection problems, which I observed when testing for the review. I suspect this may be due to their overloaded servers – but there's no way to know for sure, because they don't provide a server status page with real-time bandwidth.
Furthermore, there is very little information about the quality of the servers – another concerning factor. Often times VPNs will use cheap virtual servers instead of dedicated premium servers. Virtual servers are usually logged by the server host, so this creates privacy concerns.
Private Internet Access has a smaller server network with fewer locations than PureVPN. The majority of PIA's servers are located in the United States. While they don't have as many servers as PureVPN, I found their server network to be far more reliable and fast.
Unfortunately with PIA, it's also difficult to find any details on the quality of the servers they use.
Server Network: Private Internet Access
3. Price: PureVPN vs PIA
PureVPN could be considered a cheap VPN. It offers three pricing tiers.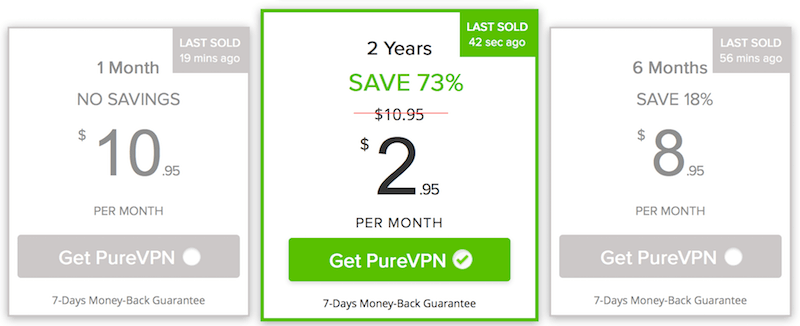 PureVPN refund policy – PureVPN provides a 7 day money-back guarantee, but they will deny your refund if you use more than 3 GB of data or 100 sessions.
While the pricing is certainly cheap, the main thing to consider when looking at price is value. In other words, how high is the quality of the VPN in relation to the price?
With PureVPN, the quality seems to be low and the price is also low. No surprises here.
Private Internet Access also has three pricing tiers, with the two-year deal being the best option.

While PIA is slightly more expensive than PureVPN, it does provide more value (in my opinion).
Note: If you're looking for VPN deals, you can also check out the VPN coupons page. One of the best deals right now is with the NordVPN coupon, which drops prices down to only $3.71 per month with the two-year plan. NordVPN is currently one of the top-ranked VPNs here on Restore Privacy.
Another good option, although somewhat more expensive is ExpressVPN. You can also 49% and get three months free with the ExpressVPN discount coupon when you sign up for the yearly plan.
Price: PureVPN is cheaper, but Private Internet Access provides more value.
4. Features: PureVPN vs PIA
PureVPN makes a lot of big claims regarding their features, especially their privacy and security features. But testing revealed many of their "features" don't even work. Below is an example. Look at the "features" that are enabled in the PureVPN client on the right, and then look at the results on the left.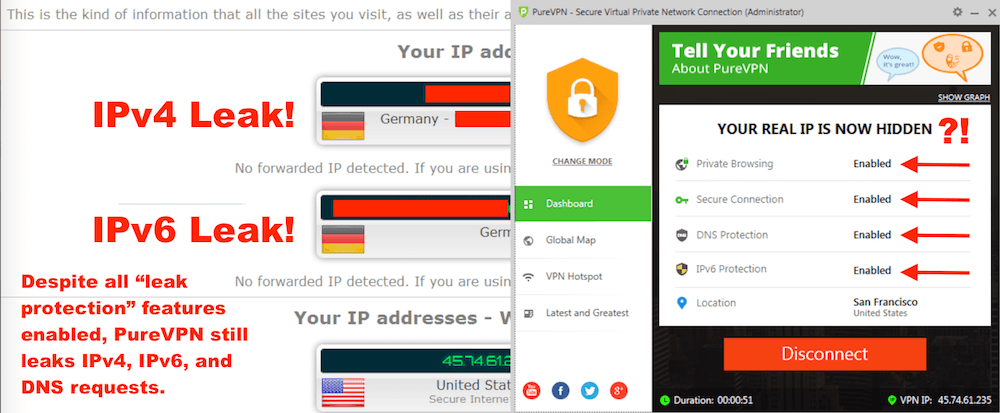 Here are some of the testing results for PureVPN's privacy and security features:
My real IPv4 address was leaking out of the VPN connection (not hidden)
My real IPv6 address was leaking out of the VPN connection (not hidden)
My DNS requests were leaking out of the VPN connection (DNS not protected)
My connection was neither secure nor private
PureVPN's other features also did not seem to work properly, namely the kill switch and the split tunneling features.
Private Internet Access is very basic with minimal features, but the features seem to work quite well. Their main features/settings are an an ad-blocker called PIA MACE, a kill switch, and IPv6 leak protection.
Below you can see both the kill switch and PIA MACE features: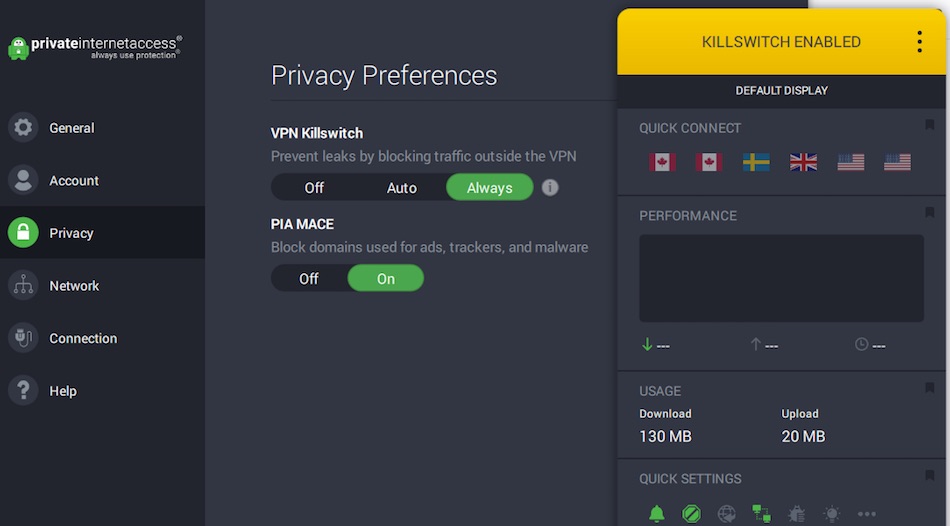 In comparison to PureVPN, PIA comes out on top in the features category.
Features: Private Internet Access
5. Privacy and Security: PureVPN vs PIA
PureVPN has a number of privacy and security problems. These are the issues that were identified through testing in the review:
Constant IPv6 leaks
IPv4 leaks
DNS leaks
Connection issues with many servers
The results speak for themselves.
Private Internet Access did better in terms of privacy and security.
Here I'm testing the PIA Windows client for leaks (no leaks were found):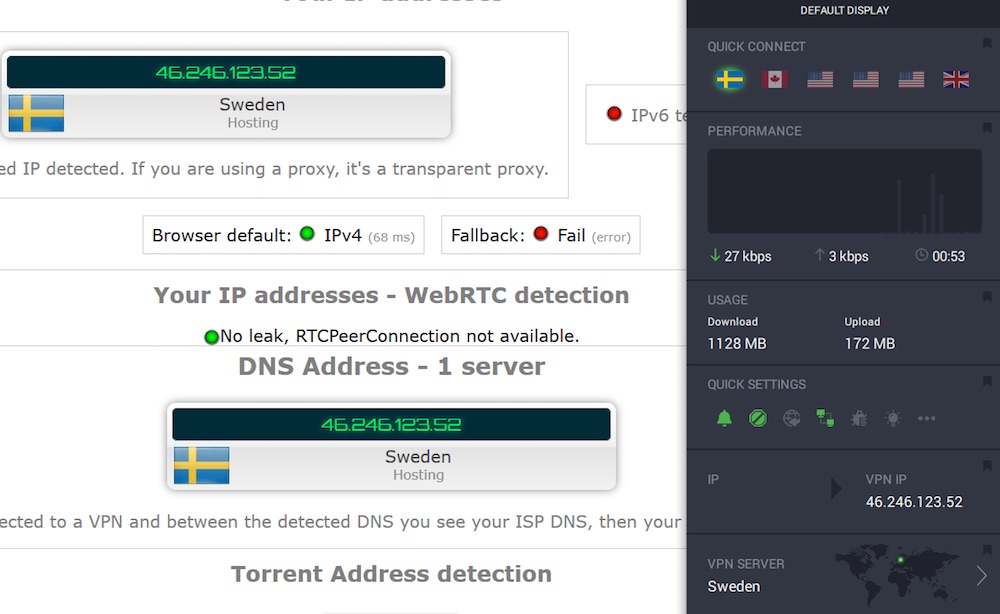 However, the major drawback with PIA in terms of privacy is the jurisdiction. Being based in the United States poses risks to customer data and privacy.
Privacy and Security: PIA again comes out on top, but it's still based in the US (drawback).
6. PIA vs PureVPN Netflix and streaming
Unfortunately, neither PureVPN nor PIA is a good choice for Netflix.
PureVPN has constant connection issues and slow speeds. Even if you found a PureVPN server that would unblock Netflix, the performance issues would still be problematic for streaming.
Private Internet Access is also not the best VPN for Netflix, as it is constantly getting blocked in my tests: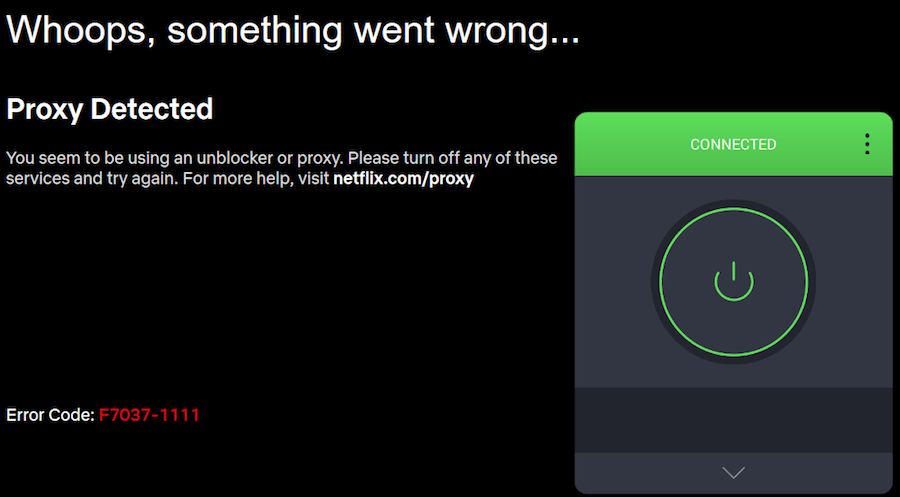 Generally speaking, I do not consider either of these VPNs to be very good for streaming. Check out these best VPNs for streaming to see some alternatives.
Conclusion: PIA wins (but there are better alternatives)
Private Internet Access is the winner in this PureVPN vs Private Internet Access comparison.
To learn more about Private Internet Access, you can check out my review of PIA.
If you're open to alternatives, there are certainly some better options on the market that performed better in testing. The top recommendation currently for VPNs right now is ExpressVPN.
For a full description and comparison of the top VPN recommendations, see my report on the best VPN services.
Other comparisons: For an in-depth comparison of the two most popular VPNs on the market today, see the ExpressVPN vs NordVPN comparison report.
Stay safe!