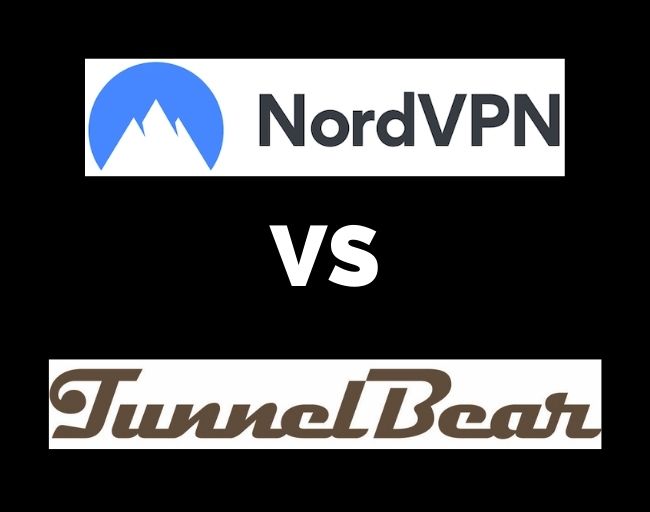 NordVPN and TunnelBear are both well-known VPN services that are trusted by many users – but which comes out on top in back-to-back testing? We'll answer that question and more in this in-depth NordVPN vs TunnelBear comparison.
NordVPN is one of the most popular and widely-recognized VPN services in the world. It is also one of the best-performing VPNs across a wide range of measurements, with third-party audits that validate its performance and security.
TunnelBear is another well-known VPN service. It is frequently recommended, and the whole product has a fun, relatable style with the bear theme. On the more serious side, TunnelBear provides good security and has twice had their software independently audited.
In this TunnelBear vs NordVPN comparison, we test these two services across these eight categories to see which one comes out on top:
Company background check and jurisdiction
Speed tests
Features
Streaming and torrenting
Security and encryption
Privacy
Prices and refunds
Value
Clear winner – As you will see with the results below, there was a clear winner. So let's begin.
1. Company background and jurisdiction: NordVPN vs TunnelBear
If we're going to trust our precious privacy to a service, it would be good to know that they are a trustworthy outfit. They should also be located in a jurisdiction that respects online privacy rights.
How do these two services rate on these characteristics?
NordVPN background and jurisdiction
NordVPN falls under the umbrella of Nord Security, a company based and operating under the jurisdiction of Panama. NordSec, another name you may hear in association with NordVPN, is a holding company / brand name that includes NordVPN, the NordLynx protocol, and other related products such as NordPass and NordLocker, a secure cloud storage and encryption tool.

The jurisdiction of this company is a big plus. Panama isn't involved in any of the big international spying and data collection alliances. And the country has no mandatory data retention, which we see with UK VPN services. This lets NordVPN operate as a true no-logs VPN service without government interference.
TunnelBear background and jurisdiction
TunnelBear is owned by the US cybersecurity firm McAfee. That's not good news, since the USA is not a good privacy jurisdiction. The United States is famous for various surveillance activities that target both foreigners and civilians. It is also the leader of the Five Eyes surveillance alliance. Among other things, the countries in this alliance reportedly spy on each other's citizens and share the intel they gather, sidestepping national privacy laws.

Despite being owned by a US company, TunnelBear is actually based in Canada. Unfortunately, this is at best only a tiny improvement since Canada is also a member of the Five Eyes.
We recommend against using a VPN based in either the United States or Canada, making this an easy win for the team from Panama.
Company background and jurisdiction winner: NordVPN
2. TunnelBear vs NordVPN speed tests
Everyone hates a slow internet connection — and many people are using VPNs for high-bandwidth activities, such as HD streaming and torrenting. Therefore it is vitally important to find out how much NordVPN or TunnelBear will affect your internet speeds. We test VPNs by running them on our 500 Mbps test connection from our US lab.
Before we start, you should know that we ran the NordVPN tests using WireGuard with the NordLynx protocol. NordLynx is NordVPN's custom implementation of the WireGuard VPN protocol. WireGuard is a relatively new protocol that offers much better speeds than other VPN protocols along with upgraded and improved security.
TunnelBear does not support WireGuard, but instead relies on the (older) OpenVPN and IKEv2 protocols.
Note on locations: Because TunnelBear does not have a large network of VPN servers, direct comparisons with NordVPN are tough. While we can select VPN servers in specific cities for NordVPN, we are limited to selecting by country for TunnelBear.
So let's examine the TunnelBear vs NordVPN speed test results.
Servers in the United States
Here are the results for TunnelBear connected to their United States server: 52 Mbps.

Ok, this is not looking good for TunnelBear. Getting about 52 Mbps on a 500 Mbps connection is very slow. Even other VPN services that run only OpenVPN can still do much better. So now let's compare this with NordVPN.
Here are the results for NordVPN connected to a United States server in Seattle: 445 Mbps.

NordVPN turned in results more than 8 times faster than TunnelBear. The slowest downloads we got for NordVPN speed tests anywhere in the United States were 235 Mbps — and this is still more than four times as fast as TunnelBear.
Servers in the United Kingdom
Many VPN users need to connect to servers in Europe or the United Kingdom. Let's see how that worked out.
Here are the results for TunnelBear connected to their UK server: 5 Mbps.

These are the speeds of an old, slow bear. Can NordVPN do better?
Here are the results for NordVPN connected to their UK server: 295 Mbps.

For the UK server location, NordVPN was 59 times faster than TunnelBear. It's clear that NordVPN offers some of the best UK VPN server speeds.
For the two locations of the US and UK, NordVPN was significantly faster than TunnelBear. It is clear that NordVPN with the WireGuard protocol will outperform TunnelBear with the OpenVPN protocol. And this is consistent with our WireGuard vs OpenVPN speed tests.
Speed test winner: NordVPN
3. NordVPN vs TunnelBear features
As the next step in our NordVPN vs TunnelBear comparison, let's take a look at the key features of each. Knowing which one has the best feature set overall will help us decide which offers a better value.
TunnelBear features
TunnelBear features user-friendly apps for Windows, Mac OS, Android, and iOS devices. TunnelBear also offers browser extensions. We tested out TunnelBear's VPN for Chrome extension, and it worked well. Below is the TunnelBear Windows VPN app we tested.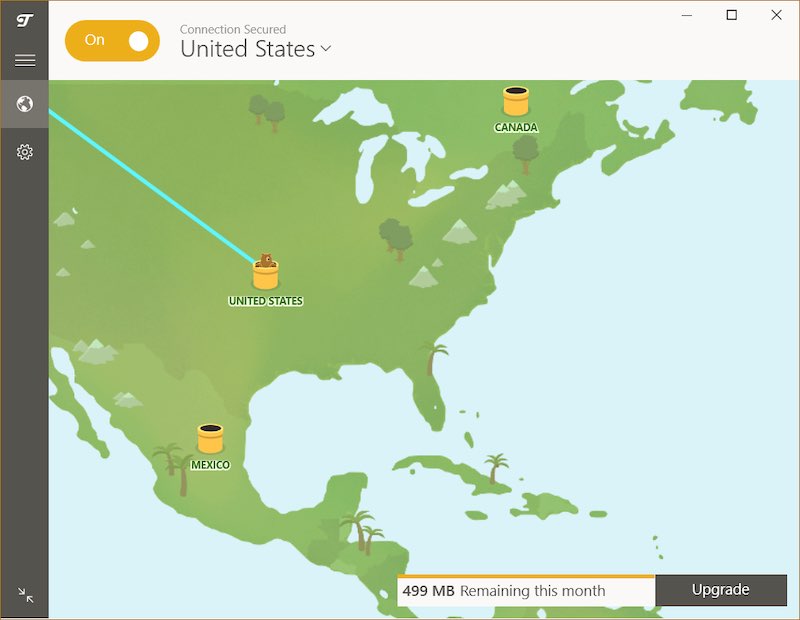 While we liked the simplicity of the TunnelBear apps, our testing turned up random connection problems in the Windows app. The app would simply not be able to create a secure tunnel to the selected VPN server location — an error we also noted in our TunnelBear review. Here is the error we kept receiving:

We couldn't find a pattern to the problems, but it is particularly worrisome considering that the TunnelBear VPN network is tiny, with only 23 server locations worldwide. Each of those 23 server locations is located in a different country, so if you needed to connect to a US server, and the one server location wasn't working, you would be out of luck. The best VPN services have multiple server locations in all the key countries, giving you in-country alternatives to try if one location has problems.
While TunnelBear sometimes had trouble connecting, once it was connected, we couldn't find any leaks. Their VigilantBear feature is a kill switch to block all traffic if you get disconnected or are in the process of reconnecting. Their GhostBear feature disguises your VPN traffic to make it harder for your ISP or control-freak government to block your connection. Unfortunately, even with GhostBear, TunnelBear is still not a VPN that works in China.
Overall, TunnelBear is limited on features in comparison to some other services, such as NordVPN and Surfshark. Beyond the basics, VigilantBear, and GhostBear, TunnelBear doesn't have any particularly noteworthy features.
NordVPN features
NordVPN offers all the standard VPN features you might expect, along with a number of advanced privacy and security features. One of those standard features is a full collection of clean, easy-to-use VPN clients. These cover all the same systems and devices that TunnelBear does, along with Linux, AndroidTV, and various routers. NordVPN also comes preinstalled on the Vilfo VPN router.
You can see the basic design of all their apps in the following screenshot of the Windows desktop client.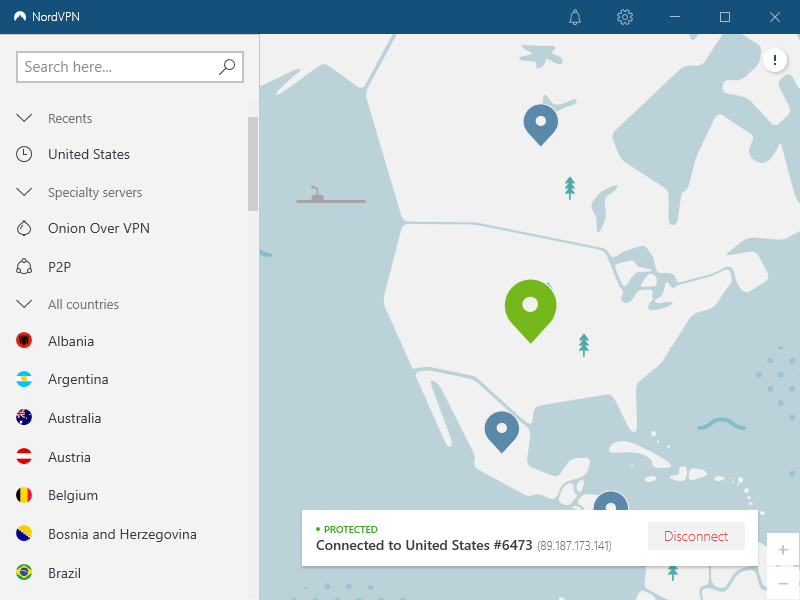 In the left side of the preceding image, you can get a hint to one of the advanced features of NordVPN – a variety of specialty servers. The full set of specialty servers includes:
Double VPN servers (also known as multi-hop servers) that pass your traffic through two VPN servers in a row, giving an extra layer of security to users that really need it. With many VPN services, multi-hop is impractical because of speed loss from passing through two or more already slow servers. NordVPN's Double VPN benefit greatly from the high speed of their network, making using Double VPN much more practical. You can find more information about Double VPN speed in our NordVPN vs ProtonVPN review.
P2P servers are optimized to give you the best torrenting VPN experience. They do a great job of sharing large files at high speeds, while also keeping your identity safe and secure.
Tor-over-VPN servers pass your traffic through the Tor network for an extra layer of anonymity.
Obfuscated servers that make your VPN traffic look like non-VPN HTTPS traffic so you can get around internet censorship, such as in China or the UAE.
Dedicated IP servers that assign you your own IP address for use by the VPN. Some activities require this kind of dedicated IP VPN, and NordVPN lets you create one without having to subscribe to a different service.
Another useful NordVPN feature is its support for 6 simultaneous connections (TunnelBear provides the "industry-standard" five simultaneous connections).
Some NordVPN apps support split tunneling, which lets you route the traffic from some apps outside the VPN tunnel while the rest uses the tunnel. This may be useful for some types of websites (banks for example) now block traffic that comes from a VPN.
Then there is CyberSec. This impressive security feature blocks trackers, ads, and malware domains for anything on your device that passes its traffic through the VPN tunnel. This eliminates the need to install ad blockers and malware stoppers, as long as you use the VPN. With CyberSec enabled, NordVPN is one of the best VPNs with ad blocking.

NordVPN servers are not only very secure (see Section 5. Security and encryption for details) but there are a lot of them. NordVPN has 5,500+ servers spread across 59 countries in their network. This is one of the largest VPN server networks in existence and is almost 200 times as large as the TunnelBear network. Here are some benefits to having a large server network:
Easier to find a server in your location.
More access to faster servers.
More access to geo-restricted services, such as streaming sites like Netflix and BBC iPlayer.
Can connect to a nearby server to lower latency, which is important if you use a VPN for gaming.
NordVPN uses no virtual server locations. That means they have physical servers in every location they claim to be in. Taking it one step further, NordSec is in the process of replacing rented servers with self-owned servers. Once complete, the entire NordVPN server network will consist of self-owned, diskless, physical servers. From a security standpoint, this is an excellent strategy. See our NordVPN review for more on this server rollout.
Features winner: NordVPN
4. Streaming and torrenting: TunnelBear vs NordVPN
Two of the most popular uses for VPNs are streaming and torrenting. Let's see if either of these services are good for these uses.
Which is best for streaming?
NordVPN has earned the title of the best VPN for streaming and also the best all-around VPN for Netflix. It is very fast, has a huge network of servers around the world, and can unblock most streaming services, including US Netflix (and many regional libraries too), Hulu, Disney Plus, BBC iPlayer, and more. And while other VPNs get blocked by these services, NordVPN continues to deliver. Below we are streaming US Netflix with NordVPN.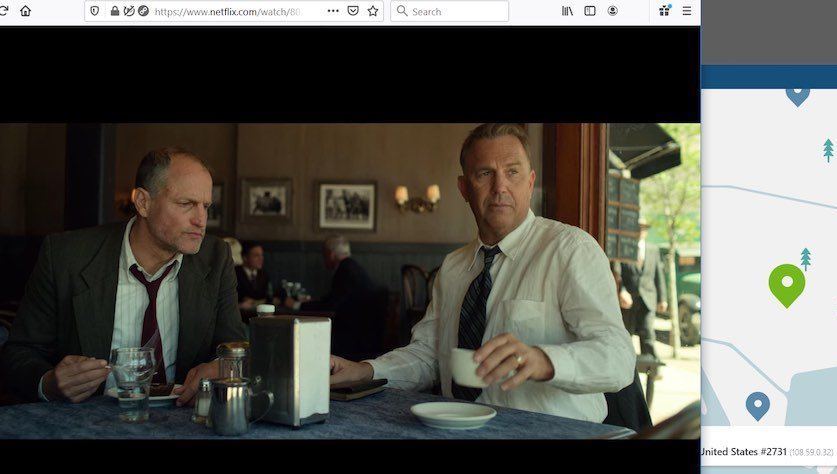 NordVPN is even one of the best VPNs for Firestick with a dedicated app in the Amazon Store.
TunnelBear doesn't do as well with Netflix or streaming in general.
Besides being slow and having random connection errors, TunnelBear also does not work with Netflix when using the US server. Instead of a seamless streaming experience like we got with NordVPN, Netflix blocked TunnelBear and served up this error message: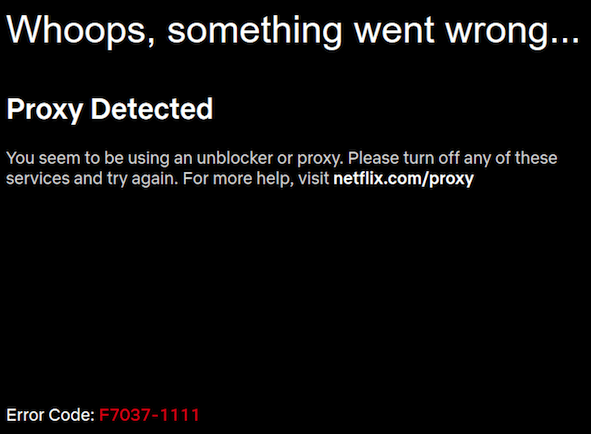 And also recall that TunnelBear only gives us one server to use in the US. This makes it difficult if you want to change Netflix regions to access more content. And if the single US server is blocked by Netflix, there are no other options to try. This same rule applies to all of the other countries, which seriously restricts TunnelBear's ability to unblock websites and streaming content.
Streaming winner: NordVPN
Torrenting with NordVPN and TunnelBear
Torrenting, or P2P file transfer, is great for transferring large files. But depending on where you happen to live, this can come with some risk due to copyright issues. Therefore we recommend using a reliable VPN for torrenting that provides:
Fast speeds
Secure apps that do not leak your IP address
NordVPN tops our list as the best VPN for torrenting. It is fast, secure, and based in a safe privacy jurisdiction. They even offer numerous P2P servers that are optimized for torrenting. And all of the NordVPN apps include a kill switch to ensure no leaked data escapes the VPN tunnel.
TunnelBear can do P2P torrenting — but it comes with some noteworthy drawbacks. First, it is so slow that you'll be pulling your hair out waiting for your files to arrive. Second, being located in a Five Eyes country makes for precarious privacy. Third, with a small server network, it will be difficult finding a nearby server that gives you enough bandwidth for fast seeds.
Torrenting winner: NordVPN
NordVPN easily won both of these sub-categories. You know who gets the nod here.
Streaming and Torrenting winner: NordVPN
5. Security and encryption: NordVPN vs TunnelBear
So far, TunnelBear is getting thumped by NordVPN. Let's see if they can keep up on the security and encryption fronts.
Security audits
Security audits provide outside confirmation that a VPN delivers on its security promises. It also provides more trust and assurance to the VPN's users who trust the service with encrypting traffic.
NordVPN has undergone the following third-party audits:
A 2019 no-logs audit by PricewaterhouseCoopers AG Switzerland.
A second (annual) 2020 no-logs audit by PricewaterhouseCoopers.
A full security audit to include applications, server infrastructure, and penetration testing. This is part of a long-term partnership with VerSprite.
Few VPNs (except possibly ExpressVPN) have been as thoroughly audited as NordVPN. You can learn more in our ExpressVPN vs NordVPN comparison.
TunnelBear underwent security audits by Cure53 in both 2017 and 2018. This puts them ahead of most VPN services, since few services have had even one audit. Unfortunately, the last time that TunnelBear was audited appears to be in 2018 — according to their website. This means we are going on three years without an "annual" audit being conducted.
NordVPN has been audited more recently than TunnelBear, for both security and also privacy. It is one of the few verified no-logs VPN services.
Security audits winner: NordVPN
Server security
Since VPN servers are where much of the magic of a VPN happens, it is crucial to protect and secure them. Strong encryption and physical security of the server hardware are important considerations.
NordVPN took their server security to the next level in 2020. They did this by converting all their servers to run in RAM-disk mode. Their servers literally do not contain disk drives. This ensures that none of their VPN servers can store any data. And that means outsiders cannot get access to any user data by seizing a server. We see other VPNs doing this as well, such as with ExpressVPN and Surfshark.

NordVPN is also in the process of deploying self-owned (co-located) servers, with some locations already being completed. When this is finished, NordVPN's entire network will run on hardware they own, rather than on rental servers from third parties.
TunnelBear doesn't make mention of any special steps they take to provide server security. We do not see RAM-disk servers or co-located servers with TunnelBear.
Server security winner: NordVPN
Encryption and protocols
NordVPN uses an AES-256-GCM cipher with a 4096-bit DH key when running the OpenVPN or IKEv2 VPN protocols. It uses the ChaCha20 cipher when running the NordLynx (WireGuard) VPN protocol. Our testing failed to find any bugs, leaks, or other problems.
In other words, NordVPN offers excellent encryption along with a wide variety of secure VPN protocols to choose from.
TunnelBear uses AES-256 ciphers with 2048, 3072, or 4096-bit DH keys when running OpenVPN or IKEv2 VPN protocols. As noted earlier, they do not support any form of the WireGuard protocol. In our testing, their VigilantBear leak protection feature prevented any leaks or other problems.
TunnelBear also offers good encryption. And if they supported WireGuard, they could have competed against NordVPN in this category — but that's not the case.
Encryption and protocols winner: NordVPN
TunnelBear does a decent job across this category. In a fair fight they might have come out on top in this one — but going up against NordVPN is not an easy task.
Security and encryption overall winner: NordVPN
6. TunnelBear vs NordVPN privacy
When thinking about privacy, it is good to know that both TunnelBear and NordVPN run secure networks and have no-logs policies. But this is where the similarities end.
NordVPN has strong privacy features such as CyberSec (blocks ads, trackers, and malvertising attacks) and many specialty servers that offer an extra layer of privacy and security. All of the privacy features are also noteworthy, but we covered those above.
Their no-logs policy was audited in both 2019 and 2020, and they are based in a privacy-friendly jurisdiction (Panama). Other VPNs that have undergone no-logs verification include ExpressVPN and PIA.
TunnelBear is based in a privacy-hostile jurisdiction (Canada). And while they have a no-logs policy, their privacy policy lists data that they "collect" (in other words, log).

According to the TunnelBear privacy policy, they are logging:
Your operating system version
TunnelBear app version
Whether you have been active on their network in a given month
Your monthly bandwidth usage
Whether those particular log items are a major problem is not the issue. The issue we have is that they claim to keep no logs while clearly keeping logs. As with their claim of yearly audits that haven't been conducted for years, stuff like this makes it hard for us to trust this company.
Privacy winner: NordVPN
7. NordVPN vs TunnelBear: prices and refunds
In case you are still reading at this point, and haven't already downloaded NordVPN, we'll now conclude the last two categories of this comparison.
This is a category where the NordVPN vs TunnelBear battle might tilt toward the big furry beast.
NordVPN offers three pricing options: a 1-month plan, a 1-year plan, and a 2-year plan.

NordVPN's best deal is their 2-year plan, priced at $3.30 per month with the discount included below. The plan automatically renews at $79 per year after that.
NordVPN offers a 30 day money-back guarantee with all plans.
Note: If you are interested in NordVPN, you should know that we track their latest deals on our dedicated NordVPN coupon page. And you might also be able to bundle other NordSec products together with the VPN, such as NordPass and NordLocker.
TunnelBear offers three plans: a very limited Free plan that is good for testing the service, the Unlimited plan priced from $3.33 per month (renewing at $59.88 per year), and the Teams plan, at $5.75 per month per user. While the free VPN plan is available without payment, it caps out at 500 MB, then you need to upgrade to a paid plan.

The TunnelBear Unlimited plan is somewhat cheaper than the best NordVPN pricing. However, TunnelBear does not offer any refunds. This kind of negative policy is practically unheard of in the VPN space. We count that a huge strike against the service.
Prices and refunds winner: NordVPN
8. Is NordVPN or TunnelBear the best value?
There is more to figuring out the value a VPN delivers than just price. You can't get any better price than that on the TunnelBear Free plan – but this is just a limited time for testing. And if you need to use your VPN for anything practical, 500 MB of data per month has no value since you probably consume far more than 500 MB of data per day (or per hour).
Figuring the value of a VPN has to include its utility as well as price. Here are five things to consider when trying to decide the value of NordVPN vs TunnelBear:
Security: TunnelBear put up a good fight, but NordVPN won the Security and encryption category.
Privacy: TunnelBears live in an iffy privacy jurisdiction and they log some user data despite their "no logs" policy.
Speed: NordVPN blows TunnelBear away by a large margin with performance.
Features: NordVPN offers more and better features across the board, including superior streaming and torrenting support.
Price: TunnelBear is less expensive than NordVPN, especially after the initial plan term. But strangely they offer no refunds.
Customer support: NordVPN offers 24/7 live chat support. TunnelBear offers limited email support, but nothing on the level of NordVPN.
NordVPN beats up on the TunnelBear in all of these areas, except for price.
Since you are a reader of this site, we are confident that you are serious about your online privacy and security. You probably would also like a VPN that can unlock streaming content like Netflix and Amazon Prime.
Yes, TunnelBear is cheaper, but given its limitations, questionable no-logs and audit status, and the fact that it is really slow, we think it is a low value product.
Value winner: NordVPN
Conclusion: NordVPN wins
You probably knew how this NordVPN vs TunnelBear battle was going to turn out, but let's do a quick summary. Here are the winners in each of our 8 test categories:
Company background and jurisdiction: NordVPN
Speed tests: NordVPN
Features: NordVPN
Streaming and Torrenting: NordVPN
Security and Encryption: NordVPN
Privacy: NordVPN
Price and Refund: NordVPN
Value: NordVPN
NordVPN swept the field today. TunnelBear is definitely cuter with the bear theme, but in all the things that really matter, this bear is lagging behind other market leaders.
In all seriousness, we don't recommend TunnelBear. Period. There are many VPN services that are superior to this one: NordVPN of course, as well as the rest of the services reviewed in this guide to the best VPN services.
If you do decide to go with NordVPN, make sure you take advantage of the discount below:
NordVPN Cyber Deal is Live:

Get 72% off your NordVPN subscription (reduces the price to $3.30 per month) plus 3 months FREE.
(Coupon is applied automatically.)
Do you have experience using TunnelBear or NordVPN? If so, please let us know in the comments below to help other decide which VPN to choose.
This guide was last updated on June 4, 2021.