Nearly everyone has heard of ExpressVPN and Private Internet Access (PIA). Both of these VPNs have been around for years and each one has millions of users. However, in running dozens of tests for this ExpressVPN vs PIA comparison report, we discovered there was a clear winner in nearly every category.
Based on the latest test results, ExpressVPN wins in nearly every category. In comparison to Private Internet Access, ExpressVPN is faster and offers more security features, better reliability, and more support for streaming services. While ExpressVPN is slightly more expensive than PIA, it is a much better VPN based on our tests — and there's also a coupon below for 3 months free.
This table highlights the key facts from each VPN:
| | | |
| --- | --- | --- |
| | ExpressVPN | PIA |
| Website | ExpressVPN.com | PrivateInternetAccess.com |
| Location | British Virgin Islands | United States |
| Servers | 3,000+ | 5,000+ |
| Countries | 94 | 84 |
| Logs | No logs (audited) | No logs (audited) |
| Torrenting | All servers | All servers |
| Support | Knowledge Base; 24/7 live chat | Knowledge Base; chat |
| Apps for | Windows, macOS, Linux, Android, iOS | Windows, macOS, Linux, Android, iOS |
| Price | $6.67 (with coupon) | $2.03 |
| Coupon | 49% Off + 3 Months Free > | N/A |
Here are the different categories we'll examine in this comparison of PIA and ExpressVPN:
Company and Jurisdiction (background check)
Speeds
Reliability
Price
Features
Support
Netflix and Streaming
Security and Encryption
Let's get started.
Company background and jurisdiction
With all of our VPN reviews and VPN comparisons, we first conduct an extensive background check of each service. This includes looking at the VPN's history, policies, and where it is legally based (jurisdiction).
Private Internet Access background and jurisdiction
PIA was once one of the leading VPN services, perhaps peaking in 2017. But a lot has changed since then. Based on my own tests and observations, PIA has been going downhill for the past few years. Many people have been canceling their subscriptions and venting concerns in various forums online.
In 2019, PIA announced that it was selling out to Kape Technologies. Kape is a major player in the VPN industry and it also owns ExpressVPN and CyberGhost.
To make matters more interesting, Kape purchased VPN review websites and also ranks its products in the top spots. (You can learn more about the history of Kape and Crossrider here.)
PIA has also suffered a few scandals regarding people who were hired to work with the company. This includes Mark Karpeles, who was convicted of crimes in Japan and was also involved with the Mt. Gox bitcoin fiasco.
PIA Jurisdiction
PIA is based in the United States. The US is a Five Eyes country and that is not good for privacy. There have also been numerous cases of US tech companies being forced to log and hand over customer data, while also being prohibited from disclosure due to gag orders. See for example Lavabit and also Riseup, an email and VPN service. There was also a case where IPVanish was forced to log user data for the FBI, all while claiming to be a "zero logs" VPN.
ExpressVPN background and jurisdiction
From everything I could find in my research, ExpressVPN has a clean background, and we have been following this VPN for years. It has a long track record and continues to grow and gain users worldwide. Unlike IPVanish, ExpressVPN has not had any scandals or issues affecting user privacy. Instead, it has undergone numerous audits to further bolster trust and ensure the highest levels of security.
The big change, however, is that Kape bought ExpressVPN, with the plans being announced in September 2021.
ExpressVPN Jurisdiction
ExpressVPN is based in the British Virgin Islands. The BVI is a great offshore jurisdiction. It is not a member of any surveillance alliances and is also politically and legally independent from external influence. We see other VPNs that have been incorporated in the BVI, as we discuss in the ExpressVPN vs Surfshark comparison.
Company and jurisdiction winner: ExpressVPN
---
ExpressVPN vs Private Internet Access speed tests
Speed is an important consideration with VPNs, especially since many online activities require lots of bandwidth. We ran all of the PIA vs ExpressVPN speed tests on a 500 Mbps connection using the official VPN desktop apps. With our protocol selection, we used the fastest VPN protocol that each VPN offers:
Private Internet Access supports the WireGuard protocol, which is the fastest VPN protocol we have tested.
ExpressVPN supports the Lightway protocol, which is very similar to WireGuard, with similar performance (in most cases).
Using these two respective VPN protocols, we ran speed tests from our US lab. Here are the results:
VPN servers in the United States
First up was an ExpressVPN server in Seattle with download speeds of about 196 Mbps:

This is pretty good at over 100 Mbps, but it's certainly not the fastest VPN we have tested. Let's see how Private Internet Access compares.
Here was the PIA server in Seattle with download speeds of 41 Mbps:

As you can see, Private Internet Access is really slow in this test. For this server location, we can see that ExpressVPN is over 150 Mbps faster than PIA.
Next up were servers in Los Angeles.
Here was the ExpressVPN server in Los Angeles, giving us download speeds of around 231 Mbps:

At over 200 Mbps, this is a pretty good speed test result. Let's see if PIA can do any better.
Here was the PIA server in Los Angeles with speeds around 85 Mbps:

Once again we see that ExpressVPN is much faster than Private Internet Access. The last server location we tested in the US was in New York.
Here was the ExpressVPN server in New York with speeds of 214 Mbps:

Another good speed test result from ExpressVPN. Let's see if PIA can get at least one win.
Here was the Private Internet Access server in New York with speeds of around 23 Mbps:

With the New York server location, ExpressVPN is faster than PIA by about 191 Mbps. We're seeing a pattern here. Perhaps servers in Europe are different?
VPN servers in the United Kingdom
Here was the ExpressVPN server in the UK with speeds of 235 Mbps:

So far, this is the fastest VPN speed test result we've gotten from ExpressVPN.
Now here was the PIA server in the UK, giving us speeds of only 10 Mbps.

It goes without saying that this is really slow. PIA is not the best UK VPN if performance is a top priority. For our last server location, ExpressVPN was faster than PIA by about 225 Mbps — a huge margin.
These test results also line up with user feedback and comments about PIA falling behind in speed tests. We saw similar results with NordVPN coming out on top in the NordVPN vs PIA comparison. If performance is your top priority, then ExpressVPN would be the better option among these two services.
Note: While PIA lags behind ExpressVPN even when using WireGuard, we've found that VPNs using WireGuard are usually faster than ExpressVPN with Lightway. For example, in the NordVPN vs ExpressVPN report, we found that NordVPN (with WireGuard) generally outperformed ExpressVPN (with Lightway).
Winner for speed: ExpressVPN
---
Is PIA or ExpressVPN more reliable?
When discussing reliability, we looked at the following areas:
Apps – Do VPN apps suffer from bugs or crashes?
Connections – Are the VPN connections reliable, or does the VPN client randomly disconnect?
Speeds – Are speeds consistent?
ExpressVPN has always been an extremely reliable VPN service. The applications are very stable and do not suffer from dropped VPN connections, bugs, or crashes. In short, everything in ExpressVPN just works correctly.
Below is a screenshot of the ExpressVPN Windows client we tested in our review of ExpressVPN.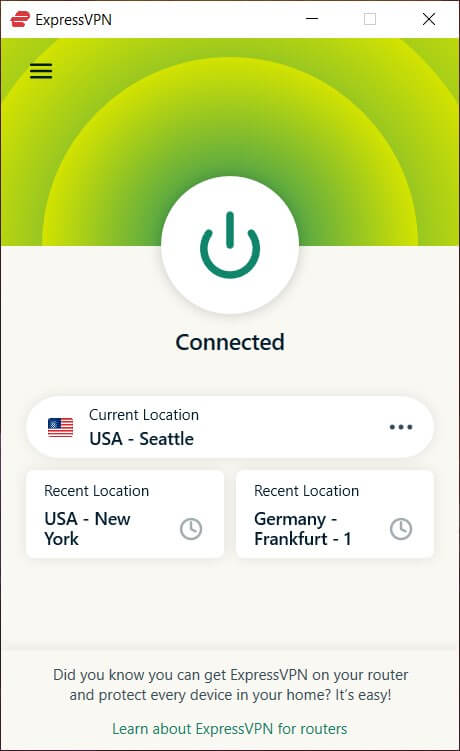 In addition to reliable desktop clients, ExpressVPN is also one of the best VPNs for Android we've tested, with very secure and stable apps.
As we already covered above, speeds were consistently fast with all ExpressVPN servers. Now let's examine PIA in terms of reliability.
PIA reliability – PIA is pretty reliable. In the latest PIA review, we found the applications to work well without any bugs, crashes, or other problems. Below I'm adjusting preferences within the PIA Windows client, including the VPN kill switch feature.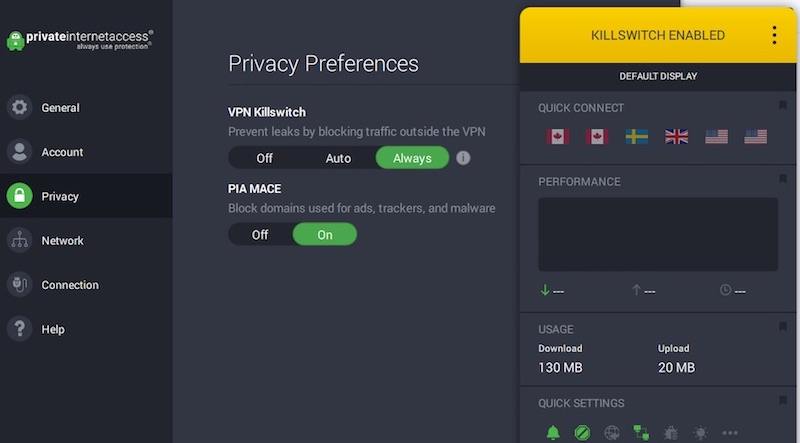 While speeds weren't as fast as ExpressVPN, Private Internet Access was still reliable in my tests. Therefore in the reliability category, it's a tie between ExpressVPN and PIA.
Winner for reliability: Tie
---
Prices and refunds compared
Now let's examine the prices and refund policies. These two items will be combined into one category since they go together.
Private Internet Access price and refund policy
PIA is certainly a low-cost VPN, with the cheapest rate coming in at $2.03 per month with the 3-year plan. You also get three months free with this plan if it is the first time you have signed up.

One recent improvement to the Private Internet Access VPN is their transition to support for unlimited simultaneous connections. This is a major improvement to the service. Most VPN providers allow for five or six simultaneous connections (ExpressVPN allows five simultaneous connections). Given that as time goes by, we add more and more internet-connected devices in our homes and offices, this will be more of an advantage over time.
Given all this, PIA is not a bad choice in terms of price. But there are some other great cheap VPNs (that may offer more value) to consider if you are trying to save money. Now let's examine the refund policy.
PIA refund policy – Like ExpressVPN, PIA offers a 30-day refund window on all subscription plans. However, there is some fine print to be aware of. PIA will not process a refund through some payment processors, or if they have decided to terminate your account for some reason.
ExpressVPN price and refund policy
ExpressVPN is without a doubt more expensive than PIA, with their default subscription coming in at $8.32 per month for the annual plan. And as we noted above, ExpressVPN supports five simultaneous connections.
However, we have an ExpressVPN discount coupon for you that includes three months free and drops the price down to $6.67 per month. The coupon will be automatically activated through this link: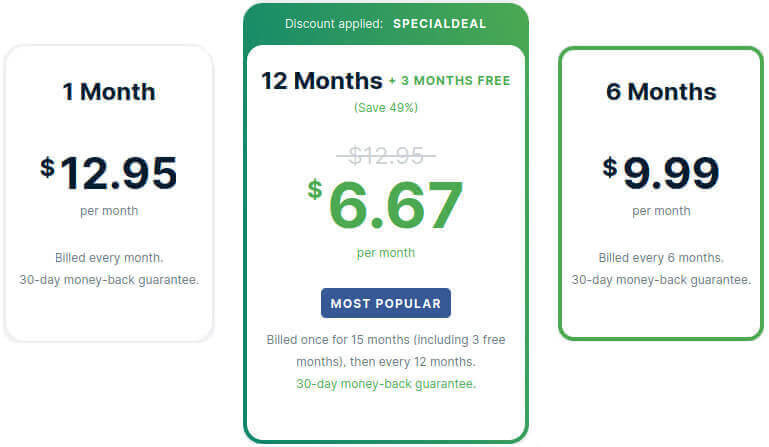 We've seen that ExpressVPN is more expensive than PIA, but even more important is the question of which VPN offers more value (gives you more for your money). Read on to see which one comes out on top in the value category.
ExpressVPN refund policy – ExpressVPN offers a 30-day money-back guarantee. The refund is a "no questions asked" policy and does not include any hidden exceptions or clauses. We see two other leading VPNs, Surfshark and NordVPN, also offering 30-day refund windows.
Winner: Private Internet Access (PIA is cheaper, supports unlimited simultaneous connections, and both PIA and ExpressVPN have the same refund window)
---
Features: Is ExpressVPN or PIA better?
Both ExpressVPN and Private Internet Access offer some decent features, but there is a winner in this category.
PIA features – The main features with Private Internet access are:
PIA MACE, which is a basic ad blocker
Very large global server network with a presence in more than 80 countries
Colocated, RAM-disk servers for maximum security
10 Gbps connections in the VPN server network for enhanced speed
Kill switch (IP leak and DNS leak protection)
Split tunneling with some of their apps
PIA claims to work with different streaming services, but I've found that the Private Internet Access VPN gets blocked more often than not, as I'll show you below. So overall, PIA is a pretty basic, minimal VPN service. The one unique feature is a VPN ad blocker, but we also see this in some other VPNs.
ExpressVPN features
The main features of ExpressVPN are:
Threat Manager works to prevent hostile forces from tracking you. It can block ads, trackers, and malware sites. When activated, Threat Manager will protect any traffic flowing through the ExpressVPN servers.
Built-in Network Lock (kill switch) feature that will block all traffic if the VPN connection drops (IPv4, IPv6, and DNS leak protection)
Obfuscation features to hide VPN traffic as regular HTTPS encryption (useful if you need a good VPN for China, or anywhere else the VPNs are blocked)
MediaStreamer app that allows you to use the VPN on Smart TVs and other devices that normally don't work with VPNs
Split tunneling VPN feature that allows you to route certain websites or applications outside of the VPN tunnel
Full streaming support, including Netflix, Hulu, Disney+, and more (tested below)
RAM-disk servers for improved security
Deploying colocated servers for even more security
Large global server network with a presence in more than 90 countries
10 Gbps connections in the server network for improved speed
Browser extensions for Chrome, Firefox, and Chromium-based browsers
We tested the ExpressVPN browser extensions in our VPN for Chrome roundup and we were impressed by the features. This browser extension allows you to control the desktop VPN app, but also offers the following added features: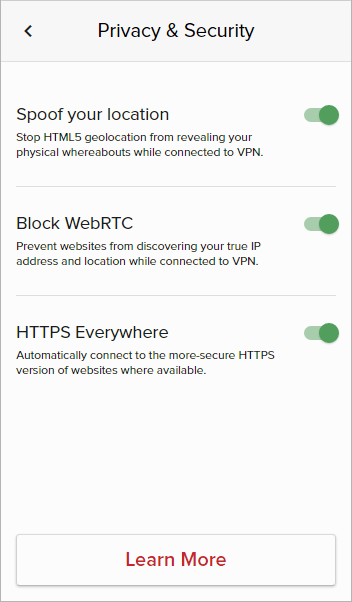 PIA has browser extensions, but they do not come with any extra features like those we see with ExpressVPN. In contrast to ExpressVPN, Private Internet Access does not offer any split tunneling VPN feature, no MediaStream app, a smaller server network, and no obfuscation features. ExpressVPN clearly comes out on top in the features category.
Winner with features: ExpressVPN
---
Does PIA or ExpressVPN have better support?
The support category is a big factor to consider. For those who may want help setting up and configuring their VPN, this can be a deciding factor. If things go wrong, and you want immediate assistance, live chat can be critical.
In the support category, ExpressVPN is the clear winner.
ExpressVPN provides 24/7 live chat support directly available through the website (no login required). I've tested the support on various occasions and found it to be professional and prompt (no long wait times).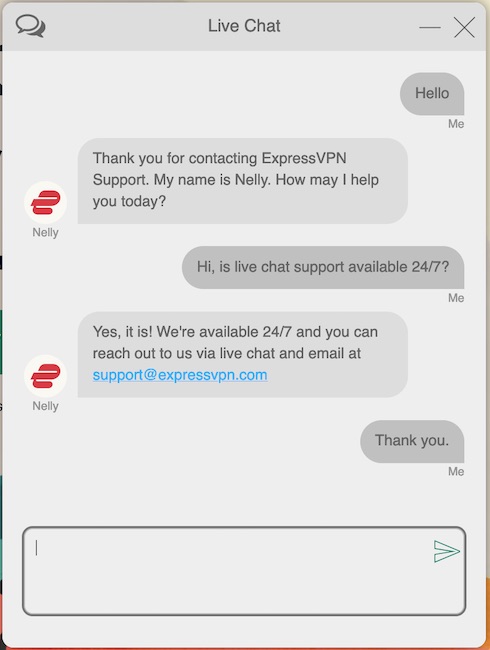 Aside from live chat, there are also numerous support videos and articles available on the ExpressVPN website. In short, support is solid with ExpressVPN. Now let's examine PIA support.
PIA support – Unlike ExpressVPN, Private Internet Access does not offer reliable live chat support based on my tests (screenshot below). And this is a big difference.
If you look carefully, you can find live chat on the PIA website. However, support was not very helpful in my tests. When I tried to connect, there was nobody available and the chat simply ended, as you can see below.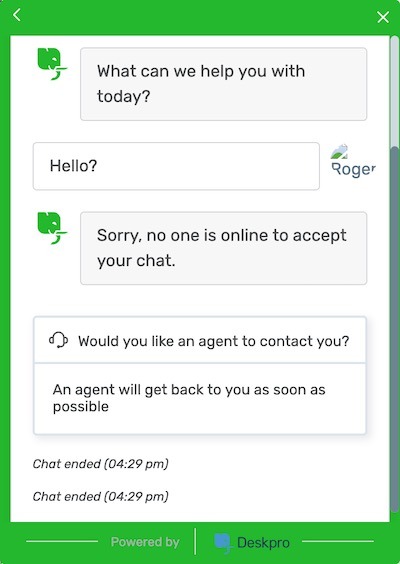 Even though Private Internet Access has some chat support, it is not on the same level as ExpressVPN.
Support winner: ExpressVPN
---
Netflix and Streaming: Private Internet Access vs ExpressVPN
Many people are turning to VPN services to unblock streaming websites. This includes using a VPN to unblock Amazon Prime, Netflix, Hulu, and many more. As a global traveler who watches Netflix, this is an area where I'm regularly testing VPNs.
First up is PIA. In my tests, I found that Private Internet Access does not unblock Netflix. Here you can see Netflix is blocking me when connected to a PIA server in the US.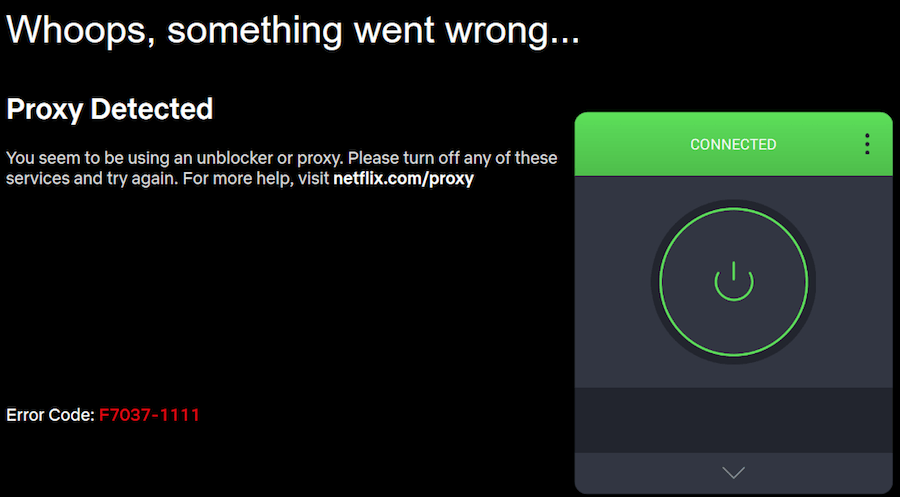 I asked PIA support about this and they told me they have been getting blocked by Netflix in most locations. Given this information, I didn't try to find out how well PIA works when you want to change Netflix regions. We also found PIA to be hit or miss with other streaming services. For example, it's not the best VPN for Hulu.
Next up is ExpressVPN. ExpressVPN unblocked Netflix for me without any issues. The streaming quality was perfect and it remains one of the best VPNs for Netflix. Below I'm testing US Netflix with an ExpressVPN server in Washington, DC.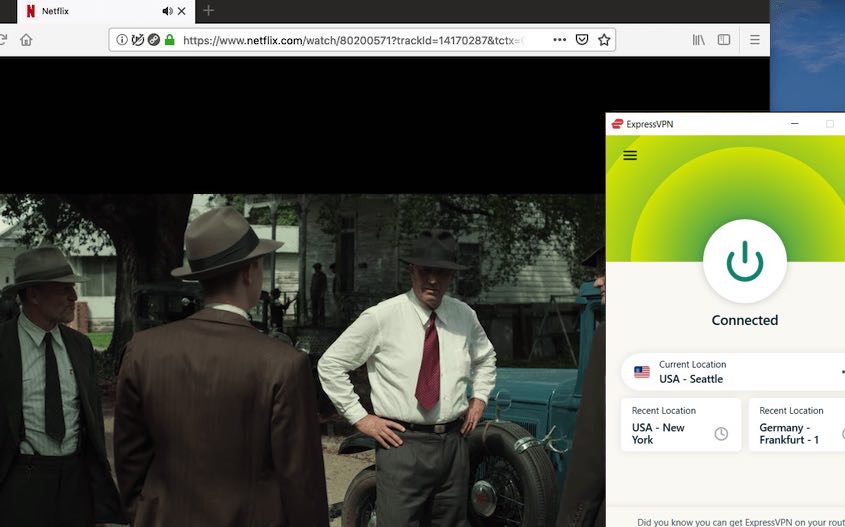 ExpressVPN officially supports the following Netflix regions: US, UK, Australia, Canada, France, Italy, Japan, and Germany. Additionally, ExpressVPN also works with Hulu, Amazon Prime Video, Disney+, and more. It is an excellent choice if you plan on using a VPN for streaming.
Streaming winner: ExpressVPN
---
Security and Encryption comparison
Security is arguably the #1 consideration when choosing the best VPN service for most people. First, we will look at ExpressVPN.
ExpressVPN security and encryption
Encryption and kill switch – ExpressVPN utilizes very strong encryption standards: an AES 256-bit cipher with a 4096-bit RSA key and SHA-512 HMAC authentication. They support the OpenVPN, IKEv2, and Lightway protocols, with Lightway being a self-developed protocol similar to WireGuard.
ExpressVPN apps also utilize the "Network Lock" kill switch feature to ensure all traffic remains encrypted in the VPN tunnel. DNS requests are securely translated by ExpressVPN's DNS servers (your ISP and other third parties cannot see your DNS queries).
Server security – ExpressVPN is one of the few VPNs in the industry that runs all their servers in RAM-disk mode. This ensures no data can ever be stored on a server, since hard drives are not in use, and also protects user data in the event of physical server seizures.
ExpressVPN calls this the TrustedServer feature. This offers a higher level of security over most other VPN services since the majority of services still use hard drives. In addition, ExpressVPN is moving to colocated servers.
Typically, a VPN service rents the vast majority of the VPN servers it uses. To provide coverage in different locations, they rent servers from some other company that has a data center in the right location. This allows the VPN to quickly expand their server network but comes with potential drawbacks.
The servers they rent from a data center are controlled and maintained by that data center. This adds a small amount of risk since outsiders will have access to the VPN servers. Moving to colocated servers is meant to eliminate this risk.
When a VPN moves to colocated servers, it means that the VPN will own and operate the servers they use, rather than the data center operator. It eliminates the risk inherent in having outsiders working on your servers. ExpressVPN is in the process of moving to 100% colocated servers.
Security audits – ExpressVPN has also undergone numerous third-party audits. A partial list of these audits includes:
A security audit was conducted by Cure53.
A no-logs policy audit was conducted by PWC.
Mobile app security audits by Cure53.
Audits of all their desktop apps by Cure53 and F-Secure.
Another audit of their no-logs policy, this one conducted by KPMG.
We don't know of another VPN that has undergone a range of audits like this.
Now we will examine the security of Private Internet Access.
PIA security and encryption
PIA provides strong encryption standards but also allows the user to modify data encryption, authentication, and handshake. They support the OpenVPN and WireGuard VPN protocols. Below you can see the encryption preferences in the PIA client.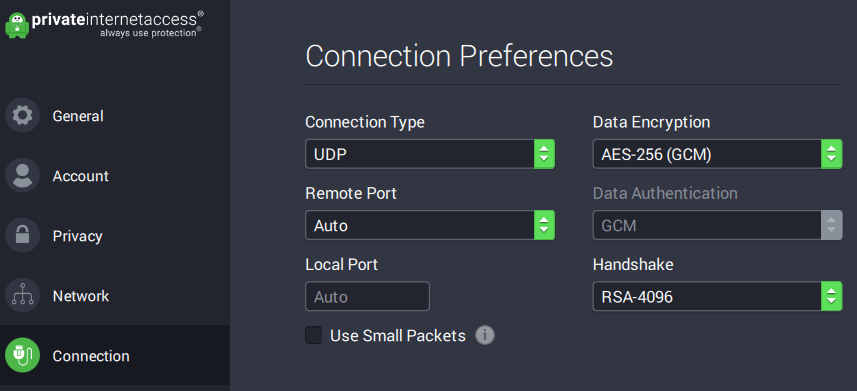 While PIA may be a decent VPN for Windows with these custom encryption options, it also comes with some drawbacks. On a positive note, it's great to see that WireGuard is supported with the VPN, but speeds are still far off the mark.
Server security – Like ExpressVPN, PIA has upgraded their VPN servers to run in RAM-disk mode.
Audits – In August of 2022, PIA reported that they had successfully completed an audit of their no-logs policy and server configurations. The audit was conducted by Deloitte.
This means that both of these VPNs are audited and verified no logs VPN services — but ExpressVPN has many more audits under its belt.
Security winner: ExpressVPN
---
Conclusion: ExpressVPN wins in 2023
The clear winner in this updated ExpressVPN vs PIA comparison is once again ExpressVPN.
Despite being more expensive, It offers a better value. In comparison to PIA, ExpressVPN has much better performance, more features, stronger security, better support, full streaming access, and it has passed multiple third-party audits. PIA has gained ground in one area by moving to support for unlimited simultaneous connections, but this isn't enough to change our overall results.
Here's a recap for each category in this Private Internet Access vs ExpressVPN comparison:
Company and jurisdiction – ExpressVPN
Speed – ExpressVPN
Reliability – Tie
Prices and Refunds – PIA
Features – ExpressVPN
Support – ExpressVPN
Netflix and Streaming – ExpressVPN
Security and Encryption – ExpressVPN
In years past, I did occasionally recommend PIA as a basic, cheap VPN. However, Private Internet Access is clearly falling behind based on these test results, even in comparison to other cheap VPNs. And in a world of constant security threats and risks, you want to be using a VPN that is up to snuff in all areas.
Meanwhile, ExpressVPN continues to get better. It has made some big infrastructure upgrades for faster speeds while also launching the Lightway protocol. While ExpressVPN is one of the more expensive VPN services, it delivers great performance and reliability, along with the highest levels of security.
I strongly recommend going with ExpressVPN rather than PIA. And they do have a discount coupon for those interested in test-driving the VPN:
ExpressVPN Coupon:

Sign up for the 12-month plan and get 3 months added to your subscription for free.
(Coupon is applied automatically.)
Are you still on the fence? Want to consider other options? If that is the case, be sure to check out this guide containing our latest test results for the best VPN services.
Lastly, if you have used either ExpressVPN or PIA, feel free to drop a comment below to share your experience and help others decide.
This ExpressVPN vs PIA comparison report was last updated on July 15, 2023.