Browsing the various review sites online, you are sure to find recommendations for both ExpressVPN and CyberGhost — but who can you trust? Today we're going to answer this question by running each VPN through a barrage of tests. Both VPNs are popular, but only one came out on top in this CyberGhost vs ExpressVPN comparison for 2023.
Based on the latest tests, ExpressVPN was the clear winner in this comparison. ExpressVPN is significantly faster than CyberGhost and offers more security features, better apps, and better support for streaming services. While it is more expensive, you can use the ExpressVPN coupon below for more savings.
This table highlights the main facts about each VPN:
| | | |
| --- | --- | --- |
| | ExpressVPN | CyberGhost |
| Website | ExpressVPN.com | CyberGhostVPN.com |
| Location | British Virgin Islands | Romania |
| Servers | 3,000+ | 9,000+ |
| Countries | 94 | 91 |
| Logs | No logs (audited) | No logs |
| Torrenting | All servers | All servers |
| Support | Knowledge Base; 24/7 live chat | Knowledge Base; chat |
| Apps for | Windows, macOS, Linux, Android, iOS | Windows, macOS, Linux, Android, iOS |
| Price | $6.67 (with coupon) | $2.03 |
| Coupon | 49% Off + 3 Months Free > | N/A |
Below are the seven test categories we examined to determine whether CyberGhost or ExpressVPN is best. And also note that all test results are posted below as screenshots, allowing you to see each VPN's real-world performance. If you have been on the fence about which VPN is best, then this CyberGhost vs ExpressVPN comparison guide will give you a clear answer.
Company background and jurisdiction
Features
Speed tests
Prices
Streaming
Security and Encryption
Privacy
Now let's dive in.
Background check and jurisdiction: ExpressVPN vs CyberGhost
When you select a VPN, you put a lot of trust in the service to secure your traffic and data. Consequently, it's smart to ensure you are going with a reputable VPN service with a clean track record. With this in mind, we'll look at both ExpressVPN and CyberGhost.
ExpressVPN background check and jurisdiction
ExpressVPN is a premium VPN service with a good reputation going back many years. It has a pretty clean track record and has never suffered from public security issues or data controversies, such as we've seen IPVanish or PureVPN (logging scandals). One minor exception was in late 2021 when news broke about an ExpressVPN employee working with the UAE on hacking technology, but this all transpired before he worked for ExpressVPN.
ExpressVPN has also passed independent (third-party) audits for both security and its no-logs policy.
ExpressVPN is based in the British Virgin Islands. This is an ideal jurisdiction for privacy because the BVI has no data retention laws and is not a member of any surveillance alliances. We also see other VPNs incorporating in this jurisdiction, as we noted in the Surfshark review.
One major change, however, was that Kape bought ExpressVPN in the fall of 2021. This is the same company that owns CyberGhost. Kape has an interesting track record, especially when you look into the Crossrider. In 2017, Crossrider closed down its browser development platform and pivoted to the cybersecurity industry under the new name Kape Technologies.
Fortunately, we have learned that ExpressVPN will continue to operate independently with its same leadership and management, despite Kape being the owner. This also applies to CyberGhost.
CyberGhost background check and jurisdiction
CyberGhost started as a Romanian VPN service developed by a team from Germany and Romania. In 2017, CyberGhost was acquired by Crossrider (now Kape Technologies), which also owns ExpressVPN. Additionally, a few years ago, we learned that Kape bought Private Internet Access (PIA).
At the time of this update, CyberGhost had completed a single third-party audit covering its no-logs policy. However, it has been in the news for faulty ad-blocking VPN features and was even called out in a 2016 study (PDF) for the presence of malware in its VPN apps. (CyberGhost also did not do well in testing for the CyberGhost VPN review.)
CyberGhost still operates under the jurisdiction of Romania, just as it did prior to the acquisition by Kape.
Background check winner: ExpressVPN
---
Features comparison:
Both CyberGhost and ExpressVPN offer a diverse lineup of features.
First, we will examine CyberGhost. Below you can see the CyberGhost Windows VPN app I tested for this comparison: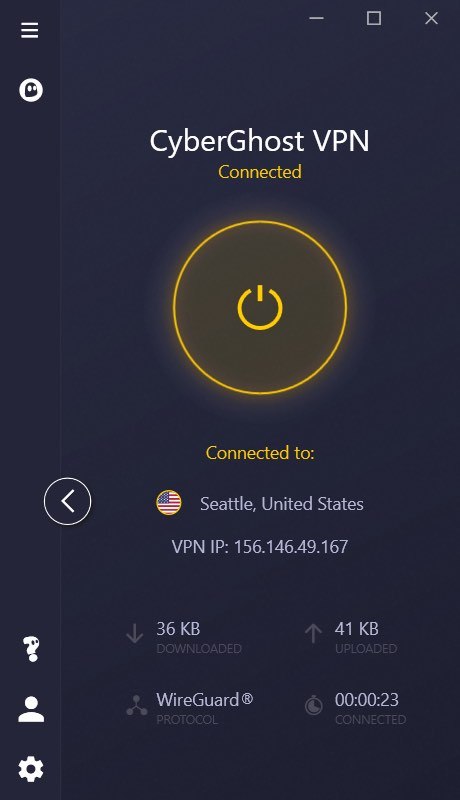 Although CyberGhost is a basic VPN service without too many frills, it does offer these features:
Ad blocking – It's tough to call this a feature since I found it to only work on HTTP sites. Because most sites are now HTTPS, the ad blocker is basically useless. (See our list of the best VPN ad blockers.)
Leak protection – The CyberGhost VPN apps offer built-in leak protection settings (kill switch).
User profiles – You can select from different user profiles, such as torrenting, streaming, gaming, etc.
Upgraded servers – CyberGhost is in the process of upgrading their VPN servers with 10 GB connections for faster data transfers across their network.
Now let's compare this to ExpressVPN's features.
In comparison to CyberGhost, ExpressVPN offers more features for all types of users. Below is the ExpressVPN Windows app we tested. You can see it is user-friendly and easy to use, with a large connection button right in the center, and is one of the best VPNs for PC operating systems.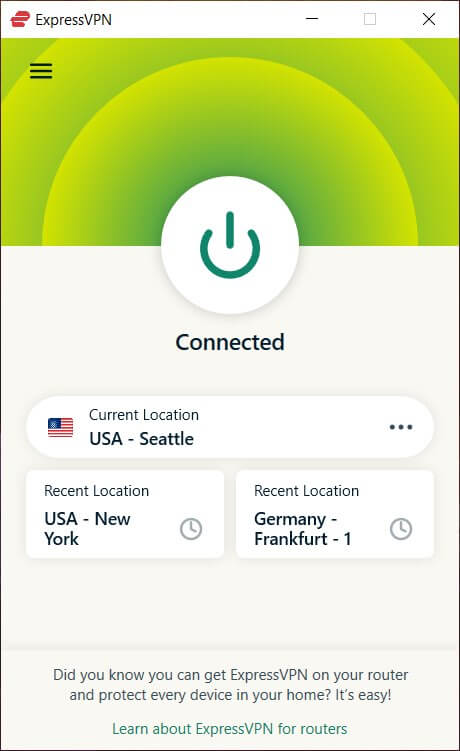 Here are some of the features you get with ExpressVPN:
Upgraded servers – ExpressVPN has also upgraded their VPN servers with 10 GB connections for better performance.
Threat Manager – This is a combined ad blocker, tracker stopper, and filter that blocks access to malicious websites. It is available in ExpressVPN's iOS, macOS, and Linux apps, and protects all traffic passing through the VPN tunnel. Unlike the situation with NordVPN's Threat Protection, only traffic passing through the VPN tunnel is protected by Threat Manager.
Network Lock kill switch – This is an advanced leak protection setting to ensure all traffic is blocked if anything disrupts the VPN connection (thereby keeping your data secure). It protects you against IPv4 leaks, IPv6 leaks, and DNS leaks (a VPN kill switch on steroids).
Split tunneling – This feature allows you to route specified apps or websites to go outside the VPN tunnel. This feature is available for Windows, Mac OS, and routers. You can read more about this feature in our split tunneling VPN guide.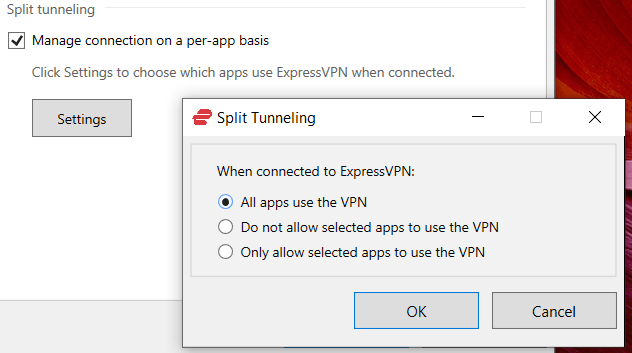 Browser extensions that incorporate HTTPS Everywhere. (ExpressVPN is one of our top picks if you need the best VPN for Chrome.)
Media Streamer – This app is ideal for a wide range of streaming devices, including as Smart TVs. It also works if you need a VPN for Apple TV.
Router app – ExpressVPN is one of the few VPNs that offer a dedicated router app. This allows you to switch locations and it also supports split tunneling on your network.
24/7 live chat support – This is always helpful if you need assistance with anything at all.
Obfuscation – ExpressVPN offers obfuscation features to effectively hide your VPN traffic. This allows you to use the VPN in places where VPNs are blocked and makes it one of the best VPNs for China.
Another big consideration with features is streaming, which we'll cover next.
Features winner: ExpressVPN
---
ExpressVPN vs CyberGhost speed tests
Speeds are a huge consideration for VPN users. After all, what good is a VPN that is too slow and interferes with everything you do online?
All of the speed tests for this comparison guide were conducted on a 500 Mbps internet connection using the official VPN apps. For each VPN service, I used the fastest VPN protocol available.
ExpressVPN offers the Lightway protocol, which is faster than OpenVPN and others.
CyberGhost has WireGuard, which usually outperforms all other VPN protocols.
I ran tests with server locations around the United States and the UK where each VPN had a presence.
Test 1: Seattle, USA
ExpressVPN server in Seattle: 136 Mbps

CyberGhost server in Seattle: 12 Mbps

Right out of the gate, we see ExpressVPN has a big speed advantage over CyberGhost, which is really struggling with speeds.
Test 2: Los Angeles, USA
ExpressVPN server in Los Angeles: 209 Mbps

CyberGhost VPN server in Los Angeles: 32 Mbps

Another slow speed test result from CyberGhost, while ExpressVPN delivers over 200 Mbps. So far, ExpressVPN is really outperforming CyberGhost in the speed category.
Test 3: New York, USA
ExpressVPN server in New York: 214 Mbps

At over 200 Mbps, this is another good speed test result from ExpressVPN.
CyberGhost server in New York: 46 Mbps

While this is slightly better than our previous CyberGhost speed tests, it is still not very good. Again we see that ExpressVPN is much faster than CyberGhost for this server location.
Test 4: United Kingdom
ExpressVPN server in the UK: 235 Mbps

CyberGhost server in the UK: 6 Mbps

With single-digit speeds, we must conclude that CyberGhost is not the best VPN for the UK if you value performance. Meanwhile, ExpressVPN turned in the fastest speed test result so far with 235 Mbps.
It's clear that ExpressVPN outperforms CyberGhost and was the winner in every server location with much faster speeds. And while ExpressVPN is faster than CyberGhost, it did not fare quite as well in the Surfshark vs ExpressVPN comparison. (Surfshark's implementation of WireGuard is even faster than ExpressVPN with Lightway.)
Speed winner: ExpressVPN
Note: ExpressVPN remains on the upper end of the speed spectrum. It also came out on top in our ExpressVPN vs IPVanish speed comparisons.
---
Prices and refunds: Is ExpressVPN or CyberGhost the best?
In this section, we'll take a close look at both price and value (what you get for your money).
CyberGhost price – CyberGhost definitely costs less than ExpressVPN, with the cheapest plan coming in at around $3.99 per month for the two-year subscription.
Although CyberGhost is affordable with long-term subscriptions, it certainly is not the best cheap VPN with the problems we've identified so far. There are better options for a low-cost VPN as we noted in the Surfshark vs NordVPN comparison, with both of these coming in below ExpressVPN.
CyberGhost refund policy – CyberGhost currently has a tiered refund policy. If you go with a one-month CyberGhost VPN subscription, you will have a 14-day refund window. If you go with a CyberGhost subscription that is 6 months or more, you will get a 45-day refund window.
Now we will compare CyberGhost to ExpressVPN.
ExpressVPN price – ExpressVPN offers reasonable prices, but they are still more expensive than CyberGhost. Fortunately, you can use this 49% off coupon, which includes three months free and drops the price down to $6.67 per month. Here are the discounted prices with the coupon above: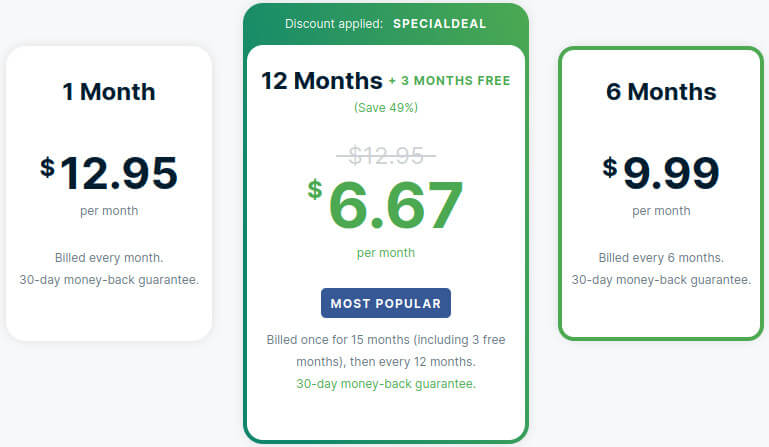 ExpressVPN refund policy – ExpressVPN provides a 30-day money-back guarantee on all subscription plans. There are no exceptions, fine print, or special rules for receiving your money back, simply request a refund within 30 days and you're good to go.
At this time, neither of these services offers a free trial VPN option. To use the VPN, you will need to select a plan and sign up.
Price and Refund Winner: CyberGhost wins this category simply because it is cheaper
Note: See also the CyberGhost vs Surfshark comparison, where Surfshark comes out much cheaper.
---
Netflix and Streaming: Does CyberGhost or ExpressVPN work best?
Streaming media is a big reason that many people are using VPNs. Whether it's watching old TV episodes on Netflix or streaming shows from BBC iPlayer with a VPN, it is now easy to get full access to media, wherever you are located in the world.
CyberGhost – With my latest round of tests for the review, I found CyberGhost did not work well with streaming. Aside from some connectivity issues, I noticed that CyberGhost was getting blocked by Netflix, even when connected to the dedicated Netflix VPN server in the US: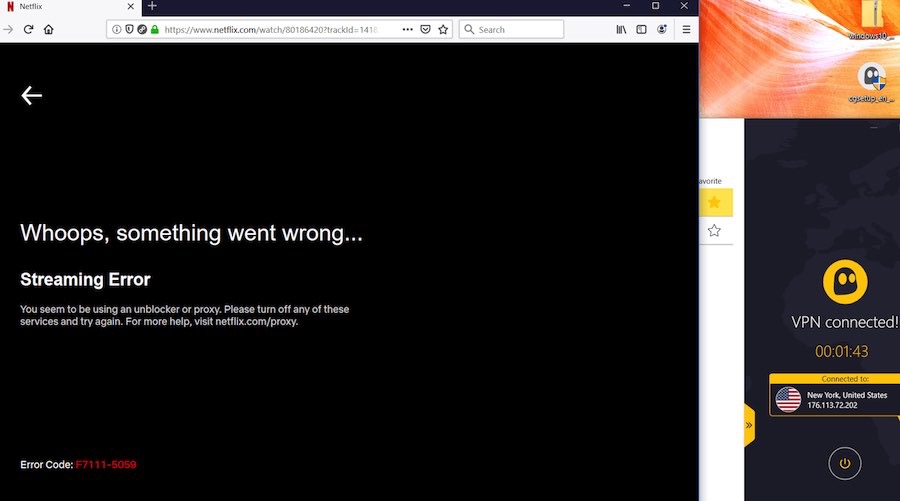 What about other services? I found that CyberGhost is not a good VPN for Amazon Prime, since it was blocked. Additionally, it is not the best VPN for Hulu due to its slow speeds. CyberGhost claims to be a good VPN for streaming, but I did not find that to be the case in my own testing.
Note: CyberGhost was also beaten out in the streaming category in our NordVPN vs CyberGhost comparison.
ExpressVPN – ExpressVPN is one of the best VPNs for streaming with 24/7 access to Netflix and many other streaming channels around the world.
Below I'm using ExpressVPN to stream US Netflix through an ExpressVPN server in Washington DC.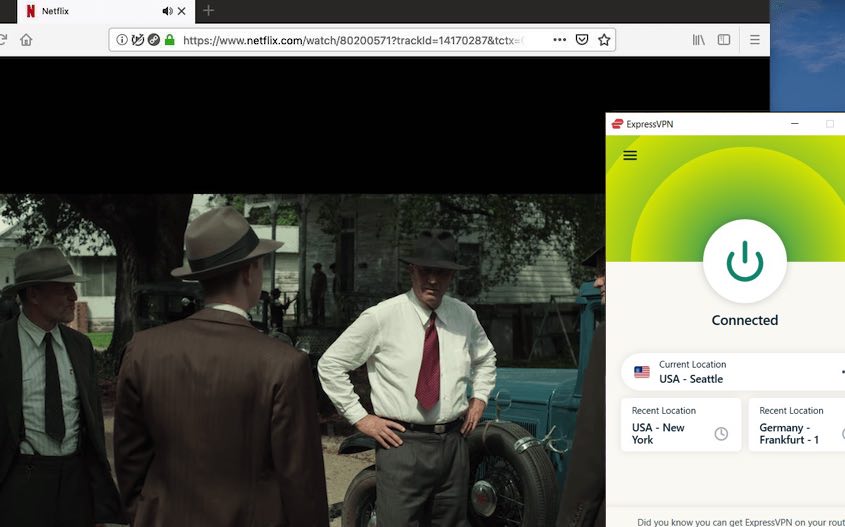 ExpressVPN is now one of our top recommendations if you need a VPN to unblock Netflix. It gives you access to numerous Netflix regions around the world and also works with many other streaming services. You can use this VPN for Disney Plus, Hulu, Amazon Prime, and more.
Tip: A VPN remains the best tool for changing Netflix regions and unblocking content from anywhere in the world.
Streaming winner: ExpressVPN
---
Security and Encryption comparison
In terms of security, both ExpressVPN and CyberGhost passed the basic leak tests (an explanation on testing procedures can be found in the VPN test guide).
I did not find any leaks with either VPN service when testing the Windows and Mac OS apps.
VPN Encryption
With encryption, ExpressVPN and CyberGhost are pretty comparable with OpenVPN:
CyberGhost: AES-256 cipher, SHA-256 hash authentication, and a 4096-bit RSA key.
ExpressVPN: AES-256 cipher, SHA-512 HMAC authentication, and a 4096-bit RSA key.
Additionally, both CyberGhost and ExpressVPN support some newer VPN protocols:
CyberGhost supports the WireGuard VPN protocol, which uses the ChaCha20 cipher.
ExpressVPN supports the Lightway protocol, which is similar to WireGuard and uses the ChaCha20 cipher or AES-256 cipher (depending on the operating system you are using).
Although these encryption levels are very similar, ExpressVPN has a slight edge with the authentication.
Third-party audits
Virtually every VPN service these days claims that they are super fast, super secure, super private, and do not log user activity. That's great, but several VPN services have lied about this over the years.
How do you know who to trust? You look for VPNs that have undergone third-party audits. I'm happy to report that both of these VPNs have conducted at least one third-party audit. But that doesn't mean that they are rated the same when it comes to third-party audits.
ExpressVPN makes a major effort to conduct third-party audits of their products. Some successful audits relevant to this review include:
CyberGhost has had their no-logs policy audited by Deloitte. We don't know exactly what the results of this audit were since CyberGhost's agreement with Deloitte prevents them from publishing those results. The fact that they have completed a third-party audit puts them ahead of the vast majority of VPN services. Still, with their wide range of audits conducted by various companies, ExpressVPN takes the prize for this particular test.
VPN server security
ExpressVPN really excels in the area of server security. In 2019, they converted their entire network to run in volatile RAM memory. This means that their server network does not run on hard drives, which can be a security and privacy risk. With RAM memory, nothing can be stored on the server, which means server data cannot be seized by third parties. ExpressVPN refers to this feature as TrustedServer.
CyberGhost does not run any of its servers in RAM-disk mode. It scores lower than ExpressVPN in the area of server security as well.
Note: If you need to use a VPN in a restricted country, then ExpressVPN would be the better choice here as it uses reliable obfuscation techniques to defeat blocks. This is discussed more in our guide on the best VPNs for UAE.
Security winner: ExpressVPN
---
Privacy comparison with ExpressVPN and CyberGhost
Here at RestorePrivacy, we really pay attention to how well a VPN does in this category. So is CyberGhost VPN or ExpressVPN the best choice for privacy-focused users?
CyberGhost – CyberGhost has a few issues that I noticed in the privacy category:
First, I found that CyberGhost's website uses invasive tracking measures. I observed session recording scripts for Hotjar on its website, which record everything a visitor does.
Second, CyberGhost's ad blocker does not stop tracking on HTTPS websites, as we covered before.
Lastly, CyberGhost's parent company (Kape Technologies, formerly Crossrider) has a history of distributing malware and infecting devices with packaged software bundles.
If you are looking for a good VPN for privacy, CyberGhost is not the best choice.
ExpressVPN – ExpressVPN is a solid choice for privacy. It is one of the few no logs VPN services that have been tested, audited by an independent third party, and also verified. (Outside verification of logs is also a trend we've seen with NordVPN and PIA.)
Although ExpressVPN does use Google Analytics on their site (as does CyberGhost), they do not use any invasive session recording scripts like CyberGhost does with Hotjar.
ExpressVPN's privacy features ensure your identity and online activities stay secure and out of the hands of third parties.
Privacy winner: ExpressVPN
---
Conclusion: ExpressVPN wins in 2023
ExpressVPN and CyberGhost are both popular VPN services that are recommended on many sites. Nonetheless, there was a clear winner in this CyberGhost vs ExpressVPN comparison guide.
ExpressVPN came out on top in nearly every category tested:
Company background and jurisdiction: ExpressVPN
Speed tests: ExpressVPN
Price: CyberGhost
Features: ExpressVPN
Streaming and Netflix: ExpressVPN
Security and Encryption: ExpressVPN
Privacy: ExpressVPN
While CyberGhost is the winner in the price category, because it is cheaper, the key consideration is value. In terms of value, the question to ask is: Which VPN offers a better value for your money?
ExpressVPN outperformed CyberGhost by a wide margin, while also unblocking Netflix and offering more security features. Additionally, ExpressVPN has also passed independent audits, which gives it a big boost in the trust category – an area where CyberGhost is really lacking.
When you consider overall performance, security, and features, I would say ExpressVPN offers the best value, even though it is a bit more expensive.
If you want to give ExpressVPN a try, there are currently offering the following discount coupon:
ExpressVPN Coupon:

Sign up for the 12-month plan and get 3 months added to your subscription for free.
(Coupon is applied automatically.)
If you are looking for a VPN that is around the same price as CyberGhost, then NordVPN would probably be a good fit. Check out the NordVPN coupon page for the latest discounts and deals.
For additional recommendations, you can see the best VPN services guide.
Have you used either ExpressVPN or CyberGhost VPN? If so, leave your experience below in the comments to help others.
This CyberGhost vs ExpressVPN guide was last updated on January 11, 2023, with new information and test results.