Let's talk about why you need an Apple TV VPN. The Apple TV box turns your regular TV into a smart TV with many capabilities. This includes the ability to view a large number of streaming services from around the world, such as Starz, Netflix, MTV Hits, Hulu, CBS, and more.
Getting access to all of these streaming media sources is great – but there's a problem. Many streaming services are geo-blocked. That is, they are restricted to only being viewed in certain geographic locations. If you try to connect to one from outside the 'correct' geographic region, the service will block you – but there's also a good solution.
With a good VPN for your Apple TV, you can easily bypass geographical restrictions and access all media streams, from anywhere in the world. We'll show you exactly how in this guide.
The phrase Apple TV VPN is really a shorthand for the phrase, a VPN that works with Apple TV. You'll notice I said "works with," not "is installed on" or anything like that. That's because there is no way to install a VPN directly on an Apple TV box (as of right now, anyway). Fortunately, there's a simple solution here that we'll cover below. But first, let's talk about what a VPN is, and why it will let you view geo-blocked content.
What is a VPN and how it works to un-block content with Apple TV
A VPN (Virtual Private Network) is a system that protects your privacy by creating an encrypted tunnel in the internet. Part of the privacy protection is from hiding your IP address. That's a big advantage for your online privacy because, among other things, an IP address contains location information and is tied directly to your device through your internet service provider.
Geo-blocking systems, such as the ones used by media companies, rely on IP address location data to decide who can access media. A VPN for Apple TV effectively gets you around those blocks.


Good VPN services have thousands of servers around the world, each with many different IP addresses. As a VPN subscriber, you can connect to one of those servers. When you do, your online activities appear to be coming from that server, with that server's IP address. When you connect to a VPN server in the geographic region of the streaming media service you want to use, their geo-blocking system will think you are located in the 'correct' location to log in. Access granted!
This can help you in two ways. First, you might be in the United States but want to use your Apple TV to view streaming media from a service like BBC iPlayer, which is located in the United Kingdom. If you try to connect directly from your Apple TV, the BBC's geo-blocking system will tell you where to go. But with a virtual private network for Apple TV, you can connect to a VPN server in the United Kingdom where the BBC's software will let you pass right by. It's that easy.
The second way an Apple TV VPN can help you is more or less the reverse of the first. In this case, you are a US citizen with a valid subscription to a US Netflix account. But for vacation, you are staying in Mexico for a few months. You can use your VPN with Apple TV to access American Netflix from Mexico without any problems.
How to use a VPN with Apple TV (3 options)
As we already mentioned above, there is no way to install a VPN directly on your Apple TV device. With that being said, there are still three good ways to use your VPN with Apple TV:
Use a VPN router and connect your Apple TV to the VPN router. This gives you all the benefits of a VPN, including unblocking streaming sites and also encrypting traffic.
Use your VPN's Smart DNS system on your Apple TV. With this option, you will be able to unblock streaming sites, but you are not actually using a full VPN. Therefore your traffic is not getting encrypted and anonymized.
Share a VPN connection with your Apple TV, one of the easiest methods.
Each of these options has pros and cons, which we will analyze more below.
Note: There is also the option of sharing your VPN connection with an Apple TV from your computer. However, this does not work on Mac OS, and it is pretty complex with Windows. If you want to explore this option, NordVPN has some support guides on the topic here.
1. Turn your router into an Apple TV VPN
If you can install a VPN on your router, it will not only serve as a VPN for Apple TV, but will provide all the other benefits of a VPN to everything else connected to the router. Talk about a win/win situation!
First off, realize that not all routers work with a VPN. It would be a good idea to check out our ultimate guide to VPN routers and see if yours is listed before spending more time on this. The alternative if your router won't work for this is to invest in one that can support a VPN.
We have tested many different VPN routers over the years. Currently, our two favorite VPN routers are:
Vilfo Router – The Vilfo router is a very powerful VPN router from the team behind OVPN in Sweden. This router comes loaded with advanced features, a powerful processor for fast speeds, and easy installation with most popular VPNs supported by default. This is hands-down the best VPN router we have tested, backed up by a competent team of professionals in Sweden that give you 24/7 support. Check out our Vilfo review for more info.

The Asus RT-AC2900 is another excellent VPN router that is a lot more affordable than the Vilfo. It provides excellent speeds with a fast processor. And the Asus stock firmware has lots of features, including selective routing and a kill switch.
Once you have a router that can run a VPN, the next thing is to subscribe to a good VPN service and get it working on your router. While the instructions for every router vary, here are the general steps:
Go online and find the router manufacturer's instructions for installing a VPN.
Find the VPN manufacturer's instructions for installing on a router. Depending on the VPN service, you might even find detailed instructions for your specific router.
Log in to your router's administrative interface. Sometimes the login credentials are printed on the bottom of the router. If not, they'll be somewhere in the documentation.
In the interface's VPN section, configure the VPN per instructions.
Connect your Apple TV to the router if it isn't already connected.
One thing to keep in mind when using a VPN router is processing power. Most consumer-grade routers are underpowered when it comes to handling VPN encryption. This results in slow speeds, which in turn can cause buffering and playback issues with Apple TV. This is one reason we recommend going with either the Vilfo router or the Asus RT-AC2900 — both are fast and work well with VPNs.
2. Smart DNS with Apple TV
Another option for Apple TV is to use your VPN service's Smart DNS. With this option, you are not using a VPN, but rather a DNS system to access geo-restricted content. There are pros and cons to this approach as well. And while it may work fine for unblocking content, you do not get the privacy advantages of a VPN.
Instructions for setting up Apple TV will vary with the VPN service you end up using. Each of these three VPNs offers smart DNS you can use with Apple TV:
Example of Smart DNS setup with Apple TV
Let's walk through a quick example of setting up Smart DNS with Apple TV using our top VPN recommendation – NordVPN. Once you sign up for NordVPN (use the 68% off coupon) then you can follow these steps from NordVPN:
Whitelist your IP address on your VPN account profile (see this NordVPN support article).
Then, on your Apple TV, go to General > Network.
Click on Wi-Fi at the top and then select your network.
Next, go to Configure DNS > Manual.
Enter SmartDNS server address provided by NordVPN, which is
Primary DNS: 103.86.99.103
Set Secondary DNS (if available): 103.86.96.103
3. Share a VPN connection with your Apple TV
This is the third and final method we'll examine for using a VPN with Apple TV. In essence you are taking the following steps:
Connect your device to NordVPN
Share your device's internet connection with Apple TV
The exact steps for doing this can really vary depending on the device you are using. Because sharing your internet from a laptop can be complex (in some situations), one simple method would be to create a mobile hotspot. Here are the basic steps:
Connect your mobile device to your Wi-Fi network (this will save you on burning up through all your mobile data).
Open the VPN app on your mobile device and connect to a VPN server.
Then create a mobile hotspot and connect your Apple TV to that mobile hotspot.
With this method, there is no need for tinkering with Smart DNS settings or messing around with your router. Just make sure you have a good and reliable VPN app on your mobile device, and the rest is easy. We have guides on mobile VPNs here:
The characteristics of the best Apple TV VPNs
Here are the characteristics we looked for when we selected the three VPNs we recommend for Apple TV:
Router support. The VPN needs to be able to run on many common brands and models of routers, with some reasonable level of instructions for setting it up.
Speed. The VPN has to be fast enough to stream HD video.
Coverage. The VPN needs to have a lot of servers (at least a thousand) spread across the major countries in the world. Why so many? Because the streaming services occasionally figure out how to block one or more of a VPN's servers. Having a huge number of servers out there makes it highly unlikely a streaming service will manage to block all of them at once.
Security and privacy. These are general characteristics you want in any VPN. A VPN exists to protect your privacy online, and to do so needs bullet-proof security.
Support. While the VPNs we recommend are highly reliable, remember that it is a war out there. No matter how good a VPN is, there is always a chance that some natural disaster will knock out part of their network, or the service streaming your favorite show just figured out how to block the server you normally use. With high quality 24/7 live chat support, these VPNs have the teams that will get your problem fixed fast.
Got all that? Then let's look at our picks for the best VPNs for Apple TV.
Here are the top 3 Apple TV VPNs
Finding VPNs that have all of these characteristics wasn't easy. We came up with three to be exact. Here are the best VPNs for Apple TV:
NordVPN
Surfshark
ExpressVPN
We're going to wrap up with short overviews of each of these VPNs, focusing on the characteristics that we discussed above. Be aware that all three of these VPNs are fast and reliable, with 24/7 live chat support and 30 day money back guarantees.
1. NordVPN for Apple TV
| | |
| --- | --- |
| VPN | NordVPN |
| Based in | Panama |
| Logs | No logs (audited) |
| Price | $3.29/mo. |
| Support | 24/7 live chat |
| Refund | 30 days |
| Website | NordVPN.com |
NordVPN is our top-ranked VPN service in general, as well as for Apple TV. It is the fastest VPN we've ever seen. The NordVPN network consists of over 5,400 servers in 60 countries. All NordVPN servers run in RAM-disk mode, which makes it impossible to store anything on the VPN server. NordVPN is also in the processing of rolling out colocated (self-owned) servers in all locations, with high-speed 10 Gbps bandwidth channels.
NordVPN also stands out in the streaming category. Aside from being the best VPN for Apple TV, it also performs well with these services:
Best VPN for Netflix (15+ Netflix regions supported at all times)
BBC iPlayer
Hulu
Amazon Prime
Disney Plus
And many other local streaming channels in countries around the world
NordVPN also offers lots of excellent privacy and security features. They have an ad blocker VPN feature called CyberSec that blocks ads, trackers, and malware domains. NordVPN apps all include built-in leak protection (kill switch) and secure VPN protocols. They have lots of different specialty servers for different use cases. These include double-VPN servers, Tor-over-VPN, and even obfuscated servers. The obfuscated servers allow you to get through VPN blocks such as when using a VPN for UAE, China, or any restricted network.
All their apps are reliable and easy to use. Their website offers plenty of information to help you use NordVPN on a router — or any other popular device. This also includes computers, phones, tablets, Smart TVs, and even gaming systems.
Check out our in-depth review of NordVPN or grab the discount below for the best savings:
NordVPN Coupon

Get 68% Off NordVPN plus FREE anti-malware protection for all your devices:
(Coupon is applied automatically.)
---
2. Surfshark VPN for Apple TV
| | |
| --- | --- |
| VPN | Surfshark |
| Based in | The Netherlands |
| Logs | No logs |
| Price | $2.30/mo. |
| Support | 24/7 live chat |
| Refund | 30 days |
| Website | Surfshark.com |
Surfshark has engineered a rapid rise in the rankings, blowing past hundreds of competitors to claim the #2 spot in our VPN testing and evaluations. It offers secure and user-friendly VPN applications for all major devices and operating systems. They currently have 3,200 servers in 65 countries around the world, ensuring reliable performance for Apple TV.
Like NordVPN, Surfshark also supports the WireGuard VPN protocol. In speed tests for our Surfshark vs NordVPN comparison, we found NordVPN to have a slight advantage, although both VPNs were very fast. We were able to get up to 397 Mbps download speeds with Surfshark on US servers.
Part of Surfshark's appeal is its strong performance and feature set, combined with their very low price and support for an unlimited number of devices simultaneously with one subscription. Most VPNs limit simultaneous connections to between 4 and 6.
Surfshark is also one of the best VPNs for streaming, with support for numerous Netflix regions, BBC iPlayer, Hulu, Amazon Prime, DAZN, and more. And with a large network of fast servers, it also makes a great VPN for gaming or any other activity that requires fast speeds and low latency.
Surfshark is easy to get up and running on a router. Below is a screenshot from the Asus router admin panel when setting up Surfshark VPN. This is still our top recommendation for an Apple TV VPN — using a VPN router to connect your Apple TV.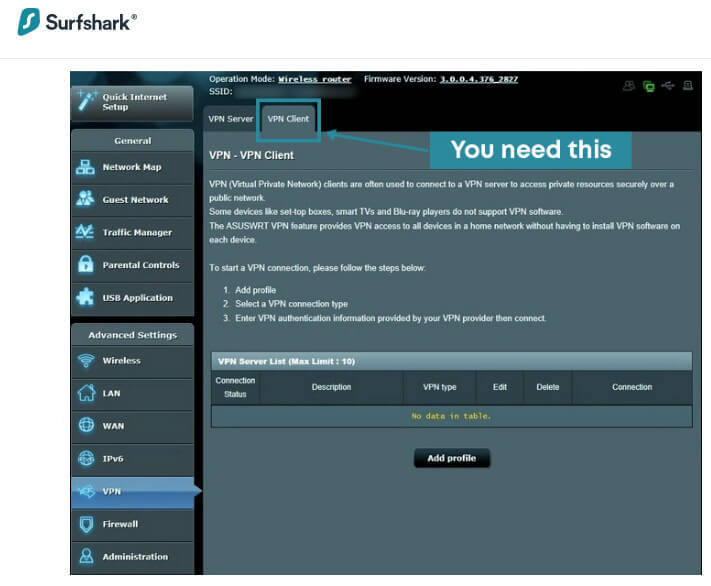 If you don't want to go with the VPN router option, that's no problem. Like our other best Apple TV VPN recommendations, Surfshark also offers a smart DNS system — and setup is easy.
Surfshark also scores high points in the privacy and security categories. It offers a CleanWeb feature that blocks ads, trackers, and malicious domains from loading on your device. It also has double-VPN servers and an obfuscation feature to defeat VPN blocks and censorship. All of these features contributed to Surfshark coming out on top in our ExpressVPN vs Surfshark comparison report — but we'll examine ExpressVPN more below.
If you want to give Surfshark a test drive, they have a 30 day money back guarantee and also offer 24/7 live chat support. This will allow you to get the VPN setup for Apple TV and test the service risk-free. Grab the best savings with the coupon below or check out our Surfshark VPN review for more info.
Surfshark VPN Coupon

Get 82% off Surfshark VPN (drops the price down to $2.30 per month) plus two months FREE:
(Coupon is applied automatically.)
---
3. ExpressVPN for Apple TV
| | |
| --- | --- |
| VPN | ExpressVPN |
| Based in | British Virgin Islands |
| Logs | No logs (audited) |
| Price | $6.67/mo. |
| Support | 24/7 live chat |
| Refund | 30 days |
| Website | ExpressVPN.com |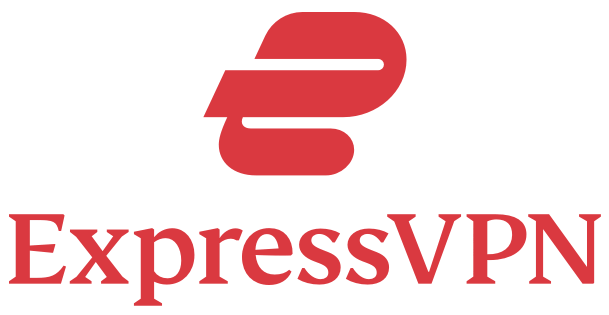 ExpressVPN has been one of the top-ranked VPNs in the world. It is a great VPN for Apple TV with full support for routers and other devices with a Smart DNS system called MediaStreamer. MediaStreamer works on Apple TV with 4th generation, 5th generation, and tvOS. ExpressVPN even has a dedicated router app for certain router firmware. This makes it easy to use ExpressVPN on a router, if you want to pursue that option.
ExpressVPN has always had a reputation for excellent reliability, privacy, and security. Testing their VPN clients is almost boring because they always just work. They also have an extremely wide spread network of over 3,000 servers in 94 countries. If your tastes lean toward more exotic streaming media from less 'mainstream' countries, ExpressVPN probably has servers where you need them.
The company is also strong on security and support. They run all servers in RAM-disk and are an audited no-logs VPN provider. Being based in the British Virgin Islands also helps to keep user data secure, with no mandatory data retention laws. The ExpressVPN support team is very responsive and helpful with 24/7 live chat support.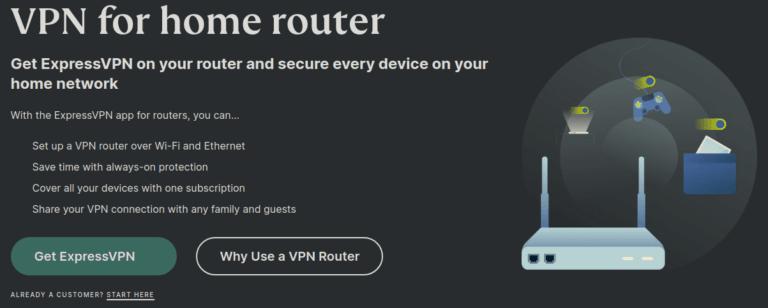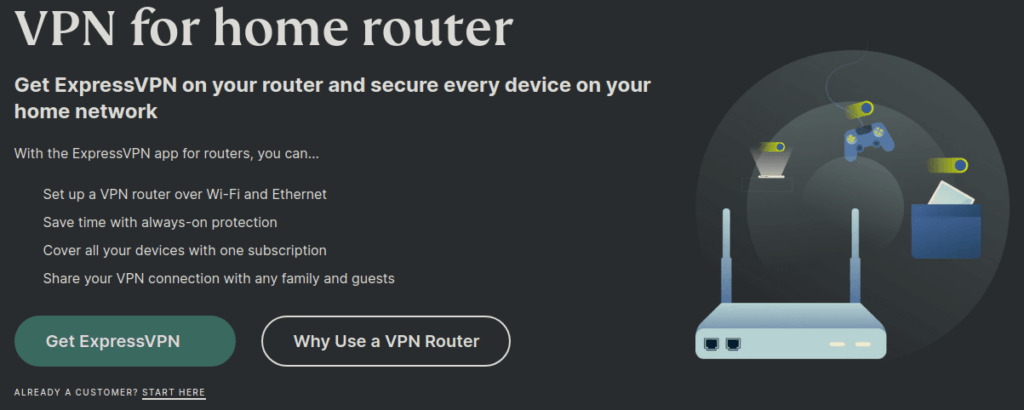 ExpressVPN also does well in the performance category. It now supports the Lightway protocol, which is a self-developed VPN protocol with many similarities to WireGuard. And while Lightway is fast, it's not the fastest VPN protocol we tested. NordVPN still came out on top in the ExpressVPN vs NordVPN comparison using the WireGuard protocol.
ExpressVPN is an excellent option for streaming. They have a VPN for Firestick app and support many types of streaming devices, including Smart TVs. And with support for Netflix, Amazon, Hulu, Disney Plus, and many other services, it will work well on Apple TV to access lots of content.
Check out our ExpressVPN review here.
---
Now that we have examined the best VPNs for Apple TV, let's look at some Frequently Asked Questions (FAQs).
Why are there no VPN apps for Apple TV?
Right now, Apple TV simply does not allow any VPN apps on Apple TV devices, and there are no exceptions to this rule. Simply put, Apple has decided to restrict and limit what apps can be used on its devices, and there is nothing that any VPN provider can do about this situation.
Any VPN that claims to have Apple TV support will direct you to use one of the three options we discussed in the beginning of this article:
Use a VPN router and connect your Apple TV to the VPN router.
Use your VPN's Smart DNS system on your Apple TV.
Share a VPN connection with your Apple TV.
Those are your only options at this time because of the way Apple restricts its devices, unfortunately.
Conclusion on Apple TV VPN Services in 2022
Apple TV is a great system with the ability to turn your regular TV into a Smart TV. You can even use it to display content from all around the world… so long as you are using a good VPN service with a large, reliable server network.
We showed you two different ways to use an Apple TV with a VPN service, either through a VPN router or through your VPN's smart DNS service. Each of these options come with pros and cons. And all three of the recommended Apple TV VPNs support both options.
So now the ball is in your court. If you are ready to start enjoying access to more content through your Apple TV, then pick up a good VPN and get started. And with all of the VPNs in this guide, you will have a full 30 days to test out the service. If you find it doesn't meet your expectations, simply cancel for a 100% refund.
As a brief recap, below are the best VPNs for Apple TV. And if you have any other tips or recommendations on using a VPN for Apple TV, then drop a comment below.

---

---

---
This Apple TV VPN guide was last updated on April 20, 2022 with new information and test results.
Further reading: