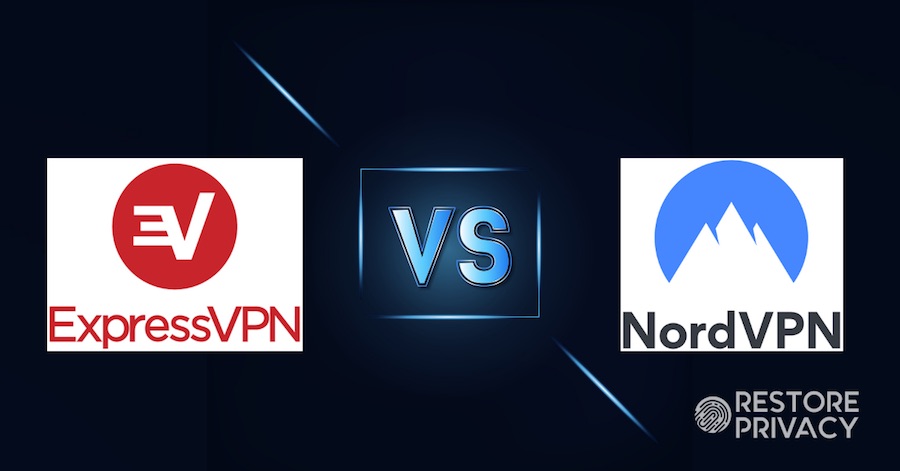 While both NordVPN and ExpressVPN are large, well-respected names in the VPN industry, extensive testing for this ExpressVPN vs NordVPN comparison revealed a clear winner based on the latest test results.
I've been testing ExpressVPN and NordVPN for the past four years, as both a personal user and also for VPN reviews. Choosing between these two top-rated VPN services can be tough, so I decided to create the most in-depth comparison guide available based on real test results and the latest information.
Here's what we'll cover in this NordVPN vs ExpressVPN comparison:
Speed – Numerous servers tested in Europe and North America
Reliability – Testing the VPN apps on Windows, Mac OS, Android, and iOS
Features – Checking to see if all of the features work correctly
Connections – How many connections come with a subscription?
Security – Do any of the apps leak IP addresses or DNS requests?
Logging Policies – What is the logging policy?
Jurisdiction – Where is the VPN located and how does this affect data security?
Torrenting – Which VPN is best for torrenting?
Netflix & Streaming – Which VPN is best for Netflix and other streaming services?
Price – Which VPN offers the lowest prices?
Payments & Refunds – Payment options and refund policies
Value – Which VPN offers the best value for your money?
ExpressVPN was the winner in seven of the test categories, with three categories being a tie, and NordVPN coming out on top in two categories.
Now let's dive into the test results for each category.
1. Speed Test: NordVPN vs ExpressVPN
There is one clear winner in the performance category, and that is ExpressVPN.
The latest tests also line up with my own observations, since I have been regularly testing both VPNs since 2015. ExpressVPN has always been a higher priced VPN service that prides itself on speed and performance. While NordVPN has improved its speed recently by adding more servers, ExpressVPN still outperforms in nearly every location.
When running all tests, my baseline (non-VPN) connection speed was about 100 Mbps (testing from Germany).
ExpressVPN speed tests
All tests were conducted using the OpenVPN protocol with 256-bit AES encryption on ExpressVPN apps.
Here is one nearby server in Italy with a download speed of 94 Mbps. As you can see, ExpressVPN essentially maxed out my baseline connection speed.

Here is another speed test with a server in Switzerland – again, similar results.
Download speed: 92 Mbps

As you can verify in the ExpressVPN review, all of my speed tests with nearby servers in Europe were 90 to 95 Mbps – nearly maxing out my baseline internet speed.
I also tested ExpressVPN servers in North America. The results were excellent, even considering the distance between me and the server locations.
Here is a test with a server in Washington, DC, where I was able to get over 78 Mbps:

Testing other servers in the US and Canada, I was able to consistently get between 70 and 80 Mbps.
To sum all these tests up, ExpressVPN is consistently fast with all the servers I tested.
Now moving on to NordVPN.
NordVPN speed tests
All tests were conducted using the OpenVPN protocol with 256-bit AES encryption on NordVPN apps.
While NordVPN has improved performance recently by adding more servers, some servers are still a bit slow. For NordVPN users, this may require hopping around to different servers until you find one that gives you the speeds you need.
Nonetheless, NordVPN can offer excellent speeds with nearby servers. Here is one of the better speed tests I had with NordVPN using a server in Denmark at 94 Mbps:

Servers in North America were rather slow with my testing.
Running a few tests in the United States and Canada found speeds to be quite variable.
In some tests I was able to get around 60 Mbps, but then in others, speeds would suddenly drop to under 5 Mbps. Here is one such example with a NordVPN server in the United States:

Servers in Canada were also hit or miss with the latest round of tests.
Here I am testing a NordVPN server in Canada and getting about 14 Mbps – not horrible, but certainly very good in comparison to ExpressVPN, which provided 60 to 80 Mbps with all North American servers: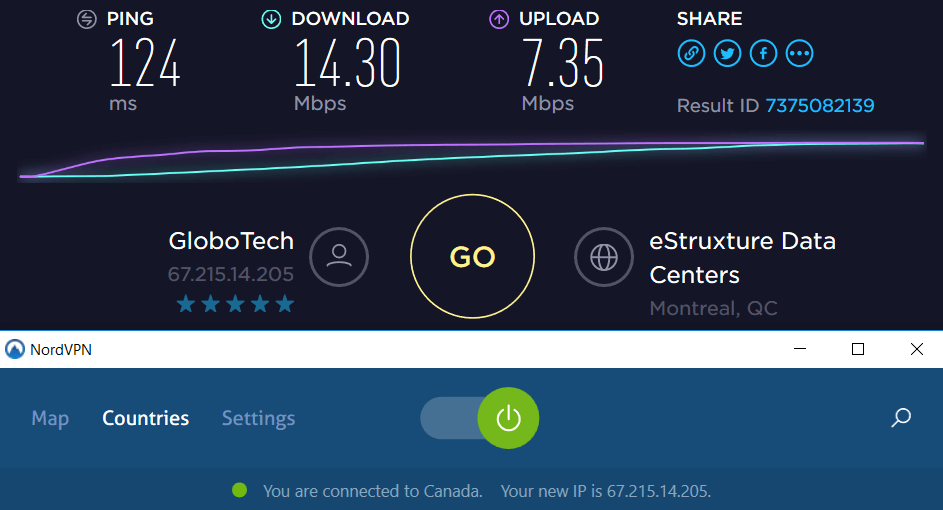 It's important to note that there are many different variables that affect speed, and results are sure to vary with different users.
While ExpressVPN is consistently fast, NordVPN seems to offer good performance on some occasions and mediocre performance on others – it really depends. Speeds can also be somewhat variable month-to-month, based on my own experience.
With the latest test results, ExpressVPN remains the clear winner in the performance category.
User feedback on performance: Most feedback I've received from users supports the test results above. That is to say, ExpressVPN generally outperforms NordVPN in terms of raw speed.
Winner for speed: ExpressVPN
2. Reliability: NordVPN vs ExpressVPN
There is another clear winner when it comes to reliability, and that is again ExpressVPN.
First we will take a look at NordVPN.
NordVPN reliability
On some occasions when testing out NordVPN I have experienced connection problems and errors. While this was not a regular problem, it did happen with some servers and regions.
Here is an example of this with an Ireland server when using the NordVPN Mac OS app. Notice the error message that I kept getting: "An error has occurred. Please try again."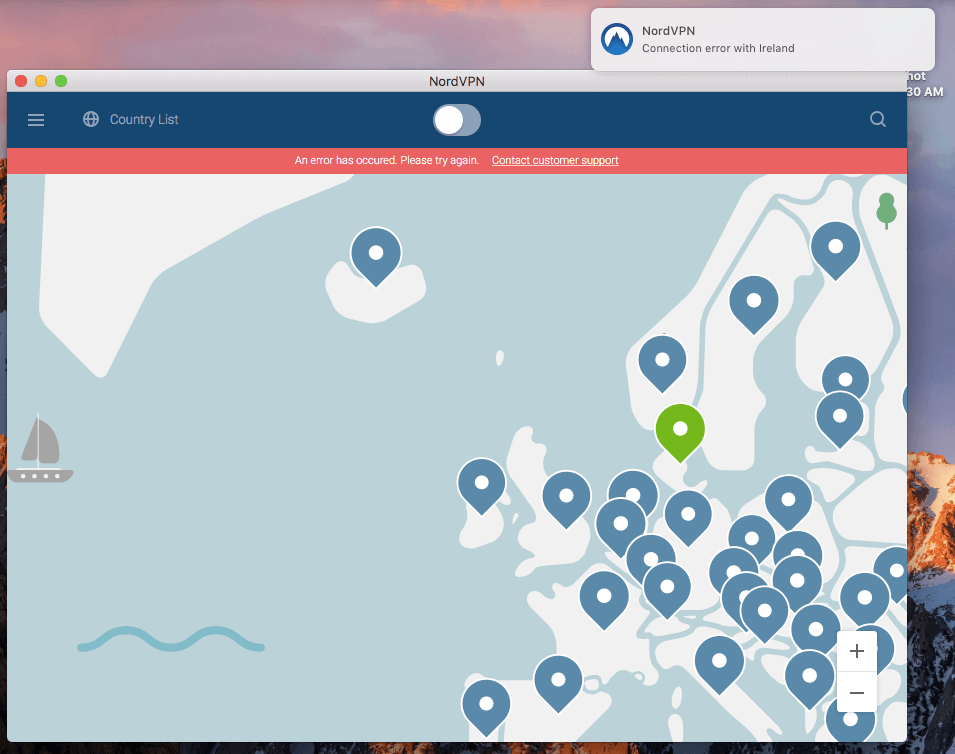 NordVPN has greatly improved its VPN apps over the past year, although there are occasional bugs. I have also gotten similar feedback from other NordVPN users, but it seems that these bugs were limited to the Mac OS app.
Note: For Mac OS users, I would recommend ExpressVPN, which is currently the top recommendation in the VPN for Mac guide.
ExpressVPN reliability
ExpressVPN does very well in terms of reliability – better than NordVPN.
I have always found ExpressVPN's server network and applications to work well in my testing: no connection errors, bugs, or failures. In short, everything just works.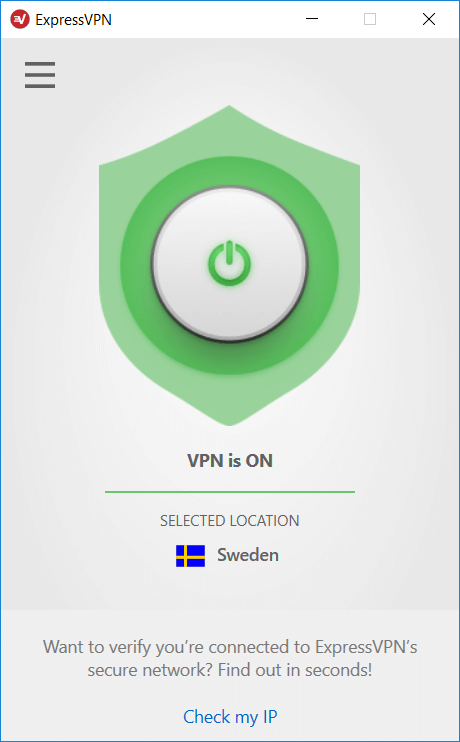 Extensive testing with ExpressVPN's Windows, Mac OS, and Android apps did not identify any problems:
Connections were stable and fast
All features worked correctly
The apps did not crash or freeze up
The Network Lock successfully blocked all non-VPN traffic to prevent any data leaks
ExpressVPN remains one of the top performers in terms of speed and reliability.
Reliability Winner: ExpressVPN
3. Features: NordVPN vs ExpressVPN
Both ExpressVPN and NordVPN offer some decent features that will be useful for many users.
ExpressVPN features
One unique feature with ExpressVPN is that it offers a split-tunneling option. This lets you route certain apps through the encrypted VPN, while routing other apps over your regular (unencrypted) internet connection. Very few VPNs offer this feature. Here I'm testing out split tunneling with the ExpressVPN Windows app: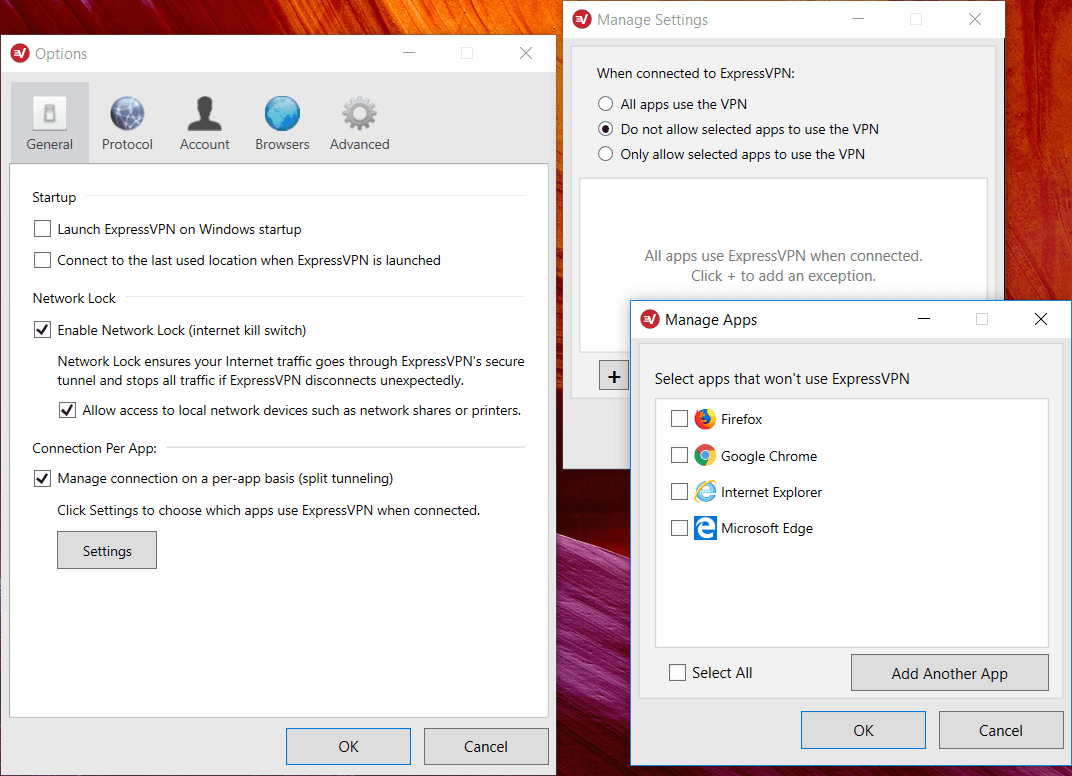 Furthermore, ExpressVPN also offers some other great features:
Secure, self-hosted DNS (protects you against DNS leaks and third-party DNS snooping)
Obfuscation features (gets around network restrictions and VPN blocking)
Support for Smart TVs and gaming systems (through the MediaStreamer smart DNS feature)
Browser extensions that are open source and integrated with HTTPS Everywhere (available for Firefox and Chrome)
Regarding obfuscation, ExpressVPN also has a lineup of obfuscated servers. These are useful if you are using a VPN for China or in other restricted networks (for more details, see the best VPN for China report).
NordVPN features
Just like with ExpressVPN, NordVPN also offers some great features.
First up are the specialty servers that are suited for different use cases. NordVPN's specialty servers include:
Double-VPN servers, where traffic is encrypted over two different hops
P2P servers (designated for torrenting)
Obfuscates servers (for places where VPN traffic is blocked, such as in China)
Onion-over-VPN servers, where traffic exits the VPN server onto the Tor network
I found the double-VPN servers to perform reasonably well, but the Onion-over-VPN servers were unusably slow. Below I was testing the "Netherlands Onion" server, but could not get speeds over 1 Mbps.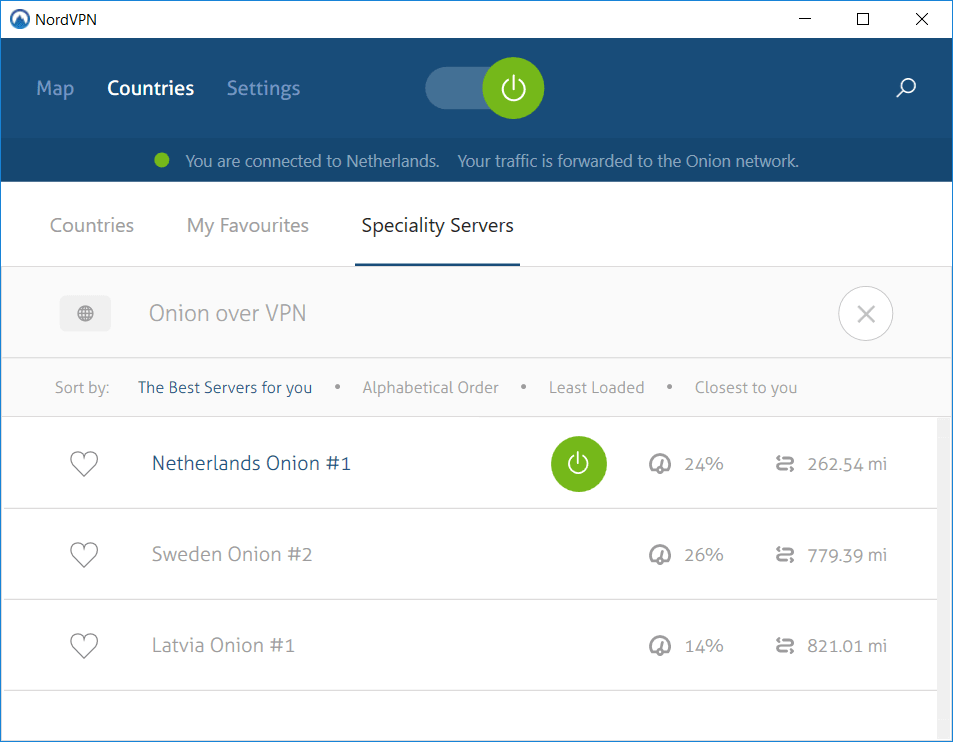 The speed issues with the Onion-over-VPN servers are not surprising, simply because the Tor network is quite slow, and adding a VPN server to that will only slow things down more.
Aside from the specialty servers, NordVPN also offers an ad-blocking feature called CyberSec. While this does offer a basic level of protection against advertising, tracking, and malware domains, I did find a number of domains not getting blocked when I ran tests for the VPN ad blocker guide.
Overall both ExpressVPN and NordVPN offer some unique features.
Features winner: Tie
4. Connections: NordVPN vs ExpressVPN
In comparing the number of connections you can have with your account, the winner is clearly NordVPN.
NordVPN claims to be the "best VPN for multiple devices." As explained on the NordVPN website, their connection policy is as follows:
With a single NordVPN account, you can connect up to 6 devices simultaneously without compromising your online security and privacy of one device for another.
This is a good number, but certainly not the highest. (See for example IPVanish, which offers 10 simultaneous connections, or Perfect Privacy, which provides an unlimited number.)
ExpressVPN's connection policy is as follows:
With a single subscription, you can connect three devices to ExpressVPN at the same time, regardless of platform (including virtual machines). In short, you can install ExpressVPN on any number of devices, but only three devices can be connected at any one time.
How many simultaneous connections do you need?
If you are a single user, it would be difficult to simultaneously use numerous devices, but if you have many family members in your house, this may be an issue. One trick, however, is to use a VPN router, which provides all the benefits of the VPN to every device that connects to it, but only counts as one connection.
Connections winner: NordVPN
5. Security: NordVPN vs ExpressVPN
Both ExpressVPN and NordVPN are good options when it comes to securing your data and I did not find any leaks with either of these services. I ran NordVPN and ExpressVPN through lots of basic VPN tests to check for IPv4 and IPv6 leaks, as well as DNS leaks. They all passed without any problems to report.
However, there is one key difference between the two in terms of security and privacy: the VPN kill switch. A good VPN kill switch should block all traffic if the VPN connection drops, thereby securing your data and ensuring your IP address and DNS requests are not exposed.
Currently NordVPN offers an app-level kill switch and a firewall kill switch with the OpenVPN Windows app and the IKEv2 Mac OS app. The app-level kill switch closes specific apps if the VPN connection drops. The firewall kill switch blocks all traffic if the VPN connection drops (best option).
NordVPN's "Internet Kill Switch" works via the operating system firewall. Here's the Windows OpenVPN app I tested.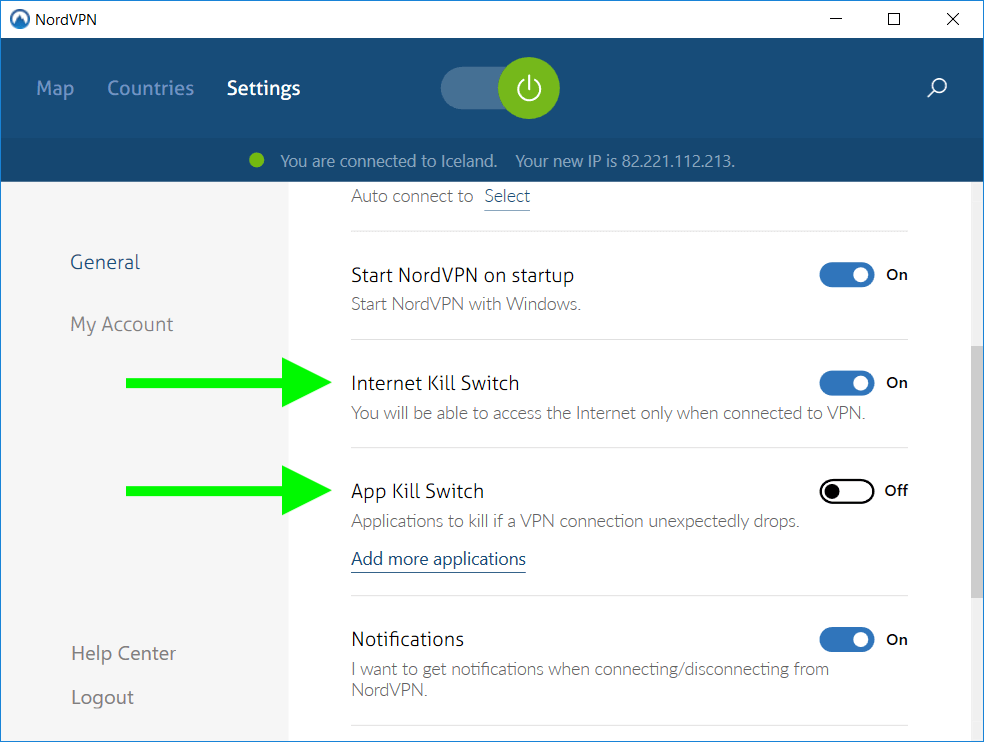 The problem, however, is that NordVPN's OpenVPN app for Mac OS only has an "App Kill Switch". This means that your traffic is not getting blocked via the firewall if the connection drops, which could expose your IP address to third parties.
In previous years, NordVPN only offered the "App Kill Switch", which was pretty much worthless since it does not block traffic, but instead just closes an app. NordVPN informed me they are working to add a network-level (firewall) kill switch to their Mac OS OpenVPN client, but it remains under development.
ExpressVPN offers a fully-functional kill switch on all their major apps: Windows, Mac OS, Linux, and even routers. The kill switch is also easy to set up on mobile devices. Here is the Network Lock kill switch feature with the ExpressVPN app for Windows: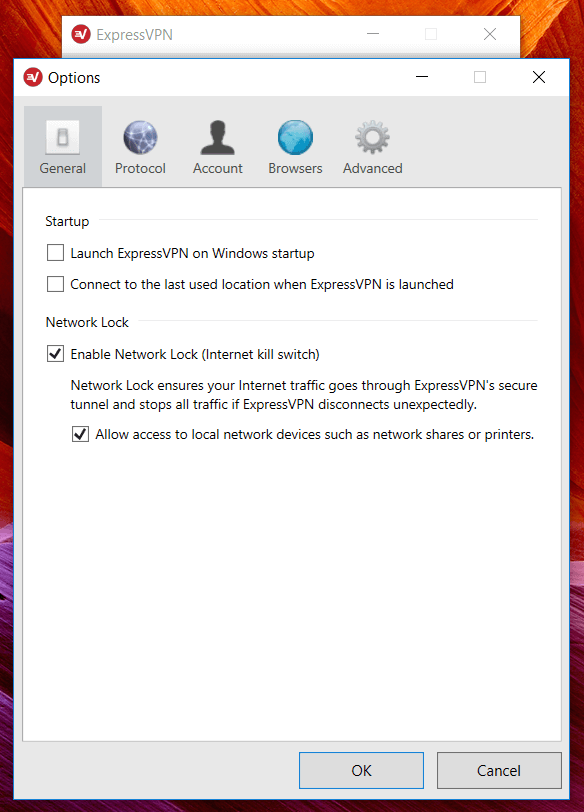 ExpressVPN Network Lock is one of the most robust and effective kill switches I have tested. It even protects users from DNS leaks when switching network interfaces, such as going from ethernet (cable) to WiFi while the VPN is up and running.
While both ExpressVPN and NordVPN did not show any active leaks, the deciding factor is the kill switch, and ExpressVPN comes out on top.
Security winner: ExpressVPN
6. Logging policies: NordVPN vs ExpressVPN
When it comes to logs, NordVPN and ExpressVPN are both good options, as they are both verified no logs VPN providers.
NordVPN logging policy
NordVPN is a no logs VPN provider, as explained on its website:
We do not store connection timestamps, session information, used bandwidth, traffic data, IP addresses, or other data. Nothing to store – nothing to share with anyone.
Verification: NordVPN's logging claims were verified when they voluntarily subjected their servers, VPN infrastructure, and staff to a third-party audit to verify their logging policies. I viewed the audit report and also discussed the case in the no logs VPN guide. The only other VPN that has gone through a no-logs audit is VyprVPN.
ExpressVPN logging policy
ExpressVPN also has a clear no logs policy:
ExpressVPN stores no activity logs and no connection logs from our users. Here's what that means:

No activity logs. ExpressVPN does not see or record which websites you visit. We never log the destination or contents of your traffic, and we run our own private, zero-knowledge DNS on every VPN server for added privacy and anonymity.

No connection logs. ExpressVPN never logs connection timestamps, session duration, your source IP address, or the ExpressVPN IP address that your computer assumes when connected to the VPN.
Verification: ExpressVPN's no logs policies were also tested and verified when authorities in Turkey first attempted to coerce ExpressVPN to hand over data, and then seized their servers when that failed. They were not able to obtain any data as ExpessVPN did not have any logs to hand over.
ExpressVPN apps do have an option to share crash data, which provides ExpressVPN with information about app and network stability, but this can be easily disabled under settings.
Of course, both VPN services enforce connection limits. This requires some kind of temporary authentication mechanism, but does not necessarily require logs.
Logs winner: Tie
7. Jurisdiction: ExpressVPN vs NordVPN
Both ExpressVPN and NordVPN are based in good privacy jurisdictions.
NordVPN in Panama – Panama is not a member of the 5/9/14 Eyes surveillance groups and it is generally considered to be a good offshore jurisdiction, well outside of US and European jurisdiction.
ExpressVPN in British Virgin Islands – The British Virgin Islands are also considered a good jurisdiction. The BVI is not a member of 5/9/14 Eyes surveillance groups and it is a free and independent country, with its own legal and judicial system.
Both Panama and the British Virgin Islands have strong privacy protections in place, making them popular locations for banking and other businesses that demand privacy.
Jurisdiction winner: Tie
8. Torrenting: ExpressVPN vs NordVPN
While both ExpressVPN and NordVPN are decent choices for torrenting, the winner for this category is ExpressVPN.
ExpressVPN is currently the best VPN for torrenting for two main reasons:
It offers excellent speeds throughout the server network (consistently fast). This is very important for large torrent files.
ExpressVPN has very secure apps with advanced leak protection (Network Lock). This is crucial, since media companies are actively monitoring torrent swarms and collecting IP address traffic to prosecute copyright violations. It only takes one leaked packet to expose your IP address, torrent activity, and location.
NordVPN is also a good choice for torrenting, but the issues with the kill switch are a drawback. Finally, the speed variability is also a factor to consider in this category.
Torrenting winner: ExpressVPN
9. Netflix and streaming: ExpressVPN vs NordVPN
As an expat who enjoys streaming American Netflix from overseas, I've tested a lot of VPNs with Netflix. Fortunately, both NordVPN and ExpressVPN do not have problems accessing Netflix.
ExpressVPN works very well with Netflix as explained in the Netflix VPN guide. I can consistently connect to Netflix via ExpressVPN servers, with maximum HD streaming quality. Here I'm testing out Netflix via an ExpressVPN server in Washington, DC: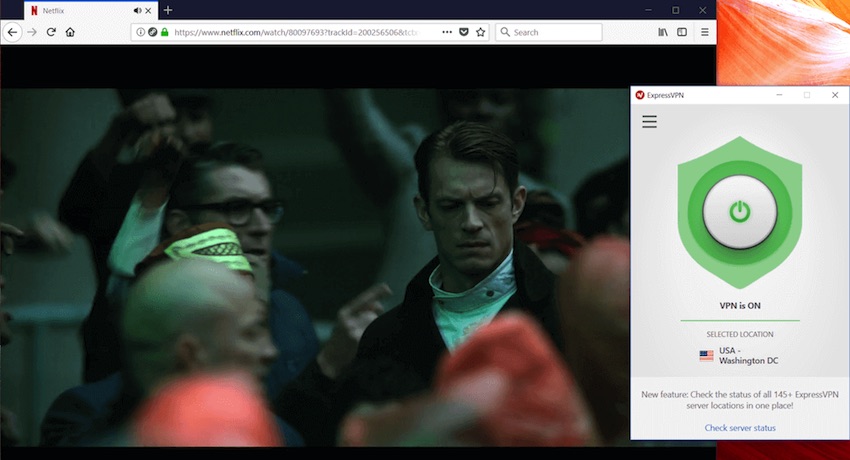 I have not had any issues streaming Netflix with ExpressVPN. Sometimes if a server gets blocked, I'll simply connect to a different server in the US and get through, or ask support. Either way, there's still 24/7 Netflix access.
NordVPN also does well with Netflix, but not quite on par with ExpressVPN. NordVPN seems to get blocked more frequently with Netflix, but like with ExpressVPN there are usually servers available that are still getting through.
When I opened up the NordVPN support chat box, there was a quick link for Netflix issues, which advised people what specific servers they need to be using to get around blocks: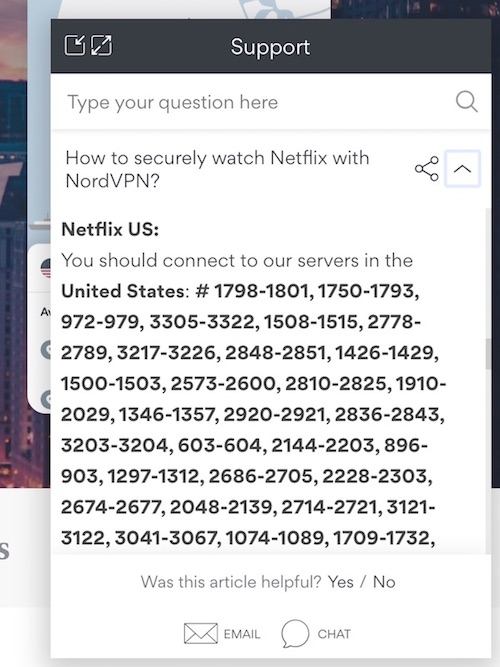 The other issue that may also affect Netflix streamers is speed. Since NordVPN speeds can be somewhat variable, this may result in buffering or playback issues, especially when streaming in HD quality.
In terms of streaming Netflix, or streaming other services, such as Hulu, Amazon Prime, or BBC iPlayer, ExpressVPN is pretty tough to beat. It continues to get through to these streaming services when other VPNs are getting blocked and it also offers excellent speeds for HD streaming quality.
Netflix and streaming winner: ExpressVPN
10. Price: ExpressVPN vs NordVPN
In terms of price, NordVPN is the winner with the cheapest rates.
Here is a brief breakdown of the pricing with both ExpressVPN and NordVPN:
NordVPN Pricing
Monthly Plan: $11.95/mo
1-Year Plan: $6.99/mo
2-Year Plan: $3.99/mo
3-Year Plan: $2.99/mo
ExpressVPN Pricing
Monthly Plan: $12.95/mo
6-Month Plan: $9.99/mo
15-Month Plan: $6.67/mo
3-Year Plan: None
As you can see, NordVPN offers the cheapest price with the three-year discounted rate at $2.99 per month. There is, however, more risk involved in signing up with a VPN for three years, but that is the tradeoff for the lower price.
NordVPN also offers a 7 free day trial, but it does require up-front payment information, and a three-year subscription will be activated at the end of the 7 days (unless canceled). I explain this more in the NordVPN coupon guide.
ExpressVPN does not offer any trial, nor do they offer three-year plans. The discounted 15-month rate does offer some good savings (below the standard price of $8.32/mo without the coupon). Regarding temporary sales, ExpressVPN remains consistent on their pricing, as explained in my ExpressVPN coupon guide.
Price winner: NordVPN
11. Payments options and refunds: ExpressVPN vs NordVPN
Now we'll examine payment options and refunds for both ExpressVPN and NordVPN.
ExpressVPN – ExpressVPN supports a wide range of payment options, including all major credit cards, PayPal, Bitcoin, as well as other payment processors.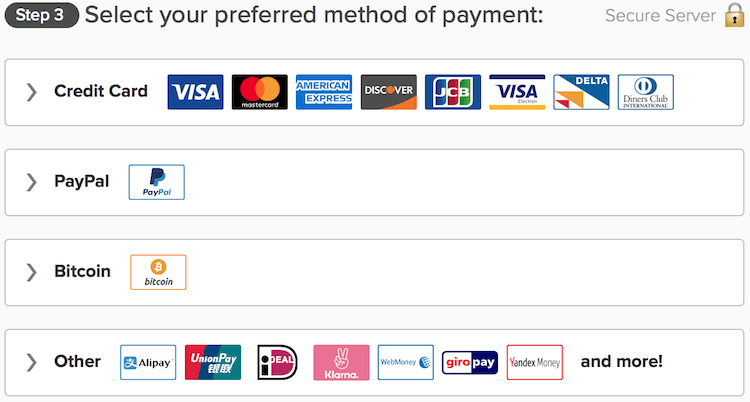 You only need to enter a valid email address and your payment details with ExpressVPN.
NordVPN – NordVPN also supports many payment options, but there is one big difference: no PayPal. For unknown reasons, PayPal has not been an option with NordVPN since January 2019. This is indeed a drawback, since PayPal is very favorable to the buyer if there is any kind of transaction dispute.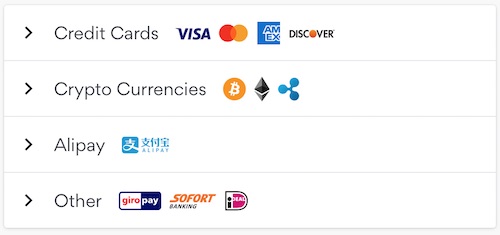 While NordVPN no longer supports PayPal payments, all other major payment options are available, including cryptocurrencies.
Refunds – Both ExpressVPN and NordVPN offer a 30 day money-back guarantee. But there is a slight difference as you can see with the wording below:
ExpressVPN: "Not satisfied? Get your money back, no questions asked."
NordVPN: "We seek your full satisfaction with our services. However, we would like to troubleshoot an issue you experience first."
Therefore if you are requesting a refund through NordVPN, there might be a bit of a hassle since they'll request you troubleshoot your problems before issuing a refund.
Payment options and refunds winner: ExpressVPN
12. Value: ExpressVPN vs NordVPN
Last, but not least, is the question of value: Which VPN offers the best value for your money?
And while price is important, it certainly is not the only consideration when weighed against all other factors. After all, there's nothing more frustrating than a VPN that doesn't work right or is too slow, even if it was cheap.
While NordVPN is definitely affordable and offers some good features, the performance issues (variable speeds) are indeed a drawback.
With ExpressVPN, the monthly price is more expensive, but everything works well and the performance is excellent. Additionally, the applications offer a higher level of leak protection, solid encryption, and stable connections.
Therefore, considering everything, I would say ExpressVPN still offers a better value, even though it is more expensive than NordVPN. But NordVPN is very close behind and tough to beat for a budget VPN service.
Value winner: ExpressVPN
ExpressVPN vs NordVPN conclusion
To summarize our findings in this NordVPN vs ExpressVPN comparison, here are the winners for each category:
Speed – ExpressVPN
Reliability – ExpressVPN
Features – Tie
Connections – NordVPN
Security – ExpressVPN
Logging Policies – Tie
Jurisdiction – Tie
Torrenting – ExpressVPN
Netflix & Streaming – ExpressVPN
Price – NordVPN
Payments & Refunds – ExpressVPN
Value – ExpressVPN
Overall winner: ExpressVPN
While the winner of the NordVPN vs ExpressVPN comparison is ExpressVPN, NordVPN is still a strong contender and a good VPN service.
At the end of the day, either of these two options may be the best VPN for you. It all depends on your needs and uses for the VPN service. Whichever service you decide to go for, be sure to get the best price via the discount coupon links below:
And if you are really still on the fence, keep in mind that both ExpressVPN and NordVPN both offer 30 day money-back guarantees. Therefore you could also purchase both VPNs, test each service for a few weeks, and then cancel the one you don't want for a full refund.
Now, the choice is yours:
And if you want to check out additional options, see the best VPN service report for the latest recommendations.