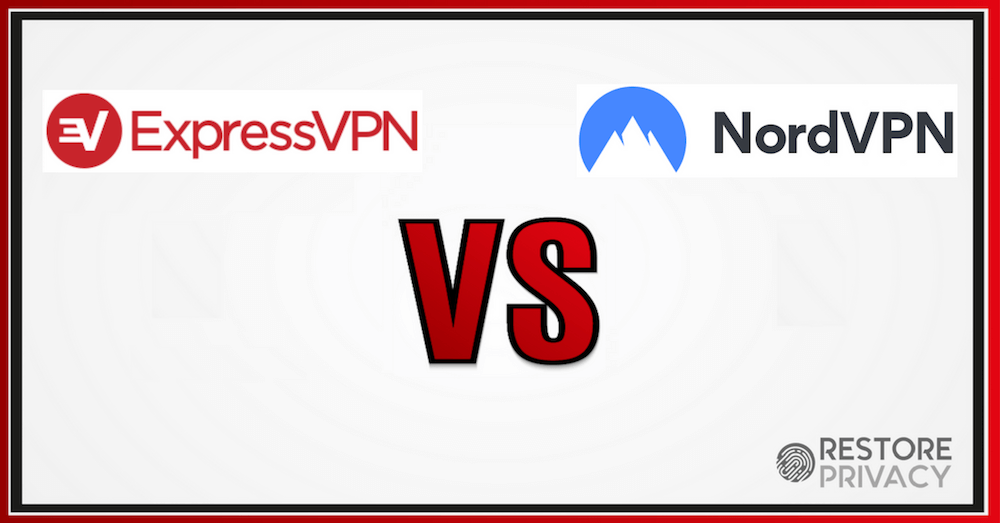 While both NordVPN and ExpressVPN are large, well-regarded names in the VPN industry, extensive testing for this ExpressVPN vs NordVPN comparison revealed a clear winner in terms of speed, reliability, security, and value.
Here is a brief overview when comparing NordVPN and ExpressVPN that highlights the main findings:
NordVPN is cheaper than ExpressVPN, and it comes with some interesting features, but there is a big difference with performance. ExpressVPN outperformed NordVPN with nearly every server location tested – both with raw speed and also reliability. In terms of security, ExpressVPN also has a better kill switch (network lock) and leak protection features than NordVPN, thereby keeping your data secure.
We will dive into the testing results below. But before we do that, it's important to note that both NordVPN and ExpressVPN are currently offering some great discounts, so you will save money on either choice:
Discounts for both ExpressVPN and NordVPN
Regardless of which VPN service you end up choosing, the good news is that you can pick up huge discounts on either service with the coupons below.
ExpressVPN 49% discount – The standard ExpressVPN price is $8.32 per month with the annual rate (without coupon). When you use the coupon link below, it drops the price down to $6.67, which includes 3 months free.
Exclusive ExpressVPN Discount
Sign up for the 12 month plan, and get 3 months FREE
49% Discount on ExpressVPN
(Discount applied automatically; see on the checkout page.)
NordVPN 75% discount – The standard price for NordVPN is $6.99 per month with the annual plan. When you use the discount link below it drops the price all the way down to $2.99 per month with the two-year plan (total cost $95.75).
Exclusive NordVPN Discount
Get 75% off NordVPN (drops the price down to $2.99 per month)
75% Off NordVPN
(Discount is applied automatically.)
As you can see, in terms of percent savings, NordVPN currently offers the biggest discount. However, the key question is value. After examining the features, speed tests, and reliability of each service, we can then see which VPN offers the best value.
ExpressVPN overview
Here is an overview from the latest update to the ExpressVPN review:

Jurisdiction
British Virgin Islands

Logs
No logs

Price
$6.67
+ Pros
User-friendly and very secure apps
Exceptional speeds throughout the server network
30 day money-back guarantee
Split tunneling feature (for Mac OS, Windows, and routers)
Works with Netflix and other streaming services
24/7 live chat support
– Cons
Slightly more expensive (but currently offering a 49% discount)
ExpressVPN performed very well in the latest round of testing for the review. It is one of the fastest VPNs I've tested and offers the high-security apps with maximum encryption strength. ExpressVPN is also a solid VPN for Netflix, as well as for torrenting and P2P downloads. It is currently ranked #1 in the best VPN service report.
NordVPN overview
Here is an overview from the latest update to the NordVPN review:

Jurisdiction
Panama

Logs
No logs

Price
$2.99
(with discount)
+ Pros
User-friendly apps
30 day money-back guarantee
Double-hop VPN servers
24/7 live chat support
No logs
Works with Netflix
– Cons
Variable speeds with some servers
NordVPN performed well in the review and the speed tests were overall not too bad, although there was some variability with different servers tested. It also offers some great features, such as double-hop VPN servers, Tor-over-VPN servers, and a CyberSec ad-blocking feature. Overall NordVPN is a good value, especially with the 75% discounted three-year deal, although ExpressVPN offers better performance across the board.
Speed Test: NordVPN vs ExpressVPN
There is one clear winner in the performance category, and that is ExpressVPN.
The latest tests also line up with my own observations, since I have been personally using both services since mid-2015. ExpressVPN has always been a higher priced VPN service that prides itself on speed and performance. While NordVPN has improved its speed recently, ExpressVPN still outperforms in nearly every location.
When running all tests, my baseline (non-VPN) connection speed was about 100 Mbps (testing from Germany).
ExpressVPN speed tests
Here is one nearby server in Italy with a download speed of 94 Mbps. As you can see, ExpressVPN essentially maxed out my baseline connection speed.

Here is another speed test with a server in Switzerland – again, similar results.
Download speed: 92 Mbps

As you can verify in the newly updated ExpressVPN review, all of my speed tests with nearby servers in Europe were 90 to 95 Mbps – nearly maxing out my baseline internet speed.
I also tested ExpressVPN servers in North America. The results were excellent, even considering the distance between me and the server locations.
Here is a test with a server in Washington, DC, where I was able to get over 78 Mbps:

Testing other servers in the US and Canada, I was able to consistently get between 70 and 80 Mbps.
To sum all these tests up, ExpressVPN is consistently fast with all the servers I tested.
Now moving on to NordVPN.
NordVPN speed tests
While NordVPN has improved performance recently by adding more servers, some servers are still a bit slow. For some people, this may require hopping around to different servers until you find one that gives you the speeds you need.
In other words, NordVPN is not consistently fast – unlike the speed test results I found with ExpressVPN.
Here is one of the better speed tests I had with NordVPN using a nearby server in Denmark at 94 Mbps:

Servers in North America were rather slow with my testing.
Running a few tests in the United States and Canada found speeds to be quite variable.
In some tests I was able to get around 60 Mbps, but then in others, it would suddenly drop to under 4 Mbps:

Servers in Canada were also hit or miss with the latest round of tests.
Here I am testing a NordVPN server in Canada and getting about 14 Mbps – not horrible, but certainly very good in comparison to ExpressVPN which provided 60 to 80 Mbps with North American servers: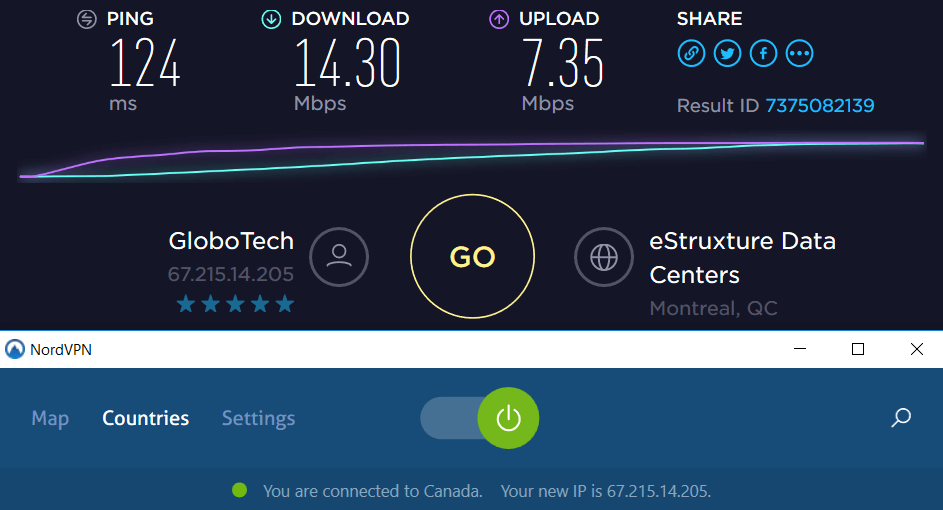 It's important to note that there are many different variables that affect speed.
While ExpressVPN is consistently fast, NordVPN seems to offer good performance on some occasions and mediocre performance on others – it really depends.
With the latest test results, ExpressVPN remains the clear winner in the performance category.
Winner for speed – ExpressVPN
Reliability: NordVPN vs ExpressVPN
There is another clear winner when it comes to reliability, and that is again ExpressVPN.
First we will take a look at NordVPN.
NordVPN reliability
On some occasions when testing out NordVPN I have experience connection problems and errors. While this was not a common issue, it did happen with some servers and regions.
Here is an example of this with the NordVPN Ireland server. Notice the error message that I kept getting with some servers: "An error has occurred. Please try again."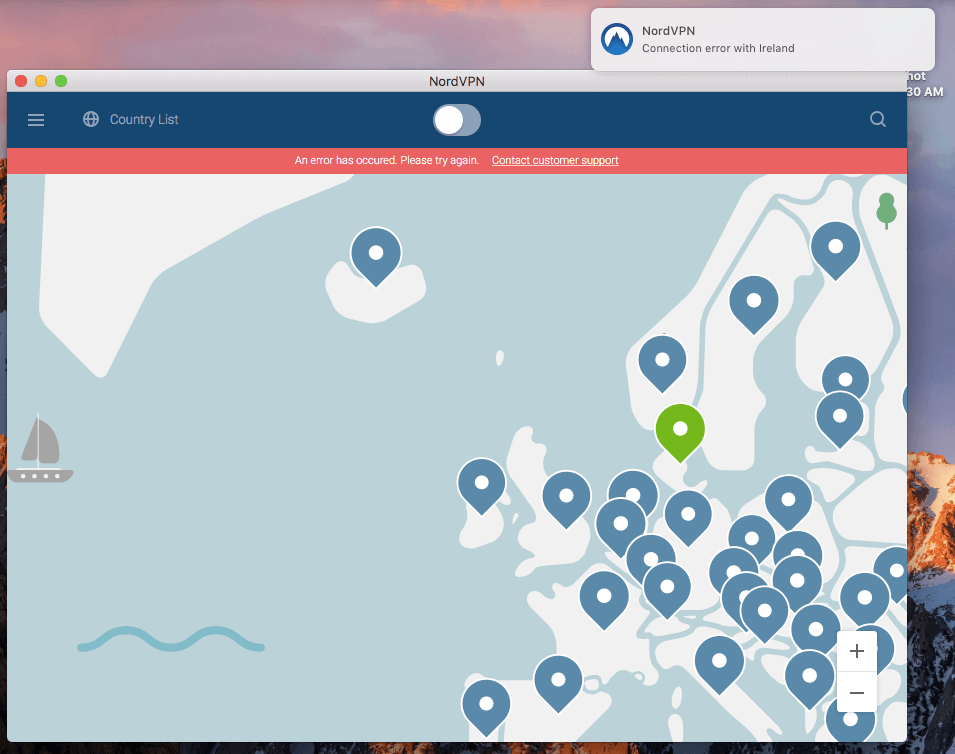 NordVPN has greatly improved their VPN apps over the past year, although I did still find some bugs. I have also gotten similar feedback from some NordVPN users. However, other users report everything works perfectly.
I do not have an explanation for the connection issues with NordVPN – it may simply be a rare bug that affects only a small number users.
ExpressVPN reliability
ExpressVPN does very well in terms of reliability – better than NordVPN.
I have always found ExpressVPN's server network and applications to work very well, without any connection errors, bugs, or failures. In short, everything just works.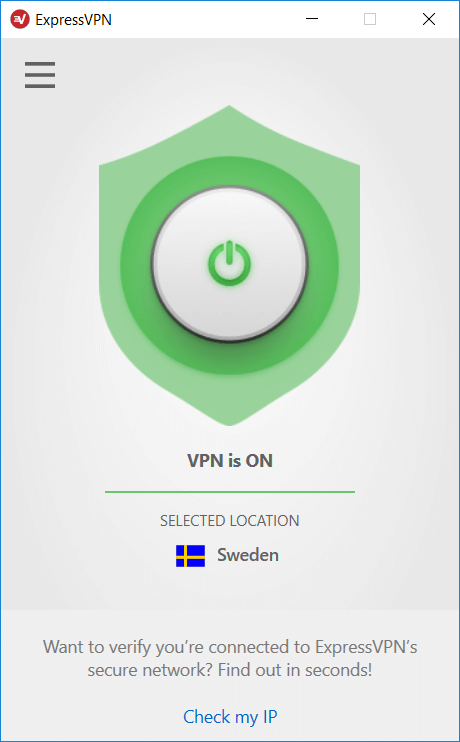 Extensive testing with ExpressVPN's Windows, Mac OS, and Android apps did not identify any problems:
Connections are stable and fast
Features work correctly
The apps do not crash or freeze up
The network lock successfully blocks all non-VPN traffic to prevent any leaks
ExpressVPN remains one of the top performers in terms of speed and reliability.
Reliability Winner: ExpressVPN
Features: NordVPN vs ExpressVPN
Both ExpressVPN and NordVPN offer some decent features that will be useful for many users.
ExpressVPN features
One unique feature with ExpressVPN is that it offers a split-tunneling option. This lets you route certain apps through the encrypted VPN, while routing other apps over your regular (unencrypted) internet connection. Very few VPNs offer this feature: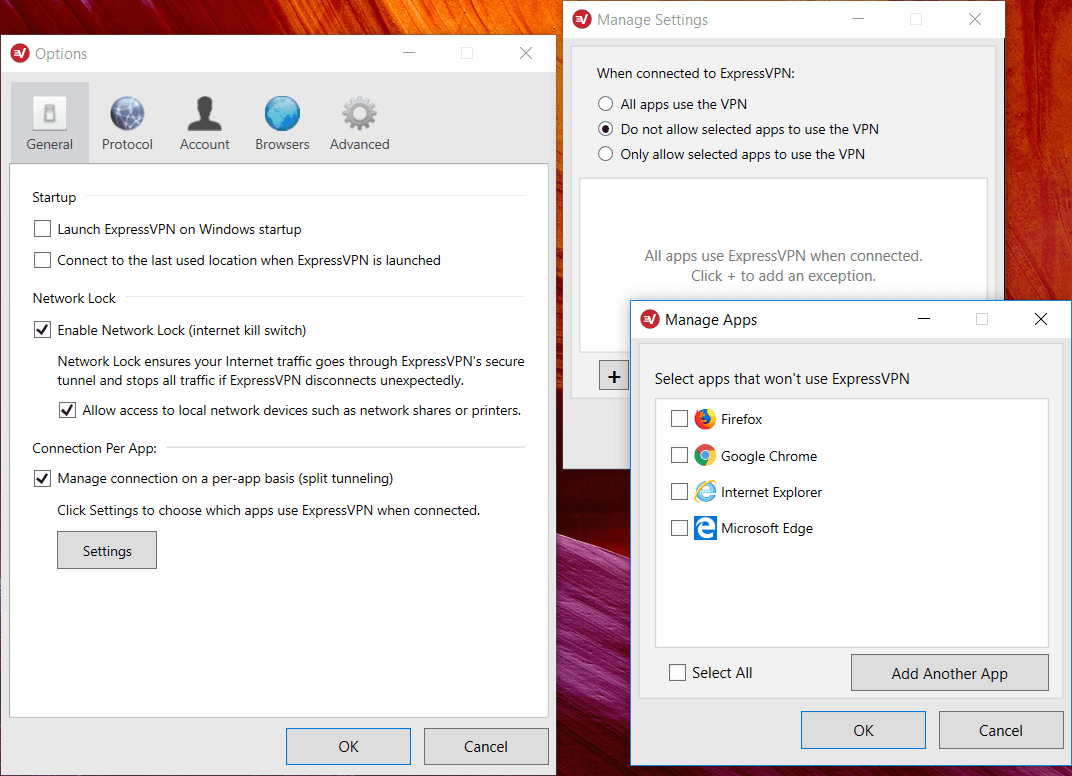 Furthermore, ExpressVPN also offers some other basic features:
Secure, self-hosted DNS (protects you against DNS leaks)
Obfuscation features (gets around network restrictions and VPN blocking)
Continuous access to streaming services
While it is not necessarily a feature, ExpressVPN also works very well with different streaming services, such as Netflix and BBC iPlayer. This is further explained in the ExpressVPN Netflix guide. Due to ExpressVPN's excellent performance and high-quality apps for all devices, it currently holds the title as the best VPN for Kodi and also the best VPN for unblocking Netflix.
NordVPN features
NordVPN offers more features than ExpressVPN, but some of these features did not work too well in testing.
As an example, I found the "Onion over VPN" feature to be unusably slow. However, I did find the double-VPN servers to perform reasonably well, but speeds weren't great.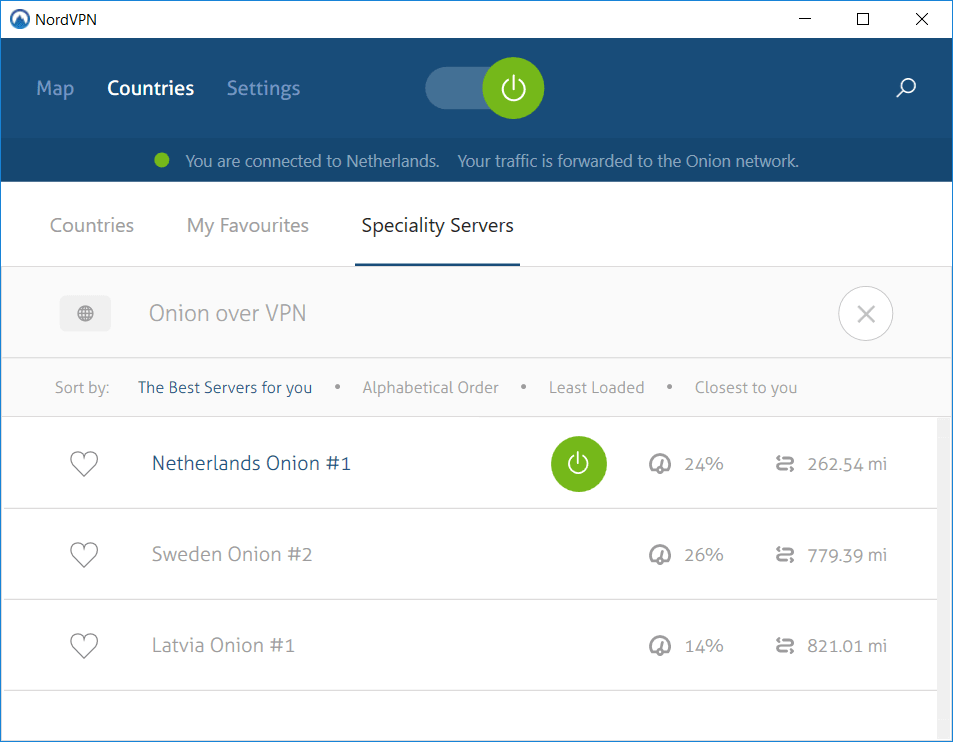 Some of the other features offered by NordVPN include:
Double-hop VPN servers
Tor-over-VPN servers (but I found this to be too slow to work well – under 1 Mbps)
Ad-blocking (CyberSec feature)
While ad blocking is potentially a great feature, in my VPN ad blocker comparison report I found many advertising and malware domains were not getting blocked by NordVPN. If you are looking for a good VPN ad blocker, there are better options available (or you can simply use ad-blocker extensions in your browser).
Like ExpressVPN, NordVN also continues to work with Netflix and other streaming services. I tested this out in the NordVPN Netflix report.
NordVPN offers more features, although they did not all work well in testing.
Features winner: Tie
Security: ExpressVPN vs NordVPN
Both ExpressVPN and NordVPN are good options when it comes to securing your data and I did not find any leaks with either of these services.
However, there is one key difference between the two in terms of security: the kill switch.
With NordVPN, they offer an app kill switch and a firewall kill switch with the OpenVPN Windows app and the IKEv2 Mac OS app: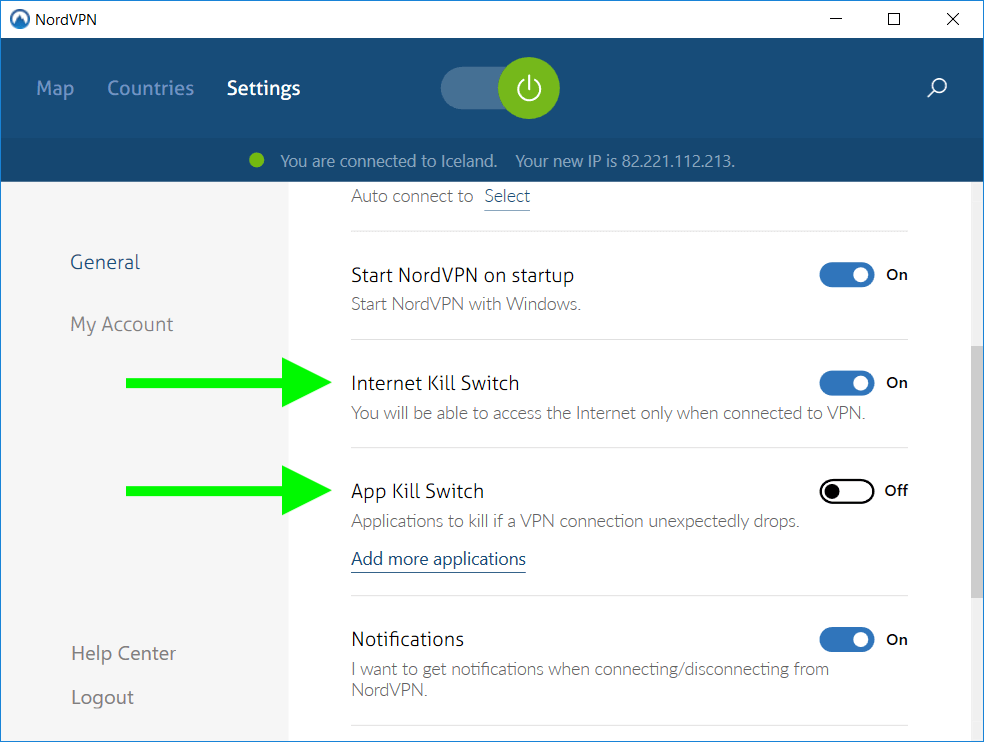 Above is the Windows app (tested on Windows 10).
The problem, however, is that with NordVPN's OpenVPN app for Mac OS, they only have an "App Kill Switch". This means that your traffic is not getting blocked via the firewall if the connection drops, which could expose your IP address to third parties.
NordVPN informed me they are working to add a network (firewall) kill switch in their Mac OS OpenVPN client, but it remains under development.
ExpressVPN offers a fully-functional kill switch on all their major apps: Windows, Mac OS, Linux, and even routers. The kill switch is also easy to setup on mobile devices. Here is the Network Lock kill switch feature with the ExpressVPN app for Windows: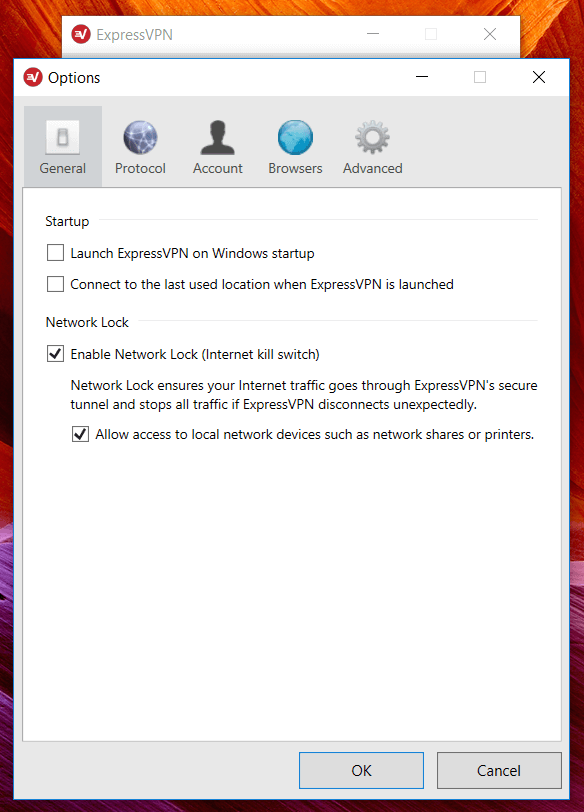 ExpressVPN Network Lock is one of the most robust and effective kill switches I have tested. It even protects users from DNS leaks when switching network interfaces, such as going from ethernet (cable) to WiFi while the VPN is up and running.
Due to the excellent leak protection features and great speeds, ExpressVPN is currently featured as the best VPN for torrenting. You will be able to torrent for hours and not have to worry about a single packet leaking from your VPN (just be sure Network Lock is active).
Security winner: ExpressVPN
Value: ExpressVPN vs NordVPN
There's not a clear winner in the value category – both ExpressVPN and NordVPN offer a decent value.
ExpressVPN is more expensive, but it does very well in the performance category. Furthermore, ExpressVPN has lowered their prices for Restore Privacy readers, dropping the monthly rate down to $6.67 when you use this ExpressVPN 49% discount link >>
ExpressVPN price (with discount):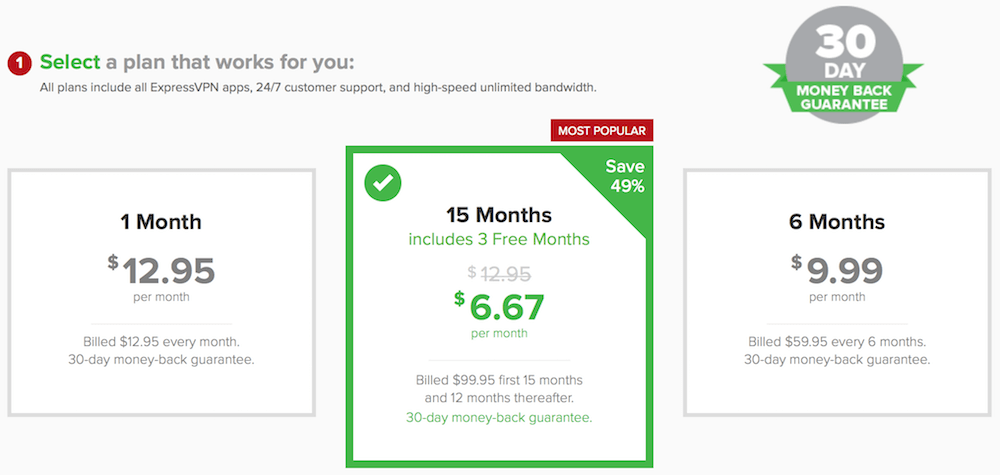 ExpressVPN refund policy – ExpressVPN also offers a 30 day refund policy. This is a no-questions-asked guarantee, simply cancel within the 30 days and you'll get all your money back (no hidden charges or exceptions).
You can get all the details on the ExpressVPN website here.
NordVPN price
NordVPN is also offering a nice discount on a three-year deal, which brings the monthly rate down to $2.99. There is obviously some risks you take with a longer-term subscription, but the price is certainly cheaper than ExpressVPN.
NordVPN exclusive discount link for 75% off >>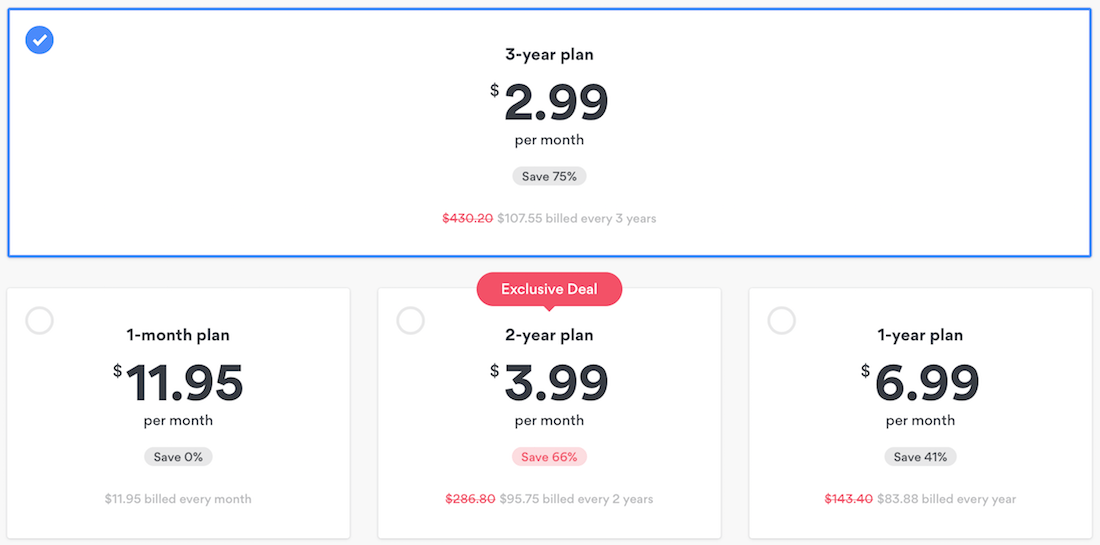 NordVPN refund policy – Just like with ExpressVPN, NordVPN also gives you a 30 day money-back guarantee.
However, I have gotten some feedback that NordVPN requires users to first go through "troubleshooting" before granting a refund. Some have complained about a "hassle" – although I did not experience this when requesting a refund after testing out the service. ExpressVPN's refund is "no questions asked" with immediate payment return.
Value consideration – The key consideration is always what you get for the money you pay. After all, there's nothing more frustrating than a VPN that doesn't work right.
While NordVPN is definitely cheap and offers some good features, the performance issues are somewhat of a drawback (variable speeds).
With ExpressVPN, the monthly price is more expensive, but everything works well and the performance is excellent. The applications also work flawlessly without any bugs or issues.
Therefore, considering everything, I would say ExpressVPN still offers a better value, even though it is more expensive.
Value winner: ExpressVPN
ExpressVPN vs NordVPN conclusion
To summarize our findings in this NordVPN vs ExpressVPN comparison, here are the winners for each category:
Speed: ExpressVPN
Reliability: ExpressVPN
Features: Tie
Security: ExpressVPN
Value: ExpressVPN
Overall winner: ExpressVPN
While the winner of the NordVPN vs ExpressVPN comparison is ExpressVPN, NordVPN is still a strong contender and a great service.
At the end of the day, either of these two options may be the best VPN for you. It all depends on your needs and uses for the VPN service. Whichever service you decide to go for, be sure to get the best price via the discount coupons below:
Coupon to get 75% off NordVPN >>
Coupon to get 49% off ExpressVPN >>
And if you are really still on the fence, keep in mind that both ExpressVPN and NordVPN both offer 30 day money-back guarantees. Therefore you could also purchase both VPNs, test each service for a few weeks, and then cancel the one you don't want for a full refund.
Now, the choice is yours:
And if you want to check out additional options, see the best VPN service report for the latest recommendations.