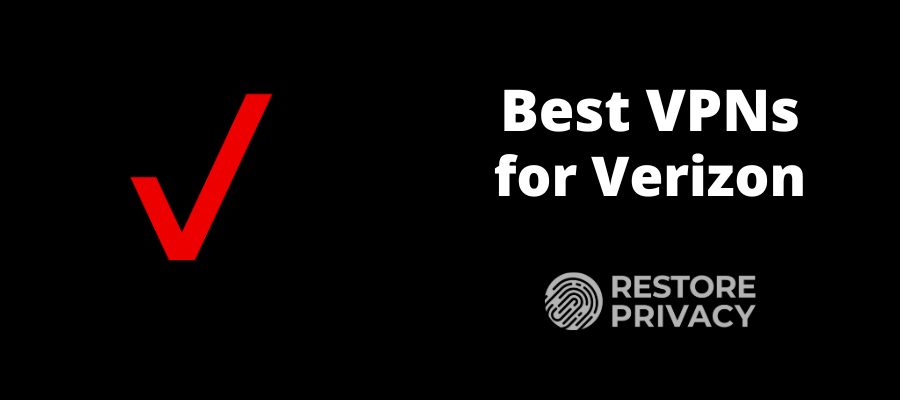 Verizon throttling is a common issue that many users face, even with its "Verizon Fios" option. Although the ISP promises a fast internet connection, it is known to throttle users specifically under "data caps," as it did with the Santa Clara Fire Department during the California wildfires.
But apart from throttling, Verizon has also faced allegations of paid prioritization and is known to monitor, collect, and sell users' information. Amidst this, users are left with restoring to the only known solution available, which is using a premium VPN (virtual private network).
A reliable Verizon VPN offers fast speeds and encrypts your connection, preventing ISP (internet service provider) surveillance and monitoring. However, not all VPNs work well with Verizon, especially since the ISP tends to block VPNs. Therefore, we have compiled this guide with information on some of the best VPNs for Verizon that help ensure a secure and reliable connection.
Quick Overview: Best VPNs for Verizon
Since ISP throttling and monitoring are common issues, several VPNs promise a reliable and speedy online connection. However, not all VPNs are true to their promises, which is why we thoroughly test VPNs to give you the best advice. Here is our list of the VPNs we found working exceptionally well with Verizon Fios:
Having glimpsed at the top VPNs for Verizon, let's further explore each of them in detail, along with their unique features in the article.
Top VPNs for Verizon in 2023
After running tests on several VPNs, we have compiled this list of some of the best VPNs available for Verizon. These VPNs provide robust security and super fast speeds and ensure a reliable online experience.
NordVPN: Best overall VPN for Verizon users
| | |
| --- | --- |
| VPN | NordVPN |
| Based in | Panama |
| Logs | No logs (audited) |
| Price | $2.99/mo. |
| Support | 24/7 live chat |
| Refund | 30 days |
| Website | NordVPN.com |
NordVPN is our top recommendation for the best VPN for Verizon Fios users. The VPN boasts strong security features. This includes robust data encryption, no IP address or DNS leaks, and a VPN kill switch. It also has a secure jurisdiction of Panama and a strict no-logs policy backed by numerous third-party audits. Additionally, NordVPN also offers secure VPN protocols such as OpenVPN and WireGuard. These features work together to keep your online activities private and safe.
Below is the NordVPN we tested out on a Windows laptop.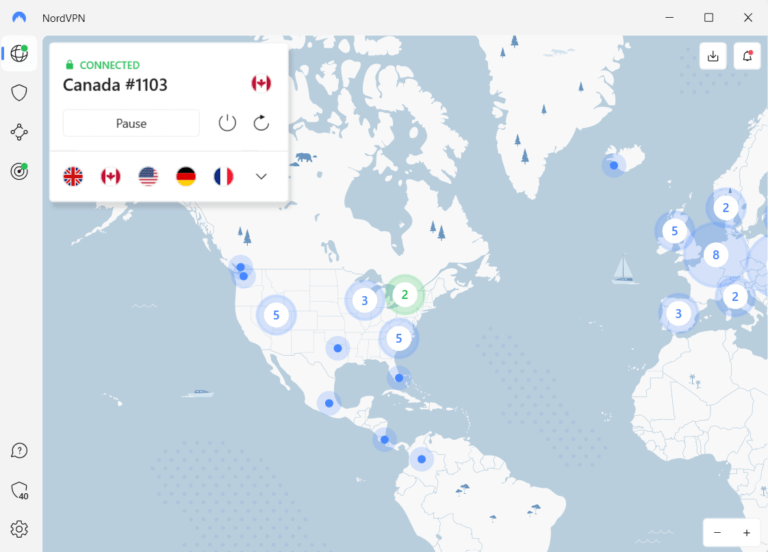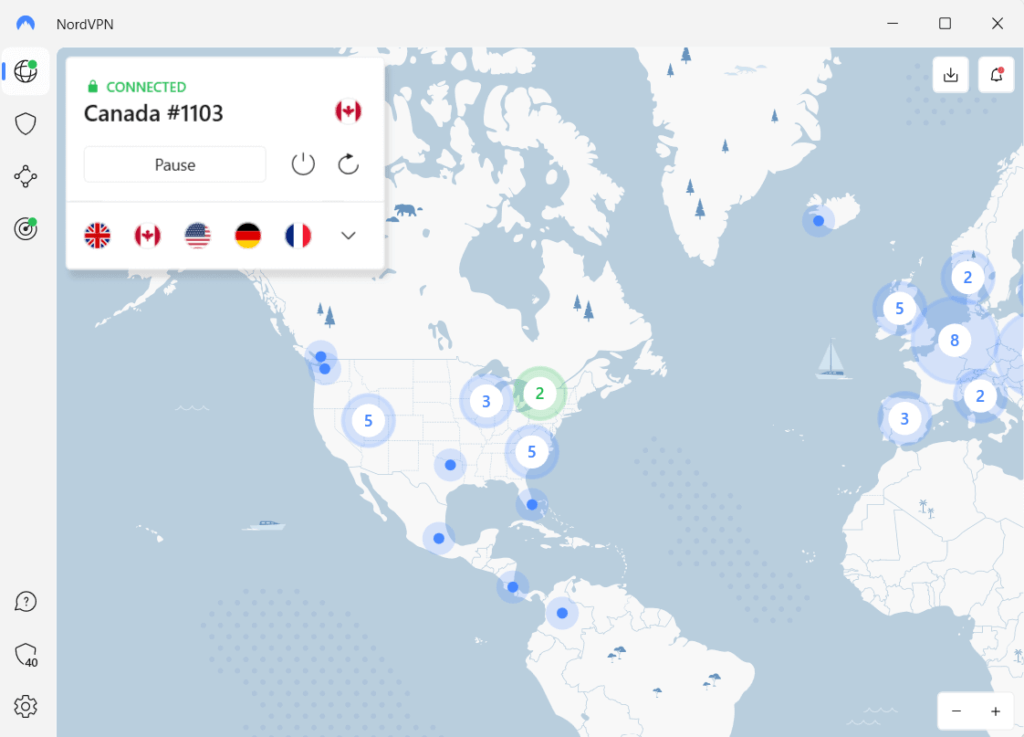 In addition to security, NordVPN also offers superior speed. Its proprietary NordLynx protocol is designed to provide high speeds, reliability, as well as upgraded encryption. This helps the VPN provide a smooth and uninterrupted browsing, streaming, and downloading experience. Our NordVPN speed tests confirmed NordVPN can exceed speeds of 750 Mbps with US servers, as you can see in the screenshot below.

The VPN also offers a broad server network with several servers in the US, which helps ensure a fast and reliable connection and helps bypass throttling issues. This also makes it a great VPN for Netflix and streaming in general. NordVPN also has a dedicated app if you need a VPN for Firestick.
Some other features that make NordVPN reliable for Verizon users are:
Obfuscated servers that even help bypass VPN blocks
Built-in ad blocker and malware blocker (Threat Protection VPN ad blocker feature)
Multi-hop VPN feature for added security
Dedicated P2P servers (making this a great VPN for torrenting)
Extra privacy add-ons, like a password manager and also data breach monitoring feature
> (opens in a new tab)">See all NordVPN features here >>
NordVPN also offers a 30-day money-back guarantee and 24/7 live chat and email support. You can easily subscribe to the VPN and check its monthly performance before committing to it.
+ Pros
User-friendly and reliable apps
Double-VPN and Tor-over-VPN servers
Passed numerous 3rd-party audits
Strong encryption standards with full support for WireGuard
Works with Netflix and many streaming sites
Threat Protection feature to block ads, trackers, and malware
Professional 24/7 live chat support
Consistently fast speeds
Dedicated RAM-servers with 10 Gbps bandwidth channels
– Cons
Big discounts only available with 2-year plans
NordVPN's Cyber Deal is live:

Get 69% Off NordVPN with the coupon below plus 3 months FREE, no activation code needed:
(Coupon is applied automatically; 30 day money-back guarantee.)
Check out our NordVPN review for more info and test results.
---
Surfshark: Budget-friendly and feature-rich Verizon VPN
| | |
| --- | --- |
| VPN | Surfshark |
| Based in | The Netherlands |
| Logs | No logs (audited) |
| Price | $1.99/mo. |
| Support | 24/7 live chat |
| Refund | 30 days |
| Website | Surfshark.com |
If you're on a budget but don't want to compromise on quality, Surfshark VPN is the perfect choice. Offering an extensive range of privacy features, Surfshark offers Verizon users a secure and fast internet connection. This VPN provides strong privacy and security features such as robust AES-256-GCM encryption, a strict no-logs policy backed by third-party audits, and secure VPN protocols like WireGuard. These features hide your data traffic and help bypass Verizon's throttling issues.
Apart from that, Surfshark VPN is also known to provide very fast speeds. The VPN has specially engineered servers that help remove traffic congestion, ensuring fast speeds. It also has a vast server network of over 3200 servers in 100 countries, which easily helps bypass Verizon throttling issues. The VPN also has a feature called "Camouflage Mode" to bypass any VPN blocks by Verizon.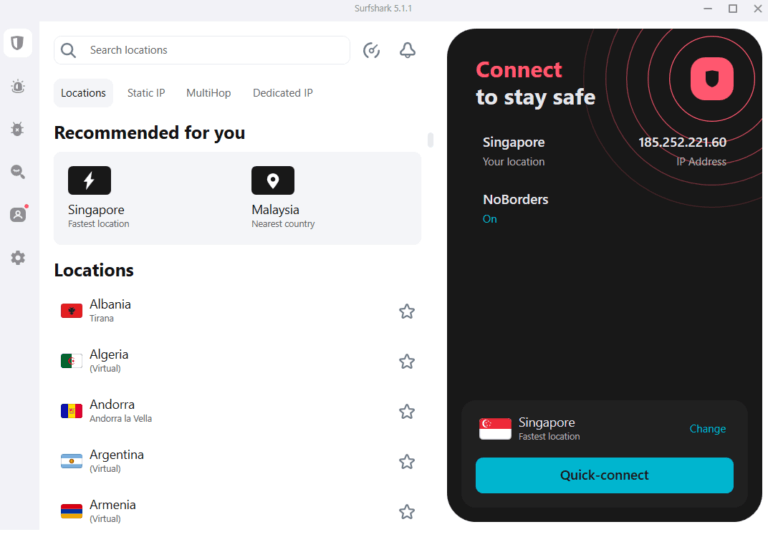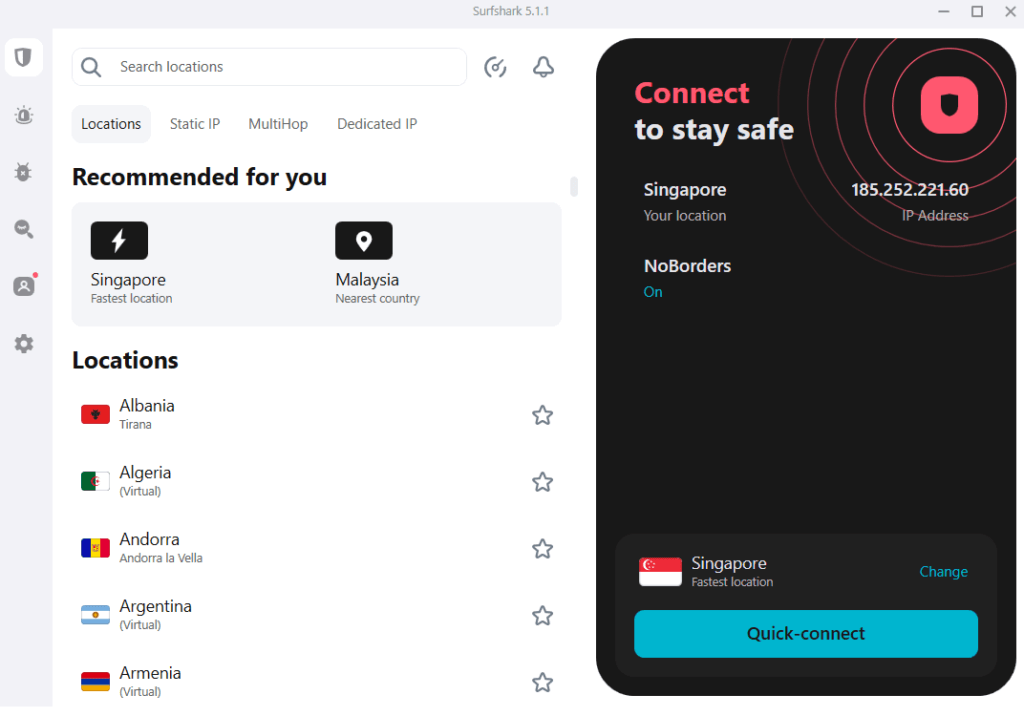 Surfshark stands out because of its Nexus feature, a Software Defined Networking technology that connects all VPN servers together. Therefore, the user traffic gets routed through the whole network rather than a single tunnel, which obscures and guides traffic and enhances overall speed and security. Surfshark also is one of the best VPNs for streaming.
Some other features that make Surfshark a reliable VPN are:
> (opens in a new tab)">See all Surfshark VPN features here >>
Surfshark's user-friendly apps are designed with simplicity and ease of use. They're available for all major platforms, including Windows, Mac, Android, iOS, and Linux. With just a few clicks, you can connect to a VPN server and browse privately and securely. The VPN is available for $3.06/mo with a 30-day money-back guarantee.
+ Pros
Unlimited connections
User-friendly apps for all devices and operating systems
CleanWeb feature to block ads, trackers, and malware
Works great with Netflix and many other streaming services
24/7 live chat support
Strong encryption and security features (audited)
– Cons
Limited support for VPN routers
Above average monthly prices
Check out our Surfshark VPN review here.
---
ExpressVPN: High-speed and secure VPN for Verizon
| | |
| --- | --- |
| VPN | ExpressVPN |
| Based in | British Virgin Islands |
| Logs | No logs (audited) |
| Price | $6.67/mo. |
| Support | 24/7 live chat |
| Refund | 30 days |
| Website | ExpressVPN.com |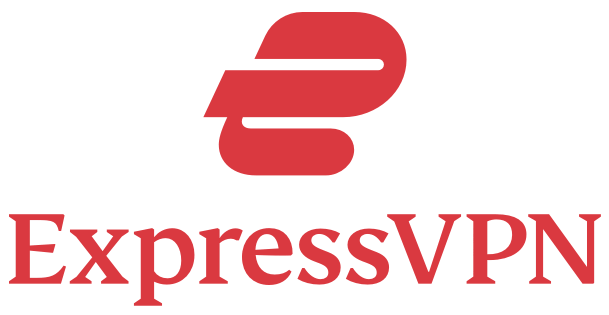 Express VPN is a reliable VPN for anyone who wants to bypass Verizon throttling and monitoring issues. The VPN provides robust security and privacy to its users through military-grade AES-256 encryption and secure VPN protocols like the self-developed Lightway protocol. While Lightway is fast, it doesn't quite compare to NordVPN's NordLynx protocol, as we discovered in our NordVPN vs ExpressVPN tests.
ExpressVPN also values user privacy and has a strict no-logs policy and a secure jurisdiction within the British Virgin Islands. It also regularly audits its service to maintain the trust of its users and ensure strong security. These features help bypass throttling issues and ensure a higher level of protection against online monitoring.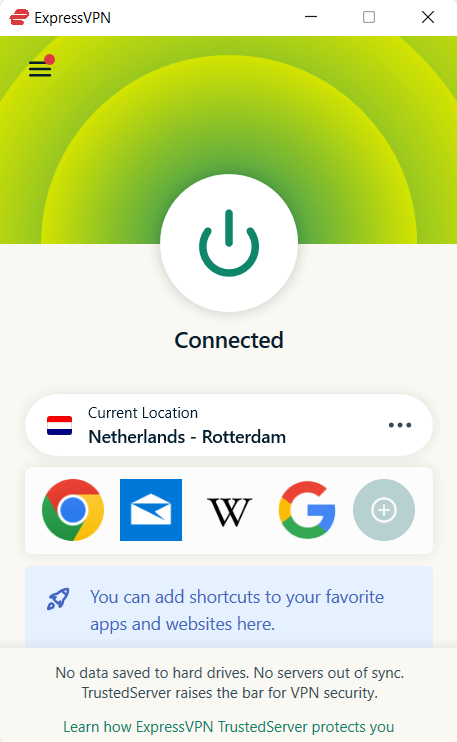 Apart from that, ExpressVPN also provides a speedy and reliable connection to its users. Its Lightway protocol is designed to offer high speeds and has a more extensive server network that helps evade bypassing and network congestion issues. ExpressVPN also works well with all streaming platforms such as Netflix and Hulu. It is also a good VPN for BBC iPlayer and also has obfuscated servers to help bypass any VPN blocks.
Some of the key features that make ExpressVPN stand out are:
ExpressVPN is compatible with all major devices and operating systems, including Windows, iPhone, iPad, Mac and Linux, routers, game consoles, and smart TVs. It also offers browser extensions for all popular browsers, making it a solid VPN for Chrome and Firefox.
+ Pros
User-friendly and secure apps
Split tunneling feature (for macOS, Windows, and routers)
Works with Netflix and most streaming services
24/7 live chat support
Passed independent third-party audits for security and no-logs
Very large server network
– Cons
Above average prices
Fewer features than other leading VPNs
Check out our ExpressVPN review for detailed test results.
---
Proton VPN for Verizon Fios
| | |
| --- | --- |
| VPN | Proton VPN |
| Based in | Switzerland |
| Logs | No logs |
| Price | $4.99/mo. |
| Support | Email |
| Refund | 30 days |
| Website | ProtonVPN.com |
Proton VPN is another reliable VPN for Verizon Fios users who value online privacy and security. The VPN has a strong reputation for its robust privacy features that easily help bypass Verizon throttling issues, such as strong encryption, and secure core servers, which ensure your security by routing your data traffic through several VPN servers.
The VPN also obfuscates and stabilizes the data traffic and helps prevent online monitoring and throttling. ProtonVPN also has a secure jurisdiction in Switzerland, which has no local data retention laws and follows a strict no-logs policy backed by third-party audits.
Apart from that, Proton VPN also offers super-fast speeds for its users. The VPN has a VPN accelerator feature that can achieve speeds up to 400% faster than any other VPN server. This feature speeds up to 10Gbps. Proton VPN, within its app, also highlights the fastest servers in green to help its users make an informed decision. Moreover, ProtonVPN is compatible while streaming, downloading, and uploading content.
The VPN ensures a fast and seamless experience without lags or buffering issues. Proton VPN offers the following security features:
DNS Leak protection
Perfect forward secrecy
Built-in adblocker called NetShield
Secure Core architecture that safeguards against network-based attacks
> (opens in a new tab)">See all Proton VPN features here >>
While Proton VPN does not have as many servers as we find with NordVPN and CyberGhost, it still boasts decent coverage with servers in 69 countries.
These features ensure that your online activities remain private and secure. Proton VPN also offers a limited free version, making it a good choice if you want a free trial VPN to test out the service. While both subscriptions ensure utmost security and privacy, the premium subscription provides relatively more features, as you can see here.
+ Proton VPN Pros
Useful privacy features (no leaks)
Secure server network (secure core)
Good privacy jurisdiction and data protection policies
WireGuard VPN support (but not on Linux)
Transparent company with a good track record
– Proton VPN Cons
Average speeds
Above-average prices
Limited support for streaming
See the Proton VPN review for more info.
---
Atlas VPN: Reliable and Affordable VPN for Verizon
| | |
| --- | --- |
| VPN | Atlas VPN |
| Based in | United States |
| Logs | No logs |
| Price | $1.64/mo. |
| Support | Live chat, email |
| Refund | 30 days |
| Website | AtlasVPN.com |
Atlas VPN is a reliable and affordable VPN service for Verizon Fios users that provides fast speeds and good security. The VPN uses secure AES 256 and ChaCha20 VPN encryption, ensuring the security of your data and internet traffic. It also ensures secure data transfers through robust VPN encryption protocols like IPSec/IKEv2 and WireGuard.
Although Atlas VPN has jurisdiction within the US, it promises a strict no-logs policy. It has even audited its Windows and iOS apps to show its commitment to privacy and security. These features help Verizon Fios users bypass throttling, censorship, as well as data privacy issues.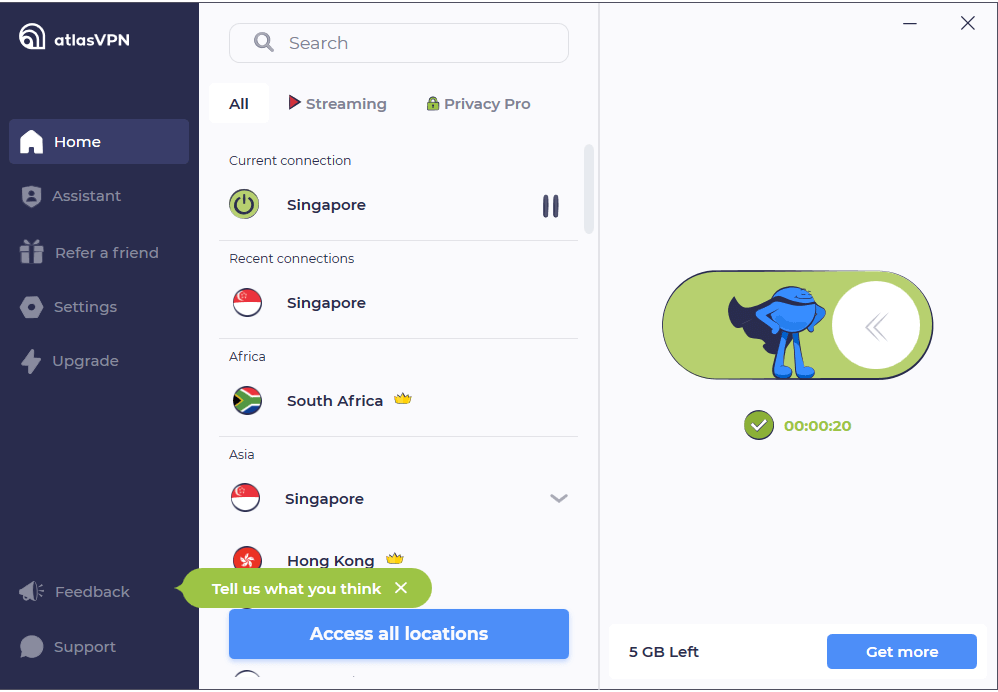 Apart from that, Atlas VPN also promises a fast and reliable online connection. The VPN uses the WireGuard protocol. In our VPN speed tests with Atlas VPN, we were able to hit speeds of up to 232 Mbps. While this was not quite as fast as other VPN leaders, as noted in the NordVPN vs Atlas VPN comparison, it is more than enough for streaming and torrenting with a VPN.
Atlas VPN also works reliably with streaming platforms like Netflix, BBCiPlayer, Hulu, Disney Plus, etc, helping users bypass all Verizon throttling issues. Some distinct features of AtlasVPN are:
A built-in ad blocker and malware blocker
Working kill switch protection
Unlimited simultaneous connections
Atlas VPN is a premium VPN service, meaning that Verizon Fios users can be assured it will work well for the intended use cases. It works well with all major devices and operating systems, including Windows, Linux, iOS, and Android.
+ Pros
User-friendly VPN apps
Strong encryption and security (with WireGuard)
Extra privacy features (Ad Blocker, MultiHop, and SafeSwap)
Affordable prices (with a free plan)
Works well for streaming
Unlimited simultaneous connections
– Cons
Based in the US
No support for routers
Smaller server network
Why you need a VPN for Verizon Throttling?
Check out our Atlas VPN review here.
---
Why you need a VPN for Verizon
VPNs are online privacy and security tools. They help ensure privacy and security by encrypting your data and hiding your IP address. The security provided by the VPN also helps users bypass ISP throttling and monitoring issues. Since Verizon throttling and monitoring is a prevalent problem for its users, a VPN is the best method to bypass the issue even if they have a Verizon Fios connection. But there are several more reasons why you need to use a VPN for Verizon, such as:
It helps speed up the internet by bypassing throttling
The encryption ensures privacy and security from online surveillance.
A VPN helps bypass online restrictions while traveling (see VPNs for travel).
VPNs allow in streaming by helping users avoid geo-restrictions.
It ensures secure online banking and shopping
VPNs provide fast speeds and low ping while gaming (see VPNs for gaming).
A VPN helps bypass ISP data caps
Using a VPN with Verizon translates to numerous benefits. With VPN connections, you can enjoy a secure, private, and unrestricted online experience on your Verizon connection.
Tips for Choosing the best VPN for Verizon
The best VPN for Verizon is the one that offers fast speeds, reliable connection, and high-end security. The VPN must offer robust encryption ciphers to ensure data security, and it also must use a secure VPN protocol such as OpenVPN to ensure secure data transfer. Apart from that, it should also have a strict no-logs policy. Additionally, since Verizon blocks VPNs, the VPN must also be well-equipped to cater to that issue. While choosing the best VPN for Verizon Fios, we carefully go through the following factors:
Log Policy: a VPN logging data is useless as it might sell it too, like ISPs. We, therefore, choose a VPN with a strict no-logs policy and preferably an independent log audit report.
Encryption: the VPN must offer robust encryption ciphers, as it is crucial for data privacy, such as AES, Blowfish, or Camille.
VPN protocols: since VON protocols play a crucial role in secure file transfers, the VPN must offer secure, fast, and updated protocols such as OpenVPN and WireGuard.
Security features: additional security features are always a plus point since they aid in better security, such as obfuscated features, multi-hop VPN, etc.
Number of servers: Choose a VPN with an extensive server network, especially in the US, as it helps bypass throttling VPN blocks and provides fast speeds.
Streaming and P2P compatibility: ISPs throttle during high bandwidth activities like streaming and throttling, so choosing a VPN with compatible features is best to ensure a reliable connection.
Speed: since ISP throttling leads to a frustrating drop in speeds, it is crucial to choose a VPN that provides fast speeds to ensure a reliable connection
These factors can help you choose a reliable VPN that guarantees utmost security with a reliable and stable connection.
Overall, our top recommendations for the best VPN for Verizon remain NordVPN and Surfshark.
Steps on How You Can Set Up a VPN on Your Verizon Device
Setting up a VPN on your Verizon device is quite simple. Here are the steps to follow:
Choose a VPN provider that offers the best combination of speed, security, and compatibility with your device. ExpressVPN is a highly recommended option for Verizon users.
Access the VPN provider's website and download the firmware compatible with your router.
Keep the browser open, as you'll need the activation code to configure the VPN later.
After downloading the firmware, enable encryption and establish a password. Additionally, select MPPE encryption and Broadcast Support to ensure a secure connection. With these steps, your VPN should be properly set up on your Verizon device, providing you with a secure, private, fast internet connection.
Testing method to find the best VPN for Verizon
Verizon has a total of 143.3 million subscribers, and since its throttling practices are a common problem, many VPNs have sprung up with promises to help bypass it. Amidst this, finding a reliable VPN that ensures a safe and fast connection is hard. Therefore, while compiling our list of the best Verizon VPNs, we test each of our recommendations in various ways. Here is our VPN testing methodology:
We test the encryption level of the VPN through Wireshark to ensure it is providing the encryption ciphers and protocols it claims
The VPN undergoes IP, DNS, and WebRTC leak tests, respectively.
A Verizon VPN must provide fast and reliable speeds during high bandwidth activities such as streaming and torrenting. We run speed tests while performing these activities to check performance.
To ensure the VPN has a transparent log policy and no hidden clauses, we go through the privacy policy and the terms and conditions of the VPN.
We also check a VPN's credibility by looking into its background to see if it's been involved in security breaches or other malicious activities. If the VPN is involved in any data breach activity, check its response to see if it has managed to update its security.
These factors help us choose a reliable and secure VPN that guarantees a reliable online connection even on ISPs like Verizon.
Addressing Common Concerns About VPNs and Verizon
Although VPNs are now necessary, some Verizon Fios users consider it a waste of money, specifically since Verizon offers its own VPN service. However, a VPN is crucial as it offers numerous benefits, such as added security and privacy, access to geo-restricted content and bypass throttling.
Since Verizon is known to throttle internet speeds to manage its network effectively, a VPN can help you overcome these limitations. Its data encryption hides your online activities from your ISP, which helps avoid restrictions and throttling issues. However, Verizon is also known to block VPNs; therefore, choosing a secure and reliable VPN that can evade these blocks is crucial.
Why VPNs help with throttling
VPNs can prevent throttling by encrypting your data and hiding your online activities from your ISP. This makes it difficult for ISPs to monitor or throttle your internet traffic, allowing you to access the internet at full speed and without limitations.
In other words, using a VPN with Verizon will result in a stable and quicker internet connection devoid of any ISP-imposed limitations. This ensures a smoother browsing experience, whether you're streaming videos, playing online games, or simply browsing the web.
The Impact of Net Neutrality on Verizon Users and VPNs
Net neutrality ensures that internet service providers, like Verizon, treat all content and data flowing through their network equally. This means that they cannot prioritize or throttle certain websites or services over others, providing a fair and open internet experience for all users. However, in 2017, the FCC abolished net neutrality, allowing ISPs like Verizon, ATT , Comcast, etc more control over their users. In other words, the abolishment of net neutrality meant practices like ISP throttling and monitoring became common.
While the practice is fairly legal, netizens like Verizon Fios users suffered terribly at the hands of ISPs. With the abolishment of net neutrality, people fell victim to slow internet speeds, paid prioritization issues. Amidst this, VPNs have gained popularity as tools for helping users avoid throttling or restrictions set by ISPs. By routing your internet traffic through a VPN server and encrypting your data, you can maintain your privacy and access the internet without discrimination or limitations.
Is it legal to use a VPN to get around throttling?
VPNs can be a valuable tool for maintaining online privacy and bypassing throttling. However, most countries such as China, North Korea, Turkey or even Iraq frown upon the use of VPNs and have them banned. Therefore, it is crucial to ensure that you're using a VPN responsibly and in compliance with your area's applicable laws and regulations.
Before using a VPN, it is important to investigate the laws in your region, as we covered in our guide on the best VPNs for Comcast Xfinity. VPNs are legal in most countries, but it's crucial to stay informed about the specific regulations in your jurisdiction to avoid any potential legal ramifications.
Can I use a free VPN to bypass Verizon Throttling?
Many Verizon Fios users tend to consider using a free VPN to bypass throttling issues. While this sounds enticing, if you are someone who values privacy and security, you might want to steer clear of free VPNs. That is because these free VPNs come with several security, privacy and performance issues, such as:
They have limited bandwidth and are not ideal for high-bandwidth activities like streaming, gaming, or downloading
Free VPNs have a limited number of servers with high traffic, causing traffic congestion and slow speeds.
Free VPNs often sell user information to third parties.
Most free VPNs bombard users with ads.
There are privacy issues with free VPNs as they offer low encryption.
Some free VPNs contain malware that harm your device or steal your data
Certain websites and ISPs block free VPNs
They don't have extra features for security
Therefore, since free VPNs come with various risks, it is best to use a reliable paid VPN to bypass Verizon Fios throttling.
Why isn't bandwidth throttling illegal?
Throttling is purposefully slowing down users' connection speeds during specific times of the day or during high bandwidth activities. ISPs legitimize the act by arguing that throttling helps regulate the internet connection. And while throttling may seem unethical, the practice is legal, especially after the abolishment of net neutrality in 2017.
Other methods to speed Verizon Fios internet and bypass throttling.
Using a VPN is one of the most reliable methods to bypass Verizon Fios throttling. However, if anyone does not want to rely on a VPN, there are other methods available that help avoid throttling, such as:
1. Use a proxy
A proxy acts as an intermediary between your computer and the internet. When using a proxy, all your internet traffic is routed through the proxy server before it reaches its destination. This hides your IP address, and changes your location which helps bypass Verizon throttling. However, a proxy server will not help Verizon Fios users avoid online monitoring since it does not encrypt your connection.
See our guide on VPN vs proxy to understand the differences.
2. Change your ISP
Changing your ISP can help you mitigate throttling issues since the new ISP might offer better speeds and services. However, this is not a reliable method since almost all known ISPs, such as AT&T, Comcast, and Cox, are known to throttle user data traffic.
3. Upgrade your Verizon plan
Most ISPs tend to throttle your connection when you perform high bandwidth activities or you use up all your assigned bandwidth. Therefore, upgrading your plan will give you access to a better bandwidth limit and faster speeds. However, checking your ISP's data throttling policies is crucial as most ISPs, including Verizon, tend to impose users even on unlimited data plans.
4. Contact Verizon Fios Customer Support
Often, you might face slow speeds due to reasons other than throttling. And even if you are sure that your slow internet speeds are due to throttling, you need to contact Verizon Fios customer support. Call them or write an email explaining the slow connectivity issues and await their response. Verizon usually has effective customer support which can be helpful.
5. Avoid the Internet during Network Congestion
Network congestion is when several people are connected to the internet simultaneously, which leads to slow internet speeds. These peak usage times are mostly on holidays or in the evenings. Avoid using the internet for high bandwidth activities during these times.
6. Use a wired/ethernet connection.
One method to bypass throttling and gain better internet speeds is to connect your primary device directly with the ethernet cable to the router. This speeds up the internet seeds, avoiding any other hindrance and preventing throttling.
7. Restart the internet
This is a less effective method to bypass throttling. When you restart the internet, it refreshes your connection and stops previous throttling attempts of your ISP. But this method is a short-time fix only as the throttling returns eventually.
Summary on VPNs with Verizon
Using a VPN with your Verizon connection can significantly improve your online experience by ensuring privacy and security and bypassing throttling. With options like NordVPN, Surfshark, ExpressVPN, Proton VPN, and Atlas VPN, you can choose the best VPN that meets your needs and offers a seamless online experience.
Don't let throttling and restrictions hold you back – unlock the full potential of your Verizon connection with a reliable VPN today!
And if you are on a tight budget, you can also check out the latest VPN coupons here. There are also many cheap VPNs that cost less than $4 per month that you may want to consider.
Frequently Asked Questions
Which VPN works with Verizon?
NordVPN is the ideal VPN provider for Verizon, offering fast speeds, more than 5,800 servers in 60 countries, and an unbeatable price. It also provides a no-logs service with double VPN servers and 24/7 support, allowing up to six simultaneous connections.
Can I use a VPN with Verizon?
Yes, you can use a VPN with Verizon, as it is perfectly legal in the US. Various trusted providers, such as ExpressVPN and NordVPN, offer AES-256 encryption and traffic management features to prevent disruptions and fast speeds. Moreover, they have servers in many locations worldwide.
What is the cost of Verizon VPN service?
Verizon's VPN service is available monthly for $3.99, providing the promise of blocking advertising and securing your connection, but you'd be better off using one of the options listed in this article.
What is the best VPN for Verizon users?
For Verizon users, NordVPN, Surfshark, ExpressVPN, Proton VPN, and Atlas VPN are the top-rated VPNs.
Should I use a VPN on Verizon?
ISPs like Verizon tend to throttle and monitor users. Therefore, if you want a fast, stable, and secure online experience with your Verizon Fios, you must use a reliable VPN.
Why won't my Verizon VPN connect?
If there is any trouble connecting your Verizon VPN, you can restart your device or the VPN app. If the issue persists, then it is best to contact customer support.
Does Verizon Fios block VPN?
Although the ISP does not explicitly say this on its site, it is known to block VPNs.
Does NordVPN work with a Fios router?
While NordVPN works compatibly with most routers and devices, it does not work with a Fios router.
Will a VPN stop Verizon throttling?
A VPN is the best-known method to bypass throttling. It encrypts your data traffic and routes it through remote servers, which helps avoid throttling and monitoring issues.
Can I Install a VPN on a Verizon Fios Router?
Verizon has the Fios router hardware programmed so that it is impossible to install a VPN on it. The only solution Verizon Fios users have is to either get a new router or install a VPN in each device separately.
Does Verizon Allow VPNs?
Although Verizon does not explicitly ban VPNs, it does block them and has its routers configured so that users can't install VPNs on them.
Does a VPN stop cellular throttling?
A VPN is one of the best-known methods to help bypass cellular throttling issues.
This Verizon VPN guide was last updated on October 17, 2023.