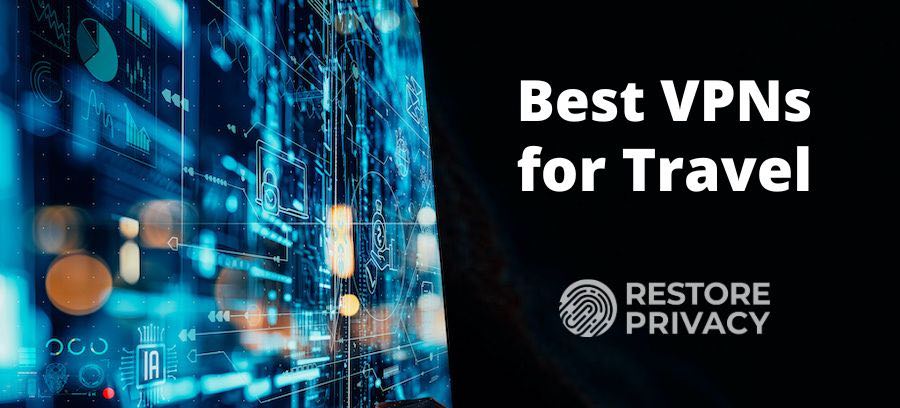 When traveling abroad, you might frequently resort to using public Wi-Fi. However, these networks are notoriously unsafe and can result in somebody stealing your data or worse. If you want to be completely safe, you should invest in a reliable VPN service. It will keep you secure when connecting to public networks by encrypting your outgoing data.
VPNs can also unblock numerous websites that would otherwise be unavailable in a given country due to geo-blocking. This way, you can kill two birds with one stone and stay protected while streaming your favorite shows from anywhere in the world.
That being said, it can be hard to figure out which VPN is worth your time. Because of this, we've tested all of the top VPN services on the market today. Long story short, we found out that these are the best VPNs for traveling.
Top VPNs for Travel
NordVPN – Best VPN for travel with secure and reliable apps, excellent support for streaming, fast speeds, and extra privacy features (with a 68% off coupon)
Surfshark – Affordable VPN for travel with great speeds
ExpressVPN – A reliable VPN for travel with user-friendly apps
How to start using a travel VPN
Subscribe to a premium VPN
Overall, NordVPN (68% off) works the best for this purpose, although ExpressVPN and Surfshark are still good options.
Create an account
Connect to a public server
Open your VPN
Connect to a VPN server
Which server you join will depend on your location. In general, you want to choose the one that's closest to you physically. This way, you will get the best performance.
Start surfing safely
What should every VPN for traveling have?
Not every VPN is built the same, and you'll want only the best when you're abroad. When choosing which service will fit us perfectly, these were the criteria we followed.
Affordability – We made sure that each VPN on this list has a great price/quality ratio.
Fast speeds – All premium services we chose use ultrafast VPN protocols like WireGuard, NordLynx, and Lightway.
Impenetrable security – They provide military-grade encryption to protect your data.
Streaming – You might want to keep up with your favorite TV show while on the road, so a VPN that can unblock content for all major streaming services is needed.
Tools and features – There are a lot of VPNs on the market to choose from. To get the most value out of your money, we've looked out for ones with useful tools and features like ad blocking.
Huge server network – With these three services, you will be able to connect from anywhere in the world.
NordVPN is the top travel VPN
| | |
| --- | --- |
| VPN | NordVPN |
| Based in | Panama |
| Logs | No logs (audited) |
| Price | $3.19/mo. |
| Support | 24/7 live chat |
| Refund | 30 days |
| Website | NordVPN.com |
NordVPN has 5000+ ultra-fast servers around the world, which makes it perfect for traveling. All of them support NordLynx – a VPN protocol that offers the fastest speeds on the market. And this is exactly what we saw in our NordVPN vs ExpressVPN comparison. When doing a speed test from a Seattle server, we managed to get over 445 Mbps download speeds. This is more than enough for streaming with your VPN while traveling.

Luckily, NordVPN isn't just a one-trick pony. Its security is also top-notch, which can be linked back to its AES-256-GCM encryption. This is also a no-logs VPN, meaning that it doesn't save any user data. If you truly value your privacy, you shouldn't settle for anything less.
NordVPN went through many external audits initiated by various cybersecurity companies. For example, PwC showed that NordVPNs privacy policies were strictly implemented. VerSprite went a step further and did an in-depth pen test which concluded that the app's security is on a very high level.
NordVPN's premium features
As with any other service on the list, NordVPN offers a lot of additional tools that separate it from the competition. We are talking about…
Server obfuscation – By default, VPNs simply make you anonymous. In this case, your ISP can still see that you're using them. They just can't see what you're looking at. Obfuscation goes a step further by giving you complete privacy. This is crucial if you're traveling through a country with an oppressive regime, like UAE, China, or Russia.
Double VPN – Double your encryption by rerouting your data through an additional VPN server. This will somewhat affect your speed.
Onion-over-VPN server – Combines NordVPN with Tor network for ultimate protection. This should be your last resort, as it will significantly slow down your internet speed.
Kill Switch – A failsafe mechanism that will exit NordVPN or turn off your Wi-Fi if your connection becomes compromised.
Threat protection – Blocks intrusive ads and stops malware and trackers from profiling you (an advanced VPN ad blocker)
See all NordVPN features here >>
NordVPN can also easily unlock many streaming sites that would otherwise be unavailable when traveling abroad. It is actually the perfect VPN for watching Netflix and is also a great VPN for Hulu. One subscription will allow you to connect up to six platforms simultaneously.
The app has an intuitive interface, making it the perfect option for new users. If you can't figure something out, 24/7 live chat service is always just a click away. The only downside is its price, but you can try it out basically for free as there is a 30-day money-back guarantee.
+ Pros
User-friendly and reliable apps
Double-VPN and Tor-over-VPN servers
Passed numerous 3rd-party audits
Strong encryption standards with full support for WireGuard
Works with Netflix and many streaming sites
Threat Protection feature to block ads, trackers, and malware
Professional 24/7 live chat support
Consistently fast speeds
Dedicated RAM-servers with 10 Gbps bandwidth channels
– Cons
Big discounts only available with 2-year plans
NordVPN's Cyber Deal is live:

Get 68% Off NordVPN with the coupon below plus 3 months FREE, no activation code needed:
(Coupon is applied automatically; 30 day money-back guarantee.)
For a deeper insight, check out our NordVPN overview.
---
Surfshark – An affordable VPN for travel
| | |
| --- | --- |
| VPN | Surfshark |
| Based in | The Netherlands |
| Logs | No logs |
| Price | $2.30/mo. |
| Support | 24/7 live chat |
| Refund | 30 days |
| Website | Surfshark.com |
Surfshark is the best cheap VPN you can currently find on the market. It has 3200+ servers in more than 100 countries which are reliable, fast, and most importantly – secure.
Surfshark's servers fully support WireGuard. While it is a bit slower than NordLynx, it is still a vast improvement over the old OpenVPN protocol. With it, we managed to achieve nearly 400 Mbps when connected through a NY server.

This makes it a perfect VPN for travel, as you can stream shows in 4K, quickly download torrents, or even play competitive online games, like Warzone. Surfshark can easily bypass geo-blocking algorithms so that you can unlock every site, no matter your location.
Now, let's take a look at security. Surfsharks servers have 256-bit AES encryption and operate in RAM mode. This leaves no trace of users online activities. Surfshark aims for full transparency, which is why you can find a complete warrant canary report on its website.
But, you should never put trust in a company solely on its words. This is where external audits can help us determine how safe Surfshark really is. One of them was done by Cure53, a famous cybersecurity firm from Germany. They did a penetration test that focused on Surfshark's iOS and Android browser extensions. The final report showed that they both offer a high degree of safety – something that is pretty uncommon.
The Surfshark Windows VPN apps we tested were secure and user-friendly. They are also packed with reatures.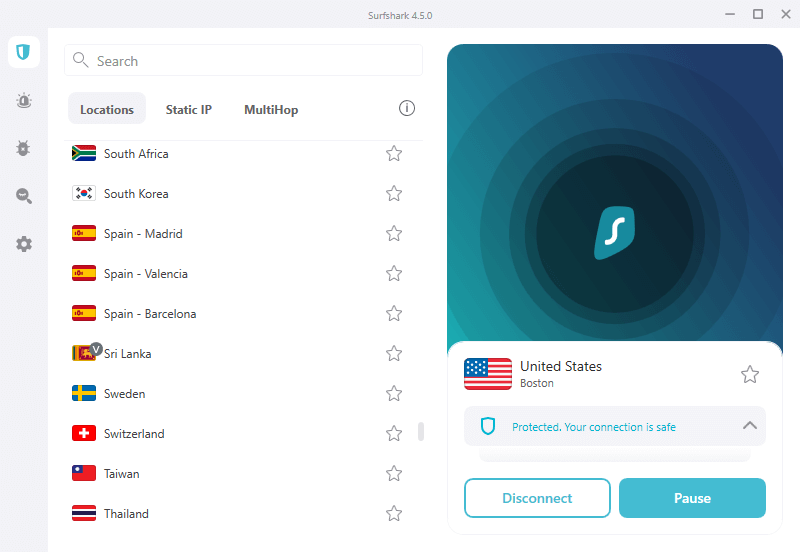 Surfsharks premium tools
Bypasser (Split Tunneling) – Allows some apps to bypass VPN and connect directly to the WiFi. This means that you can use Surfshark as a VPN for torrenting because you will get the best download speed possible. But, you should keep in mind that this might also compromise your privacy.
Camouflage mode (Obfuscation) – Conceals from your internet service provider (ISP) that you are using a VPN.
CleanWeb – A real-time protection tool that blocks ads, malware, and trackers from infecting your device.
MultiHop (Double VPN) – Surfshark has 14 MultiHop servers that will provide you with better encryption.
See all Surfshark features here >>
What really makes Surfshark a great travel VPN is its affordability ($3/month). A single subscription will let you simultaneously connect an unlimited number of devices. The app is available on almost every platform on the market. Whether you need a VPN for Linux, or a VPN for iPad and other devices, Surfshark has you covered.
In case you need technical assistance, you can contact their 24/7 professional customer service via live chat. And if that's not enough, you can also try out Surfshark for a month, thanks to their generous 30-day refund policy. This essentially makes it a free trial VPN.
+ Pros
Unlimited connections
User-friendly apps for all devices and operating systems
CleanWeb feature to block ads, trackers, and malware
Works great with Netflix and many other streaming services
24/7 live chat support
Strong encryption and security features (audited)
– Cons
Limited support for VPN routers
Above average monthly prices
Surfshark VPN Coupon:

Get 82% off Surfshark VPN (drops the price down to $2.30 per month) plus 2 months FREE:
(Coupon is applied automatically.)
There is always more to learn, so head out to our Surfshark review.
---
ExpressVPN – A user-friendly VPN for travel
| | |
| --- | --- |
| VPN | ExpressVPN |
| Based in | British Virgin Islands |
| Logs | No logs (audited) |
| Price | $6.67/mo. |
| Support | 24/7 live chat |
| Refund | 30 days |
| Website | ExpressVPN.com |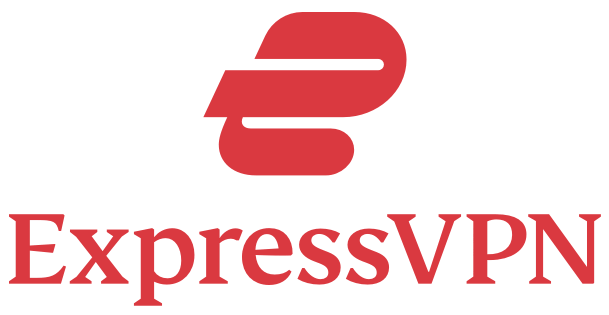 ExpressVPN was founded in 2009, and since then it has become one of the most popular VPNs around. It offers 3000+ servers worldwide that operate on TrustedServer technology in RAM mode (no hard drives). This offers a very high level of server security, as we also see with Surfshark and NordVPN.
ExpressVPN has built its own protocol called Lightway. In our tests for the Surfshark vs ExpressVPN comparison, we found that Lightway was a bit slower than the WireGuard protocol, but still plenty fast. It will be adequate if you need a VPN for streaming, torrenting, or anything else.

Lightway was extensively tested by Cure53, and their pentest concluded that it's very safe. In addition to that, ExpressVPN was subjected to 11 successful external audits which were passed successfully. You would be hard-pressed to find a service with a better track record. It will keep you secure if you need a VPN for torrenting.
ExpressVPN premium tools
Split Tunneling
Network Lock – Works the same as the kill switch on NordVPN and Surfshark
Device Groups – Connect each device to a different server at the same time.
Threat manager – This blocks trackers hidden within apps on your device
ExpressVPN app is available on a majority of available devices ranging from Windows and Mac to Chromebook and routers. They also have a dedicated app if you need a VPN for Firestick. There are also excellent browser extensions giving you the ability to use the VPN for Chrome, Firefox, and Edge that will stop all WebRTC leaks. The app is also able to unlock all popular streaming sites with ease.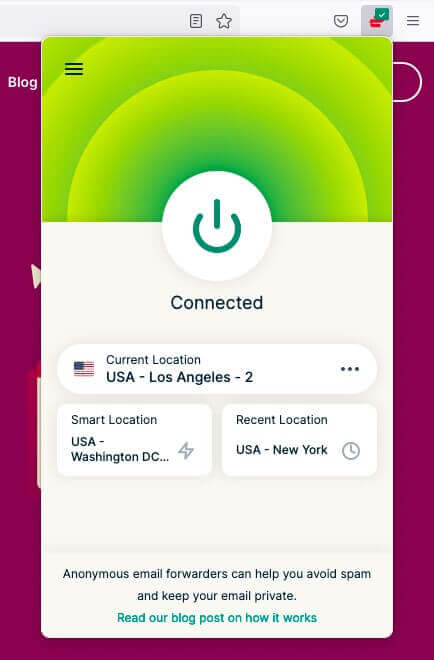 A single subscription will let you connect five devices simultaneously. Although there is no trial, you can refund ExpressVPN in the first 30 days if it does not live up to your expectations.
+ Pros
User-friendly and secure apps
Split tunneling feature (for macOS, Windows, and routers)
Works with Netflix and most streaming services
24/7 live chat support
Passed independent third-party audits for security and no-logs
Very large server network
– Cons
Above-average prices
Fewer features
Average OpenVPN speeds (use Lightway)
ExpressVPN Coupon:

Sign up for the 12-month plan and get 3 months added to your subscription for free.
(Coupon is applied automatically.)
This ExpressVPN review should answer all of your remaining questions.
---
How to start using a travel VPN [the full guide]
1. Subscribe to a premium VPN
NordVPN would be our top choice, as it has the best speed and security, and the strongest server network.
2. Start your VPN app
Note: If you want to use a travel VPN on your smartphone, it's also important to change your Google Play or App Store location. In this example, we will use an iPhone, but this will work on your Android device as well
Move to Settings > Profile > Media and Purchases > View Account
Use your Touch ID or password to pass the identification
Visit Country/Region > Change Country or Region and select the country that you want to connect from

Once you pass the terms and conditions page, you will need to enter your "new" phone number and address. Luckily, there are many address generators online that you can use to come up with this information.
By the way, you will find more app recommendations in our best VPN for Android article.
3. Connect to a server
We recommend that you use a VPN server that is close to your actual location. This way, you will get the best performance.
However, this isn't always possible as there are many sites that are unavailable around the world. For example, if you want to unlock YouTube TV, you will have to use a US server. Generally, connecting to the United States will unlock a majority of regionally restricted websites.
4. Start using your travel VPN
Why doesn't my travel VPN work?
Many sites, like HBO Max or FanDuel, implement geo-blocking to stop certain users from accessing their sites. This algorithm will flag your domain as suspicious if your VPN isn't behaving as it should. Here is what you can check to solve your problem:
1. Is your real IP address leaking?
You can reliably determine this by doing a speed test, as it will tell you from where you are connecting. If it doesn't show your new location, it is time to go to your VPN settings and turn on Leak Protection.
2. Are your GPS location and new IP address in sync?
This is the most common problem if you are using a VPN for travel on your mobile device. Surfshark users should go to Advanced Settings > Override GPS location. Both NordVPN and ExpressVPN do this automatically, so you shouldn't have any problems.
Note: In case you're using another VPN app, you can refer to step two of our complete guide.
3. Does your browser have trackers?
Tracker cookies are commonly used for marketing purposes. While useful, they might also reveal your location, which you don't want if you're using a VPN. You can easily solve this by clearing cookies and cache from your browser. This is completely safe to do, but you will lose all your saved passwords, so it's best to copy them somewhere first.
Follow these Google Chrome, Safari, and Firefox guides, and you can do this in seconds. If your problems still persist, you should try switching to another browser.
If none of this worked, it's time to test your VPN more thoroughly. At this point, you should also contact your customer service.
Why you shouldn't use free VPNs for traveling
Premium VPNs cost money. Money that could otherwise be better spent on food or a museum ticket. So, it seems reasonable to look for a free VPN in order to save some cash. However, we have reasons to believe that this isn't such a good idea.
1. Poor server networks
Free VPNs simply don't have enough funding to compete with premium services, and since the maintenance is expensive, they offer fewer server locations.
2. Monthly limit
Almost every free VPN will put a limit on how much data you can spend per month. It is usually anywhere between 1 GB to 2 GB. It's very likely that you will eat through this in a week or two if you're not careful and that can be particularly dangerous when traveling.
3. Slow speed
Free apps usually use OpenVPN protocol, which is much slower than NordLynx or even Lightway. If you want to stream a show, you can expect frequent buffering and lower video quality.
4. Security risks
It's not just that free VPNs are annoyingly restrictive, they can also be downright dangerous. A recent study on 270+ free Android VPN apps found that:
More than 38% of free mobile VPNs contain malware
Over 80% of apps had weak or no encryption
¾ of free VPNs used trackers to pinpoint what their users are doing
In reality, free VPNs can cost you much more than premium services. Rather than user security, their actual goal is to extract your data which can then be sold to ad agencies. This is a bit grim, but it is our reality.
However, during our research, we also managed to find 7 great free VPNs. We still believe that you shouldn't use them when traveling, but they beat the alternative.
Best VPNs for travel FAQ

Can I use a VPN internationally?


Most premium VPNs work almost everywhere in the world. But not all of them can bypass censorship in countries like China, where VPNs are blocked. You should check if the country you're traveling to allows VPNs, and if it doesn't, check whether your VPN will work there.


Will my connection be slow if I'm using a VPN while traveling?


All of the VPNs that you use will slow your connection, but it shouldn't be noticeable. For this reason, you should choose a VPN with a fast protocol and a large network of servers.


Can you avoid roaming charges by using a VPN?


It's impossible for a VPN to hide roaming charges from your ISP, so you will have to pay for the same amount of data.

Note: This Best VPN for Travel article was last edited on July 29, 2023.