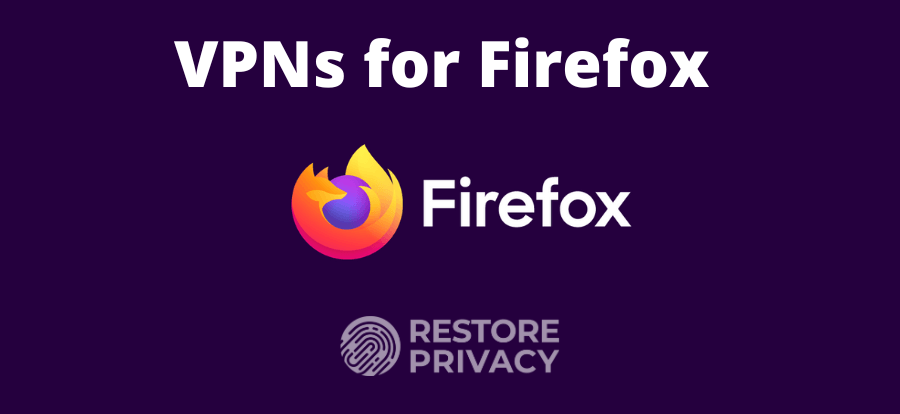 Firefox is known as one of the most secure and privacy-focused web browsers. With that being said, if you want an even higher level of privacy and security, you will need to use a VPN with Firefox.
If you want a secure and private browser for daily use, Firefox remains one of the best options. While Firefox is the secure browser of choice for nearly 200 million people, that doesn't mean you can't make things even better. The best way to boost the security of your Firefox browsing is to use Firefox with a VPN.
Adding a VPN to the equation adds a layer of security to your internet access. This is important when everything from telecom giants to school districts and individual users are under constant hacker attacks. The best VPNs for Firefox also help you bypass internet censorship, unblock websites, and get access to the content you need anywhere in the world.
Top VPNs for Firefox
NordVPN – The best VPN for Firefox in our tests. Fastest speeds across a large server network, along with reliable apps that include extra security features (68% off coupon)
Surfshark – A reliable and affordable VPN for Firefox
ExpressVPN – Great VPN for Firefox with user-friendly apps
In addition to a full-sized VPN, many services offer VPN browser extensions. These extensions add various capabilities to your Firefox session, from blocking certain data leaks to taking full control of the VPN from within the browser.
Ranking the best VPNs for Firefox
Here are the criteria we used to find the best Firefox VPNs from the major VPN services on the market:
No leaked IP addresses or DNS lookups during our testing
A big, fast, reliable server network
High-quality VPN apps for many types of devices, along with excellent browser extensions for Mozilla Firefox
The use of modern, secure VPN protocols and strong encryption
A money-back guarantee that won't give you an ulcer if you need to use it
A good track record of customer service and trustworthiness
A no-logs design and a home base in a privacy-friendly jurisdiction
Here are our picks for the best Firefox VPNs:
NordVPN – Best all-around VPN for Firefox
| | |
| --- | --- |
| VPN | NordVPN |
| Based in | Panama |
| Logs | No logs (audited) |
| Price | $3.19/mo. |
| Support | 24/7 live chat |
| Refund | 30 days |
| Website | NordVPN.com |
NordVPN has established itself as one of the top VPN services across every area of VPN performance. It boasts the latest in VPN encryption technology with a variety of protocols to choose from. NordVPN also offers a massive network of 5,500 servers in 60 countries that deliver speed and security. It has also passed independent third-party audits, unlike most other VPNs on the market today.
NordVPN is now the fastest VPN we have tested to date. This is mainly due to NordVPN's implementation of the WireGuard VPN protocol, which they call NordLynx. Here's one of our VPN speed test results where NordVPN clocked an insane speed of 445 Mbps on our 500 Mbps test machine, as you can see in the NordVPN review here.
NordVPN also has a large network of servers around the world. And one thing that really separates NordVPN from the pack is the variety of specialty servers they offer:
P2P servers – Hundreds of P2P servers are strategically placed around the world to make sure users have access to fast, secure torrenting and other file sharing activities. NordVPN's automatic kill switch plays its part here, instantly blocking all internet traffic if the server connection fails, so your IP address is never exposed during delicate P2P operations. (This makes NordVPN a great option if you need a VPN for P2P torrents.)
Dedicated IP servers – Some applications require a VPN with a dedicated IP address (a.k.a static IP address). If that sounds like you, NordVPN won't let you down. You can get static addresses in the USA, UK, Germany, Netherlands, and France.
Double-VPN servers – When even standard VPN privacy isn't enough, you'll want to use one of these systems. Double VPN servers pass your data through two encrypted VPN servers in two different countries, making life much more difficult for anyone trying to track your activities.
Obfuscated servers – Obfuscated servers prevent blocks and censorship by making your VPN traffic look like normal HTTPS internet traffic. This is great if you need a VPN for China or other restricted countries.
Tor-over-VPN servers – Many journalists and human rights activists depend on the Tor network to hide from hostile governments or other entities. Tor-over-VPN servers combine the benefits of the Tor network and a VPN. Note that we have some doubts about how secure Tor really is, so use this option with extreme caution. You can learn more about this situation in our VPN vs Tor guide.
See all NordVPN features here >>
One of the things we really like about NordVPN is that they provide secure and user-friendly apps for all the major operating systems and devices. It is our top-ranked VPN for Android. Here's the NordVPN Windows 10 desktop app: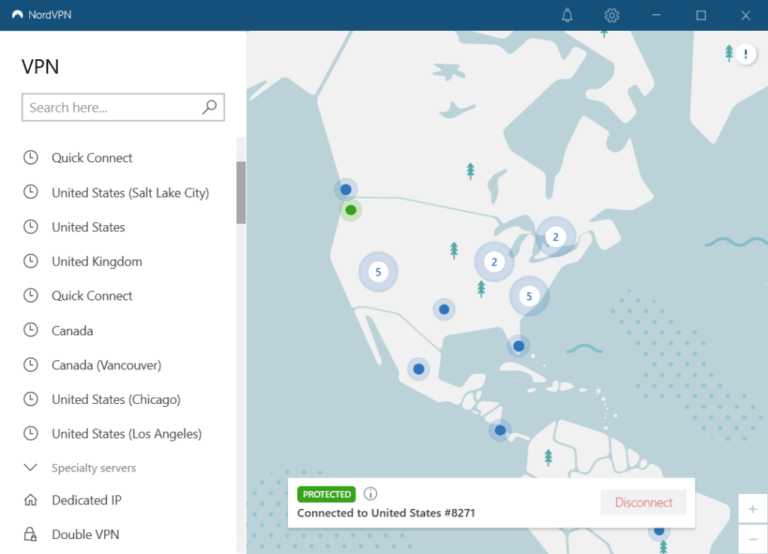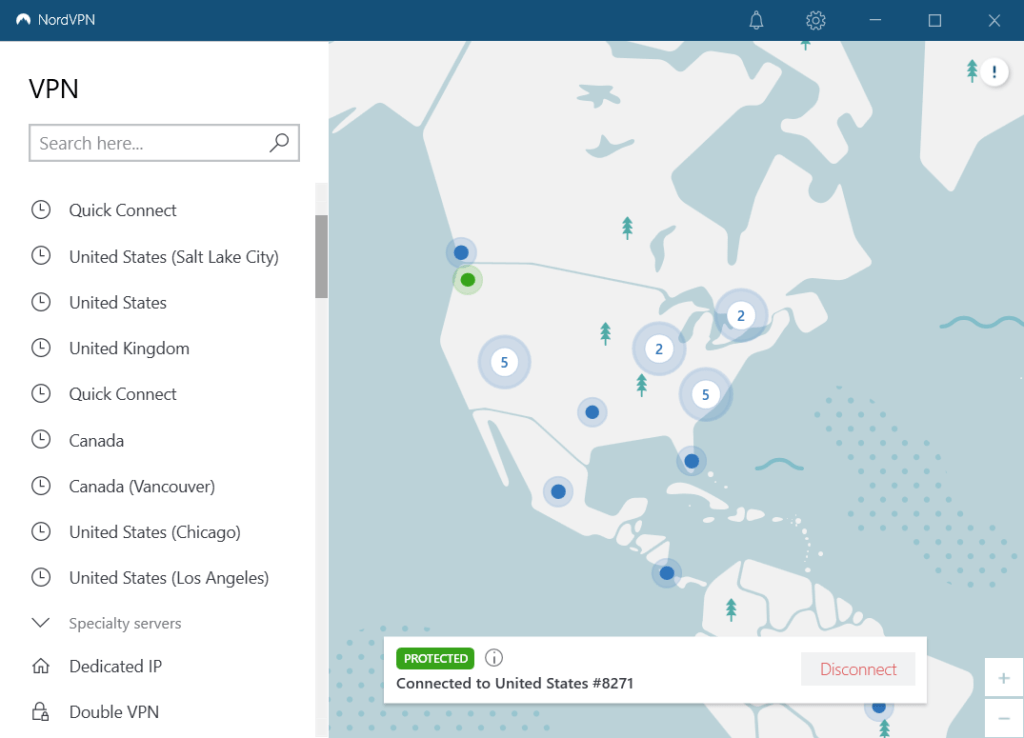 Another major use for VPNs is streaming movies and other media. NordVPN is one of the best in the business when it comes to this. With NordVPN you get:
Support for more than 15 Netflix regions including the US, UK, Canada, Australia, France, Germany, Japan, and others
A great VPN for BBC iPlayer, Hulu, Amazon Prime, and many other services
Custom VPN apps for all major streaming devices (you can even use it as a VPN for Firestick and Fire TV)
NordVPN easily passed all our leak tests. It protects you from your snooping ISP by directing your queries through the encrypted VPN tunnel to its own DNS servers. All three of our recommended VPNs use this technique to prevent ISPs from spying on your activities. And speaking of spying, NordVPN doesn't do it. Period. They are a verified no logs VPN based in Panama, an excellent privacy jurisdiction that imposes no logging requirements on the service.
NordVPN Firefox setup and tips
The NordVPN Firefox extension basically functions as a standalone VPN app within your browser. In other words, you don't need to install the desktop client for the Firefox extension to function. The extension works well and is easy to navigate. It offers a quick connect feature that automatically seeks out the best server for you and connects you to it, saving you the hassles of picking one of their 5,400+ servers yourself.
But be aware that the extension lacks some of the features of the desktop client. You'll have to make a choice. If all you want is basic VPN protection while browsing, the Firefox extension should be sufficient. But if you need more of the NordVPN features, or if you need to protect traffic that doesn't go through Firefox (chat apps for example), you'll want to run the full NordVPN client instead of the browser extension.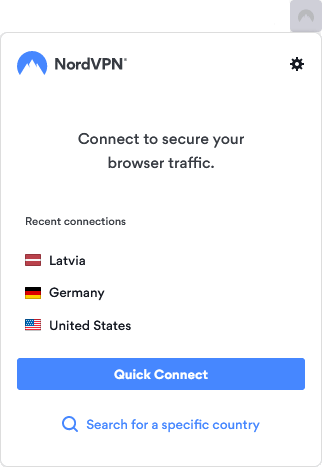 You can easily choose the country you want the extension to connect to. This is in contrast to the full NordVPN client, which allows you to pick a specific location in a country and/or a specific server type.
+ Pros
User-friendly and reliable apps
Double-VPN and Tor-over-VPN servers
Passed numerous 3rd-party audits
Strong encryption standards with full support for WireGuard
Works with Netflix and many streaming sites
Threat Protection feature to block ads, trackers, and malware
Professional 24/7 live chat support
Consistently fast speeds
Dedicated RAM-servers with 10 Gbps bandwidth channels
– Cons
Big discounts only available with 2-year plans
NordVPN's Cyber Deal is live:

Get 68% Off NordVPN with the coupon below plus 3 months FREE, no activation code needed:
(Coupon is applied automatically; 30 day money-back guarantee.)
For the full story on this excellent VPN service, check out our full review of NordVPN.
---
Surfshark – A cheap VPN for Firefox with great features and speeds
| | |
| --- | --- |
| VPN | Surfshark |
| Based in | The Netherlands |
| Logs | No logs |
| Price | $2.30/mo. |
| Support | 24/7 live chat |
| Refund | 30 days |
| Website | Surfshark.com |
Surfshark is a feature-packed VPN with an affordable price tag — and it also works great with Firefox. It does a fine job of unblocking geo-restricted streaming services, making it one of the best VPNs for streaming. Adding to their appeal, they are one of the cheapest VPNs around, yet they put no limits on the number of simultaneous connections you can have.
Like our other best Firefox VPN picks, Surfshark is a no-logs VPN. They're based in the British Virgin Islands, just like ExpressVPN (below). The BVI is an excellent jurisdiction for privacy-related companies like VPN services.
The Surfshark Firefox VPN app gives you solid leak protection, thanks to its integrated kill switch. It provides great security with OpenVPN support and AES-256-GCM encryption. They now also support the WireGuard VPN protocol, and are close behind NordVPN in the speed category, as you can see in this Surfshark vs NordVPN comparison.
For the utmost in security, the Surfshark VPN network includes 13 double-VPN servers. Interestingly, every Surfshark server supports P2P, meaning you can torrent without any restrictions or hassle.
Surfshark has several other interesting features built in. Whitelister, a split tunneling VPN feature, lets you control which applications send their traffic through the VPN connection, and which communicate outside it. Camouflage mode is Surfshark's name for their obfuscated servers, and CleanWeb is a VPN ad blocker that also filters trackers and malware domains. Surfshark's private DNS service works to keep your ISP from tracking your online activities.
Surfshark VPN Firefox tips
Surfshark's Firefox VPN extension will work without the desktop client (it doesn't even need to be installed). However, to get access to everything Surfshark can do, you'll want to have the desktop client installed and running alongside the VPN extension.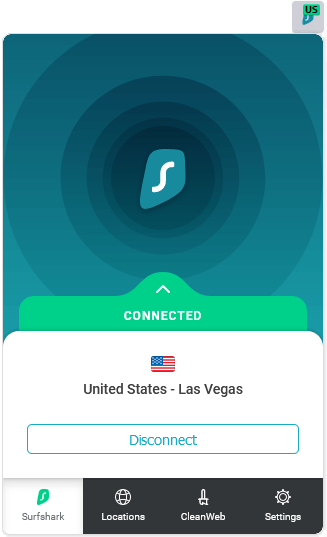 Lest you think the Surfshark VPN Firefox extension is too limited, take a close look at the screenshot above. You'll see that you can select the location of the VPN server you will use, as well as turn CleanWeb on and off. This is in addition to the Quick Connect button that hooks you into the VPN server the extension thinks is best for you.
+ Pros
Unlimited connections
User-friendly apps for all devices and operating systems
CleanWeb feature to block ads, trackers, and malware
Works great with Netflix and many other streaming services
24/7 live chat support
Strong encryption and security features (audited)
– Cons
Limited support for VPN routers
Above average monthly prices
Surfshark VPN Coupon:

Get 82% off Surfshark VPN (drops the price down to $2.30 per month) plus 2 months FREE:
(Coupon is applied automatically.)
If you want to learn more about Surfshark, be sure you check out our full Surfshark VPN review.
---
ExpressVPN – A capable and secure Firefox VPN
| | |
| --- | --- |
| VPN | ExpressVPN |
| Based in | British Virgin Islands |
| Logs | No logs (audited) |
| Price | $6.67/mo. |
| Support | 24/7 live chat |
| Refund | 30 days |
| Website | ExpressVPN.com |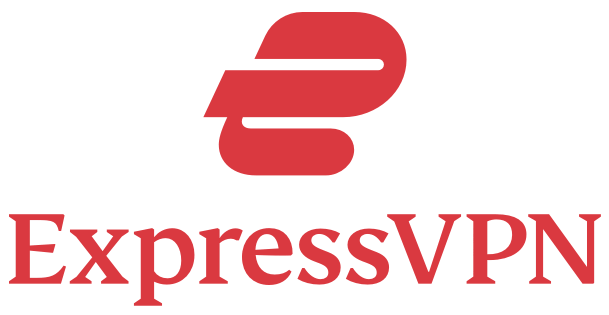 ExpressVPN is another British Virgin Islands-based VPN service (along with Surfshark) that rounds out our list of the best VPNs for Mozilla Firefox. The ExpressVPN network is big, fast, and reliable, with servers in 94 countries. This service uses the industry-standard OpenVPN protocol to protect and transport your data with AES-256 encryption and a 4096-bit RSA key. It also offers a homespun VPN protocol called Lightway. While Lightway is definitely faster than OpenVPN, it doesn't quite match up to our other two selections and their WireGuard-based solutions.
To get a sense of how the competition plays out, see the results in our Surfshark vs ExpressVPN comparison.
Network Lock is ExpressVPN's name for their kill switch, which is available in the desktop and mobile apps. In our testing, Network Lock did an excellent job of keeping data from leaking out of the VPN tunnel. If the VPN connection fails for any reason, the kill switch blocks data from passing onto the internet unprotected. Also like its competitors, ExpressVPN passes DNS requests through its encrypted VPN tunnel. This keeps all snoops, even your ISP, from being able to spy on your DNS requests.
In addition, ExpressVPN is a fine choice for unblocking websites and streams. It can give you access to most geo-blocked content anywhere on Earth thanks to a huge network of high-quality secure global servers. In particular, it is one of the best VPNs for Netflix streaming.
ExpressVPN Firefox extension
The ExpressVPN Firefox extension is excellent. This extension is easy to use, good-looking, and reliable. It is also open source, which means it is less likely to have bugs or backdoors than the closed source extensions provided by other VPNs.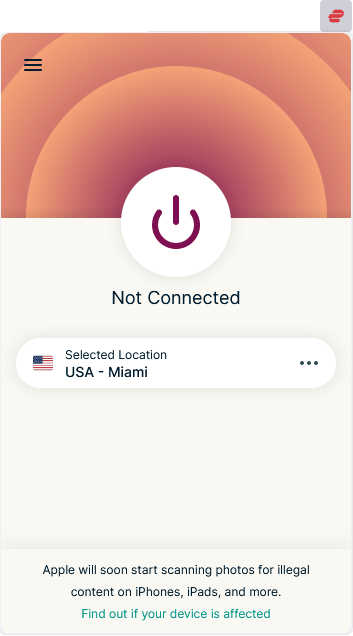 Here are the key points to know about using this Firefox VPN extension:
It will not work without the ExpressVPN desktop client installed.
The Mozilla Firefox ExpressVPN extension is not available for your iOS or Android devices.
It provides WebRTC leak protection, ensuring your IP address and location are secure against WebRTC browser leaks.
Its location spoofing feature prevents a sneaky HTML5 geo-location tricks from exposing your true location.
The extension incorporates the Electronic Frontier Foundation's HTTPS Everywhere technology. This tech automatically causes Firefox to use the more-secure HTTPS version of a site's web address whenever possible. Here are the Privacy and Security settings of ExpressVPN's Firefox extension: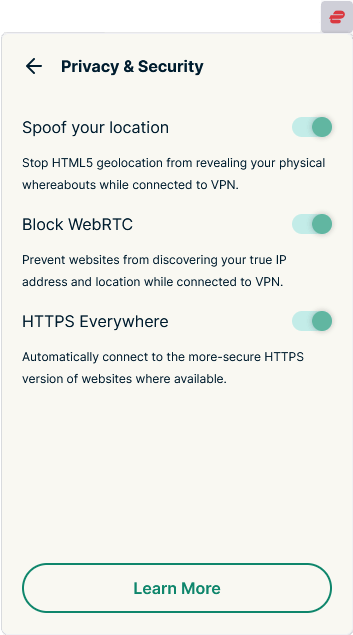 Since the ExpressVPN extension for Firefox depends heavily on the desktop client, you should also read our full ExpressVPN review to get familiar with all it has to offer.
+ Pros
User-friendly and secure apps
Split tunneling feature (for macOS, Windows, and routers)
Works with Netflix and most streaming services
24/7 live chat support
Passed independent third-party audits for security and no-logs
Very large server network
– Cons
Above-average prices
Fewer features
Average OpenVPN speeds (use Lightway)
To learn more, read our full ExpressVPN review.
---
How to use a VPN with Firefox
Different VPNs require different steps to work with Firefox. But much of the confusion disappears when you remember that we recommend using both the desktop client and the browser extension for any VPN used to protect Firefox. Doing so gives you the maximum in security, privacy, and features.
Given that, here is what the setup process for any of our recommended VPNs should look like.
How to set up a VPN desktop client with Firefox
Installing the VPN desktop client for your particular operating system is normally easy. The only time you are likely to run into problems is if you are using one of the many Linux distros as your operating system (but us Linux types expect this kind of thing anyway). In this case, you'll want to go right to the VPN service's website and follow the instructions they provide.
Note: You can also check out our guide on how to use a VPN for Linux.
To reduce the combinatorial explosion of possibilities here, we're going to assume you are going to be using a VPN with Windows 10. Here are the steps:
Go create an account on the VPN service's website. All of our recommended services provide 30 day money-back guarantees, allowing you to test out the VPN risk-free.
Download and install the VPN app for your Windows 10 machine.
Start the VPN client using the icon that is now visible on your desktop. Hit the Quick Connect button in the VPN window. After a few seconds, you'll be connected to what the VPN thinks is the "best" VPN server for you at this moment.
That's it. As long as the VPN is running, all message traffic between your computer and the internet will be protected. But there is one thing that the desktop client can't protect you against. That's WebRTC leaks, which are introduced by web browsers and are outside the control of the VPN desktop client.
To deal with this troublemaker, you'll need to fix your browser using our WebRTC leak guide, or simply rely on ExpressVPN's Mozilla Firefox extension.
How to set up a VPN extension on Mozilla Firefox
Using a Firefox VPN browser extension has its pros and cons. On the pros side, the VPN extension is right there in the Firefox browser window, making it easy to control basic VPN functions. Another pro is that the extensions can choke off the WebRTC leaks that Firefox can generate.
On the cons side, browser extensions can't be as beefy as a desktop client, meaning they don't have all the capabilities of the desktop version. Even worse, if you only use the browser extension, it will only protect browser traffic. Browser traffic is internet traffic that originates in the web browser. Other traffic, such as chat programs, apps, and games probably are not passing through Firefox. Therefore they won't be protected by the ExpressVPN browser extension.
From the privacy and security perspective, you'll want to use both the desktop client and the browser extension. That way, all the traffic from your computer will be protected and you will have access to all the capabilities of the desktop client. You'll also get the convenience and WebRTC protection of the Firefox browser extension. Combining the two maximizes your privacy and security.
Use official extensions and avoid free VPN apps
We only recommend that you download an official Firefox browser extension, one published by the VPN company itself. You can find lots of so-called "free VPNs" and proxies in the app store. They'll promise you all the benefits of a real VPN, but they'll mostly be concerned with gathering and selling your personal data at best, or installing who knows what malware on your computer, or both.
We discuss this more in our proxy vs VPN guide, where we point out the risks of free apps and services that rely on user data to pay the bills. It just goes to show that when something is free, you are usually the product.
Setting up a Firefox VPN extension on your computer
With that out of the way here's how to get a Firefox browser VPN extension running on your computer:
If you haven't already done so, get an account with one of our recommended Firefox VPNs. To get the best price on a subscription, use one of our discount links on this page.
Install the desktop client and make sure it is running before continuing.
Launch Firefox. Click the hamburger menu (the icon of three horizontal bars in the top right corner of the browser window). Select the Add-ons and Themes menu option. This opens a new browser tab where you can manage your Firefox extensions.
Enter the name of the extension you want to install in the Find more add-ons search box.
Select the extension you wish to install from the list of search results.
Wait for your computer to download and install the extension.
Open the browser extension by clicking its icon at the top right of the browser window.
Log in to the extension by entering your username and password.
In the extension's Settings, make sure that WebRTC leak protection is enabled, along with any other options you want to use.
In the browser extension, select the VPN server or location you want to use and click Connect. Alternately, you can click the Quick Connect button and let the extension connect you to what it thinks is the best server for you.
With both the VPN desktop client and the Firefox extension activated you should be well protected while using the internet.
Best VPN for Firefox FAQs
Here are some common questions about the best VPN for Firefox that might have occurred to you while reading this guide:
Does Firefox have a built in VPN?
No, Firefox does not have a built-in VPN.
Mozilla, the maker of Firefox, does make a VPN. This is a young and promising product that you can use with Firefox, but it is not included with Firefox. The Mozilla VPN is a paid service that runs the exceptionally fast WireGuard protocol on its network of over 400 servers in more than 30 countries. While this could be a major player in the VPN world someday, it has a long way to go to catch up to the best VPNs currently available.
What about Firefox on Android and iOS devices?
Browser extensions aren't available on Android and iOS devices. If you want to use a VPN on your Android or iOS device, you'll need to download a full VPN client from the relevant app store and use that. (See our guide on the best VPNs for Android.)
What about using a free Firefox proxy extension?
Before we go any further we had better define our terms.
A proxy extension is a browser extension that connects to a proxy server. Proxy servers can hide your IP address. A proxy server makes it look like message traffic that originates in your computer instead originated from the proxy server. This makes it appear that your computer is physically located wherever the proxy server is located.
This comes in handy if you want access to content located somewhere else in the world. By connecting to a proxy server in the 'correct' location, you trick geo-blocking software that's meant to control who is allowed access based on their location. That's a very handy capability, but that's all a proxy server or a proxy extension can do for you.
A VPN extension is a browser extension that connects to a VPN service. The servers in the VPN's network let you defeat geo-blocking the same way a proxy server does. But VPNs do much more. They are designed to protect your online privacy and security. How? By encrypting communications between your computer and the VPN server and by preventing leaks of your unencrypted data using a kill switch.
If you are serious about protecting yourself online, we recommend that you use one of our recommended VPNs and its associated Firefox VPN extension whenever connected. Avoid using free VPNs or extensions, and stick with the official software. It is the best way to cut the risk of getting spied on or ripped off by a bogus VPN.
Conclusion on Firefox VPNs in 2023
If you go to the Firefox Browser Add-Ons page and do a search for the word VPN you will get nearly 200 results. That's how many Firefox VPN extensions are listed. They all claim to protect your privacy while unblocking websites for you. And many of them are free.
But if you tried them out you would find that most don't unblock websites very well, or aren't very secure, or violate your privacy, or any combination of all those. Some even insert malware onto your computer or steal its resources to attack websites they don't like, mine cryptos, and who knows what else.
In other words, finding good Firefox VPN extensions is hard work. Our top recommendations remain NordVPN and Surfshark. These each performed well in our Firefox VPN tests, with NordVPN having a slight edge over Surfshark. Plus, each of these VPNs offers a full 30 day money-back guarantee with all subscription plans, giving you plenty of time to test everything to see if it meets your needs.
The following table shows our top-rated Firefox VPNs that met all the criteria we discussed earlier. The VPN services are based in safe privacy jurisdictions and passed all tests with no data leaks. They offer very good speeds, use strong encryption, provide excellent support, and offer 30 day money back guarantees.
Most importantly, these VPNs all have real VPN extensions that really do protect your privacy and secure your data, without doing anything nasty.
To maximize your security when using Firefox make sure to install a quality VPN with a quality Firefox browser extension. Review the write-ups about the three VPNs we cover here and choose one to test. It won't be long until you start wondering how you ever got along without it!
This Firefox VPN guide was last updated on August 24, 2023.