ExpressVPN and Proton VPN are both popular VPNs with millions of users. However, in our tests for this ExpressVPN vs Proton VPN comparison, we identified some big differences, particularly in the area of performance. Overall, both of these VPNs are decent options, but there was also a clear winner between the two.
Based on the latest test results, ExpressVPN was the winner. In comparison to Proton VPN, ExpressVPN offers faster speeds, better apps, more servers, and better reliability.
This table highlights the main facts about each VPN:
| | | |
| --- | --- | --- |
| | ExpressVPN | Proton VPN |
| Website | ExpressVPN.com | ProtonVPN.com |
| Location | British Virgin Islands | Switzerland |
| Servers | 3,000+ | 2,700+ |
| Countries | 105 | 69 |
| Logs | No logs (audited) | No logs (audited) |
| Torrenting | All servers | Restricted |
| Support | Knowledge Base; 24/7 live chat | Knowledge Base; email (no chat) |
| Apps for | Windows, macOS, Linux, Android, iOS | Windows, macOS, Linux, Android, iOS |
| Price | $6.67 | $3.99 |
| Coupon | 49% Off + 3 Months Free > | 60% Off Coupon |
In this Proton VPN vs ExpressVPN comparison, we compare these two VPNs in eight different areas. Note that some of these categories have subsections, such as security and encryption. In these cases, we will combine our ratings for each individual subsection to choose the overall winner of that section. Here are the eight categories we examined:
Background and Jurisdiction
Speed tests
Features
Streaming and Torrenting
Security and Encryption
Privacy
Price and Refund Policy
Value
That's enough of an introduction. Let's get into the meat.
Background and Jurisdiction
VPNs are great for protecting you from outside snoops and protecting your privacy. However, you must rely on their software to encrypt and decrypt your messages. And because a VPN is handling all of your traffic, it could also potentially log what you are doing. This is why finding a trustworthy VPN is so important, especially a VPN that does not keep logs.
Fortunately, both Proton VPN and ExpressVPN have a good reputation in the privacy community. Neither has been involved in any kind of data or logging scandals, which we had to discuss in the IPVanish review (it was caught logging).
It's also important to examine the service's jurisdiction. All else being equal, services based in a country that is part of some major international espionage ring have greater privacy risks. Likewise, companies based in countries that demand they log user activities also have greater privacy risks.
Proton VPN background check
Proton VPN comes to us from the team behind Proton Mail, the well-known secure email service. Proton VPN's apps are open source and like ExpressVPN, they have also undergone a security audit.
As discussed in our Proton VPN review, we consider this service to score high marks when it comes to trust and overall security.
Proton's logging scandal
However, we also need to point out the Proton Mail logging case. In this case, Proton Mail cooperated with police to target a user and provide IP address logs to authorities, who subsequently arrested the Proton Mail user. This is important for anyone to consider when signing up for a Proton service, whether it be Proton Mail or Proton VPN.
On the bright side, Proton VPN has successfully completed a no-logs audit, which was conducted by Securitum. You can see other verified no-logs VPNs here.
ExpressVPN background check
Like Proton VPN, ExpressVPN also has a pretty good reputation. As a premium VPN service, ExpressVPN has a clean record going back many years. To our knowledge, they have never violated user privacy or security. Two separate third-party audits attest to the security of their infrastructure and their no-logs privacy claims.
Jurisdictions
| | | |
| --- | --- | --- |
| | Proton VPN | ExpressVPN |
| Jurisdiction | Switzerland | British Virgin Islands |
The parent company of Proton VPN is well-respected and based in Switzerland. Switzerland is a strong pro-privacy jurisdiction and is not a party to any international surveillance alliances, such as we find with the US and UK (Five Eyes).
ExpressVPN is based in the British Virgin Islands (BVI), which is a great jurisdiction for a VPN. This jurisdiction is also shared by Surfshark, which we discussed in the ExpressVPN vs Surfshark comparison. The BVI is a very privacy-oriented place. The government doesn't require online services to retain data about their users. Many countries do have such requirements, such as the UK and Australia.
Both of these products come from companies with good overall backgrounds and are based in privacy-friendly jurisdictions. We can call this category a tie.
Company background and jurisdiction winner: Tie
---
Proton VPN vs ExpressVPN Speed Tests
Speeds and reliability are big factors to consider when selecting a VPN. After all, what's more, frustrating than a sluggish VPN that inhibits your day-to-day internet activities?
With this in mind, we ran multiple speed tests with both Proton VPN and ExpressVPN on a 500 Mbps internet connection from our US-based lab. The speed tests revealed a clear winner with performance.
Note on VPN protocols for speed tests
Right now, many VPNs are adopting the WireGuard VPN protocol due to its superior performance and upgraded encryption. We see this with both Surfshark and NordVPN, as well as OVPN, Mullvad, TorGuard, and many other early adopters. ExpressVPN does not support WireGuard at this time. In most cases, this means it is slower than a comparable WireGuard VPN. But that is not always the case as you can see in our Mullvad VPN vs ExpressVPN comparison.
Here are the protocols we used for all of the ExpressVPN vs Proton VPN speed tests:
ExpressVPN – While ExpressVPN does not support WireGuard, they have released the new Lightway protocol, which is similar to WireGuard in performance, but not quite as fast. We used the Lightway protocol for speed tests with ExpressVPN.
Proton VPN – Since we last updated this comparison, Proton VPN has implemented WireGuard support. Theoretically, this should greatly improve Proton VPN test results, especially since we also had Proton's "VPN Accelerator" feature activated.
Here are the Proton VPN vs ExpressVPN speed tests:
North American servers
Step 1 in this testing was to check speeds using VPN servers in North America.
Proton VPN with a Seattle server: 122 Mbps.

ExpressVPN with a Seattle server: 196 Mbps.

While Proton VPN did turn in better results than last time, neither service gave very impressive results for a 500 Mbps internet connection. Still, ExpressVPN takes the early lead over Proton VPN.
Next, we tested servers in Los Angeles, California.
Proton VPN with a Los Angeles server: 90 Mbps.

Once again Proton VPN was faster than before, but the result is not very impressive.
ExpressVPN with a Los Angeles server: 231 Mbps.

Here we see that ExpressVPN is much faster than Proton VPN. It's clear that ExpressVPN has a big performance advantage over Proton VPN for servers in the United States. (We also found similar results with servers in Canada.)
Servers in the United Kingdom
We also ran some tests with servers in the United Kingdom. There are many VPN users in the UK and Europe, especially given that governments over there are doing their best to degrade digital privacy. So does ExpressVPN or Proton VPN perform better in the UK?
Proton VPN with a UK server: 17 Mbps.

Last time around, Proton VPN turned in a horrible result of 20 Mbps. This time it is even worse. Surely ExpressVPN can do better than this.
ExpressVPN with a UK server: 235 Mbps.

ExpressVPN blows Proton VPN away here again, with much faster speeds, over 10 times faster than Proton VPN. The following table summarizes our results:
| | | |
| --- | --- | --- |
| Location | ExpressVPN | Proton VPN |
| Seattle | 196 Mbps | 122 Mbps |
| Los Angeles | 231 Mbps | 90 Mbps |
| United Kingdom | 295 Mbps | 17 Mbps |
| Average speed | 240 Mbps | 76 Mbps |
Summary of speed test results.
We can see that ExpressVPN is much faster than Proton VPN in all of the server locations we tested. In most of our tests, a VPN running WireGuard is faster than ExpressVPN running Lightway, yet in our testing, ExpressVPN averages triple the speed of Proton VPN. One example of this phenomenon is in our Surfshark vs ExpressVPN comparison.
Speed and performance winner: ExpressVPN
Note: While ExpressVPN comes out on top in this comparison test, it could not compete with NordVPN, which uses WireGuard. See the NordVPN vs ExpressVPN comparison for details.
---
Features: Is ExpressVPN or Proton VPN better?
| Feature | ExpressVPN | Proton VPN |
| --- | --- | --- |
| Advanced protocol support | Lightway | WireGuard |
| Split tunneling | Yes | Yes |
| RAM-only servers | Yes | No |
| Kill Switch | Yes | Yes |
| Private DNS | Yes | Yes |
| Logs | No logs (audited) | No logs (audited) |
| Multiple VPN protocols | Yes | Yes |
| Browser Extensions | Yes | Yes |
| Built-in ad blocking | Yes | Yes |
| Double VPN servers | No | Yes |
| Obfuscated (stealth) servers | Yes | Yes |
| P2P servers | Yes | No |
| Dedicated IP servers | No | Yes |
| Free version | No | Yes |
When you need to unblock websites from anywhere in the world or need to protect against snoops and spies of all sorts, both these VPNs are good choices. Let's take a quick look at their key features (excluding those that we cover in more depth elsewhere in this article).
Proton VPN features
When thinking about Proton VPN features, we need to distinguish between the features available to paid subscribers and people using the free version of Proton VPN. The features of the free version are significantly reduced. In the following discussion, I will indicate where the features of the free version are curtailed. Let's start with the Proton VPN servers.
Proton VPN server network
| | | |
| --- | --- | --- |
| Server Type | Quantity | # of Countries |
| Plus | 2700+ | 69 |
| Secure Core | 103 | 66 |
| Free | 100+ | 3 |
Proton VPN has a network of over 2,700 servers in 69 countries throughout the world. While not huge, this network could well be enough for your needs. Users of the free version do not get access to the full server set. Instead, they have access to 100+ servers located in three countries (the United States, the Netherlands, and Japan).
All Proton VPN servers are protected by full disk encryption. This would make it extremely difficult for a hostile entity to access any data stored on the servers, even with physical access to the hardware.
A major feature of Proton VPN is its Secure Core servers. These servers are part of a double-VPN configuration designed to provide extra security for your data by passing it through two VPN servers located in different countries. The Secure Core servers are located in high-security data centers that are physically hard to access.
Double-VPN configurations are typically slower than other VPN connections due to passing data through two servers in two separate locations. However, during our testing, we found that Proton VPN Secure Core servers are slow, even in comparison to other double-VPN server implementations. For example, you can see that NordVPN's double VPN servers outperform Proton VPN's Secure Core servers in our NordVPN vs ProtonVPN comparison.
Proton VPN supports up to 10 simultaneous connections to this network, which is a nice increment above the five or six connections most VPN services allow. The free version only allows one connection at a time.
Other Proton VPN features
The Proton team has built some more advanced features into their VPN. These include: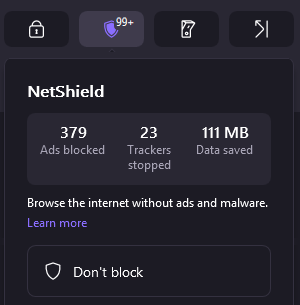 Port Forwarding – Proton VPN uses its own firewall to block all device ports except those used by the VPN. Port forwarding lets you route traffic through the firewall for activities such as online gaming.
A three-state Kill Switch – Most VPN kill switches have two states, on or off. The Proton VPN kill switch has a third state, called the Permanent Kill Switch. In this state, your device cannot connect to the internet, except through the VPN.
Split tunneling – Split tunneling allows you to pass traffic for some applications through Proton VPN, while other traffic goes directly to the internet, bypassing the VPN. Traffic bypassing the VPN is unprotected but moves at the maximum speed of your internet connection.
Custom profiles – With this feature, you can define a custom configuration of the VPN and save it under a named profile for easy reuse in the future.
Tor over VPN – This feature routes VPN traffic through the Tor network adding the anonymity benefits of Tor to the security and privacy benefits of Proton VPN. This feature is only available to paid subscribers.
Specialized Streaming Servers – Streaming content from around the world often requires a VPN to defeat the geo-blocking systems used by streaming services. Proton VPN has a number of servers that may be capable of doing this. These streaming servers are only available to paid subscribers.
Specialized P2P/BitTorrent Servers – Just as Proton VPN has certain servers for streaming, it has certain servers that are designed to be used for P2P/BitTorrent use. These torrenting servers are only available to paid subscribers.
Proton VPN apps
| | |
| --- | --- |
| | Proton VPN |
| Apps | Windows, macOS, Linux, iOS, Android |
| Browsers | Chrome, Firefox, Edge |
| Other | Android TV, Chromebook |
When we looked at the Proton VPN apps, we found some good privacy and security features. These include leak protection features to keep traffic safe, a split tunneling feature, and port forwarding. You can sign up for the service anonymously, and they support up to 10 simultaneous connections. Here is the Proton VPN Windows app we tested: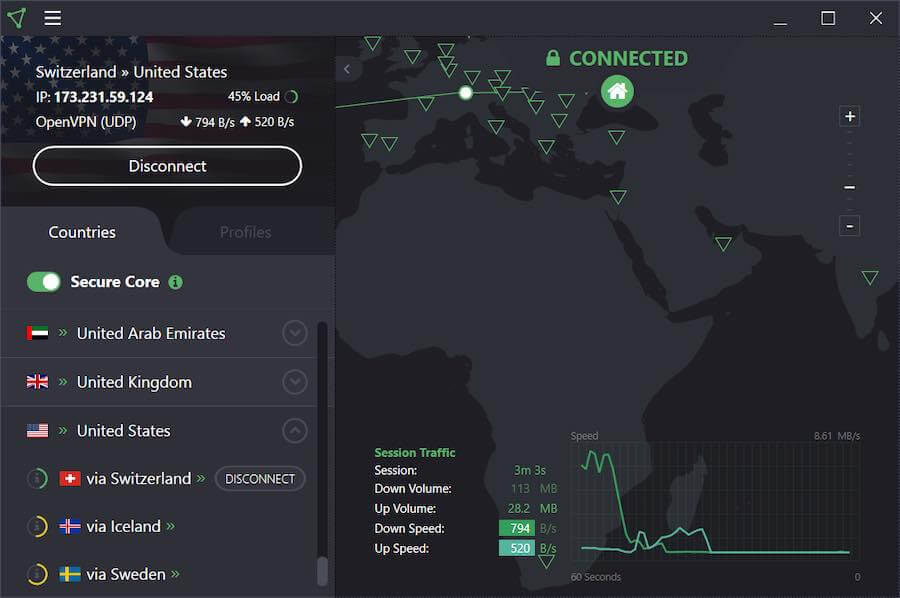 One drawback with Proton VPN we noticed is that the apps feel cluttered. This is in contrast to ExpressVPN, which takes a more minimalist approach. Proton VPN offers apps for Windows, Mac OS, Linux, iOS, Android, and several types of routers, including the Vilfo VPN router. They have also added support for Android TV.
Most recently, the team at Proton has created browser extensions for Proton VPN. Unfortunately, this is another Proton VPN feature that is only available with a paid subscription.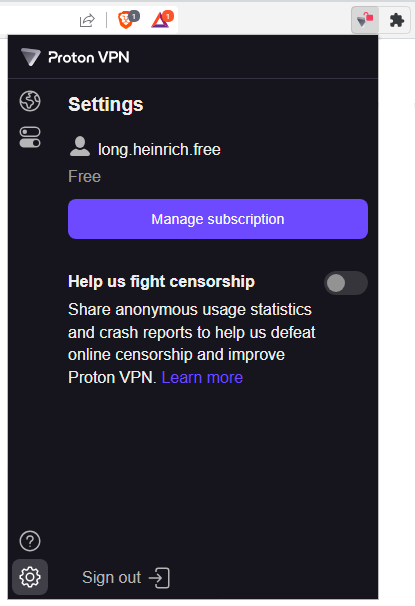 ExpressVPN Apps
| | |
| --- | --- |
| | ExpressVPN |
| Apps | Windows, macOS, Linux, iOS, Android |
| Browsers | Chrome, Firefox, Edge |
| Other | Android TV, Fire TV, Gaming systems, Aircove and other Routers, and more |
ExpressVPN has user-friendly, high-quality apps for numerous operating systems, routers, and other devices. Their kill switch, called Network Lock, works great. It protects you against the full range of DNS and IP address leaks. Here is the ExpressVPN Windows app we tested: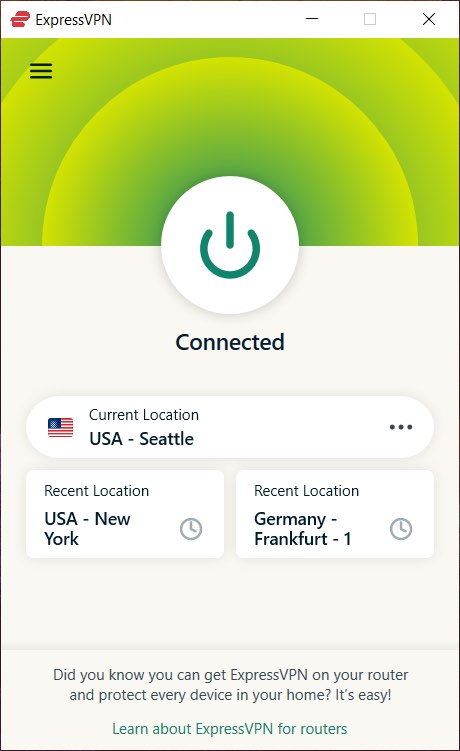 And here is the ExpresVPN browser extension. Note the family resemblance between the two: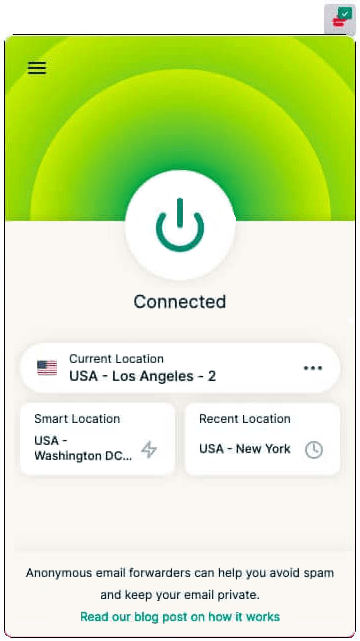 We examined the best VPNs for Chrome and found ExpressVPN's extensions to be a great choice.
ExpressVPN features
ExpressVPN does not restrict servers, speeds, and features based on which type of subscription you have. In other words, all plans with ExpressVPN are the same in terms of features, servers, and speeds.
ExpressVPN offers a split tunneling feature that allows you to select applications or websites that bypass the VPN connection. This can be very helpful in some use cases. ExpressVPN offers the split tunneling feature with Windows, Mac OS, Android, and routers.
ExpressVPN also offers an obfuscation feature that makes your VPN traffic look like HTTPS traffic. Since most internet traffic these days is HTTPS traffic, your obfuscated VPN connection becomes indistinguishable from non-VPN traffic. This obfuscation technology makes ExpressVPN one of the best VPNs for China. Functionally, this is equivalent to Proton VPN's Stealth protocol.
ExpressVPN supports eight simultaneous connections.
Proton VPN has definitely upped its game when it comes to features and is now the winner of this category.
Features winner: Proton VPN
---
Netflix, streaming, and torrenting
VPNs are popular for various reasons, including streaming. As a matter of fact, more people than ever are streaming content at home. As such, many people are looking for the best VPN for streaming in order to unblock content from around the world.
Here are the areas we examined to see whether ExpressVPN or Proton VPN is the best option for streaming:
You can unblock geo-restricted content from the most popular streaming services. These include Netflix regional libraries, Hulu, Disney Plus, and more.
You need to have lots of streaming-capable servers throughout the world, particularly in the USA, UK, and other geographic regions that contain streaming servers.
You must be fast enough to stream HD content without buffering or reducing the resolution to compensate for a sluggish network.
Let's see how these services do in each of these categories.
Netflix and streaming
| | | |
| --- | --- | --- |
| | ExpressVPN | Proton VPN |
| Supported Netflix Libraries | 20+ | 4 |
| Plans with Streaming Support | All plans | Only paid plans |
| App for Smart TV? | Yes | Yes |
| App for Firestick / Fire TV? | Yes | No |
ExpressVPN
We've done lots of testing and ExpressVPN has proven to be one of the best VPNs for streaming. They do a great job unblocking Netflix libraries, have plenty of streaming-capable servers around the world, and are fast enough to get the job done right. That's why you will find them on our list of the best VPNs to unblock Netflix. Below I'm streaming Netflix with an ExpressVPN server in Washington, DC.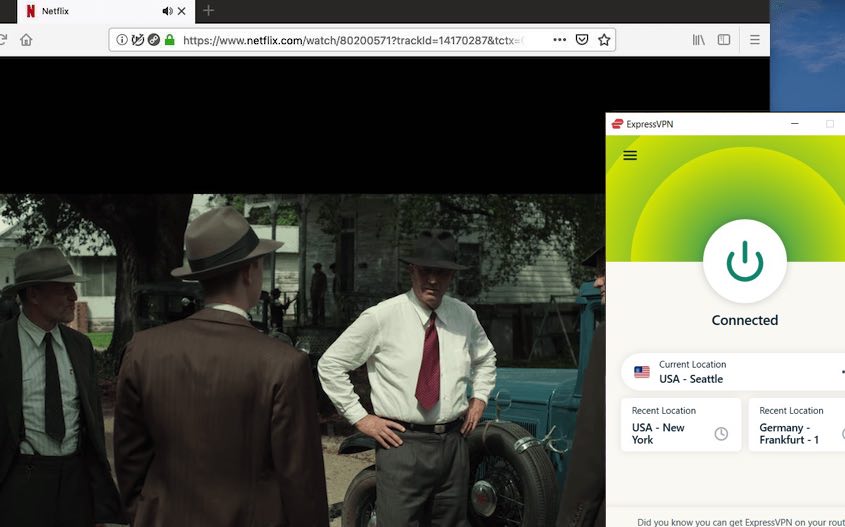 In addition to Netflix, ExpressVPN is also a great VPN for Disney Plus, Hulu, DAZN, Amazon Prime, and many others.
Proton VPN
Even though Proton VPN is more focused on privacy, they still offer pretty good support for streaming — but there are a few issues we found:
Proton VPN restricts access to streaming servers in their network, with only paying customers allowed to use those servers.
Even with the special streaming servers, Proton VPN has only limited access to a wide variety of streaming services.
Proton VPN simply does not unblock as many streaming services as ExpressVPN. ExpressVPN is also a great choice if you need a VPN for Disney Plus, which is also growing in popularity.
The other problem we already noted before with Proton VPN is that the speeds are inconsistent and not as fast as ExpressVPN. This could affect your ability to stream content in HD at all times.
In the streaming category, we see that ExpressVPN does better than Proton VPN in all three areas of streaming: more streaming-capable servers, faster speeds, and more access to a wider selection of streaming services.
Streaming winner: ExpressVPN
Torrenting with ExpressVPN and Proton VPN
| | | |
| --- | --- | --- |
| | ExpressVPN | Proton VPN |
| Torrenting Support | All servers | Some servers excluded |
| Dedicated P2P Servers | No | No |
| Plans that Support Torrenting | All plans | Only paid plans |
| Download Speeds | Fast | Moderate |
Torrenting is a great way to transfer large files such as music and movies. Unfortunately, torrenting can also come with some risk as it is a grey area in terms of copyright laws. Therefore we always recommend using the best VPN for torrenting that includes a secure kill switch to encrypt all internet traffic.
ExpressVPN is pretty fast (thanks to Lightway). They can securely hide your IP address, keep no logs, and give you very solid leak protection. The Network Lock kill switch offers very secure protection against any IP or DNS leaks. This allows you to torrent for hours without worry.
Proton VPN is slower than ExpressVPN, which can affect torrent speeds in a bad way. And torrenting (P2P/BitTorrent) use is restricted to paying customers. By connecting to one of the special torrenting servers, you get full torrenting support, along with no logs, and leak protection.
While both of these services are secure, and prevent your IP address from leaking onto the internet, ExpressVPN is definitely faster for torrenting. This makes ExpressVPN the winner in the torrenting category as well.
Now, to recap, ExpressVPN comes out on top for both streaming and torrenting.
Note: If P2P/torrenting is important to you, you might want to check out our TorGuard vs NordVPN review to see what kind of performance is possible.
Overall streaming and Torrenting winner: ExpressVPN
---
Encryption and Security: Is Proton VPN or ExpressVPN better?
What good would a VPN be if it didn't have unbreakable encryption and ironclad security? Not much.
To be a top VPN you need to use strong encryption algorithms and secure VPN protocols. (Fast protocols on a fast network wouldn't hurt either!)
Let's take a look at how these services rank on encryption and security.
Encryption and protocols
Proton VPN: Proton VPN has long used the industry-standard VPN protocols: OpenVPN, and IKEv2. More recently, they added support for the WireGuard VPN protocol. WireGuard is an extremely fast and secure protocol that is being adopted by more and more VPN services every day.
In addition, Proton VPN has developed a new VPN protocol they call Stealth. According to the Proton VPN website, Stealth is, "…a new, undetectable VPN protocol that can bypass most firewalls and VPN blocking methods."
ExpressVPN: ExpressVPN clients use their new Lightway protocol as well as OpenVPN. For encryption and authentication, they go with AES-256, SHA-512 HMAC, and a 4096-bit RSA key.
Both of these services use strong encryption and protocols, including the newer and more secure Lightway and WireGuard protocols. We rate this category a tie.
Encryption & protocols winner: Tie
Security audits
ExpressVPN has undergone numerous audits:
Proton VPN has undergone a security audit conducted by SEC Consult and a no-logs audit by Securitum. In comparison to ExpressVPN, ProtonVPN has undergone far fewer audits.
Security audits winner: ExpressVPN
Server Security
| | | |
| --- | --- | --- |
| Server feature | ExpressVPN | Proton VPN |
| RAM-disk | Yes | No |
| Virtual Servers | Yes | No |
When it comes to server security, you need to consider online security and physical security. The majority of VPNs protect their servers from internet-based attacks. As can be seen in the Security audits section above, both ExpressVPN and Proton VPN do a fine job of this.
Physical security is less discussed. Our two contenders take differing approaches to physically protecting their servers. Let's talk about that now.
In 2019, ExpressVPN completed their move to TrustedServer. TrustedServer is the name for a project that modified all of the thousands of servers in their network to RAM-disk operation, rather than using hard drives. This means that it is impossible to store data on any VPN server. It also offers better security against any kind of server seizure.
Proton VPN takes a different approach. Their Secure Core initiative physically protects their core servers in what are considered to be secure locations. These are locations with extra physical security that are located in good privacy jurisdiction:
Switzerland
Sweden
Iceland
It's again worth noting, however, that this Secure Core feature is not accessible unless you subscribe to one of the two most expensive Proton VPN plans.
While the Proton VPN approach to server security is impressive, so is the ExpressVPN approach. The fact that the ExpressVPN approach applies to every server in their network and is included for all users gives it an edge.
Encryption and security overall winner: ExpressVPN
See ExpressVPN's encryption and security features here >>
---
Privacy: Is Proton or Express the best?
How do Proton VPN and ExpressVPN compare on this most important VPN characteristic?
ExpressVPN – ExpressVPN is strong on privacy. They have a great reputation, all the privacy features you could ask for, and their systems have been tested, verified, and audited by independent third parties. They've even had hardware seized in 2017 by Turkish authorities – but customer data remained secure. You can't ask for better proof than this.
Proton VPN – These guys are also strong on privacy. Their apps include all the important privacy protection features, they keep no logs, and their Secure Core architecture goes to extreme lengths to provide physical security when connecting through Secure Core servers. Proton VPN has also been audited by an outside service.
Finally, the fact that their clients are open source gives confidence that they will continue to protect user privacy in the future, as any changes will be visible to the world.
While they each take slightly different approaches to guaranteeing your privacy, we would trust both of these services.
Privacy winner: Tie
---
Price and refund policies
| | | |
| --- | --- | --- |
| Subscription Length | ExpressVPN | Proton VPN |
| Monthly | $12.95 | N/A |
| 6-months | $9.99/mo | N/A |
| 1-year | $6.67/mo | $8.69/mo |
| 15-month | N/A | $4.79/mo |
| 2-year | N/A | N/A |
| 30-month | N/A | $3.99/mo |
| Coupon: | 49% Off Coupon | 60% Off Coupon |
We've got all the technical stuff taken care of. Now let's talk about the price and refund policy of each service.
Proton VPN has a two-tiered price plan. The Proton VPN Free plan is, of course, free. The least-expensive paid plan (Proton VPN Plus) is reasonably priced at $3.99 per month for a 30-month subscription. This is not only cheaper than ExpressVPN, but it edges into the "cheap VPN" category.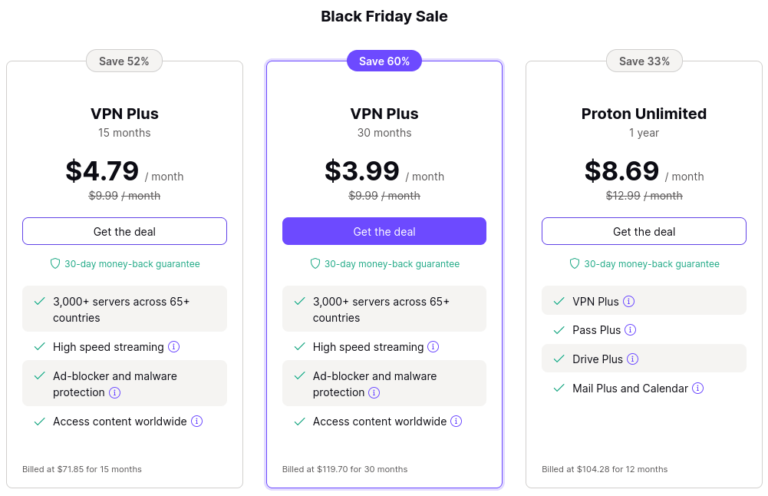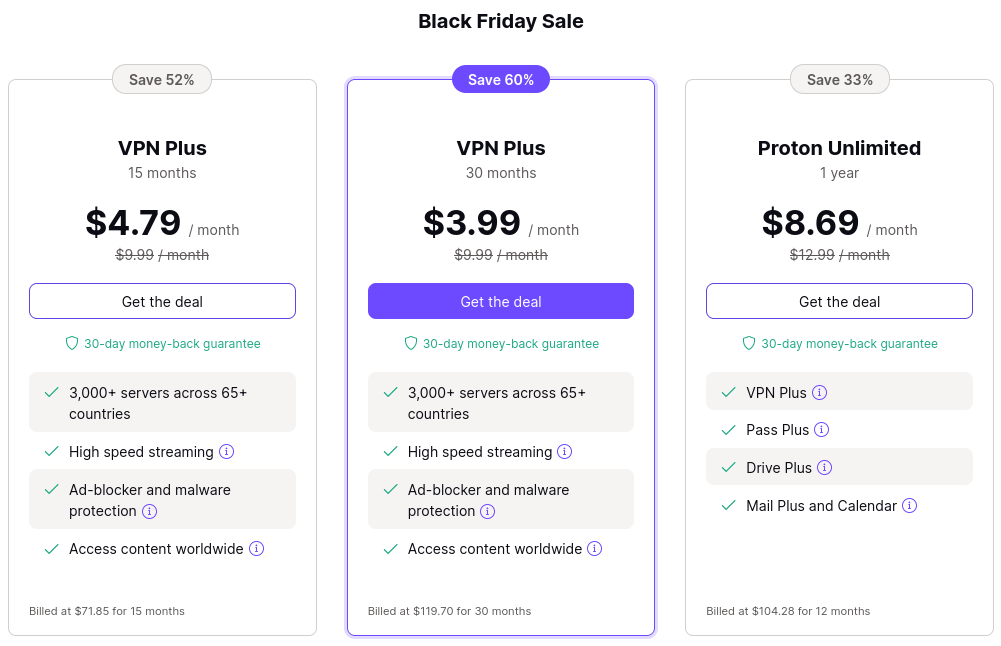 Refunds – Proton VPN offers a 30-day refund policy. However, they will only refund a prorated portion of the fee you paid. For example, you sign up for the Plus plan, paying $8.00 per month. You request a refund after 15 days. You would receive a prorated refund (in this case $4.00 instead of $8.00) instead of a full refund.
ExpressVPN pricing is simpler. They give you the entire service at all times. The only variable is that they offer cheaper prices for longer commitments.
While ExpressVPN prices are usually around $8.32 per month with the one-year plan, you can get a nice discount with this coupon for three months free and 49% off. Here are the discounted prices with the coupon:

Refunds – Unlike Proton VPN, ExpressVPN will give you a 100% refund if you cancel within 30 days of signing up. Simply cancel and request a refund — and you will get all of your money back (not a pro-rated amount).
Assuming you go with the longest subscription term to get the best price for each service, Proton VPN's 2-year subscription is significantly cheaper than the ExpressVPN discounted price you can get with our exclusive coupon at the end of this article.at $6.67.
So to recap, ExpressVPN offers a better refund window, but Proton VPN has a better price. Given that the overall price of a VPN subscription is more important than the refund policy, Proton VPN gets the nod here.
Price and refund policy winner: Proton VPN
---
Value: Is ExpressVPN or Proton VPN the best?
As always, deciding which VPN is a better value depends a lot on your specific needs. But there are some characteristics that we can all agree add to the value of a VPN:
Security and VPN protocols: Both VPNs are secure, and both offer newer and faster VPN protocols (Lightway for ExpressVPN and WireGuard for Proton VPN). Both also offer obfuscated (stealthy) protocols. However, ExpressVPN has an edge due to the sheer number of third-party audits it has completed.
Privacy: These VPNs keep no logs, protect you against leaks, and have third-party audits, we can call this one a tie.
Performance: ExpressVPN offers faster speeds and faster connection times (handshakes) with the new Lightway protocol. It beats Proton VPN here.
Features: Proton VPN now offers more features than ExpressVPN
Streaming: You get more streaming support with ExpressVPN.
While Proton VPN is pretty competitive now, ExpressVPN wins in most of these areas. It is more expensive than Proton VPN, but we think the price differential is outweighed by ExpressVPN's better performance. And remember that you can get the best available ExpressVPN price when you use this coupon: coupon for three months free.
Value winner: ExpressVPN
---
Conclusion: ExpressVPN wins in 2023
Once again, ExpressVPN wins this head-to-head matchup. To refresh your memory, here are the results for each category:
| | |
| --- | --- |
| Category | Winner |
| Background and Jurisdiction: | Tie |
| Speeds: | ExpressVPN |
| Features: | Proton VPN |
| Streaming and Torrenting. | ExpressVPN |
| Privacy: | Tie |
| Price and Refunds: | Proton VPN |
| Value: | ExpressVPN |
As you can see, ExpressVPN won three categories, while Proton VPN won two categories and there were 2 ties. Proton VPN is clearly not a bad service. They would probably win against most of the other VPN services on the market today. However, when going up against one of the best, Proton VPN still has some work to do to catch up.
Whichever VPN you decide to try, be sure to pick up the best prices with the discounts below:
ExpressVPN Coupon:

Sign up for the 12-month plan and get 3 months added to your subscription for free.
(Coupon is applied automatically.)
or…
Have you used Proton VPN or ExpressVPN? If so, sound off! We would be happy to hear what you think about them. Your input helps us to create better content and helps your fellow readers make the best decision possible.
This Proton VPN vs ExpressVPN comparison guide was last updated on November 23, 2023.