NordVPN and TorGuard are both popular VPNs on the market today. They both have their fans and hordes of satisfied customers. But is one objectively better than the other? The answer, based on all of our tests, is a clear yes — and this NordVPN vs TorGuard comparison will show you who.
Based on all of the latest test results, NordVPN was the winner for 2023. In comparison to TorGuard, NordVPN offers faster speeds, better apps, more security features, and access to more streaming sites. It is also much cheaper than TorGuard (when you use the coupon below).
This table summarizes the main facts about each VPN:
| | | |
| --- | --- | --- |
| | NordVPN | TorGuard |
| Website | NordVPN.com | TorGuard.net |
| Location | Panama | United States |
| Servers | 5,500+ | 3,000+ |
| Countries | 59 | 50 |
| Logs | No logs (audited) | No logs |
| Torrenting | All servers | Restricted* |
| Netflix | Supported | Limited** |
| Support | Knowledge Base; Email; 24/7 chat | Knowledge Base; Email (no chat) |
| Apps for | Windows, macOS, Linux, Android, iOS | Windows, macOS, Linux, Android, iOS |
| Price | $3.29 (with coupon) | $5.00 |
| Best Deal | 63% Off NordVPN Coupon > | N/A |
*Being a US VPN service, TorGuard was sued in a US court for copyright violations committed by users on its network. As part of the settlement, TorGuard now blocks torrenting on all US servers. NordVPN does not restrict torrenting on its network.
**To access Netflix and other streaming services, TorGuard requires you to purchase a "streaming bundle" add-on for $7.99 per month. This greatly increases the cost of the VPN for anyone wanting to use it for streaming. NordVPN does not do this and provides all subscribers with equal access to streaming services.
Below we present to you a head-to-head comparison of these two powerful VPNs. We'll be looking at how they compare, one against the other, in eight different categories:
Company background and jurisdiction
Features
Speed tests
Streaming and Torrenting
Security and Encryption
Privacy
Prices & Refunds
Value
By the time we finish evaluating all these categories, you'll have everything you need to know to choose between NordVPN and TorGuard. So let's get started.
Company background check and jurisdiction
When people talk about using a VPN, we tend to think that our online activities are hidden from everyone. But never forget that your VPN does have the potential to see what you do online. While most VPN services seem to be honest and try to protect your privacy, some have been caught breaking their own "no logs" policies. Case in point: IPVanish, a US-based VPN service, was found to be logging users for the FBI while claiming to be a "no logs" VPN.
This means the history and integrity of the company that runs a VPN are vitally important. Let's see what we can discover about the companies behind these two VPNs.
NordVPN background check and jurisdiction
NordVPN and other Nord security products all fall under the Nord Security brand. The company was established in 2012 and they are veterans of the VPN market, with many years of experience. But that's not all. They are rolling out other security solutions, including NordPass, a secure password manager, and also NordLocker, a secure cloud storage solution and encryption tool.
NordVPN is produced by a global team that is strategically incorporated in Panama. From the beginning, NordVPN was a strictly no-logs VPN service — and they have been audited twice to confirm those claims. Panama lines up with this policy because it is an excellent jurisdiction for a privacy-centric business. The country of Panama is not a member of the 5 Eyes, 9 Eyes, or the 14 Eyes intelligence alliances, and has no mandatory data logging and retention laws that could force them to spy on their users.
In short, NordVPN has a very good reputation, is a verified no-logs VPN provider, and is based in an excellent location for privacy. We have no problem recommending their products.
TorGuard VPN background check and jurisdiction
VPNetworks LLC is the parent company of the TorGuard VPN. Digging a little deeper, we learned that VPNetworks LLC is part of a holding company named Data Protection Services LLC. This holding company owns TorGuard VPN, Private-Email, and PrivateRouter, a company that sells VPN routers that work with TorGuard.
So where are these companies based? VPNetworks LLC and Data Protection Services LLC are both based in the United States, — specifically in Orlando, Florida. Interestingly, in 2013 it seems that TorGuard moved offshore from the USA to Nevis, West Indies. However, more recently, the company moved back to the United States, where it operates today.
The decision to operate TorGuard VPN in the United States (under US law) is a massive drawback. Here's why:
The US government operates a far-reaching surveillance network and is a member of the Five Eyes surveillance network.
US government agencies can easily force a VPN service to log their users, while also hitting them with gag orders that prevent any disclosure. This has happened numerous times before, as you can see with IPVanish, Lavabit, and also RiseUp.
The laws in the US are only getting worse for privacy-focused businesses, with recent calls to force encryption backdoors.
In short, the United States is one of the worst jurisdictions in the world to operate a VPN. This puts TorGuard users at risk when compared to VPNs operating in safe jurisdictions.
TorGuard gets sued in US court, now forced to block torrenting
Another major risk of operating in the United States is that you could get sued by overzealous copyright holders. This happened recently when TorGuard was sued and forced to block torrenting on all US servers as part of a settlement agreement. We wrote an article on the situation (link above), but if you enjoy torrenting with fast speeds on US servers, you should avoid TorGuard.
Company background check and jurisdiction winner: NordVPN
---
Features comparison: Is NordVPN or TorGuard best?
Both TorGuard and NordVPN offer some great features, so this should be an interesting category.
TorGuard features
TorGuard supports a ton of VPN protocols: OpenVPN, IKEv2, L2TP, IPSec. They also support several stealth protocols: OpenVPN Stealth, ShadowSocks, Stunnel, and AnyConnect (a.k.a. OpenConnect). The stealth VPN options are useful if you need a VPN for Dubai and UAE, where VPNs are routinely blocked. And as noted above, TorGuard officially supports WireGuard, but it simply did not work in our tests.
On the encryption front, TorGuard offers AES-128, AES-256, Blowfish, and ChaCha20.
If you have a lot of users to support (or run a lot of connected devices yourself), you'll be happy to hear that TorGuard supports 8 simultaneous connections, which is more than NordVPN.
TorGuard has a large network, with over 3,000 VPN servers in 50+ countries. This includes countries that are often not supported by other VPN services such as Moldova and the UAE. While this is a smaller server network than NordVPN, it is still pretty good.
Just like with NordVPN, TorGuard provides apps for Windows, Mac OS, Linux, iOS, and Android. The iPhone VPN app has a good rating on the Apple Store. These VPN clients (apps) offer a huge range of options, which is great if you are a VPN expert and want detailed control over every aspect of your VPNs functionality. That said, we think that casual or first-time VPN users will be confused by the plethora of settings and options available in these clients.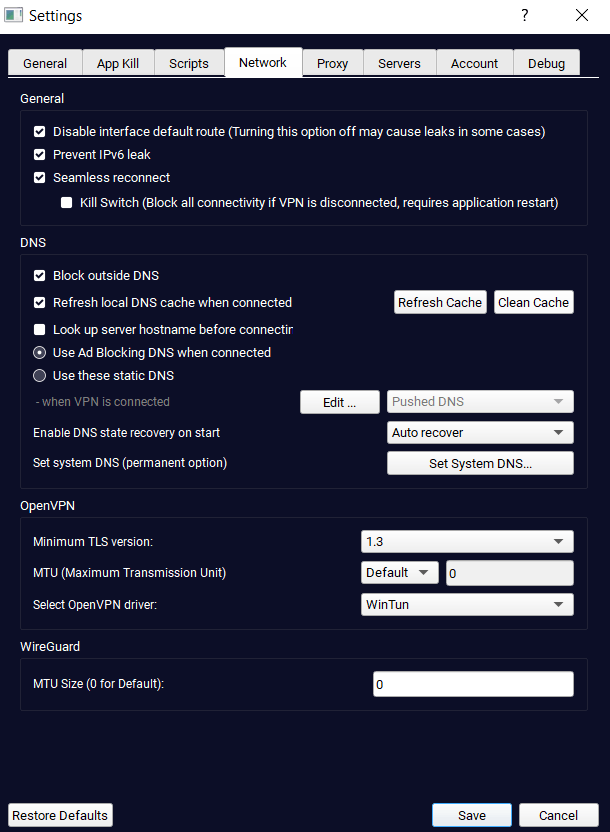 Like NordVPN, TorGuard offers browser extensions for both Firefox and Chrome.
Now let's see what features NordVPN brings to the contest.
NordVPN features
NordVPN offers a ton of advanced security features. They offer all the same apps and browser extensions that TorGuard does. Additionally, this is a great VPN for Firestick and Fire TV with a dedicated app, while also offering support for Raspberry Pi. A NordVPN client also comes preinstalled on the Vilfo VPN router.
NordVPN apps use OpenVPN with AES 256 encryption, or NordLynx (WireGuard). From a user experience standpoint, NordVPN apps are more user-friendly than TorGuard. The layout is cleaner, while still giving you easy access to all important features and preferences.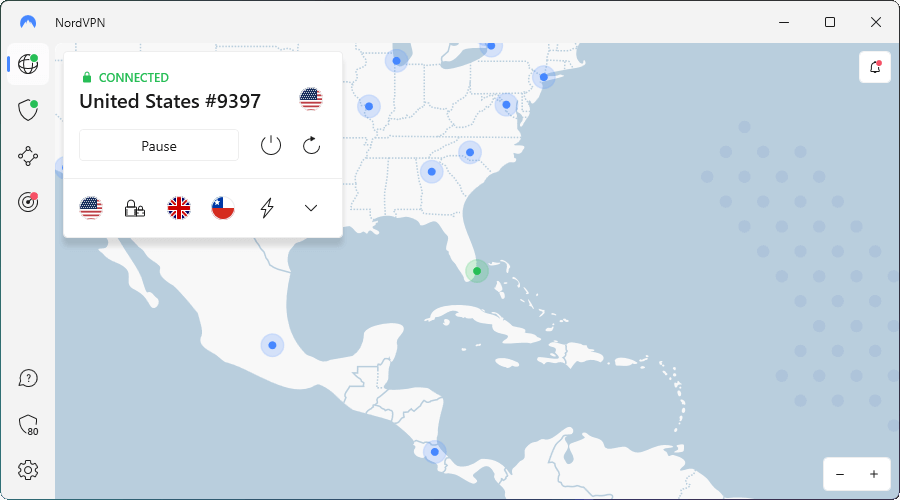 Another impressive aspect of NordVPN is their network of servers. They have over 5,200 servers in over 56 countries worldwide. One of the benefits of this huge network is their ability to provide users with a set of specialized servers for many different use cases:
Numerous P2P servers optimized for torrenting
Censorship-defeating obfuscated servers, which work well if you need a VPN for China
Extra secure Double-VPN servers that pass your traffic through two VPN servers, one after the other
Yet another great NordVPN feature is called Threat Protection. This feature blocks ads and trackers as well as malware and phishing domains. You can also set it to scan files you download, looking for potential threats, very much like an anti-virus program. This makes it one of the best VPNs with ad blocking. Enabling Threat Protection can also improve performance, especially on mobile, by preventing ads and trackers that normally eat up bandwidth from even being downloaded.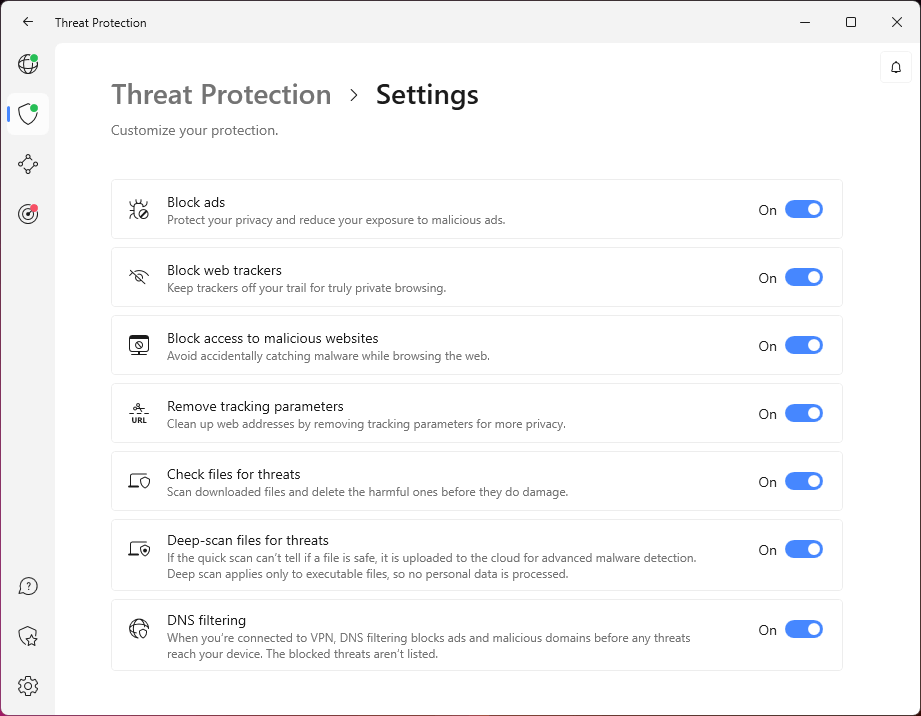 Another feature that we find with NordVPN, but not with TorGuard, is split tunneling. A split tunneling VPN feature will allow you to route certain apps on your device or websites outside of the VPN tunnel. This can be useful for gaming apps or perhaps with bank websites that typically block VPNs.
Both TorGuard and NordVPN offer static IP VPN add-ons. The prices for each will vary depending on the VPN and the duration of your subscription.
With TorGuard, extra features will cost you…
One major drawback of TorGuard VPN is that add-ons and additional features, including streaming, all cost extra. These are listed as different "bundles" that you'll need to add to the base price of the VPN. This is a huge drawback for people who need a good VPN for streaming.
Unlike TorGuard, NordVPN includes all features and streaming support at the same base price, with no extra fees.
Features winner: NordVPN
---
NordVPN vs TorGuard speed tests
The speed of a VPN is extremely important. All VPNs slow down your connection to some extent, but some VPNs affect performance more than others. So let's see who comes out on top in NordVPN vs TorGuard internet speed tests.
Note: All tests were performed on a 500 Mbps connection from our location in the United States.
First, we tested both VPNs using their servers in locations throughout the United States.
Test 1: Los Angeles
TorGuard speeds with a server in Los Angeles: 266 Mbps

At over 200 Mbps, this is a pretty good speed test result from TorGuard. Can NordVPN do better?
NordVPN speeds with a Los Angeles server: 304 Mbps

At over 300 Mbps, these are excellent speeds from NordVPN. And with this location, NordVPN is faster than TorGuard by about 38 Mbps.
Test 2: Seattle
TorGuard server in Seattle: 202 Mbps

Again, not too bad, but also not phenomenal results from TorGuard.
NordVPN server in Seattle: 445 Mbps

No, that is not a typo. On our 500 Mbps connection, NordVPN delivered over 445 Mbps. That's the fastest VPN we have tested so far. And note that NordVPN also recorded a ping of 24 ms for this test. With pings this low, both TorGuard and NordVPN would work if you need a VPN for gaming with low latency.
Test 3: New York
TorGuard server in New York: 116 Mbps

So far, this is the slowest TorGuard server we have tested. Let's see how NordVPN compares.
NordVPN server in New York: 280 Mbps

NordVPN is more than twice as fast as TorGuard for the New York server location – another excellent result.
We noticed similar speed differences in our Surfshark vs TorGuard comparison with US servers.
Test 4: United Kingdom
Lastly, we also tested servers in the United Kingdom. This is a popular location for those needing a UK VPN due to eroding privacy laws in that region.
TorGuard server in the UK: 152 Mbps

These results aren't, horrible, but they also are not impressive. Now let's see if NordVPN is faster than TorGuard.
NordVPN server in the UK: 295 Mbps

As you can see, using a NordVPN server in the UK gave us much better results than with TorGuard. Indeed, in this particular test, NordVPN was almost twice as fast as TorGuard. This is why we rate NordVPN as one of the best UK VPNs with excellent speeds.
Why is NordVPN so much faster than TorGuard?
We tested NordVPN using its NordLynx protocol. NordLynx is NordVPN's custom implementation of the WireGuard VPN protocol, which is much faster than the current industry-standard OpenVPN protocol. In our OpenVPN vs WireGuard speed tests, WireGuard was on average 58% faster than OpenVPN.
TorGuard also claims to support WireGuard. Unfortunately, we had problems with both our Windows and Mac test machines when we tried to activate TorGuard's WireGuard protocol. On both machines, we encountered SSL Handshake Failure errors whenever we tried to connect using WireGuard.
These errors were observed on two different computers, physically located thousands of miles apart, running two different operating systems, and connecting to two different sets of TorGuard servers. We have to conclude the problem was on TorGuard's end.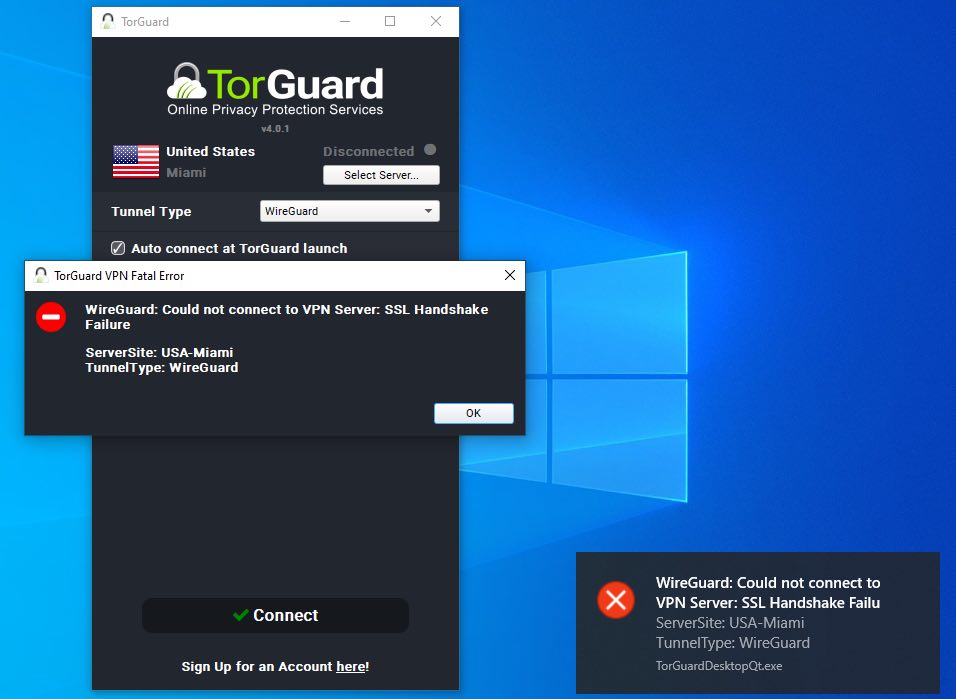 We have also found WireGuard to give NordVPN a significant performance advantage in other speed tests, as you can see in the NordVPN vs IPVanish comparison. This was also the case in Surfshark vs ExpressVPN, with Surfshark now supporting the WireGuard VPN protocol and coming out on top.
Speed test winner: NordVPN
---
Streaming and Torrenting: TorGuard vs NordVPN
Both TorGuard and NordVPN support streaming and torrenting. But there are some differences in the ways that they do so, which make one of them the clear winner for anyone who sees streaming and torrenting as an important part of their VPN use.
Streaming: NordVPN compared to TorGuard
If you intend to use your VPN for streaming media from sites around the world, you aren't alone. Millions of people use VPNs to get access to streaming libraries around the world. But only a few VPNs are good at defeating the geo-blocking technology employed by more and more services.
NordVPN – Right now, we consider NordVPN to be the best VPN for Netflix for three main reasons:
It supports 15+ Netflix regional libraries, including all of the most popular locations, such as the US, UK, Germany, France, and more.
It works on a very consistent basis (no downtime).
You will have very fast speeds, which allows you to stream HD quality without any buffering or interruptions.
Below we are streaming US Netflix through a NordVPN server: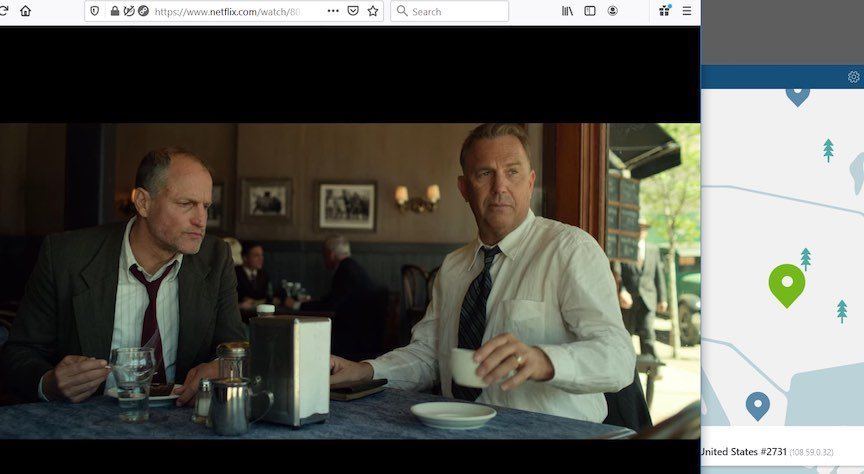 NordVPN can not only unblock Netflix, it works with all the other top streaming media services, including: Amazon Prime, Hulu, Roku, BBC iPlayer, and more. NordVPN is also one of the few VPNs that work with Disney Plus at this time (most others are blocked).
TorGuard – TorGuard takes a different approach to streaming. The basic service is actually pretty mediocre for streaming. If you want good streaming performance from this VPN, you need to pay for a special streaming IP address, ideally near or in the country where the servers for the streaming content you want are located.
Each streaming IP address (or "streaming bundle" add-on) costs an additional $7.99 per month. This massively drives up the price of a TorGuard subscription, effectively limiting you to streaming in only one dedicated location.
Worse, streaming IP addresses can only be used for streaming or general web browsing. There is no torrenting allowed on these IPs! While this may work fine if you need a good VPN for Hulu and other streaming services, the added cost is a serious drawback.
Unless you have lots of money to burn, we advise you to avoid TorGuard if streaming is important.
NordVPN is easily the winner when it comes to streaming.
Torrenting: Is TorGuard or NordVPN best?
Torrenting requires different characteristics than streaming. For downloading torrents, the most important characteristics are fast speeds and reliable leak protection.
NordVPN is perhaps the fastest VPN in the world and provides excellent protection against leaks. We recently rated it the best VPN for torrenting.
TorGuard is slower than NordVPN, but this may change once their WireGuard implementation is working smoothly. Another drawback, however, is that TorGuard blocks torrenting on all US servers.
NordVPN beats TorGuard when it comes to torrenting with faster speeds and better security. With that being said, each VPN has a VPN kill switch built into their respective applications.
Streaming and Torrenting winner: NordVPN
---
Security and Encryption comparison
Security and encryption are supremely important for a VPN, and happily, both services are secure and use strong encryption.
VPN Encryption
NordVPN and TorGuard have comparable levels of encryption:
TorGuard: AES-128, AES-256, Blowfish, and ChaCha20 ciphers
NordVPN: AES-256 and ChaCha20 ciphers
While TorGuard gives you more options, using AES-256 with OpenVPN, and ChaCha20 with WireGuard or NordLynx will give excellent results under most any circumstances. We'll call this sub-category a tie.
Security audits
NordVPN has undergone the following third-party audits:
An audit of their no-logs policy was conducted by PricewaterhouseCoopers AG Switzerland.
A more recent, in-depth audit of their no-logs policy on regular, obfuscated, Double VPN, and P2P servers. This audit was also conducted by PricewaterhouseCoopers.
An app and infrastructure security audit was conducted by VerSprite.
TorGuard has not had any third-party audits that we know of.
NordVPN has the edge here.
VPN server security
NordVPN now runs all servers in RAM-disk mode without any hard drives. Removing hard drives from VPN servers eliminates a large security risk. There have been several cases in the past where a VPN has had a server seized by local authorities looking for evidence of a crime, such as the case with ExpressVPN. Going diskless eliminates this problem since a diskless server loses all its data the moment it loses power.
Additionally, NordVPN is in the process of deploying colocated (self-owned) servers for their entire network. This will replace all rental servers and give NordVPN full control over all hardware.
As far as we can ascertain, TorGuard does not run any of its servers in diskless mode. While most VPNs do not do this, leaders like NordVPN and Surfshark do. This simple fact gives NordVPN the win here. Additionally, TorGuard uses only rental servers and not colocated servers.
Security winner: NordVPN is the more secure VPN. Its independent security audits and server security give it the win in this category.
---
Privacy: TorGuard vs NordVPN
Now we need to talk about privacy. Which VPN will protect your privacy better?
Both TorGuard and NordVPN have good, no-logs policies. But there are other factors to consider.
TorGuard – Unfortunately, TorGuard is bound to obey the laws of the United States. And those laws are not the friend of anyone who values their privacy. Here are a few examples of cases where the US government has forced privacy-related companies to violate the privacy of their users:
IPVanish was forced to log users for the FBI
Riseup, which was both an email service and a VPN, was forced to log user data for the FBI
Lavabit was ordered by the US government to turn over encryption keys that would allow the government to read user emails and private data.
When you choose a privacy service in the US, you put your data at risk.
In addition, TorGuard has not undergone any audits to verify its privacy claims about "no logs" policies.
NordVPN – NordVPN is in a much better jurisdiction than TorGuard. Panama is one of the best places in the world for privacy-focused businesses.
In addition, NordVPN has completed two privacy-centric audits that verified the no-logs policies.
Privacy winner: NordVPN
---
Prices and refunds comparison
Let's compare prices as we did in the ProtonVPN vs NordVPN comparison.
TorGuard pricing – TorGuard now gives you two variants on their basic plan: Anonymous VPN Standard, and Anonymous VPN Pro, in addition to numerous options and add-ons that further increase the price. We have already explained how this pricing system is confusing at best, but now we'll show you why.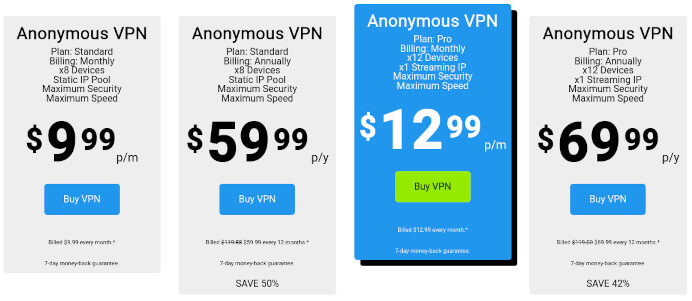 First, you need to select which VPN package you want. Then you need to choose your billing cycle. Finally, you'll need to check the "Available Addons" section to see if you need any of the additional price elements such as a streaming IP address. For the basic plan, Anonymous VPN Standard billing starts at $9.99 per month or $59.99 per year. Anonymous VPN Pro billing starts at $12.49 per month or $69.99 per year.
Note: TorGuard does offer a nice VPN coupon for 50% off. They also run specials at certain times of the year.
NordVPN pricing – NordVPN now offers three plans (Standard, Plus, and Complete), but all of them include full VPN functionality. The differences between them are due to additional non-VPN security and privacy services that are included. Putting the additional products aside, NordVPN is a good cheap VPN with prices coming out ahead of TorGuard.
One big benefit of NordVPN is that they are offering a discounted two-year subscription.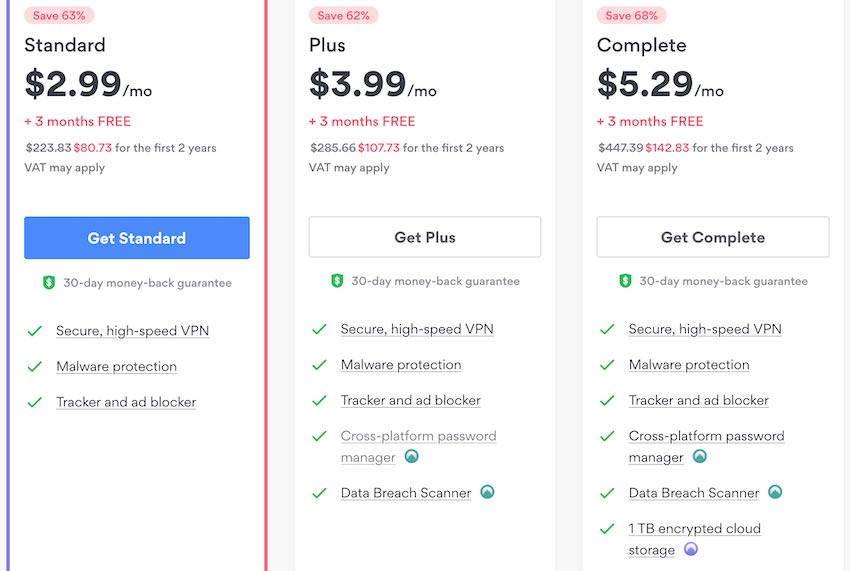 When you consider that all NordVPN plans include things like full streaming and torrenting support, it's easy to see how it comes out on top in this category.
TorGuard and NordVPN refund policies
TorGuard offers a somewhat confusing 7-day refund policy with numerous exceptions we discovered:
"Dedicated IPs, Streaming or Residential IPs are excluded from the refund"
"Refunds can be denied within the 7-day period in certain cases."
"Gift cards and Crypto Payments cannot be refunded"
In contrast, NordVPN has a much better refund policy. It's a 30-day money-back guarantee on all plans, without all of these exceptions we see with TorGuard.
NordVPN has better prices and a much better refund policy.
Price and Refund Winner: NordVPN
---
Value: NordVPN vs TorGuard
The value of a VPN is hard to quantify since it depends on your specific needs. But there are some characteristics that are important to virtually all VPN users. Security, privacy, and speed are the most important.
Both VPNs are secure, but TorGuard's location in the United States is a privacy risk. And NordVPN is much faster than TorGuard. Unless you have some specialized need that only TorGuard can satisfy, NordVPN offers much greater value than TorGuard.
Value winner: NordVPN
---
Conclusion: NordVPN wins big in 2023
As far as the testing goes, NordVPN clearly comes out ahead of TorGuard in all categories. Here is a summary of our TorGuard vs Nord tests:
Company background and jurisdiction: NordVPN
Features: NordVPN
Speed tests: NordVPN
Streaming and Torrenting: NordVPN
Security and Encryption: NordVPN
Privacy: NordVPN
Price and Refund: NordVPN
Value: NordVPN
We can't recommend TorGuard given all the issues we found. There are too many great VPNs in better jurisdictions. But you can read more in our TorGuard review if you're on the fence.
Returning to NordVPN, you will get the best available price if you grab the coupon below. And remember you have 30 days to cancel for a hassle-free 100% refund.
NordVPN's Cyber Deal is live:

Get 63% Off NordVPN plus an additional 3 months FREE:
(Coupon is applied automatically.)
That's all for now. You can see our other VPN comparisons here.
We also have a guide highlighting the best VPN coupons that are available now.
Related Articles:
Have you used either NordVPN or TorGuard VPN? If so, share your experience below in the comments to help others.
This NordVPN vs TorGuard comparison was last updated on January 7, 2023, with new info and test results.