Atlas VPN is a newer VPN service that offers affordable VPN subscriptions. This Atlas VPN review and in-depth test report will reveal if this VPN is worth your attention.
Atlas VPN is an up-and-coming service that is getting lots of attention in the "budget" VPN category. For starters, the prices are great, and they even have a limited "free" plan. But is this budget newcomer worth it, or should you check out other great alternatives?
In this Atlas VPN review, we dig deep to answer this question based on numerous tests with speeds, VPN apps, reliability, streaming support, and more. While I liked a lot of what I found, there are also some drawbacks you need to consider first. Here is an overview of key facts about Atlas VPN:
Atlas VPN Overview
Before we dive into the details of this Atlas VPN review, we can first touch on the Pros and Cons of Atlas VPN.
+ Pros
User-friendly VPN apps
Strong encryption and security (with WireGuard)
Extra privacy features (Ad Blocker, MultiHop, and SafeSwap)
Affordable prices (with a free plan)
Works well for streaming
Unlimited simultaneous connections
– Cons
Based in the US (Five Eyes)
No support for Linux or routers
Small server network
So let's kick off this review by first looking into the background of Atlas VPN.
Background check
With all of our VPN reviews, we first do a background check of the company. After all, when you use a VPN, you place a lot of trust in the service to properly handle your traffic and not do anything shady in the background. So let's examine the background of Atlas VPN.
Atlas VPN is a no-logs VPN service that is based in the United States (we'll discuss the problems of US jurisdiction further below). It officially launched in 2019 and has made a name for itself as a budget, freemium VPN service.
In October 2021, news broke that Nord Security acquired Atlas VPN. This puts a major, high-profile cybersecurity company behind Atlas VPN. Nord Security is also the company behind both NordVPN and Surfshark, as well as other security products, such as NordPass and NordLocker.
Atlas VPN has a clean track record. It has not suffered from any data scandals (that I could find) and it has also passed third-party security audits. It passes the background check with flying colors.
Atlas VPN apps for Windows, macOS, Android, and iOS
Atlas VPN currently has dedicated apps for Windows, macOS, Android, and iOS devices. While this is a great lineup for an up-and-coming VPN, you will notice that Linux and routers did not make the list (more on that below in the Cons section).
Overall, the VPN apps with Atlas VPN worked well. In the previous review, I did have some issues with using the WireGuard protocol in the Windows app, but other protocols worked. This time around, I didn't notice any issues with the Windows app and WireGuard. That being the case, we recommend you always use the WireGuard protocol if possible.
Windows VPN app
We conducted most of the tests for this review using the Windows app.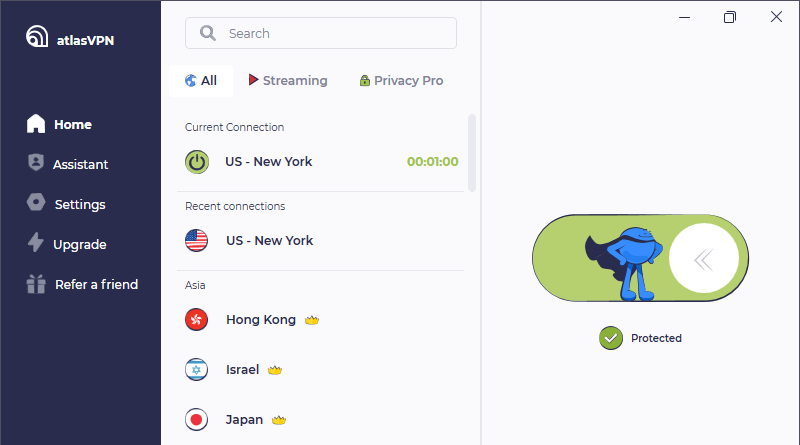 Above you can see that the server list is broken down into three categories:
All servers (every server in the network)
Streaming servers that are optimized for streaming services
Privacy Pro servers that incorporate additional privacy features
The Windows VPN app was easy to use and also offers some great settings and Atlas VPN features, which we'll discuss more below. Our guide on the best VPN for Windows examines other options as well.
Atlas VPN macOS app
The Atlas VPN macOS app also performed well in all VPN tests. It did not have any bugs, failures, or data leaks. You can see in the image below that the basic layout was the same that we saw above with the Windows VPN client.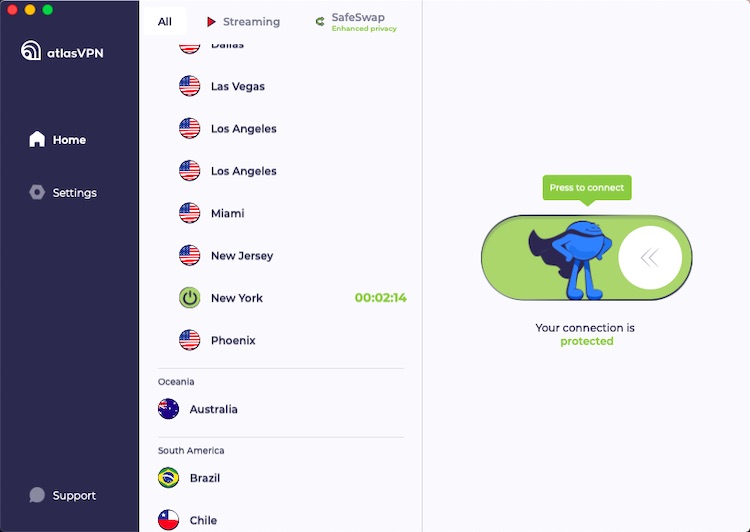 Atlas VPN also put up excellent speed test results with the macOS VPN app with WireGuard enabled. Now let's look at the mobile apps.
Android and iOS VPN apps
Lastly, we also need to discuss the mobile apps available with Atlas VPN. They offer apps for Android and iOS. These mobile apps include the basic features and settings we found above with the desktop apps. If you need a VPN for Android, Atlas VPN may be worth considering. It currently has a good 4.5 rating on the Google Play Store.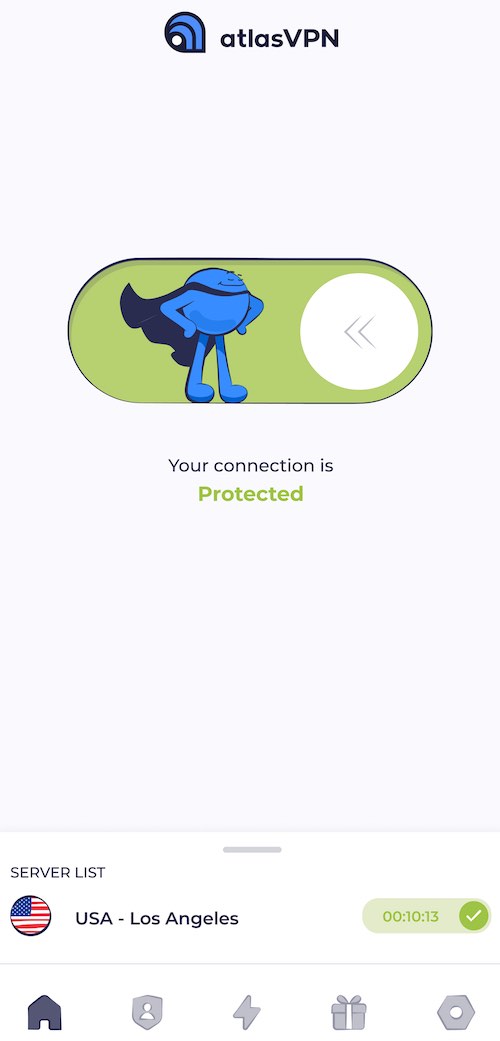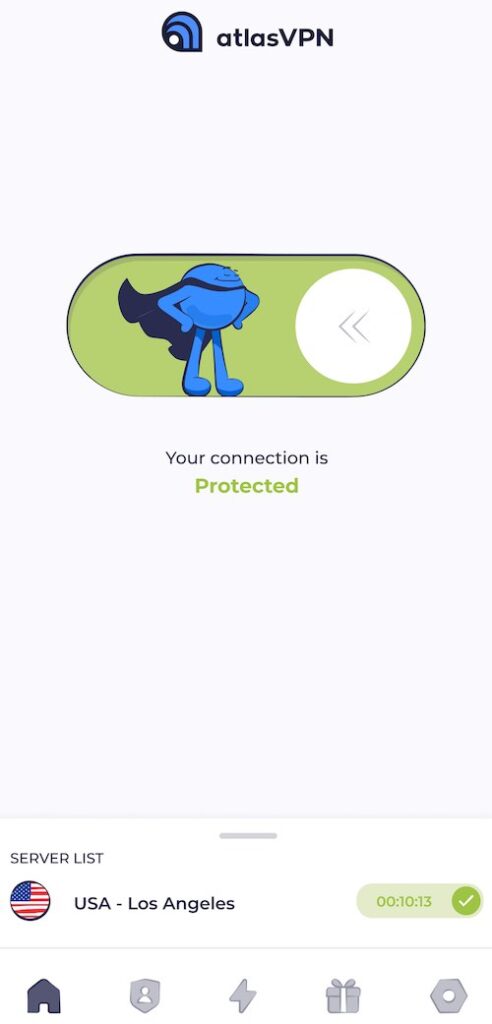 When we reinstalled the Atlas VPN Android app for this update, we were offered a free identity scan. This scan looks to see if your identity information has been exposed in any data breaches. You can then strengthen your security and privacy by changing any credentials that have been exposed.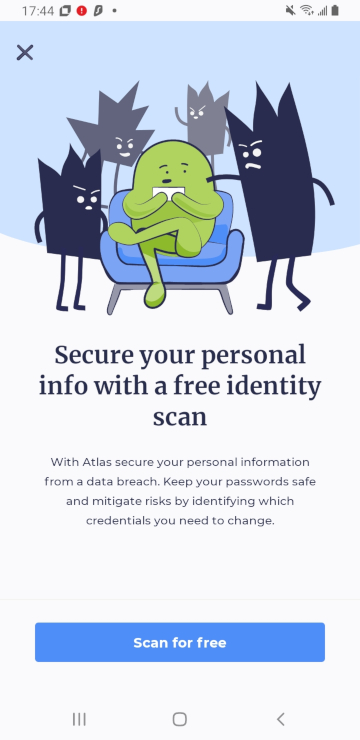 Lastly, the iOS app also offers access to all of the basic and premium servers, plus all of the features we find elsewhere. If you're looking for the best VPN for iPhone in the "freemium" category, it may be worth checking out.
Strong security and encryption standards
When you select a VPN service, you don't want it to cut corners with security. If that happens, you may end up with a situation like the Windscribe security breach where a foreign government gets access to the VPN's private keys and potential access to snoop traffic.
Fortunately, we see that Atlas VPN is following industry best practices with robust encryption and secure VPN protocols. This table summarizes Atlas VPN's encryption and VPN protocols:
| | |
| --- | --- |
| Encryption Cipher | AES-256 |
| VPN Protocols | WireGuard & IKEv2 |
| Hash Authentication | SHA-384 |
| Leak protection | VPN kill switch |
Prevent data leaks with the Atlas VPN kill switch
A VPN kill switch is a necessity for any VPN, especially one that lets you work with BitTorrent and similar services. You will want to activate the Atlas VPN kill switch as soon as you install the app on your device. How you do this depends on the type of device you are working with.
How to turn on Atlas VPN Windows and macOS kill switch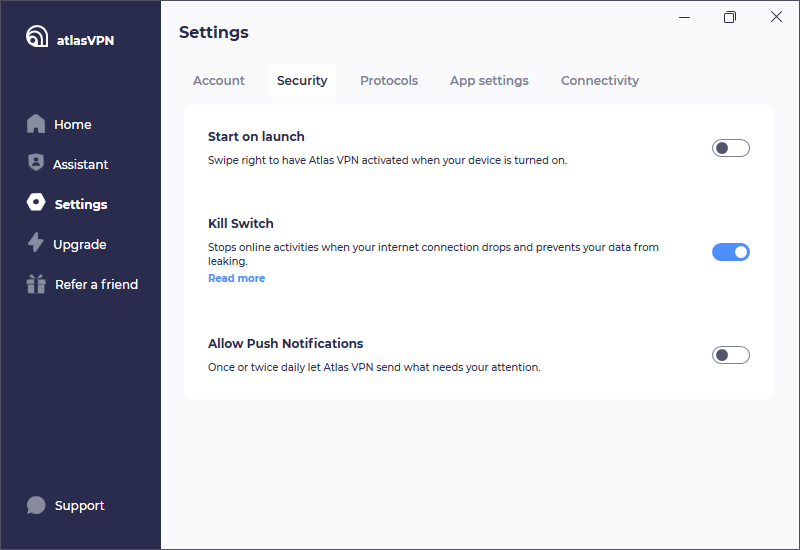 Here's how you activate the Atlas VPN kill switch for Windows and macOS apps:
Click or tap the Settings icon on the left side of the Atlas VPN window. The Settings page appears.
Click or tap the Security tab to see the Security page.
Slide the Kill Switch toggle to On.
How to turn on Atlas VPN Android and iOS kill switch
Here's how you activate the Atlas VPN kill switch for Android and iOS apps:
Tap the Settings icon on the bottom of the Atlas VPN window. The VPN Settings page appears.
Tap the General option to see the General Options screen.
In the Extra security section of the screen, find the kill switch and set it to On.
No OpenVPN support
It's great to see Atlas VPN is prominently using the WireGuard VPN protocol in all apps. Interestingly, we also see that it does not support OpenVPN, which was previously the longstanding leader for VPN protocols.
This is not necessarily a bad thing. After all, the newer WireGuard protocol offers numerous advantages over OpenVPN, particularly in the area of speed. You can see in the OpenVPN vs WireGuard comparison that WireGuard was significantly faster with all servers tested.
Changing protocols within the VPN app is simple. You just need to go into Settings and then click on Protocols, as you can see in the screenshot below. As shown below, you can let Atlas VPN select the best protocol to use based on network conditions. Or you can manually select WireGuard to force the issue.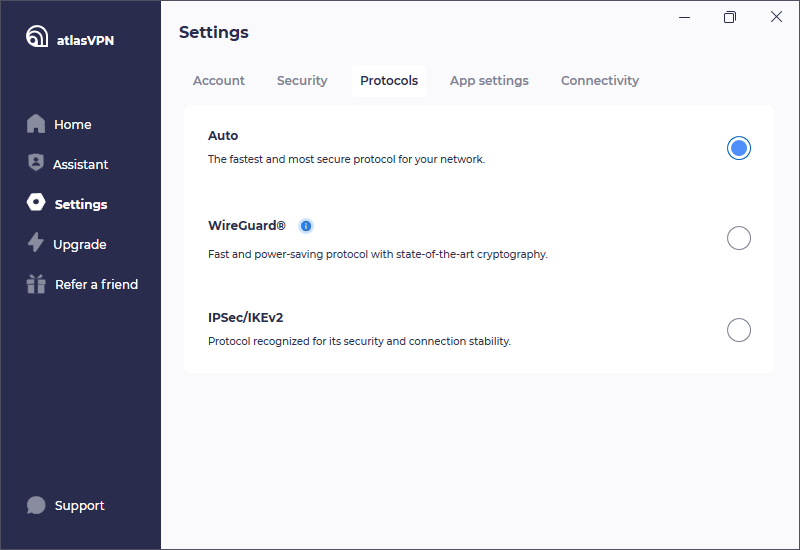 Note: If you want access to more VPN protocols, particularly with OpenVPN, you could consider other industry leaders, such as ExpressVPN and NordVPN.
Atlas VPN speed tests
For this review, I purchased a premium subscription in order to test servers in different regions. All speed tests were conducted using the WireGuard protocol with the desktop VPN apps on a 500 Mbps connection.
Test #1: Los Angeles, USA
For the first test, Atlas VPN clocked in at 156 Mbps.

Given that this test was conducted on a 500 Mbps line and I was using the WireGuard protocol, it's not a great result. Let's try a few other locations.
Test #2: New York, USA
Next up was an Atlas VPN server in New York. The speed test results were better at 232 Mbps.

This is more in line with what we'd expect under the testing conditions, but certainly a long shot from the fastest VPNs we have tested.
Test #3: London, UK
Finally, I also ran a test with a server in the UK. The result was about average at 154 Mbps download speeds.

Overall, these speed test results are about average. With other VPNs that support WireGuard, we have also seen big differences in speeds, as you can see in the ProtonVPN vs NordVPN comparison, where NordVPN came out on top. There are certainly faster VPNs on the market, but there are also slower VPNs out there.
Atlas VPN's extra privacy features
Despite being a budget VPN, Atlas VPN still packs in lots of useful features. Let's examine these features in more detail.
Tracker Blocker
This feature actually blocks more than just trackers. It also blocks ads and malicious websites when the VPN connection is active. To enable Tracker Blocker within the VPN app, simply click on Assistant and then select Tracker Blocker as you can see in the screenshot below.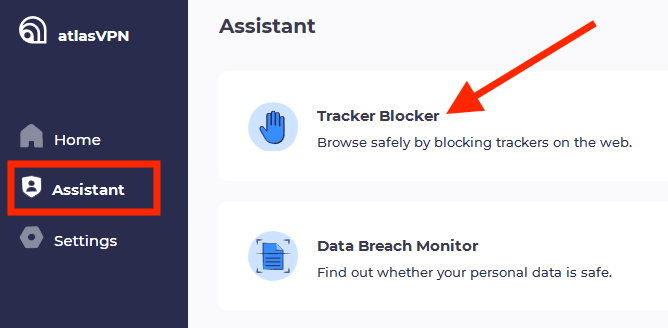 We see other VPNs with ad blocking features, including both NordVPN and CyberGhost (but some VPNs do it better than others).
Data Breach Monitor
You can also see in the screenshot above there is a "Data Breach Monitor" feature you can select. This feature is relatively simple. It allows you to enter your email address and then it will check whether that email address appears in databases of known data breaches.
This works the same way as the HaveIBeenPwned data breach checker tool that is maintained by cybersecurity expert Troy Hunt. This does not expose your email address to third parties.
SafeSwap and MultiHop+
Two other additional privacy features worth discussing are SafeSwap and MultiHop.
According to Atlas VPN's website, SafeSwap "allows you to have many rotating IP addresses without having to switch between different VPN servers." With other VPNs, you'll only get a new IP address when you disconnect and then reconnect to another VPN server. With Atlas VPN, the SafeSwap feature can constantly rotate IP addresses without disconnecting the VPN.
The MultiHop+ feature allows you to route traffic over multiple locations. Here is Atlas VPN's explanation:
MultiHop+ passes your internet traffic through multiple random servers in different countries instead of one, a process called VPN chaining. This way, your data is protected with several layers of encryption. Additionally, the exit VPN server keeps rotating, making it near impossible to track your online activity across the web
You can simply click on the Privacy Pro servers, and then select MultiHop in the region of your choice: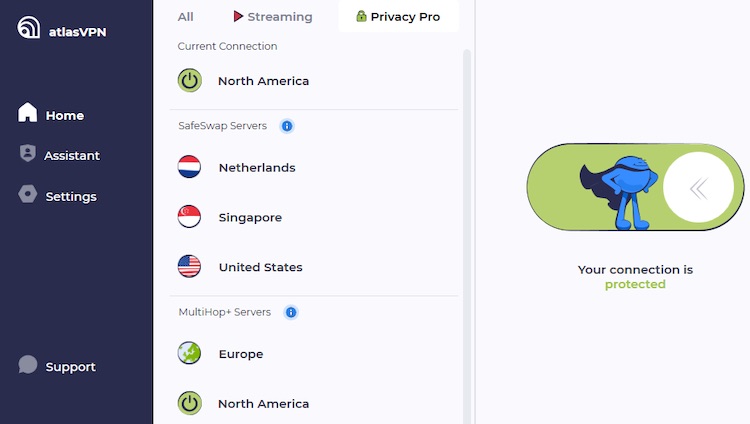 See all of Atlas VPN's security features here >>
Cheap prices, plus a free plan
Atlas VPN definitely fits into the cheap VPN category, with prices well under $4 per month. It currently has three paid pricing plans, as well as a limited free plan. The prices for the paid subscriptions are still quite reasonable. There is also a discounted special here to give you the prices below:

See all prices and discounts here >>
All of the Atlas VPN paid plans come with a full 30-day money-back guarantee.
Atlas VPN free plan
Atlas VPN also offers a limited "free" plan with the following restrictions:
5 GB of data per month (this will not take long to use up)
3 server locations
No access to premium features
No access to streaming or Privacy Pro servers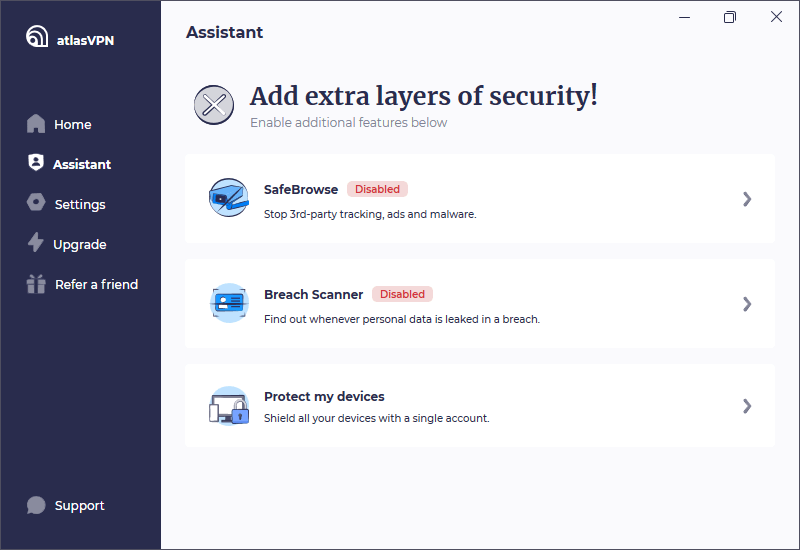 Once you use up the 5 GB of data, you are still left with the choice of which paid VPN to use. Nonetheless, the free option could function as a free trial VPN, allowing you to test the service without paying anything upfront.
Atlas VPN is a good VPN for streaming
Many people are using a VPN for streaming today, especially to access a wide array of content from around the world. However, some VPNs shine in this area, while others fall behind the rest.
Atlas VPN does well with streaming and unblocks the major libraries:
Netflix – We regularly test different VPNs to find the best VPN for Netflix. Atlas VPN currently works with most of the major Netflix regions.
BBC iPlayer – BBC iPlayer is notoriously tricky to unblock. However, Atlas VPN is currently a VPN that works for BBC iPlayer streaming.
Amazon Prime – The last area to look at is Amazon Prime, which is one of the easier services to unblock. Fortunately, Atlas VPN works for this as well. You can see other VPNs for Amazon Prime here.
Note: Atlas VPN may also be a good VPN for Hulu, Disney Plus, and other streaming services, but we did not test all of these for this review due to time constraints.
It's important to remember that you need to first select the Streaming services if you want to be able to access streaming websites, as you can see here: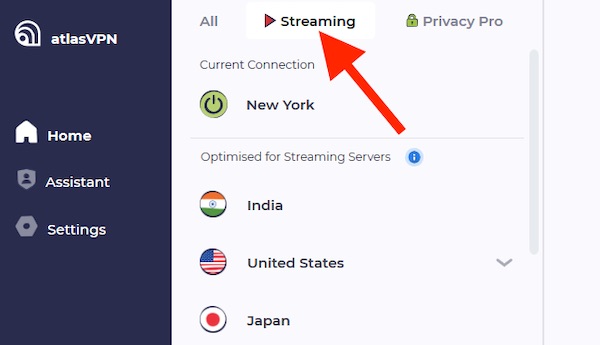 Support for streaming devices (FireStick and Android TV)
Another major category that falls under streaming is using a VPN with Firestick and Fire TV devices. Most of the best VPNs for Firestick offer a dedicated app. Atlas VPN shines here too, with a dedicated app for Amazon Firestick and Fire TV. Simply download the app to your Firestick device and enjoy full access to streaming.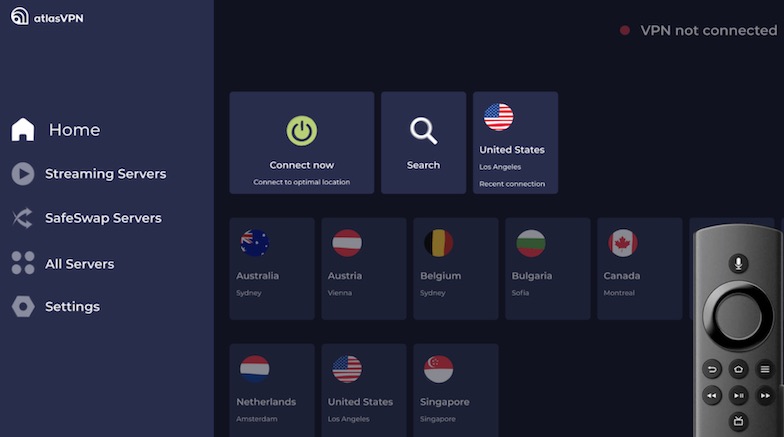 Lastly, you can also use Atlas VPN on Android TV devices with a dedicated app as well. In short, if you enjoy streaming, Atlas VPN has you covered.
Now that we have covered the Pros, let's examine the Cons of Atlas VPN
Based in the United States (bad privacy jurisdiction)
Choosing a VPN that is based in a good jurisdiction is important. We have documented many reasons for this over the years, but a good overview can be found in our guide on the Five Eyes alliance, which is a group of countries that work together to spy on people.
There have also been many cases over the years showing the downfalls of operating a VPN from the United States:
Just recently, a court settlement forced TorGuard to block torrenting on all servers in the US. Other US-based VPNs have also lost in court when it comes to lawsuits over torrenting on the VPN's network.
A few years ago, news broke that "no logs" IPVanish was logging users for criminal investigations.
Back in 2013, there was an infamous case where Lavabit was forced to hand over encryption keys or shut down (it chose the latter).
Should a VPN's jurisdiction matter to you?
It all depends on your threat model and adversaries. If your primary focus is on streaming Netflix while on vacation and preventing your ISP from logging everything you do online, Atlas VPN is probably a great fit. And it's also a great value at the current prices.
If you want the maximum amount of privacy, however, I'd recommend considering a verified no-logs VPN that is not based in the Five Eyes.
No support for routers
The last time we looked at Atlas VPN, we noted that they had VPN apps for all the major operating systems. However, there were two noteworthy exceptions: routers and Linux.
Not having any support for routers is disappointing. However, since Atlas VPN does not support OpenVPN, which is needed for most VPN routers, it also makes sense. We have a guide on VPN routers that discusses various options.
But Atlas VPN has remedied the lack of Linux support as we noted earlier in this article. The only drawbacks to Atlas VPN Linux support are that the app still needs some important features such as a kill switch. The other drawback is that the Linux app is only available in the Premium (paid) plans.
Small server network
The last con we need to discuss in this review is the server network. Now, being a relatively new and growing VPN service, it's understandable that Atlas VPN does not have a massive global network like we saw in the NordVPN vs PIA comparison.
So here are the current numbers:
| | |
| --- | --- |
| Servers | 750 |
| Countries | 38 |
| Locations | 45 |
This is pretty limited when compared to some of the larger VPN services that boast thousands of servers and coverage in over 50+ countries. For example, you can see this in our Surfshark vs NordVPN comparison with each VPN having servers in 60+ countries.
However, this shouldn't be a deal-breaker for most users. If you are getting the speeds and access you need, there are no problems.
Atlas VPN FAQ
Here are some of the most frequently asked questions about Atlas VPN–along with their answers.

Is Atlas VPN trustworthy?

Atlas VPN itself is trustworthy. They use strong encryption and the secure WireGuard VPN protocol to protect your data. They are a no-logs VPN service (although that has not been confirmed by a third-party audit yet) and are backed by Nord Security, a high-profile cybersecurity firm that also owns NordVPN.

The only potential problem we see is that Atlas VPN is based in the United States. That is a risk because the US government can force companies under its jurisdiction to log user data, regardless of what the company's own policies say.



Is Atlas VPN better than NordVPN?

Atlas VPN is a very good VPN, particularly considering that it is so new. But based on our testing and personal experience, NordVPN is the best VPN currently available. That means for the vast majority of users, NordVPN is a better choice than Atlas VPN. But if you need a cheap VPN based in the United States, then Atlas VPN is worth considering.



Is Atlas VPN actually free?

There is a completely free version of Atlas VPN. It works well, and you do not have to worry about the security or privacy of your data (unlike some free VPNs that make their money selling your data).

But like most free VPNs, the free version of Atlas VPN is limited. You only get access to a small number of VPN servers, and you are limited to transferring a maximum of 5 GB of data per month. We think the best use for the free version of Atlas VPN is to try out the service before becoming a paid subscriber.



Does Netflix block Atlas VPN?

In our testing, Atlas VPN was unable to block most major Netflix regions. It is also fast enough to stream content from Netflix and other services without problems. The trick is to use Atlas VPN's Streaming servers, which are only available to paying customers.



How good is Atlas VPN?

Atlas VPN is a very good service. It doesn't break into the very top tier of VPN services, but it is far better than the vast majority of them. Since they have been acquired by Nord Security (the parent company of NordVPN and other security products), we expect that Atlas VPN will improve rapidly.

The one big drawback to Atlas VPN is that it is in the US jurisdiction. In the United States, the government can (and sometimes does) force companies to violate their own policies and spy on their own users, then provide that information to the government.

If getting spied on by the US government isn't an issue for you, Atlas VPN could be the VPN service you need.



Is Atlas VPN good for streaming?

Yes, Atlas VPN is good for streaming, assuming you are using the paid version of the product. It is fast enough to stream content without problems, and can successfully unblock major streaming services. All you need to do is select from their list of streaming VPN servers.


Atlas VPN review conclusion
Overall, Atlas VPN performed well in this review. It is a polished app that has a lot to offer. And with the low prices, this VPN delivers value.
As always, however, you should keep jurisdiction in mind. Atlas VPN operates in the United States, which has a very precarious history when it comes to privacy issues. This is the one big drawback I currently see with Atlas VPN — perhaps they can relocate sometime in the future.
For now, you can check out Atlas VPN here, or see our other VPN reviews here.
Note: We have also completed the following Atlas VPN comparisons:
This review of Atlas VPN was last updated on January 24, 2023.