| | |
| --- | --- |
| VPN | AVG Secure VPN |
| Based in | Czech Republic |
| Logs | Connection Logs |
| Price | $4.39/mo. |
| Support | Email |
| Refund | 30 days |
| Website | www.AVG.com |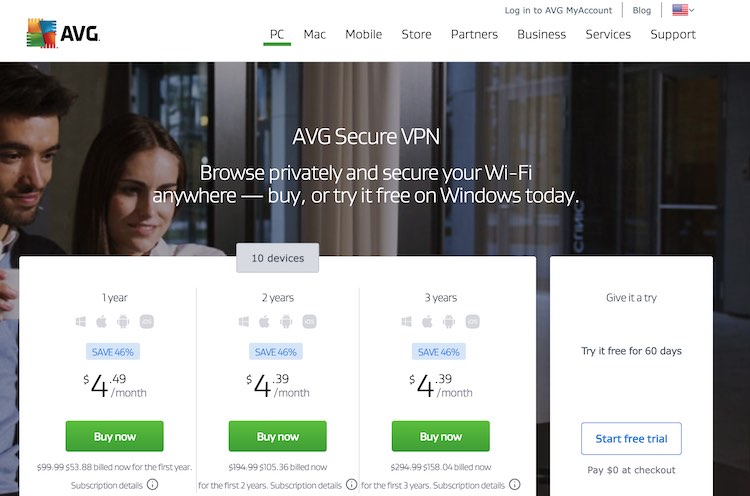 AVG is one of the best-known names in anti-virus software. But what many people don't know is that they also have a VPN service, the AVG Secure VPN. In this review we put the AVG Secure VPN service through a range of tests to see if it can compete against some of the other big players in the industry.
While there were some good aspects of AVG Secure VPN that we liked, there were also some problems that keep us from recommending it.
AVG Secure VPN Overview
Here's a summary of the AVG Secure VPN pros and cons we identified for this review of the AVG Secure VPN.
Important FACTs:
AVG is owned by Avast Software s.r.o.
AVG Secure VPN shares a server network with Avast SecureLine VPN
Avast used to sell user data collected through their antivirus products
AVG VPN PROs:
Attractive, easy to use apps
No leaks detected
Strong security and encryption
Support for Windows, Mac, iOS, Android
Some streaming support
Some torrenting (P2P) support
AVG VPN CONs:
AVG VPN keeps connection logs
Small server network
Slow speeds
No support for Firestick, Linux, or routers
No WireGuard support yet
Reasonable price at the start
Given the unusual circumstances surrounding the AVG Secure VPN, we thought we should talk about those issues right up front. Here are some things that are very important to know about AVG Secure VPN.
AVG is owned by Avast Software s.r.o.
AVG is owned by Avast Software s.r.o., which is based in Prague, Czech Republic. While some seem to consider the Czech Republic an excellent location for a VPN, we wouldn't go quite that far. Even though the Czech Republic is not party to the FVEY (Five Eyes) or other major international surveillance organizations, it does reportedly cooperate with surveillance organizations at times.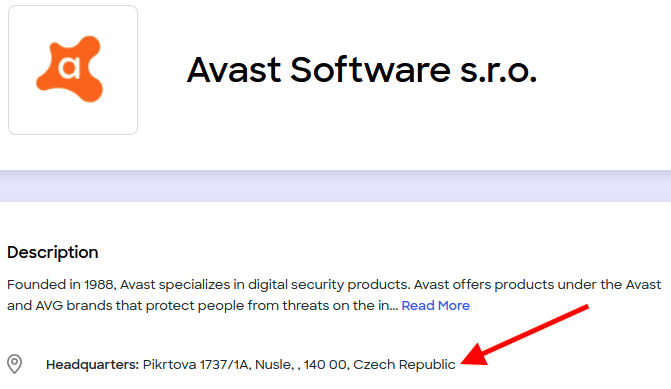 As a result, we consider the Czech Republic to be a decent jurisdiction (location) for a security and privacy company. It is surely better than places like the United States or the UK, but not as good as some other locales we discuss on this site.
AVG Secure VPN shares servers with Avast SecureLine VPN
No review of AVG Secure VPN is complete without discussing past activities of the parent company. But first, let's cover some background information.
In 2016, Avast Software agreed to buy AVG. One result of that transaction is that AVG Secure VPN shares the same VPN server network as Avast SecureLine VPN (see our Avast VPN review). This reflects badly on the AVG Secure VPN because the Avast network is not large, nor is it particularly fast, based on our tests. In addition, the network has a limited capacity for streaming geo-blocked content and P2P (torrenting) activities.
Worse, Avast has been caught doing some sketchy things in the past. All in all, we would much prefer to see AVG Secure VPN as a completely independent service, rather than its current status.
What kind of sketchy things was AVG's parent company up to? Read on…
Parent company caught collecting and selling user data
In 2019, privacy experts discovered that Avast was using their antivirus products to collect user data which was then sold to third parties. While the company claimed that the data they collected could not be used to identify or target you, every data record included a unique device ID. That ID was unique to each installation of Avast antivirus meaning that every bit of data collected could be assigned to a particular installed copy of antivirus. Further, the data that was collected was extremely detailed, including every every click the user made, and the exact millisecond they made that click.
With that level of data gathering, buyers of Avast's data would have a good chance of discovering a user's actual identity by correlating device ID'd activities with activities of known users. Knowing that device ID xyz logged into your website at the exact same time that a user named Heinrich Long also logged in would make it easy to figure out that device ID xyz belongs to me. Voila! You can now connect all the data for that device ID with me, and get a ton of information about exactly what I do online. And of course, this information is very valuable to advertisers.
After being outed by researchers, Avast stopped collecting and selling user data this way. But it brings up a big issue of trust. Given Avast's past actions, and the fact that Avast owns AVG, are you comfortable trusting your private data to them?
Note: We've seen these same issues in other VPNs that have embedded tracking libraries in their apps. See our Hotspot Shield review for more info.
As you can see, the Avast VPN connection affects the AVG Secure VPN in many ways. Keeping this in mind as you read on will be helpful.
AVG VPN PROs
The AVG Secure VPN offered good answers to several of the questions we posed ourselves during testing. These include:
User-friendly VPN apps
AVG Secure VPN has attractive and user-friendly VPN apps that are very simple to install. There's nothing fancy to do, no special tweaks or complicated processes to follow. Install it the way you would for any app and start it up.
As you can see here, the app is really sharp looking, and clean to boot. Some VPN services plaster their apps with all sorts of esoteric settings that only hard-core techies will even understand, much less need to mess with. We noted this issue in our TorGuard review. No such problems exist with the AVG Secure VPN.
Note: You can see the difference between a "techie" oriented VPN app and a user-friendly one in our NordVPN vs TorGuard comparison.
Below is the Windows VPN client that we tested for the review.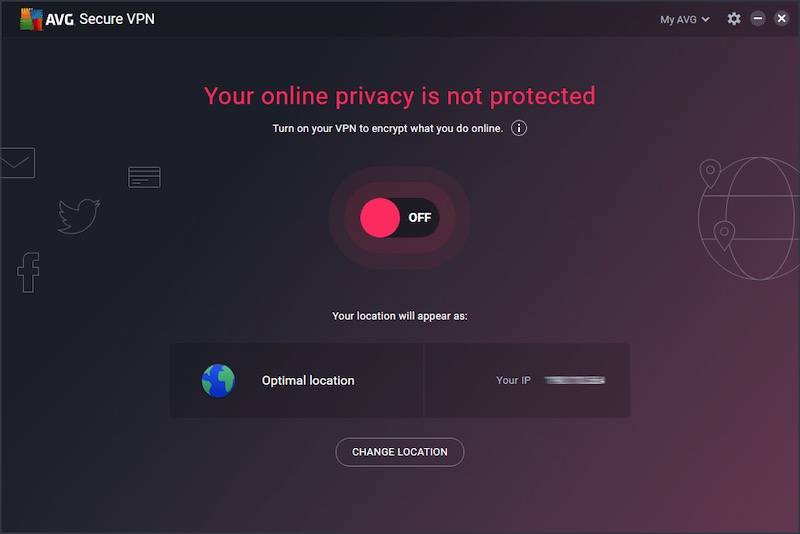 By default, the AVG Secure VPN automatically selects what it considers to be the optimal VPN server location for you. While this will probably be optimal for general VPN use, you'll want to choose different servers for different activities (streaming and torrenting, in particular). To select a different server location, hit the Change Location button and select one of the 57 server locations in 36 countries that works best for whatever you need to do.
Good security and encryption
As we always do when testing a VPN, we put AVG Secure VPN through our leak-testing process. AVG did a good job here too and we didn't see any problems. The Secure VPN didn't show any signs of leaking or security flaws. Like most VPNs, the service doesn't yet support IPv6, so there were no leaks there.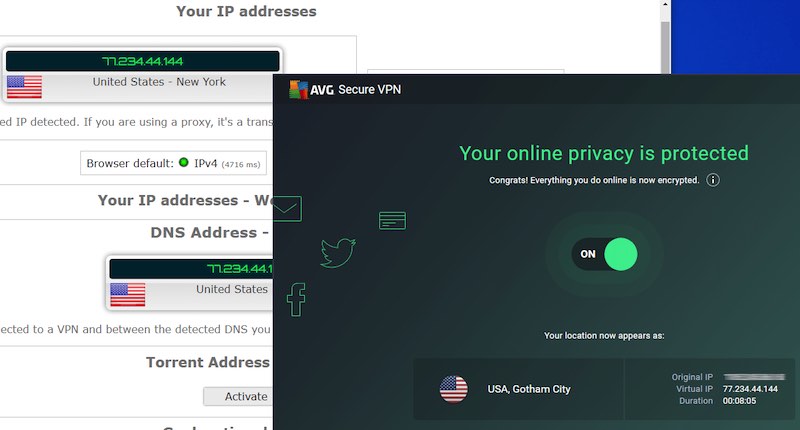 In conclusion, AVG Secure VPN users should be safe against data leaks. And just like we noted in our PIA vs NordVPN comparison, you should still check for leaks periodically, just to make sure everything works.
The AVG VPN has a kill switch now. As with many other VPNs, it is not activated automatically, but you can turn it on in the client's settings area. If you do activate it, the kill switch will protect you if the connection to a VPN server fails.
The AVG Secure VPN also uses industry-standard encryption to make sure your online activities are secure from prying eyes. The Windows and Android apps use the following:
The iOS and Mac apps use:
IKEv2 protocol
AES-256 data encryption
AVG VPN and WireGuard
Avast has begun to support the WireGuard VPN protocol in their Windows and Android apps. This is significant, because WireGuard is a new, fast, secure VPN protocol that we think represents the wave of the future for VPNs. In particular, our tests show that WireGuard is much faster than OpenVPN, the long-time king of VPN protocols. Most analysts also consider WireGuard to be more secure than OpenVPN.
We expect that the AVG Secure VPN will follow the lead of Avast and implement WireGuard in their own Windows and Android apps. This should bring a welcome speed boost for AVG VPN when it happens.
No VPN ad blocking
Right now, AVG Secure VPN does not offer a VPN ad blocking feature. Some VPNs offer built-in protection to block ads and tracking on your device. This is usually done by filtering DNS requests and blocking out the bad offenders. Two excellent VPNs that offer an ad blocking feature are highlighted in the Surfshark vs NordVPN comparison.
AVG VPN with Windows, Mac, iOS, Android
The AVG Secure VPN supports devices that run recent versions of the Windows, Mac, iOS, and Android operating systems. Unfortunately, it doesn't include any extensions for web browsers, despite all the people who are now using a VPN for Chrome and other browsers. Additionally, there is no support for Linux, routers, or any of the less-common devices.
However, wherever the Secure VPN does work, you'll find the same clean, sharp-looking interface. AVG really did a good job on this. Below you can see a screenshot of the Android VPN app we examined for this review: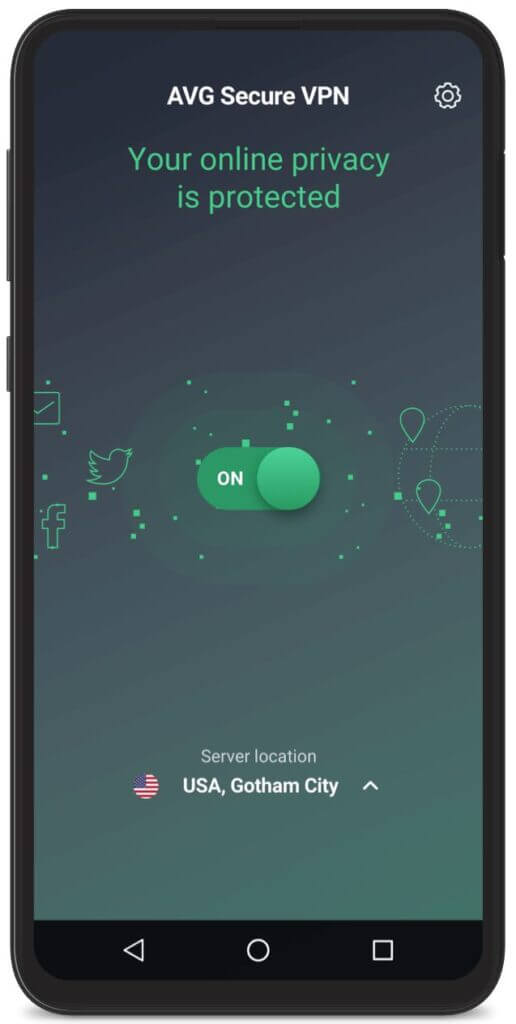 An AVG Secure VPN subscription supports up to 10 simultaneous connections. This is a nice step up from the industry standard of 5 or 6 simultaneous connections. Most people should find this number of simultaneous VPN connections sufficient.
Note: While 10 simultaneous connections should be sufficient for most people, if you need more, there are options. A particular standout is Surfshark, with an unlimited number of simultaneous connections and performance that is superior to that of AVG VPN as well. Here's a link to our recent Surfshark review.
Limited streaming support
Many people are looking to use a VPN for streaming, and AVG Secure VPN caters to those needs.
Whether you are looking for the best VPN for Disney Plus or want to stream Netflix, then AVG VPN might have some servers that work. With that being said, we did run into some issues with our streaming tests.
A few VPN services have the ability to defeat the geo-blocking techniques used by streaming services. They use VPN servers located inside the relevant geographic regions to make the streaming services think you are physically located in an "acceptable" location, regardless of where you are actually located.
AVG Secure VPN is one of those capable few. But as we said earlier, only certain AVG servers are capable of breaking through. Here are the specialized AVG Secure VPN servers that can unblock geo-blocked streaming services.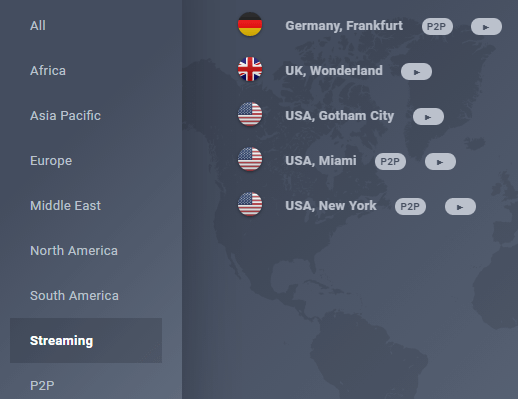 With such a limited set of streaming servers, your ability to stream content from a variety of sources is quite limited. If you happen to be subscribed to a streaming service with a library in Germany, the UK or the USA, you could be in luck. If not, and streaming content is important to you, AVG Secure VPN is not a good choice. You might want to take a look at our newly-updated list of the best VPNs for streaming.
But back to the VPN review at hand. The next question is:
Does AVG VPN work with Netflix?
Overall, AVG VPN is not the best VPN for Netflix. Here's why.
We tested AVG's USA, Miami and also USA, New York locations. Despite these servers being designated for streaming, our tests found both AVG servers were blocked by Netflix. In other words, the US Netflix library was inaccessible. There are rumors that their Gotham City server can unblock Netflix, but we were unable to confirm this.
Even if our experience was just an anomaly, and one or more of these locations does sometimes work, it still makes us nervous. Why? Because the AVG VPN has a very small number of servers in their network and very few of these servers are designated for streaming. Netflix needs only to figure out how to block access from three locations to completely stop all AVG VPN users from reaching the US Netflix library.
Compare this to a service like NordVPN, which has almost 2,000 servers in the USA alone, several of which we have successfully used, and all of which should be able to connect to Netflix US. If streaming Netflix and other geo-blocked content is important to you, this NordVPN review shows why they are our favorite streaming VPN.
While we are here, let's talk about a related subject…
Does AVG VPN work for torrenting?
Just as AVG Secure VPN provides special servers for streaming media, they also provide special servers for torrenting (P2P). As with streaming, their selection of P2P servers is rather limited. There are a total of 8 torrenting (P2P) server locations in the AVG VPN network: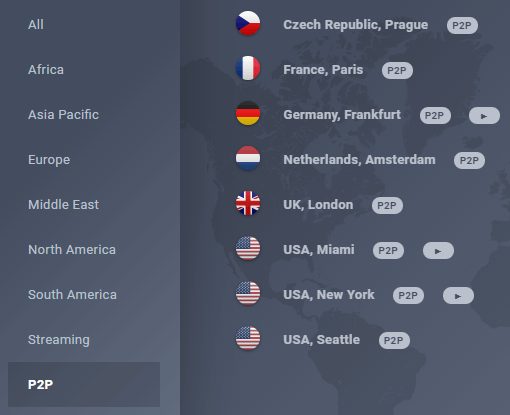 Even if you could live with the limited number of P2P server locations, there is the issue of speed. As you will see a little later in this AVG VPN review, the service is slow. A limited selection of slow servers doesn't make for a great torrenting VPN. See these best VPNs for torrenting if you want to consider other options with better P2P support.
AVG Secure VPN CONs
We're sorry to say that not all the questions we posed resulted in answers we liked. Specifically:
AVG VPN keeps connection logs
We dug through AVG's VPN-specific privacy policy to see what we could find. Unfortunately, it does not look good.
While the company doesn't keep usage logs, they do keep connection logs. And these VPN connection logs record far more than you would think. The privacy policy says they record:
Connection timestamps, which indicate when you log on and off the network. (Note that connection timestamps on their own aren't a deal-breaker. ProtonVPN also does this.)
The subnet of your original IP address, which consists of three-quarters of your full IP address. While this isn't enough information to uniquely identify your computer or mobile device, the odds of multiple devices with the same subnet being connected to the AVG VPN network are pretty small.
The IP address of the VPN server you are using.
The amount of data transferred while you are logged on.
While the privacy policy explains the reasons for recording each type of data, this is still an awful lot of data. Combining the subnet of your originating IP address with the other data takes them very far toward uniquely identifying you and what you are doing online. The privacy policy was also unclear about how long they keep the data that they log. We would really prefer the AVG Secure VPN kept no logs at all, particularly given Avast's history.
If all this leaves you as uncomfortable as it does us, check out this list of no logs VPN providers that have been verified.
AVG VPN's server network is small
At the time of this review, the AVG Secure VPN server network consisted of 58 server locations in 34 countries. While this isn't the smallest VPN server network out there, you can certainly find VPNs with 20 times as many VPN servers, located in far more countries than the AVG VPN provides. All of our top picks among VPNs have large server networks, as we discuss in the ExpressVPN vs NordVPN comparison.
A bigger server network offers real benefits. More servers in more locations gives you more options. It makes the network more redundant, which could be important in case of war or natural disaster. It means there is more bandwidth in the overall network, reducing the risk of slowdowns and giving you additional servers to connect to if one is overloaded. And more servers is important when it comes to unblocking websites. As we discussed earlier, with only a handful of servers designed for streaming blocked content, the chance that you will one day be completely unable to connect to the streaming service you need is high.
When it comes to VPN server networks, bigger really is better. AVG needs to get bigger.
AVG VPN slow speeds
We ran speed tests of the AVG Secure VPN on a fiber optic connection capable of 500 Mbps download speeds. All the tests were done with the AVG VPN Windows client and the OpenVPN protocol from my location in the US. The results were not very good.
Note: AVG Secure VPN is in the process of implementing support for the WireGuard VPN protocol, which offers faster speeds than OpenVPN.
First we ran tests with AVG VPN servers in the United States.
Here was an AVG server in Seattle at about 70 Mbps:

You can see in the screenshot above that this was the "Optimal location" closest to my physical location. It should have given me excellent speeds, but we're only getting a fraction of my full baseline speed.
Next up was an AVG VPN server in Los Angeles at 43 Mbps.

Not looking good. This is about 9% of my full baseline speed.
Next I tested an AVG VPN server in New York: 54 Mbps.

The AVG VPN speeds with the New York server were slightly better than Los Angeles, but still below Seattle, and far below my baseline speed.
I also tested an AVG Secure VPN server in Toronto, Canada at about 65 Mbps.

Once again, the results were not much better than previous server locations. This is not a good option if you need a VPN for Canada with premium speeds.
What about servers in Europe?
Lastly, I tested out AVG's UK VPN server. It was about on par with other results: 66 Mbps.

So where does this leave us?
AVG VPN is not close to the fastest VPN we've tested (that honor goes to NordVPN). If you've got the need for speed, then you should look elsewhere.
No support for Firestick, Linux, or routers
While the VPN does support the four most popular operating systems, it does not support Linux or routers. This can really be limiting depending on what you want to use with the VPN. Check out our roundup guide on the best VPN for Linux to see alternatives.
Another drawback is that AVG VPN does not offer any support for the wildly-popular Firestick streaming device, or Amazon Fire TV. If you fall in this category, see these best VPNs for Firestick that offer dedicated apps in the Amazon App Store.
Reasonable pricing (at the start)
The AVG Secure VPN offers reasonable pricing for new customers. As you can see in the image below, their best price is $4.49 per month for a one-year subscription, and $4.39 per month for a 2-year or 3-year subscription (all subscriptions are billed immediately). These prices are in line with other VPNs, although we would not consider this to be the cheapest VPN by a long shot.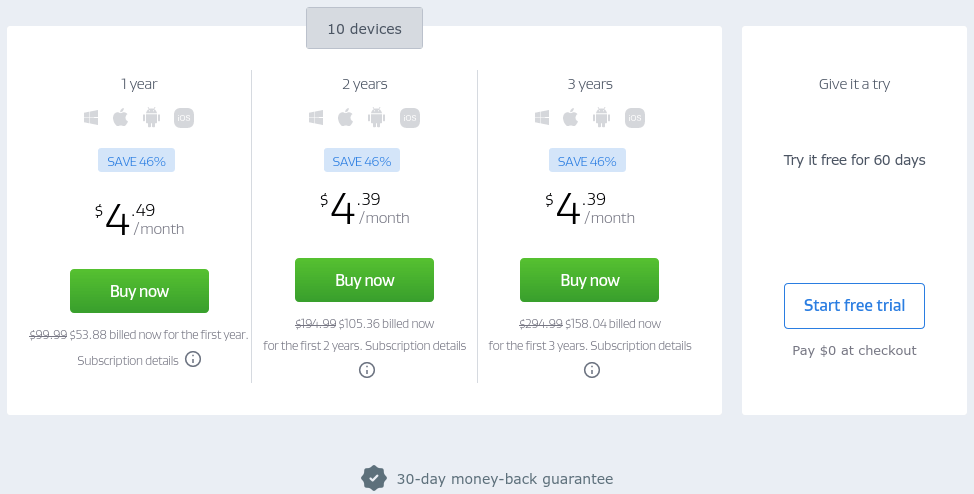 However, if you look carefully at the image, you will see that these prices are just for your initial subscription. After the first term, the prices go up substantially to the levels shown "crossed-out" in the image above ($294.99 for a 3-year subscription). Keep that in mind when considering the price of a Secure VPN subscription and comparing against other services.
AVG does offer a 30 day money-back guarantee on this VPN. The refund policy page is confusing, thanks to the number of different products and distribution channels that are addressed on the page, but once you find the right form to fill out, it seems straightforward.
AVG Secure VPN FAQ
Here's a collection of important / common questions that people searching for the AVG Secure VPN tend to ask.
AVG Secure VPN review conclusion
The AVG Secure VPN is in many ways a decent product. It seems designed for newcomers who simply want to turn it on and get back to using the internet. For basic use, it would probably be fine. It is easy to install, easy to use, and we didn't find any data leaks with our VPN tests.
However, the VPN is still relatively slow compared to the competition and it runs on a small server network. It seems marginal at best if you want to stream content, or download torrents. Once you get past the initial discount, the price is kind of high, and the connection logs they keep on their users give us pause. Lastly, the bad track record of the parent company (selling user data) is a major blow to trust.
Putting all this together, we have the answer to our final question at the start of this review…
Is AVG Secure VPN worth it?
We can't recommend AVG Secure VPN. There are too many other VPNs out there that offer much more value for the money.
Alternatives to AVG VPN
To learn more, click the VPN name below to read our full review. You can also grab the discount for the best savings. All three of these VPNs have a 30 day money-back guarantee.
And to wrap things up, check out our list of the best VPNs for more info on the top recommendations.
This AVG Secure VPN review was last updated on November 28, 2023.