In a world where online privacy is increasingly crucial, finding the right VPN can be challenging. PrivateVPN, a relatively underrated player in the market, promises robust streaming support, torrenting capabilities, and strong security features. But is it worth your money, and does it live up to its claims?
To answer these questions, we purchased a PrivateVPN subscription, downloaded the apps, and put this VPN through a barrage of tests. Overall, the test results were surprisingly good. PrivateVPN definitely earns the right to be discussed among the best VPN services in the market, but it also has some drawbacks you should consider before subscribing.
So let's start this PrivateVPN review by first covering the basics.
As is common with VPN reviews here at RestorePrivacy, we're going to really dive into the details to see if PrivateVPN is worth your time and money. Here are the things we looked at for this PrivateVPN review:
Usability and compatibility of PrivateVPN apps
Features, both the standard ones that all leading VPNs have, and the specialized ones that help PrivateVPN stand out
Suitability of PrivateVPN for streaming and torrenting
Security and privacy features that make PrivateVPN safe to use
Speed tests with PrivateVPN servers in locations we frequently test with other VPNs, making it easier to compare speeds across providers
Analyzing all features and pricing options
A secure and private VPN is a must for everyone in this world where cyberattacks and corporate surveillance are on the rise. But beyond that, choosing a VPN depends on what you actually do online. Using a VPN for torrenting and streaming are two big use cases for VPNs, even though only a few are any good at it.
PrivateVPN is a good general-purpose VPN and has a few features that make it one of the better VPN services for streaming and torrenting. However, it also has some drawbacks that you should consider.
Pros +
Affordable long-term pricing plan
User-friendly interface
Good streaming and torrenting support
Dynamic dedicated IP servers
Port forwarding feature
30-day money-back guarantee
Up to 10 simultaneous device connections
Compatibility with various devices and platforms
Cons –
Smaller server network
Speeds may not be as impressive as some top-tier VPN providers
No third-party audits
Lacks some key features like split tunneling, specialized servers, and ad-blocking
Now that you have that info, let's do an in-depth dive into this PrivateVPN review and discover if it truly stands out among the competition.
PrivateVPN Apps: Usability and Compatibility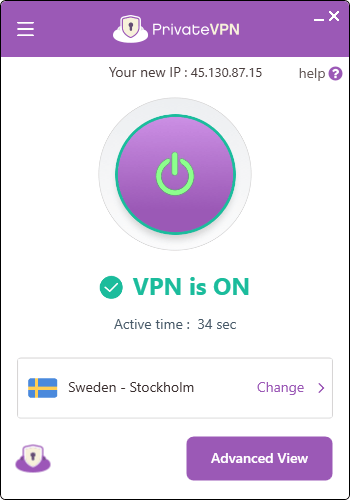 PrivateVPN offers a user-friendly VPN service with dedicated apps for Windows, macOS, iOS, and Android. Their website provides instructions that show you how to use a VPN for Amazon Fire TV Stick, Linux, Chromecast, Kodi, and other devices. This means you can use the VPN on multiple devices while enjoying your favorite streaming services.
Additionally, while PrivateVPN does not directly support the WireGuard VPN protocol in its own applications, you can still use WireGuard with third-party apps. Additionally, it does support other leading VPN protocols to give you a secure, reliable online experience.
The PrivateVPN desktop apps default to the Simple view shown above. In this view, your options are limited to selecting a server location and turning the VPN on or off. It is an ideal view for beginners or anyone who wants the minimum of hassles from their VPN service.
For situations where you need more control, such as setting up torrenting or P2P file transfers, there is the Advanced view. Here is the VPN Windows app opened out in the Advanced view: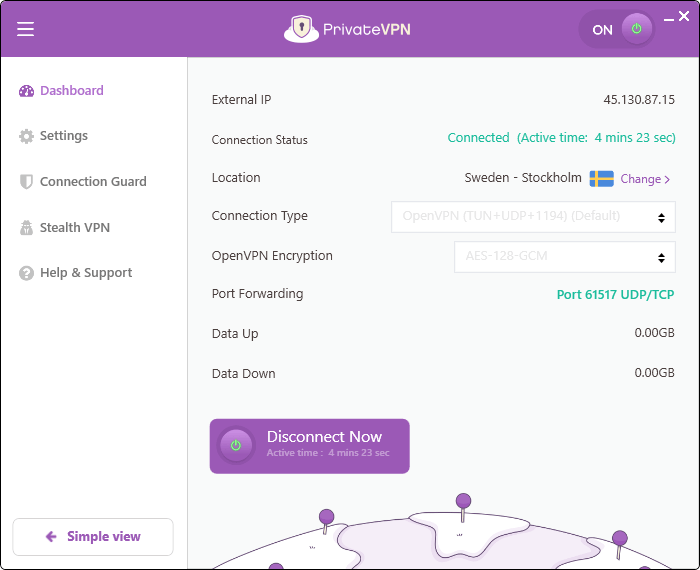 Beyond the graphical user interfaces for the four main apps, PrivateVPN provides setup instructions for many platforms in its Support area.
App Interface and Ease of Use
Navigating the PrivateVPN app is a breeze, thanks to its highly intuitive interface and user-friendly design. Although the interface may appear slightly outdated at first glance, users quickly become accustomed to its simplicity and ease of use.
The apps, available for both desktop and mobile devices, offer a seamless experience with minimal VPN connection drops and provide brief explanations of settings when hovering over information symbols. The apps are also configured to display alerts for various changes in status, such as this notification about the way the PrivateVPN kill switch works: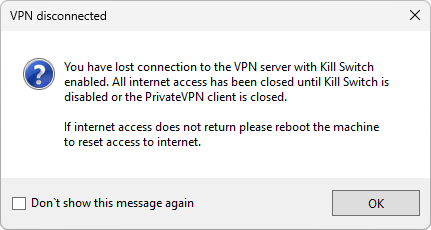 Tweaking encryption levels and other VPN settings in the app might be a bit challenging for some. Yet, PrivateVPN mitigates this by offering a dependable auto-connect feature that triggers a VPN connection upon app launch or device startup. Overall, the app interface is easy to navigate, allowing users to get the most out of their PrivateVPN experience.
Platform Support and Setup
PrivateVPN provides native desktop apps for these major platforms:
In addition, they provide manual setup instructions for Linux and other platforms. If you are a Linux user, you must manually set up your VPN connection through a command-line terminal. While this is a downside for many, it's common for VPN providers to require a manual setup for Linux support.
Note: If you want a VPN that provides a native desktop app for Linux, you could try Surfshark or OVPN, both of which are featured in our guide to the best VPNs for Linux.
PrivateVPN supports simultaneous protection of up to 10 devices under a single subscription, a benefit for those needing to secure multiple devices at once. This is more connections than we see with both NordVPN and ExpressVPN. However, we also see that Surfshark and IPVanish offer an unlimited number of connections.
Combining the support for a large number of devices with instructions for connecting to a large variety of devices makes PrivateVPN very flexible. You can secure your entire household or small business, as well as devices that may not be supported by native applications, such as game consoles, all without having to purchase multiple subscriptions.
PrivateVPN Features and Benefits
PrivateVPN's feature set varies somewhat from what you typically find in popular VPNs. Important features provided by this VPN service include:
Strong AES-256 encryption. This is the same kind of encryption used by the US government and many major corporations.

Support for OpenVPN, PPTP, and L2TP VPN protocols giving you the option to try different protocols if there are problems with the connection.

Integrated kill switch to prevent your data from leaking onto the internet if the VPN connection goes down.

Autoconnect to connect the VPN when you start your device and reconnect automatically after an interruption.

Stealth VPN mode to evade internet censorship. With Stealth VPN mode activated, PrivateVPN obfuscates your VPN traffic. In other words, it makes your VPN traffic look like HTTPS internet traffic, a format used by the majority of internet traffic today. This is useful if you need a VPN for China, Russia, or when using a VPN for the UAE.
The service also offers some less common features that make it extra useful for streaming and torrenting. These include:
Port forwarding for fast, secure torrenting. This feature allows you to make direct connections between your device and a content source. A direct connection will likely be faster and more secure since it avoids passing your traffic through crowded and possibly insecure central servers.
Shared Static IP servers give you (and other users) the same IP address every time you connect to them. This is useful for sites and services that don't like it when you keep logging in from different IP addresses. (Using a static IP VPN has some advantages and disadvantages.)
Dynamic Dedicated IP servers give you a new IP address every time you log onto them. These IP addresses are dedicated to your sole use for the duration of the session and are less likely to get blocked than regular VPN connections, which makes accessing secure sites like streaming services more reliable. This will also mitigate captcha authentication issues like was saw in the Mullvad VPN review.
Port Forwarding with PrivateVPN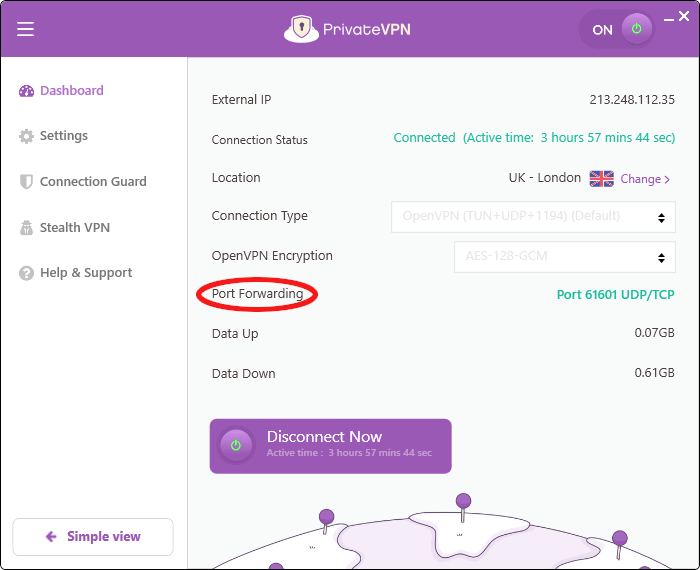 Port forwarding is a crucial feature of PrivateVPN, especially when it comes to torrenting and other Peer-to-Peer (P2P) file sharing. It enhances the speed, reliability, and efficiency of data transfers within the P2P network. This is also a feature we don't see with most VPNs, including IPVanish and NordVPN.
Port forwarding works by allowing direct connections between peers, without going through a central server. This not only speeds up data transfers but also reduces the load on the server, resulting in a more efficient file-sharing experience.
When you connect to a VPN server in PrivateVPN, the Advanced view shows a port that is available for Port forwarding. Configure the source to connect directly to this port and you will be rewarded with faster and more efficient file transfers.
By using a specific port for your file transfers, you effectively hide your activities from your Internet Service Provider (ISP) and other potential eavesdroppers. This makes it even more difficult for third parties to monitor or interfere with your file-sharing activities. Even though most VPNs, including Mullvad and NordVPN, don't offer this feature, it is still useful in some cases.
In short, port forwarding is an integral feature of PrivateVPN that enhances the speed, efficiency, and privacy of your P2P file sharing. It provides a direct, secure, and efficient bridge between you and your peers, thereby ensuring a superior file-sharing experience.
Note: If port forwarding is important to you and you want to see more options, check out our guide to the best VPNs with port forwarding.
Dynamic Dedicated IP servers
One of the key features that set PrivateVPN apart is its implementation of dynamic dedicated IP servers, an innovation that brings numerous benefits and provides a secure, reliable, and versatile VPN service.
Dynamic dedicated IP servers allow users to have a unique IP address that is dedicated solely to them. This means that each time a user connects to PrivateVPN, they are assigned a fresh IP address that is not shared with anyone else. This dynamic nature of the dedicated IP servers brings several advantages.
First, dynamic dedicated IP servers provide an added layer of security. By using a dedicated IP address, you can avoid the potential risks associated with sharing an IP address with other users. This eliminates the possibility of being affected by the actions of others, such as being flagged for suspicious activities due to someone else's online behavior.
Furthermore, dynamic dedicated IP servers enhance online accessibility and reliability. A dedicated IP address helps you bypass geolocation restriction and get access to content, such as when using a VPN for BBC iPlayer. Whether it's streaming services, social media platforms, or online gaming, PrivateVPN's dynamic dedicated IP servers help you get seamless and unrestricted access to the content you desire.
Likewise, dynamic dedicated IP servers greatly reduce the chance that you will be affected by IP blocking or blacklisting. Some websites, services, or online platforms employ IP blocking techniques to prevent unauthorized access or combat spam. If blocked, you can simply disconnect from the server and reconnect to try a different IP address and bypass the restrictions.
Note: You can learn about other VPNs that feature dedicated IP servers in our guide on the best VPNs for a dedicated IP.
Features You Might Miss
While PrivateVPN has the core features of a quality VPN service, it also lacks some features that are very important to some users. Examples include:
The result of these feature selections is that PrivateVPN seems optimized for streaming and torrenting. This stands in contrast to other VPN services that strive to be all things to all people. Given this focus, let's talk about streaming and torrenting next.
Note: If streaming and torrenting are not your primary goals, you might want to check out our NordVPN review. We currently rank it as the best overall VPN on the market.
Streaming and Torrenting with PrivateVPN
As implied by its feature set, if you want a VPN for streaming or torrenting, PrivateVPN has a lot to offer. It is fast enough to stream HD video. And our testing shows that PrivateVPN with its dynamic dedicated IP servers easily unblocks many major streaming services like Netflix and Disney Plus. This means you can enjoy your favorite content without worrying about geo-restrictions.
Below we're testing out PrivateVPN streaming an episode of Vikings on Netflix. Everything worked well.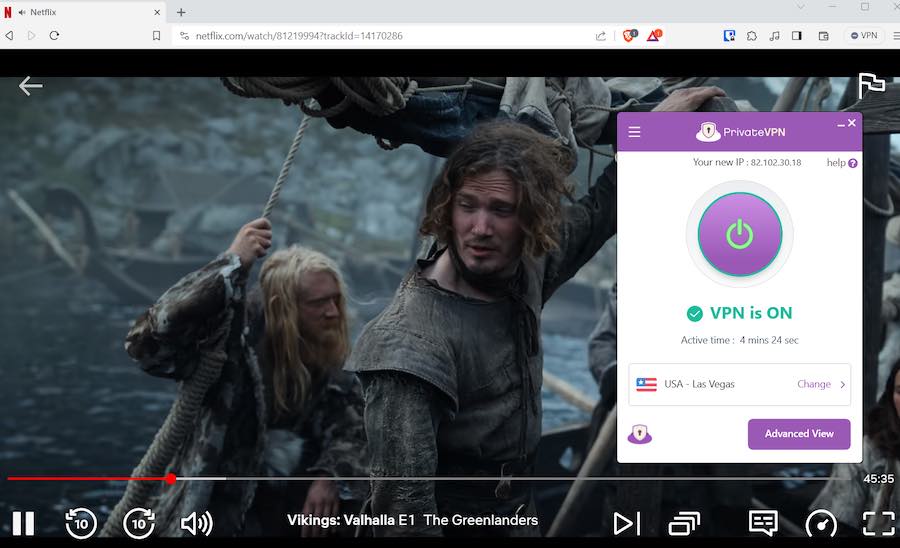 Unfortunately, we did run into problems when trying to unblock BBC iPlayer. As you can see in the screen capture below, iPlayer recognized the VPN and blocked access. See other VPNs for BBC iPlayer here.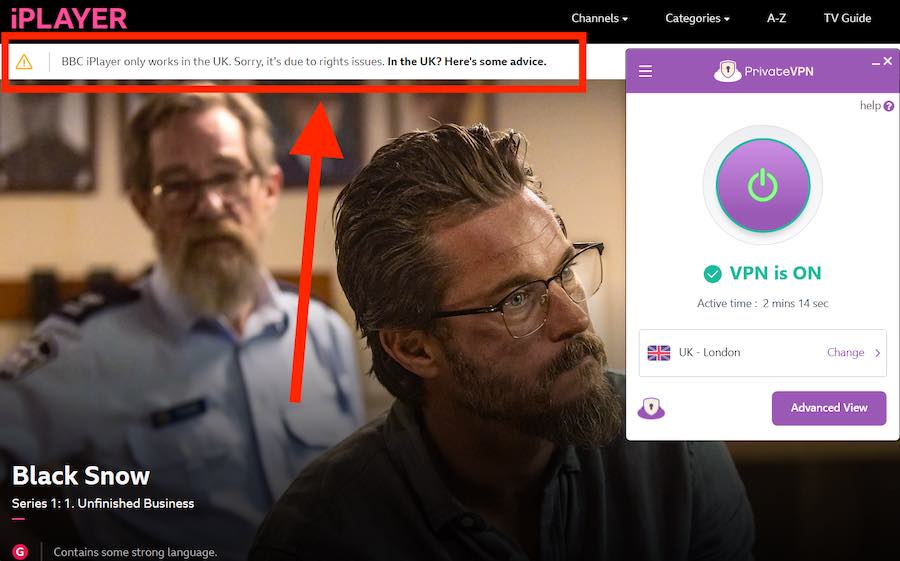 Another possible concern when using PrivateVPN for streaming content is that PrivateVPN does not have a Smart DNS feature. Smart DNS makes it possible to use a VPN with Apple TV, game consoles, and other devices that do not directly support VPN clients. All in all, PrivateVPN is a good VPN for streaming, but there are other VPN services that are better. If you want the best, check out our guide to the best VPNs for streaming.
When it comes to P2P in general, and torrenting in particular, the #1 priority for a VPN is security. Any torrenting VPN must prevent your IP address from being exposed at any point in the process. PrivateVPN also did well with torrenting and P2P in general. Their port forwarding feature gives you fast, secure connections that make file sharing a pleasure.
Security and Privacy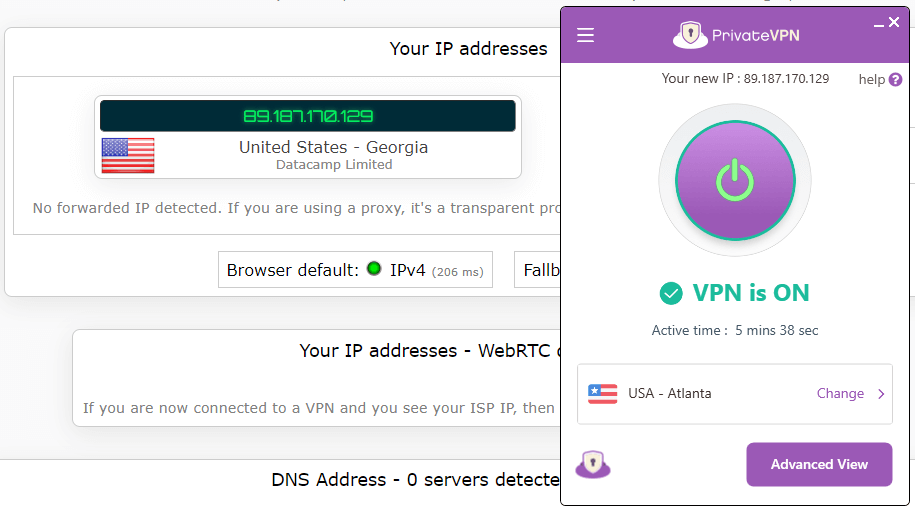 Security and privacy form the crux of what PrivateVPN offers. With PrivateVPN, you get:
Strong encryption

A strict no-logs VPN policy

A reliable kill switch feature

DNS leak protection to ensure that your online activities remain private and protected

Stealth VPN mode for circumventing internet censorship and preserving privacy in regions with stringent online regulations

Port forwarding that increases your security and privacy during P2P activity and torrenting
You can activate PrivateVPN security settings by selecting the Connection Guard option in the Advanced view: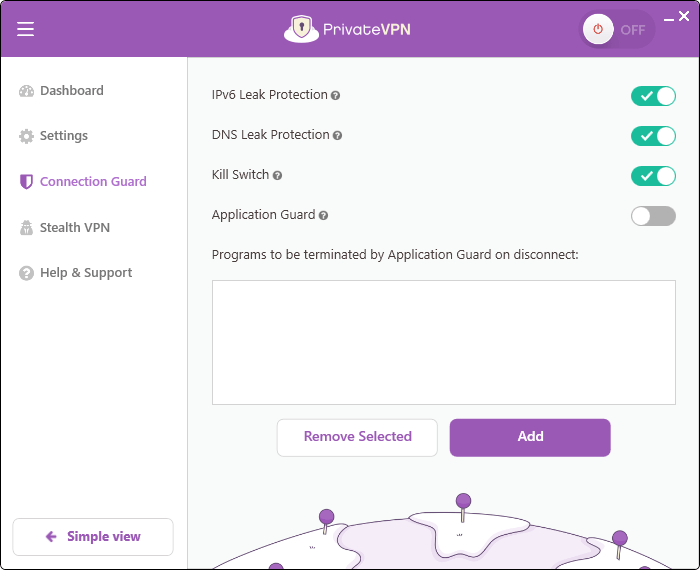 Today, leading VPN services like ExpressVPN and Surfshark, as well as NordVPN, go one step further. They not only claim to keep no log; they hire outside auditors to confirm their claims. Only in this way you and I can be sure that a VPN delivers on its no-logs claims.
Unfortunately, while researching this PrivateVPN review, we confirmed that the service has not yet published any third-party audits of its no-logs policy. While this lack of an audit does not in any way imply that PrivateVPN is being dishonest, we are still left with taking their word for it.
Our concern is heightened a bit since PrivateVPN is based in Sweden, a country that is part of the 14 Eyes intelligence-sharing alliance. As of today, this jurisdiction has mandatory data retention laws that apply to Internet Service Providers (ISPs) but not VPNs.
All in all, Sweden is a decent, but not great jurisdiction for a VPN company. If you use this service, you will be relying on the company's strict no-logs policy to ensure that no user data is retained or shared with any third parties. We discuss this more in our Surfshark vs Mullvad comparison, as Mullvad is also located in Swedn.
Completing and publishing a third-party audit of their no-logs policy would eliminate this potential concern about whether PrivateVPN is a reliable option for those in search of a secure VPN solution.
PrivateVPN speed tests
While PrivateVPN provides reasonable speeds in terms of speed and performance, it is certainly not the fastest VPN we have tested. However, its speeds are generally satisfactory for everyday use and can support HD streaming when connected to a nearby server. Users can expect better performance on closer servers, while more distant connections may experience a drop in speed.
For these speed tests, we set PrivateVPN to use the OpenVPN protocol on a computer connected to the internet through a 1,000 Mbps fiber optic connection.
PrivateVPN connected to a server in Seattle: 152 Mbps.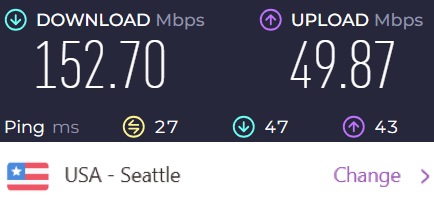 This result is not very impressive when you consider that the connection can deliver 1,000 Mbps. If PrivateVPN upgraded their systems to handle the WireGuard VPN protocol they would almost certainly get better speed test results. But right now, this is not a very fast VPN.
PrivateVPN connected to a server in Los Angeles: 62 Mbps.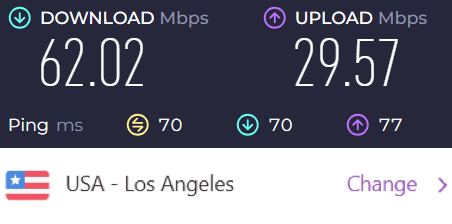 The test results for Seattle were disappointing. The result for Los Angeles was even worse. 62 Mbps on a 1,000 Mbps connection is not good. With PrivateVPN active on this connection, our download speed with the VPN connected was 1/16th the raw speed of the connection.
PrivateVPN connected to a server in New York: 134 Mbps.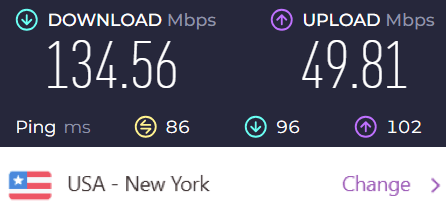 This result is better, basically on par with the first test. Not horrible, but certainly not impressive.
PrivateVPN connected to a server in London: 139 Mbps.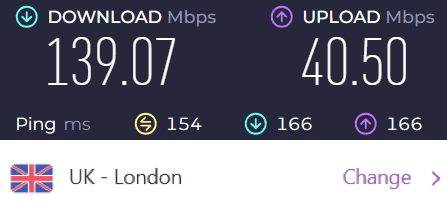 And one more below average result.
For reference, here is the result we got when we ran a speed test using the same hardware, but with NordVPN using the WireGuard VPN protocol:

In the context of this review, NordVPN was five times as fast as PrivateVPN when connecting to servers in Seattle.
Summarizing these results, PrivateVPN offers a low, but generally consistent speed across servers. Fortunately, most people these days have fast internet connections. With a fast connection, PrivateVPN should be fast enough to stream content in HD, and not degrade your browsing experience too much.
Your best bet will be to take advantage of the 30-day money-back guarantee offered by PrivateVPN. Use the VPN in your house, with your favorite websites, and see if it is fast enough for you.
Latency and the Gaming Experience
For gamers, particularly those of you who play shooters and other real-time games, a low latency (ping) is vitally important. In simple terms, latency is the delay between a command sent from a device and the time it takes for the server to receive and act upon it. Reducing the length of this delay is crucial in the gaming world.
The lower the latency, the more responsive an online game can be. You need fast and responsive communication between the game on your device and the gaming server if you are to compete successfully. So, for gamers, low latency isn't just a good-to-have, it's a must-have.
And if you are playing fast-paced, competitive games where every millisecond counts, even a ping that's slightly over 50ms can harm your results. And if the ping gets over 150ms, you will probably notice a significant negative impact on your gameplay.
This is where PrivateVPN comes in. PrivateVPN has pretty low latency for most sections of their network. While we did find significant variance in the latency depending on which server you connect to, in many cases PrivateVPN provides extremely low latencies (27ms during one test), making it a viable option for gamers.
Just be sure to do some speed testing with a service like speedtest.net and connect to a low-latency (low-ping) server location before starting a critical match! To do so, connect to a PrivateVPN server and run a speed test. Ideally, you want a server that returns a Ping of under 50ms, like the result shown here: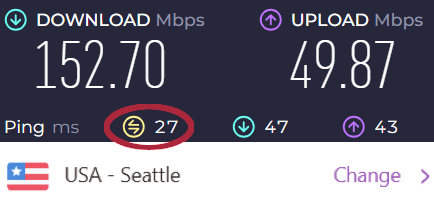 If you are not happy with the result, you can try connecting to different VPN server locations until you find a low-latency connection. Take advantage of PrivateVPN's dynamic dedicated IP server system by connecting to a dedicated IP server instead of one of the shared server locations.
Note: PrivateVPN's low latency puts it ahead of most competitors. But if gaming is a top priority for you, check out our guide to the best VPN for gaming.
PrivateVPN server network and locations
PrivateVPN has 200+ VPN servers. This is a very small server network relative to many leading VPN services. For example, NordVPN has 5,800+ VPN servers, and even the budget-priced newcomer Atlas VPN has 1,000+ VPN servers. A small server network can more easily get overloaded with users which hurts performance. A small server network is also easier for websites and services to block, although PrivateVPN offers an interesting solution to that problem with their dynamic dedicated IP servers.
But when it comes to the geographic distribution of VPN servers, the competition looks a bit different. As of October 2023:
PrivateVPN has servers in 63 countries

NordVPN has servers in 60 countries

Atlas VPN has servers in 42 countries
Despite having a smaller server distribution compared to other leading VPN providers such as NordVPN and Atlas VPN, PrivateVPN still ensures a decent variety of global locations for overcoming geo-restrictions and accessing worldwide content. With servers in countries such as the United States, United Kingdom, Canada, and more, users can enjoy a relatively wide range of server locations to choose from.
So while the size of PrivateVPN's relatively small server network is not ideal, this service still offers access to a wide range of server locations for bypassing geo-restrictions and accessing content from around the world.
Note: We like the way that PrivateVPN lists all their servers, along with useful information about each one on their Server List page.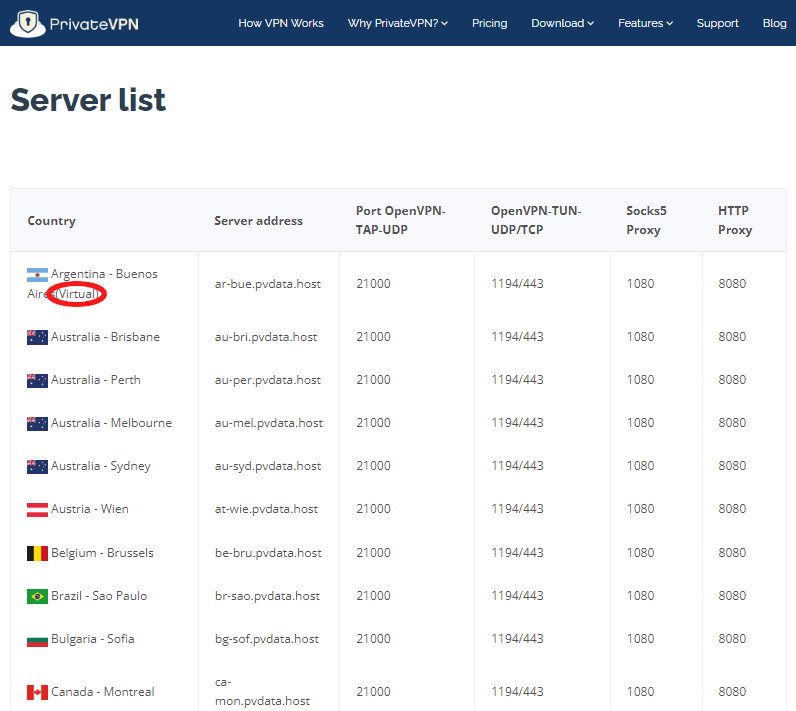 But before we move on, there is one more server-related topic we need to talk about. That topic is virtual servers.
PrivateVPN Virtual Servers
To provide better global coverage, PrivateVPN utilizes virtual server locations. The term virtual server refers to servers that are physically located in a different country than the IP address they provide. By offering a variety of IP addresses and a reliable PrivateVPN server, PrivateVPN gives you access to locations you would otherwise not be able to reach as a PrivateVPN user.
To see which PrivateVPN servers are virtual servers, look for the word, Virtual to the right of the location of the server. You can see an example in the image above. It is circled in red after the phrase, "Argentina – Buenos Aires" in the image above.
But with that said, using virtual servers has both pros and cons. You can learn more about those pros and cons in our report titled, "Lies vs Statistics: VPN Virtual Server Locations."
Customer Support and Resources
Customer support options in PrivateVPN are diverse, encompassing 24/7 live chat, email support, social media, and online resources that include installation guides and a Remote Help feature. During our testing, we found the 24/7 live chat support to sometimes take far more than the 2-minute response time shown on the chat window: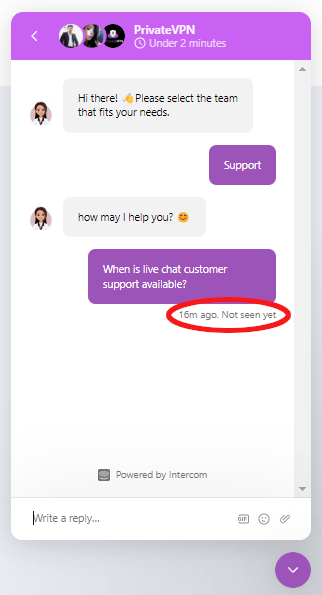 Depending on the circumstances, you might find that the email support option is the better option.
The company's email support, on the other hand, seems to be more knowledgeable and efficient, with response times of well under an hour during our testing.
If you prefer to find answers for yourself, PrivateVPN offers comprehensive installation guides for various platforms and devices.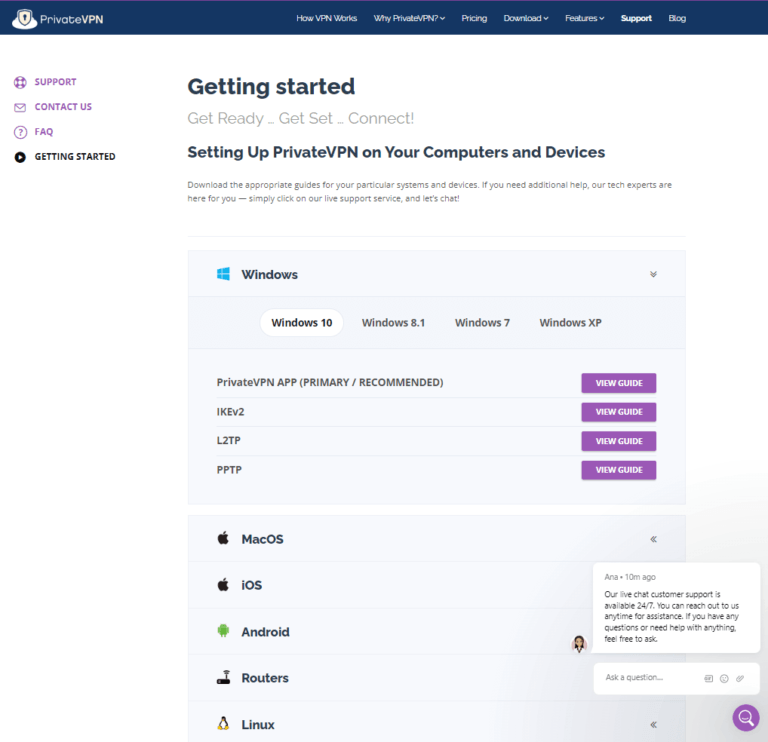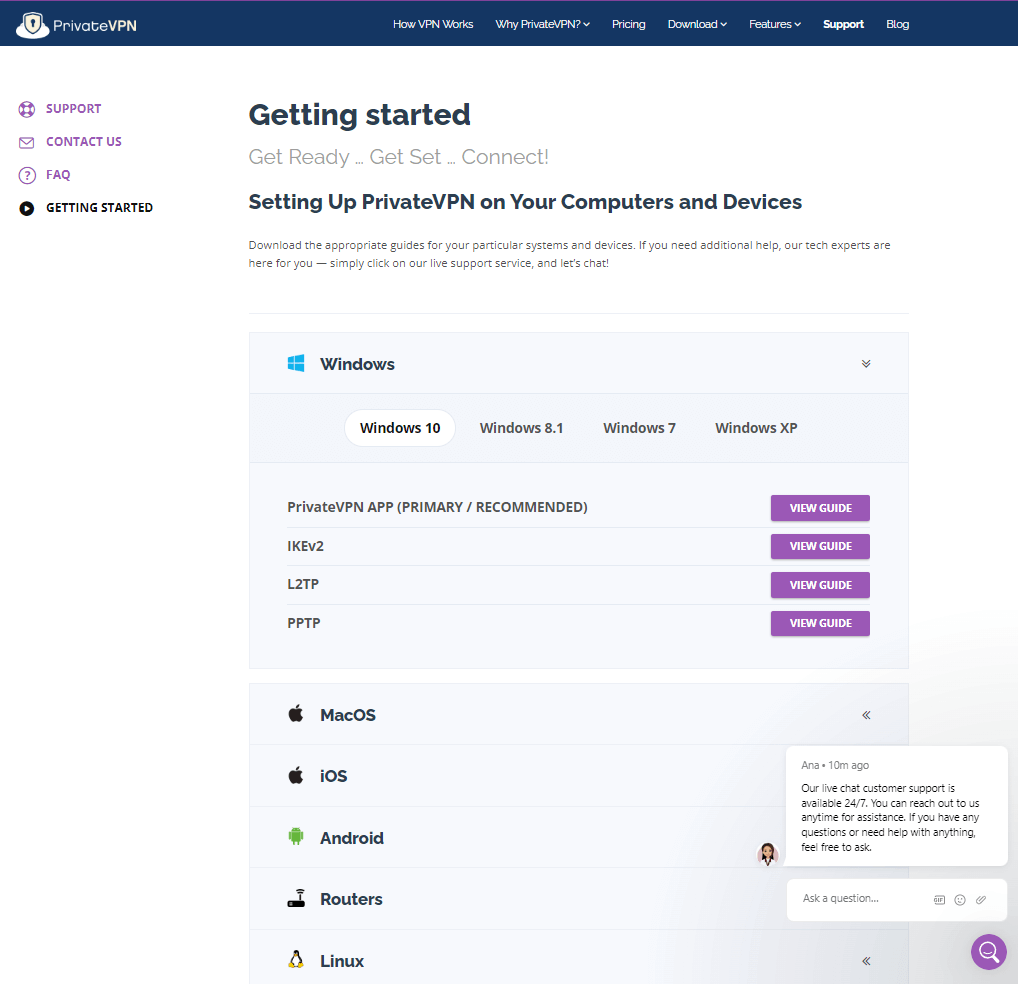 PrivateVPN also offers remote control assistance via TeamViewer for more complex setup processes. Between these resources and the company's customer support team, you should be able to quickly obtain any help you need to use PrivateVPN.
Pricing and Payment Options
PrivateVPN presents cost-effective subscription plans, offering discounts for long-term commitments. They provide three subscription options: a 1-month plan for $9.90/month, a 3-month plan for $6.00/month, and a 36-month plan for $2.00/month, which is an excellent price for this quality service.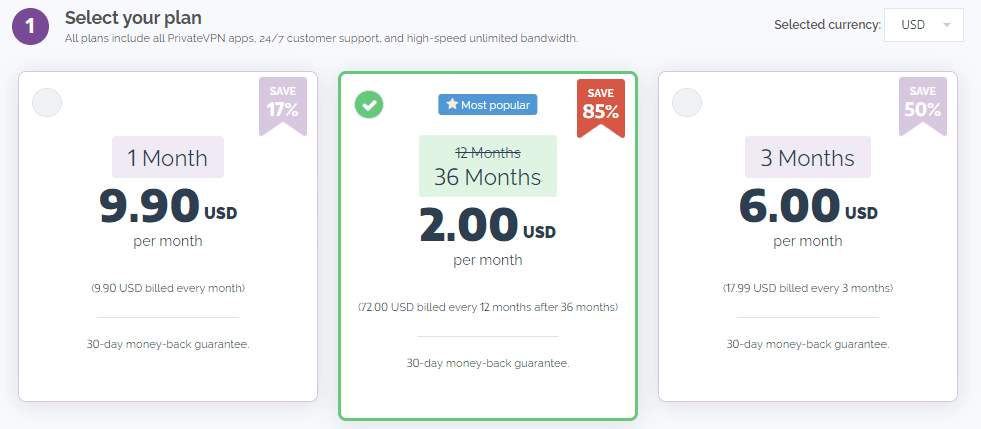 PrivateVPN's diverse payment options make it easy for you to subscribe to the service. As you can see here, they provide support for credit cards, Paypal, or go with the somewhat more private Bitcoin option.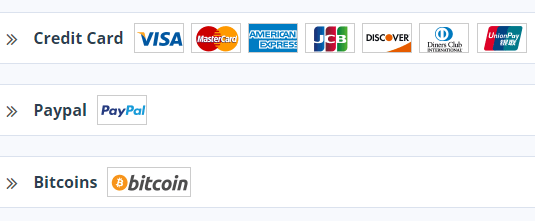 Money-Back Guarantee
PrivateVPN follows the common VPN industry approach of eschewing a free trial and instead offering a 30-day money-back guarantee. This option is better than a 7-day free trial or a crippled free version of the service. We recommend you treat the 30-day money-back guarantee as a 30-day free trial before you are committed to a subscription. Most leading VPN services have moved to this approach.
PrivateVPN Review conclusion
In conclusion, PrivateVPN offers a solid VPN solution with a focus on streaming and torrenting support, strong security features, and an intuitive app interface. Although its server network and speeds may not be as impressive as some top-tier VPN providers, PrivateVPN's affordable long-term pricing plan and user-friendly experience make it a reliable option for users seeking a secure VPN solution without breaking the bank.
PrivateVPN is also worthy of consideration for anyone who is interested in access to geo-blocked streaming services, or P2P file transfers and torrenting. Its dynamic dedicated IP servers facilitate access to streaming services, while port forwarding makes it a faster and more secure P2P VPN than you would expect from the size and speed of its network.
Alternatives to PrivateVPN
Even though PrivateVPN provides a robust array of features and commendable performance, considering alternatives is always recommended. In this section, we will briefly compare PrivateVPN with other popular VPN providers such as NordVPN, Surfshark, and ExpressVPN to help you make an informed decision.
NordVPN – If you prioritize a larger server network, faster speeds, and more features, NordVPN may be a more suitable option for you. NordVPN boasts a larger server network, quicker speeds, WireGuard VPN protocol support, and superior security features in comparison to PrivateVPN. NordVPN is also a better VPN for streaming, and our pick for the best VPN of the year. However, PrivateVPN offers a lower price for the longest-term subscription. Get more info in our NordVPN review.
Surfshark – If you want a faster, cheaper VPN that supports unlimited simultaneous connections, Surfshark could be your best bet. Surfshark is another strong contender in the VPN market, offering reliable and secure features similar to, and sometimes superior to, PrivateVPN. With superior security measures, support for WireGuard and OpenVPN protocols, plus unlimited simultaneous connections, Surfshark provides an attractive alternative for users seeking a balance between performance and affordability. Learn more in our Surfshark VPN review.
ExpressVPN – If you want a top-tier VPN provider that offers a more extensive server network and faster speeds than PrivateVPN, ExpressVPN could be your answer. While ExpressVPN's pricing plans are generally more expensive, its performance and features may justify the higher cost for your specific purposes. Learn more in our ExpressVPN review.
Frequently Asked Questions
Here are some frequently asked questions about this VPN service that are answered in this PrivateVPN review.
Is PrivateVPN good for streaming?
PrivateVPN is a reasonable choice for streaming, with good performance and the ability to unblock several popular platforms, including Netflix. It is also cost-effective, so you can enjoy a great streaming experience at an affordable price.
Is PrivateVPN good for torrenting?
PrivateVPN is an excellent choice for torrenting. It is secure and provides strong port forwarding options that most popular VPN services cannot match.
Who is PrivateVPN owned by?
PrivateVPN is owned by Miss Group, a digital-hosting firm, which acquired the company on Jun 17, 2022.
How many devices can I connect to PrivateVPN simultaneously?
PrivateVPN allows up to 10 simultaneous device connections with a single subscription, so you can connect up to 10 devices at the same time.
What security features does PrivateVPN offer?
PrivateVPN provides military-grade encryption, a no-logs policy, kill switch, and Stealth VPN mode to ensure users' data is kept secure.
Is PrivateVPN compatible with a wide range of devices and platforms?
PrivateVPN provides native applications for various devices and platforms, including Windows, macOS, Android, and iOS. They also provide instructions for using PrivateVPN with numerous other platforms, including Linux, AndroidTV, and many routers.
This PrivateVPN Review was last updated on October 27, 2023.