| | |
| --- | --- |
| VPN | Norton Secure VPN |
| Based in | USA |
| Logs | Connection logs |
| Price | $6.67/mo. |
| Support | Email |
| Refund | 30 days |
| Website | Norton.com |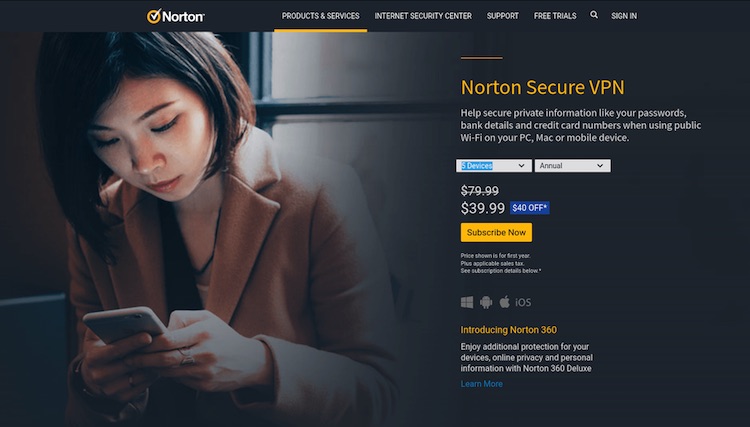 With a pedigree that includes online security giants like Norton and LifeLock, you would expect the Norton Secure VPN to be an industry leader. After all, these are two of the biggest names in online security and identity protection.
But in this case, you would be mistaken. After all, the kids don't always live up to their parents' expectations, as you will see in this Norton Secure VPN review.
That's not to say that Norton Secure VPN is all bad. It is easy to use and offers quality security and encryption protocols to hide your online activity from prying eyes. But it has some big flaws and shortcomings that you need to know about before relying on it to protect your online privacy.
In this review, we take you along as we look at the pros and cons of Norton Secure VPN. In particular, we've highlighted the factors that we don't like. Not because we dislike Norton, LifeLock, or their Secure VPN, but because there are so many other good VPN services to choose from. We hope that this review will be useful to you in your search for the VPN that best meets your unique needs.
Norton Secure VPN Overview
Below is an overview of our test results and research findings for this Norton Secure VPN. We will, of course, cover each of these items in more detail during this review:
+ Pros
Easy to use
Basic privacy and security
No VPN leaks detected during testing
Support for Windows, Mac, iOS, and Android
Ad (and tracker) blocker built in
– Cons
Norton keeps data logs
Limited number of countries and no city server selection
Limited features
No Linux support
No router support
Subscription price increases after the initial period
Inconsistent and sometimes slow speeds
Additional interesting FACTS:
Secure VPN and NortonLifeLock Inc. (background info)
Mixed results for Netflix and other streaming services
No support for P2P / torrenting
Customer support has plusses and minuses
Norton Secure VPN PROs
Norton's Secure VPN gets several things right. Here are the positive points you should know about this product:
Norton Secure VPN is easy to use
Norton Secure VPN is really easy to use. Puttin it into step-by-step instructions, you:
Launch the client from either the desktop icon or the System Tray.
Tap the Virtual Location tab.
Select a country and that's it.
If you aren't picky about which country you appear to be in, there's an Auto-select option that will find the best country for you automatically. Here's the Windows app, connected to a location in the United States: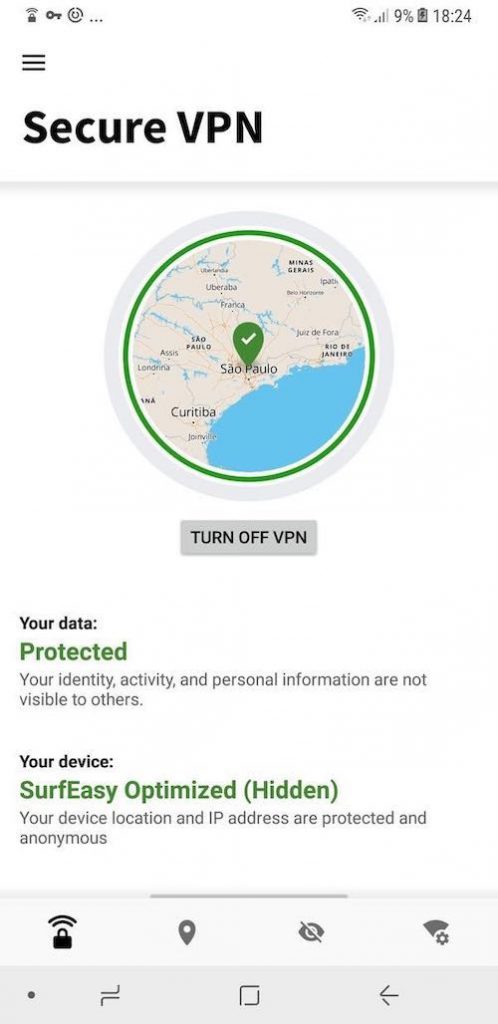 This simplicity would be ideal for people who are new to VPNs or who just want something that works out of the box, without having to fiddle with anything. This design is similar to what we noted in our NordVPN vs PIA comparison.
Basic privacy and security features
Norton Secure VPN uses solid, industry-standard privacy and security features.
In keeping with this VPN's ease-of-use approach, there are no real options to adjust when it comes to privacy and security features. When you use it, your configuration is:
OpenVPN protocol for Windows, Mac, and Android; L2TP/IPSec for iOS
AES-256 data encryption (described in the marketing as bank-grade encryption)
Norton Secure VPN doesn't support the WireGuard VPN protocol, IKEv2, or any other protocols. If you want to use WireGuard, then we'd recommend checking other options. We compared the two fastest VPNs for WireGuard in our NordVPN vs Surfshark report.
No VPN leaks detected in our VPN tests
The Secure VPN desktop and mobile clients made it through our usual VPN tests without a problem.
Unlike most other leading VPN services, Norton VPN does not offer very many configuration options in terms of encryption or a kill switch. Nonetheless, everything seemed to work well in testing.
For this review, I ran the Windows and Android clients through leak testing. Here are Windows VPN leak testing results: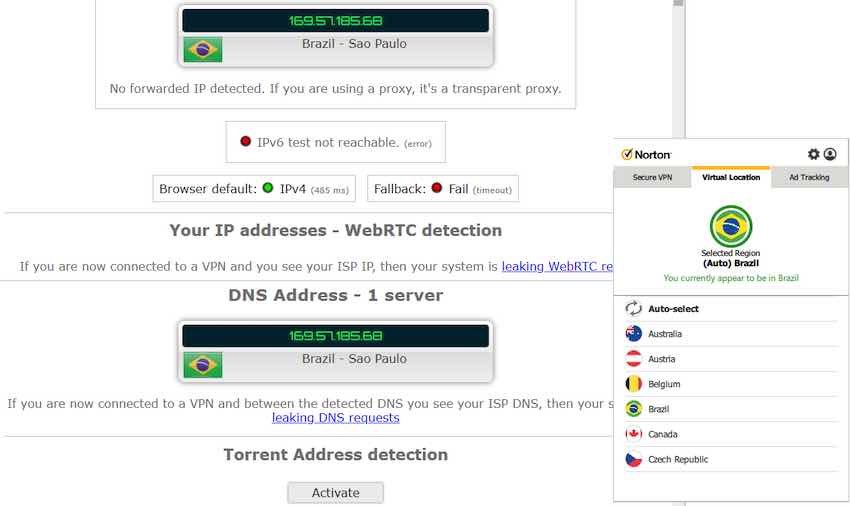 There is one possible problem here. Our ISP doesn't support IPv6 at this time, which is why you see the IPv6 test not reachable message in the image above. We have heard reports from users stating that they have seen IPv6 leaks. While this isn't a problem today for most people (as most ISPs are still only using IPv4) it could become an issue in the future.
Support for Windows, Mac, iOS, and Android
Norton provides VPNs for the four major operating systems: Windows, Mac, iOS, and Android. You've already seen what the desktop app looks like above in the review. Here's the Android version of the Norton Secure VPN app: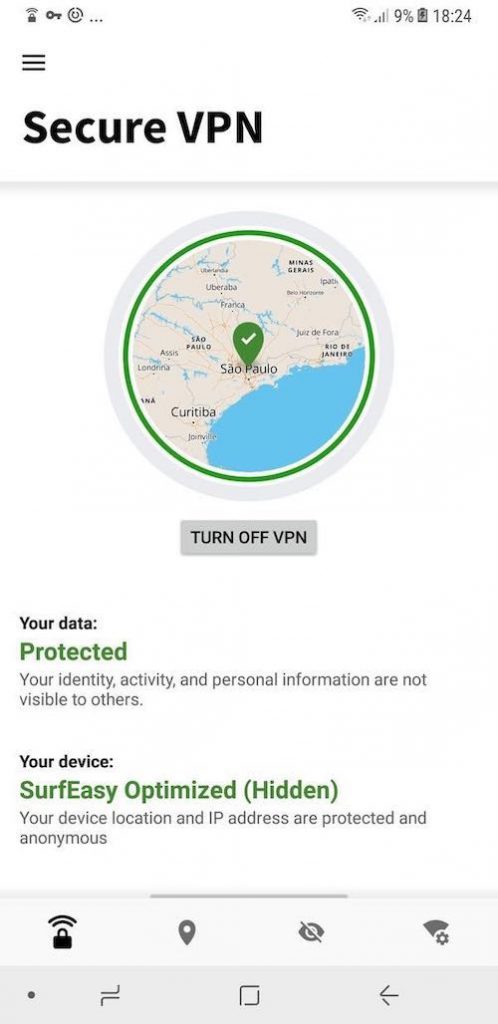 As we have already noted, the VPN clients are very basic, and also lacking in some features and preferences. Norton is probably not the best Android VPN, but it's also not the worst.
Note that Norton Secure VPN doesn't offer any browser extensions.
VPN ad and tracker blocker
One nice bonus feature of the Norton Secure VPN is its built-in ad and tracker blocker. I spoke to Support about this and it appears to be basic ad and tracker blocking, without any customization or options besides the ability to turn it on or off.
Using a good ad blocker with your VPN is not a bad idea, since ads can be very invasive. We have tested a handful of VPN ad blockers, including with Surfshark and Proton VPN. Some do well, but others are not very effective, as we noted in our review of Cyberghost VPN.
Now that we've covered the pros, let's examine the cons of Norton Secure VPN.
Norton Secure VPN CONs
Here are the main things we don't like about Norton Secure VPN:
Norton keeps data logs
Let's just get this out of the way: Norton Secure VPN is not a no logs VPN service. Instead, they log quite a bit of data.
This service describes itself as a no-log VPN provider. But their privacy policies (yes, there are three separate ones) give us some cause for concern. The old VPN-specific privacy policy is no longer accessible, but it contained some things we did not like:
This privacy policy describes how the company collects an unusual amount of user information, including:
Device name
Device type
Operating System version
potential security risks
"URLs of websites visited that the Software deems potentially fraudulent,"
malware files that might include personally-identifiable information (this piece can be deactivated manually)
"other information that is used for purposes of analyzing and improving the functionality of Norton products."
That was disturbing and is a lot more information than we usually see being logged. But on the bright side, none of this information is supposed to be correlated with any personally identifiable information.
As is usual, NortonLifeLock may disclose any information they have on you if requested by law enforcement, a subpoena, or other legal process. They may also share information with researchers and other security software vendors, "to promote awareness, detection, and prevention of internet security risks."
There is also the NortonLifeLock Product and Services Privacy Notices document, which is still accessible. In the Norton Secure VPN section it states that they may log quite a bit of data, as shown in the screen capture below: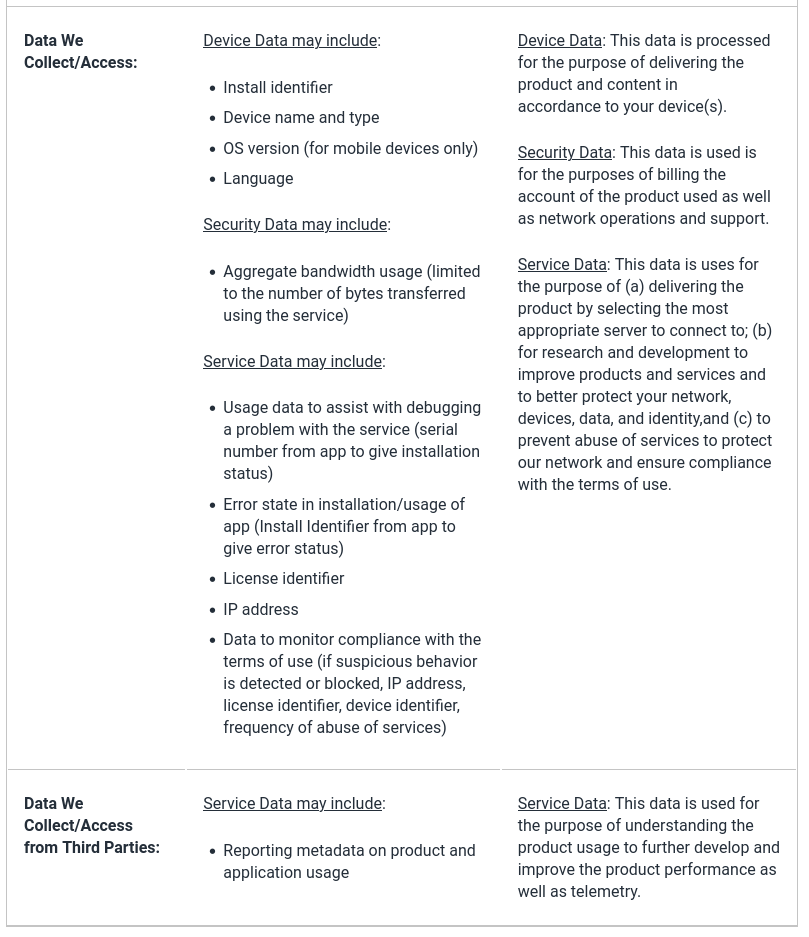 Looking at the types of data that NortonLifeLock says they can record about your activities while using their VPN, it is hard to understand how they can claim to be a "no-logs VPN." Most VPN users expect a higher level of privacy than Norton Secure VPN seems to be offering. There are some great no-logs VPNs that we have compared, which you can see in the NordVPN vs ExpressVPN report.
Limited number of countries and no city server selection
When you activate Norton VPN, you can let the service handle the connection for you, or you can manually select the country for your VPN server. As of this review, the server network is limited, with locations in 31 countries. This selection of locations is on the low side when you consider that other large VPNs give you more than 50 countries to choose from, as you can see with NordVPN and IPVanish.
Note also that we said you can choose the country. You are not able to select Norton VPN's servers beyond selecting the country you want to use. You cannot select a specific city within that country. In some cases, that is just fine. In others, it can be a real problem.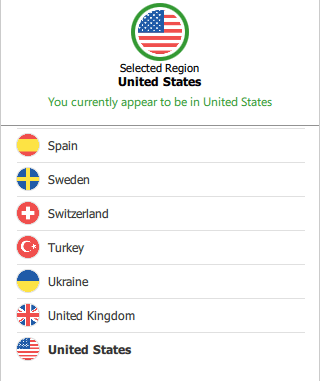 The problem is further exacerbated by the fact that we don't know exactly how many locations Secure VPN has in the United States, nor how we get assigned to one of these spaces when we connect. Here's an example of the kinds of problems this can cause.
My bank gets twitchy when I log in from a different location than I did the time before. I have to go through various steps to confirm my identity every time this happens. With Norton Secure VPN, I don't know where I will connect within the United States. This time when I connected, it was to a New York IP address. Last time it was to a California IP address. This would make my bank's security system go crazy which would drive me crazy.
The inability to control what city you log into is a major drawback of this VPN.
Limited features with Norton VPN
One reason Secure VPN is so easy to use is that it has a very limited feature set. For example, users don't have to worry about which connection protocol to use, since that is fixed. In addition, when considering Norton Secure VPN, you need to be cognizant of which operating systems you will be using it on. That's because not all features are available on all operating systems.
Sure, you might expect to have no features with a free VPN — but not a paid VPN service.
One example will suffice to make the issue clear. Norton Secure VPN does provide a kill switch to prevent your data from leaking if the VPN connection drops. But it is only included in the Windows and Android apps. Even the Mac OS VPN apps don't have a kill switch.
We consider a kill switch to be vital to protect your privacy when using a VPN. If you use macOS or iOS, we recommend you avoid this product unless/until they add a kill switch for your operating systems.
Similarly, Norton Secure VPN has added split tunneling to their apps. Split tunneling lets you route some internet traffic through the VPN tunnel while sending the rest direct to the internet without passing through the VPN. The split tunneling VPN feature can be very useful when connecting to banks or other services that block VPNs. But as with the VPN kill switch, split tunneling is only available for Windows and Android apps.
If you are considering this product, do your due diligence to ensure that all the features you need are available for all of the operating systems you are considering using.
Other VPNs with advanced features
Many of the other VPNs we recommend on this site offer more advanced features than you get with Norton Secure VPN.
Double-VPN servers – If you want double VPN servers, you can check out NordVPN and ProtonVPN, as well as Surfshark. However, in our Proton VPN vs ExpressVPN comparison, ExpressVPN came out on top with faster speeds.
Static IP – Norton Secure VPN currently does not support any static IP address options. If you want a VPN with a static IP, there are other options to consider. A static IP address that only is allocated to you may be useful in some circumstances. Two great options for this are NordVPN and TorGuard.
No Linux support
Norton Secure VPN does not support the Linux operating system.

If you are a Linux user, it's time to move on. See these other VPNs for Linux.
No router support
Norton Secure VPN does not support installation on routers.
Using a VPN on a router offers some advantages, namely full encryption for all devices connecting to the VPN router. Most VPNs support this, but Norton VPN does not.
Note: If you want to check out the latest in VPN router technology, see our Vilfo VPN router review (it earned high marks).
Subscription price increases after the initial period
If you are like most people, you hate hidden clauses and surprises when it comes to payments.
The initial pricing for Norton Secure VPN is reasonable if you are a new user signing up for the first time.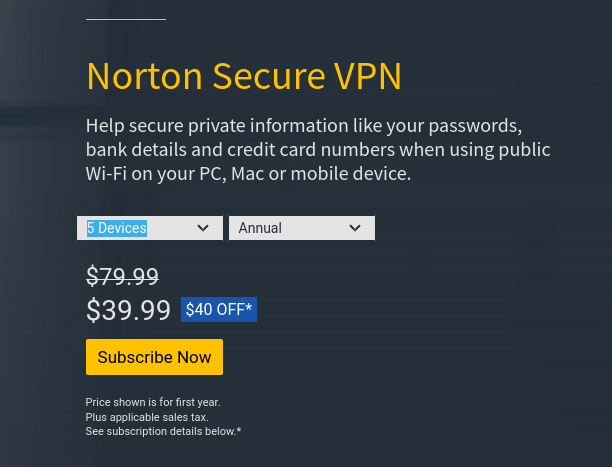 The price of $39.99 for five devices sounds good. In fact, this would meet our criteria of a cheap VPN. But as you will see if you scroll down the page to the subscription details, the price is only for the first year. After that, your subscription reverts to full price. In this example, that is $79.99 per year, which isn't nearly as good a deal. They accept all major credit cards as well as PayPal.
Norton VPN refunds
It is hard to say what would happen if you canceled the VPN and wanted a refund. The Cancellation and Refund Policy page is filled with clauses and exceptions and regional variations. It was too much work to try and figure out, so we gave up.
Inconsistent and sometimes slow speeds
To get an idea of how fast it is, we tested Norton Secure VPN with servers around the world. All tests were conducted on a 500 Mbps connection from the United States.
There was no way to select the city for speed tests, instead you can only select the country.
First, we tested the US, which should have offered the fastest speeds. The Norton VPN server in the US was geolocated somewhere in New York. It only gave us about 50 Mbps:

Next, I tested a Norton VPN server in Canada. This server was a bit faster at 84 Mbps, but still a far cry from our baseline speed of 500 Mbps.

While this server speed test was a bit better than before, it is not in the realm of our best VPNs for Canada, which are consistently faster than Norton VPN.
Next, I tested a Norton VPN server in the United Kingdom. This was the worst speed test result of them all, at only 7 Mbps:

Finally, I tested a Norton VPN server in Germany, which gave me about 45 Mbps.

All of these speeds are bad. Many VPNs turn in results 2, 3, even 4 times faster than these. The fastest VPNs we've tested turn in speeds of 200 Mbps to over 400 Mbps on our speed tests. The slow speeds turned in by Norton Secure VPN could visibly affect performance when interacting with websites or online games.
Comparison: When testing out WireGuard vs OpenVPN speeds, we were able to hit 445 Mbps with NordVPN using the WireGuard protocol and a nearby server. This was our fastest VPN speed test result.
Additional Interesting FACTS about Norton Secure VPN
Here are a few additional interesting facts about Norton's Secure VPN:
Secure VPN and NortonLifeLock Inc. (background info)
The Norton Secure VPN is a product of NortonLifeLock Inc. The company, formerly known as Symantec, is based in Tempe, Arizona, USA. NortonLifeLock is a publicly traded US company that also has offices in India.
Unfortunately, the United States is not an ideal place for a VPN service to be based. Between being the heart of Five Eyes (FVEY) and many other international intelligence-gathering organizations, US law is not very pro-privacy. Companies can be forced to gather information about their users and provide it to various government organizations, while also bound by gag orders from even revealing what's happening to the people being targeted.
One example that illustrated this problem was a case with IPVanish. Despite being a "zero logs" VPN service, the FBI successfully forced IPVanish to log user data and hand it over for a criminal investigation. We discussed this case in the IPVanish review.
Mixed results for Netflix, BBC iPlayer, and other streaming services
Streaming services constantly battle against VPN services. The VPNs want you to be able to access the content you want regardless of where you happen to be seated at the moment. The streaming services want to limit who can see their content based on physical location. And needless to say, many people are looking for the best streaming VPN to unblock content from around the world.
In trying out Norton VPN with BBC iPlayer, we found it to not get through with the UK server tested. See these other VPNs that work with BBC iPlayer instead.
Some VPN services are very successful when it comes to getting around streaming service defenses. Norton Secure VPN is not one of those services. While they can sometimes get through, the Secure VPN is not a great choice for anyone who needs this kind of access. Remember too that download speeds are very important for streaming. And this VPN turned in some really bad download speeds during our testing. Even if you can get through to the streaming service you want, you may be disappointed in the quality of the video you can see thanks to Norton VPN's slow downloads.
If watching streaming content is important to you, then we urge you to consider other VPNs for Netflix. Some VPN services can unblock a large library of content from Netflix regions all over the world.
Lastly, there are reports of Norton being a VPN that works with Amazon Prime, although we did not test this for the review. The same goes for using a VPN for Hulu.
No support for P2P / torrenting
Norton Secure VPN does not allow P2P (peer-to-peer) file-sharing or torrenting on any of its servers.
This is clearly explained in their support section. The VPN client will give you a warning message if they detect any torrenting activity.
If these capabilities are important to you, we recommend you check out these top VPNs for torrenting.
Customer Support has plusses and minuses
The Support information for NortonLifeLock products can be a little hard to find. Not the Support area itself; you'll find a link to that at the top of almost every page on their website. Then look for a Products & Services menu at the top of the page. Once you get there, you'll see an FAQ section, additional resources, and a search box to track down the answer you need. Despite all the options here, I found it hard to find the specific information I wanted, so scrolled to the bottom of the window and selected Contact Support.
I used the 24-hour live chat system to get more information directly from the Customer Support team. The service here was really fast (maybe 1 minute wait time) and the rep was helpful.
There is a large community area with discussion forums, ideas (suggestions), and blogs. Navigating this area can be confusing, so you'll want to scan down the right side of the window and look for relevant filters you can use to narrow your focus.
Norton Secure VPN FAQ
Quick answers to common questions about Norton Secure VPN:

Does Norton VPN slow down internet?

Yes. This is a very slow VPN and you will likely notice the way it slows you down if you use it. We run our speed tests on a 500 Mbps internet connection. We found Norton VPN to be very slow on this connection. If you have a slower internet connection, Norton VPN's slow performance could become very obvious.


Does Norton VPN hide your IP address?

Yes and no. Norton Secure VPN does a very good job of hiding your IP address if you are using it on Windows or Android devices. The service uses secure encryption, and passed our leak tests without problems.

But as of this review, only the Windows and Android apps included kill switches. This is important, because a kill switch keeps your IP address from being exposed if something happens to the connection between your device and Norton Secure VPN. Windows and Android users are protected against this problem, but macOS and iOS users are not.


Is Norton Secure VPN good for streaming?

We had some success using Norton Secure VPN to stream content from various online services. But that success was hit or miss. In addition, the slow speed of this VPN could result in playback issues like pauses in the middle of a show, or reduced image quality.

If streaming content is a priority for you, Norton Secure VPN is not your best option. Instead, see our review of the best VPNs for streaming.


Is Norton Secure VPN good for torrenting?

No. This VPN is not good for torrenting. In fact, you are forbidden to use Norton Secure VPN for torrenting.

If you like torrenting, check out our review of the best VPNs for torrenting.
Norton Secure VPN review conclusion
Norton Secure VPN isn't up to facing the competition just yet. It is easy to use, is built around strong security and privacy protocols, and passed our leak tests with no problems. Even if you are brand new to VPNs, you should have no problem getting this VPN installed and running.
Unfortunately, aside from the built-in ad tracker blocking and split tunneling, there are no advanced features that would impel you to use this service over its competitors. Additionally, there is no kill switch available for macOS and iOS VPN apps. There is no Linux VPN app, nor router apps, and there are no browser extensions. In other words, if you are an experienced VPN user, you may find Norton Secure VPN to be too basic for you.
Norton Secure VPN has other drawbacks. Performance is erratic even on an extremely fast internet connection, with speed test results ranging from not very good to absolutely horrible. Streaming service access (including Netflix) isn't reliable, and P2P torrenting is not even allowed. The server network covers only 30 countries, which is low, and your control over server locations is limited in that you have no ability to select cities. This can lead to all sorts of problems.
Norton VPN's policies are also problematic:
Subscription prices skyrocket after the initial phase
The refund policy is convoluted and difficult
They collect lots of data (a far cry from a zero-logs VPN).
Features offered by the product (including vital ones like an automatic kill switch) are only available for certain operating systems, further complicating the decision-making process.
Despite its pedigree and usability, we can't really recommend this particular VPN. But don't worry. There are some excellent alternatives available.
Alternatives to Norton Secure VPN
Click the VPN name below to read our full review – or grab the discount for the best savings. All three of these VPNs have a 30-day money-back guarantee.
For more info on our top recommendations, see our list of the best VPNs.
This Norton VPN review was last updated on May 30, 2023, with new info.