PrivadoVPN is a newer VPN that is based in Switzerland. Having launched only a few years ago, PrivadoVPN is looking to make a name for itself with a low-cost VPN that delivers in all of the areas you would expect from a premium service. The problem, however, is that the competition is tough and there are many other great VPN services already available. So today, we need to find out if PrivadoVPN stands out from the crowd.
Looking at the VPN market, people want to have a reliable VPN that delivers secure and user-friendly apps on all types of devices, from mobile to desktop. Additionally, there's a need for rock-solid security, excellent privacy, and the ability to unblock streaming sites around the world. Can PrivadoVPN deliver in all these areas? This PrivadoVPN review will answer these questions and more.
Before we dive into examining the VPN apps and test results, we'll first hit on the main findings.
+ Pros
User-friendly and secure VPN apps
Fast and consistent speeds
Works with Netflix and other streaming sites
Affordable prices (with a free plan)
Strong encryption and security (with WireGuard)
No logs and based in Switzerland
– Cons
macOS app needs some work
Smaller server network
No obfuscation (stealth VPN)
Let's kick off this PrivadoVPN review by examining the VPN clients (apps) for different operating systems.
Deal: Get a coupon for 63% off the annual plan here >>
PrivadoVPN background check
Before diving into a VPN review, we always put the VPN's parent company under a microscope. Looking at PrivadoVPN, it comes across as a very polished service with a clean website. It checks all the boxes we would want to see for privacy:
Switzerland jurisdiction (an excellent location for privacy)
No logs
A straightforward website with no red flags in the privacy policy
Based on my research for this review, it appears that PrivadoVPN officially launched around 2019, starting out with Windows and Android apps. This VPN positions itself as a freemium VPN service along with paid plans. We also saw this in our recent Atlas VPN review. With this strategy, the VPN offers a free version, as well as premium paid subscription plans.
Looking at the website, it appears that PrivadoVPN's leadership has chosen to stay out of the spotlight. Many VPNs opt for this strategy as it helps to ensure the operators of the VPN cannot be pressured to give up data on their users. Conversely, some VPNs have public-facing leadership, as we see with ProtonVPN and NordVPN for example. Other privacy-focused VPNs, however, prefer to fly under the radar, such as PrivadoVPN, Perfect Privacy, VPN.ac, and others.
PrivadoVPN Windows VPN app tests
Overall, the PrivadoVPN Windows app performed well in our tests. It is a fully-featured VPN client that was both user-friendly and reliable. You can see in the screenshot below that the VPN app does not take up too much space on the Windows desktop. It sits in the bottom right corner, just above the tray, but can also be "undocked" if you want to move it to another location.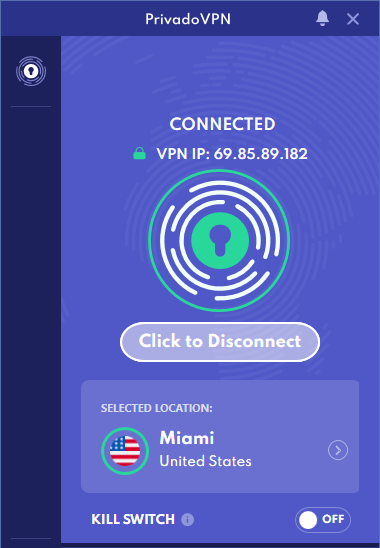 PrivadoVPN's Windows client comes with a VPN kill switch, which you can see that I have enabled in the screenshot above. Hitting the menu in the top-left corner of the app will open up more features and preferences. This is where you can select startup and connection options, VPN protocols, and application settings.
For this PrivadoVPN review, I ran the VPN apps through all of the VPN tests that we carry out with other reviews. This includes checking for any IPv4 and IPv6 leaks, as well as DNS leaks or any other bugs or failures that could expose your data to third parties. As you can see in the screenshot below, PrivadoVPN passed all of our tests with no leaks detected.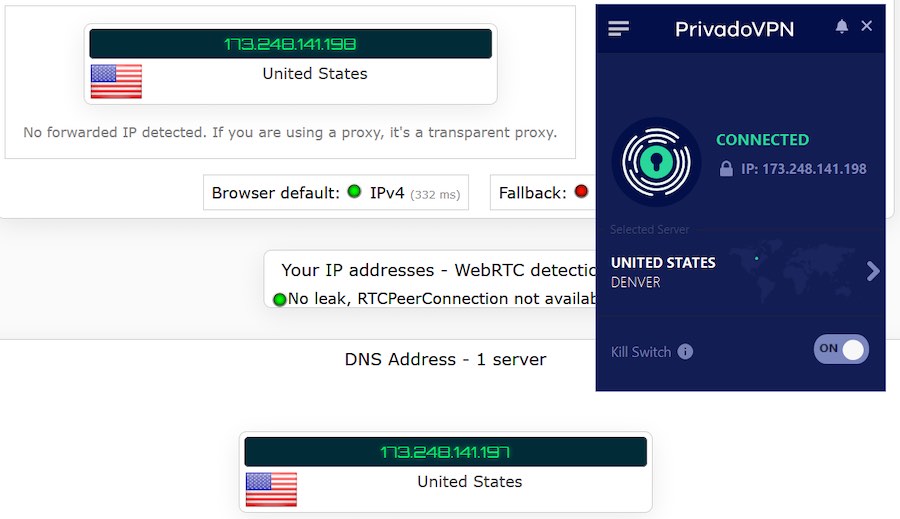 Overall, this is an excellent VPN client for Windows, and will likely be featured in our guide on the best Windows VPN.
PrivadoVPN mobile apps (Android and iOS)
PrivadoVPN currently offers dedicated mobile apps for both Android and iOS. These mobile apps come fully featured with access to all servers in the network, a functioning kill switch, and full support for the WireGuard VPN protocol.
On the Android VPN app, the app takes up the entire screen, with an easy server selection option near the bottom, along with a connection status and your current (displayed) IP address.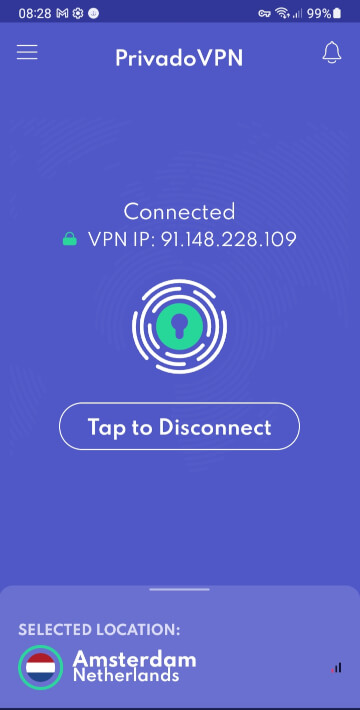 For iOS users, there is also the PrivadoVPN app for iPhone and iPad. The iOS app with PrivadoVPN boasts all of the features we see in the other apps and seems to work well. We may add it to our list of the best VPNs for iPhone, pending further test results.
PrivadoVPN macOS app (has some issues)
Of all the apps we tested for this PrivadoVPN review, the macOS app seems the least polished. For starters, the macOS app has no support for the WireGuard VPN protocol. Instead, you will have to use the OpenVPN or IKEv2 protocols. And while these are both very secure and reliable VPN protocols, it would be nice to see WireGuard support for the performance and security upgrades it offers.
You can see in the screenshot below the macOS client on the right, along with the protocol connection options on the left, with OpenVPN and IKEv2 displayed.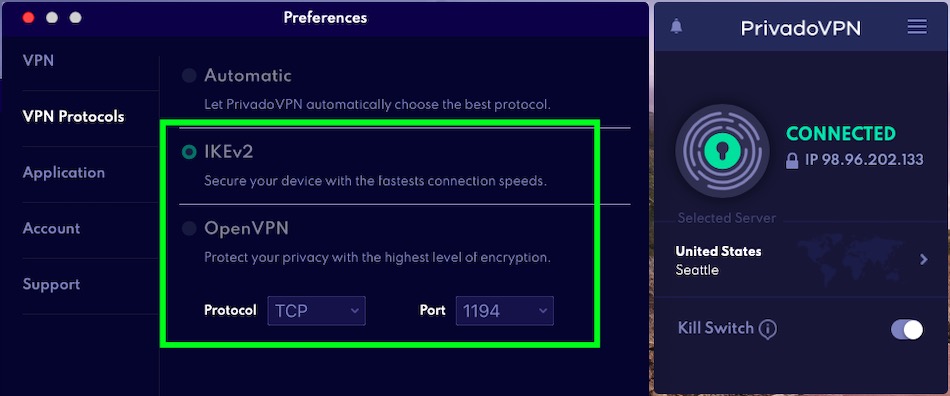 Aside from the lack of support for WireGuard, I also found the macOS app to be a bit buggy. With many VPNs, macOS VPN apps can be a little iffy, simply because it is a smaller user base and this translates into less development time devoted to it. With PrivadoVPN, there were occasional connection issues with OpenVPN not working in some locations (but I could switch to the IKEv2 protocol).
I spoke to PrivadoVPN staff and they told me that a new and improved version of the macOS app will be released in the coming months. PrivadoVPN's upcoming macOS app release will also include support for WireGuard.
PrivadoVPN with Linux
At the time of this review, PrivadoVPN does not offer a dedicated Linux GUI app. However, you can still use PrivadoVPN with Linux. There are step-by-step instructions on the website's support section (as well as support staff that can help you with any issues during setup).
Unfortunately, it does not look like the WireGuard protocol is supported on Linux, but it may be added in the coming months. So is PrivadoVPN the best VPN for Linux? Perhaps not, but it should still work just fine with the OpenVPN protocol.
PrivadoVPN speed test results (fast and consistent)
Now let's dive into speed tests. I ran all speed tests using the PrivadoVPN client on Windows. To get the best performance results, I opted for the WireGuard VPN protocol, which was the clear winner in our OpenVPN vs WireGuard speed tests. All tests were carried out on a 500 Mbps connection line and the results were pretty good.
First, I ran speed tests on servers throughout the United States.
Speed tests in the United States
For the first round of tests, I used a PrivadoVPN server in Seattle and was able to get 239 Mbps, which is great.

Next up was a PrivadoVPN server in Los Angeles. Here I hit download speeds of 230 Mbps, which is again better than average.

The last USA VPN server I tested was in New York, and again, the speeds were excellent at 239 Mbps.

Speed test in the UK
The last VPN server I tested was in the UK. Given the longer distance between me and the server, the results were a bit slower than US servers at about 129 Mbps.

Overall verdict on speeds: PrivadoVPN delivers fast and consistent speeds when you use the WireGuard protocol. And as you can see in the test results above, I was able to get 200+ Mbps download speeds on every US server!
With that being said, it is still not the fastest VPN we have tested to date. For instance, with NordVPN and Surfshark, I hit speeds over 300 Mbps with the WireGuard protocol.
PrivadoVPN streaming tests
Many people today are looking to use a VPN for streaming. With the rise in geo-blocking and content restrictions, this is the best way to ensure you have access to content from around the world, wherever you happen to be located. PrivadoVPN boasts that it does well with streaming — but let's put it to the test.
PrivadoVPN with Netflix = working
First I tested out PrivadoVPN with Netflix and everything worked well. Although I am not certain if this is the best VPN for Netflix with the most accessible regions, I do know that US and UK Netflix worked fine in my tests. Below is a screenshot of me using PrivadoVPN with Netflix US (no problems).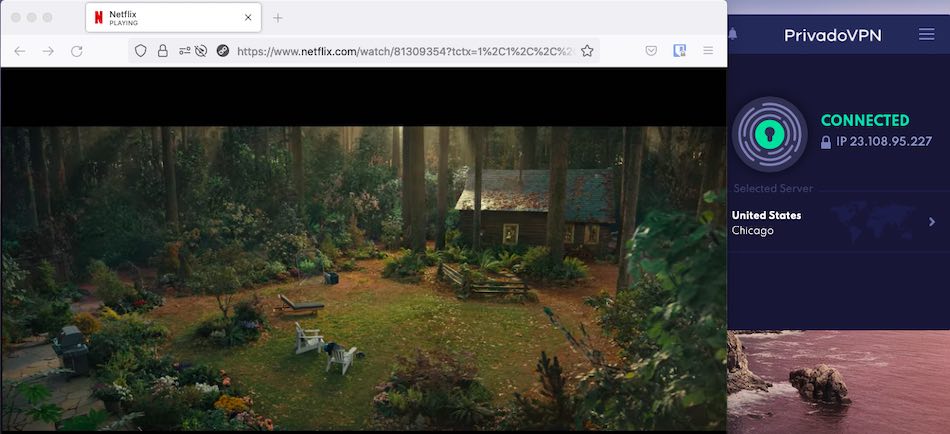 With a pretty decent selection of US servers, PrivadoVPN should also be a good VPN for Amazon Prime, Hulu, and also Disney Plus. With streaming, it's also good to see that PrivadoVPN has apps for streaming devices. You can use it as a VPN on Firestick with a dedicated app in the Amazon store.
I also tested out international streaming capability with some servers in the UK. One popular streaming service in this region is BBC iPlayer. Unfortunately, PrivadoVPN was not able to unblock BBC iPlayer with London and Manchester servers.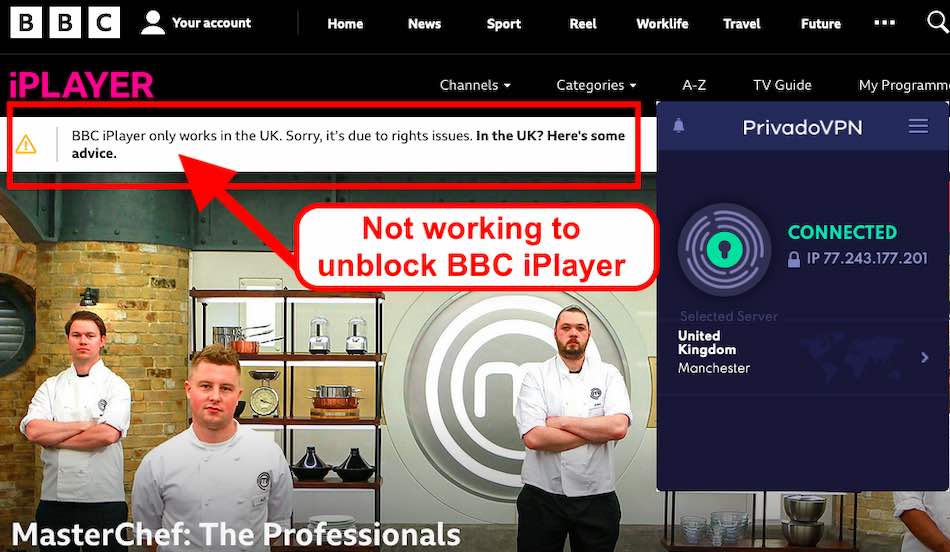 While PrivadoVPN can probably get this sorted out in the near future, we also have a good on the best VPNs for BBC iPlayer. Over the past year, many VPNs have been experiencing issues with BBC iPlayer, as you can see in the IPVanish review.
PrivadoVPN prices
Unfortunately, we live in a world of increasing prices. According to some recent news articles, the prices of many things are increasing fast. Fortunately, there are also cheap VPN services, and in some cases, even free VPN services that do a pretty good job. PrivadoVPN offers a good solution in this area. Here are the pricing options: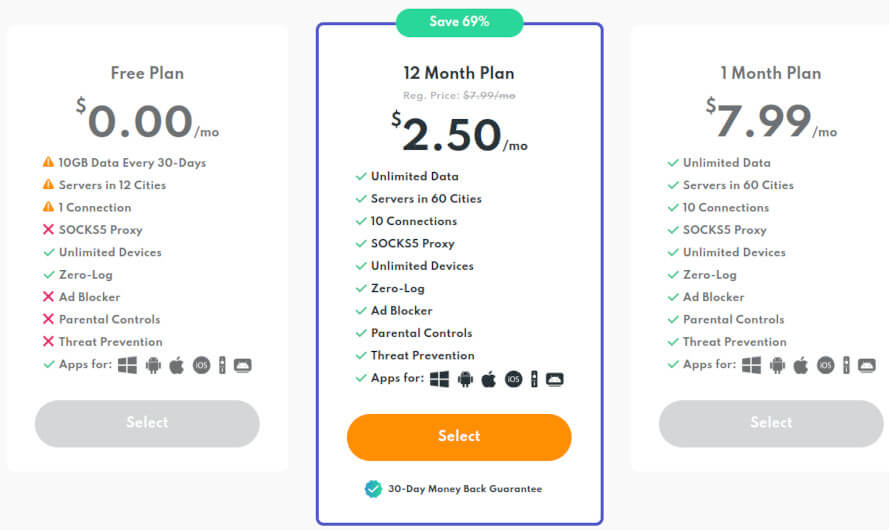 For paid plans, PrivadoVPN prices are still very affordable. You can see that the annual (12-month) plan in the screenshot above will cost you about $2.50 per month. Meanwhile, the monthly plan is $7.99 per month. This means that PrivadoVPN is more affordable than ExpressVPN and NordVPN with paid plans.
PrivadoVPN free plan
With many people on a tight budget, it's worth noting that PrivadoVPN offers a free VPN plan. While there are lots of "free VPN apps" you can find in the Google Play and Apple stores, these are often dangerous data collection tools. This has been shown in various studies over the years.
PrivadoVPN gives you a "freemium" service by offering a basic free plan with premium upgrades (paid plans). So what exactly do you get with Privado's free VPN plan? The screenshot below gives an overview, but the most important item in this list is the 10 GB of monthly data.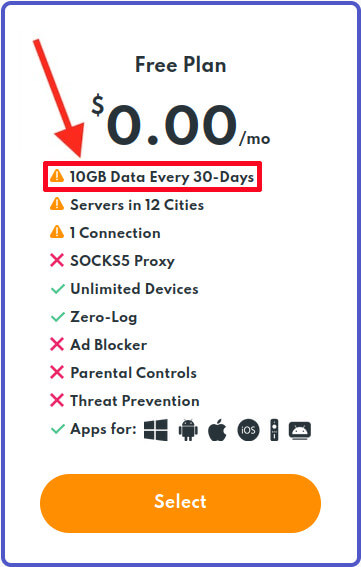 In a sense, this basically acts like a free trial VPN as it gives you a chance to test out the VPN completely free of charge and then upgrade to a paid plan if you want it.
Payment methods and refund policy
In previous reviews of PrivadoVPN that I checked, there were no cryptocurrency payment options. Today, however, PrivadoVPN supports many cryptocurrency payment options as well as credit cards and PayPal. This gives you an anonymous payment method if you want it.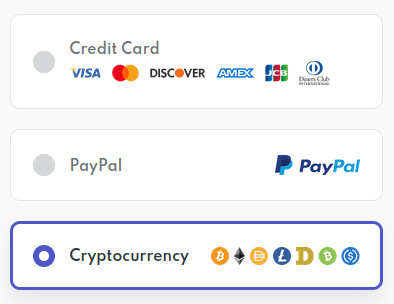 All paid PrivadoVPN subscription plans come with a 30-day money-back guarantee, as we also saw with PIA and NordVPN. So even if you are going with a paid subscription plan, you still have a full 30 days to test everything out risk-free.
Strong encryption and security
PrivadoVPN checks all the boxes that we would want to see in a secure VPN. PrivadoVPN offers the following secure VPN protocols for users: OpenVPN, WireGuard, and IPSec/IKEv2. To secure traffic, PrivadoVPN utilizes a 256-bit-AES cipher for encryption.
It is easy to select which VPN protocol you want to use directly in the VPN client. Here is a screenshot from the Windows VPN app I used in testing for this review: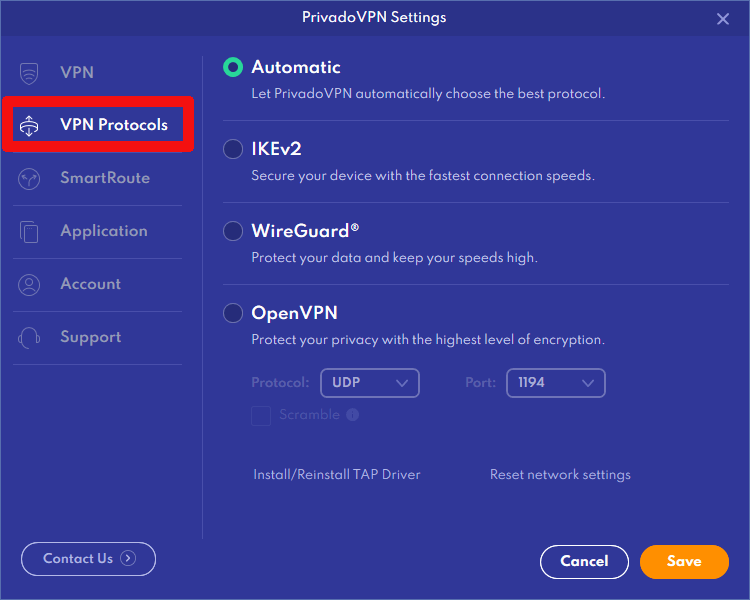 If you choose "Automatic" from the list of options, the VPN app will automatically select the best protocol based on your network settings.
In terms of the server network, the PrivadoVPN staff told me that they are currently in the process of converting all servers in the network to run in RAM-disk mode (without hard drives). This offers a higher level of data security as it ensures no data can ever be stored on VPN servers since there are no hard drives. We see this with other leading VPN services, including NordVPN, Surfshark, ExpressVPN, and Perfect Privacy.
Privado Control Tower
The Privado Control Tower is a project that brings ad blocking and threat prevention to PrivadoVPN. The result is a feature similar to Surfshark's CleanWeb. It boosts PrivadoVPN's already strong security and privacy protections.
No dedicated IP addresses
Some VPNs offer dedicated IP addresses. A VPN with a dedicated (or static) IP allows you to have your own IP address, which is accessed through the VPN, and available only to you (and anyone else on your account). For most people, there is no need for a dedicated IP address. There are a few use cases, however, which we explained in our guide on the best static IP VPNs.
Read more about PrivadoVPN's features here >>
Good privacy protection with a no-logs policy and Switzerland's jurisdiction
When it comes to privacy with a VPN, there is a lot to consider. For one, the VPN should be located in a favorable privacy jurisdiction. Otherwise, you could be in a situation where the VPN is forced to log user data, as we noted in the previous IPVanish logging case. Generally speaking, we recommend avoiding bad privacy jurisdictions when selecting VPNs. Some of the worst offenders are the US, UK, and Australia, which are part of the Five Eyes surveillance alliance.
PrivadoVPN is based in Switzerland, and this is a good jurisdiction. We see other Switzerland-based VPNs with ProtonVPN and also Perfect Privacy. Switzerland is not a member of the EU and it has some great privacy-respecting laws. This makes it a good all-around location for setting up privacy services.
It's also important to note that PrivadoVPN is a no logs VPN service. This means that they do not keep any data with their VPN service, and this translates to more privacy for the end-user. After all, stored/logged data could always end up in the hands of third parties — so the best bet is to simply not keep any logs.
In the future, it would be great to see some kind of third-party verification that certifies the no-logs claims. We have seen this with both NordVPN and IPVanish in the past few years, and it does help to bolster trust.
PrivadoVPN server network
At the time of this review, PrivadoVPN has servers in 47 countries and 60 cities worldwide. This is a decent selection, but it's not as many as we see with Surfshark and ExpressVPN, for example. You can see an overview map of server locations below.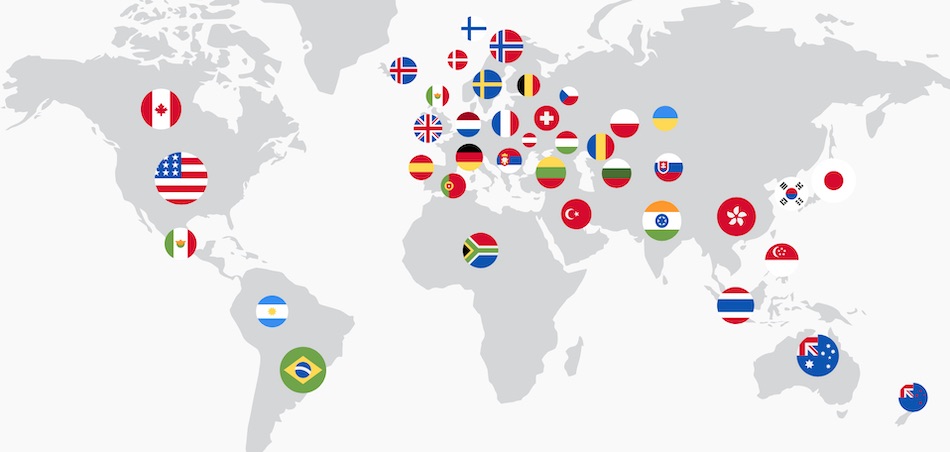 Given that PrivadoVPN is a relatively new service, we can expect the server numbers to continue to grow as this VPN expands.
No virtual server locations (only physical VPN servers)
PrivadoVPN emphasizes on its website that every server in its network is physical, with no virtual server locations. As we have covered before, a VPN virtual server location is when a VPN server advertises an IP address and location that is different from where it is physically located. For example, this would be like a VPN server that is physically located in Germany advertising an IP address and location that appears to be in Algeria.
While it's good to see dedicated physical servers, some VPNs opt to mix in a few virtual servers in their network. The reason for this is that it gives VPN users more geographic diversity when selecting a server. Additionally, there are some locations where having physical servers is a security risk, as we covered in the ExpressVPN review. In the case of ExpressVPN, they removed physical servers from Turkey after a server seizure by police a few years ago. And instead of using physical servers in this insecure location, ExpressVPN opted for virtual VPN servers.
PrivadoVPN FAQ
Here are some of the most frequently asked questions about PrivadoVPN:

Does PrivadoVPN work in China or on restricted networks?

At the time of this review, PrivadoVPN likely does not work in China or on restricted networks that block VPNs. This is because PrivadoVPN does not offer VPN obfuscation features at this time. A VPN obfuscation feature will conceal VPN traffic as regular internet traffic. This allows you to use the VPN in areas where VPNs are usually blocked, such as using a VPN in China.

With other VPNs, we typically see obfuscation features that are often called "stealth VPN" or simply "obfuscated" servers. For example, NordVPN offers a selection of "Obfuscated servers" that you can use if VPNs are getting blocked. These features allow people to use VPNs in countries with intense network restrictions, such as using a VPN for UAE (United Arab Emirates).


Does PrivadoVPN work for torrenting?

PrivadoVPN works for torrenting and does not restrict torrenting and P2P activity on any server in its network. In other words, this is a completely unrestricted, torrenting-friendly VPN service. While PrivadoVPN does not offer dedicated P2P servers like those we find with CyberGhost and NordVPN, every server still works for torrenting. Additionally, you can also torrent with the free plan, but you will likely burn through the 10 GB data cap quickly.

PrivadoVPN also offers a SOCKS5 proxy. Some people who use a VPN for torrenting will utilize the SOCKS5 proxy rather than the VPN itself. For example, rather than using the VPN, you can configure torrent clients to utilize the SOCKS5 proxy. This will hide your IP address and might be faster, it will not encrypt your traffic and provide the full benefits of a VPN.

PrivadoVPN review conclusion
Overall, PrivadoVPN performed well in this review. While it does not quite have as many features as some other leading VPNs, it certainly has a lot to offer in comparison to other freemium VPN services we have reviewed. Looking at the competition, I would say that PrivadoVPN is probably the best free VPN available today.
Despite a few of the issues with the macOS app, the other VPN apps I tested out from PrivadoVPN performed very well. Speed tests were also great, with all US servers giving me download speeds over 200 Mbps.
To conclude this PrivadoVPN review, I would recommend checking out the service. Even if you don't commit to a paid plan, you can easily sign up for the free plan here.
This will give you plenty of time to thoroughly test out the service before committing to a long-term subscription. Additionally, you also have the benefits of a 30-day money-back guarantee on all paid plans. And you can take advantage of the 63% off discount coupon here.
For other alternatives to PrivadoVPN, you could also check out our guide on the best VPNs here. It will be updated to include PrivadoVPN in the coming weeks.
Related Articles:
This PrivadoVPN review was last updated on February 4, 2023.