| | |
| --- | --- |
| VPN | HMA VPN |
| Based in | UK |
| Logs | No logs |
| Price | $2.99/mo. |
| Support | Live Chat |
| Refund | 30 days |
| Website | hidemyass.com |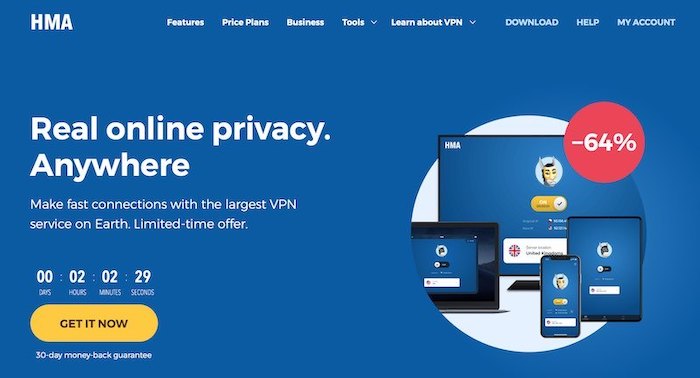 HMA VPN is a VPN provider based in the UK with a long and interesting history. Starting with its old name: HideMyAss VPN. While it remains a relatively popular VPN with a large user base, it did not do very well in testing for this HMA VPN review.
Today, HMA is owned by the cybersecurity company Avast, and it still has a relatively large user base. Actual testing of the VPN servers and VPN apps revealed mixed results, which prevent us from recommending HMA VPN to our readers.
Here is an overview of all findings for this HMA VPN review:
+ Pros
User-friendly apps with strong encryption
Large server network
Live chat support
Now a "no-log VPN"
– Cons
No monthly subscription plans
Does not work well for streaming
Troubling history of data sharing
UK jurisdiction (bad for privacy)
Buggy kill switch (with IP leaks)
Additional HMA VPN findings
HideMyAss VPN speed test results
HideMyAss company history and acquisition by AVG / Avast
HMA's use of virtual server locations
Is HMA a good VPN for torrenting?
Is HMA a good VPN for gaming?
Now let's dive into the HMA review and examine the results. We'll start with the things we like about HMA.
HMA VPN Pros
User-friendly VPN apps with strong encryption
HMA offers user-friendly VPN apps for all major devices and operating systems. Due to the popularity of Windows, I tested out the HMA Windows VPN client for this review. Here's what it looks like: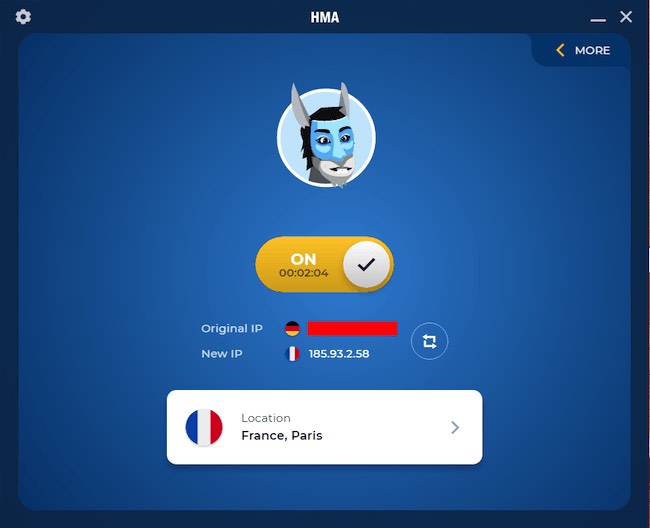 In the image above, you can see that the HMA Windows VPN client shows you the VPN connection status, server location, and your new IP address (as well as your original IP).
The Windows client also comes with a number of customization options and features. You can configure how you want the VPN to start up on your device and how the kill switch should work to block non-VPN traffic. Unfortunately, I found problems with the kill switch (more on this below in the "cons" section).
HMA VPN encryption
HMA uses the industry-standard AES 256-bit encryption, which is implemented through OpenVPN on Windows and Android devices and via IPSec/IKEv2 on Mac OS and iOS:
HMA uses only the highest encryption standard: 256-bit AES. On Windows and Android, we implement it with the OpenVPN protocol in Galois Counter Mode (AES-256-GCM), with 4096-bit RSA keys for handshakes, authenticated with SHA256. On Mac and iOS, we implement it with IKEv2/IPsec, built atop Apple's own stack, to ensure the best compatibility.
While IPSec/IKEv2 is indeed a secure VPN protocol, the current industry standard is OpenVPN. As such, it would be good to see the OpenVPN protocol supported on Mac OS as well. With iOS, the operating system is somewhat restricted to IKEv2.
Another emerging VPN protocol is the WireGuard VPN protocol, which promises faster speeds and upgraded security. HMA does not support WireGuard at this time.
If you are a Mac OS user and you want to utilize the OpenVPN protocol (recommended) then check out my guide on the best VPN for Mac OS to see other alternatives.
HMA VPN server network is large
Hide My Ass claims to have "the biggest VPN network" with 1100+ VPN servers in 290+ locations covering 190+ countries." If you look at their server map and location list, you find some very strange places. For example, HMA claims to have servers in North Korea: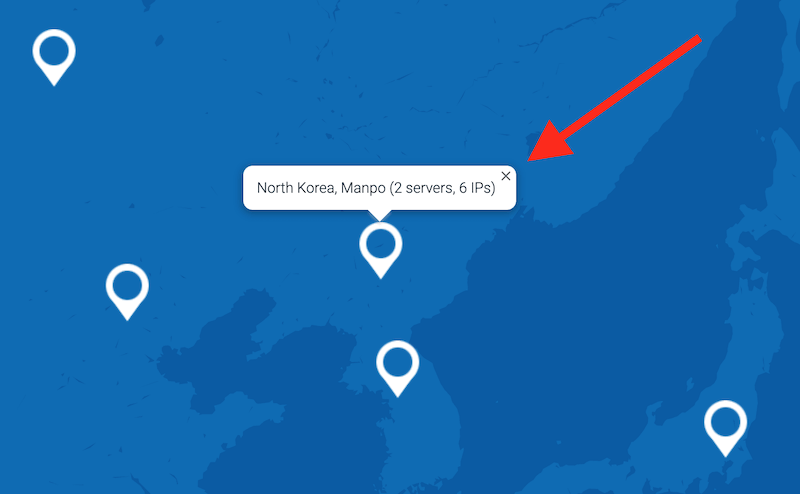 I can tell you with 100% certainty that HMA does not have physical servers in North Korea. Instead, they are using virtual server locations, and we'll explain this more below.
Putting the virtual server issue aside, HMA still has a pretty big server network. This may be beneficial for some users who want or need IP addresses in remote locations – such as North Korea…
There are also some other VPN services with large server networks around the world that don't rely heavily on virtual servers, as we covered in the NordVPN vs IPVanish comparison.
Static IP addresses – At this time, HMA VPN does not support any static IP addresses. A VPN with a static IP will give you an IP address that is only available to you (dedicated). While this may be useful in some cases, it also comes with added cost.
HMA VPN support
Like many other VPN providers, HideMyAss provides live chat support. Their support staff appears to be located in the United Kingdom.
Unfortunately, HMA does not offer 24/7 support: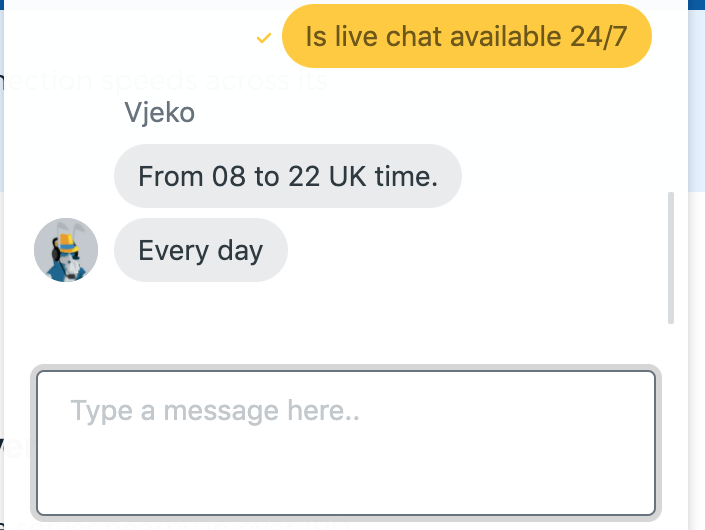 Their support hours are 8:00 AM to 10:00 PM UK time, seven days a week. However, I tried support on a Saturday morning around 8:30 AM UK time and there was nobody available. So perhaps HMA support is hit or miss. Other VPN services that offer 24/7 live chat support include CyberGhost and NordVPN.
HMA VPN logs
Earlier this year, HMA VPN officially transitioned to being a no-logs VPN service. Before this change, HideMyAss was infamous for logging user data and providing it to authorities, which we'll cover below in the cons section.
Here was the previous logging policy of HMA VPN:
Yes, HMA keeps connection logs, that means time of connect, disconnect, duration and bandwidth usage. This is done to prevent abuse and for diagnostic purposes.
They were also logging IP addresses, which was disclosed in the Privacy Policy.
Today, however, HMA claims to be a no logs VPN service. It also underwent an audit by Versprite to verify the no-logs claims.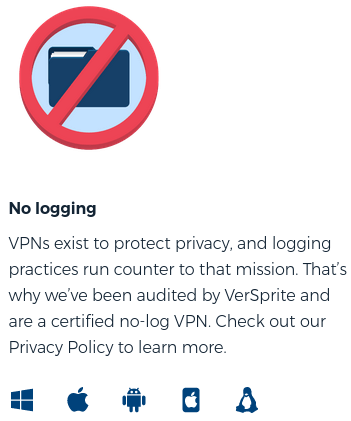 It's great to see HMA follow in the footsteps of other audited VPNs, including Private Internet Access and NordVPN.
Note: You can see other no logs VPNs here.
HMA VPN Cons
Now let's look at the not-so-good aspects of HMA VPN.
No monthly subscription plans
One strange thing with HideMyAss is that they have removed any option to pay on a month-to-month basis. Instead, HMA VPN only provides you with a one or three-year subscription plan. Here's what their pricing page looks like.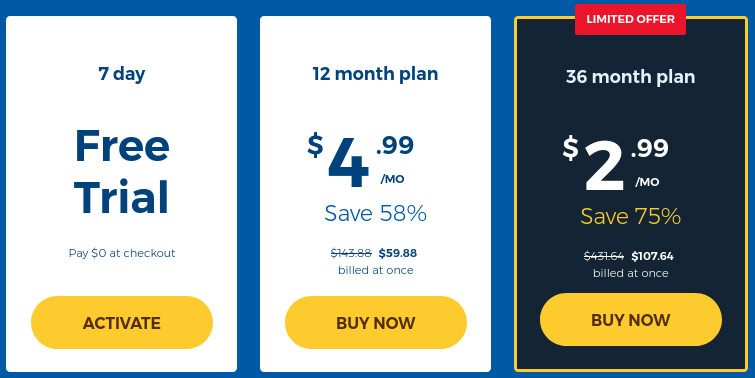 This may be frustrating for users who don't want to commit to a long-term plan.
Fortunately, all plans come with a 30 day money-back guarantee. This gives you plenty of time to test out the VPN and cancel your subscription if it doesn't work well – similar to a free trial VPN service. They are also offering a 7 day free trial option.
I asked one of their chat representatives why they removed the monthly plan, which I remember seeing on their website before. He explained it was in response to customer requests. He also explained they offer a hidden link for those still wanting the monthly subscription (you can ask support about this).
On the topic of price, HMA has nudged its way into the cheap VPN category, with their 36 month plan at $2.99 per month. The 12 month plan is now priced at $4.99 per month. Both these prices are improvements over when we last reviewed HMA.
Note: If you are looking to save money, you may want to consider some of the different VPN coupons that are currently available. There are also some VPN services that run specials during certain times of the year. For example, there is an upcoming NordVPN Black Friday coupon that will soon be live.
Does not work well for streaming
One of the big problems we had when testing out HMA for this review is that it does not work well with streaming. Here are a few examples of that.
HMA VPN with BBC iPlayer
One of the most popular streaming services is BBC iPlayer in the UK. To test this, we connected to a HideMyAss server in the UK and then tried to load BBC iPlayer. As you can see below, BBC iPlayer blocked access when connected to a HideMyAss server in the UK.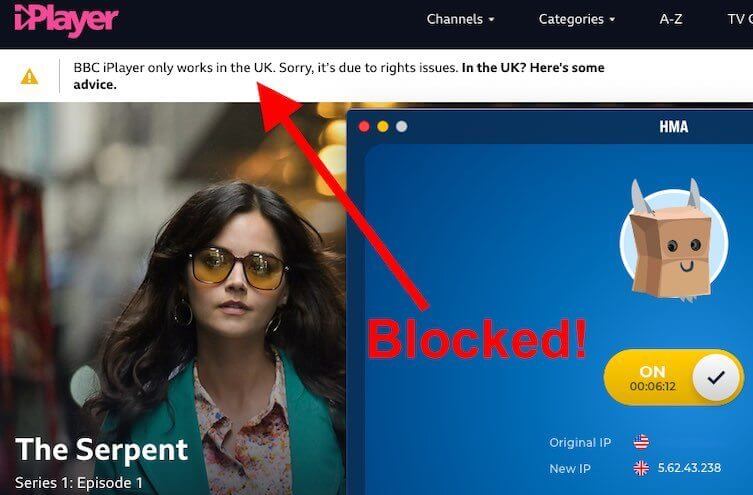 While most VPNs are getting blocked, such as HMA, there are still a few VPNs that work for BBC iPlayer.
HideMyAss VPN with Netflix
We also experienced problems with streaming Netflix. I have seen complaints about HideMyAss not working with Netflix, but we also tested it ourselves. Sure enough, when using HMA servers in New York, we were also not able to access American Netflix. We also tested out UK Netflix with HMA servers in London. Again, we were unable to unblock Netflix.
For alternatives, see these best VPNs for accessing Netflix.
Most people use a VPN For Netflix in order to access a wide range of Netflix libraries. If you fall in that category, you may want to check out NordVPN or Surfshark, which each support around 15 different Netflix libraries.
Other streaming – Another popular use for VPNs right now is with Firestick devices. And like Netflix, a VPN with Firestick will unblock more streams. Unfortunately, it does not appear that HideMyAss offers any dedicated app for the Amazon Firestick device.
Troubling history of data sharing
No review of HideMyAss would be complete without discussing the case where HideMyAss handed over data logs for a court case.
According to Invisibler,
It appears that the FBI traced a hack into Sony back to an IP address owned by HMA and promptly got a UK court oder, demanding logs from HMA an incident HMA dubbed the "LulzSec Fiasco" in a post on their blog on September 23rd, 2011.
The 25-year-old HideMyAss user received a one-year prison term, one year home detention, 1,000 hours of community service, and was also ordered to pay $605,663 to Sony Pictures. This isn't the first time a VPN has shared data about one of its users. IPVanish shared data with the FBI for a criminal complaint.
While nobody here advocates illegal activity, this case shows that HMA can and will share customer data with third parties. This point is less of an issue today, however, now that HMA is a no-logs VPN.
Note: PureVPN also has a history of providing user data logs to authorities. We covered this in our PureVPN vs NordVPN comparison.
UK jurisdiction (bad for privacy)
Hide My Ass is a UK VPN service and must abide by all UK laws and regulations. Despite being owned by Avast, which is a cybersecurity company in the Czech Republic, HMA VPN continues to operate under UK jurisdiction. This is an important consideration.
Note: There are two other VPN services we have reviewed that fall under this same parent company:
The UK is a member of the 5 Eyes surveillance alliance, which facilitates the collection and sharing of mass surveillance data with other countries. Aside from this formal agreement, US companies can use the UK court system to obtain customer data, such as with the LulzSec case above.
Most recently, the UK has begun discussions on creating their own online data protection scheme, which they say will diverge from the GDPR rules which they inherited from their time in the European Union. Considering that the GDPR already does a decent job of protecting online data, it is not clear whether the online privacy situation in the UK will be improving or getting even worse.
Generally speaking, I would not recommend VPNs that operate under UK jurisdiction due to privacy concerns. However, this really depends on your threat model and your reasons for using a VPN.
Buggy kill switch (with potential IP leaks)
For this HMA review, I ran some basic VPN tests to identify any major leaks or problems. Before testing, I ensured all leak protection settings were enabled:

Next, I ran the VPN through some tests with the website ipleak.net. These tests included switching servers and simulating network interruptions to test if the kill switch was effectively blocking traffic.
In some instances, I noticed that the kill switch was not working properly, resulting in an IP address leak (IPv4). Below you can see that my real IPv4 address was leaking out of the VPN tunnel, despite having an active VPN connection to an HMA server in France.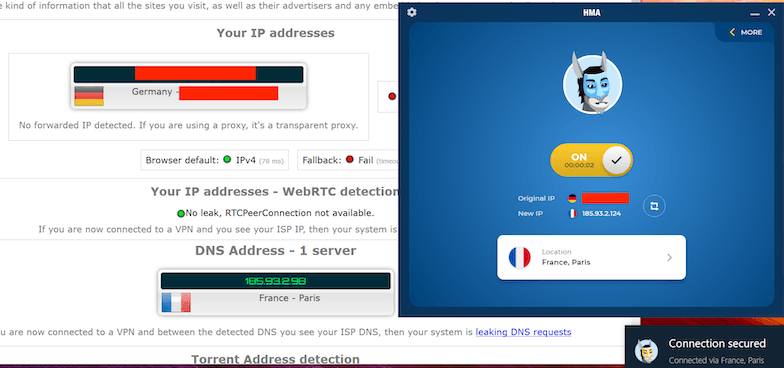 I'm not certain what exactly was the root cause of the IP address leaks and this may have been an isolated issue with the specific version I was testing. Of course, you can also run these VPN tests to verify if everything is working correctly.
Additional HMA VPN Findings
Below are a few items that we uncovered in our tests and research for this HideMyAss review.
HMA VPN speed test results
To test out HideMyAss speeds, we tested servers in the United States and the UK from our US lab. All tests were conducted on a 500 Mbps internet connection using the official HMA VPN client. Test results were about average.
HideMyAss server in Seattle: 164 Mbps

Considering my 500 Mbps baseline internet connection speed, this is not very fast, but it's also not horribly slow.
Next up was an HMA VPN server in Los Angeles: 153 Mbps

This is again about average. Most of the faster VPNs I have tested would be in the 200 Mbps to 300+ Mbps range for this location.
Next up was an HMA server in New York: 159 Mbps

This was about on par with the other HMA speed tests.
Lastly, I tested a HideMyAss server in the United Kingdom. Here was the server in London at 164 Mbps.

While HMA is certainly not the fastest VPN I have tested, it is also not the slowest. And the speeds were consistent, ranging from about 150 Mbps to 165 Mbps. Overall, this is not a very fast VPN and it also fell behind in our ExpressVPN vs HideMyAss tests.
Comparison speeds
If you want the fastest VPN, I'd recommend using NordVPN with WireGuard.
This has given us speeds up to 445 Mbps in our tests. Below is a speed test with NordVPN using the WireGuard protocol: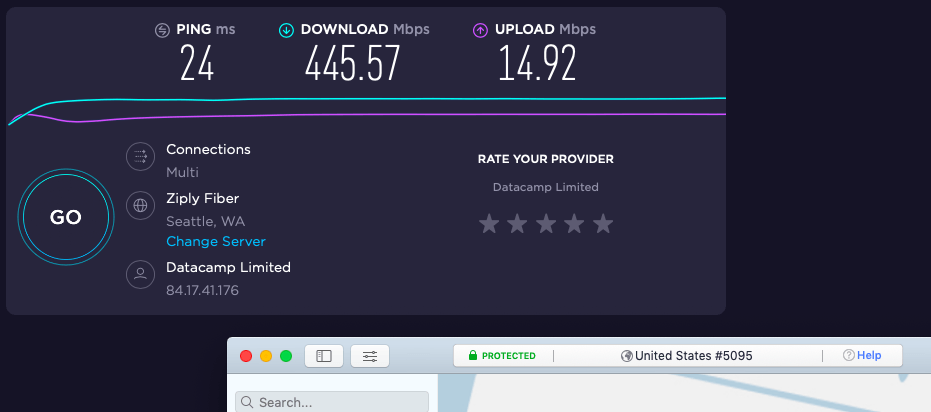 Even in back-to-back testing with OpenVPN, NordVPN still came out on top in the NordVPN vs HideMyAss comparison.
Another big development in VPN speeds is the Lightway protocol, which was developed by ExpressVPN. Lightway delivers fast speeds and is very similar to WireGuard. Still, however, NordVPN was the winner in speed tests for the NordVPN vs ExpressVPN comparison report.
HideMyAss company history and acquisition by AVG / Avast
HideMyAss was started in 2005 by a student in England who got fed up with content blocks on his school network. Over the following ten years, HideMyAss grew into one of the largest VPN providers with hundreds of thousands of paying users.
In 2015, AVG acquired HideMyAss as part of a package deal for $60 million. Then, in 2016, AVG was acquired by Avast, which is based in the Czech Republic. We've noticed this trend over the past few years, with VPNs getting bought up by various firms. One example is TunnelBear, which was purchased by McAfee. Another example is CyberGhost, which was purchased by Kape Technologies.
Despite being owned by a company based in the Czech Republic, HMA continues to operate under the company name Privax Limited in London. From their privacy policy:
Our website www.hidemyass.com and services are operated by Privax Limited, which is a limited company registered in England under company registration number 07207304, with our registered office at 110 High Holborn, London, WC1V 6JS, United Kingdom.
Finally, their End User License Agreement specifies that the United States will be used for arbitration if there is a dispute. This seems strange since the company is operating from London.
HideMyAss uses virtual server locations
Another interesting aspect of HMA VPN is how much the company uses virtual server locations. In a nutshell, a virtual server location is when the IP address of a server appears to be in a country where it is not physically located. For example, HMA might have a "Dubai" server that is actually located in Europe. The IP address will be registered in Dubai, but the actual server will be located somewhere else.
The use of virtual server locations is not necessarily bad. Other VPNs offer this to provide more locations around the world, such as with PureVPN. HMA describes this as a "brand-new feature" on their website:
We provide virtual locations for many countries, e.g. Canada, Portugal, Indonesia, Malaysia etc.
This article is dated September 2019, and this is a bit misleading because HMA has been doing this for years. Additionally, we've found that HMA is not entirely honest about its use of virtual server locations. In fact, many locations that aren't labeled as virtual are indeed virtual.
HMA VPN FAQ
Here are some of the common questions we came across while reviewing the HMA VPN:

Is HMA a good VPN for torrenting?

Historically, HMA VPN was a very bad choice for torrenting. This was because it collected logs and IP addresses of its users, which it could potentially share with third parties. HMA VPN would also pass on DMCA complaints directly to the user, which was easy to do since they kept logs.

However, today, HMA VPN does not keep logs and they also offer P2P servers for torrenting, according to their website. However, there are still a few drawbacks. First, HMA has slow speeds, which will get in the way of quickly downloading/torrenting large files. The second problem is that HMA only supports torrenting on these five servers: Prague, Frankfurt, Amsterdam, London, and New York.

If you want a good VPN for torrenting, there are other options to consider.


Is HideMyAss good for gaming?

When selecting the best VPN for gaming, you will want the following characteristics:

* Large server network
* Fast speeds
* Low latency (ping)

While HideMyAss VPN does have a large network, many of these locations are virtual. Another problem is that the speeds were not good in our tests. Therefore it's tough to recommend this VPN for online gaming.


Is HMA VPN trustworthy?

Here we are assuming you want to know if your data is safe when you use the HMA VPN. We have two concerns here:

1. In our previous testing we found that the HMA kill switch was not reliable. That could lead to your data leaking onto the internet.

2. HMA is based in the United Kingdom (UK). The UK has not historically been a great jurisdiction for VPNs.


Is HMA good for streaming?

HMA is not a very good VPN for streaming. During our testing, we ran into numerous problems connecting to both Netflix and other streaming services.

If you want one of the best VPNs for streaming, check out this review.

HideMyAss HMA VPN review conclusion
Overall, HMA VPN is a decent VPN provider. Unfortunately for them, there are several other big-name VPNs that outperform HMA in most categories. While HMA has made progress in some areas, such as with the no-logs audit, there are still other areas to improve, such as speeds and security (leak protection).
If you need a basic VPN and you don't mind the higher prices, bad jurisdiction, and the other drawbacks we discuss, then you can give it a try. After all, they do offer a full 30-day money-back guarantee on all plans.
Unless you are determined to get HMA VPN, there are some other great VPNs worth considering.
Alternatives to HMA VPN
Click the VPN name below to read our full review – or grab the discount for the best savings. All three of these VPNs have a 30-day money-back guarantee.
Want to see more options? We have an in-depth comparison of the best VPNs, which covers all of our latest recommendations.
This HideMyAss (HMA) VPN review was last updated on January 7, 2023.