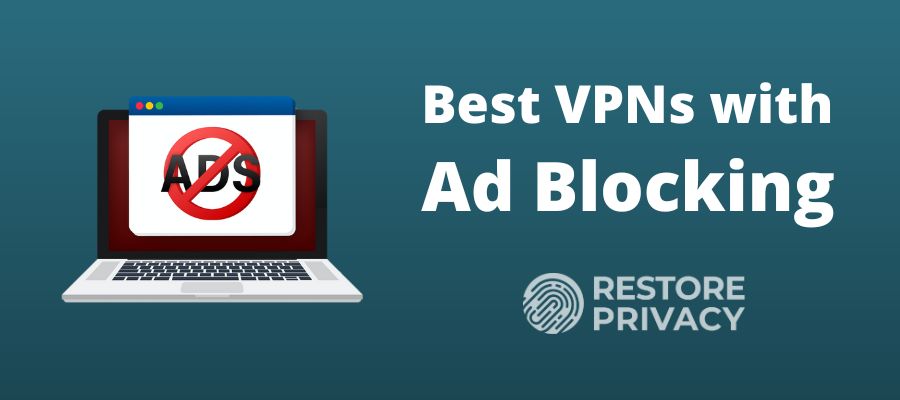 Today we're going to talk about VPNs that have ad blockers built into them. In many cases, using a VPN with ad blocking features is an excellent strategy that offers many advantages over traditional ad blockers.
Unfortunately, finding a quality VPN with a built-in ad blocker can be a time-consuming and annoying task. Many VPN ad blockers that we have tested do not effectively block ads and trackers. In other words, with most VPNs, ads and trackers still get through without getting effectively blocked.
To take the guesswork out of the equation and save you time, we tested a wide range of VPN ad blockers to show you the best solutions, as well as some to avoid. Based on our tests, the best VPNs with built-in ad-blocking are NordVPN and Surfshark.
Top VPNs with ad blocking built in:
So how does a VPN with ad blocking compare to other ad blocking solutions?
Ad blocking browser extensions are a great solution, but they only work within certain browsers and can be slow and inefficient. Also, some of the most popular ad blocker extensions are known to accept payments to show their users "acceptable ads."
Installing an ad blocker on your router protects everything on your network, but this can be difficult to set up and can be a real problem if the ad blocker conflicts with the sites or services you need to access.
A VPN with ad blocking can be the most efficient solution for protecting everything on your operating system (all browsers and apps) through the VPN itself. Typically, this means you need to have the VPN connected, or whitelist certain apps or websites that you want to route outside of the encrypted tunnel.
First, we'll give you a quick overview of each VPN, with particular emphasis on their ability to block ads. We'll also include links to our in-depth review of each VPN if you want to learn more before investing your money.
Here are the best VPN ad blockers:
NordVPN – The best VPN with built-in ad blocking
| | |
| --- | --- |
| VPN | NordVPN |
| Based in | Panama |
| Logs | No logs (audited) |
| Price | $2.99/mo. |
| Support | 24/7 live chat |
| Refund | 30 days |
| Website | NordVPN.com |
NordVPN is the best VPN for blocking ads. They do everything you would expect of a great VPN, and are always hard at work implementing the latest in VPN technology. NordVPN is an audited no-logs VPN that is based in Panama.
This VPN is always on the cutting edge of innovation. A few years back, they rolled out a custom VPN protocol (NordLynx) that provides full support for the super-fast, and extra-secure WireGuard VPN protocol. In our testing with NordLynx, we found NordVPN to be the fastest VPN, with speeds up to 445 Mbps.
NordVPN's ad blocker solutions
NordVPN includes two options for blocking ads: Threat Protection and Threat Protection Lite.
Threat Protection runs on Windows and macOS. It can block ads, trackers, malware, and phishing domains. It can also scan downloaded documents and doesn't require a VPN connection to function. This is the most capable system we have seen on any of the ad blocking VPNs. It is currently available in the NordVPN Windows and macOS apps.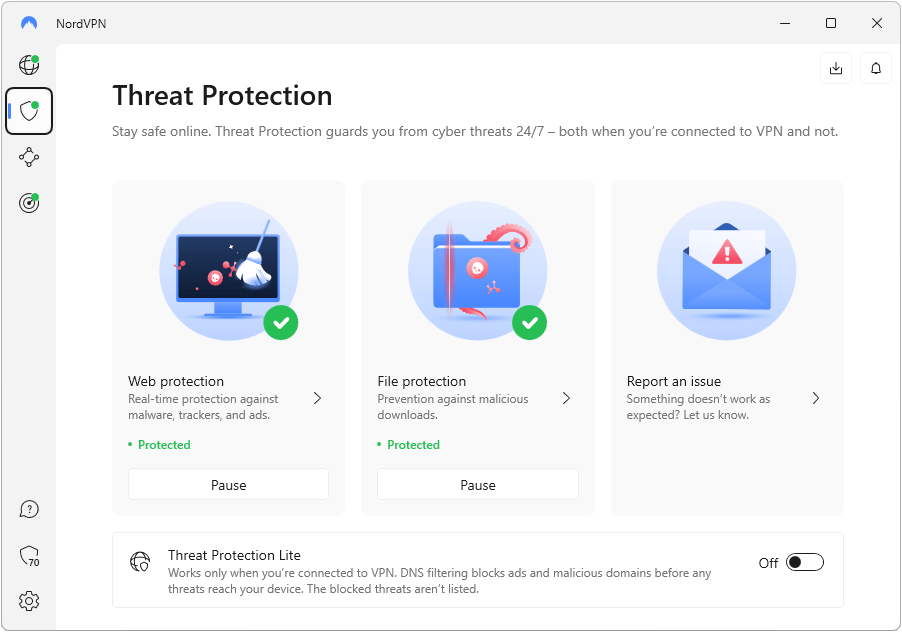 Threat Protection Lite has more limited capabilities and requires a VPN connection, but works on devices and operating systems that don't support the full Threat Protection feature. This includes Linux, iOS, Android, and the NordVPN browser extensions. The Lite version is also available in the Windows and macOS apps, but we recommend you choose the full Threat Protection feature whenever possible.
Other NordVPN features
Now that we have covered how Nord VPN blocks ads, let's examine some other features of this leading VPN service. Here are some of NordVPN's best privacy and security features that we haven't already covered:
Double VPN server configurations, which pass traffic through two servers for additional security
Tor-over-VPN servers that add an extra layer of protection through Tor's anonymity
Obfuscated servers, which make your VPN traffic look like HTTPS traffic to avoid notice by censors. (This is a great feature if you need a VPN for China and anywhere else that blocks VPNs.)
100% RAM-disk servers, to enhance your security by ensuring no user data is available on any VPN server.
P2P servers, which are specifically optimized for torrenting and P2P filesharing. (NordVPN is a top choice if you need the best VPN for torrenting.)
Leak-free and secure VPN apps, thanks to built-in leak protection with a VPN kill switch.
Static IP – For an added cost, you can get the static IP VPN feature to give you your own IP address.
NordVPN has conducted independent audits of their security and their compliance with their published no-logs policy. NordVPN's encryption is very strong, featuring an AES-256-GCM cipher and DHE-4096 key exchange for Perfect Forward Secrecy for OpenVPN, and ChaCha20 for WireGuard.
NordVPN is the best VPN for streaming content from major services like Netflix, Hulu, Amazon Prime, Disney Plus, and BBC iPlayer. Their large worldwide server network connects you to streaming services, regardless of location. You can use the NordVPN app if you need a VPN for Firestick, TV boxes, or Smart TVs, or any other streaming device.
NordVPN has over 5,700 servers in 60 countries. They give you 24/7 live chat Customer Support, a very low price, and a 30-day money-back guarantee on all plans.
+ Pros
User-friendly and reliable apps
Double-VPN and Tor-over-VPN servers
Passed numerous 3rd-party audits
Strong encryption standards with full support for WireGuard
Works with Netflix and many streaming sites
Threat Protection feature to block ads, trackers, and malware
Professional 24/7 live chat support
Consistently fast speeds
Dedicated RAM-servers with 10 Gbps bandwidth channels
– Cons
Big discounts only available with 2-year plans
NordVPN's Cyber Deal is live:

Get 69% Off NordVPN with the coupon below plus 3 months FREE, no activation code needed:
(Coupon is applied automatically; 30 day money-back guarantee.)
See our NordVPN review for more results and analysis from our testing.
---
Surfshark – High-performance VPN with a strong ad blocker
| | |
| --- | --- |
| VPN | Surfshark |
| Based in | The Netherlands |
| Logs | No logs (audited) |
| Price | $1.99/mo. |
| Support | 24/7 live chat |
| Refund | 30 days |
| Website | Surfshark.com |
Despite being one of the newer VPNs (launched in 2018), Surfshark has become a premium VPN service. It has all the features you expect from a top-rated VPN service: tons of servers, high-end security, a solid no-logs policy, automatic leak protection, the ability to unblock major streaming services, and a variety of specialized servers and advanced capabilities.
And did we mention that Surfshark is really inexpensive and one of the only VPNs around to support an unlimited number of simultaneous connections, 24/7 live chat customer support, and a 30-day money-back guarantee?
CleanWeb and CleanWeb 2.0 are Surfshark's VPN ad blockers
Now let's examine how this VPN blocks ads with the CleanWeb and CleanWeb 2.0 features.
CleanWeb is similar to NordVPN's Threat Protection Lite in many ways. It maintains a huge list of websites (domains) known to be malicious, invasive (trackers), or simply to be serving ads. When your device makes a DNS query, CleanWeb checks to see if the domain's IP address is on the naughty list. If so, it blocks content from that site.

CleanWeb is currently available for Windows, macOS, Linux, iOS, Android, and FireTV browsers.
CleanWeb 2.0 is available only through the Surfshark extensions for Chrome, Firefox, and Edge. It improves on the ad blocking capabilities of the original by blocking video ads on Smart TVs. <it is also said to be better at blocking malware than the original CleanWeb. Beyond this, it has the ability to handle cookie pop-up requests and will alert you if your credentials have been involved in a data breach.
Other Surfshark features
In addition to blocking ads and malware with CleanWeb, Surfshark keeps your connection secure by using the strong AES-256-GCM cipher and your choice of the OpenVPN, IKEv2, or WireGuard VPN protocols.
Speaking of clients, Surfshark released a very nice new Linux VPN app. It is sharp looking and works well, freeing users from messing around with the command line simply to change servers, or adjust settings. This is another advantage we pointed out in the Surfshark vs Proton VPN comparison. It also has a great lineup of mobile apps for Android and iOS that also offer the CleanWeb ad-blocking features.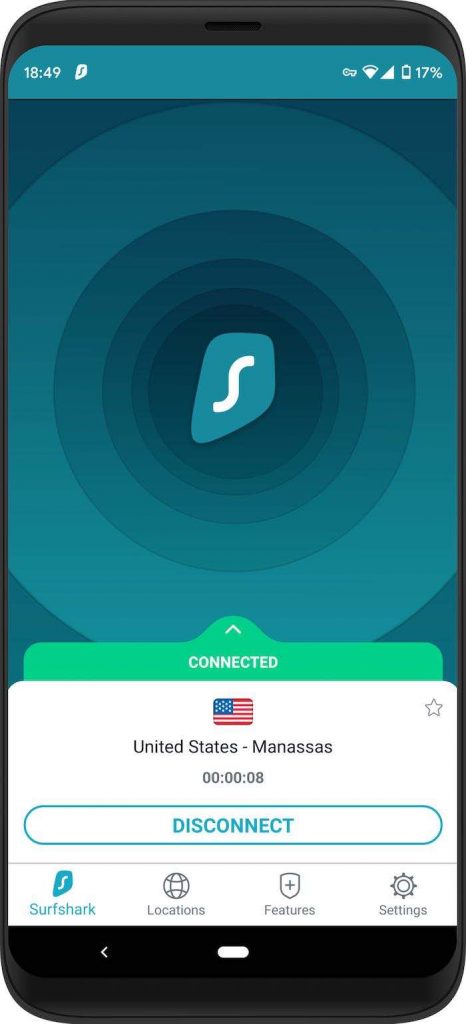 And Surfshark is one of the fastest ad blocker VPNs. In our tests for the Surfshark vs NordVPN comparison, speeds were similar with Surfshark approaching 400 Mbps on some servers. That's far more than you would need for streaming HD content or any other high-bandwidth activity.
Speaking of streaming, Surfshark does a great job unblocking all types of media websites. It is one of the best VPNs for Netflix, BBC iPlayer, Amazon Prime, and many other streaming sites.
As of today, Surfshark has over 3,200 servers spread between 100 countries. And as we noted in our NordVPN vs ExpressVPN comparison, Surfshark also runs all servers in RAM-disk mode to ensure no user data is ever stored on servers where a hostile entity might try to snag them.
Like our other best VPN ad blocker picks, Surfshark provides support through 24/7 live chat and a full 30-day money-back guarantee with all subscription plans.
+ Pros
Unlimited connections
User-friendly apps for all devices and operating systems
CleanWeb feature to block ads, trackers, and malware
Works great with Netflix and many other streaming services
24/7 live chat support
Strong encryption and security features (audited)
– Cons
Limited support for VPN routers
Above average monthly prices
Surfshark Coupon:

Get 80% off Surfshark VPN (drops the price down to $1.99 per month) plus 5 months FREE:
(Coupon is applied automatically.)
See our Surfshark review for more test results and analysis.
---
Proton VPN – Secure Swiss VPN that blocks ads and trackers
| | |
| --- | --- |
| VPN | Proton VPN |
| Based in | Switzerland |
| Logs | No logs |
| Price | $4.99/mo. |
| Support | Email |
| Refund | 30 days |
| Website | ProtonVPN.com |
Proton VPN was created by the same team behind the popular encrypted email service Proton Mail. ProtonVPN offers a secure, user-friendly experience, with attractive, reliable apps.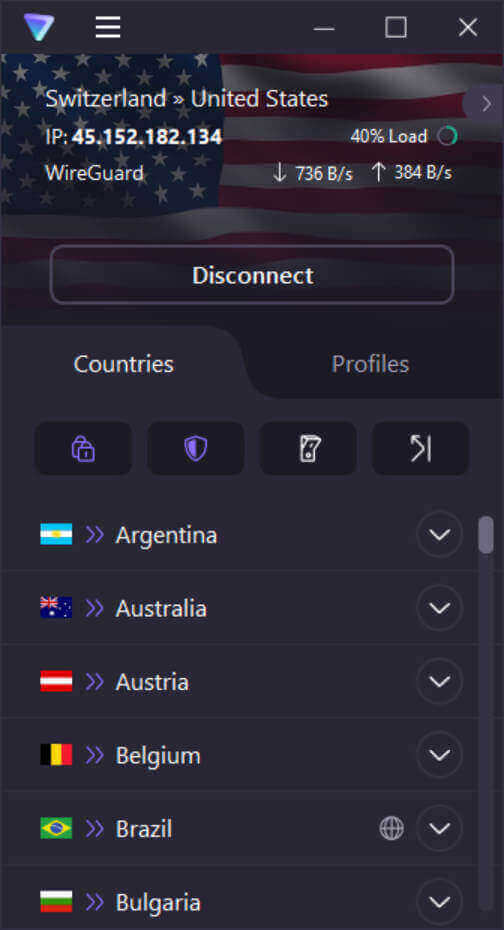 This VPN has a strong focus on security, with excellent encryption, an audited no-logs policy, and Secure Core servers (a type of double-VPN server), which route your traffic through VPN servers in privacy-friendly jurisdictions. And of course, the NetShield ad blocker.
NetShield and its new Privacy Panel
NetShield has been protecting Proton VPN users since 2021. It blocks ads by checking DNS queries against a list of known advertising agencies and online trackers. If a domain is on the list, NetShield prevents your device from loading the IP address and any resources associated with it. Similarly, it protects against malware by checking a list of domains known to host malware or other dangerous software.
In April of this year, Proton VPN updated NetShield by adding the Privacy Panel. The Privacy Panel shows you statistics for the current session and resets if you manually disconnect from the VPN. It gives you information such as the number of ads blocked in the current session, the number of trackers stopped, and the amount of data saved by blocking unwanted downloads.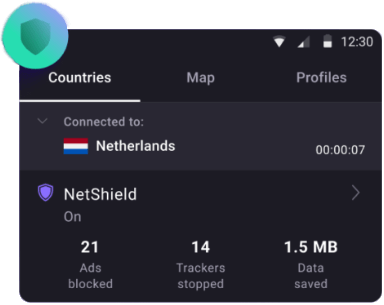 The Privacy Panel doesn't increase the protection offered by NetShield, but it does highlight the amount of unwanted crap people are trying to push onto your devices.
Other Proton VPN features
ProtonVPN has a good-sized network of over 1,900 servers spread across more than 65 countries. While they do offer both free and paid plans, the free plan is very limited and doesn't include NetShield or any other of this VPN's best features.
The paid Proton VPN plans support P2P file sharing and torrenting. Proton VPN also provides some support for streaming content from Netflix and other major services. It did not. however, make it onto our list of the best VPNs for streaming.
+ Proton VPN Pros
Useful privacy features (no leaks)
Secure server network (secure core)
Good privacy jurisdiction and data protection policies
WireGuard VPN support (but not on Linux)
Transparent company with a good track record
– Proton VPN Cons
Average speeds
Above-average prices
Limited support for streaming
Learn more about this VPN service in our Proton VPN review.
---
Perfect Privacy – Extra security, privacy, and ad-blocking protection
| | |
| --- | --- |
| VPN | Perfect Privacy |
| Based in | Germany |
| Logs | No logs |
| Price | $8.95/mo. |
| Support | Email |
| Refund | 7 days |
| Website | Perfect-Privacy.com |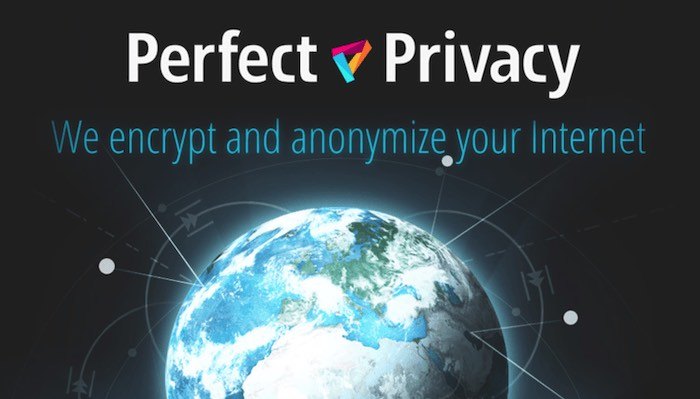 If the highest levels of privacy and security are your goal, Perfect Privacy merits consideration. Like NordVPN and Surfshark, Perfect Privacy has a strict no-logs policy, a kill switch, strong encryption, and several specialized features, including the intriguing NeuroRouting feature.
TrackStop is Perfect Privacy's highly customizable ad blocker
But what we are really interested in right now is TrackStop, the Perfect Privacy VPN ad blocker that can also filter out many other undesirable domains. TrackStop works like the other VPNs that block ads in that it checks for malicious sites and advertising domains when anything on your device makes a DNS query. But as you can see below, it does a lot more than just blocking ads:


But TrackStop goes even further, with built-in Parental Controls, and customizable filters so you can decide which filters you want active on your device. While each of our featured VPNs blocks ads and malware, TrackStop gives you more control over what exactly you want to block.
No white-listing feature – One drawback with Perfect Privacy is that there's no white-listing feature. This means that if TrackStop is blocking access to a website you want to access, you will need to turn off the VPN, which can affect your online privacy and security. Conversely, NordVPN and Surfshark have white-listing options for both desktop and mobile apps. This means that you can simply white-list a website or application if it is conflicting with your ad blocker instead of disabling your VPN.
Beyond blocking ads, Perfect Privacy offers full support for IPv6. While most VPN services still don't support IPv6 at all, Perfect Privacy has been doing so for years. IPv6 is the wave of the future as the number of internet-connected devices explodes. When IPv6 becomes urgent, Perfect Privacy users will be ready.
If you are looking for specialized servers, Perfect Privacy offers Stealth VPN, which disguises VPN traffic as normal HTTPS traffic, and Multi-hop VPN, which passes your traffic through up to FOUR (4) servers for massive encryption. (But we also find these features with NordVPN and Surfshark.)
+ Pros
Multi-hop VPN chains, up to 4 servers (self-configurable)
Zero logs with an unlimited number of connections
Dedicated bare-metal servers with full IPv6 support
Obfuscation support (Stealth VPN)
Customizable firewall and port-forwarding options
TrackStop filter to block ads, trackers, malware, and more
– Cons
Expensive

Does not work well with streaming sites, such as Netflix and Disney Plus

No iOS VPN app
See the Perfect Privacy review for more test results and analysis.
---
VPN.ac – Fast, secure ad blocking at a low price
VPN.ac is a Romanian VPN service with some great features at a reasonable price. In addition to being one of the best VPNs with ad blocking, it has earned a place on our list of the best cheap VPNs. But before we get into the full range of what VPN.ac can do, let's talk about their ability to block ads.
SecureDNS, VPN.ac's ad blocker
The VPN.ac ad blocker feature is named SecureDNS. It too uses DNS filtering to decide which content to pass on to your devices and which to block. Using its list of known problem domains, SecureDNS blocks:
Ads
Trackers
Malware and phishing domains
SecureDNS is pretty good, but it could be even better. Imagine if you could pick and choose multiple filter lists, just like you can with TrackStop. And it would be great if both SecureDNS had a white list so you could easily visit sites you like even if they're on a filter list. Unfortunately, right now you have to turn off the VPN to visit sites on the SecureDNS filter list.
VPN.ac offers partial WireGuard support. At the time of this review, their network supported WireGuard, but not their apps. You needed to install a third-party WireGuard app and manually configure it to work with VPN.ac.
The VPN.ac server network is fast and very secure. But it is small with around 130 servers spread across 26 countries. The network features both Multi-hop (double VPN) servers and obfuscated servers.
The obfuscated servers are a strength of this service. They give you the choice of many protocols and ports, along with servers preconfigured to deal with specific obstacles, such as the Great Firewall of China.
VPN.ac has a few drawbacks
VPN.ac has many benefits but has a few potential drawbacks too. They include:
A small network with limited features
No 24/7 live chat support
A 7-day money-back guarantee
See our VPN.ac review for more testing results and analysis.
---
Some VPN ad blockers are not recommended
There are a few other ad-blocker VPNs available, but I don't recommend them. Here are two VPN services that claim to be ad blockers but that you should definitely avoid:
CyberGhost ad blocker (traffic manipulation)
CyberGhost is interesting but for the wrong reasons. Instead of filtering ads and malicious content via DNS requests, they actually look inside the traffic and modify requests to certain domains so they display content from CyberGhost instead.
This is a problem. First, a trustworthy VPN should never manipulate your traffic like this. Second, their system only works when you are connected to a site or service that still uses HTTP. Most internet resources now use HTTPS since it uses encrypted connections. CyberGhost cannot (easily) access that content.
Back in 2016, CyberGhost made headlines because they were installing their own root certificate on a user's computer, effectively doing a man-in-the-middle attack on all HTTPS traffic. Not only was the traffic processed locally, but it was also sent back to a CyberGhost server that decided what to change.
Here's an excerpt from when this controversy originally surfaced in 2016 [original source now appears to be offline]:
A VPN that installed a root certificate in your computer (like the [CyberGhost 5] version) will be able to attack all your SSL-encrypted traffic. This is otherwise known as a Man-in-the-Middle attack. CyberGhost can intercept and decrypt all of the data that goes through the encrypted link – even sensitive information such as email addresses, passwords, and bank account details. And it can re-encrypt the data and pass it to the website like nothing happened.
Today CyberGhost doesn't install a root certificate. But because they are still using the same methods to filter traffic, that means their "ad blocker" does not effectively block ads on HTTPS websites. Basically, CyberGhost's ad blocker is barely working, especially since it will be ineffective on all HTTPS websites. We cover this more in our CyberGhost review.
We also found both streaming and performance to be major problems. Despite advertising Netflix compatibility, we found CyberGhost to be blocked by Netflix servers in the US. And CyberGhost's performance is weak too, as you can see in our CyberGhost vs NordVPN comparison.
PureVPN's ad blocker (does it even exist?)
PureVPN promises an ad-blocker on its website:
PureVPN's ad-blocker removes all kinds of ads and online litter while you're browsing online. In doing so, it improves your browsing speeds by blocking images from consuming bandwidth, and analytics codes and scripts running in the background of the page you're browsing online.
But when you open up the PureVPN app, you see that there are no specific settings for ad blocking.
Meanwhile, the website claims, "Every subscription plan includes PureVPN's Content Filtering features without any extra cost."
When testing the PureVPN client on various news sites, all ads and tracking were getting through. There was no sign that it actually did block ads.
At this point, it was necessary to clarify with PureVPN what exactly was going on. Unfortunately, the responses we got back from PureVPN support failed to clear up the mystery. We also got back a non-answer when we contacts support via email. It doesn't appear that PureVPN offers a functional ad blocker at all.
Considering that PureVPN has also handed data logs to the FBI while claiming to be a "zero logs" VPN service (see our review of PureVPN) and is also rather slow (see our PureVPN vs NordVPN comparison) we cannot recommend this VPN for ad-blocking or anything else.
Other VPN ad blockers
There are some other VPN ad blockers that may be worth considering.
Private Internet Access has a VPN ad blocking feature called PIA MACE. Unfortunately, this VPN did not perform well in the review or comparison speed tests to be recommended (see the PIA vs NordVPN comparison).
ExpressVPN offers a feature called Threat Manager to block "trackers and malicious sites" — but this is not a full-fledged ad blocker. We discuss it more in the ExpressVPN review.
Best VPNs with ad blockers – FAQ
Here are some Frequently-Asked Questions related to the best VPNs with built-in ad blocking:
Why do ads track my online activities?
Most ads today do two things: sell you something and track your online activities. The first function is annoying (particularly those loud, flashing video ads), but not all bad. Ad revenue is the only source of income for many sites.

The "track your online activities" function is a real privacy threat. The online ads you see are usually accompanied by invisible bits of code called trackers. The trackers allow their creators to track where you go and what you do online.

Data like your IP address and browsing habits is gathered by tracking cookies and then used to send you highly-targeted ads. hoping to get you to buy stuff. Both the advertiser and the website make money from those ads, propping up the entire privacy-invading system.


How do ads track my online activities?
It isn't actually the ads that track you; it is the tracker code that comes along with the ads. They use three main approaches to gather data about you: cookies, beacons, and fingerprinting.

Cookies are small files stored in your browser that help websites you visit to identify you. Cookies can record data that helps you navigate a site, but they can also store data like your IP address.

Beacons are transparent images that get loaded when you load an ad. They are often 1 pixel by 1 pixel, making them unnoticeable to humans. Beacons can show a website how many times you loaded a page, and help advertisers find their ad impressions for monitoring the results of their ad campaigns.

Fingerprinting is done by recording information about your web browser and device settings. The ad company uses this information to identify you without even having to store anything on your device. (We have a guide on how to mitigate browser fingerprinting.)


Will a VPN ad blocker protect all my online activities?
No. An ad block VPN will only block video ads or text ads for anything that passes its data through the VPN "tunnel." In addition, no ad blocking system is perfect, so some ads will always get through, even if all your traffic passes through the tunnel.


How does a VPN with ad blocking protect my privacy?
The best ad blocker VPNs protect your privacy by blocking ads from third-party ad domains that would install trackers on your device when they display their ads. By blocking the trackers, the VPN prevents the ad domains from collecting data about you.


How does an ad-blocking VPN keep me secure?
An ad block VPN keeps you secure by preventing ad domains from installing trackers or malware on your device.


Conclusion: Combine a VPN with ad blocking for more privacy and security
The internet is clogged with annoying video ads, trackers, and junk of every type. Go to any major website and while you are looking at the content, your device will quietly be getting bombarded with junk of every type in the background. For example, I just popped over to CNN.com, where uBlock Origin reported that it blocked 33 ads or trackers trying to get into my computer.
A VPN with its own ad blocker can shield you from the relentless waves of junk you are being bombarded with. It can protect all the traffic that flows through the VPN tunnel. Sure, no ad blocker is perfect but the VPNs we recommend do a great job. Team 'em up with a browser-based ad blocker like uBlock Origin, and together they will block most of the ads, malware, and other junk being sent your way.
Good luck and stay secure and ad-free!
This VPN ad blocking guide was last updated on June 21, 2023.