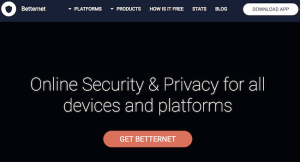 Is Betternet a trustworthy and safe VPN service?
Extensive testing and research for this Betternet VPN review suggests the answer to that question is NO.
As you will see below, I uncovered the following issues with Betternet VPN: embedded malware, tracking libraries, IP address leaks, DNS leaks, poor speeds, and poor reliability. Perhaps most concerning is the fact that Betternet has been caught embedding malware and tracking libraries into their VPN apps, while promising to protect the privacy and security of its users (we'll cover this in detail below).
Betternet is yet another example illustrating the dangers of using a free VPN service.

Connections
Unlimited (free)

Price
Free

Jurisdiction
Canada

Privacy Tests
IPv4 leaks
IPv6 leaks
DNS leaks
– Cons
Apps have been found to contain malware
Apps have been found to contain third party tracking libraries
Claims to keep "no logs" but records certain data
Allows third parties to access user data
IPv6 and IPv4 leaks detected
DNS leaks detected
Slow speeds
Bad reliability with frequent dropped connections
30 day refund is voided with 50 MB of bandwidth
---
Alternatives to Betternet:
---
Update: In addition to all the issues identified in this review, Betternet was recently found to have been hacked. It was one of eight Google Chrome extensions that were hacked and used to spread malicious advertisements.
Free VPN Proxy by Betternet – DANGER!
A team of academic researchers studying VPNs identified Betternet as one of the most malware-infested VPN apps in the Google Play Store.
They found that Betternet tested positive for malware by 13 different antivirus programs. This gave it an AV-rank of 13.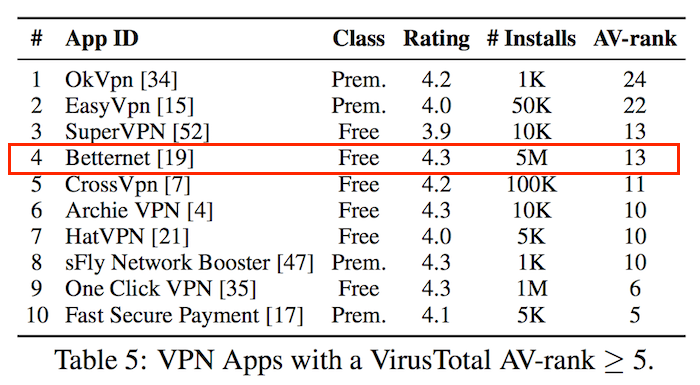 When you use a free VPN, you are most likely the product.
Betternet VPN Policies
There are many concerning statements in Betternet's privacy policy.
But first, let's examine the marketing claims made on the homepage, and then compare that the the Betternet privacy policy.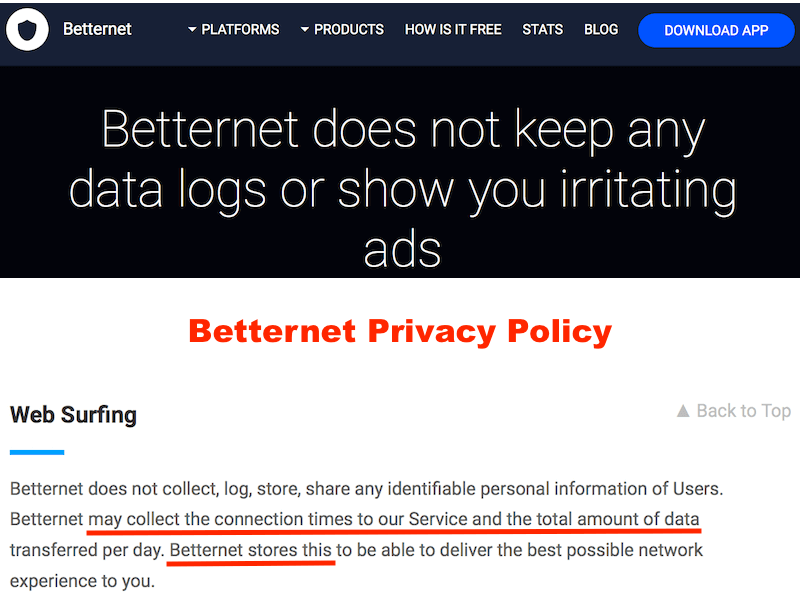 Also in their terms, they claim to "secure your internet session." But in the very same sentence they tell you that they don't protect your device from "malware, trojans or viruses" – and then in the next sentence recommend "anti-virus solutions" for their users.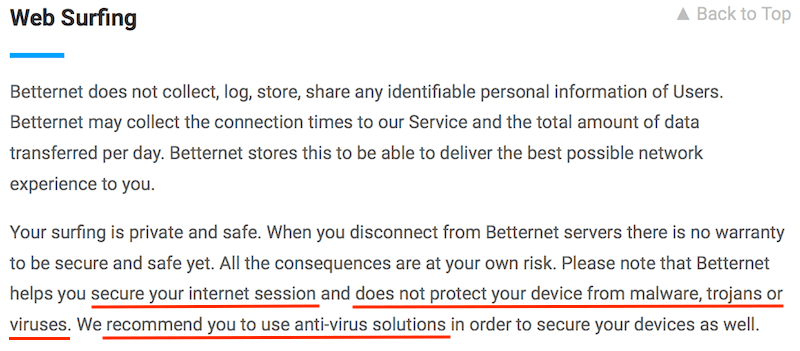 Now let's put this all together, taking into consideration this study, and Betternet's policies:
Betternet embeds malware in their Android VPN app
Betternet claims to "secure your internet session" but then says it won't protect you from malware…
Betternet recommends "anti-virus solutions"
But wait, it gets better…
Betternet App & tracking libraries
The same study from above also identified a high presence of third-party tracking libraries in Betternet's Android app.
Out of the applications studied, Betternet was found to have 14 tracking libraries in their Android app alone. These tracking libraries may be used for "analytics, tracking, or advertising purposes" and are embedded into the source code of the app.
And on their website, Betternet claims to: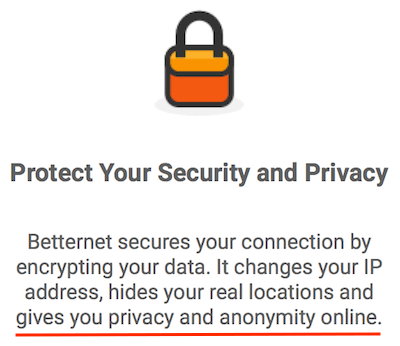 Moving on…
Betternet VPN and third parties
When you look at the the "Betternet softwares" (sic) section of the privacy policy, you find more alarming information: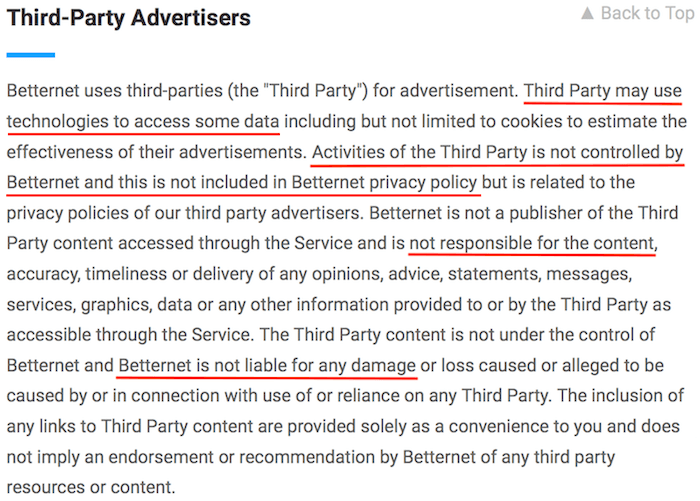 So Betternet is giving third parties access to user data for the purposes of "advertisement".
But if something bad happens with your data… "Betternet is not liable for any damage or loss" due to these third parties…
Why is there malware and tracking embedded in Betternet's applications?
The short answer is this: your data is valuable.
Malware and tracking are simply tools to collect your data, which is one way to monetize "free VPN" applications. After collection, your data can then be sold to third parties (a very large and profitable industry) or used to hit you with targeted advertisements (which brings in commissions on sales).
In essence, when you use a cheap or free VPN, you are the product.
It is your data that is being collected, which is then used to monetize the free software.
Betternet IP Leaks
To test for IPv4 and IPv6 leaks, I used the following two resources:
The results: Betternet leaks both IPv4 and IPv6 addresses.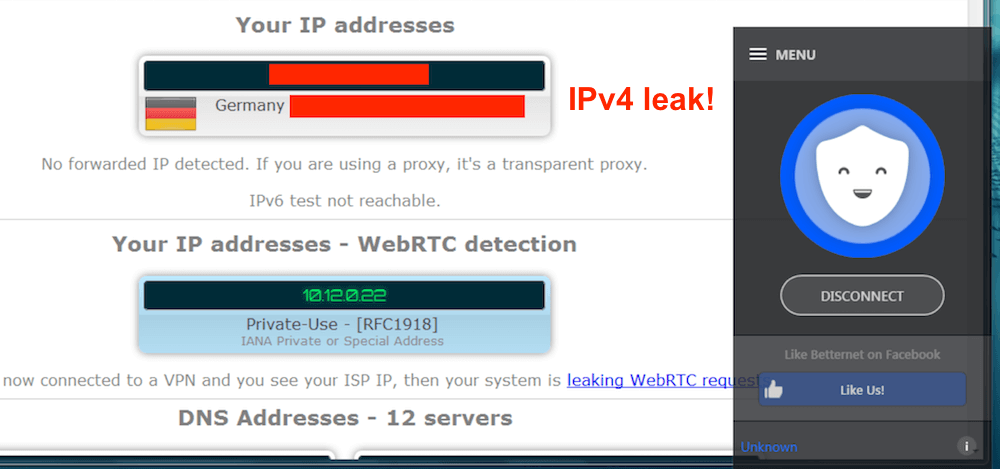 In the screenshot above you can see that Betternet is connected and in the background (on the left) is the IPv4 leak result.
This test was performed using Betternet for Windows.
Repeating the tests again with the Perfect Privacy IP checks tool, you can see there's an IPv6 leak while the Betternet VPN Windows client is connected on the right.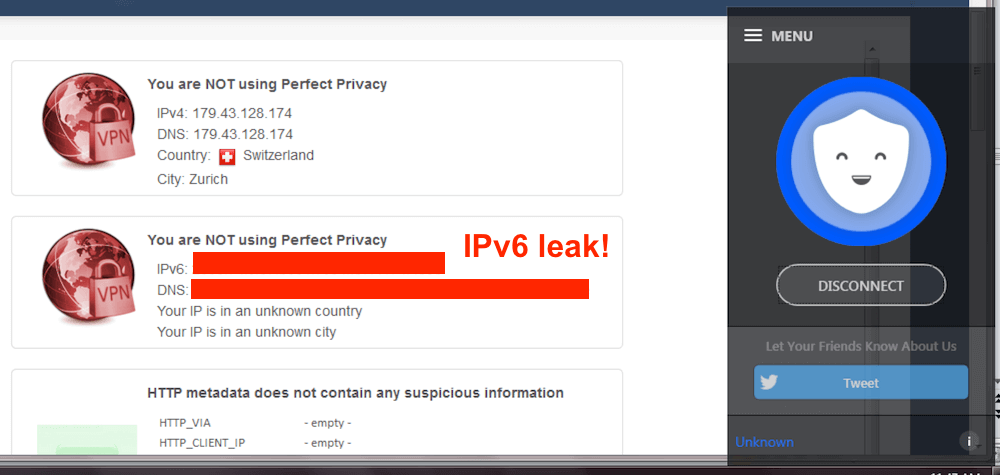 Do not use a free VPN if you care about your privacy.
DNS leaks with Betternet
A DNS leak occurs when DNS requests leak out of the VPN tunnel. This exposes your browsing history as well as your internet service provider's IP address, which reveals your general location.
Unfortunately, every Betternet server I tested was found to have DNS leaks. Here is one result when connected to a Betternet server in the United States.

Conclusion on leaks: These test results show that Betternet fails to live up to their promises: "changes your IP address, hides your real locations and gives you privacy and anonymity online."
Speeds and reliability
Betternet's VPN was also tested for speed, using the website speedof.me.
My physical location was Germany.
Here are just a few of the Betternet VPN server locations tested and the corresponding results:
United Kingdom: 1.6 Mbps download; 0.7 Mbps upload
United States: 0.9 Mbps download; 0.3 Mbps upload
Switzerland: 0.6 Mbps download; 1.0 Mbps upload
As you can see, these speed tests results were not good.
If you need a VPN for streaming media, this won't be sufficient (based on the results above).
Dropped connections
In testing out Betternet for this review, I found it to have some problems with reliability.
My VPN connection would frequently drop. Because Betternet does not provide any leak protection with their software, this meant that my IP address was exposed during every dropped connection.
Betternet for Windows
Most of the testing for this review was on the Betternet for Windows application.
While many people seem to use Betternet on mobile devices, the Betternet Windows app seems popular.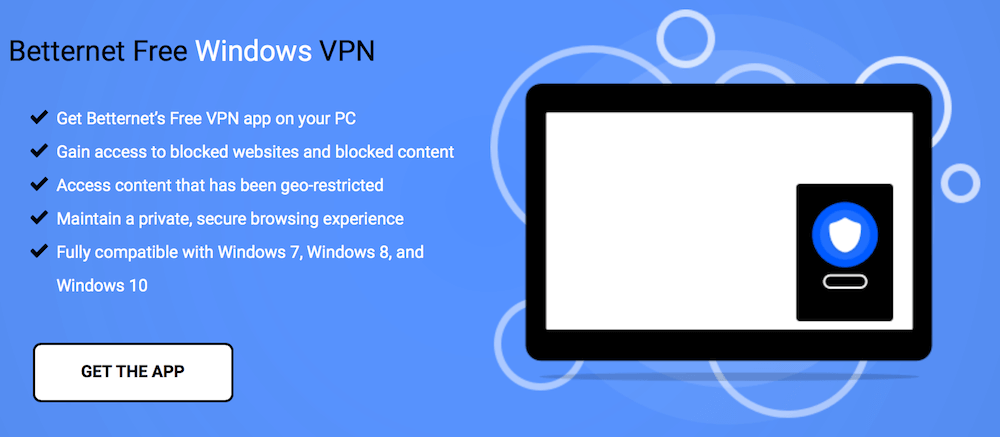 Windows is definitely known for privacy and security problems, especially Windows 10.
Unfortunately installing Betternet on your computer will not protect you, based on these results. I used Betternet with Windows 7 for the tests above. And as you already saw, the results were very bad.
Conclusion on Betternet with Windows: not recommended.
Betternet for Chrome
Betternet also offers a Chrome extension that appears to be quite popular. I installed the Betternet Chrome browser extension and tried it out to compare it to the Windows app.
Unfortunately the results were the same: many leaks. The Betternet extension for Chrome also had problems with IP leaks, DNS leaks, as well as speed and overall performance.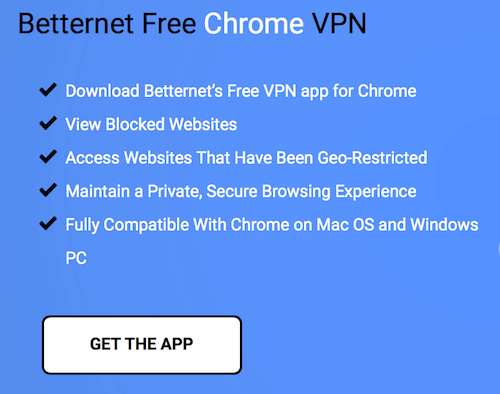 Conclusion on Betternet with Chrome: not recommended.
Company information
Betternet is a product of BetterNet LLC Inc., which is based in Canada (a Five Eyes surveillance country).
Note: You don't need a Canadian VPN service, such as Betternet, if you want a VPN for Canada – there are many other great services to choose from.
On their website, Betternet claims to have 38 million users worldwide. Furthermore, they also state that they are the "#1 VPN app in the Google Play Store and Appstore."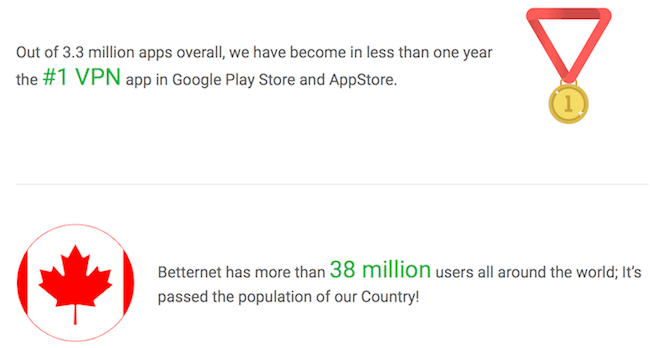 It's very concerning that millions of people are trusting Betternet to protect their privacy and security.
50 MB refund policy (30 days?)
Betternet is another VPN service that offers a refund policy that appears to be good, but then has a ridiculously low bandwidth restriction. If you look carefully at the Terms, you'll see that 50 MB of bandwidth usage will void the 30 day refund policy.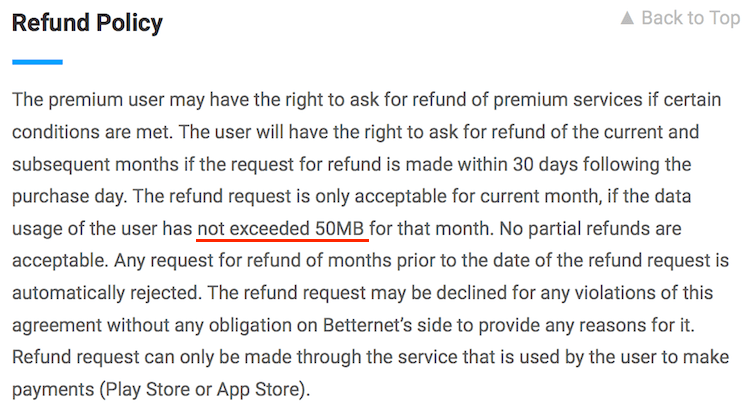 You could easily exceed 50 MB in a few minutes with downloading files or just watching a few short YouTube videos, thereby voiding your refund window.
One more question that comes to mind: how does Betternet know when someone exceeds 50 MB of bandwidth, when they claim to "not keep any data logs"?
Obvious answer: because they maintain connection logs.
Betternet free VPN – be careful
Betternet is another example of that shows the hidden dangers of free VPN services.
Given the testing results and research findings of this Betternet review, it would be a good idea to avoid Betternet's VPN applications, in my humble opinion.
Their premium VPN may offer more privacy and security than the free version, but it was not tested for this review. However given all these different problems, you may want to avoid all options.
Betternet alternatives
If you are using a VPN for privacy reasons, you may want to consider alternatives. Here are the top recommendations VPNs that passed all VPN tests and are also located in good privacy jurisdictions:
---
---
In addition to being secure and fast in my testing, the VPNs above are also located in a good jurisdiction for privacy. Canada, where Betternet is located, is a close partner with the United States in carrying out blanket mass surveillance.
Betternet review conclusion
Due to all of the problems and privacy concerns found in this review, Betternet is not recommended by Restore Privacy.
In general, free VPN services are usually a trap. They lure people in who are looking for a "good deal" and then utilize shady practices to make money off the user's data.
There are many better options available that will provide you with more security and privacy, as well as better speed and reliability. And if you are looking for deals, see the VPN coupons page. You can also check out the NordVPN coupon page as well as the ExpressVPN coupon page.
To see the current top recommendations, check out the Best VPN report.
Stay safe!