Surfshark and TorGuard are popular VPN services with large user bases. They must both be doing something right as well-recognized VPN brands – but the goal of this exercise today is to see which VPN is best. Based on the results of our testing, the answer is yes, one of these VPNs is better than the other in nearly every category.
After running all of our tests, it is clear that Surfshark beats TorGuard hands down. We found that Surfshark is faster, has more user-friendly apps, more advanced security features, more features overall, as well as better streaming and torrenting performance. And the best part is that Surfshark does all of this at a much lower price than TorGuard (with the coupon below).
| | | |
| --- | --- | --- |
| | Surfshark | TorGuard |
| Website | Surfshark.com | TorGuard.net |
| Location | The Netherlands | United States |
| Servers | 3,200+ | 3,000+ |
| Countries | 95 | 50 |
| Logs | No logs | No logs |
| Torrenting | All servers | Restricted* |
| Netflix | Supported | Limited** |
| Support | Knowledge Base; Email; 24/7 chat | Knowledge Base; Email (no chat) |
| Apps for | Windows, macOS, Linux, Android, iOS | Windows, macOS, Linux, Android, iOS |
| Price | $2.05 (with coupon) | $5.00 |
| Coupon | 81% Off + 2 Months Free > | N/A |
*Being a US VPN service, TorGuard was sued in a US court for copyright violations that happened on its VPN servers. As part of the settlement, TorGuard now blocks torrenting on all US servers. Surfshark does not restrict torrenting on its network.
**To access Netflix and other streaming services, TorGuard requires you to purchase a "streaming bundle" add-on for $7.99 per month, thereby increasing the cost significantly for streaming.
The rest of this comparison presents a head-to-head comparison of TorGuard vs Surfshark. We've broken down the comparison into eight different categories:
Company background and jurisdiction
Features
Speed tests
Streaming and Torrenting
Security and Encryption
Privacy
Prices & Refunds
Value
We're confident that by the time you finish reading through these categories, you'll have the information you need to know to choose between Surfshark and TorGuard. Let's go.
Company background check and jurisdiction
While people use a VPN to protect their online privacy, it is easy to forget that your VPN has the ability to see and record your online activities. The vast majority of VPN services are honest and do their best to protect your privacy. But some have been caught spying on their users.
One example is IPVanish, a US-based VPN service, that was found to log users for the FBI while claiming to be a "no logs" VPN.
The history and integrity of the company that runs a VPN is therefore a crucial thing to know. Here's what we were able to discover about the companies behind these two VPNs.
Surfshark background check and jurisdiction
Surfshark VPN service is based in The Netherlands. While this European location is not ideal, The Netherlands is not a member of the 5 Eyes surveillance alliance like the US or UK. Countries in the 5 Eyes should be avoided if you want to preserve your privacy.
Surfshark is a strict no logs VPN service. As far as we have been able to discover, Surfshark has had no privacy or security issues since its launch in 2018. Additionally, Surfshark has passed independent audits, which we will discuss more in the security section below.
Surfshark VPN passes the background check and it is based in a great jurisdiction.
TorGuard VPN background check and jurisdiction
The TorGuard VPN is owned by VPNetworks LLC. Digging deeper, we discovered that VPNetworks LLC is owned by a holding company named Data Protection Services LLC. In addition to the TorGuard VPN, Data Protection Services LLC owns Private-Email, and PrivateRouter, a company that sells VPN routers that work with TorGuard.
Today, both VPNetworks LLC and Data Protection Services LLC are based in Orlando, Florida. This puts them under United States jurisdiction, a point we will come back to in a moment. Originally they were based in the United States. According to this blog post they moved from the USA to Nevis, West Indies in 2013. A few years later, they returned to the United States.
We don't know why they decided to return to the United States, but the return to US jurisdiction is a big mark against TorGuard. Here's why:
The US government conducts massive amounts of surveillance inside and outside the country.
The United States is a founding member of the Five Eyes surveillance network, a group of countries that share intelligence about potential enemies, and even each other's citizens.
US government agencies can and do force VPN services to secretly log their users. They can also impose gag orders on the VPNs, in effect forcing them to lie to their customers about violating their privacy. We know of three times this has happened (IPVanish, Lavabit, and RiseUp) and suspect it has happened other times as well.
There is continual political pressure in the United States to increase surveillance including continuing calls to force encryption backdoors.
Add it all up and the United States is now one of the worst jurisdictions in the world to operate a VPN. TorGuard users are at higher risk than customers of VPNs operating in safe jurisdictions.
TorGuard gets sued in US and is now required to block torrenting on US servers
Thanks to the one-sided Digital Millennium Copyright Act (DMCA) VPNs under US jurisdiction can be sued by copyright holders and forced to change how they do business. Recently TorGuard was forced to block torrenting on all US servers thanks to a lawsuit. If you want more details on this suit, you can check out this article. The upshot of all this is that TorGuard is no longer a usable service if you want to torrent on US servers.
Company background check and jurisdiction winner: Surfshark
---
Features comparison: Is Surfshark or TorGuard best?
TorGuard and Surfshark both have more features, than the typical VPN, so in that sense they are both winners. But the question of the day is which one of these two VPNs has the best features?
TorGuard features
TorGuard has several useful features. Among them is its support for a number of VPN protocols. For standard protocols they have: OpenVPN, IKEv2, L2TP, IPSec. For stealthy protocols they offer: OpenVPN Stealth, ShadowSocks, Stunnel, and AnyConnect (a.k.a. OpenConnect).
You might use the stealth VPN protocols if you need a VPN for Dubai and UAE, since those countries routinely block standard VPN protocols. And officially TorGuard supports the WireGuard VPN protocol, although it has not worked in any of our tests.
They also support a good range of encryption algorithms, including: AES-128, AES-256, Blowfish, and ChaCha20 (once they get WireGuard working).
TorGuard also has your back if you have a lot of users in your house (or like us have a large number of connected devices yourself). That's because they support 8 simultaneous connections, a good boost over the typical 5 or 6 simultaneous connections.
TorGuard has a larger than average network of VPN servers, with over 3,000 VPN servers in over 50 countries. It is also useful to note that their network includes servers in some countries that are not usually supported by other VPN services. Moldova and the UAE are two such examples.
While they don't support a huge range of networks and operating systems, TorGuard does have apps for the most important ones: Windows, Mac OS, Linux, iOS, and Android. Their iOS app was good enough to make it onto our best iPhone VPN app list and gets good reviews in the Apple Store.
On one hand, the TorGuard VPN apps (also known as clients) seem designed for the advanced VPN user, with a huge range of options giving detailed control over exactly how the VPN functions. On the other hand, we think all those options and settings could make TorGuard confusing or difficult to use for casual VPN users and first-timers.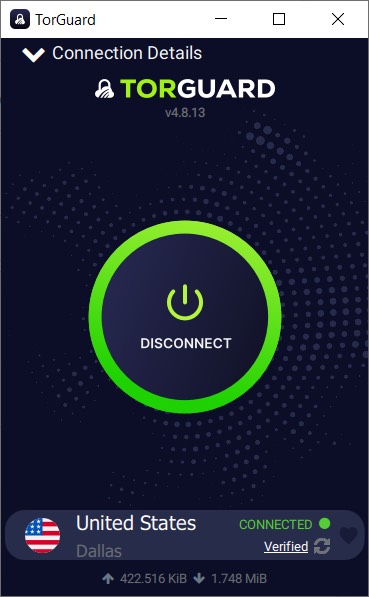 Another problem we ran into with TorGuard apps is that there were many bugs and connections issues. This resulted in the app failing to connect with various VPN servers in the network.

In addition to their VPN apps, TorGuard has browser extensions for both Firefox and Chrome. And you can get VPN routers with TorGuard pre-installed from their sister company Private Router.
Dedicated IP addresses – TorGuard also offers dedicated IP addresses as a paid add-on. A dedicated IP VPN is useful in some cases, but it's an added cost as well.
Now that you have an idea of the kinds of features TorGuard brings to the table, let's see what Surfshark has to offer.
Surfshark has more features than TorGuard (and no bugs)
One of the most popular features of Surfshark is its blazing speed when you activate the WireGuard VPN protocol. When using WireGuard with Surfshark you get extremely fast download speeds, faster connections to hotspots and mobile networks, sturdier mobile network connections, and other benefits. To enable WireGuard on the Surfshark network, just go to the Surfshark VPN app settings, select the Advanced tab, and choose the WireGuard protocol as shown below: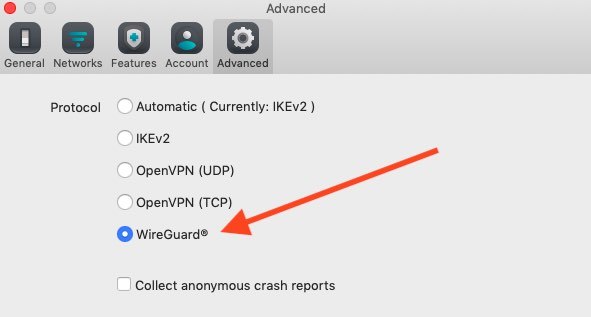 While TorGuard has a pretty sizeable network with servers in a good number of countries, Surfshark out does them in both areas. The Shark boasts a network of 3,200+ VPN servers spread across 100 countries! The network is made up of very fast diskless servers many of which support special functions. These special functions include double-VPN servers that pass your traffic through two VPN servers for enhanced security, and Camouflage mode (obfuscated) servers that can outsmart internet censors. These obfuscated servers could make Surfshark a good VPN for China, a country that blocks VPNs that don't toe the Communist Party line.
Surfshark also offers user-friendly VPN apps for Windows, Mac OS, and Linux operating systems. It is also a great VPN for Android and iOS devices. Surfshark also works with Smart TVs and gaming systems as you can see in our VPN for gaming guide. Their WhiteLister split tunneling feature lets you route some traffic outside the VPN tunnel when necessary. And the kill switches built into Surfshark apps ensure that traffic meant to travel through the VPN tunnel don't leak onto the open internet, even if the connection to the VPNs ever fails for some reason.
Here's what the Surfshark Windows app we tested looked like: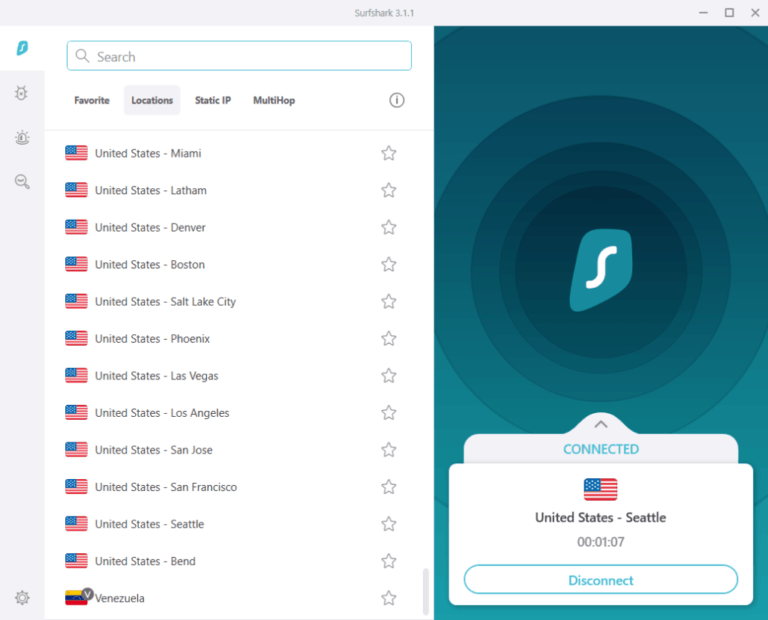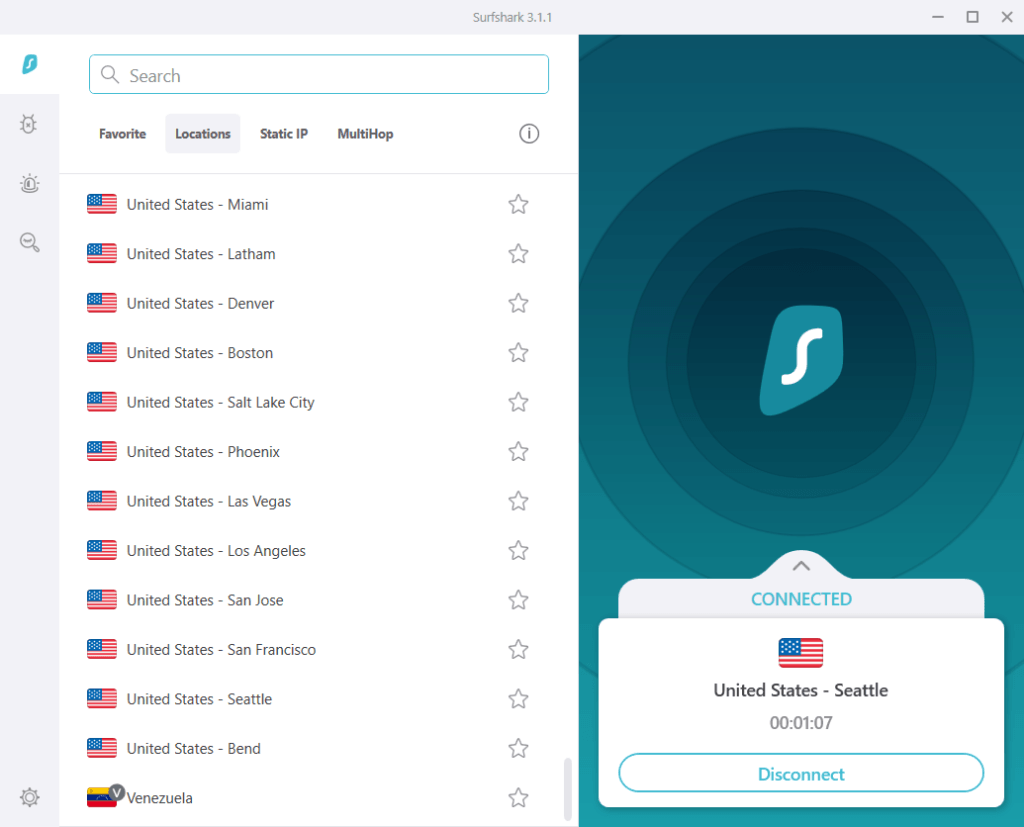 In our tests of the Surfshark apps on desktop and mobile, everything was stable. The Surfshark apps did not have any bugs or connection errors.
Surfshark also has a very interesting feature that takes it beyond traditional VPN functionality. It is called CleanWeb, and when activated, it automatically blocks ads, trackers, and malware domains. This takes it a step beyond the VPN ad blockers some services have.
Routers – While Surfshark does not have a dedicated router app, or have a sister company that sells routers with Surfshark installed on them, it does still work with many routers. With those routers you can import the Surfshark configuration files and go. Then you'll be able to do interesting things like use Apple TV with a VPN for all the compatible devices connected to your router.
Connections – This Surfshark feature may be the most popular of all. Surfshark has support for unlimited simultaneous connections. Most VPNs, including ExpressVPN and NordVPN, support five or six simultaneous connections. So TorGuard, with 8 simultaneous connections beats most of the market. But they can't beat Surfshark on this one.
The bad news: TorGuard charges extra for many features
A disappointing thing about TorGuard VPN is that some of their best features, including competent streaming, come with additional charges. As we saw in the streaming section, these fees can quickly add up, especially if you need a good VPN for streaming.
When you sign up for TorGuard, you will see numerous "bundles" of interesting features that you can only have for an additional monthly fee added to the base price of the VPN. This in itself knocks TorGuard out of the competition for the best features.
Features winner: Surfshark
See all Surfshark features here >>
---
Surfshark vs TorGuard speed tests
Knowing how fast a VPN can move your data is very important. All VPNs will slow down your connection at least a little. But with some VPNs the impact is not even noticeable, while with others it is crippling. In this section you will find out which of these VPNs is the fastest.
Note: As usual, we ran these speed tests using the 500 Mbps fiber optic connection from our location in the United States.
We started the testing by connecting to VPN servers in several locations across the United States.
Test 1: Los Angeles
TorGuard speeds with a server in Los Angeles: 9.7 Mbps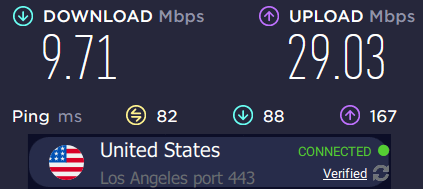 This is a horrible result, particularly when you realize that the last time we tested TorGuard, it ran at over 200 Mbps between our lab and Los Angeles. Surely this must be a fluke.
Surfshark speeds with a Los Angeles server: 346 Mbps

At well over 300 Mbps, this is an excellent result from Surfshark. On this test Surfshark is almost 35 times as fast as TorGuard!
Test 2: Seattle
TorGuard server in Seattle: 50 Mbps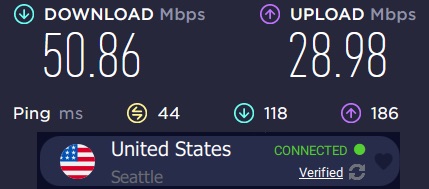 Better, but not good, and very disappointing since TorGuard also gave us over 200 Mbps on this leg last time around.
Surfshark server in Seattle: 308 Mbps

While TorGuard was faster and Surfshark slower on this one than on the Los Angeles test, Surfshark is still 6 times faster than TorGuard.
Test 3: New York
TorGuard server in New York: 47 Mbps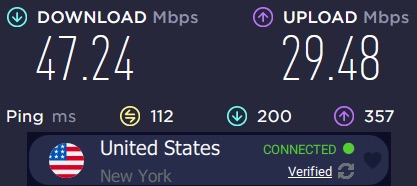 Under 50 Mbps when in the past we recorded a speed of 116 Mbps. Something is definitely not right with TorGuard.
Surfshark server in New York: 397 Mbps

Surfshark is 8 times faster than TorGuard for the New York server location – another excellent result.
Although we did not test servers in Canada, typically the best Canada VPN servers offer similar performance to those servers in the US.
Test 4: United Kingdom
Lastly, we also tested servers in the United Kingdom. This is a popular location for those needing a UK VPN due to eroding privacy laws in that region.
TorGuard server in UK: 152 Mbps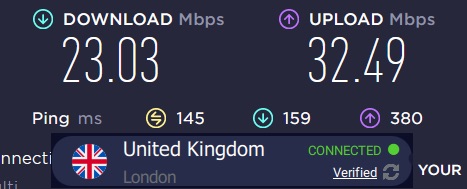 23 Mbps this time versus 152 Mbps last time. Every one of these results is disappointing.
Surfshark server in UK: 330 Mbps

Unfortunately, things didn't really improve on this leg either. In this test, Surfshark was more than 14 times faster than TorGuard. This is similar to the test results in our Surfshark vs CyberGhost comparison.
Why is Surfshark faster than TorGuard VPN?
There are a few reasons why we think Surfshark is consistently faster than TorGuard. One is that the Surfshark tests use the WireGuard VPN protocol, which is much faster than the current industry-standard OpenVPN protocol (our OpenVPN vs WireGuard speed tests showed WireGuard to be about 58% faster than OpenVPN).
TorGuard claims to support WireGuard, but we were unable to get TorGuard's WireGuard implementation to run on our test machine. In both cases we got connection errors whenever we tried to use WireGuard. So we ran the TorGuard tests using the OpenVPN protocol
Note that we got the same errors on two different computers, physically located thousands of miles apart, running two different operating systems, and connecting to two different sets of TorGuard servers. We have to conclude the problem was on TorGuard's end.
However, there seems to be more at work here. The speed test results we got for TorGuard were also far worse than when we tested it previously. It appears that there is something wrong with their new VPN clients. Hopefully they will have everything working well the next time we are ready to test TorGuard.
Speed test winner: Surfshark
---
Streaming and Torrenting: TorGuard vs Surfshark
Both TorGuard and Surfshark support streaming and torrenting. But there are major differences in how they support streaming. As a result, only one of these VPNs is likely to be useful to people who consider streaming and torrenting to be important parts of their VPN use.
Streaming: Surfshark compared to TorGuard
Millions of people around the world use their VPNs to view content from Netflix and other streaming service libraries at home or abroad. But there are a limited number of VPN services that can consistently defeat the geo-blocking technology that is increasingly being used by streaming services.
Surfshark – Based on our extensive testing, Surfshark is one of the best VPNs for Netflix for these reasons:
It works with at least 15 Netflix regional libraries. This list includes the most popular locations, such as the US, UK, Germany, and France.
It reliably connects to the Netflix servers day and night.
It is so fast that you can easily stream HD quality video without buffering or interruptions.
Here you can see us streaming UK Netflix using Surfshark: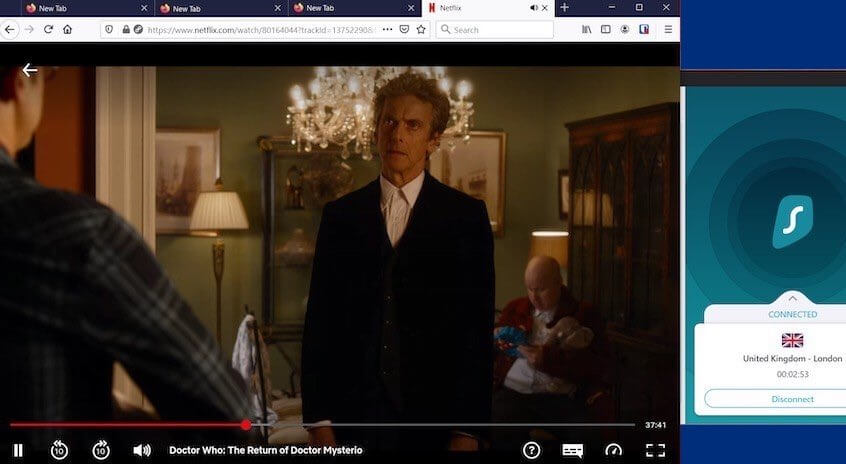 But Surfshark isn't limited to working with Netflix. It also supports all the leading streaming services, including: Amazon Prime, BBC iPlayer, HBO, Hulu, and others. Critically for this comparison, you get Surfshark's full streaming capacity included in the basic VPN price. No additional fees or special add-ons needed.
TorGuard – TorGuard tackles streaming differently. Streaming capability is included in the basic TorGuard subscription. But the basic version of TorGuard isn't very good at streaming. If you want a good streaming experience when using TorGuard, you need to pay a hefty monthly fee to use a special streaming IP address. That address needs to be in the country whose streaming content you want to view.
So if you wanted to view German streaming content with TorGuard, you would need to get a special IP address located in Germany. If you want streaming content from more than one country, you would presumably need to get an address in that country as well.
Given that each streaming IP address (called a "streaming bundle") costs an additional $7.99 per month, sampling even a small portion of the world's streaming content is out of the question with TorGuard. As if that wasn't bad enough, you are only allowed to use streaming bundle addresses for streaming or general web browsing. Torrenting is forbidden on these special IP addresses making using TorGuard that much clumsier to use.
We recommend choosing a different VPN service if streaming content is important to you.
Surfshark takes the Netflix and streaming category easily.
Torrenting: Is TorGuard or Surfshark better?
While VPN speed is always important, but for torrenting, the most important VPN characteristic is reliable leak protection. The best torrenting VPNs protect against IP address leaks and have kill switches that cut in if the connection to the VPN server is broken for any reason.
Surfshark is far faster that TorGuard VPN as we saw earlier. It also has solid apps with built in kill switches that do not leak. Not surprisingly, Surfshark is a contender for the best VPN for torrenting.
TorGuard has become very slow for some reason. But it is a very secure service, so should be safe to use for torrenting.
While we consider both VPNs to be safe for torrents, Surfshark's speed makes for a much better overall experience.
Streaming and Torrenting winner: Surfshark
---
Security and Encryption comparison
VPNs with lots of bells and whistles, fast streaming, and cool interfaces are nice, but security and encryption are at the heart of what makes a VPN useful.
VPN Encryption
Surfshark and TorGuard have comparable levels of encryption:
TorGuard: AES-128, AES-256, Blowfish, and ChaCha20 ciphers
Surfshark: AES-256 and ChaCha20 ciphers
TorGuard has more encryption options, but we still can't get their WireGuard protocol to work, which means their ChaCha20 encryption isn't active yet. Until we see TorGuard's WireGuard configuration running (meaning ChaCha20 is in use), we have to give this sub-category to Surfshark.
Security audits
Surfshark has undergone the following third-party audits:
A security audit of their browser extensions, conducted by Cure53 in 2018.
An audit of their infrastructure and VPN configuration, conducted by Cure53 in 2021.
As far as we have been able to determine, TorGuard has not had any third-party audits.
Surfshark leads in the security sub-category.
VPN server security
Surfshark now runs all their VPN servers in RAM-disk mode. This means the servers do not have any hard drives. Removing the hard drives from the servers removes a major security risk: physical seizure of a VPN server.
There have been several cases in the past where a government or other authorities have physically seized VPN servers looking for information about users. ExpressVPN is just one of the VPN services that has had a server physically removed from one of their facilities by government forces that won't take "no we have no user data" for an answer. With no disks, there is no place for user data to be found, even inadvertently.
Taking things even further, Surfshark is deploying colocated (self-owned) servers to replace servers rented from third parties. Colocated servers are owned and operated by Surfshark, giving them full control over all hardware and eliminating another security vulnerability.
TorGuard does not have diskless servers, nor do they use colocated servers. TorGuard's approach is still the norm in the VPN industry. NordVPN and Surfshark are two exceptions to this 'rule,' which puts them above TorGuard (or the typical VPN) when it comes to security.
Security and encryption winner: Surfshark
---
Privacy: TorGuard vs Surfshark
Security is one side of the coin for a VPN. The other side is privacy. Let's see which VPN will protect your privacy better.
Both TorGuard and Surfshark look good here, with solid no-logs policies.
In addition, Surfshark has undergone the third party audits previously discussed, making us that much more comfortable that they wouldn't have a way to provide user data to anyone even if pressured to do so. TorGuard has not undergone any audits (that we know of).
Privacy winner: Surfshark
---
Prices and refunds comparison
We're coming to the end. The TorGuard team needs some wins badly. Let's see if they can score on prices and refunds.
TorGuard pricing – TorGuard offers three versions of their basic plan. They are the: Anonymous VPN, Anonymous VPN Pro, and Anonymous VPN + FREE Router. And don't forget all those extra cost options and add-ons we've alluded to. Subscribing to TorGuard can be a confusing experience.

Here are the basic steps:
Select which VPN package you want.
Choose your billing cycle.
Check the "Available Add-ons" section to see if you need any of the additional price elements such as a streaming IP address.
For the least expensive plan, the Anonymous VPN plan, you can see that it starts at $9.99 per month on the monthly plan, going down to $5.00 per month for their six-month plan, and the same $5.00 per month for their yearly plan. Only then do you get to check out the add-ons and options to see what, if anything, you need to add to the plan you have specified so far.
Like we said, it is confusing.
Note: Happily, TorGuard offers a nice VPN coupon with a 50% discount. In addition, they run specials at various times of the year. One example is their Black Friday VPN deal which runs every November.
Note: The majority of VPN services have pretty straightforward pricing without all the extra cost add-ons. Even other popular VPNs, such as NordVPN and PIA, have simple pricing with all features included in each pricing plan.
Surfshark pricing – Surfshark does not have complicated pricing for their VPN. Even better, this is one of the best cheap VPN services (assuming you skip their monthly plan). Here's what Surfshark pricing looked like recently:

As long as you go with the full 24-month subscription, Surfshark is much cheaper than TorGuard.
TorGuard and Surfshark refund policies
Like their pricing plan, the TorGuard refund policy is somewhat confusing. It is also terrible, offering only a 7-day refund policy with numerous exceptions, such as these:
"Dedicated IPs, Streaming or Residential IPs are excluded from the refund"
"Refunds can be denied within the 7 day period in certain cases."
"Gift cards and Crypto Payments cannot be refunded"
Meanwhile, Surfshark has a good 30 day money-back guarantee on all plans. And it doesn't have all the exceptions we see with TorGuard.
Surfshark has generally better pricing and a far superior refund policy.
Price and Refund Winner: Surfshark
---
Value: Is TorGuard or Surfshark best?
Sometimes it is hard to decide which product offers a better value. At other times it is easy.Figuring out the value of a particular item can be tricky. A large part of it comes down to your specific needs. For example, if you need to support more than 8 simultaneous connections to your VPN, Surfshark can do the job right out of the box, while TorGuard would not. That makes Surfshark a much better value in this case.
But some characteristics are important to all VPN users. Everyone wants a fast VPN that will be secure and will also protect their privacy.
Looking at these "universal" characteristics, Surfshark is much faster than TorGuard. Both VPNs are secure, but thanks to its US jurisdiction we think TorGuard users face much more of a privacy risk due to their jurisdiction..
If you are a highly technical user with very specific needs, TorGuard could be exactly what you need. But for a typical VPN user, Surfshark has more features, better streaming support, much better speed test results, and is less expensive with a better refund window.
Value winner: Surfshark
---
Conclusion: Surfshark wins this one easily
Our test results were unequivocal. Surfshark outscored TorGuard in all categories. Here is a summary of our TorGuard vs Surfshark tests:
Company background and jurisdiction: Surfshark
Features: Surfshark
Speed tests: Surfshark
Streaming and Torrenting: Surfshark
Security and Encryption: Surfshark
Privacy: Surfshark
Price and Refund: Surfshark
Value: Surfshark
While the test results were very one-sided, this doesn't mean that TorGuard is a bad VPN. It definitely has some weaknesses, but it would still do pretty well against the majority of VPNs. But going up against one of the top VPNs in the world those weaknesses were fatal.
At the same time, I can't recommend TorGuard. You can learn more about this service in the TorGuard VPN review if you want to. But given the number of excellent VPNs we have reviewed on this site, there are too many better options to choose from.
Now Surfshark is a VPN we can heartily recommend. We urge you to give it a try, taking advantage of their 30 day money-back guarantee for a hassle-free 100% refund if you don't like it. To get the best price available for Surfshark, use the discount coupon below.
Surfshark VPN Coupon:

Get 82% off Surfshark VPN (drops the price down to $2.30 per month) plus 2 months FREE:
(Coupon is applied automatically.)
If neither of these VPNs interests you, don't worry. You can see our other VPN comparisons here.
We also have a guide highlighting the best VPN coupons that are available now.
Related Articles:
Have you used either Surfshark or TorGuard VPN? If so, we would appreciate it if you could share your experience in the comments to help others.
This Surfshark vs TorGuard comparison was last updated on January 7, 2023.