HideMyAss and ExpressVPN are VPN services that have been around for years and have large numbers of satisfied customers. But how do they fare in a head-to-head competition? Finding out was our assignment when we started this article. Now we are ready to share the results of our testing with you.
Based on the latest test results, ExpressVPN is the winner of this comparison. It offers more security features, faster speeds, better apps, and more support for streaming. While it is a bit more expensive than HMA VPN, you can save on your subscription with the coupon below.
This table highlights the main facts about each VPN:
| | | |
| --- | --- | --- |
| | ExpressVPN | HMA VPN |
| Website | ExpressVPN.com | Hidemyass.com/ |
| Location | British Virgin Islands | UK |
| Servers | 3,000+ | 1,090+ |
| Countries | 94 | 210 |
| Logs | No logs (audited) | No logs* |
| Torrenting | All servers | Restricted |
| Support | Knowledge Base; 24/7 live chat | Knowledge Base; chat |
| Apps for | Windows, macOS, Linux, Android, iOS | Windows, macOS, Linux, Android, iOS |
| Price | $6.67 (with coupon) | $3.99 |
| Coupon | 49% Off + 3 Months Free > | N/A |
*HideMyAss VPN claims to be no logs today, but it has been caught logging its users in the past (explanation below).
In this face-off of HideMyAss vs ExpressVPN, we took a close look at each of these venerable VPN services. We looked at subjective issues as well as ran in-depth tests. Our investigation revealed a definite winner. Here are the areas we'll examine:
Company background and jurisdiction
Speed tests
Prices
Features
Streaming and torrenting
Security and Encryption
Privacy
Let's get right down to it.
Company background check and jurisdiction
Because your VPN service is responsible for protecting your traffic and data, you must be able to trust them. The VPN community has had some major problems in the past, with scandals such as IPVanish, supposedly a "no-logs" VPN, which was caught providing logs to authorities. Or Hotspot Shield VPN, which was caught embedding tracking libraries in its apps.
This all means the reputation of the VPN service is vitally important. So let's do our own background checks on ExpressVPN and HideMyAss.
ExpressVPN background and jurisdiction
ExpressVPN has an excellent reputation. It is a premium VPN service with a good track record. They have never suffered from public security issues of any kind. ExpressVPN has also conducted, and passed, independent audits of their security and no-logs policy.
Based in the British Virgin Islands, ExpressVPN has chosen an ideal jurisdiction for a VPN. This is because the BVI respects privacy, with no data retention laws and no membership in any international surveillance alliances.
Surprisingly, in September 2021, news broke that ExpressVPN was acquired by Kape Technologies. This came as a surprise, but fortunately, ExpressVPN continues to operate independently. We also continue to see consolidation in the VPN industry, with Surfshark merging with Nord Security.
HMA background and jurisdiction
HideMyAss (also known as HMA VPN or Hide My Ass) was started by a teenager in England in 2005. In 2015, HideMyAss was acquired by AVG. In 2016, AVG was acquired by Avast, which is based in the Czech Republic. Acquisitions like this seem to be in vogue in the VPN space, with several such acquisitions in the last few years. TunnelBear was bought up by McAfee, and both CyberGhost and Private Internet Access got gobbled up by Kape Technologies.
Despite being owned by a company based in the Czech Republic, HMA continues to operate under the company name Privax Limited in London, thereby putting HMA under UK jurisdiction. From their privacy policy:
Our website www.hidemyass.com and services are operated by Privax Limited, which is a limited company registered in England under company registration number 07207304, with our registered office at 110 High Holborn, London, WC1V 6JS, United Kingdom.
As if that isn't strange enough, the HMA End User License Agreement specifies that disputes will be arbitrated in the United States, a seemingly strange choice for a Czech company operating out of London.
HMA logging case – One big drawback with HMA is that it has logged user data and provided this to authorities. The case in this example was when HMA collected logs and handed the data over to US authorities who were investigating a hacking case against Sony.
Background check winner: ExpressVPN
---
ExpressVPN vs HMA speed test results
While privacy and security are what a VPN gives you, any conversation about VPNs will quickly turn to speed. What good is the most secure VPN in existence if it is too slow to get anything done?
In our most recent ExpressVPN review, the service consistently delivered fast speed test results. It is now using the Lightway protocol, which promises to be even faster than legacy protocols, such as OpenVPN and IKEv2. All tests were conducted on a 500 Mbps internet connection.
Test #1: Los Angeles, USA
ExpressVPN: 209 Mbps

Not too bad, let's see if Hide My Ass can do better.
HideMyAss: 153 Mbps

With the first server location in Los Angeles, we see that ExpressVPN is faster than Hide My Ass.
Test #2: New York, USA
ExpressVPN: 214 Mbps

HideMyAss: 153 Mbps

Again we see that ExpressVPN is faster than HMA VPN for this server location in New York. Now for our final test with servers in the UK.
Test #3: United Kingdom
ExpressVPN: 235 Mbps

This is a pretty good result given the long distance (high ping).
HideMyAss: 164 Mbps

So we see that ExpressVPN was faster than HideMyAss in all locations we tested.
In truth, we weren't surprised by these test results. ExpressVPN is consistently one of the fastest VPNs in our testing. This is also illustrated in our recent ExpressVPN vs IPVanish speed comparison.
Speed winner: ExpressVPN
Note: While ExpressVPN was the winner in this speed comparison, we have found that some other VPNs with WireGuard are still faster. For example, in our NordVPN vs ExpressVPN comparison, NordVPN was the winner in all locations.
---
Prices and refunds: HMA vs ExpressVPN
Now we need to talk about price, value (what you get for your money), and refunds.
HMA price – HideMyAss has an unusual pricing structure. They offer a 7-day free trial, a one-year (12-month) plan, and a three-year (36-month) plan. Some time ago, they removed the monthly payment plan that they had offered in the past. Here are the current plans.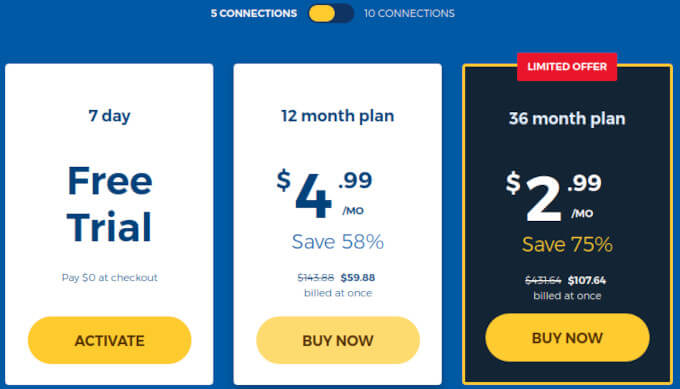 The pricing on HMA plans is decent. It is too high to classify them as a cheap VPN, but not outrageous either. And $59.88 per year ($4.99 per month) isn't bad for a one-year subscription. Nor is $143.64 every 3 years ($3.99 per month) too bad for the longer plan.
HMA refund policy – Given the long-term commitments they offer, we're happy to report that HMA offers a 30-day money-back guarantee on all their plans. We didn't see any restrictions on the refund policy either. This is important because some VPN services impose difficult or confusing requirements on anyone daring to ask for a refund. That isn't the case here.
Now that we've looked at the money side of things for HMA, let's see how they compare to ExpressVPN.
ExpressVPN price – ExpressVPN charges higher prices than most VPN services. Direct comparisons with HideMyAss are difficult since the two companies offer different subscription terms. ExpressVPN offers one-month, 6-month, and 12-month plans. At least we can compare the 12-month plans. ExpressVPN's 12-month plan charges $99.95 every 12 months, as opposed to HMA's $59.88 every 12 months.
ExpressVPN DISCOUNT – One advantage of ExpressVPN, is that they offer this 49% off coupon, which includes three months free and drops the price down to $6.67 per month as opposed to HMA's $4.99 per month.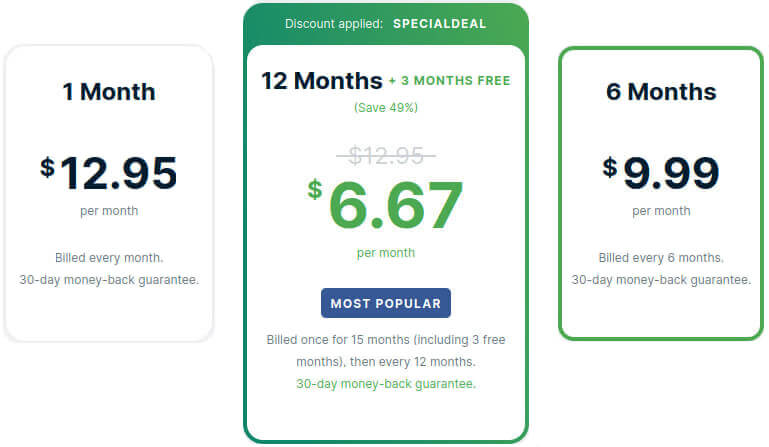 ExpressVPN refund policy – ExpressVPN has perhaps the best refund policy in the industry. They give you a 30-day money-back guarantee on all their subscription plans. No exceptions, no fine print, and no special rules. Simply request your refund within 30 days and that's it.
Price and Refund Winner: While both ExpressVPN and HMA have solid refund policies, HMA wins this category due to their lower prices.
---
Features: ExpressVPN vs HMA
What about their feature sets? ExpressVPN has a solid set of well-executed features, but services like Surfshark or NordVPN offer more advanced features. Let's see who comes out on top here.
HMA provides user-friendly apps that run OpenVPN with AES 256-bit encryption. These are the characteristics you want to see in a secure VPN. Here was the HMA desktop app we tested on Windows: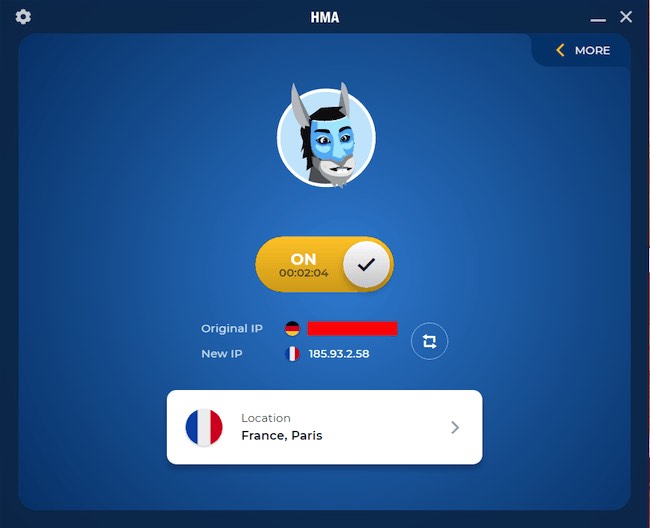 HMA brings a collection of 1100+ VPN servers spread across over 290 locations in over 190 countries. The reach of this network is truly impressive, but something doesn't add up.
The issue is HideMyAss's heavy use of virtual servers. A virtual server is a VPN server that uses an IP address for a country where it is not physically located. For example, a virtual server might be located in the United States but using an IP address that is registered in Panama, South Africa, or virtually anywhere else. While using virtual servers is not necessarily a bad thing, HMA seems a bit lax about identifying which of its listed servers are actually virtual server locations.
HMA offers live chat support, which not all VPN services provide. Unfortunately, chat support is not available 24/7. Instead, their support hours are 8:00 AM to 10:00 PM UK time, seven days a week.
Finally, HideMyAss is a no-logs VPN as confirmed in a recent third-party audit. This is a big improvement since in the past, Hide My Ass collected logs and had been known to provide them to the authorities.
As far as technical features go, HMA offers:
Smart kill switch and leak protection – These features are meant to keep your data from getting onto the internet in unencrypted form. In our testing, we found the kill switch to be buggy and encountered occasional IP address leaks.
Split-Tunneling VPN – Allows you to control which apps or websites use the encrypted VPN tunnel, and which go directly onto the internet without VPN protection.
IP Shuffle – Changes the IP address the VPN assigns to you every few minutes. It makes it much harder to track your online activities.
Let's see how this stuff stacks up against ExpressVPN's features.
ExpressVPN offers more features than HideMyAss for all types of users. Here is what you get with ExpressVPN. It has user-friendly apps that use OpenVPN with AES 256-bit encryption. And it offers more apps for more physical devices than HMA. Here's the ExpressVPN desktop app we tested on Windows: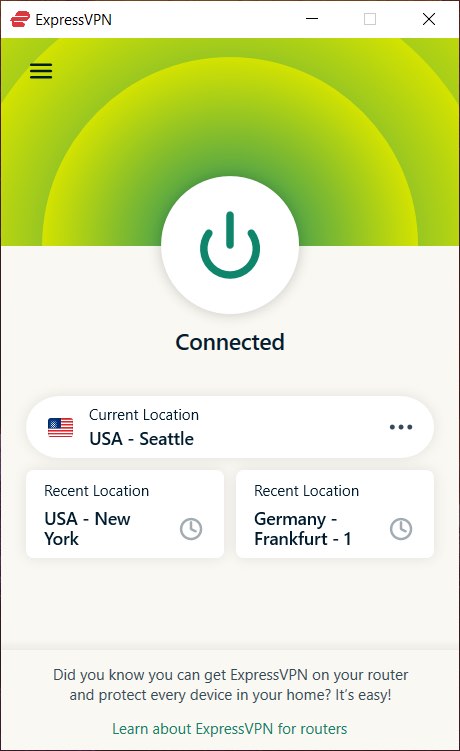 ExpressVPN has been audited too, confirming that they are a no-logs VPN.
ExpressVPN offers 24/7 live chat support. No worrying about whether the support staff in the UK is awake, or for that matter having to care what time it is in the UK at all.
Threat Manager – Threat Manager give ExpressVPN the ability to block ads and trackers while also filtering out malicious websites. It is currently available in ExpressVPN's iOS, macOS, and Linux apps.
Network Lock – ExpressVPN's name for a kill switch is Network Lock. Network Lock is a powerful protector against your data leaking onto the internet inadvertently. It protects against IPv4 leaks, IPv6 leaks, and DNS leaks. And unlike HMA's kill switch, we didn't see any bugs or glitches with Network Lock.
RAM-disk servers – 100% of ExpressVPN's servers run in volatile RAM without hard drives. This offers more security and ensures no data can ever be stored on a server.
Split tunneling – This feature allows you to route specified apps or websites to pass their internet traffic outside the VPN tunnel.
Browser extensions – Add HTTPS Everywhere to your web browsing. (ExpressVPN is our top pick if you need a VPN for Chrome.)
Media Streamer – Great for streaming devices such as Smart TVs.
Router app – Install the ExpressVPN client in a supported router and protect your entire network.
Obfuscation – Disguise your VPN traffic as HTTPS traffic to evade VPN blocking systems such as the Great Firewall. This makes ExpressVPN one of the best VPNs for China.
HMA offers fewer features and preferences in comparison to ExpressVPN.
Features winner: ExpressVPN
Note: Neither of these VPNs offers double-VPN servers as we see with ProtonVPN and NordVPN. While this feature has some advantages, there can also be a performance tradeoff.
---
Streaming and Torrenting: HideMyAss and ExpressVPN
What about streaming and torrenting? How does Hide My Ass compare with ExpressVPN in these characteristics?
Streaming
One of the main uses of VPNs in people's homes is streaming media. Whether your goal is to watch Netflix or to stream shows from BBC iPlayer with a VPN, the best VPNs give you full access to streaming media, regardless of where you are located at the moment.
Hide My Ass – We found that HideMyAss has a limited ability to stream media. For example, it can occasionally stream USA Netflix, if you use the correct server. But in our tests, it was hit or miss. Add in HMA's slow speed, and you will probably be disappointed with HMA if you are into streaming. It also does not work well as a VPN for Hulu.
ExpressVPN – ExpressVPN is one of the best VPNs for streaming with 24/7 access to Netflix and many other streaming channels around the world.
Here is a screenshot of ExpressVPN streaming US Netflix from my location in Europe.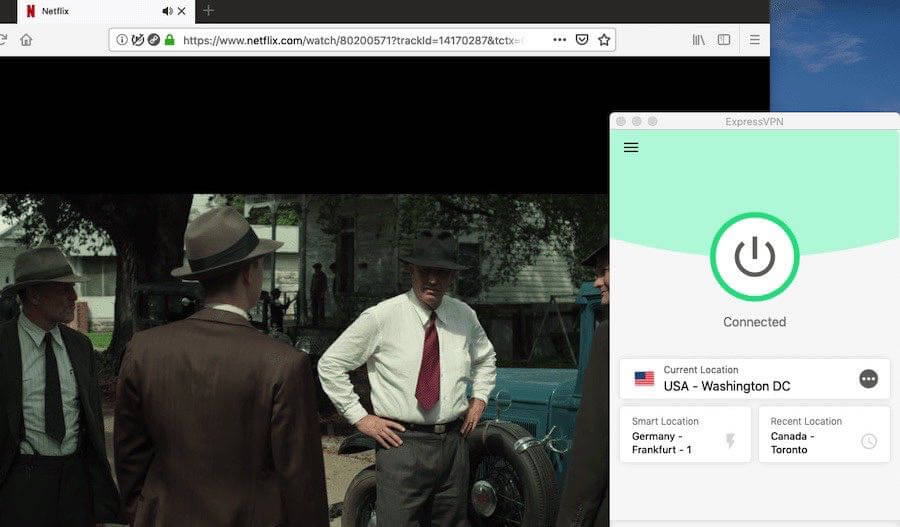 In our testing, ExpressVPN claims the title of the best VPN to unblock Netflix. It unblocks many of the Netflix libraries around the world. It also works with other streaming services as well. You can use this VPN for Disney Plus, BBC iPlayer, Hulu, Amazon Prime, and more.
Torrenting
You may also be looking for a VPN that supports torrenting. The two main characteristics to look for in a VPN for torrenting are speed and leak protection.
ExpressVPN is very fast and provides very solid leak protection. We rate it as one of the best VPNs for torrenting.
HideMyAss is much slower and we have seen problems with both their kill switch and IP address leaks.
ExpressVPN is definitely a better choice for torrenting, even though it does not offer dedicated P2P servers as we see with CyberGhost and NordVPN.
Streaming and Torrenting winner: ExpressVPN
---
Security and Encryption Comparison
When it comes to security, ExpressVPN passed all our tests with flying colors (hit this link to see our VPN test guide).
HMA had some issues. Their kill switch was a bit unreliable, and we ran into occasional IP address leaks with the Android VPN client.
ExpressVPN is the clear winner in this area.
VPN Encryption
With encryption, ExpressVPN and HMA are pretty comparable:
HMA: AES-256-GCM cipher, SHA-256 hash authentication, and a 4096-bit RSA key.
ExpressVPN: AES-256 cipher, SHA-512 HMAC authentication, and a 4096-bit RSA key.
Although these encryption levels are very similar, ExpressVPN has a slight edge.
Security audits
ExpressVPN has undergone two separate third-party audits:
An audit of their browser extensions was conducted by Cure53 in Berlin.
An audit of their privacy protection systems and no-logs policies was done by PricewaterhouseCoopers.
HideMyAss completed an audit by Versprite to verify their no-logs claims.
While it is great to see that both services have successfully completed audits, ExpressVPN comes out ahead due to the greater number and scope of their audits.
VPN server security
ExpressVPN has been a leader in moving the industry to the next level of server security. In 2019, they completed the process of converting their entire network into diskless servers. That means all the software for their servers runs in volatile RAM memory. Hard drives (or SSDs) can be a security risk since they can retain old data that could be recovered. Without hard drives, no data can persist in the server once that server no longer has power. Seizing servers to analyze the data on their hard drives is impossible when the servers have no hard drives.
No data can be stored on ExpressVPN servers, which means server data cannot be seized by third parties. TrustedServer is ExpressVPN's name for this technology.
As far as we have been able to discover, Hide My Ass does not run any of its servers in diskless mode. Nor have they announced plans to make such a transition. Nor have they had any security audits done.
Security winner: ExpressVPN
---
Privacy: HMA vs ExpressVPN
In terms of privacy, is HMA VPN or ExpressVPN the best choice?
HMA – There are two troubling aspects of HideMyAss on the privacy front.
The company has handed over data about its users to the FBI in the past. They are now a no-logs VPN, which means they have no data to hand over to the FBI or anyone else, but if you are looking for a service that will protect your privacy to the maximum, this history is troubling.
Hide My Ass is a UK VPN service and must abide by UK laws and regulations. This is despite being owned by a country based in the Czech Republic, and requiring all arbitration activities to be conducted in the United States. The problem is that the UK is a member of the 5 Eyes surveillance alliance. In addition, US companies can use the UK court system to obtain customer data, such as with the LulzSec case. Depending on your threat model and why you are using a VPN, a service bound by UK law is generally not a good option.
ExpressVPN – ExpressVPN is a great privacy option. This service is one of the few no logs VPNs that has been tested, verified, and audited by an independent third party. The trend toward outside verification has also been picked up by NordVPN and PIA.
While both ExpressVPN and HMA use Google Analytics on their websites, HMA uses the invasive session recording script Hotjar. ExpressVPN uses no such scripts.
Privacy winner: ExpressVPN
---
Conclusion: ExpressVPN wins in 2023
While both ExpressVPN and HMA are popular VPN services that get good reviews on many sites, It is clear to us that ExpressVPN is the better VPN.
ExpressVPN came out on top in nearly every category tested:
Company background and jurisdiction: ExpressVPN
Speed tests: ExpressVPN
Price: HMA
Features: ExpressVPN
Streaming and Torrenting: ExpressVPN
Security and Encryption: ExpressVPN
Privacy: ExpressVPN
Hide My Ass did win one category, the price category. However, we suggest you think about which service is a better value. In other words: Which VPN offers a better value for my money?
ExpressVPN outperformed HMA in every area while offering more and better security features. Plus, ExpressVPN has had more outside audits and has never turned over user data to third parties.
Adding up all the benefits of ExpressVPN, we think the additional benefits more than outweigh the additional cost, making ExpressVPN a better value, despite its higher price.
Interested in giving ExpressVPN a try? They are currently offering the following discount coupon:
ExpressVPN Coupon:

Sign up for the 12-month plan and get 3 months added to your subscription for free.
(Coupon is applied automatically.)
If you want to consider additional options first, check out our best VPN services guide. This will give you some great options that passed all of our VPN tests.
You can also check out our VPN coupons page for the latest deals and discounts.
Have you used either ExpressVPN or HMA VPN? If so, leave your experience below in the comments to help others.
This ExpressVPN vs HMA VPN guide was last updated on January 15, 2023.