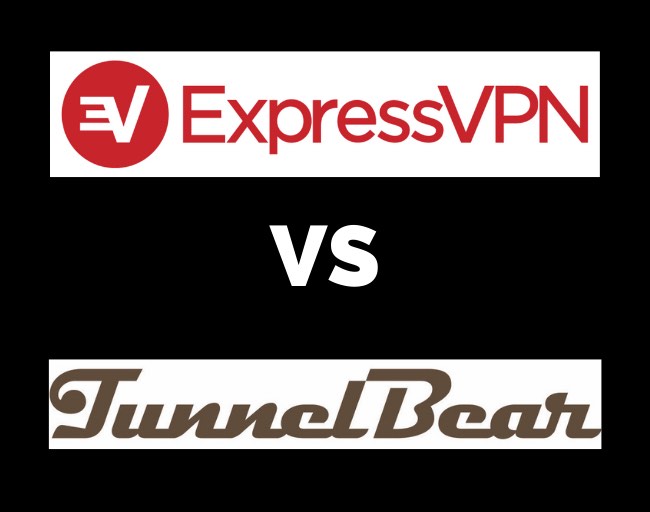 ExpressVPN is one of the best-known names in the VPN world. Polished, easy-to-use, and reliable, it has long been considered one of the best VPN services around. It is widely recommended to anyone looking for a strong Virtual Private Network (VPN).
TunnelBear VPN is also well known, with frequent recommendations. The service does have some strengths, including solid security, a couple of third-party audits, ease of use, and a fun, bear-themed design. But as you'll see, only one of these competing VPN providers is worth considering.
We discovered that unpleasant fact by running these VPNs through back-to-back testing and analysis. In this article, we'll show you who came out on top in the ExpressVPN vs TunnelBear shootout. Here are the eight categories we examined:
Company background and jurisdiction
Speed tests
Features
Streaming and torrenting
Encryption, VPN protocols, and security
Privacy
Prices and refunds
Value
By the time we get through these tests, it will be obvious which VPN is the winner.
1. Company background and jurisdiction: ExpressVPN vs TunnelBear
VPNs protect us from the prying eyes of everyone from our ISPs to major corporations and various intelligence-gathering outfits. Only one organization (aside from certain three-letter agencies from major world powers) can get access to our protected data if they want it. That's the VPN service we trust to protect us.
This being the case, it is crucial to know something about the company that provides our VPN service. And because every company has a home jurisdiction whose laws the company must obey, it is important to know where a VPN is located. Not all countries respect the privacy of foreigners, or even of their own citizens.
We checked out these two services. This is what we learned.
ExpressVPN background and jurisdiction
ExpressVPN is based in the British Virgin Islands (BVI). The BVI is a good jurisdiction for a VPN. They are not a member of any international surveillance alliances. They also do not have any mandatory data retention laws that would prevent a company from honoring its no-logs policy.
With the BVI being an independent legal and political entity, it remains a strong jurisdiction for privacy-focused VPNs. And we also see other VPNs incorporating there, which we noted in our Surfshark review.
TunnelBear background and jurisdiction
TunnelBear started out as an independent entity, but then they were acquired by McAfee in 2018. Recall that McAfee is a US cybersecurity firm — but it is also based in the US. This means that the owner of TunnelBear VPN falls under US jurisdiction, while the VPN itself operates under Canada jurisdiction. Unfortunately, both the US and Canada are not good jurisdictions when it comes to privacy.
US law allows the government to force companies to spy on their users, and the country is the leader of the Five Eyes international surveillance alliance. All in all, a United States company is not a great choice for protecting your privacy.
The VPN, however, is based in Canada, where it legally operates. Canada is also a member of the Five Eyes alliance and has a dubious record of respecting user privacy. This is one reason to avoid Canada VPN services.
We strongly urge VPN users to choose a service based outside the United States or Canada. Given that, this ExpressVPN vs TunnelBear category easily goes to the guys based in the British Virgin Islands.
Company background and jurisdiction winner: ExpressVPN
2. ExpressVPN vs TunnelBear speed tests
You probably know that a VPN can slow down your internet connection. But how much they slow you down varies. Some VPNs are fast; some are slow. A slow VPN means a slow internet connection, and a slow internet connection stinks.
We tested both ExpressVPN and TunnelBear on our 500 Mbps internet connection from our US lab.
Note: The best way to see how fast a VPN will be in your particular situation is to buy it and run it for yourself. But that can be a huge headache, so we do it for you. Your results may not be identical to ours, but you'll be able to get an idea of which VPN is likely to be fastest.
For these tests, we ran ExpressVPN with their new Lightway VPN protocol activated. Lightway is an ExpressVPN proprietary protocol that is supposed to be faster and more secure than the OpenVPN protocol used by TunnelBear and most other VPNs.
United States servers
We ran into a minor snag right off the bat. The TunnelBear VPN server network is tiny with only one server location in each of the 23 countries they support. This is in contrast to ExpressVPN, which has 160 server locations in 94 countries. As you might expect, most of those 'extra' server locations go in the countries that you are most likely to want to visit.
For example, ExpressVPN has 23 server locations in the United States; TunnelBear has one. So in these results, you will see us comparing an ExpressVPN server location in say, Seattle, to the TunnelBear server location identified only as "United States" (no city selection available).
Here are the test results for the TunnelBear server in the US: 52 Mbps.

This is really slow. Remember that we ran this test using a 500 Mbps connection. That means it takes almost nine times as long to download something when TunnelBear VPN is active.
Let's see how ExpressVPN did. We used the Los Angeles server location, which had about the same latency (ping) as we had for TunnelBear. With ExpressVPN's LA server we got 209 Mbps.

With the US server location, ExpressVPN was about 157 Mbps faster than TunnelBear — a very large margin. And while this is not as fast as the speed tests we got in our NordVPN review, it is still pretty decent.
Now let's look at servers in the UK.
United Kingdom servers
A lot of great streaming content comes out of the UK. For example, many people need a VPN for BBC iPlayer streaming. There are also many UK users who need a good VPN for privacy reasons, of course. So let's see how ExpressVPN and TunnelBear compare with this region.
Here are the results for TunnelBear using the company's only UK server: 5 Mbps.

As you can see in the image above, that was not a typo. Running on a 500 Mbps connection, the Bear was only able to deliver 5 Mbps of data to its users. That is truly horrible.
Here are the results when we connected ExpressVPN to one of their UK server locations: 235 Mbps.

Again we see that ExpressVPN is much faster than TunnelBear with the UK server location. With ExpressVPN active, we got almost 50% of the bandwidth of our test connection, as opposed to 1% of the bandwidth when using TunnelBear.
ExpressVPN is the big winner if you need a UK VPN that delivers fast speeds.
Speed test winner: ExpressVPN
Note: ExpressVPN also came out on top in our tests for the ExpressVPN vs IPVanish comparison. mm
3. TunnelBear vs ExpressVPN features
Throughout this TunnelBear vs ExpressVPN comparison, we talk about specific features in some detail. In this category, we take a broader look at each VPN in general to see which has the stronger feature set overall.
TunnelBear features
TunnelBear is clearly designed to be accessible and user-friendly for regular folks. The service features simple apps for Windows, Mac OS, Android, and iOS devices. They also offer useful browser extensions, if you need a VPN for Chrome or Firefox. Here was the TunnelBear Windows client we tested: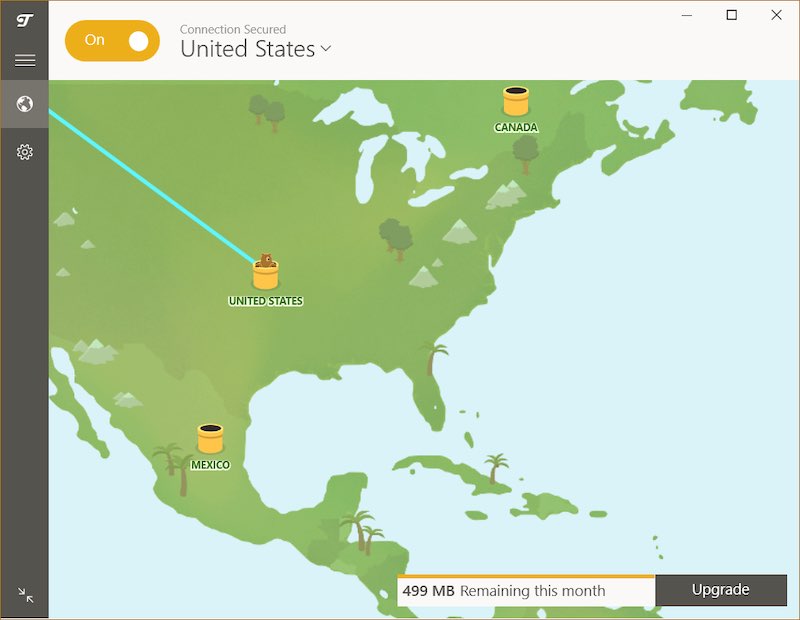 Limited apps – TunnelBear is also somewhat limited when it comes to VPN apps. For example, they do not offer any support for routers, which is pretty uncommon. Additionally, TunnelBear only offers limited support for Linux. There are also other devices, such as Android TVs, which are not supported by TunnelBear:

TunnelBear VPN apps look good, but they had some problems in our tests. Specifically, we saw random connection problems when trying to use the Windows VPN app. For whatever reason, the app would sometimes be unable to connect for no discernible reason.

Problems like this are never good, but take on additional importance when you are dealing with a service that only has one server location per country. Say you need to connect to a VPN server in the United States. The Bear only has one server location in the United States. If you can't connect to that one location, you are out of luck.
Happily, when TunnelBear could connect, it was solid. We didn't see any leaks or errors. Their apps also have a kill switch called VigilantBear which can block all internet traffic if you aren't connected. They also give you GhostBear, a feature that camouflages your VPN traffic in a way that helps you avoid being censored by your Internet Service Provider (ISP) or some national intelligence agency.
TunnelBear supports five simultaneous connections, which is the same number you get with ExpressVPN. One feature that these guys have that ExpressVPN doesn't is a free VPN plan. While it is certainly not the best free VPN, TunnelBear does give you 500 MB of data to test out the service for free.
No live chat support – Unlike ExpressVPN, TunnelBear does not have any live chat support. This means you are restricted to emailing their customer support staff and waiting for a response (sometimes more than 24 hours).
ExpressVPN features
Like TunnelBear, ExpressVPN is also a minimal and user-friendly service. Unlike TunnelBear, however, ExpressVPN offers a wider range of VPN apps and support for all major operating systems and devices. This includes having a Dedicated VPN router app, while also supporting Linux, gaming systems, Android TVs, Smart TVs, and more.
Here is the Android VPN app with ExpressVPN: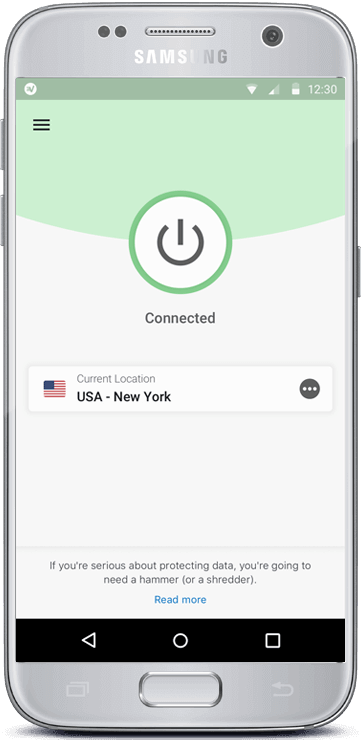 With ExpressVPN apps, you get important security features like their Network Lock kill switch and their private DNS service that keeps your ISP from spying on you.
A more advanced feature that you could find useful is their split tunneling option. With it, you can route the traffic for some apps through the VPN, and others over your regular internet connection. This comes in handy if you need the maximum speed out of your internet connection for a game or streaming some video. It can also come in handy when some of the websites you use (a bank, for example) block connections coming from known VPN servers.
Like TunnelBear, ExpressVPN provides you with five simultaneous connections. Unlike TunnelBear, however, ExpressVPN has excellent customer support. You can access 24/7 live chat support whenever you need it, or check out a large selection of instructional videos on their website.
We've already seen the effect of the new Lightway protocol during our speed testing. With Lightway, ExpressVPN blows away TunnelBear.
Note: While Lightway improves the performance of ExpressVPN, you can see in our ExpressVPN vs NordVPN Comparison that NordVPN is even faster.
Both of these services focus more on ease of use than on piling on the advanced features. But ExpressVPN's split-tunneling feature, along with their fast Lightway protocol, gives them the edge here.
Features winner: ExpressVPN
4. Streaming and torrenting
Aside from privacy and security, many people are using VPNs for streaming and torrenting. Let's compare ExpressVPN vs TunnelBear VPN on these two important capabilities.
Streaming
TunnelBear does not do well in the streaming category. We tested it out and quickly learned that TunnelBear does not work with Netflix. When we tried to connect to Netflix through TunnelBear's US server location we got this error message:

Aside from getting blocked by Netflix, there are two other problems when trying to use TunnelBear for streaming:
Very few server locations: This means you will not have any other options if you run into problems.
Slow speeds: Do you want to stream HD quality video without buffering and interruptions? TunnelBear's slow network speeds may prevent you from doing that.
So now let's take a look at ExpressVPN.
ExpressVPN is an excellent streaming VPN. Our tests confirmed that it's consistently fast and can unblock most streaming services, including US Netflix (and many regional libraries too), Hulu, Disney Plus, and more. Below we are streaming US Netflix using an ExpressVPN server in Washington DC: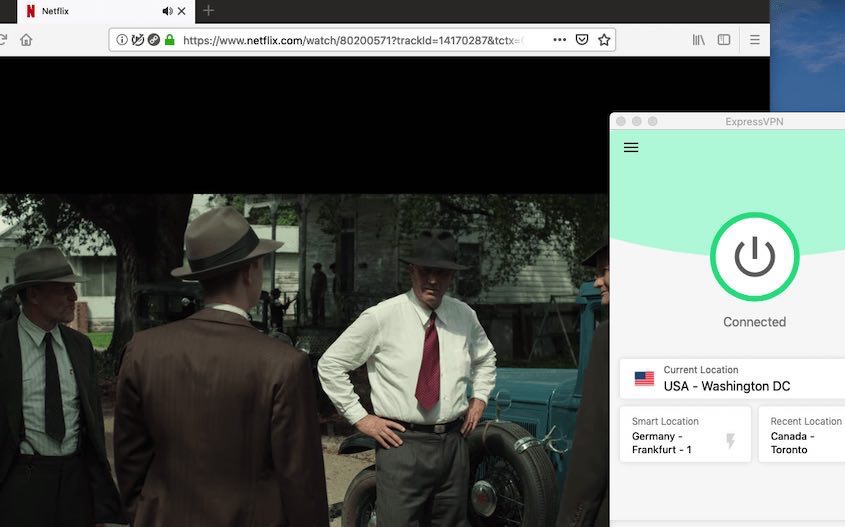 And because ExpressVPN has so many server locations around the world, even if a particular location stops working for some reason, you'll likely be able to connect using one of the other locations nearby.
Streaming winner: ExpressVPN
Torrenting
Since most people who use a VPN for torrenting are sharing movies or music, they need a VPN that is fast and extremely secure. Being located in a privacy-friendly jurisdiction wouldn't hurt either.
ExpressVPN is a good VPN for torrenting. It is pretty fast, very secure, and located in a safe privacy jurisdiction.
TunnelBear is not a good VPN for torrenting. While this service is secure, it is very slow. Also concerning is that it is based in a bad jurisdiction for privacy. ExpressVPN is clearly a better option for torrenting.
Torrenting winner: ExpressVPN
When it comes to streaming and torrenting, ExpressVPN vs TunnelBear is no contest.
Streaming and Torrenting winner: ExpressVPN
5. Encryption, VPN protocols, and security: TunnelBear vs Express
ExpressVPN is really running away with this so far. Can TunnelBear make up some ground in this category?
Encryption and VPN protocols
The use of strong encryption algorithms is vital to VPN security. As you are about to see, the encryption can vary depending on the VPN protocol being used.
Apps that don't leak are also vital since it doesn't matter how good your encryption is if the VPN apps occasionally dump unencrypted traffic onto the internet, exposing your identity to third parties.
TunnelBear uses the following VPN protocols and encryption algorithms: OpenVPN and IKEv2 VPN protocols with AES-256 ciphers that have 2048, 3072, or 4096-bit DH keys. These VPN protocols are industry standards and the encryption algorithms are strong.
Their apps and VigilantBear leak protection system didn't display any leaks or other problems during our testing.
ExpressVPN uses the following VPN protocols and encryption algorithms: with OpenVPN and IKEv2 protocols, it uses an AES-256 cipher with an RSA-4096 key and SHA-512 HMAC authentication. With the Lightway protocol, it uses AES-256-GCM and ChaCha20/Poly1305 ciphers, and D/TLS 1.2 for server authentication.
The ExpressVPN apps are really solid and feature leak protection. We did not find any leaks or security issues with anything.
We can see here that ExpressVPN supports all of the same VPN protocols as TunnelBear, in addition to their self-developed Lightway protocol, which delivers faster speeds and upgraded security.
TunnelBear's team did good work in this category. If they supported an advanced VPN protocol like Lightway or WireGuard, we would have called this one a tie.
Encryption and VPN protocols winner: ExpressVPN
Note: There are a few VPNs that now offer double-VPN encryption utilizing two servers at the same time. Two popular VPNs offering this are NordVPN and ProtonVPN.
Security audits
While most VPN services claim to have great security (and be super fast), many of them lie. So do some VPN review sites, since they are more interested in collecting affiliate fees than they are in protecting their readers against crappy products.
Independent third-party security audits help by providing independent confirmation that a VPN's security claims are valid.
ExpressVPN underwent a security audit of their browser extensions in 2018. Cure53 conducted this audit and found a few issues that were quickly corrected by company engineers. As noted in the ExpressVPN blog,
In its investigation, Cure53 identified eight issues, none of which received a severity level higher than "medium." Cure53 states that "quite clearly, this is a good security indicator."
TunnelBear underwent security audits by Cure53 in both 2017 and 2018. This puts them ahead of most VPN services since few have had even one audit.
However, as we already noted above, these "annual" audits ceased a few years ago, which doesn't look good.
This is the first ExpressVPN vs TunnelBear category where the Canadians held their own. Given that both VPNs had security audits by the same company in 2018, and neither has had another since. So we'll call this sub-category a tie.
Security audits winner: Tie
Server security
While every VPN service takes steps to protect their VPNs from online attacks, that's not the only way to get access to a VPN server. The best VPNs protect their servers from physical assaults as well.
ExpressVPN knows full well that physical servers are at risk. In 2017, Turkish forces seized an ExpressVPN server to search for information about a user of the service. While there was no useful information available on the server, ExpressVPN decided to go further.
Now, every VPN server in ExpressVPN's network is diskless. That means it is physically impossible for any user data to be stored on a server. With everything stored in volatile RAM, the instant that a server loses power (such as when some soldier tries to physically remove the server), any data that it contains disappears. They refer to this as the TrustedServer feature, as explained in the video below:
This is arguably the most secure way to run a network, with companies like NordVPN and Surfshark following in ExpressVPN's footsteps.
TunnelBear doesn't make mention of any special steps they take to provide server security.
Server security winner: ExpressVPN
Security and encryption overall winner: ExpressVPN
6. ExpressVPN vs TunnelBear Privacy
Protecting your privacy is what VPNs are all about, so you would assume that all VPNs do it well. Unfortunately, that is an unsafe assumption, making this privacy analysis of ExpressVPN vs TunnelBear mandatory. As one example, the "no logs" IPVanish was found to be logging users for the FBI, as we covered in the IPVanish review.
ExpressVPN privacy considerations
ExpressVPN rates well across the board when it comes to privacy. Specifically:
An audited no-logs policy. In June 2019, PwC (PricewaterhouseCoopers conducted an audit of the ExpressVPN no-logs policy and privacy protection measures, confirming that these work as advertised. They checked again in June 2020.
A privacy-friendly jurisdiction. The BVI is one of the best privacy jurisdictions in the world.
RAM-disk servers ensure that no user data can be stored on any server in the ExpressVPN network.
TunnelBear privacy problems
As we explained in the TunnelBear review, these guys don't do as well on the privacy front. We've already covered the issues with Canada as a jurisdiction, but there are also problems with the TunnelBear logging policy. TunnelBear claims to have a "no logs" policy — but there are some red flags. That's because their privacy policy lists several items that they do log. Here is how TunnelBear is logging your data:
Your operating system version
TunnelBear VPN app version
If you used the TunnelBear VPN network this month
How much of their bandwidth you use each month
These activity logs aren't horribly dangerous to your privacy, but they are a contradiction of their "no logs" claims. Once again, they say one thing and do something else. Can you really trust them?
Another difference here is that TunnelBear has not undergone a no-logs audit like ExpressVPN.
Privacy winner: ExpressVPN
7. Prices and refunds: TunnelBear vs ExpressVPN
With ExpressVPN winning virtually everything so far, you can see how this is going to turn out, so we'll wrap up quick. But this is a category where the ExpressVPN vs TunnelBear VPN battle might tip toward the big Bear.
ExpressVPN offers 3 price plans. While the cheapest rate by default is $8.32 per month, you can grab a coupon for three months free. Below are the prices with the three months free coupon: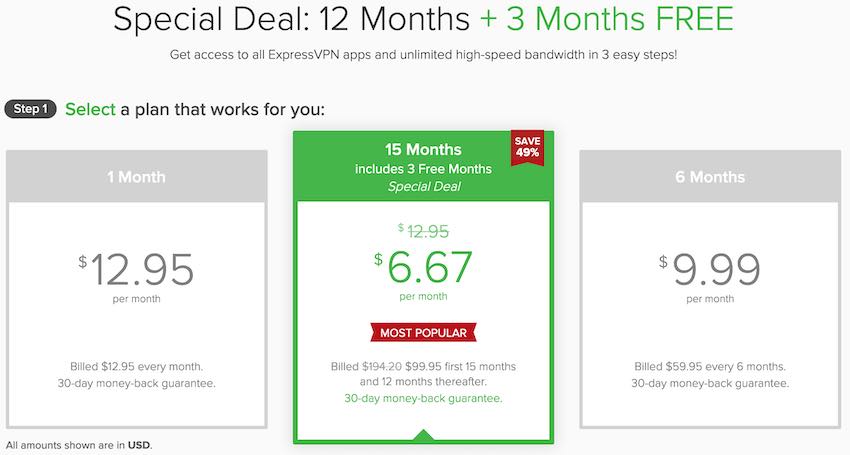 This is on the higher end of the price spectrum. It's clear that ExpressVPN is not the cheapest VPN you will find.
Refunds: All ExpressVPN plans include a 30 day money-back guarantee.
TunnelBear also offers 3 price plans: their limited Free plan that is good for testing the service, an Unlimited plan priced from $3.33 per month (renewing at $59.88 per year), and a Teams plan, running $5.75 per month per user.

TunnelBear pricing is generally lower than ExpressVPN pricing. However, where ExpressVPN offers 30 day money back guarantees with all their plans, TunnelBear does not offer any refunds. It is one of the very few VPN services with such a policy, and tips the ExpressVPN vs TunnelBear scales against them in this category. This may be due to the fact that TunnelBear offers a limited free VPN service with 500 MB of data.
Another drawback we found is that TunnelBear has limited payment options:
No PayPal
No Bitcoin or cryptocurrency options
No gift cards
If you want a full refund window and more payment options, then go with ExpressVPN, even though it's more expensive.
Prices and refunds winner: ExpressVPN
8. Is TunnelBear or ExpressVPN the best value?
The value a VPN offers depends on more than its price. If a VPN doesn't do what you need it to (unblock Netflix, for example) it is a bad value no matter what its price is. Likewise, if the price is right, and the features are right, but you don't trust the company's no-logs policy, it is a bad value.
ExpressVPN does everything well. It is fast, reliable, and does everything you would ask for from a VPN. It is backed by a strong organization based in a pro-privacy jurisdiction.
TunnelBear is really slow, sometimes it doesn't connect, we have questions about their no-logs status, and they are based in a privacy-unfriendly location. It also has a tiny server network and gets blocked by streaming services and various websites.
Regardless of price, which VPN service offers the better value? We'll take ExpressVPN here as well.
Value winner: ExpressVPN
Conclusion: ExpressVPN wins
By this point, we're sure the winner of this TunnelBear vs ExpressVPN battle is no surprise. So let's do a quick summary of our eight test categories and call it a day:
Company background and jurisdiction: ExpressVPN
Speed tests: ExpressVPN
Features: ExpressVPN
Streaming and Torrenting: ExpressVPN
Encryption, VPN protocols, and security: ExpressVPN
Privacy: ExpressVPN
Price and Refund: ExpressVPN
Value: ExpressVPN
Given what we uncovered in our testing, we advise you to avoid TunnelBear altogether.
ExpressVPN is a far better product and is one of our top-rated VPNs. Even better, you can get a nice discount on an ExpressVPN subscription if you use the coupon below.
ExpressVPN Coupon
Sign up for the 12 month plan, and get 3 months FREE (49% Off):
Get 49% Off ExpressVPN + FREE Plan >>
(Discount is applied automatically.)
That wraps up our comparison. Hopefully this helps you pick the best VPN for your needs. And if you are curious, we also have a NordVPN vs TunnelBear comparison as well.
And if you have used either ExpressVPN or TunnelBear, feel free to share your honest review below in the comments.